Sometimes we feel lazy to get prepared and tend to prepare everything at the last minute. Because having a short time, it will make you underestimate your appearance. Of course, I know your time is limited, but that doesn't mean you don't care about the way you look, especially the outfit. Remember, your look can describe your personality, so you must always look neat.
Don't ever dare to make time as the reason why you look bad. Even at the last minute, you can achieve your desired look. So, this topic is for those who love to delay getting prepared because it will help you mix and match your outfit to get a stylish look quickly.
I know you've been wondering how could this happen, but nothing is impossible! Like getting a stylish outfit at the last minute. So, do you know about the ideas? Stay calm, prepare your notebook and pen, then we're moving on to the topic!
How to Mix and Match Stylish Outfits at the Last Minute
Keep it Basic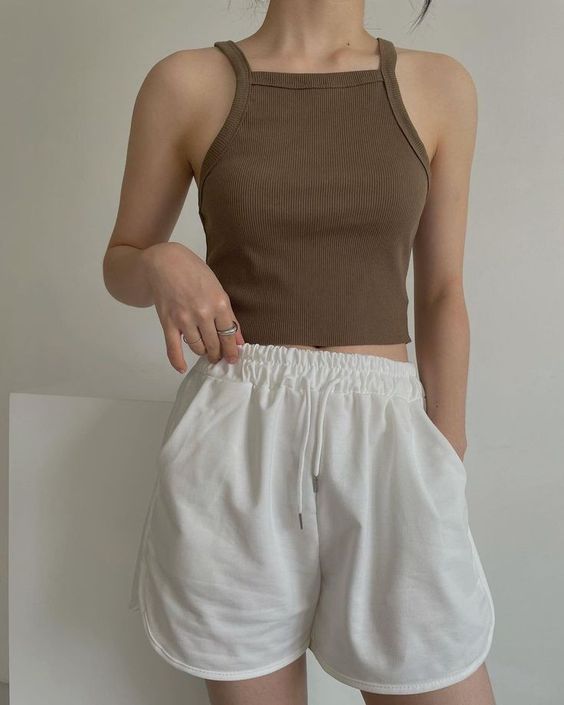 Love to wear a basic outfit because this is your comfort zone? It's fine, just go on with a halter tank and short pants. This kind of outfit might give you a sporty style but also look relaxed. Wear it for groceries shopping, chilling out at a café, or going to the gym. You only need to add sneakers, a cap, and a waist bag to finish out this look.
Denim Pants and Wrapped T-Shirt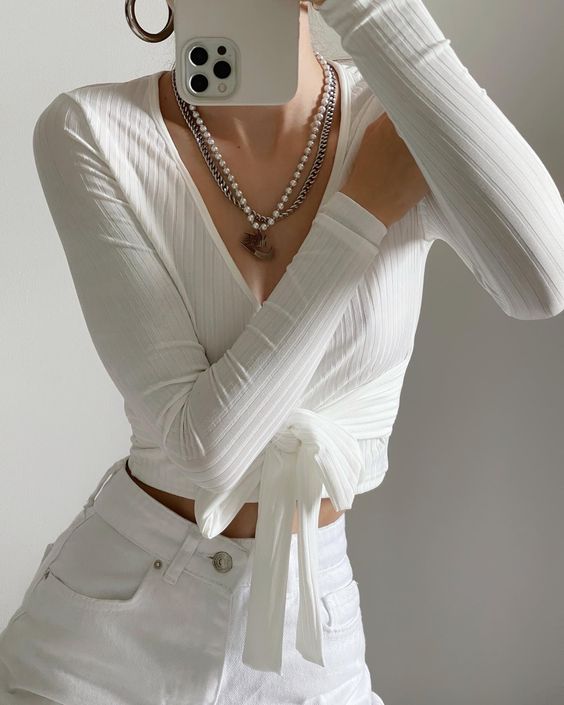 In hurry for going out? If the occasion is casual, we recommend you try to use a wrapped t-shirt and combine it with denim pants. Very quick but can give you a chic look in a minute! If you want to make your outfit extra, use some accessories and do a layering technique on it such as layering necklaces. Furthermore, use any kind of shoes and bag that you want by adjusting to the place.
Level Up Your Puffy Sleeves Dress with a Vest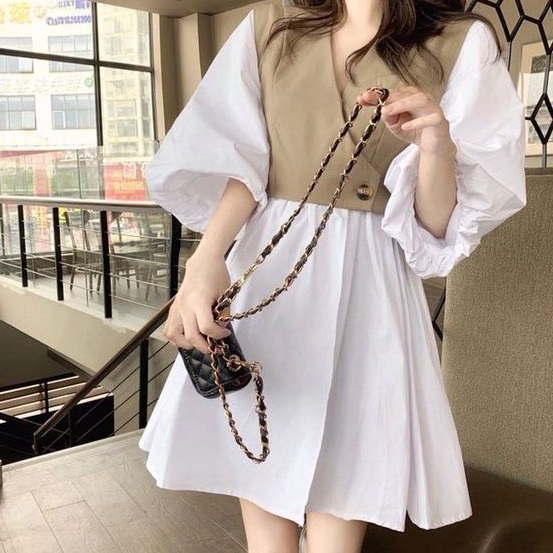 Only use a puffy sleeves dress? Girls, if you want to look gorgeous, you need to level up your dress by adding a vest as outerwear. It will make your simple dress look more fashionable and chic. Next, if you want to look casual you can go on with sneakers as shoes. Meanwhile, heels or flat shoes for the feminine look. So, which kind of shoes you would choose?
Mix Span Skirt with a Cropped Blouse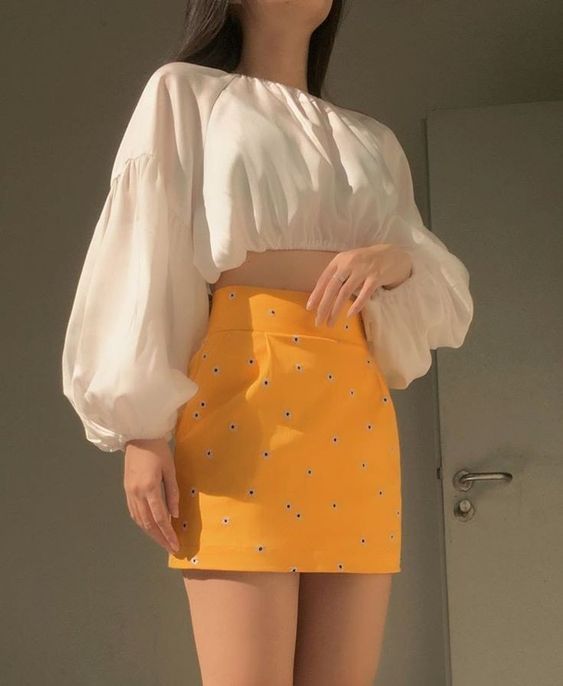 This is the comfort zone outfit for feminine girls. It would make you look pretty on any occasion that you want to attend. Of course, the combination between span skirts and a cropped blouse. This combo won't ever disappoint you. Therefore, if you are having a short time, you must use this outfit style!
Loose Pants and Oversized Shirt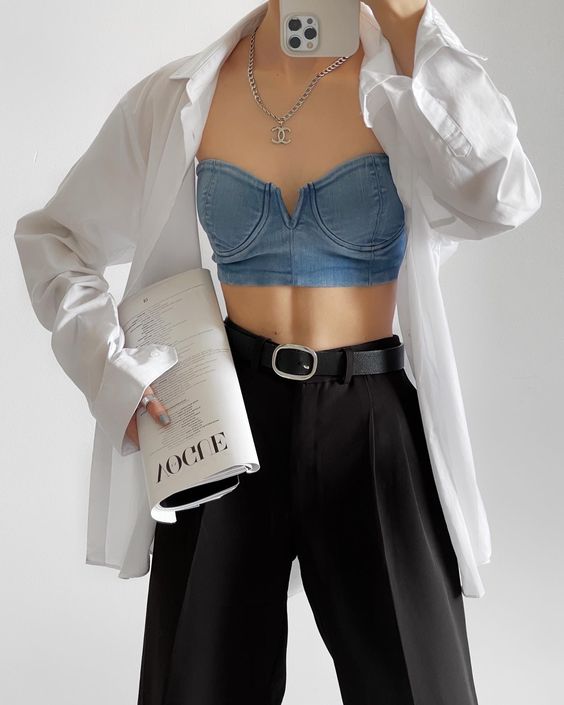 Chic and gorgeous is how we describe the outfit style in the picture above. So, mix your loose pants with an oversized shirt. Meanwhile, you can look gorgeous by using a denim tube top as the innerwear. Furthermore, add some kind of accessories like necklaces, earrings, or even sunglasses to bring up your outfit to another level. And last, complete your look with ankle boots or chunky sneakers.
Square Neck Dress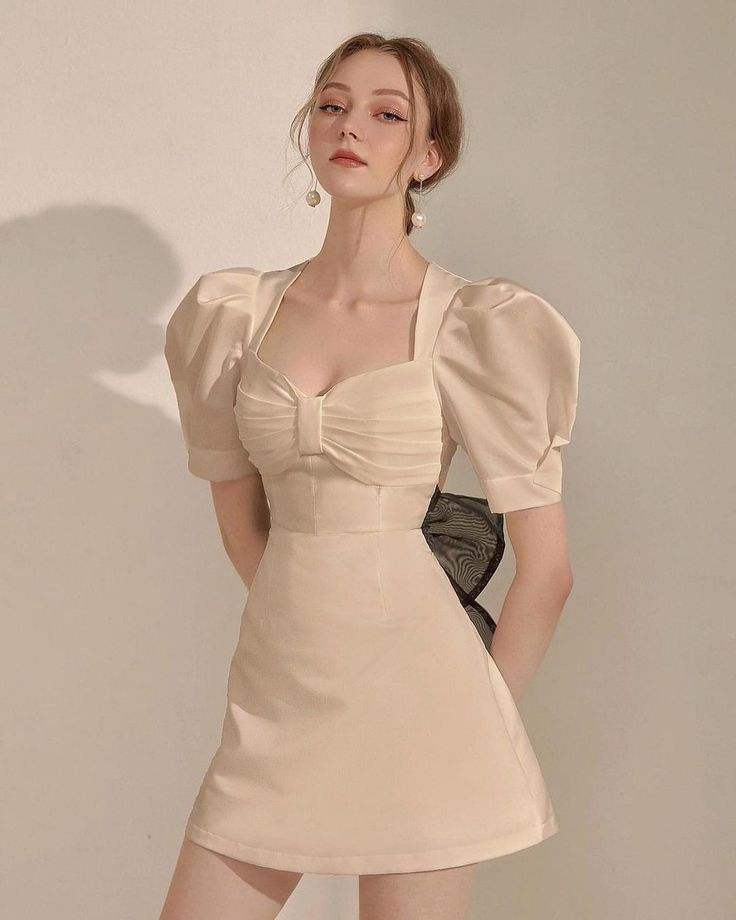 A square neck dress is one of the outfits that are suitable for any occasion. Starting from the casual event until the formal event. I guess this is the reason why this dress become trendy in the past year. So, if you get prepared at the last minute, maybe this dress could be the choice. Besides being good for any occasion, this dress would nail every kind of shoe and bag.
Style Your Culottes with an Off-Shoulder Top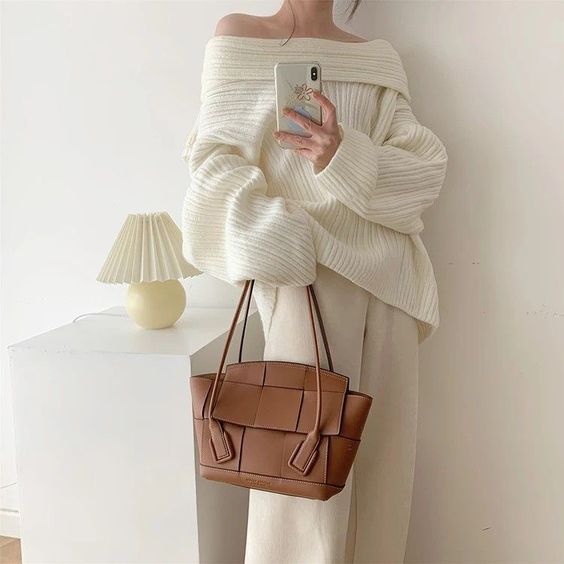 Feeling confused about styling your culottes pants? Don't worry, this idea will help you! If you want to keep it simple, you could combine your culottes with an off-shoulder top. This kind of quick outfit gives you a comfortable feel and feels pretty all day long. Next, use simple design accessories if you want to look more stylish. Furthermore, put on your heels and a handbag to make complete your outfit look.
Baggy Jeans and a Cardigan for Hangouts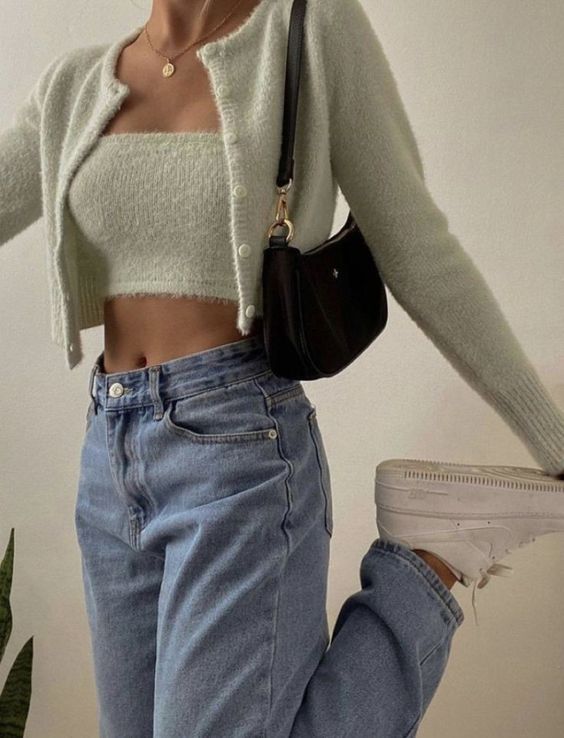 Well, for hangouts you don't need to use complicated outfits. Just wearing your simple outfits like baggy jeans and a cardigan you already look fabulous. Let your cardigan as the outer, and use a square tank for the inner. And voila! You are ready to spend your day with your friends.
Wear a Wrapped Shirt to Effortlessly Stylish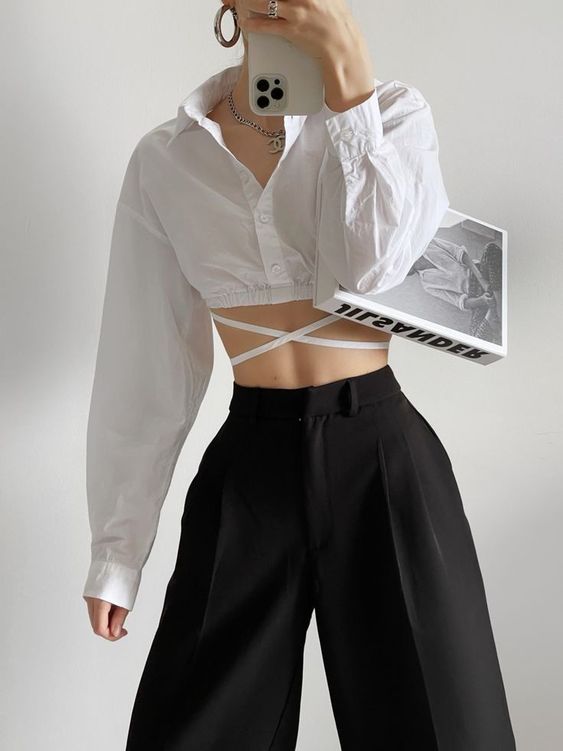 Want to look stylish with minim effort? I know it's been your dream for a long time! Moreover, if you kind of person that very lazy get prepared. Therefore, a wrapped shirt can be a great choice! You can mix it with any type of bottoms, but we prefer to mix it with loose pants for achieving a chic and boyish look. Next, wear ankle boots for the toe and a shoulder bag to save your stuff. Don't forget to pay attention to the accessories that are possible to make your outfit look tacky.
Buttoned Skirt and a Knit Turtleneck Top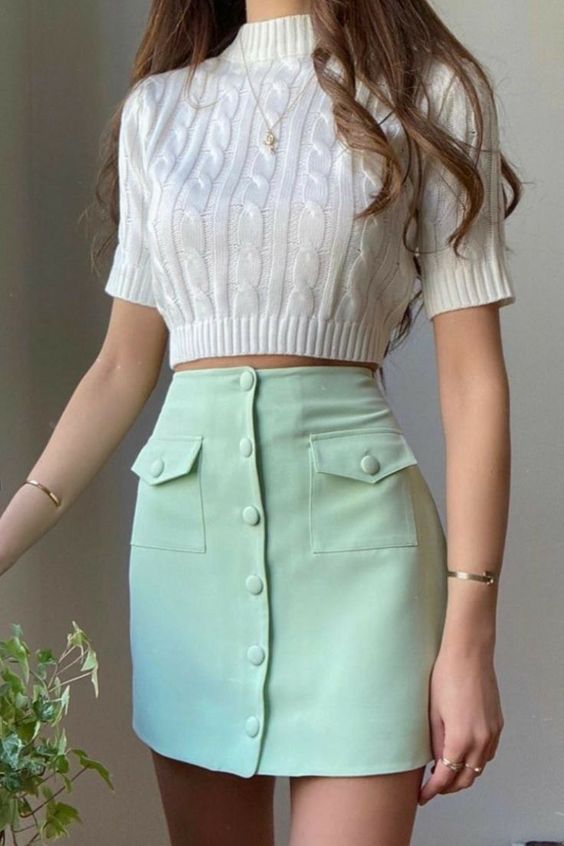 Buttoned skirts and a knit turtleneck top are perfect for getting a simple feminine outfit style. With only two outfits, it will be very helpful for your last-minute outfit. For the next aspects like shoes, accessories, and bags, you can choose whatever you want. The important things that you have to consider are the design, make sure it looks simple to prevent looking too much.
Loose Pants and a Cardigan to Get Comfy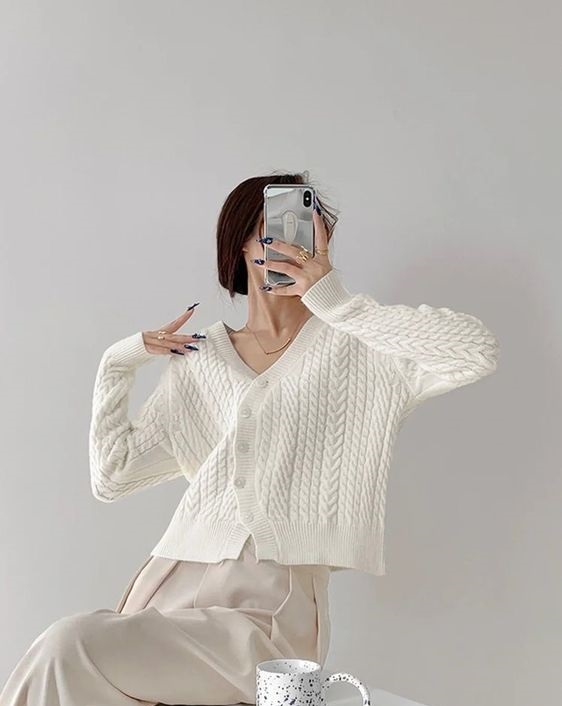 Even our previous idea would make you feel comfy, but there's an outfit that could give you a comfier feels. Yes, using loose pants and a knit cardigan. You can button the cardigan to keep it close and of course, you still need to use a tank top for the inner. Furthermore, wear comfy sandals or sneakers that feel light on your feet. And last, wear a sling bag or shoulder bag for the bag part.
Bodycon Dress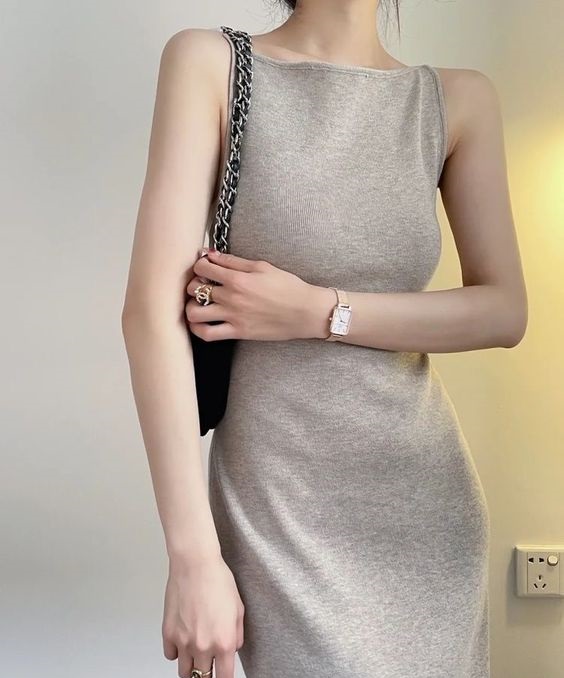 You don't have any time to think about what you should wear? Don't worry, because bodycon dress always can be your choice for a limited time. This kind of dress would slay your body whenever you wear it. It's because of the fit body design that can shape your body shape beautifully. Not only that, but this dress also can be mixed with any outer. So having a bodycon dress is very worth it!
Short Pants and a Blazer for Casual Occasions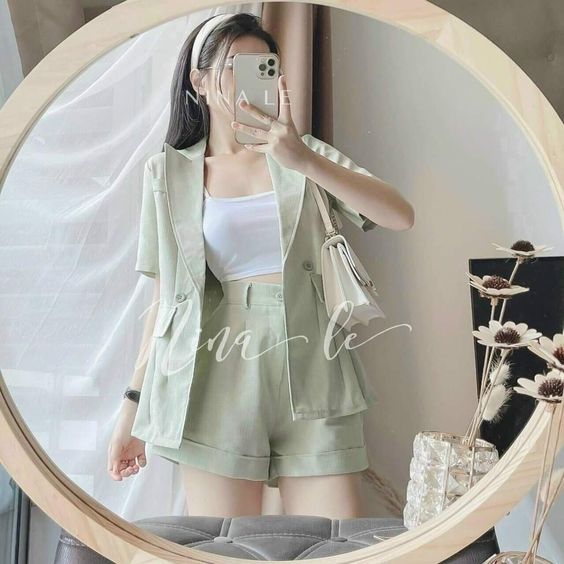 Need a casual formal outfit? The answer is gonna be short pants and a blazer. It's because short pants will give you a relaxed look. Meanwhile, a blazer tends to look formal. You can balance the outfit by using a tank top as your innerwear. Furthermore, you might choose between sneakers, heels, sandals, or flat shoes for the part of the shoe. Then, grab your shoulder bag to bring your important stuff.
Combine Denim Skirts with an Oversized Blazer to Look Chic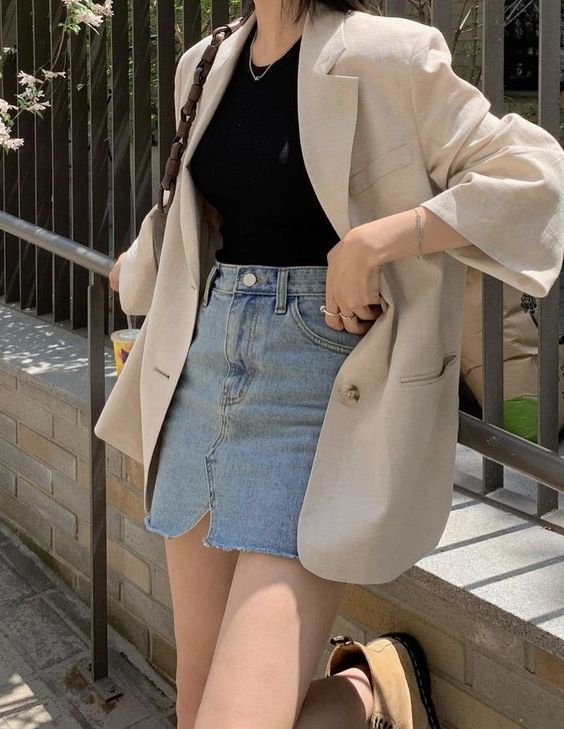 At the previous point, we use a blazer for a casual formal look that can create a relaxed feel. Meanwhile, at this point, we use this outfit for building the chic look. It's very simple because the additional outfits that you need are only denim skirts and a basic t-shirt. Now, you can put on your ankle boots and a few accessories to make your outfit look chicer.
Looking Cute in an Overall Dress and Puffy Sleeves Sweater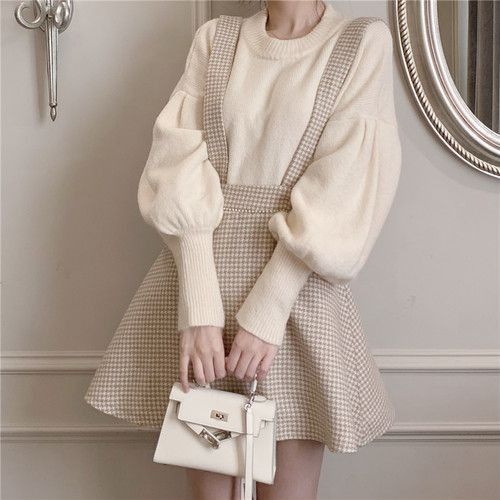 Inversely proportional to the chic look, the combination of the overall dress and puffy sleeves sweater will make you look cute. This outfit will be great to be used for hangouts, street walking, going to the garden, or having a photo shoot. Therefore, you need to choose the shoes and the bag depending on the place where you're gonna wear this outfit style.
Short Pants and a Shirt Will Never Fail You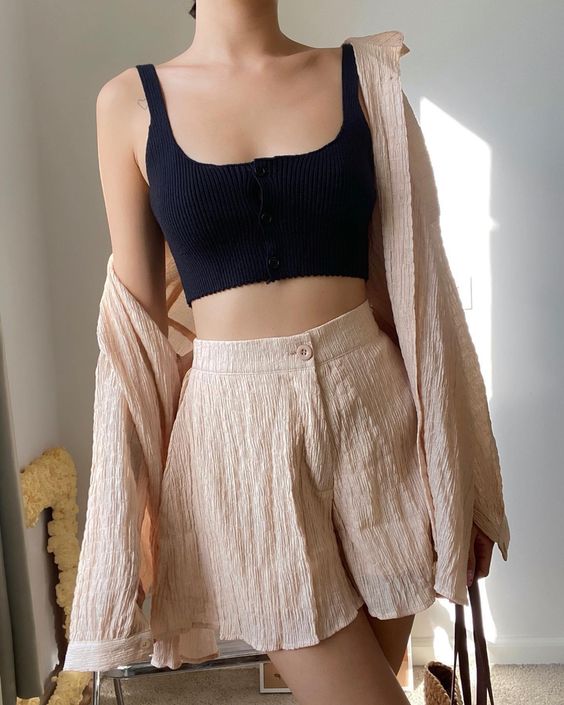 Another idea that would be amazing to wear at the last minute is one set of short pants and a shirt. Make your outfit more fashionable by making a shirt as an outer and using a cropped tank to complete the outfit. Of course, we want you to wear sneakers or chunky sandals for shoes that could give you a comfortable feel. Furthermore, a mini backpack for the finishing touch.
Sporty Style Using Sweatpants and a Square Tank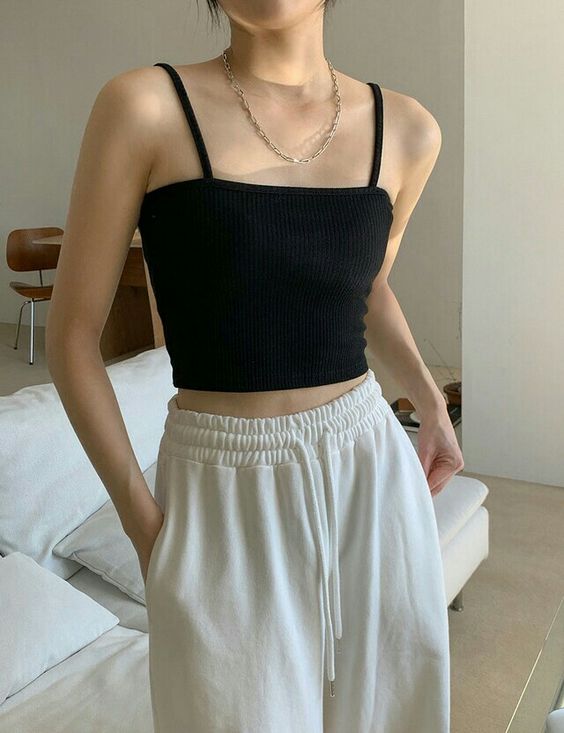 If you need another inspiration for a sporty style, this point going to give you what you desire. First, put on your sweatpants as the bottom part. Then, to keep it simple and feel comfy to get moving, you may use a square tank for the top. That's it, isn't it very simple? If you want to use this outfit for hangouts or street walking, you could add accessories to look stylish.
Use a Turtleneck Top When the Weather is Cold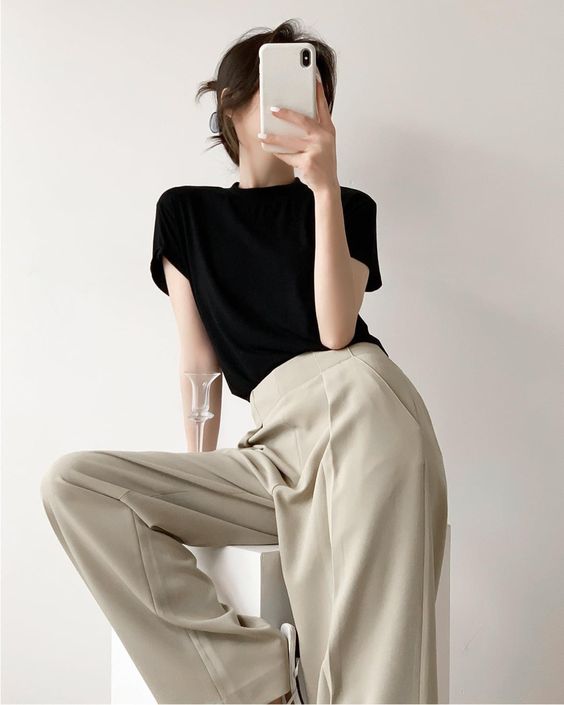 Feeling the weather is cold? You need a warm outfit such as a turtleneck top. The plus side of wearing this top is it can get the kind of style that you want whether simple, casual, boyish, or even girly. In the picture above, she combines the turtleneck top with loose pants for a simple and casual look. Then, which kind of style that you want to achieve with this top?
Mix Ripped Denim Pants and a Cropped Crewneck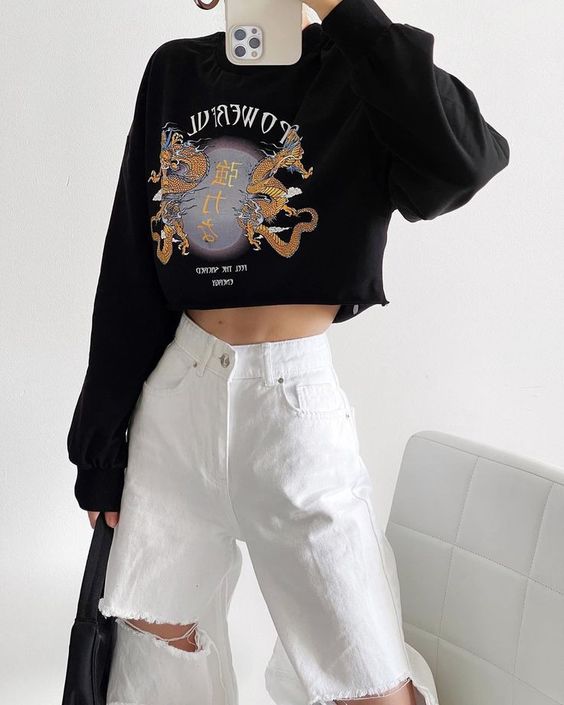 Are you still a teenager that wants to look boyish and chic with your outfit? Try to style ripped denim pants with a cropped crewneck. It's much better if you can add a cropped tank that is longer than your sweater to make it chicer. Don't miss out on the accessories part because this is the important thing to the chic outfit.
Getting Girly Outfit at the Last Minute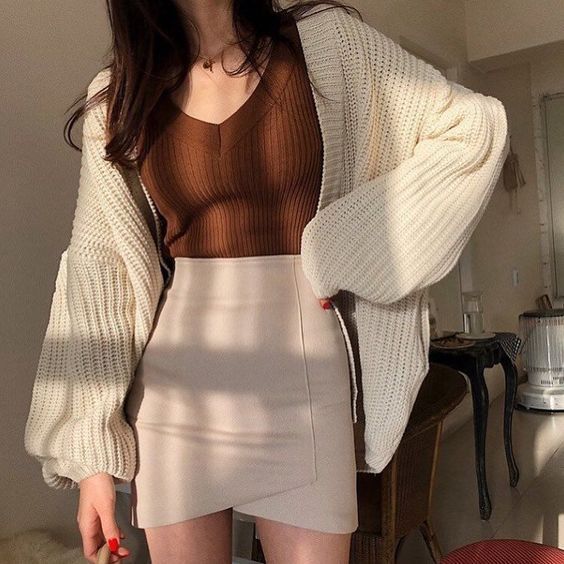 After the boyish look, we will give you the inversely look from it which is a girly look. It's kind of a simple girly outfit that just need span skirts, a tank top, and a knit cardigan. To level up your fashion style, you are allowed to add simple design accessories. Then, pair this style with flat shoes and a handbag to get done.
Pleated Pants and a Transparent Shirt to Look Fashionable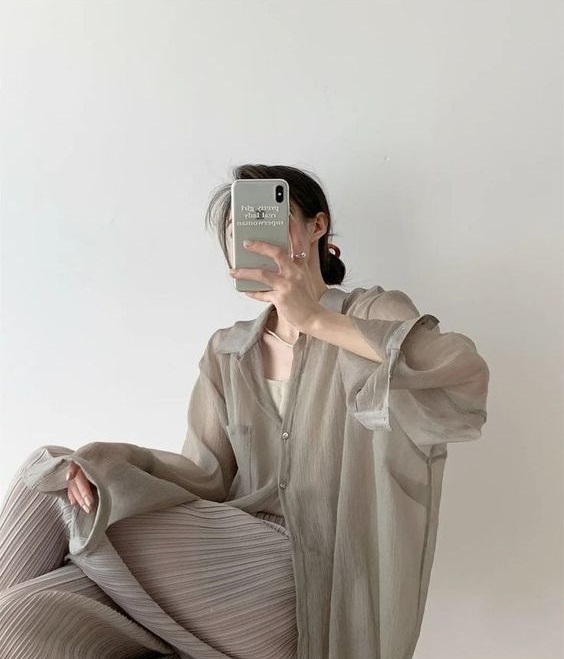 Prepare at the last minute make you just grab the basic outfit. But, girls, you can make it more fashionable with pleated pants and a transparent shirt. Of course, you need to use a tank top for the inner of your shirt. Even if this outfit is included as a basic, choosing the right fabric can make your outfit look fashionable.
Zipper Cardigan with Knitted Pants Would be Nice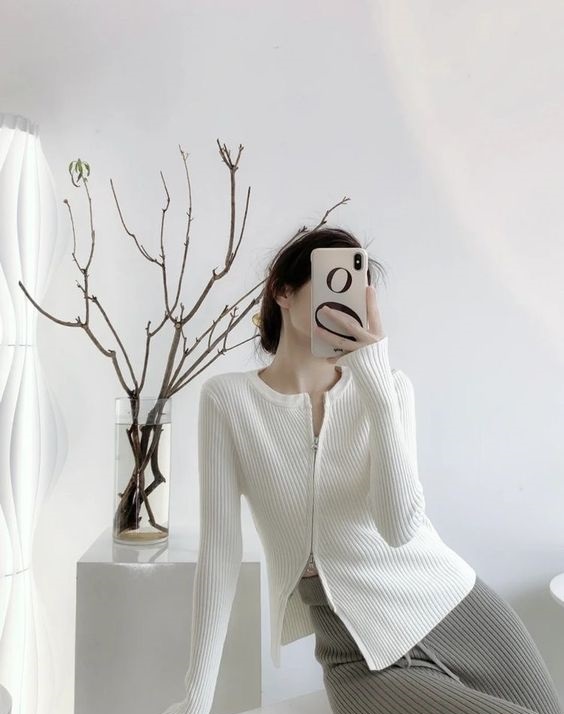 Who agrees with me if the knit fabric is one of the comfiest fabrics ever? You can use it for the cold or even warm weather. But, a lot of people don't like an outfit that is made from knit because it will give a boring and usual look. Now, you can say goodbye to that statement! Because we found a zipper knit cardigan. Furthermore, try to mix it with knitted pants, and your outfit is finished!
Blazer Dress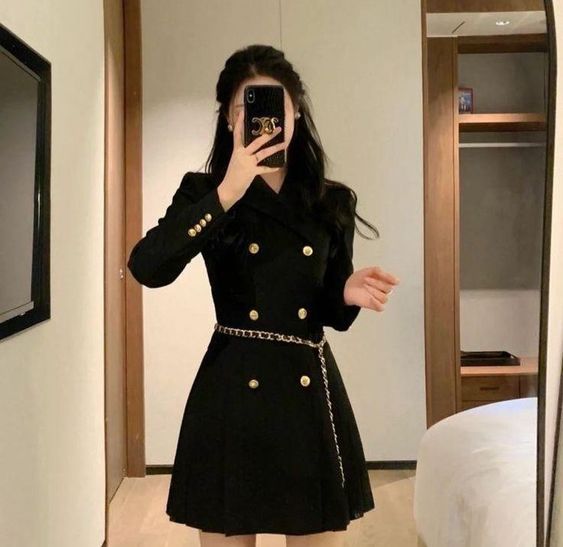 Planning to go to special occasions? This blazer dress will be helpful in your limited time. You will look effortlessly gorgeous in this dress because the design could make you look elegant and classy. Moreover, when you can add ankle boots, a chain belt, and a handbag. I'm sure everyone will stare at you!
Sweatpants and a Vest for Boyish Style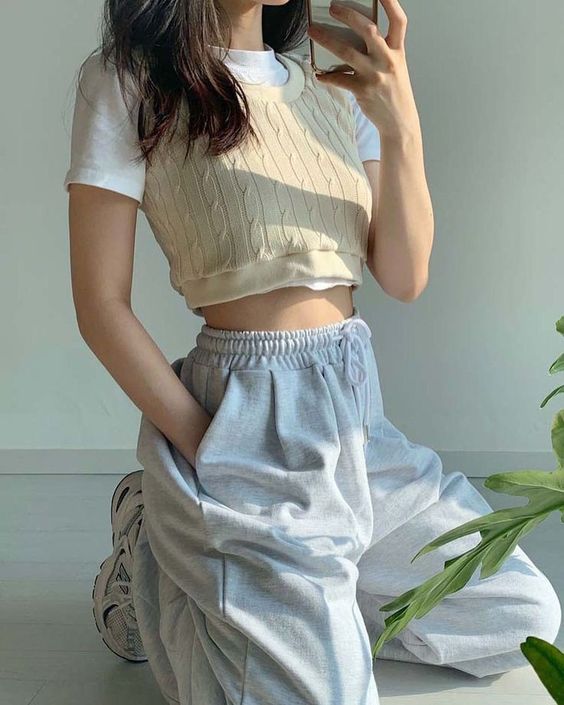 Now for the boyish style, you have to try to mix and match sweatpants with a vest. Don't forget to wear an inner top like a cropped t-shirt. Furthermore, you can make your outfit chicer by adding some accessories and sneakers.
Shirt Dress and an Obi Belt for Casual Look

Having a shirt dress? This going to be perfect for your last-minute outfit! Build up your outfit with an obi belt to make your shirt dress look extraordinary. Then, pair it with sneakers if you want to get a casual relaxed look or heels for a casual feminine look.
Last Minute Outfit for Work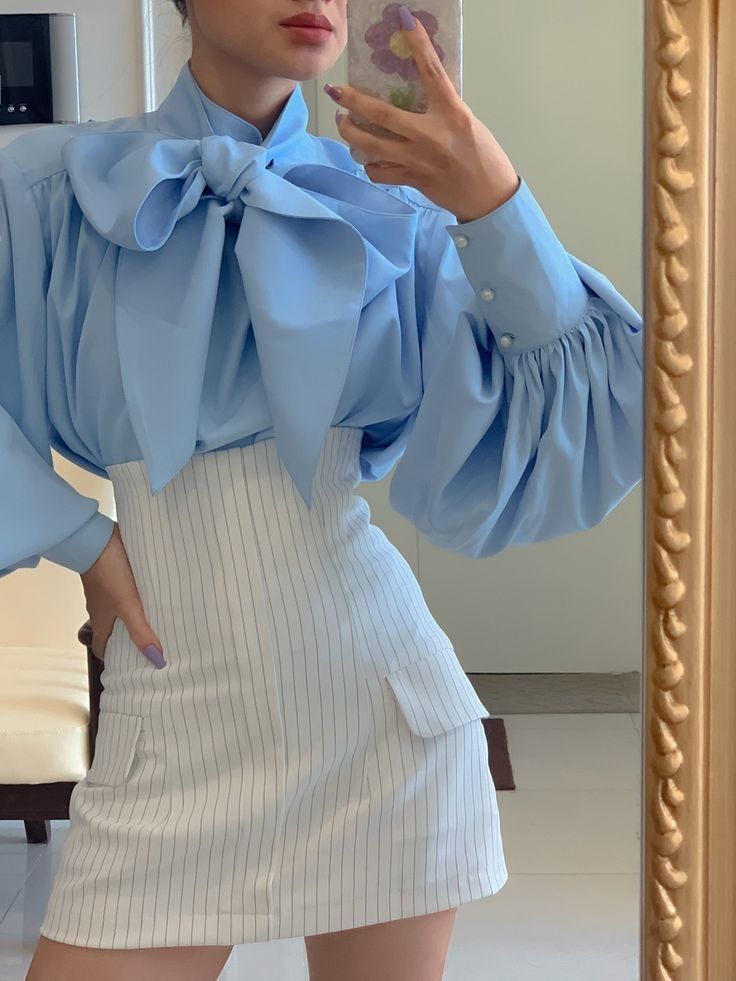 Last minute outfit for work impossible? I think you would change your mind after knowing this idea. Certainly, you still can look fabulous at the last minute with high waist skirts and a ribbon blouse. This kind of outfit that's going suitable for a feminine girl. Furthermore, for the last touch, wear heels and a handbag.
That's all about how to mix and match stylish outfits at the last minute or last minute outfit ideas. Now, you don't have to panic when you don't have any time to get prepared. Because by following our ideas, you still can achieve a stylish look. So, which ideas that you like? I hope it can inspire you and happy weekend, everyone!