Sometimes being a carrier woman is very tiring. Tired of deadlines, working overtime, and many more. This problem makes you ruin your sleep schedule and always wake up late. Am I right? Because of that, you can't get enough time to get prepared and the thing that you always miss is the hair. Girls, if you want to look professional you need to make sure that your hair is neat.
Asking about how could do your hair in a short time? There's no problem without a solution. So, we will help you to solve it by giving 25 hairstyle ideas that are very quick and simple to achieve! Don't worry, you only need around 10-15 minutes to get this hairdo! Finally, you find the solution, right?
This kind of hairstyle will make you look mature and professional for work. Believe me, everyone will stare at you when you use our ideas. Being excited about this topic? Me neither can't wait to share it with you guys! So, let's go to the topic!
25 Simple and Quick Hairstyles for Work
Blow Hair Look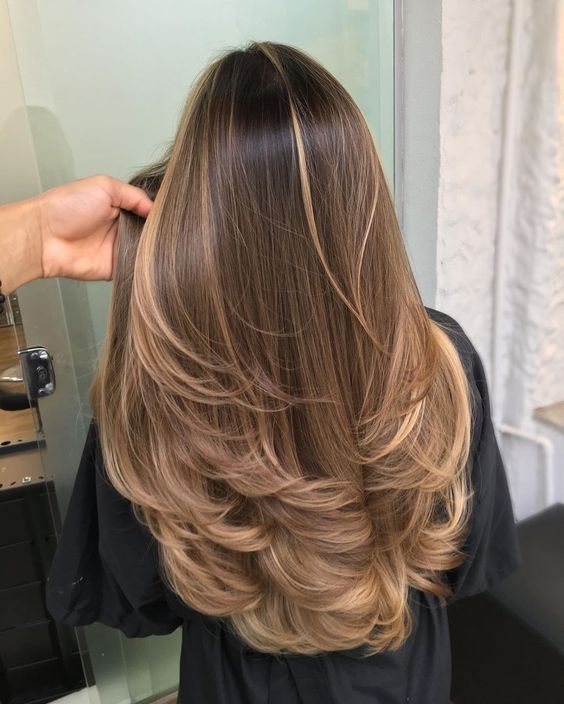 Doesn't have enough time to get prepared? Blow hair will be the solution! It will give volumize to your hair, so you can say goodbye to the limp hair. To do this blow hair you can prepare the hair roller first as much as your hair thickness. Then, you can start to give a section to your hair and use a roller to roll your hair. Furthermore, wait for 15-20 minutes while doing another thing, then you can see the result! If you are in hurry, you can use a hairdryer. Saving much of your time, right?
Low Ponytail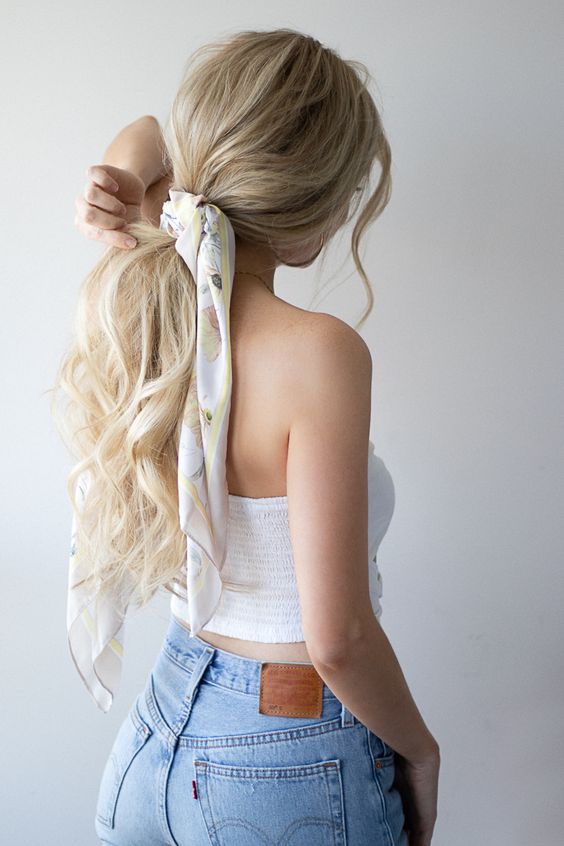 If you feel lazy to roll your hair, maybe a low ponytail can save your life! Just brush your hair to make it neat and make a ponytail but bring it low. Furthermore, use a hair tie or scrunchie to secure it. It's optional, you may add a scarf above the hair tie if you want to look more fashionable. Voila, in less than 5 minutes, your hair already looks neat.
Half Ponytail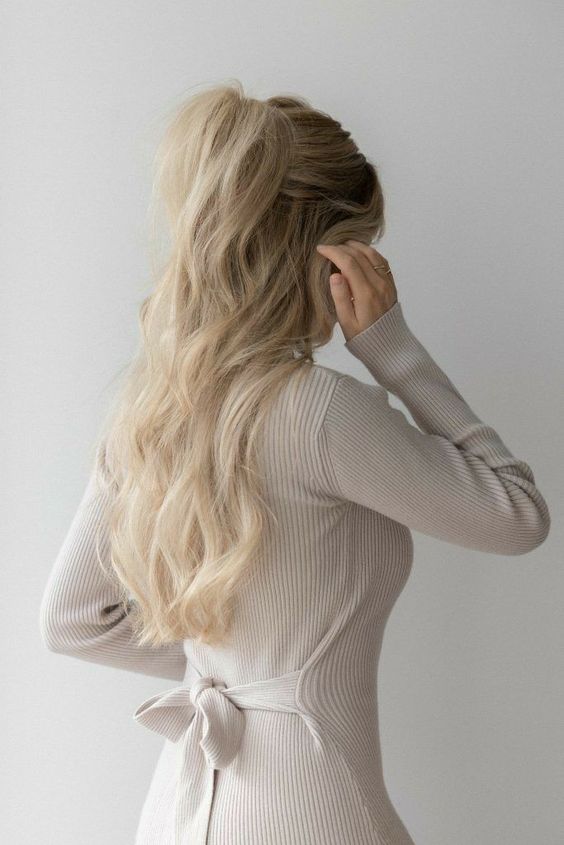 How about the half ponytail, girls? Isn't this is one of the famous hairstyles that very quick to achieve but can give you a pretty look? This kind of hairstyle you can wear if you do feel not confident with the ponytail hair because half of your hair still can cover your face shape. You can also let your bangs loose if you want to hide your forehead.
French Braid Ponytail Hair
Braided hair is very perfect for people who love clean and neat looks. We will recommend a French braided ponytail at this time because this hairstyle is being hyped lately. Doing this hair is like doing the usual braid but the difference you have to take a section from the upper of your hair. The minus from a French braided ponytail is it will take a little longer time to make it.
Use Claw Clips
This hairstyle will be great if you only have less than 5 minutes to do your hair. Yes, twist your hair up and secure it with a claw clip. Maybe, you can choose clips that have a luxury design to make this hairstyle look glamorous and like you put so much effort to make it. This kind of hairdo that very helpful when you have a bad hair day!
Loose Curl Hair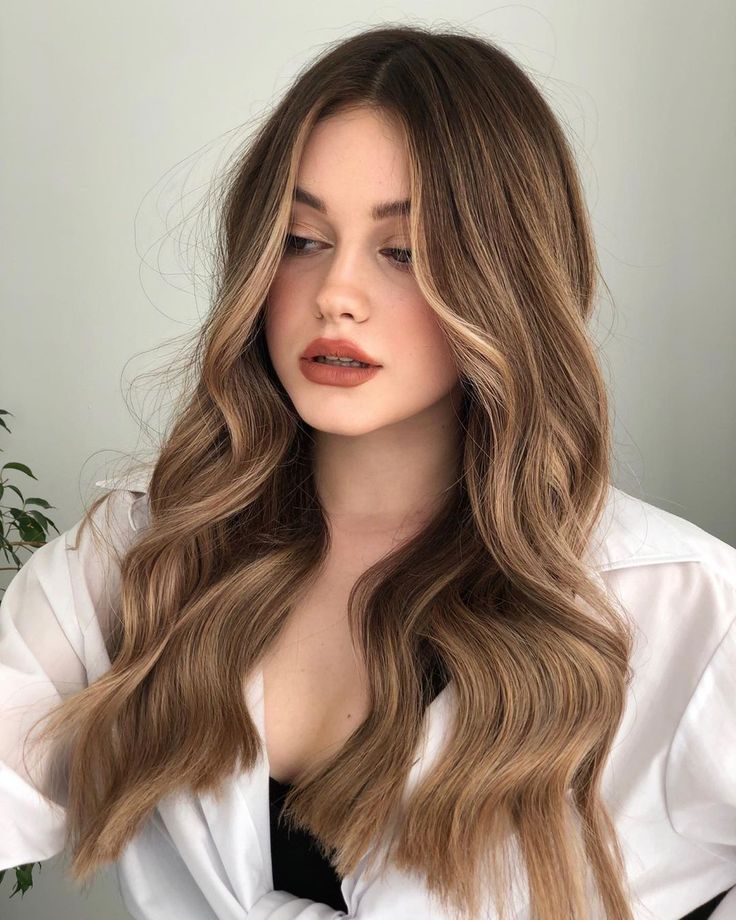 Not all people will be confident with their straight hair, especially if the type of your hair are easy to get limp. Besides doing the blow, you can also curl your hair with an iron to make it volumize. This hairstyle is only for those who have an intention or a lot of time to get prepared. Ensure you wear heat protection before curling your hair and last brush your hair slowly with your fingers to give a loose effect.
High Bun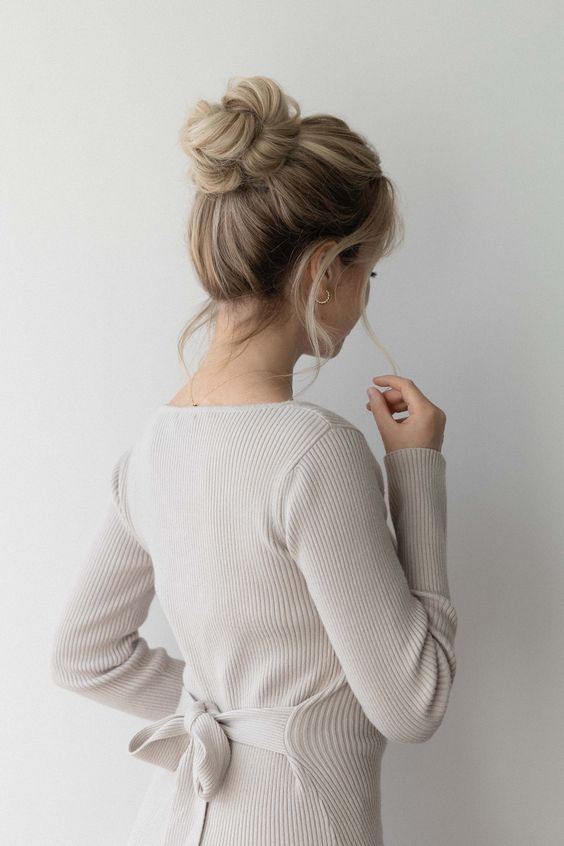 Next, make your hair into a high bun if you are typical of a person that can be bothered with your hair. This hairstyle will make you more focused on your work because there's no disturbed. You can also wear this hairstyle when your hair is limp but you feel lazy to wash your hair. In the conclusion, a high bun is a lifesaver hairstyle!
French Twist Hair for Special Occasions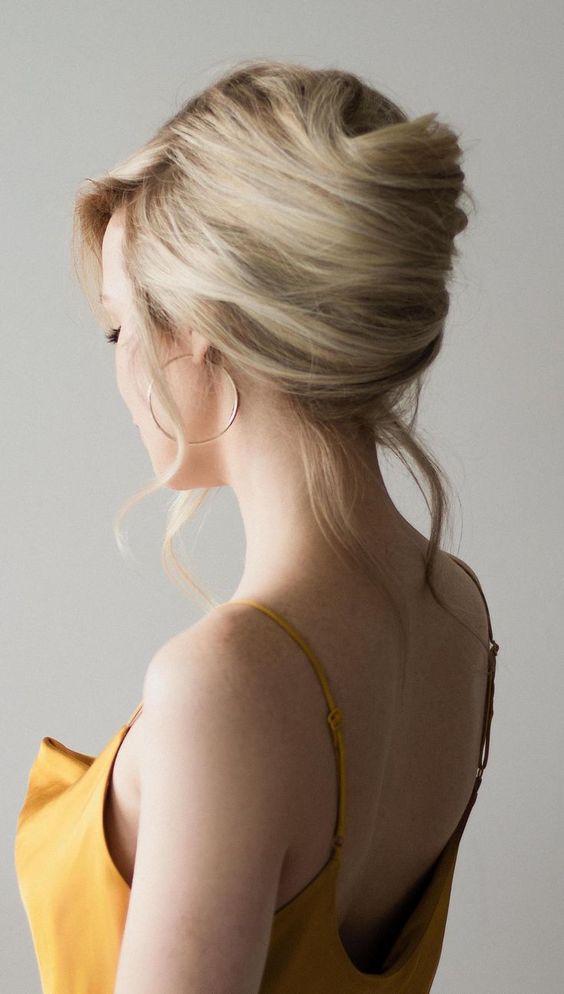 French twist hair if you having a special event in the office. Believe me, this hairstyle will be perfect to be mixed and matched with any outfit even pants or dress. Another plus side of this hair is you only need around 10 minutes to get it.
First, comb and bring the hair back. Second, pull up your hair like making a ponytail, then twist it up. If you feel it is already neat, you can secure it with a bobby pin. But if it doesn't look neat, use the comb to tidy up the hair that comes out.
Half Twist Ponytail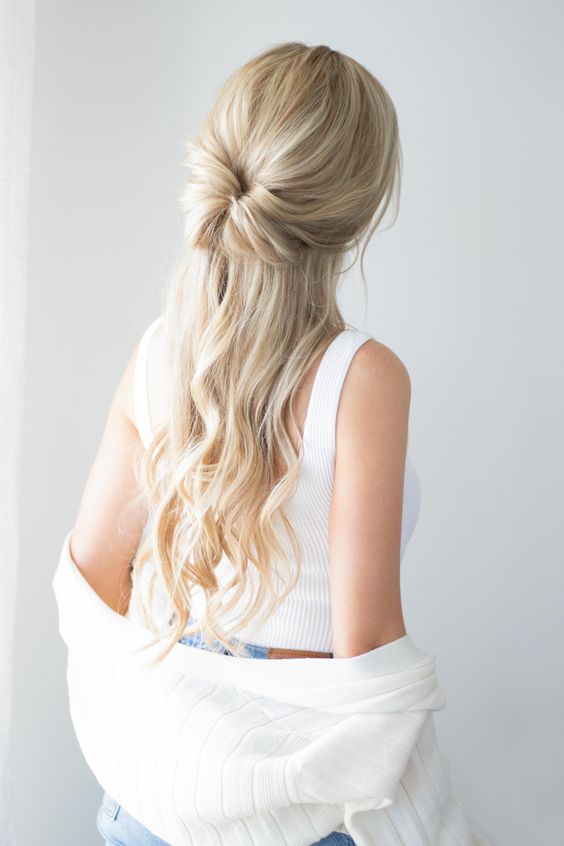 Want to make your half ponytail to another level? Okay, maybe you will love the twisted half-ponytail! Moreover, making this hairstyle is easy too! Just twist your hair in when you already secure the tail with a hair tie and done! If you want to make it look sweet, maybe you can add some hairpins or headbands.
Make Your Hair Prettier with Ribbon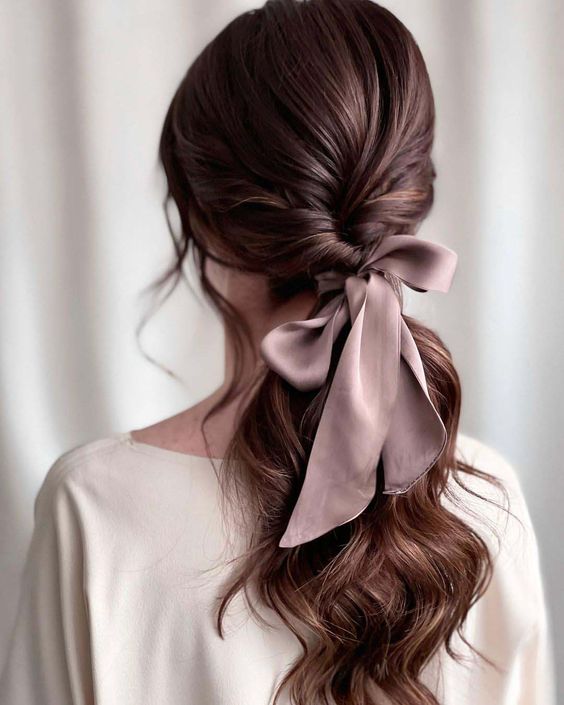 Doesn't have a ribbon yet? Go buy this item right now! Because it will help you to make your hair prettier in a short time. You can add a ribbon as the top of the hair tie or you can also make it as the headband. Very worth it to have, right?
Unfinished Ponytail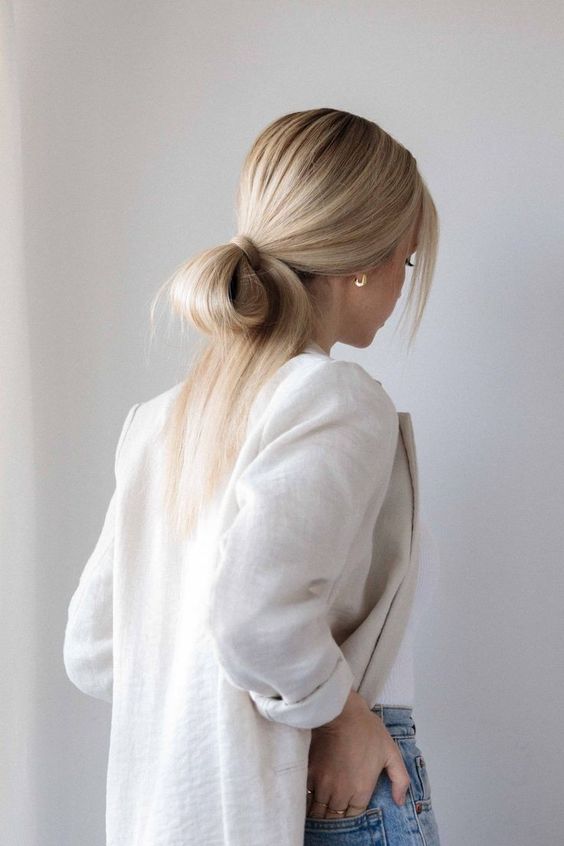 An unfinished ponytail will give a messy look but still look elegant. Therefore, a lot of people do this hairstyle. Like doing a usual ponytail but in the last bond, you can let half of your hair loose. Of course, this hairstyle is suitable to combine with a casual outfit only.
Low Bun Hairstyle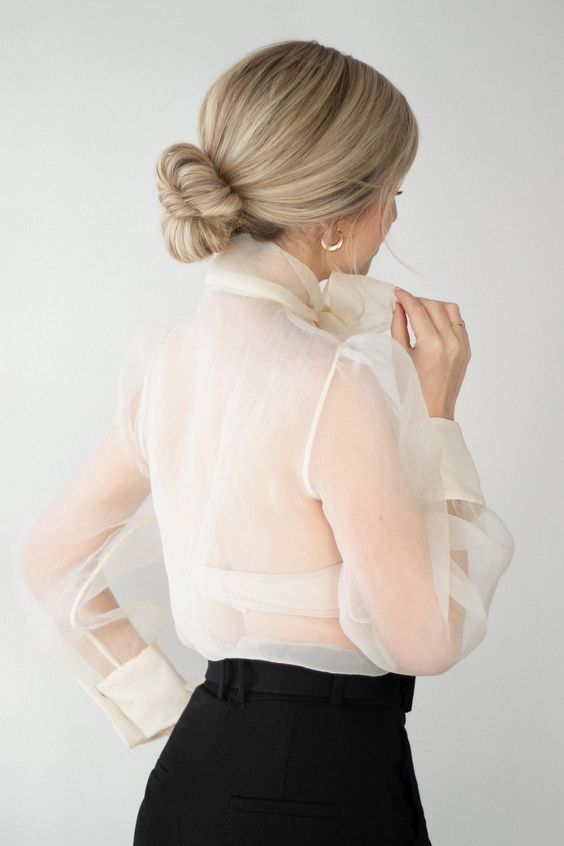 Want to look like a girl boss? Then, a low bun is an answer! This hairdo will give you a classy vibe like a boss but actually, it only takes 5 minutes to get. Comb your hair first to make it neat, then pull all of your hair and twist it until it makes a bun. And last, secure with a bobby pin or hair tie, just choose which one is make you convenient.
Headband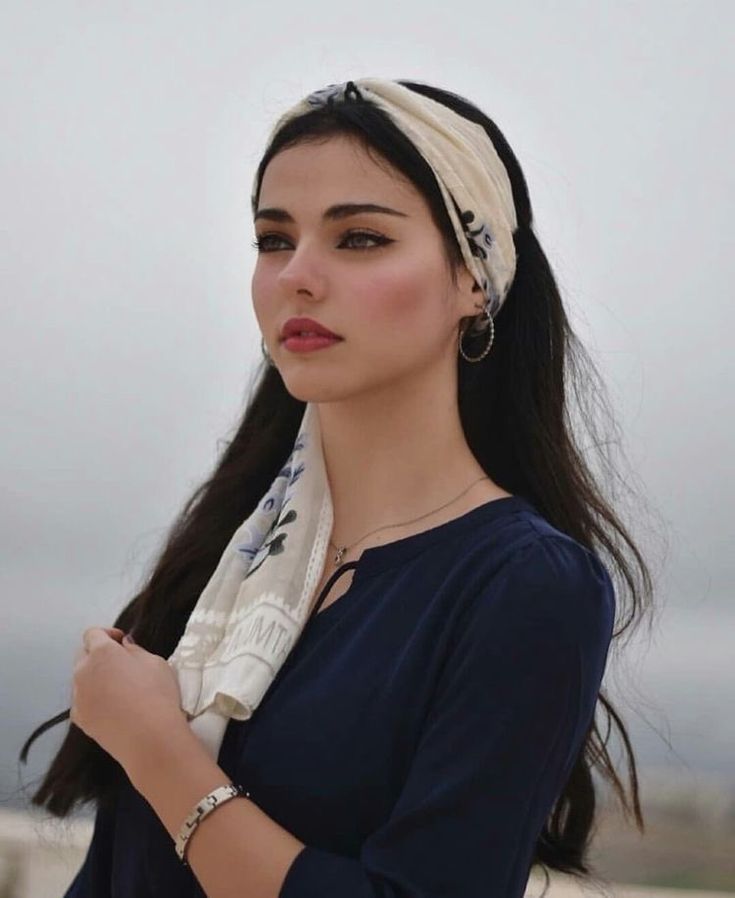 If you don't like to tie your hair but wanna hide your messy hair, we have the solution for you! Of course, you have to use a headband! You can wear any kind of headband, like in the picture, you can try to make your scarf as a headband. Just put it around your head and tie it, now your hair looks gorgeous!
High Ponytail with Bangs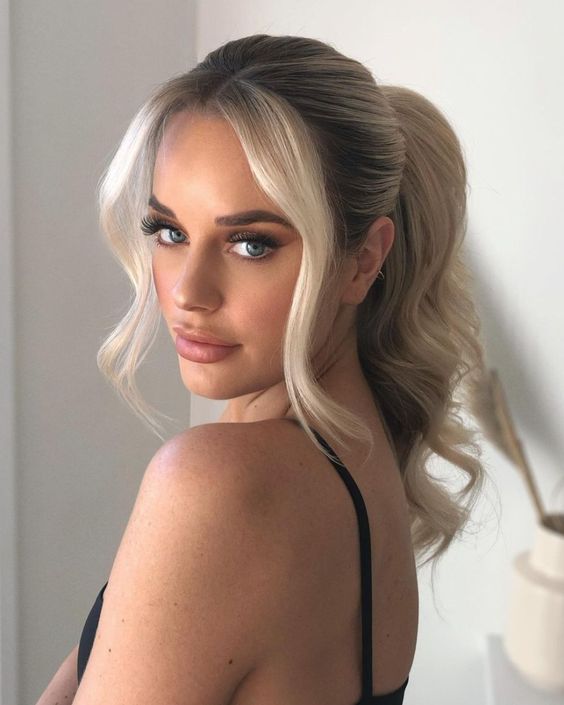 I guess a high ponytail already being your signature hairstyle! Yes, when you feel clueless and don't have enough time you will spontaneously pick the hair tie and make a ponytail. But to make it look stylish, you need to let a few bangs out and curl it. Use hairspray when you want to use this hairstyle for attending a special event in the office. This hack gonna help you to hide your big jaw or face!
Half Bun Hair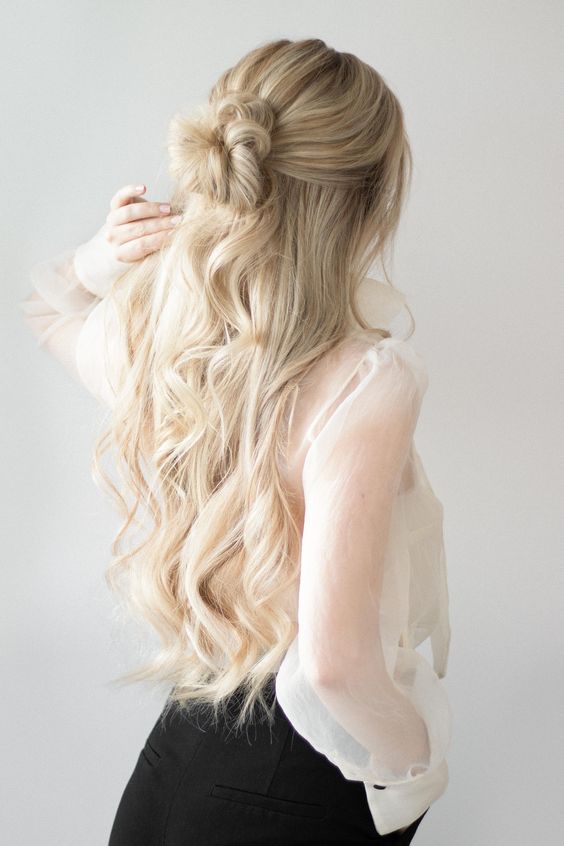 High bun and low bun already we share, now it's time for the half bun hair! This hairstyle can be used in casual and formal events. And to make this hair is similar when you make a half ponytail. But before you secure it, you have to twist it into a bun. Furthermore, use a hair tie or hairpin as the last touch.
Wrapped Around Ponytail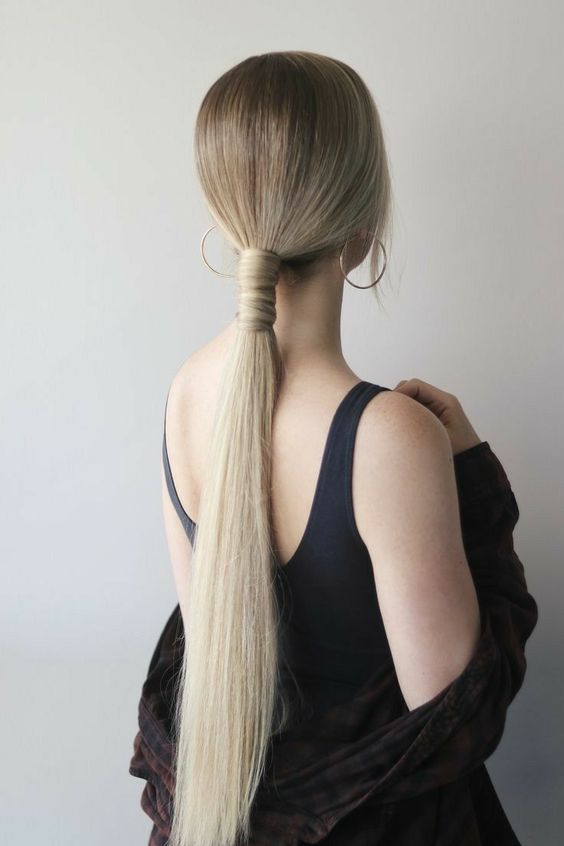 Wrapped around ponytail is one of the underestimated hairstyles but it will never fail to make you look elegant and fancy. So, if you want to achieve this hairstyle, all you have to do is make a low ponytail first. It's optional, you may use hair spray to get a neat look. Furthermore, take a little bit section of your hair and roll it around the hair tie, then use a bobby pin to hold it.
Wear Hairpins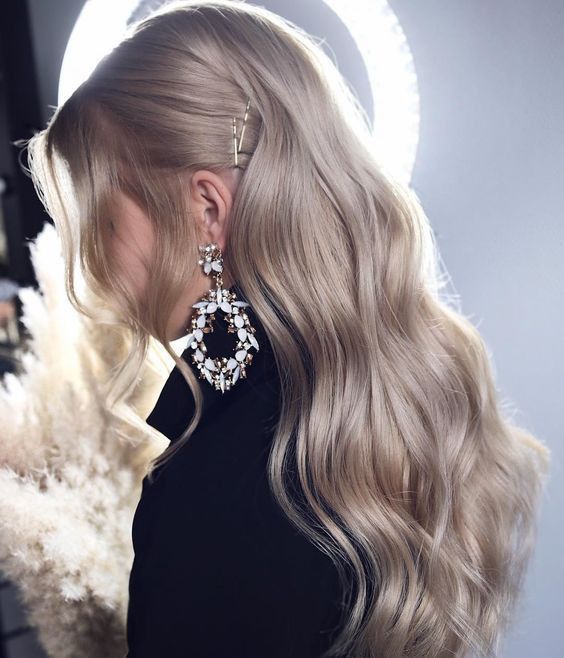 Another hair accessory that will save your life when you are in hurry is hairpins. This applies to the person who doesn't want to tie their hair or style their hair with an iron. Choose the hairpins that match your outfit and put it on the side of your hair. You can also use it for your limp bangs!
Loose Braided Ponytail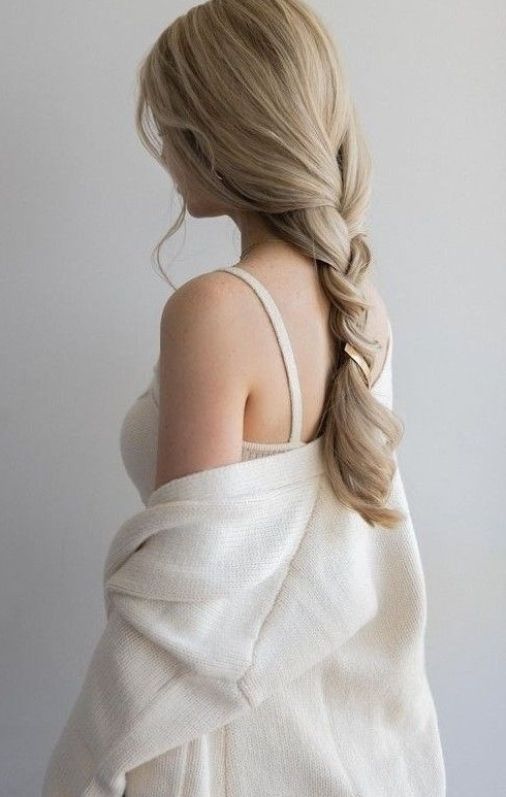 Want to look cozy and looks like you put so much effort? You must try a loosely braided ponytail! Even if it looks hard to achieve but the fact, it's very easy! Take all of your hair and make the braid from the lower part of your head, when you finish, you can go on with a hair tie. Furthermore, to give a loose effect, you should pull the braid slowly.
Low Bun with Scarf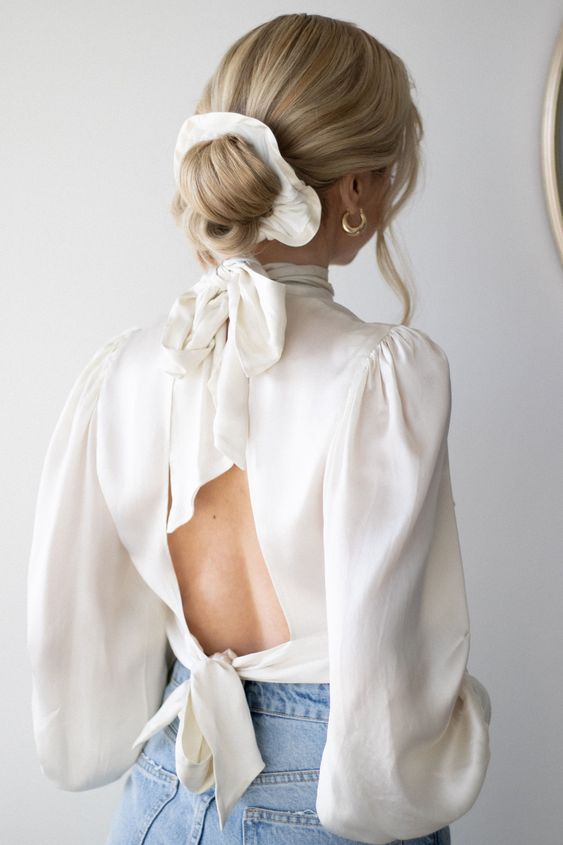 Girls, if you feel a low bun is very simple for you, just add a scarf! You can wear it as a headband or as a hair tie. Just choose which kind of style you want and suitable for your outfit. Make sure, you wear a scarf that's not too long to avoid the too much look.
Bubble Ponytail Hairdo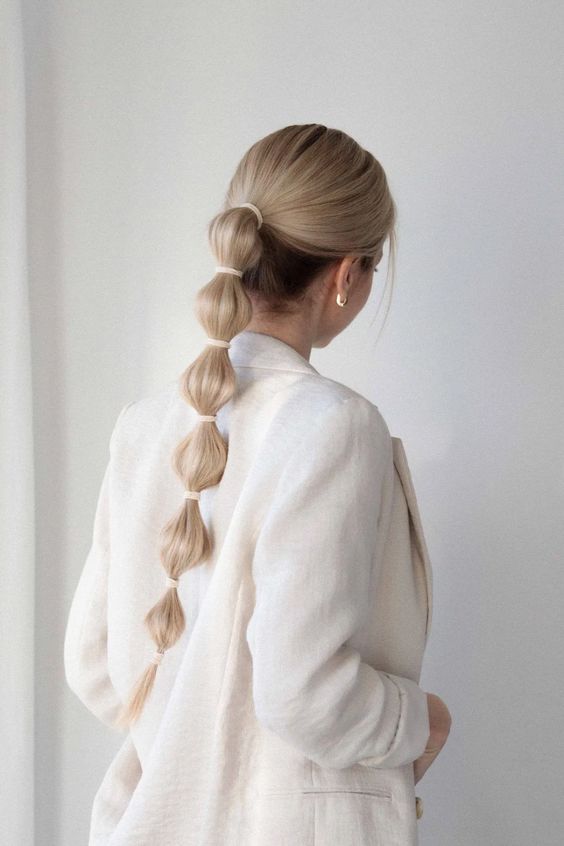 Some people might think bubble ponytail hair looks childish. But, I think it can make you look elegant too. Sometimes, the looks are determined by how you reacted not the outfit or hairstyle. If you agree with me, and fall in love with this hairdo too, we will give a tutorial on how to make it!
First, prepare a few hair ties that have the same design and color. Start to make a high ponytail first, then continue to tie the tail by giving some space. Pull slowly every space to give the bubble effects. Now, your hair is done!
Triangle Scarf Headband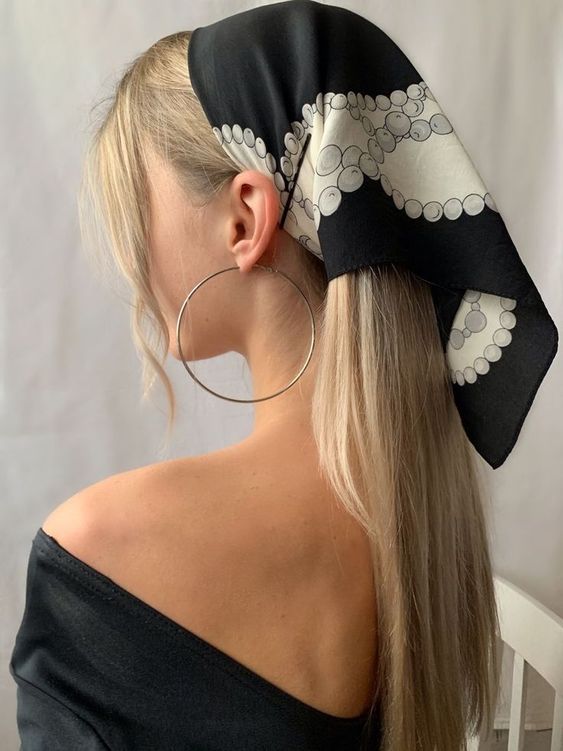 We never get bored using a scarf as a hair accessory! Besides it very multifunction accessories, a scarf can level up your fashion style too. Now, you can make your scarf as a triangle headband. Choose a scarf that has a square shape and fold it into a triangle. Furthermore, put it around your head and tie it.
Twisted Ponytail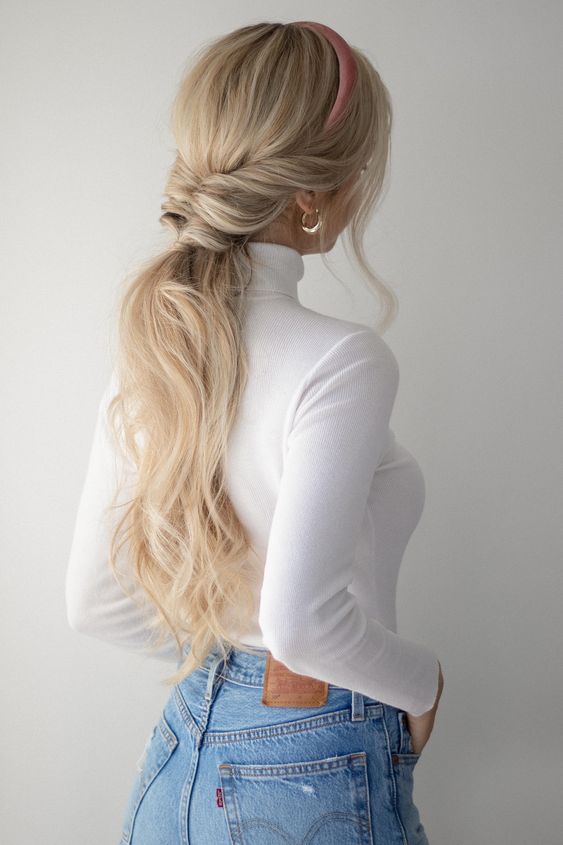 A twisted ponytail is meant for people who love the complicated look. Even if it looks hard, making this hair is totally easy! Start with a low ponytail, then make a hole above the hair tie. Furthermore, twist the tail in and your twisted ponytail is finished! Wear this hairstyle for a casual outfit look!
Half Braided Ponytail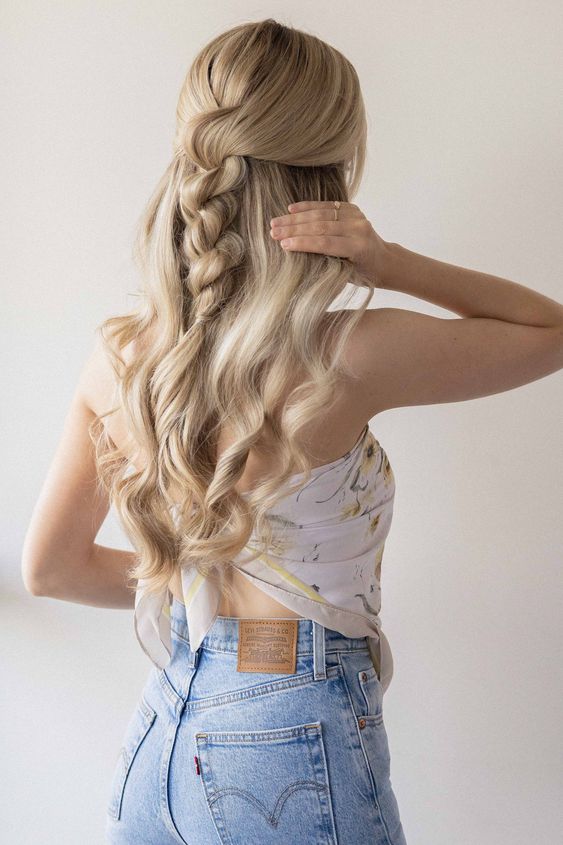 Isn't half braided ponytail look sweet? I think the same too! This kind of hairstyle is rare to use, but once you do it, you will be addicted! Add some hair accessories for supporting the sweet look like give a hairpin or headband. Poorly, this braided ponytail is only suitable for casual outfits.
Straight Hair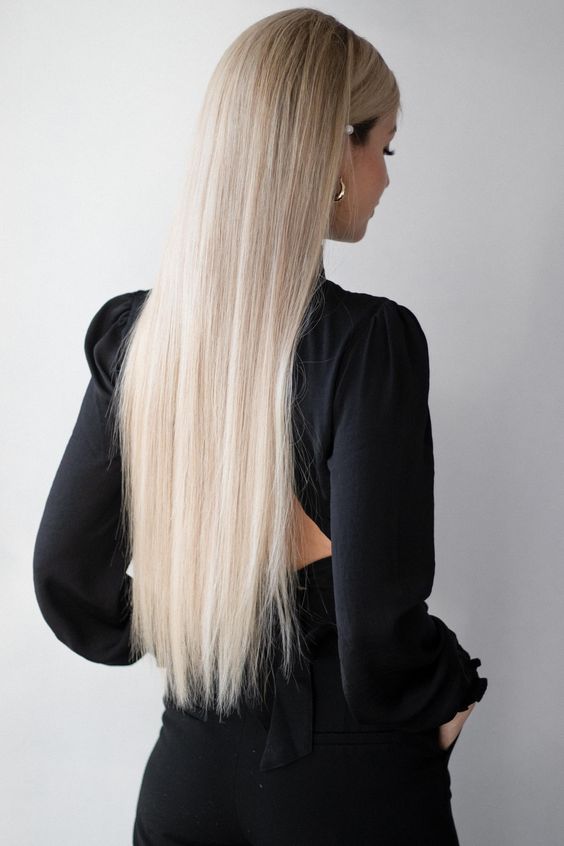 Comfortable with straight hair? It's okay, if you already have this kind of hair, maybe you just need a comb to tidy up it. But if your hair is curled, you have to use straight iron! Last, to make it stay long-last, we suggest you wear a hair spray.
Turban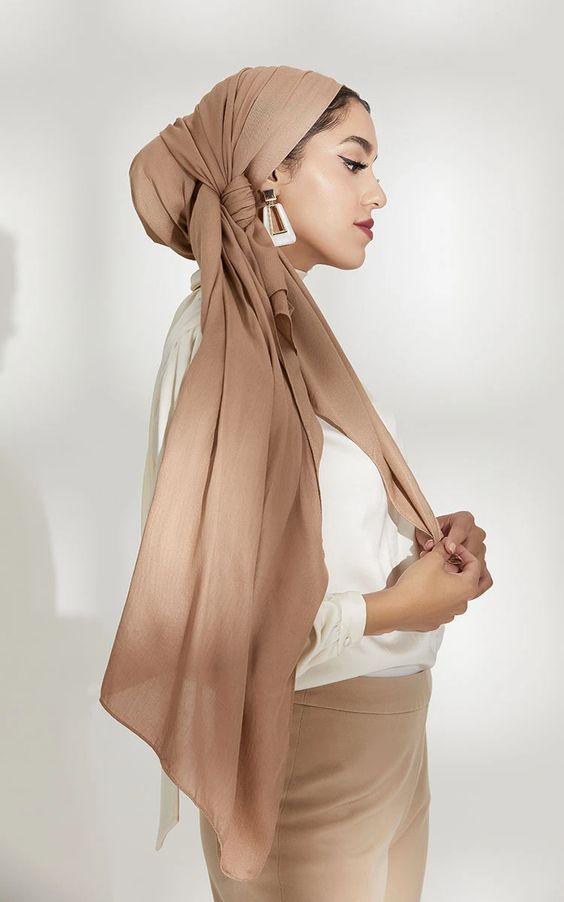 Still with the scarf, now pick your long scarf and make it a turban. This kind of hairstyle that inspired by Arabian girls. Isn't it when you see someone that uses a turban that is very pretty and formal? Therefore, we highly recommend you wear this look for a special event. But don't worry, it is suited for casual occasions too!
Now we through the last paragraph of this topic which is the time we will close it. Isn't this topic changing your mind? So, don't let your hair messy while working again. Because it will lose the elegant and professional side of you. I hope you can get inspiration from our ideas!