Drufashion.com – Since the pandemic of covid-19 spread, that makes the world and us blue. But behind it, we learn something important that we need to value everything in our life. Just like the freedom, gathering with people our loves without boundaries. Due to that case, we know that we spend a lot of time at home that might change the way our life. Anyway, during this pandemic whether you believe it or not. In the trend fashion now, we are back into comfortable and laidback feature outfits. As we have the summer days now, the casual dress is quite comfortable and fits with the weather.
Ladies, if you love something about the sweet clothing style look. Here we bring you some cute casual Korean dresses that will brighten up your summer days! In addition, the cozy outfit accent feature will boost up confidence. After you get full-on confidence, we are pretty sure you are more shining and look gorgeously down-to-earth for who you are! Without further ado, let's dig into casual Korean dresses down below!
Vintage loose dress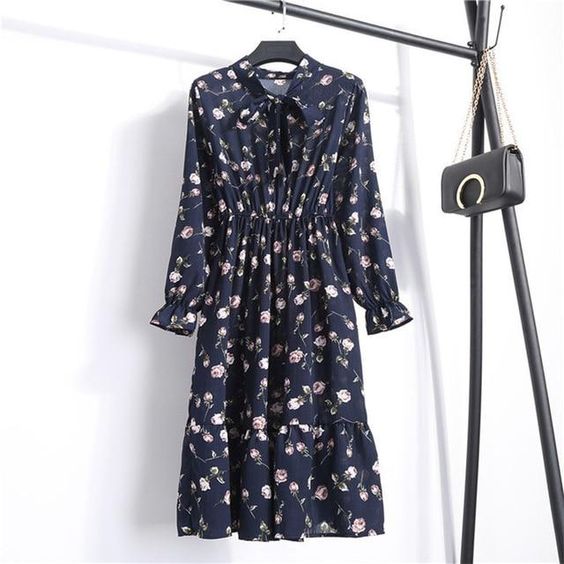 The loose accent feature is pretty comfortable to wear on sweltering days like in summer! This vintage Korean casual dress is looking so cute. The deep navy color tone combine with the soft floral accent hue is perfectly sweet! A beautiful and comfortable dress will make you feel great confidence. The lightweight, the breathable feature will make us cozy!
Chiffon plaid dress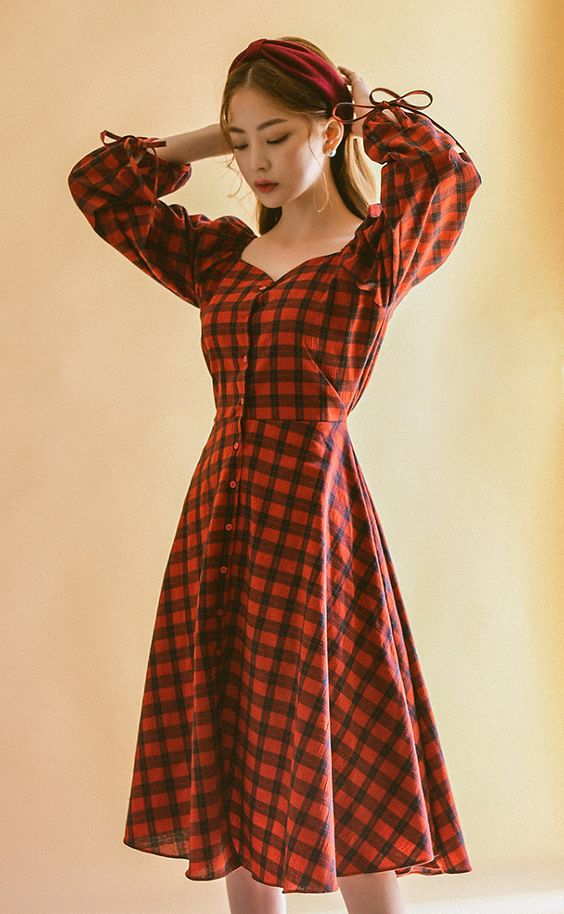 In creating a beautiful dress, choosing the perfect material take an important thing. Just like this loose maxi plaid dress using chiffon fabric as the main material. Chiffon itself has a unique texture, beautiful waves which are good for making the gown and dresses. This Korean casual dress looks so cute with puffy sleeves that fit the front button style. Another point that makes this dress absolutely cute is the perfect color tone, combining red and black shades is a trend color scheme for the plaid clothing items. Girls, wearing the bow, or bandana that matches your dress color tone could enhance the sassy girl looking!
Floral v-neck midi dress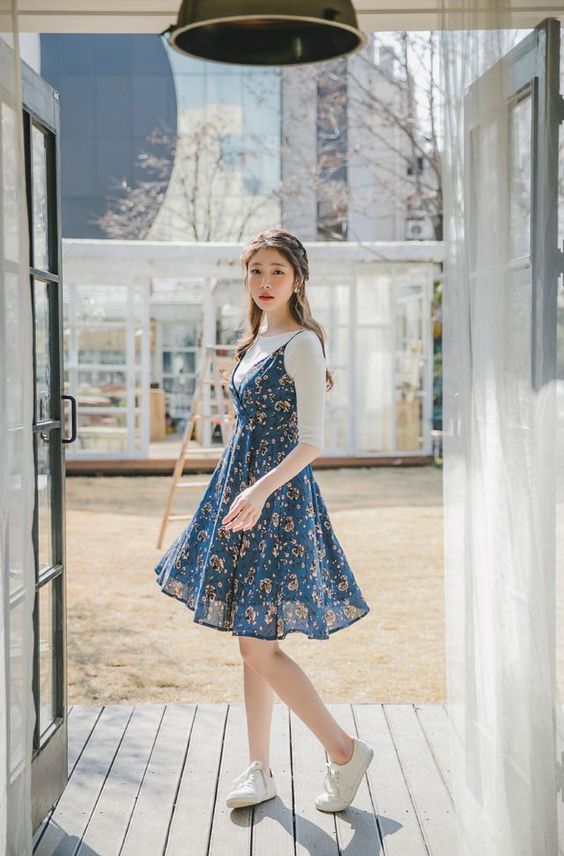 Let embrace the beautiful sunny days by wearing the floral accent dress! Lately, we've been seen a lot of Korean drama and Kpop artists. There is something unique we can find from seeing Korean pop culture. They have an extremely trendy clothing style that is in great demand among youngsters all around the globe. Each one of them is their casual look is flawless especially the girls. You will not be out of the ideas to look sweet for the summertime, here we have the floral midi dress Korean style, The blue color-based combination with a floral accent is extremely sweet. Giving a nice layering concept for summer, for such wearing the white fit shirt inside then contrast it with the blue midi dress. The ideal footwear choice for this casual dress is white sneakers. This look is absolutely sweet and fit for all young girls!
Light cream embroidery mini dress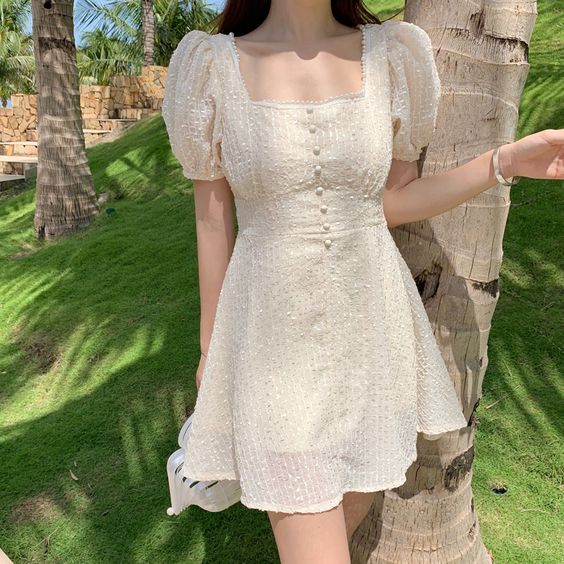 The unique texture embroidery style makes it looks distinctive and one to another. For the neutral color tone dress such as light cream palette in that dress need a punch and accentuate the design. The embroidery texture enhances the neutral dress to be more attractive. We can see the puffy dress and loose dress wave make it looks so cute! Girls, you can wear sneakers or sandals that will look good with this lovely dress! Using chiffon fabric as the material and mini dress feature will make your skin free to breathe in hot weather conditions!
Spaghetti strap loose cami dress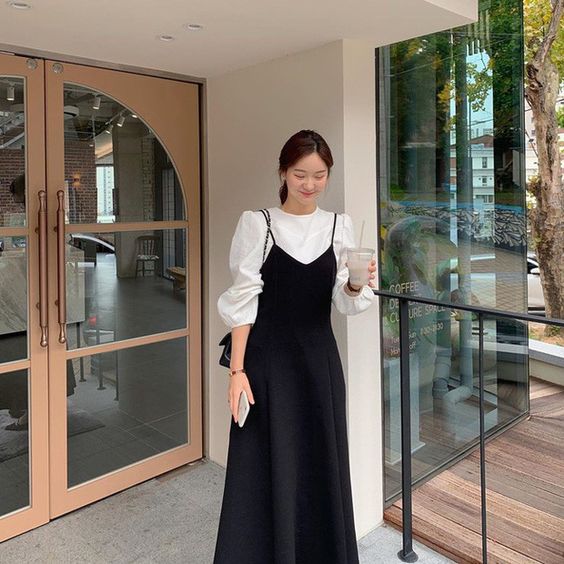 Another casual Korean summer dress we can get is the spaghetti strap loose cami dress. This type of dress is quite simple but successfully gives a cute look! Choosing the black cami dress and simply combine it with a white shirt or tee shirt. Wearing this casual dress for hanging out with friends outside is enough. Simple feature but timeless look and affordable one makes this dress worth being in your basic wardrobe idea! Showing the powerful and lovely feminine loom by choosing the puffy shirt inside. So, girls do you like this type of dress?
Collared dress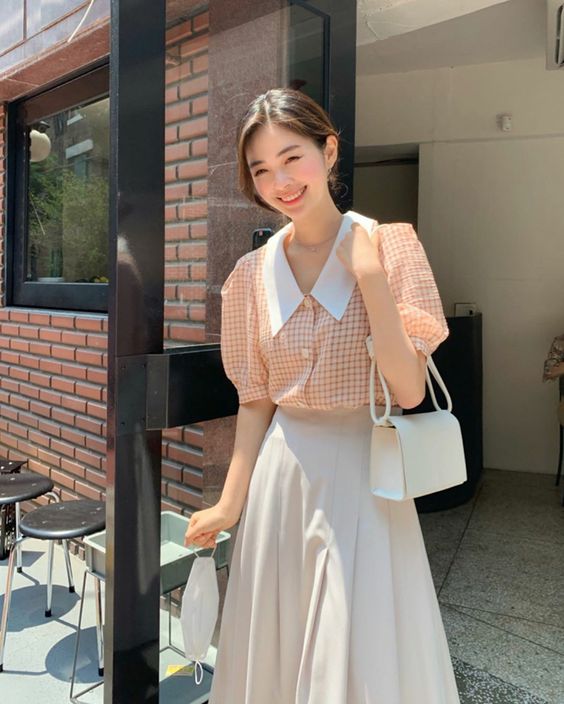 Differ from the other dresses above, this one has a collared design and combines it with a skirt. The little plaid pattern transforms into the upper dress and the cream skirt balance the color palette and the textural pattern. The soft color palette and lovely design casual dress make you look down to earth! In addition, you can wear a sling bag or a couch so you look simple and chic. A pair of strap heels sandals will make you look so feminine. But, if are not really into heels, then the pair of white sneakers offer a more casual and comfortable feature!
Denim dress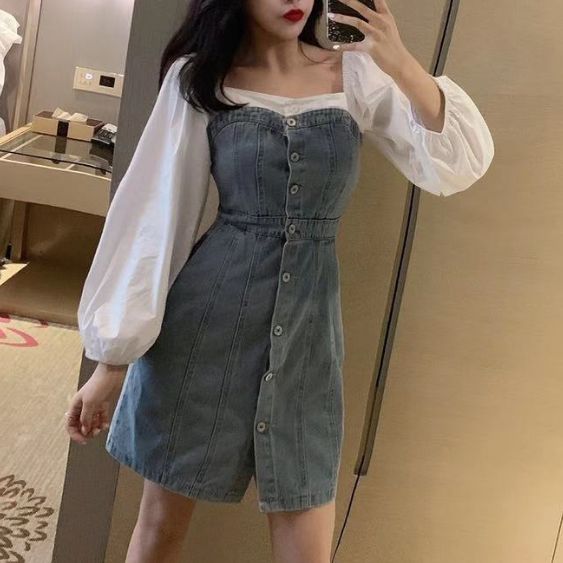 Denim is well-known as a powerful street fashion item. A very unique fabric and color palette make this piece of outfit so distinctive. It is also can make a big statement to the look. Denim which usually we can find in jeans and jackets now transforms into a beautiful dress. Combining the fit front-button design with puffy white long sleeves. The white puffy sleeve and washed denim fabric complete each other creating a trendy dress. This type of dress could be a good clothing item for Korean street style ideas!
Lovely tie waist floral dress idea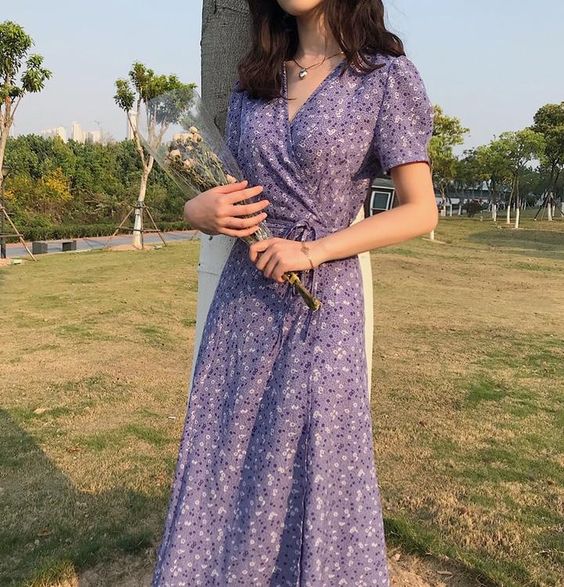 We have come to the last cute and casual Korean dress ideas for summer! We have the tie waist floral dress in a soft purple blush color palette. The little flower prints make the dress look more soothing and sweet. Not only cute but this dress is also super comfortable. The lightweight, breathable features are so good for the essential warm summer days!
Conclusion
As we have seen in some of the designs above. The major rule of choosing the sundress is must be comfortable. There is linen, chiffon, silk fabric that has a great wave for dresses. The lightweight and breathable features also promote comfort. In this writing, we have compiled some comfortable and trendy dresses. Korean dresses tend to choose the soothing or neutral color palette for the sundress. These essential colors give a laidback vibe and sweet look! However, there are quite various casual Korean sundresses we can choose from. From the waisted style, puffy sleeves, and a lot more styles that could enhance your beauty! After seeing the casual sundresses above, which one is your preferred dress?