Drufashion.com – We are so happy to welcome the warm season, summer! The sun is shining, the clear beautiful sky upon us, and we feel the thermal comfort around our living. There are many things to do outside on sunny days. We can play beach volleyball with friends, laidback on the beach chair to feel the summer sun, or even just hanging out to shop for some beautiful dresses! Exploring sunny days outside is quite fun!
Did you already have a plan to enjoy the summer holiday this year? Wherever you go, you might have to prepare sweltering outfit essentials. Summer is the perfect time to wear a beautiful dress. Embracing the cheerful sunny days with some beautiful floral sundresses collection! We will be sharing with you some pleasant floral summer dresses to wear and accompany you on unusually arid days. Let's dig in!
Floral strap midi dress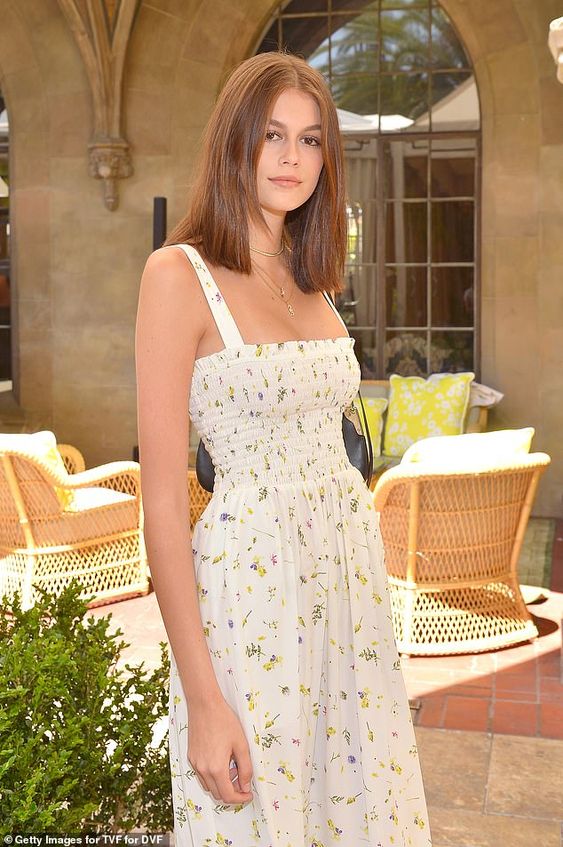 Displaying small floral prints on the neutral white dress will give your appearance calm. This beautiful sundress has straps and ruffled back features, and super lightweight. So, you will not feel stiflingly hot on unusually arid days. This casual sundress perfects to style your laidback summer vacation. You can style this dress on the beach vacation or even styling casual street style, that absolutely chic!
Chic Selena Gomez casual street style with a wrap sundress!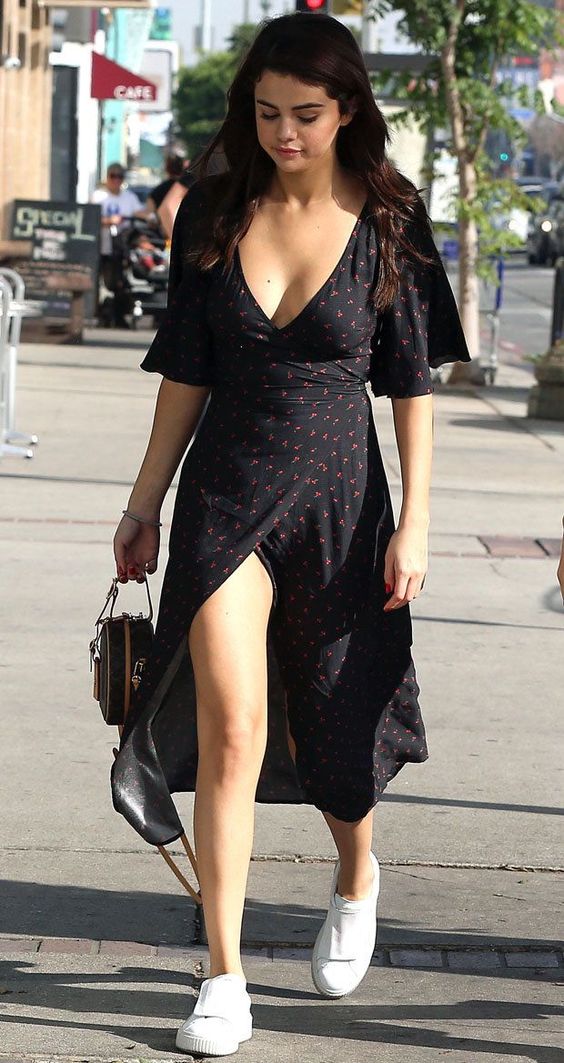 Girls, if you are looking for a casual sundress to liven up your street look. You can steal Selena Gomez's street style for this warm weather fashion look! She's gorgeously looking cute wearing a black wrap midi dress with a small floral accent. A pair of white sneakers can be worn to give a casual style. In addition, you can bring the small sling bag that's all you are ready to have hanging out with the chic fashion look!
Lovely floral long dress!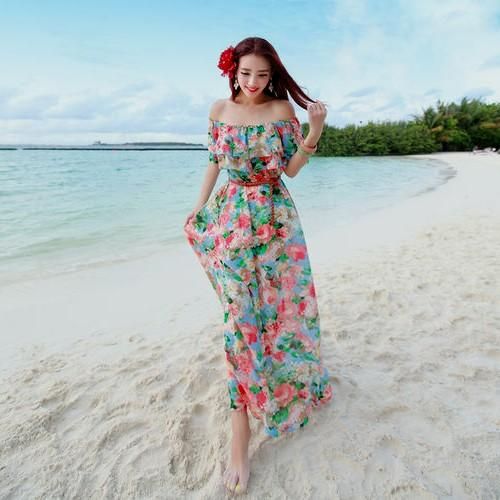 If you're going to have a summer vacation this year, let's bring a beautiful dress. To impress our friends with the gorgeous look or even taking a snapshot of your gorgeous look on the beach! This colorful long floral dress gives you a calm and down-to-earth personality impression. The lightweight and lengthy feature will give you full comfort on the blazing hot day on the beach!
Belted waist mini dress with ditsy print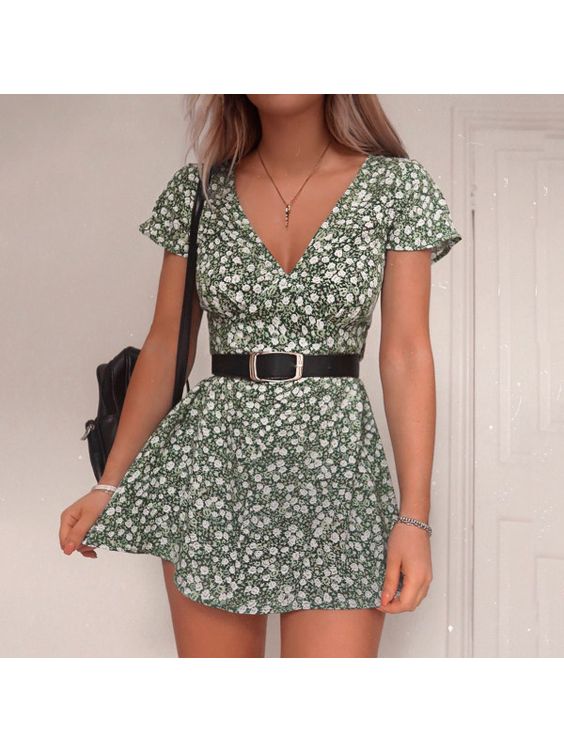 Are you looking for a chic but looking trendy dress to accompany your summer holiday? You don't have to worry about that, We offer you to get a belted waist mini dress to enjoy your casual sweltering day look. Ditsy prints on the green backdrop dress give you a lovely girl look. In addition, the belted waist gives you a trendy appealing street warm weather essential! A pair of ankle boots and a sun hat are paired to give you classy summer outfit ideas!
Cute Daisy split sundress style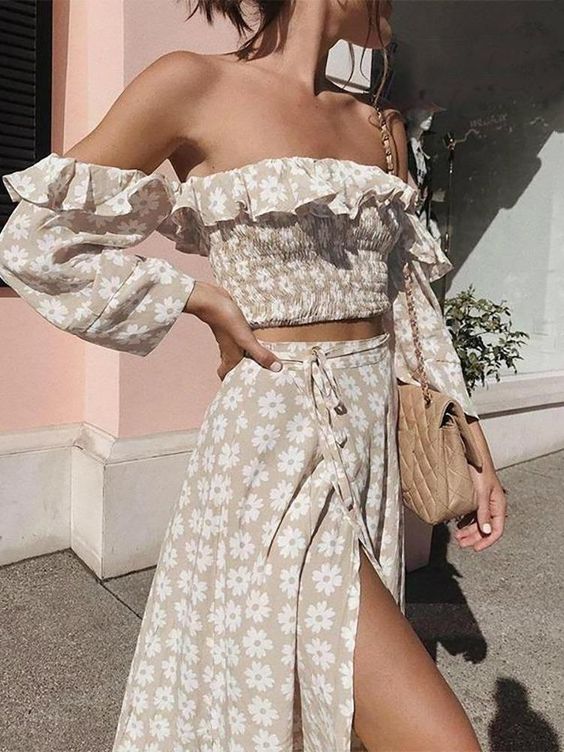 Another type of dress you can be worn on unusually arid days is a floral split dress. In the picture above, the daisy pattern is printed on a neutral color tone dress. This will give you a pleasant and soothing look. The spit dress type will make you feel comfortable on blazing hot days. The ruffled and puffy sleeves give a feminine accent to your look. To complement a neutral sundress you have, you can bring a soft brown leather bag.
Casual floral mini dress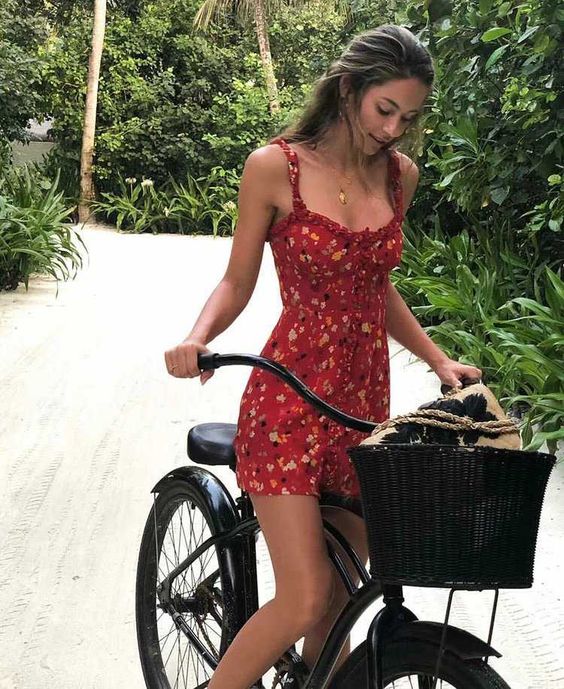 Another pleasant floral summer dress we want to share with you is a casual floral mini dress! The red floral mini dress embraces the cheerful warm environment. You will never go wrong to be generous on bright color tone outfits in the warm season. That is why this casual red mini dress is just perfect to give you an attractive fashion look!
Cute U neck and puffy sleeve floral dress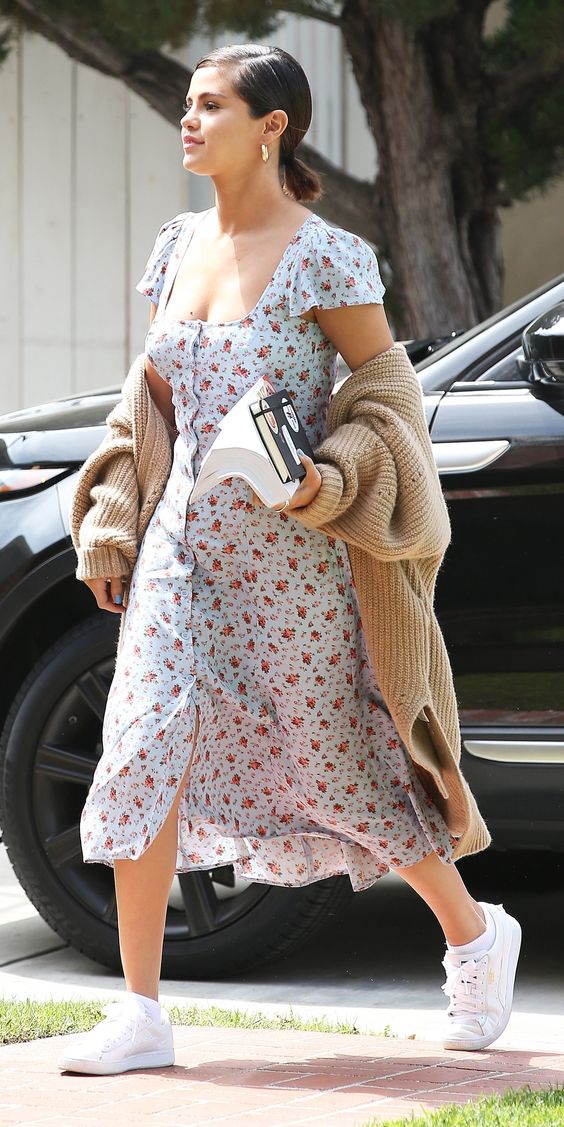 Selena Gomez is one of the most fashionable American actresses and singers. She has abundant cute to cool Millenial street style collections. To style your casual summer look, you can follow her lovely look. She wears a soft blue floral dress with a front button. The U-neck feature allows the wind to touch your skin, which will avoid extreme sweating on sweltering days. In addition, the puffy sleeve gives a feminine and lovely accent to your look. It's indeed comfortable to wear a light dress on blazing hot days!
Looking so calm with a blue daisy sundress!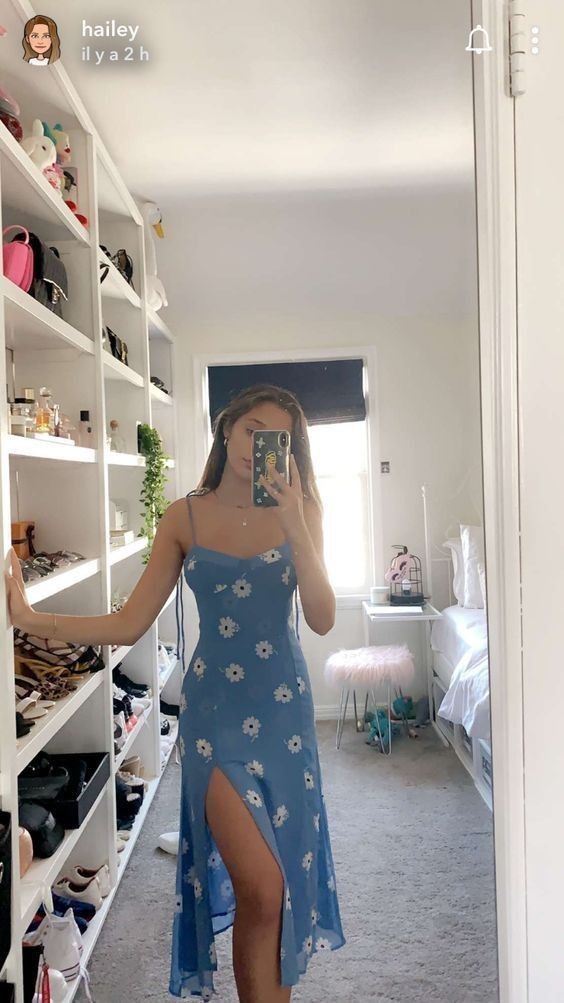 Blue is the color of the ocean, it reflects the calm sense to the eye. So, why not wear a blue color tone dress for summer vacation this year! When the blue color tone meets the beautiful floral prints for such daisy, it just looks so down-to-earth! To give an attractive feature in this calm midi dress, you can use a thigh-split feature on your dress. Now, you are ready to go on a beach vacation!
Pleasant evening sundress!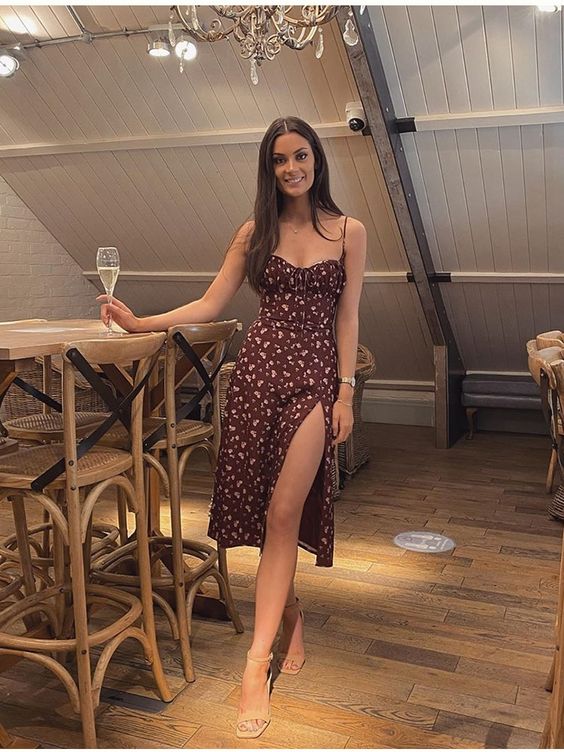 What else we can do some fun activities on a summer evening, having a cocktail party with friends. If you are looking for the proper attire to go on such a party, you can slay the event with an earthy color sundress. The thigh slit feature will bring out the attractiveness of your appearance. Hanging out with your friends, enjoy the laidback feel on the evening is quite fun. The simple dress can be gathered for your casual event! To give classy look, you can pair your casual dress with a pair of earthy color tone strap heel sandals!
Off-shoulder sleeve midi dress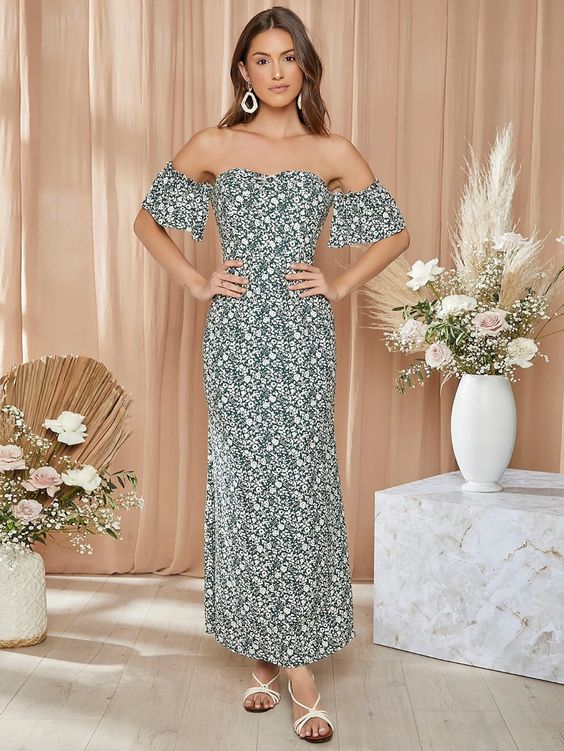 To enjoy the summer day, you can go with the floral midi dress. The ruffled and off-shoulder sleeves can give you a girly and classy look both at the same time. Then, the green color tone meets the ditsy white prints give you a lovely look. You can improve your look by wearing simple accessories. The geometric loop earrings give a big punch to your fashion look. Keeping it in the lowkey fashion look by wearing simple strap sandals! This simple but classy look can be worn when you have dinner on a summer night, we guarantee he will adore your lovely look!
Conclusion
When the summer season comes, the warmth of the sun gives us so much passion and liven up our life. Embracing the warmest season with the best look you can do is something you can't relate to. We're here to give you some ideas to make the most memorable fashion lookbook. The floral accent dress could be your option to create an incredible summer lookbook! We hope you enjoy writing and sharing ideas on choosing the best sundresses. Stay healthy and have a great vacation, everyone!