Drufashion.com – When it comes to the new season, we have come to a new style. For this summertime, we want something different from the usual look. Looking standout for summer with an elegant look is something extraordinary!
If you want to look classy for your summer but thinking about the budget you have, we have a solution for you. Here we have rounded up the best summer look to show you amazing classy summer outfit ideas without too much drain your wallet!
Talking about classy style, we can not go wrong with a white dress. This neutral hue astonishingly creates an elegant look on top of others, we have some white outfit references to create classy summer look ideas. Without taking too much time, let's dig into the 15 best classy summer outfits down below!
Simple Mix-Matching In White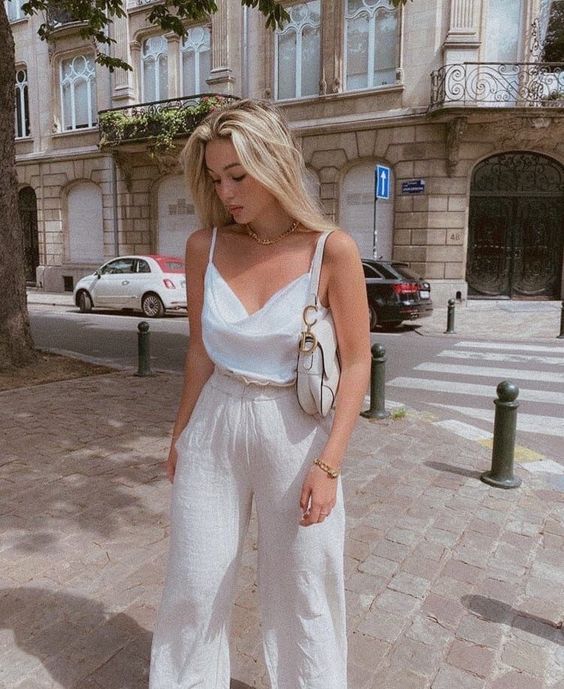 There is a statement said "white is the most elegant and versatile color" that has ever created. Well, let us approve that statement in the way of dressing up. Mix matching up the white top and a white high waist linen trouser. Choosing high-quality linen brings out a classy style. We guarantee it won't drain your pocket while showing an elegant look for this summer!
If you want to raise your classy look, attach simple accessories for your elegant look with a gold jewelry accent, and sweeten your feminine appearance with an armature bag that suits your dres' hue.
Over Knee White Floral Dress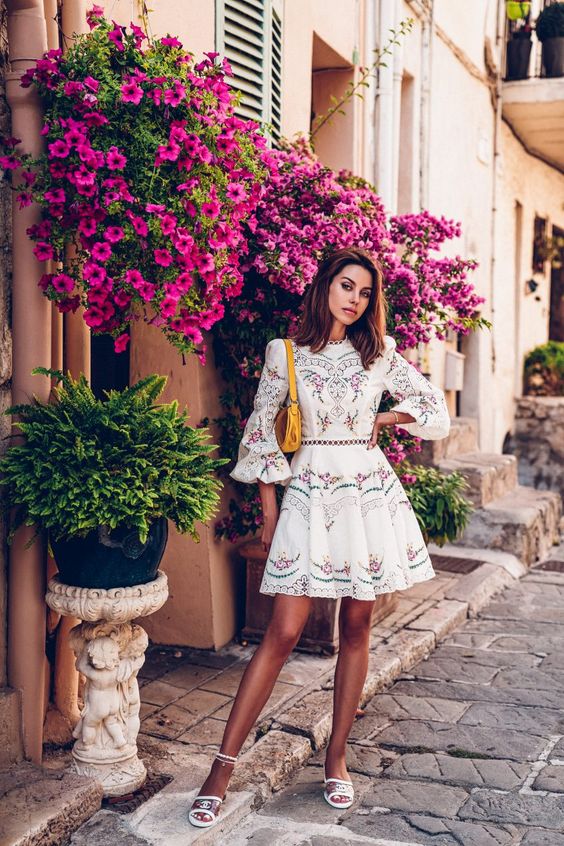 Looking classy in summer with an over knee white floral dress, complimenting a classy look with a pair of nude white heel sandals, giving your look chicer with a yellow pop color armature bag. One thing to achieve a classy look for summer is to wear a simple dress, but choosing a high-quality garment that will make bold in a glam look. You have to try a white dress for the summer now!
Mix-matching Sundress With Denim Jacket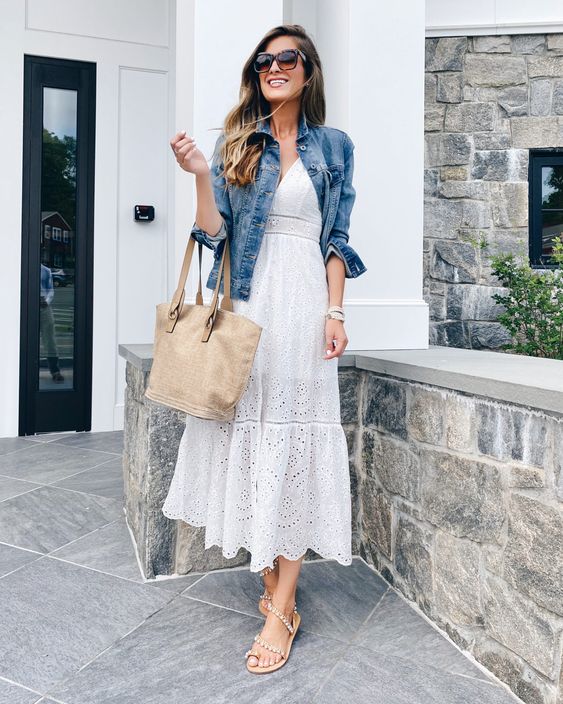 Another way to look glam on a summer day with a budget is to mix-matching white sundress with your timeless denim jacket. To support your classy look, adding some accessories attach to you such as sunglasses, neutral hue tote bag, and relax with a pair of strip flat sandals. So, ladies, you can achieve classy style on your budget with a sundress and your timeless denim jacket.
White Button-front Dress and Denim Jacket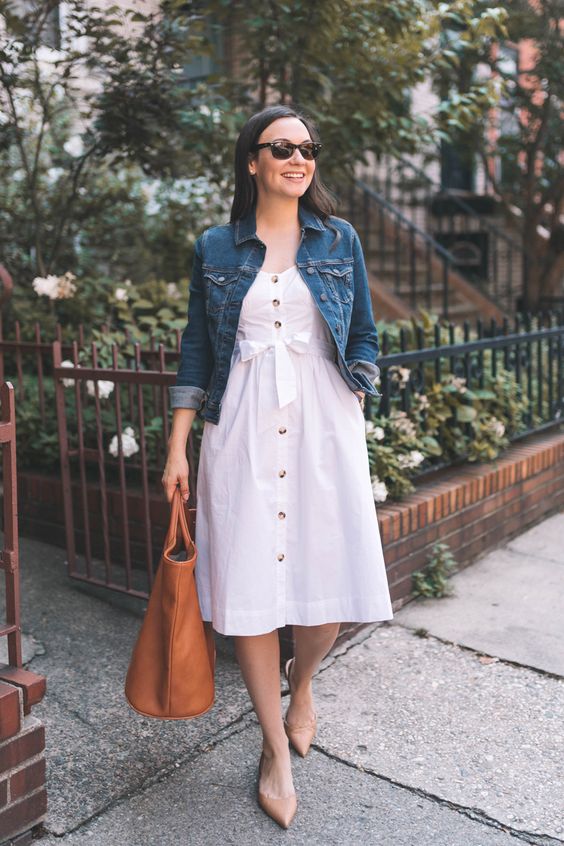 We still can't get enough matching up a timeless denim jacket. You can style your denim jacket anytime as possible in summer, fall, or spring. Now, let's mix-matching a denim jacket with a white button-front dress that looks fit together! Wearing your sunglasses to extend the summer vibe in your style. Giving an extra glam look with a brown leather bag. Fitting your outfits with a flat nude pump. Ladies, now you are ready to shows off your glam look for the summer on a budget!
Button-Down Silk Shirt and Trousers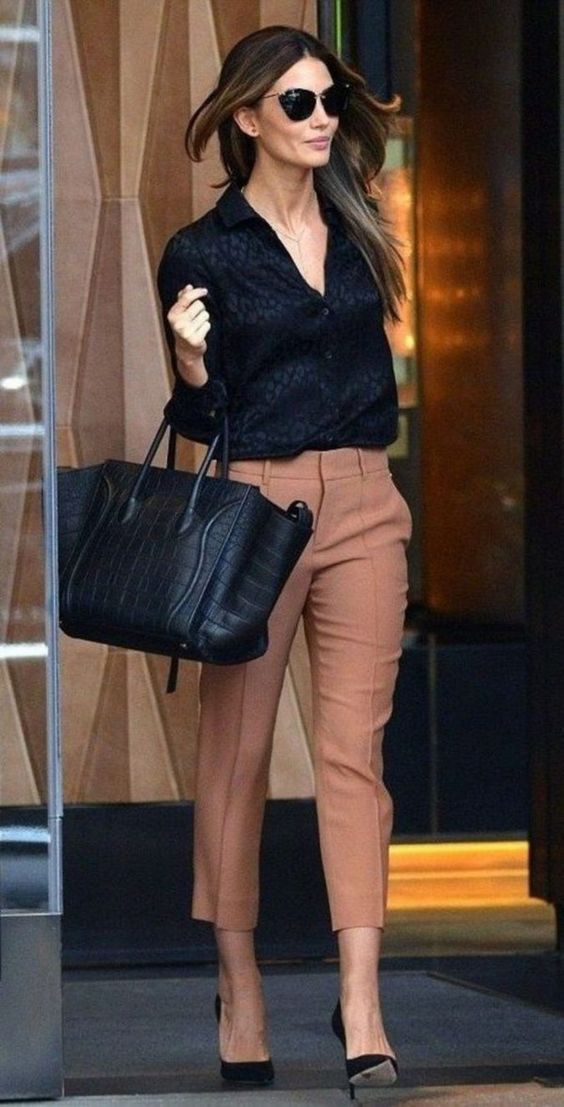 Celebrating summer vibe with classy look outfits for businesswoman comes to our concern too. Styling your work outfit with a touch of a glam look. What is possible glam wear for a businesswoman going to the office? We have an idea to mix-matching a button-down navy silk shirt with earthy color trousers. To accompany your glam office style, you can bring a black leather tote bag and one last item cannot forget about. Completing your stylish office outfits with a black pump. So, ladies do you love this idea to elevate your stylish outfits for a summer?
Shining Through a Floral Kimono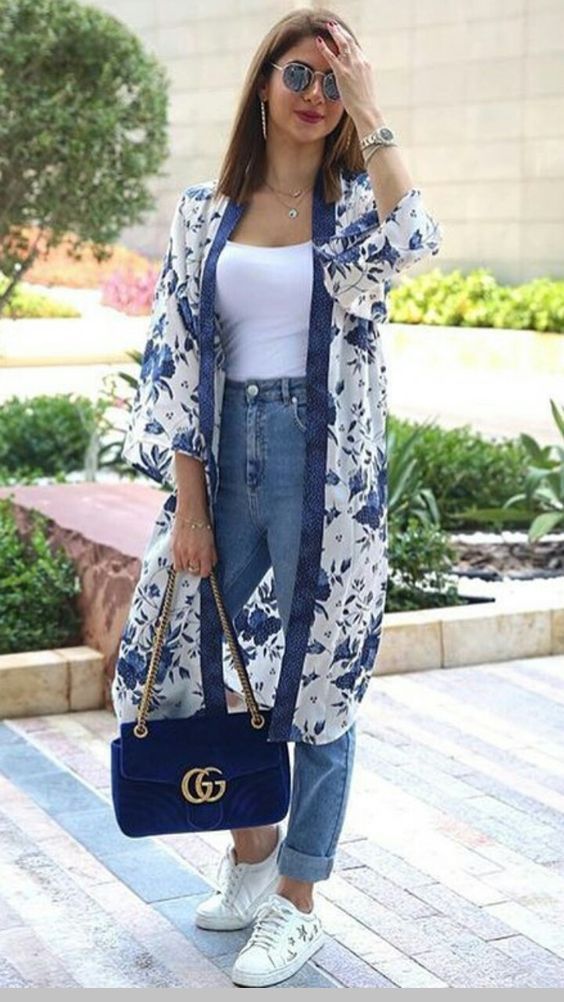 Do you want to style your summer style by wearing denim jeans? If si, we offer you a simple trick to add a glam look. Well, you can layer the white top with a lovely floral kimono, complementing your relaxed summer street style with sneakers. Giving your casual summer style a touch of classy look by wearing a jewelry gold accent. Do you love this idea for a summer idea?
White Romper and Plaid Shorts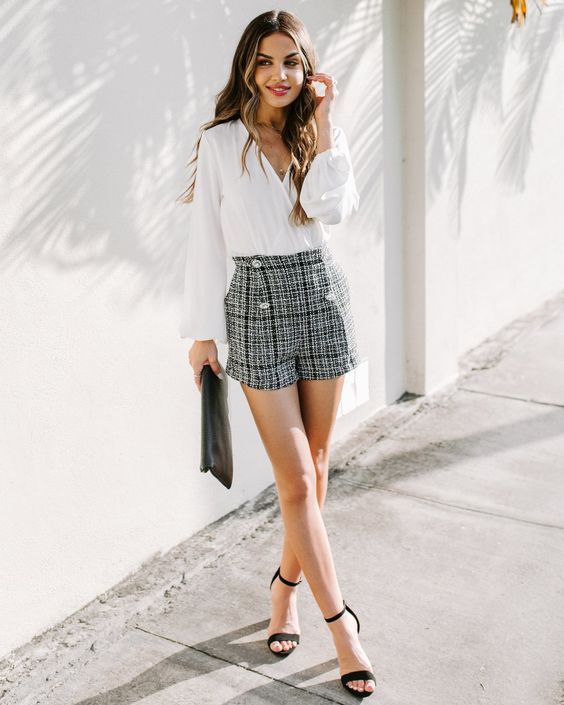 A white romper matching up with plaid shorts is such a good outfit transition. This light wear is just perfect to accompany you on a blazing hot day in summer. Adding extra glam to your summer outfit style with a black leather clutch bag. And you can also wear a pair of black strap heel sandals. This mix and matching style is so easy to copy, this look gives an extra dimension of glam casual style blend with a chic attractive look well together. It is so simple and you can achieve elegant look on a budget ladies!
Minimalist Black Outfits For Summer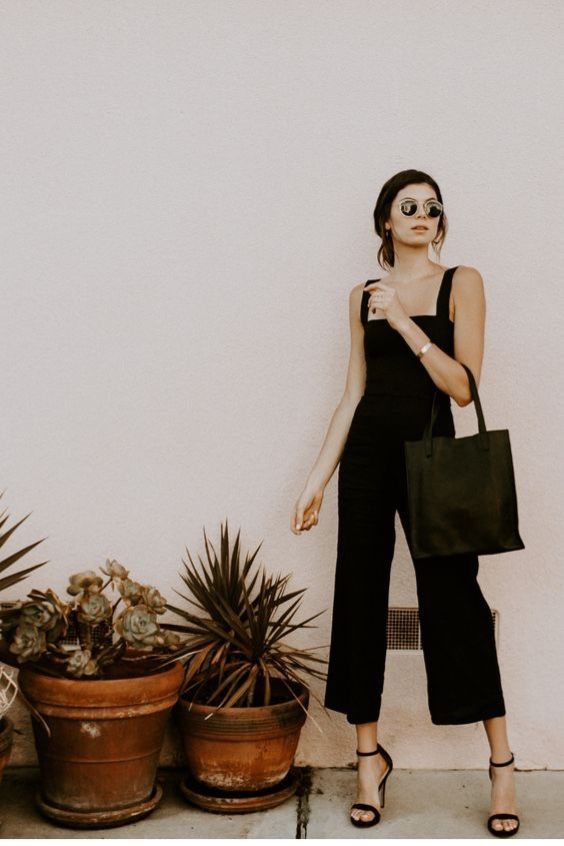 Dressing up in all black will never be boring, this minimalist in black style creating an elegant look. So, here are some outfits that all look good combine together in black! Starting off your classy summer style by wearing a black top and then a comfortable loose pant, and then adding your classy style by wearing a pair of strap heel sandals. Giving your minimalist chic look with some accessories such as sunglasses and a tote bag. All of these wears in black hues. Do not worry about wearing outfits all in black, this minimalist style just looks perfect to show your chic and classy summer outfit idea.
A  Mix-matching Floral Chiffon and a Beige Dress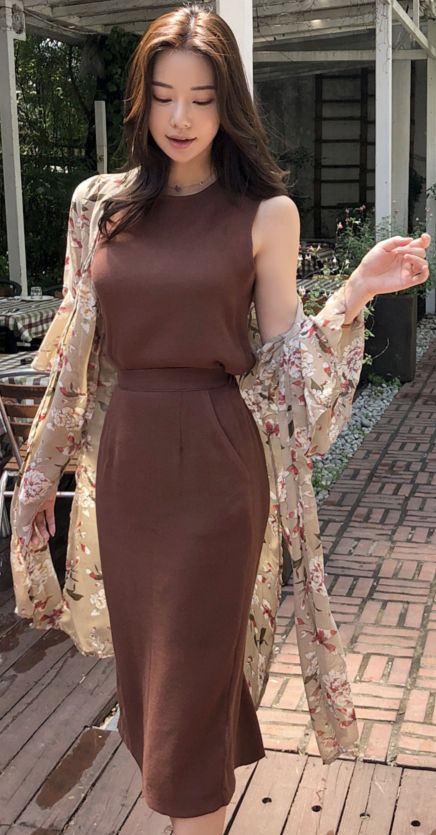 Another classy mix-matching dress for summer outfits is tur to chiffon outer. You will get surprised by how to look good you are in a summer dress, combining your beige sundress and layering with a lovely floral chiffon outer. And to joining your lovely piece summer style by wearing a pair of heel sandals. Now, you look classy to celebrate amazing summer days!
Mix-matching Floral Swimsuit Top and Lose Pants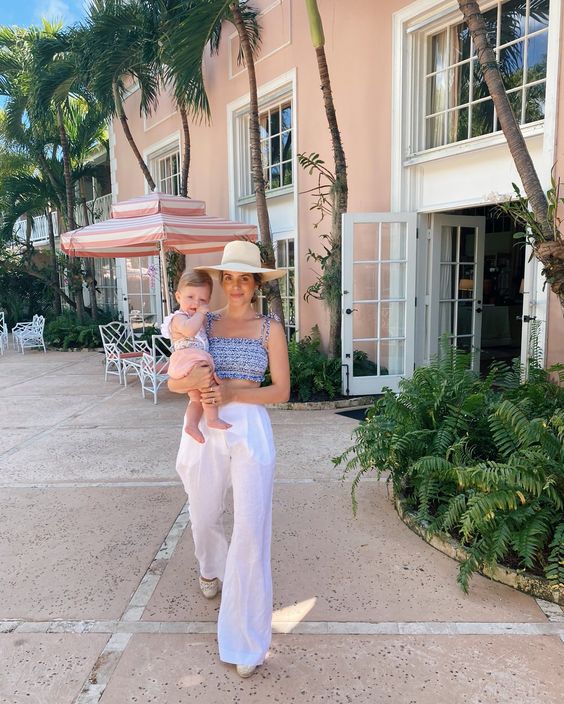 Ladies, you can style your beach outfits to look glam. We recommend you to have a classy style on the beach and remain comfortable in summer wear. First, you can wear your floral swimsuit top and then combine it with comfortably loose pants, and then you can wear a pair of beige flat shoes. To accompany your beach style you can wear a summer hat that protects you from the sun's heat. It is a simple way to look classy while being on the beach, and for any moms, you all look to fit in this outfit to show your classy summer outfits!
A High Waist Floral Dress and Jacket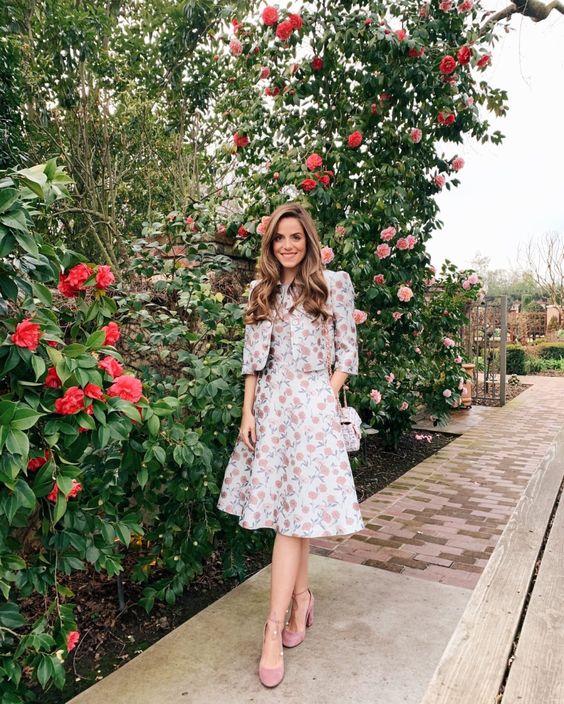 This dress is looking cute and classy both at the same time. It is perfect if you want to have a distinctive look one to another on summer days! Well, if you want to achieve a classy look for summer by wearing a set floral dress and jacket on a budget if you have any beautiful sheets of a printed floral garment at home simply take advantage of them!
You can go to tailoring to make a beautiful dress that suits your taste. If you can sewing by yourself that will save your money lots. Alright, when you already have the pair of floral dress and jacket, you are ready to go outside to cheer on summer days! Wait, that is not enough, do not forget to wear footwear, we advise you to complement your lovely look with a pair of neutral hue heels sandals. Now, you are perfect to show your classy summer style on your own!
Check out cute and fashionable clothes for a little girl: Fashionable Baby Girl Clothes 
Floral Blouse and Wide-Leg Trousers- A Combo Classy and Comfortable Outfits For Summer!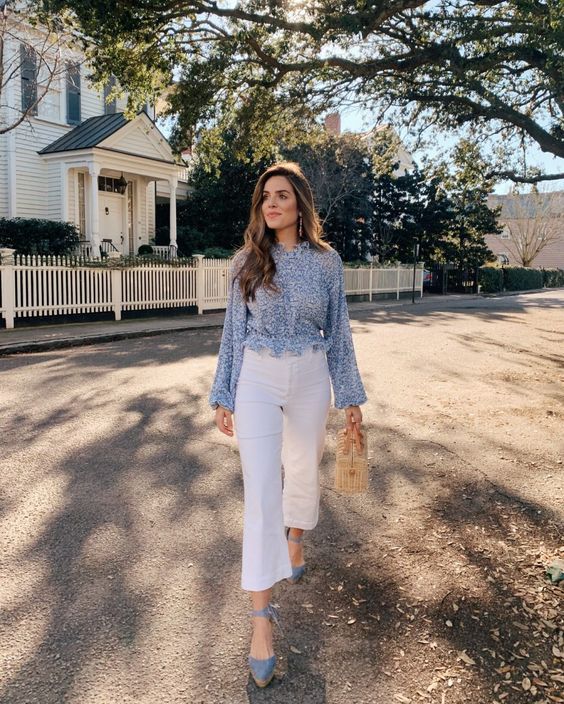 Do you have any wide-leg trousers and a floral blouse in your wardrobe? take them out and matching up together for your classy look in summer!
The soft pallet of blue floral blouse blends perfectly with a white wide-leg trouser. Giving a touch classy look with a gold jewelry accent, tuck them in a simple way, do not overwhelm your classy style with an over gold accent attach to your glam look. Simply, wearing gold earrings that enough to bold your classy look. Do not forget to wear high heels sandals in a soft palette to extend your girly and classy summer outfit style.
Belted Wrap White Dress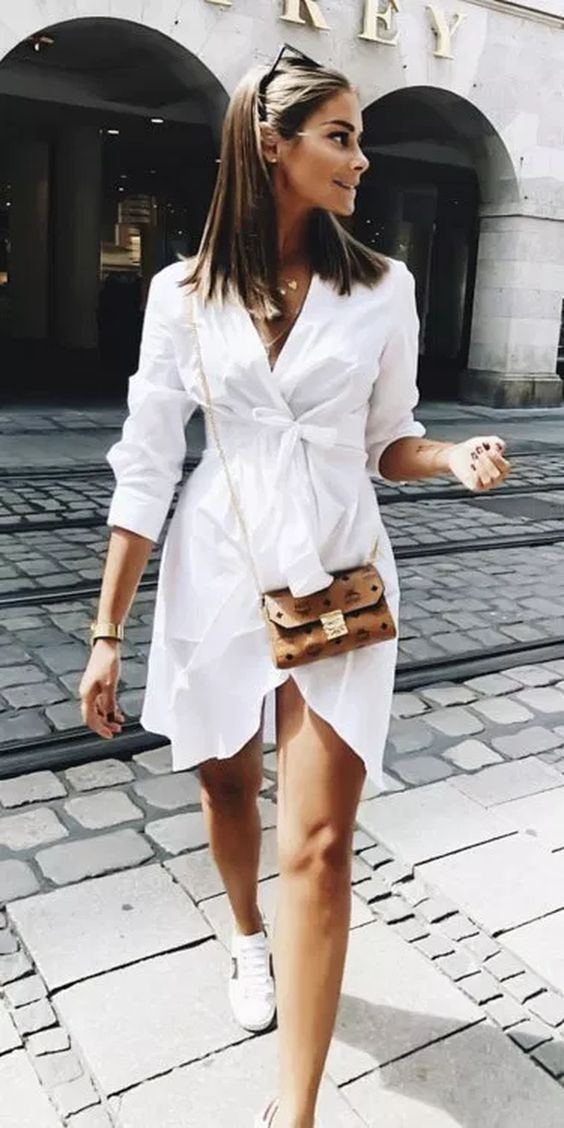 Rocking your classy summer outfit style with a white belted wrap dress and a pair of white sneakers. Giving your minimalist white outfits style a glam touch. You can wear some gold jewelry accents to shows off your classy style. This classy style is so simple and comfortable to wear on hot sunny days. Do you fall in love with this elegant summer outfit style?
Gorgeous Satin Midi Dress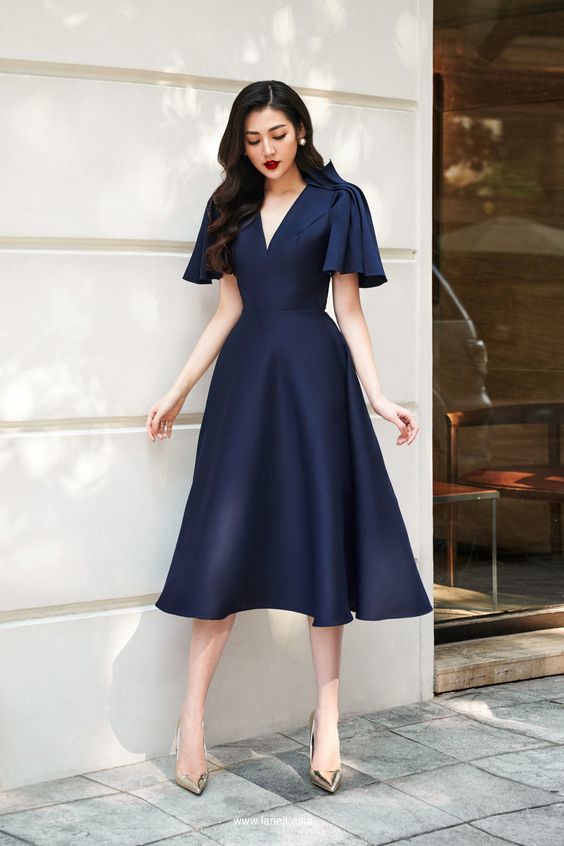 There is another way to achieve the classy style in summer. All you need to have is a nave satin midi dress and a pair of golden pump sandals. This navy satin midi dress is so beautiful with ruffle sleeves. The textures of satin are soft and glowing which is why it suits to bold your elegant look on the sunny day of summer. You only need these two items to glow on the summer day!
Belted Flared Dress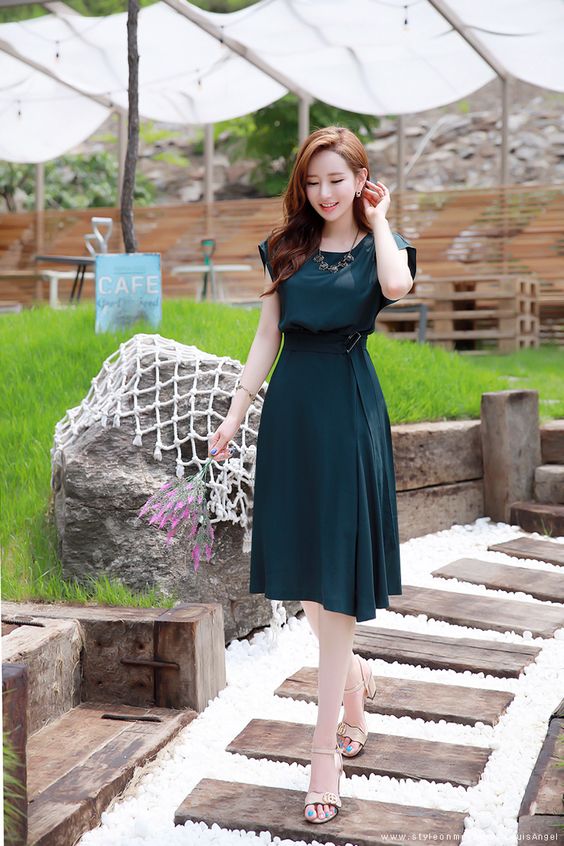 We have come to the last classy styles for summer now. Showing your elegant look only needs a belted flared dress and a pair of lovely heels sandals. Adding some jewelry to beautify your elegant look. Ladies, you can copy this style by wearing belted flared dress and matching it up with heels sandals. It is so simple to apply and looks gorgeous for summer, isn't it?
Don't miss our writing about girly outfits for spring: Must-try 20 Girly Outfits to Embrace the Spring!
Summer comes and brings so much energy with its warm and cheerful sunny days. It is the perfect time for us to hang out with friends outside, go fishing all day long, having fun playing volleyball on the beach, or even having a picnic with family in the park. Those all-fun outdoor activities are just so perfect to do in summer!
During the sunny days of summer, we need some outfits to accompany us while going outside or even just staying at home. People find their ways to show their unique outfits to styling their distinctive summer style. In this article, we already summarize for those who want to achieve a classy look by not worrying drain your pocket.
Those above are 15 classy summer outfit ideas you can copy the style to achieve an elegant look on a budget! There are some mix-matching tips outfits you can copy the style to boost your classy look. We hope you enjoy these styles, do not be afraid to have your own experiment in matching up outfits into your own style that will make you want to wear more and more!