Drufashion.com – With the fresh scent in the air and the blooming flower all the way through. It is worth cheering the spring with some trendy look for hanging outside. If you are a working woman and don't have a spring vacation yet don't be afraid, you still have a big chance to embrace this season. Adding fresh touch to your workwear will boost your mood!
There are many ways to style a fresh look in spring, for instance, add a lovely blush color tone to our attire. Wearing a printed flower accent to the office and many more. Here down below, we have a bunch of inspirational spring workwear you can try on your own. Get ready to look trendy with the spring work capsule wardrobe we will share with you!
Pink pastel color for a spring work outfit!
The pastel color is so good to wear in the blooming season, especially the pink one, nearly close to the Sakura flower. That looks so lovely! Pastel color as we all know is a soft and soothing effect, that will blend perfectly with nature.
Therefore, you can style the pink pastel outfits for your office workwear. That will give you a fresh look and brings out the spring vibe. This pink pastel outfit will not break an office dress code.
Alright, let's mix and match the pink accent outfit immediately! First of all, we can wear a pink pastel sweatshirt inside then layer it up with the same tone blazer. To harmonize your lovely look, neutral color pants such as white jeans could be worn. Complete your spring cute look with a leather bag and beige pumps. We guarantee these outfits will elevate your look in spring, let's try this match immediately!
Earthy color outfits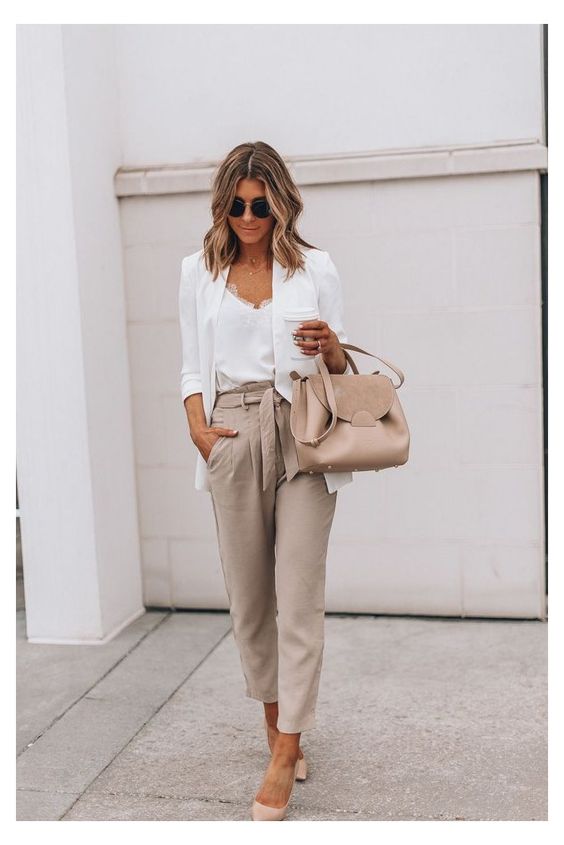 There is nothing better to wear earthy color outfits for work. It won't break any office dress code all year round! The earthy color outfits make us look calm. Ladies, we have a simple combination outfit that you can try effortlessly. Starting off pairing the white shirt with beige trousers. For the footwear idea, you can wear interchangeable heels to accompany your relaxed work outfit style.
After you back from work or when your foot feels tired wearing heels sandals. Simply, you can take off the heels and suddenly your heels turn to be comfortable flat shoes! So, you can grab interchangeable heels sandals to the office!
Update your spring look by wearing a few accessories that fit you such as sunglasses, a leather bag, and soft color pumps. The way you dress simply in earthy color tone outfits makes you look awesome and elegant!
Casual workwear in spring
Get a relaxing spring vacation vibe in the office! How can we do that? Well, we can do it by combining casual wear with the work attire we have! Combining casual wear such as a plaid blazer and a pair of classic black sneakers will elevate your spring work outfit style.
Ladies, you can wear a black top inside and layer it up with a plaid blazer. Black skinny jeans could be paired to balance your casual outfits. To elevate your casual look, you can wear a black belt that useful to show your body shape.
Lately, people tend to choose casual wear for the outfit styles. But, there is still a rule to keep in mind, we have to find the balance between casual and formal attire. Actually, it is a little bit tricky to combine laidback outfits with formal workwear. But when you achieve the harmony of casual and formal outfits at the same time, you will love it and want to wear it more and more! By combining casual and formal outfits for the office attire, it could decrease the stress while working.
Neutral blouse and wide-leg pants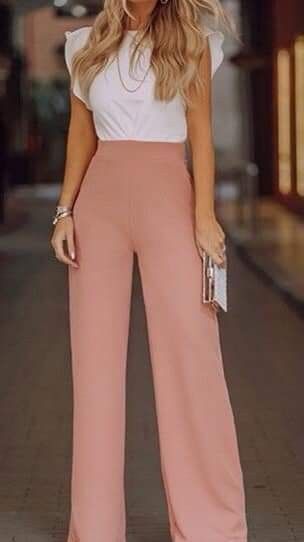 With a relaxing spring vacation vibe outside, we also need some laidback outfits to chill the spring season vibe. Even though you are doing a lot of stuff in the office still, there is still a chance for you to update your look with some fresh-touch attire!
A blush pink trouser with wide-leg features could be our work outfit preference. Matching up these lovely trousers with a white blouse. To complete your laidback style you can bring a simple clutch, then wear a few golden accessories to elevate the classy look! For the footwear, you can wear a pair of heel sandals that will make your leg a mile long, seriously it works!
Turtleneck sweater and leather jacket combination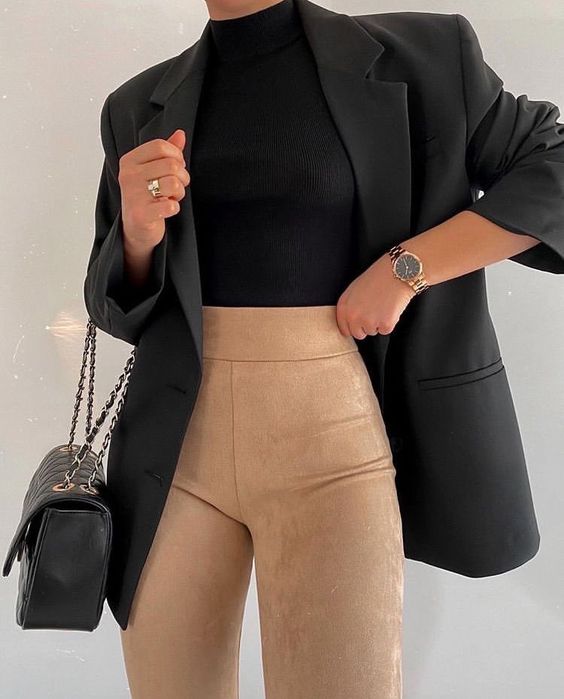 The leather pants make you look sleek, trendy, and gorgeous. Combining your appealing look with a black turtle neck sweater. When the early spring still punches our skin with the cold air, the turtle neck sweater could defeat the cold air.
Ladies, we can wear a black knit turtle neck sweater to combine with leather pants. Layer up the black turtle neck sweater with a black coat outside. The perfect footwear to accompany your sleek look, a pair of leather-heeled sandals could be matched. Or if you don't want to wear heels, a pair of ballet flat shoes could be the option!
Finally, the black leather sling bag could bold your trendy look. The way you dress like this, the professional look you will get!
Plaid pants with a casual blouse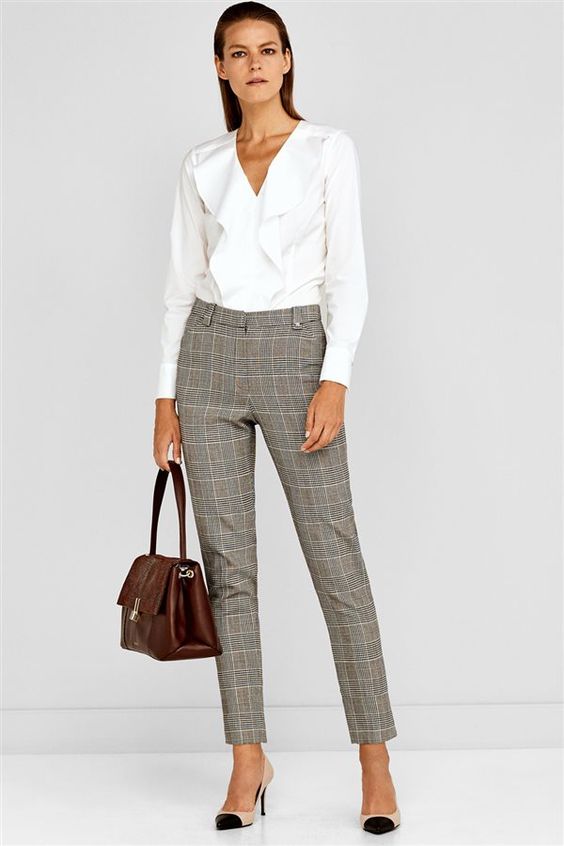 The next wearable workwear outfit we want to show you is plaid pants. Well, get earthy color pants then you are not breaking the office dress code. Styling these plaid pants with a casual long sleeve blouse gives you a laidback style. In the trend outfits now, people love to combine casual and formal attire for the formal occasion. The main reason why do people love casual wear is that we feel more relax and less depress while working.
Floral shirt and beige trouser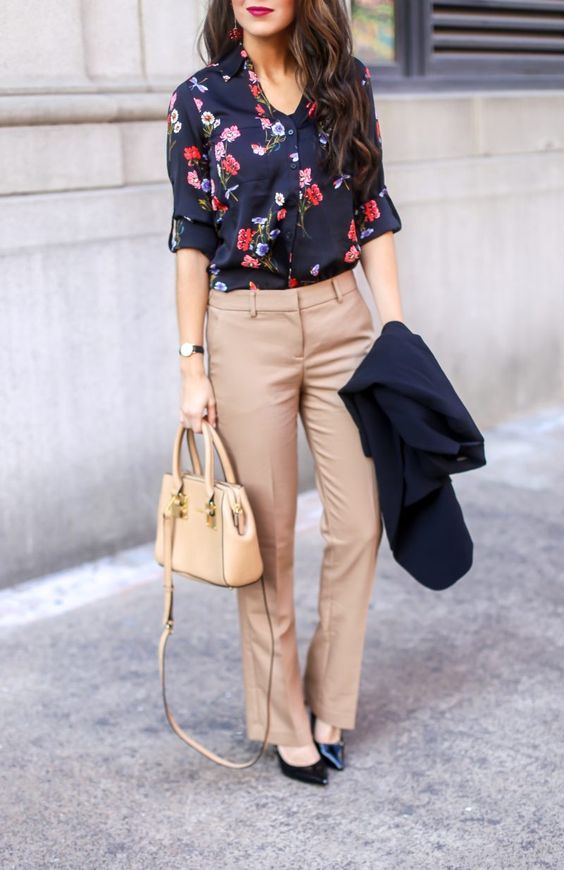 Embrace the blooming season with a printed shirt. The way you dress in the floral accent outfits, there you embrace the spring vacation vibe!
A printed blouse made from satin material is superb for a spring climate. The lightweight and soft shirt feature make us feel comfortable in the warm season. But when you feel the air a little bit colder outside, you can wrap your body with a coat. A beige leather bag will look great with your trouser.
Maxi skirt and striped shirt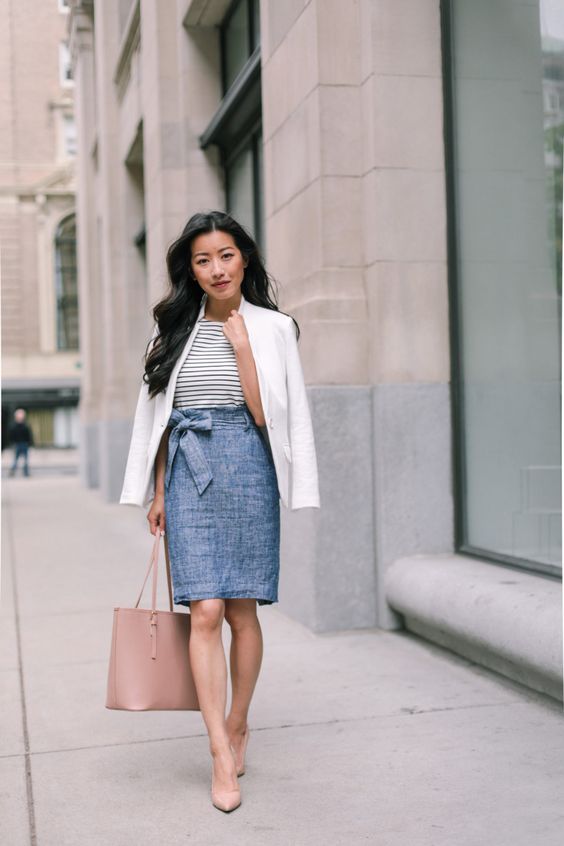 Our last trendy spring workwear outfit for women is a striped tee. When the warmer season comes out, there is no wrong to wear something that refers to the holiday beach vacation. The striped tee could be the option. In addition, you can wear pink blush pumps and carry a leather bag in the same color tone. You look so lovely!
Conclusion
Those are some trendy capsule wardrobes for businesswomen we already share with you. But we have to sum up a few points to achieve great outfits for work in spring. They are :
Neutral color
the neutral color tone outfits make us look calm and down to earth. And it also won't break any office outfits rule. For instance, we can apply earthy color on the trouser, shirt, or blazer.
Combining the casual outfits
In the trend workwear outfits now, we saw that the casual item outfit blend with a formal outfit. Both combinations create a unique workwear transformation. The statistic said that working with casual wear could decrease the pressure while working. It makes sense because we will feel cozy in comfortable outfits. As a result, our minds will think less about the pressure and lose the stress. Would you love to try this casual wear to keep you feel comfortable while working?
The earthy color outfits
Just like neutral color outfits that are sustainable to wear all year round, in the same manner, earthy color outfits too. The natural color earthy color has made us look calm and soothing. We will never go wrong to choose earthy color outfits for work.
Those above are some trendy work outfits style you can try on your own. We hope this article could help you all out in styling outfits for spring, so you won't get bored in styling workwear outfits! Do not be afraid to explore the outfit's style based on your own style!