Drufashion.com – Spring is in the air! With love and the warmth of the sun we ready to embrace more spring days! Ladies, we cannot apart from styling outfits in our daily life. With a lot dose of sunshine, we need some lightweight outfits to cheer the spring days!
Here we will share with you some essentials spring capsule wardrobe that will get away muttering "oh, I have nothing to wear". I require you to fulfill your wardrobe with only outfits you love to wear and could represent who you are. In this way, we can save our wallet by not buying some uncertain fashion items.
Unlike the type of person who I was, that spent my wallet bought some unnecessary outfits, which not my type. Lately, my wardrobe essentials have been changing quite differently. The more I selective in choosing outfits the more I confident in my own dress and style! So, you can do it too!
In this writing, I'll share with you some mix and matching cute spring outfits that I'm pretty sure you fall into it! Get ready to shine with spring capsule wardrobe ladies!
Leopard maxi skirt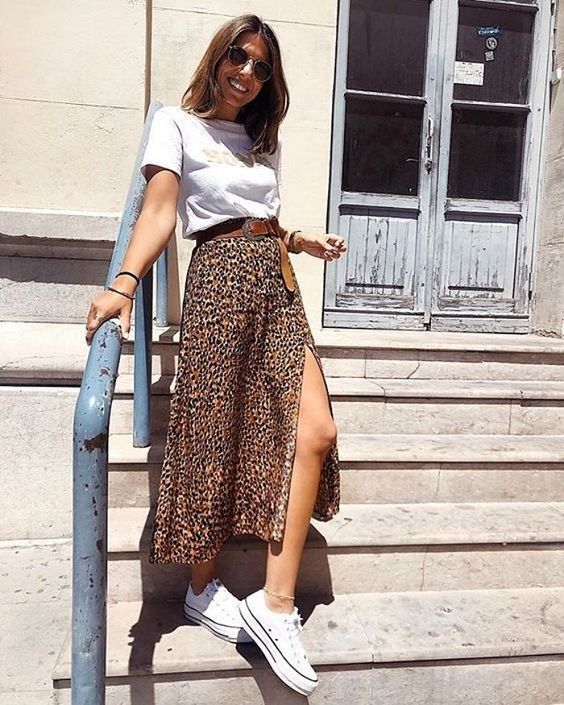 Believe it or not, a leopard maxi skirt will rock your style for spring! Styling this skirt with a white tee and simple a pair of white sneakers. To give an extra look, you can wear a leather belt that could shape your beautiful waist. Sunglasses can be worn to protect your eyes from the heat of the sun and it also can elevate your look!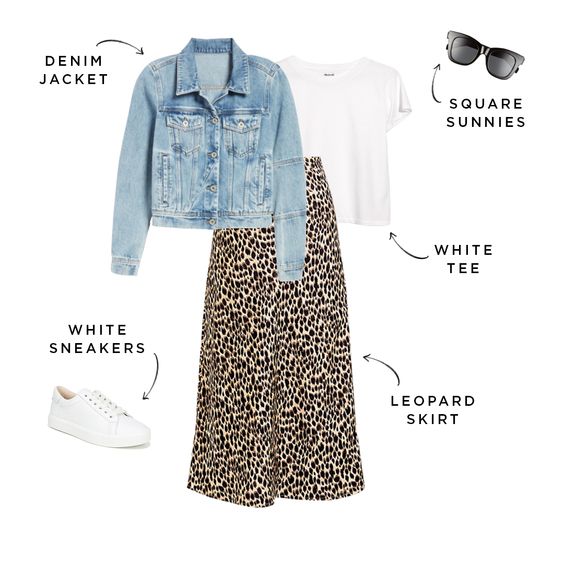 Girls, we can style a leopard skirt with a denim jacket too! The wash denim jacket has a soft hue that will blend with your patterned skirt. Believe me, layer our white tee with a wash denim jacket will bold our appearance in youth vibe! In like manner above, we can style these matching outfits with a pair of white sneakers and sunglasses. Get ready to shine in this spring with these outfits ladies, BOOM!
Basic tee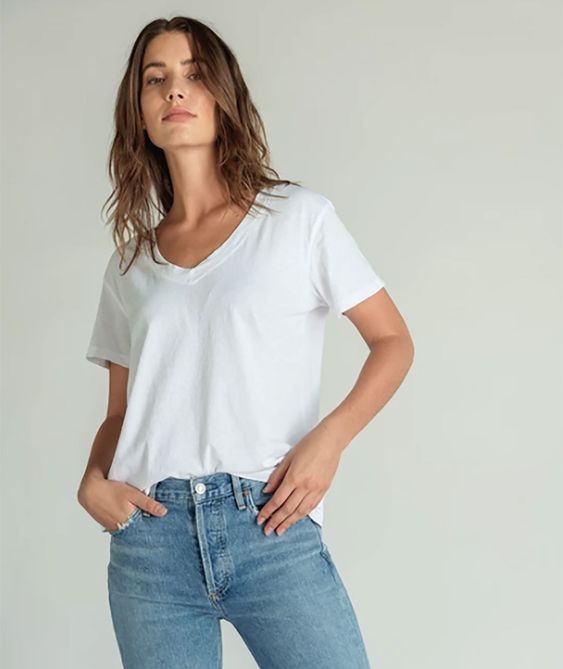 This basic tee seriously good to be paired with any outfit for both pants or skirts. So, this basic item should be in your spring capsule wardrobe! It's not only good to be worn in spring but also good to wear all year round!
Cashmere crew-neck sweater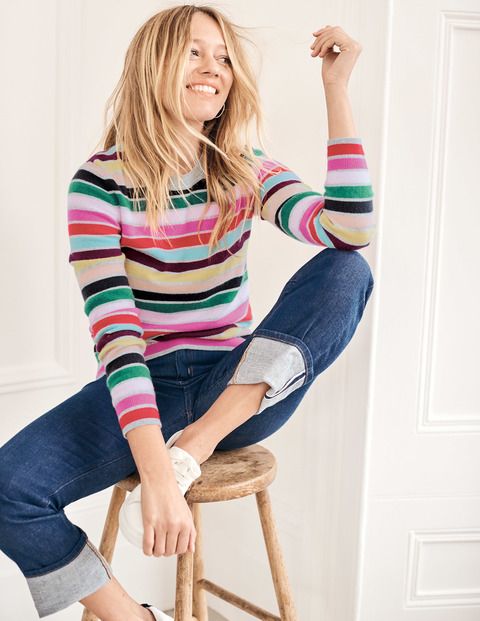 This multi-strips cashmere crew neck sweater is so lovely for spring! Multi vivid colors sweater just feel right to embrace the blooming season! Matching up this sweater with relaxed jeans will make us comfortable.
Lightweight lilac knit sweater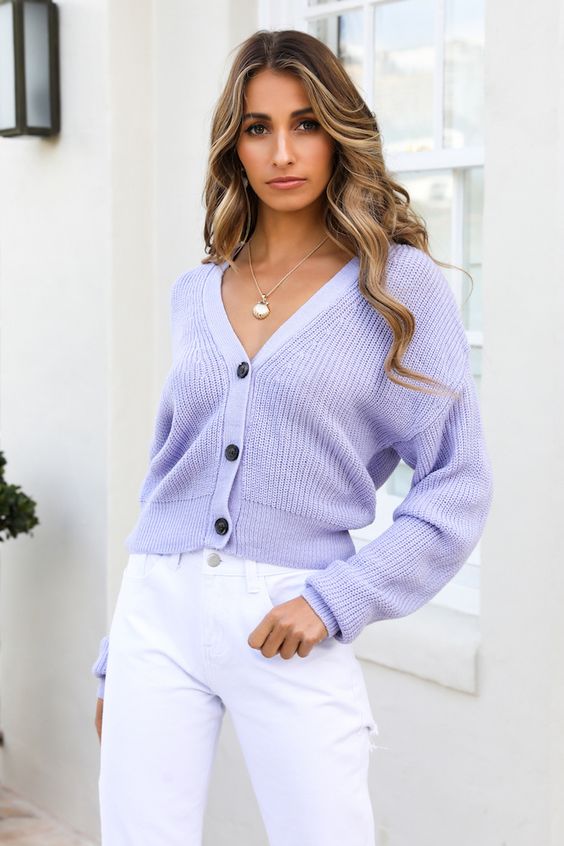 A lightweight lilac knit sweater will make you shine in spring. Choosing a breathable and lightweight knit sweater will not make you too facing the warm days of the spring! You can style this sweater with neutral lower outfits, such as white denim jeans. These outfits look simple, cute, and elegant at the same time!
Cotton knit cardigan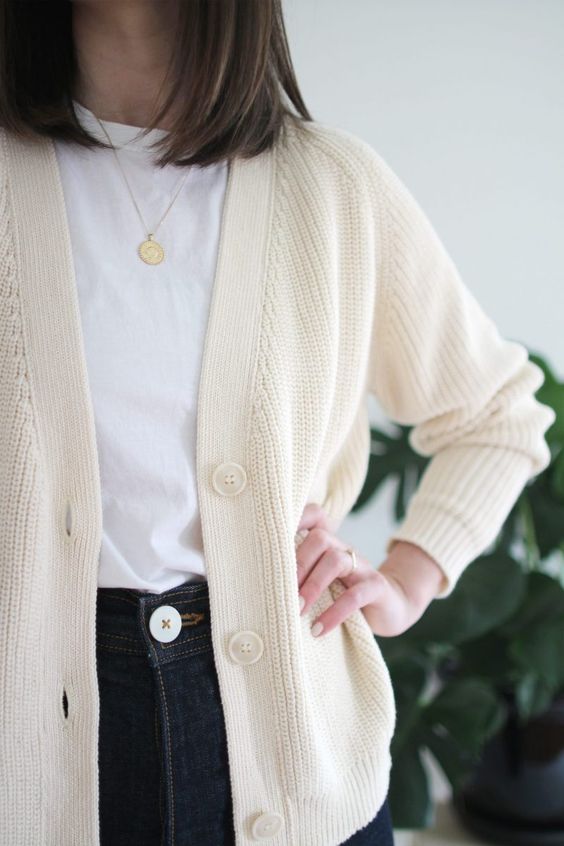 Another spring capsule wardrobe we want to display in this writing is a timeless cotton cardigan. There is no doubt that in early spring we still feel the cold air. This cardigan can warm us in the cold early spring. Choosing a beige or white cotton knit cardigan for a timeless spring outfit! A white tee inside will make us look so calm. To contrast the look we can wear statement black denim jeans. Do you love this casual look in the spring?
Floral Printed Dress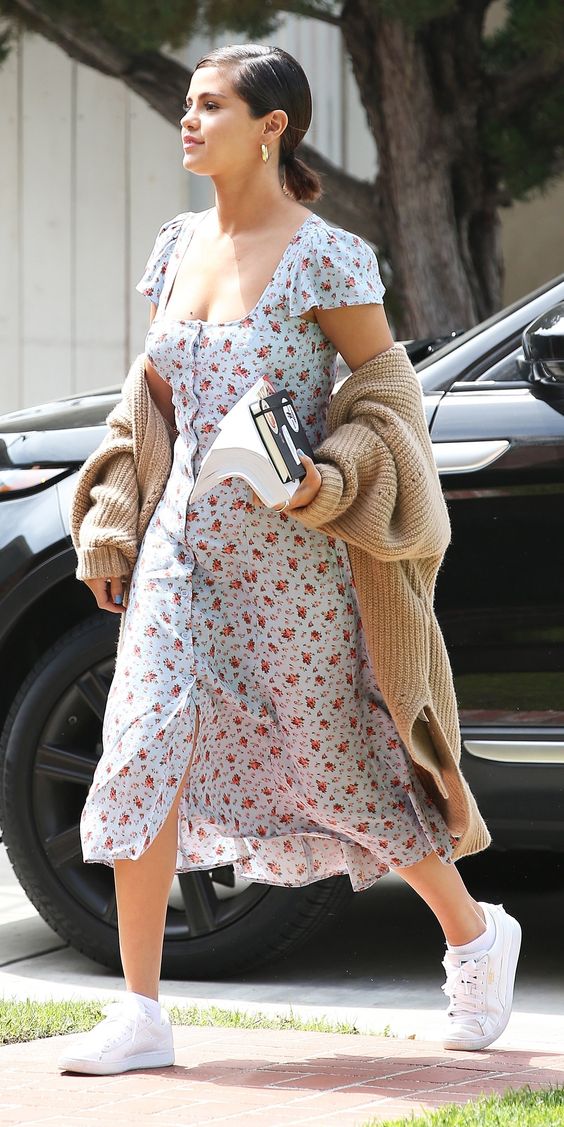 Talking about the spring capsule wardrobe the floral dress is an essential item we have to own. Embracing the blooming season with a floral dress will make you look down to earth! Girls, we can also layer a floral dress with a knitted sweater. Wearing a pair of sneakers makes us feel comfortable in a casual fashion style!
Light Denim Jeans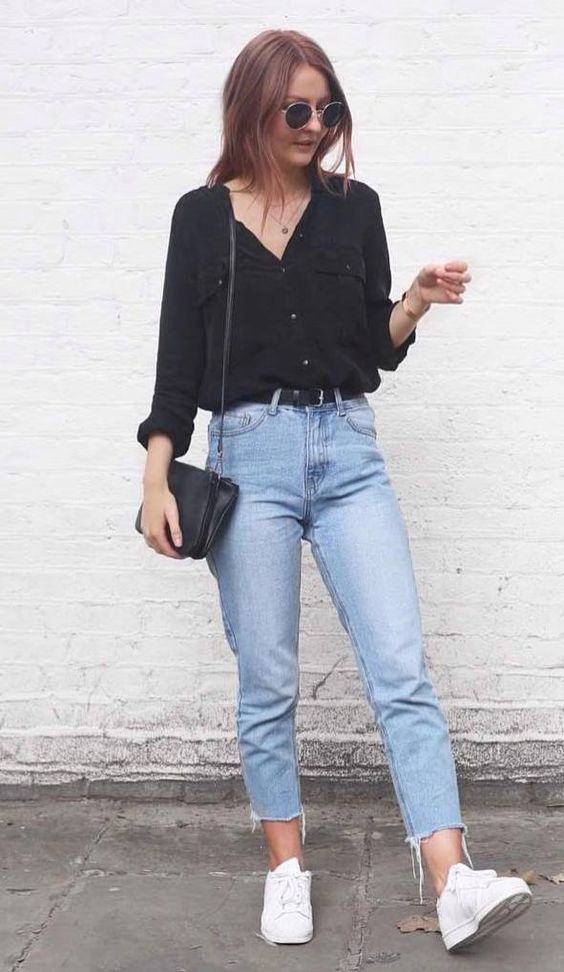 Basically, all-color Denim jeans tone are good to wear in spring. But there is more looking good than others, it is a light denim color tone. The soft color tone of jeans will make us look calm and it also easy to pair with any color upper outfit. A pair of white sneakers just look so good together with denim jeans. Contrast the look by wearing a darker color outfit, such as a black shirt in the picture above!
Relaxed linen pants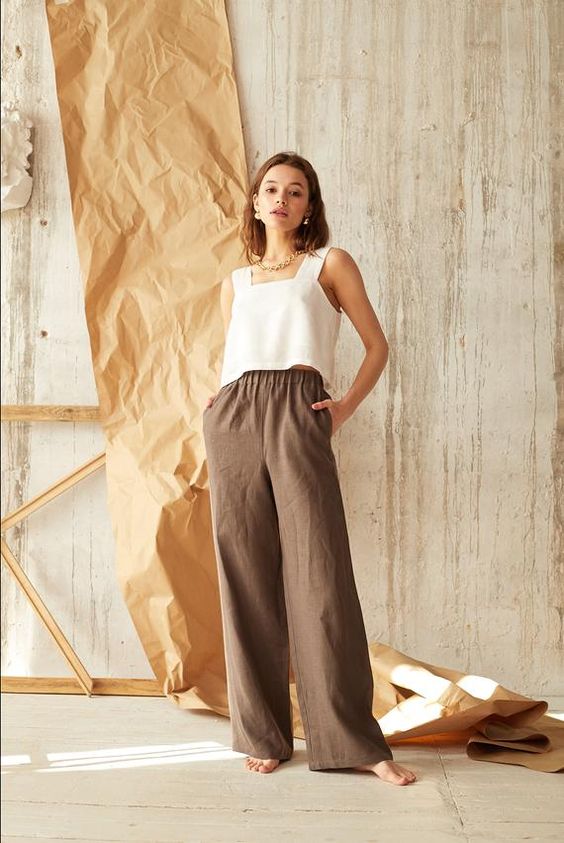 There is nothing better than to see the flowers bloom all around in spring with comfortable outfits! What a combo! Girls, earthy color linen pants will relax our spring days. This outfit is good to be worn at home nor styling for outside. It has a lightweight feature and relaxed design with a wide-leg feature that makes us comfortable.
Styling these relaxed pants with a neutral cropped top. To give an extra fancy look, you can wear a few golden accent accessories. The earthy color tone outfit looks so good for spring. And it won't break any dress code wherever you are. If you plan to have a spring vacation, these linen pants should be in your travel bag, cause they will make us comfortable during the trips!
Denim jacket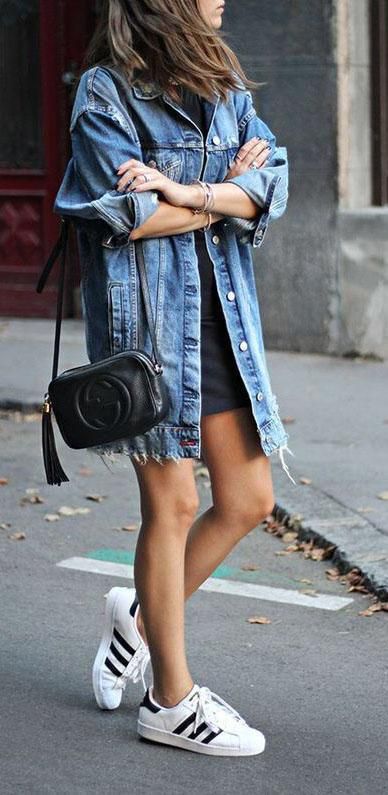 I'm pretty sure that you all have this item in your wardrobe. The hype of denim jackets in great demand among young people. Because it has unique fabric textures and a cool design, which makes it a casual street-style item you have own in your wardrobe no matter the season, the Denim jacket just perfect to style your chic style!
Spring accessories essentials
Moving on from essentials spring outfits. Now, we are heading on the basic accessories you may need to improve your spring look!
Leather bag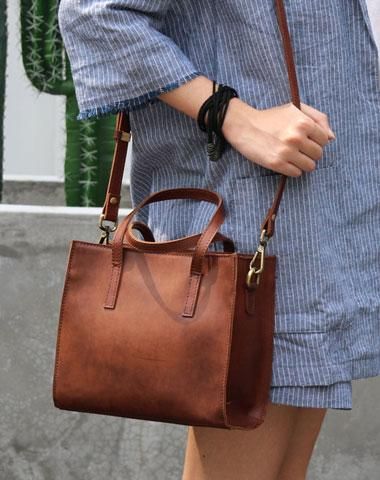 Lately, the bag isn't only the item that purposes to bring something, more than that, the bag can improve our look. It's not a surprise that many bags have fantastic prizes! Well, girls, we don't need an extra high prices bag, at least we can choose a simple leather bag. This bag will make us look more stylish, cause leather itself naturally brings a sleek, modern, and elegant feature.
Rattan straw bag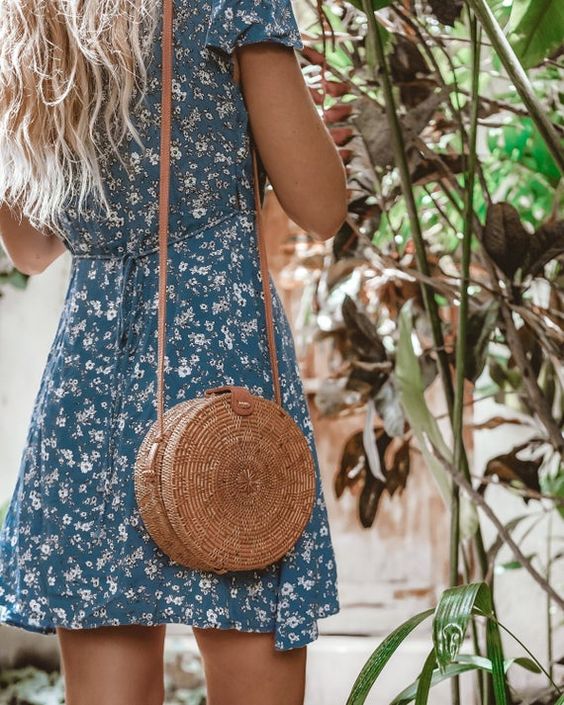 When nature gives us outstanding blooming flowers view in spring, we have to embrace it with a nature outfit. A straw bag could represent the natural look. It's not only an eco-friendly fashion item but it looks so beautiful. And let us look closer at harmonious nature!
Sunglasses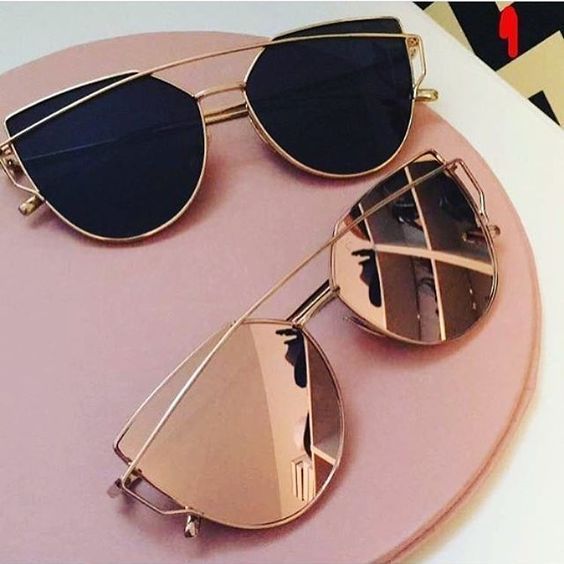 Another must-have accessory for the warmer seasons such as spring is sunglasses. When the dose of the sun increase in spring, we need sunglasses to comfy our trip outside. Sunglasses can protect our eyes from dangerous UV rays. So, when you see a lot of suns outside, just take your sunglasses in your bag so you can wear them anywhere you need.
Leather nude sandals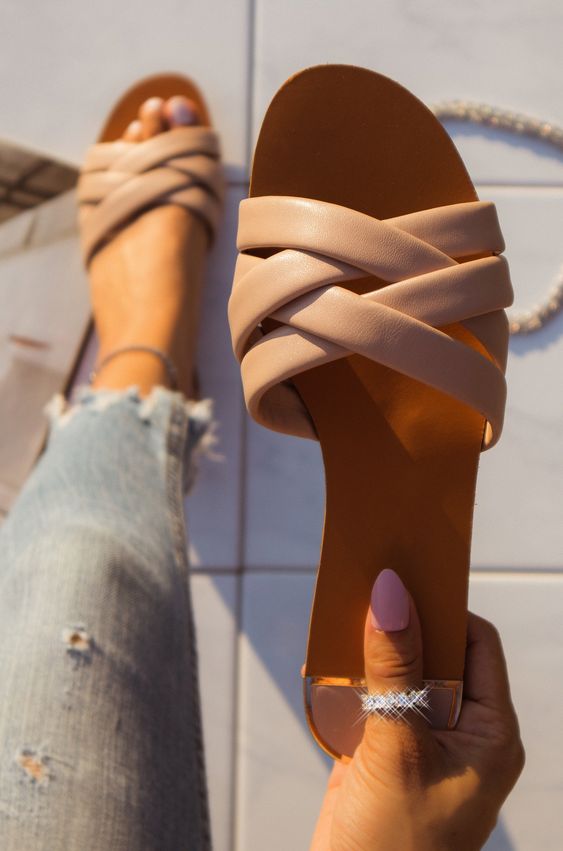 Spring and summer is a perfect time to wear sandals! The comfortable and airy feature sandals make our skin breathe well. Girls, we can choose leather nude skin sandals. It's made from soft leather which makes our skin feel comfortable. It also improves our look!
Sneakers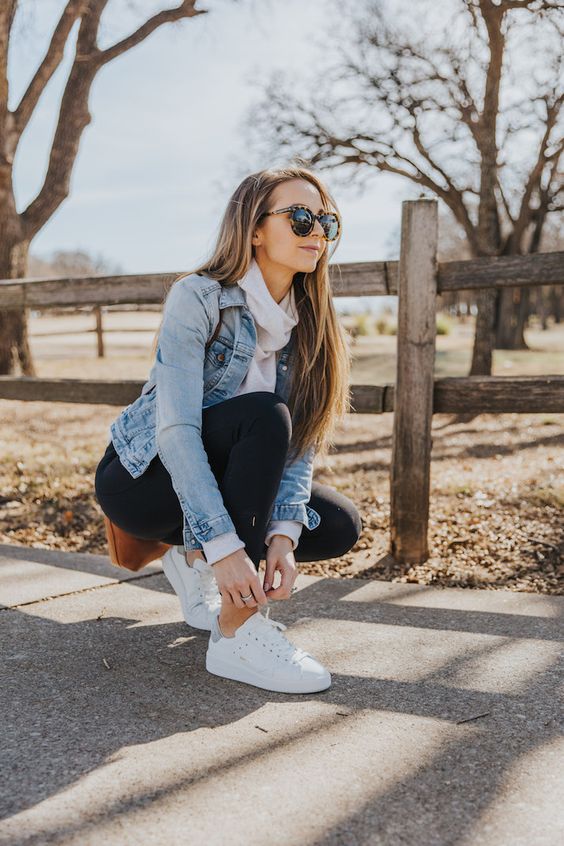 We all agree that sneakers are comfortable, sporty, and stylish footwear. Not a surprise that these footwear items are wearable all year round!
There are a few spring wardrobe essentials we need to know:
Lightweight feature
When the sun upon us, the temperature rises that exactly a perfect time to wear lightweight features. So we will feel comfortable in the warm season!
Breathable feature outfits
Choose the outfit that can make our skin feel cool inside while the sun's heat tries to beat us outside. We suggest you grab some outfits made from cotton or linen materials to keep you cool and relaxed in warm weather.
Those are spring capsule wardrobe essential outfits we already share with you! We hope this article could help you all out in creating spring outfit styles!