Drufashion.com – Are you ready for a cherry blossom vacation this year?  We can not resist seeing a spectacular blooming season! There is some region in this world that lucky to have a beautiful phenomenon such as cherry blossom. We can go to Japan to see gorgeous Sakura blooming those beautifully decorated streets! Another interesting destination to enjoy the spring vacation is going to Istanbul and Amsterdam where we can see the Tulips festival held on every April, they are so beautiful!
Wherever destination you want to visit, there are some important things to keep in mind before going for a long trip. We need to pack some essentials travel outfits, gear, and medicines to support our trips. Here we have 15 essentials packing list spring travel outfit ideas you will thankful for the tips! So, do not miss any of them down below!
Plaid Woolen Jacket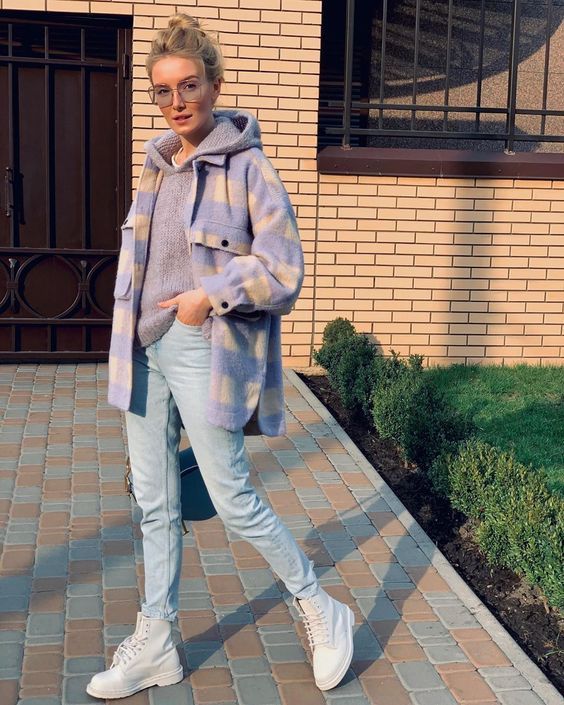 After passing the cold months of winter then we welcome a beautiful blooming season of spring. We can still feel the breezy and cool air outside, so there is no doubt to add a warm outfit to your travel bag! Here we have a plaid woolen jacket that will make you look chic and warm while seeing the blooming flowers in the breezy air outside!
Ladies, you can mix and match this woolen jacket with denim jeans and a pair of white boots to cheer your spring vacation vibe! It is such a simple and chic street style you can try this spring!
Neutral blouse
Neutral outfit suits for many occasions, the soft palette that comes out from the neutral outfit won't break any dress code wherever we go. So, then we offer you to bring a neutral outfit such as this beautiful blouse in beige. Then, you can complement your casual look with white jeans. For the footwear, we can combine these relaxed outfits with a pair of neutral sandals.
Complementing a neutral outfit with a nude clutch and aviator sunglasses. These outfits are lightweight, which is perfect to accompany your casual look on a spring vacation!
Styling White Tee For Spring!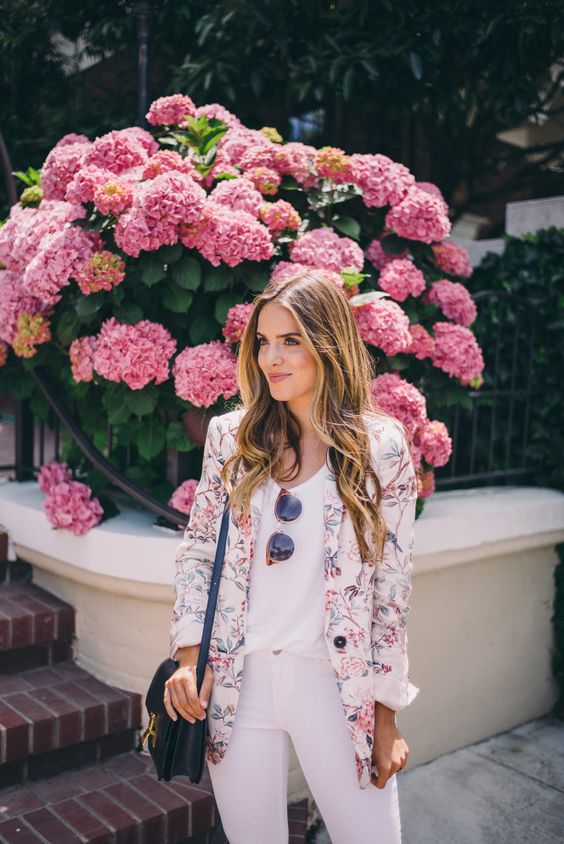 A T-shirt is a must-have casual item in every wardrobe. Let us give a chance to the plain white tee to shine in spring! We can style a white tee with a lightweight floral jacket, for the lower outfit we can choose white skinny jeans. Do not forget to bring your favorite sling bag to store your essential travel gear such as a mini camera, phone, etc. Adding simple accessories that tuck on your outfits such as aviator sunglasses.
Travel lovers, you have to bring at least one tee to pack in your suitcase. It is a simple, comfortable, and casual outfit that easy to style with. A white tee is suited to accompany you having a spring vacation, the neutral color of white will blend very well in the cherry blossom!
Floral Midi Dress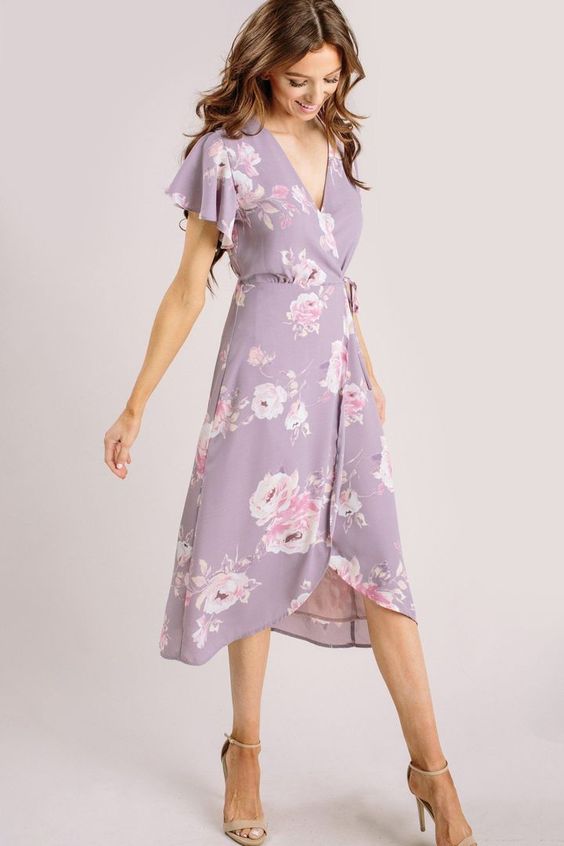 Another essential travel spring outfit idea is to turn the floral midi dress. This floral midi dress in violet looks so cute for the spring travel outfit idea. Girls, you can style this floral dress with a beige sandal heel. Looking so girly and down to earth with this floral midi dress! Now, you can take a lovely picture under the sakura trees or being in the crowd of colorful tulips with this lovely outfit! What a memorable spring vacation!
Casual Jeans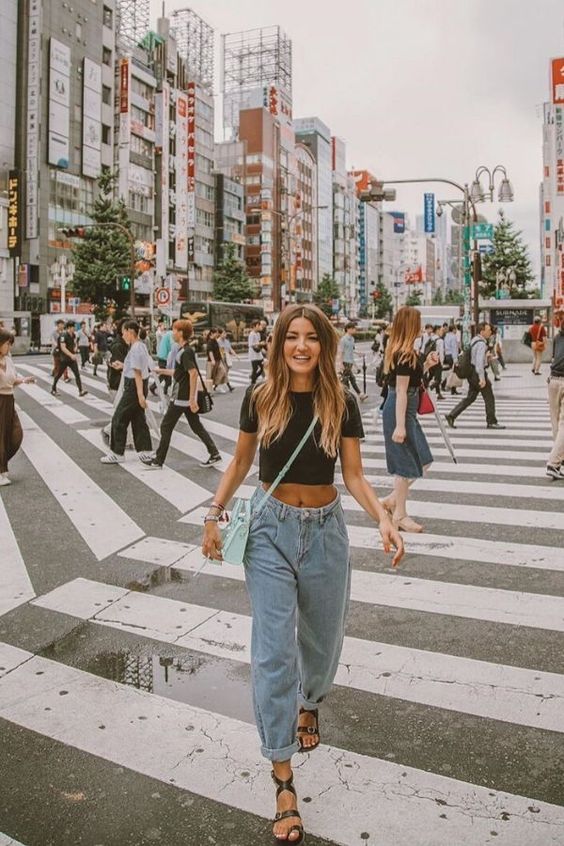 Always bring casual jeans for a relaxed vacation. We can wear this timeless outfit for both the spring and summer season. Why we put casual jeans on the spring packing list? It is simply because we can style this item in various ways, each one of them is styling it with a crop top. Comfy your relaxed outfit with comfortable sandals to explore the street vendors' paradise!
Lightweight Sweater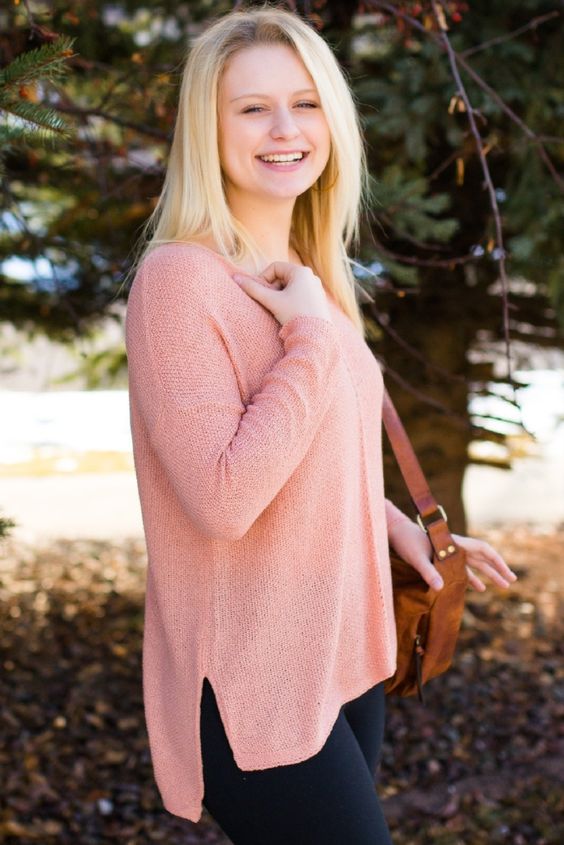 There is nothing better than to wear a lightweight sweater for the spring! When the weather still cool outside, this sweater can warm up our skin. Girls, we can bring a sweet pink lightweight sweater into our travel bag. We can style this outfit with black skinny jeans and a chic sling bag. This combination looks great for the blooming season!
Dressy Cami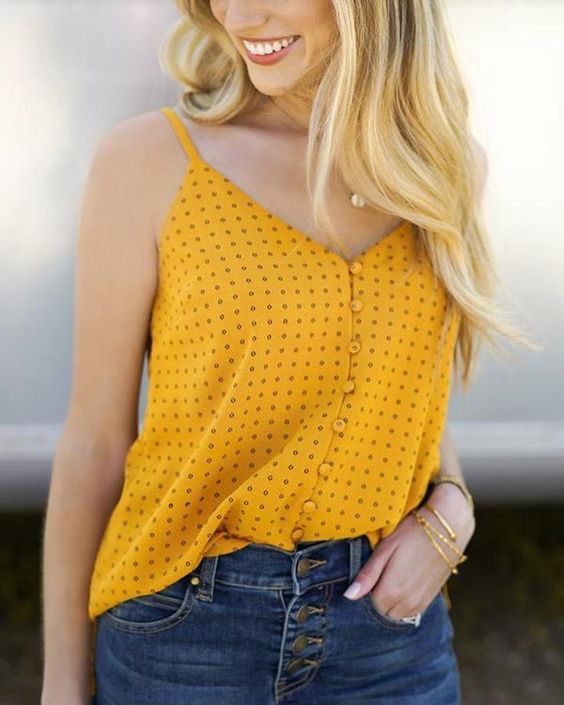 This mustard tone dressy cami just perfect to style your fresh spring look! It has a lightweight and breathable feature that perfect for warm spring weather. Layering it with a timeless denim jacket for your fun casual spring look. The vivid color outfit such as this mustard dressy cami makes you glow in the blooming season! For the accessories, you can add a gold accent such as a golden bracelet. Do you love this outfit to add to your spring travel outfit packing list?
Denim Jacket
A denim jacket is one of the coolest casual fashion items that has been made! The timeless outfit makes it perfect to wear all year round, which means no exception for the spring! Girls, we can style a denim jeans jacket with a maxi floral dress, tee, or even a blouse. The versatility in mix and match with other outfits make this denim jacket deserve to have a place in your suitcase! Bringing your timeless outfit denim jacket, then you can take this affordable casual wear anywhere you want to travel to!
Stylish Trench Coat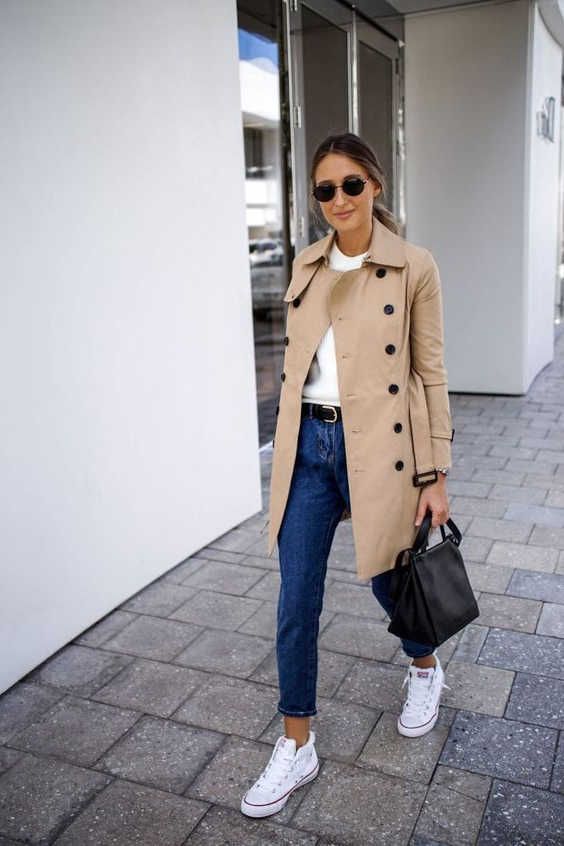 Are you looking for a spring outfit vacation, something that makes you look elegant? Hold on, we have a good offer for you! A trench beige coat could answer your desire to look elegant in the spring season! We suggest you to choose a high-quality garment to brings out a classy look. The earthy color such as beige is just perfect to accompany you for an elegant spring vacation!
Mix and match a trench coat with a white shirt inside. Then for the lower outfit, we can choose casual jeans, and a pair of white sneakers to add a chic casual look style. Finally, you can wear simple accessories such as sunglasses and a gold finish women's watch to improve your stylish spring look!
Trousers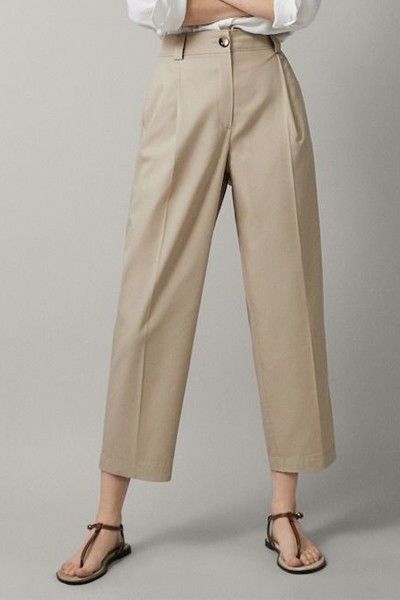 In this spring travel packing list, we already guide you to bring casual jeans in your suitcase. Now, we guide you to have neutral trousers to make you feel comfortable while traveling abroad. Pairing these beige trousers with a white shirt, and casual sandals to define your relaxed spring outfit style!
Cute Slides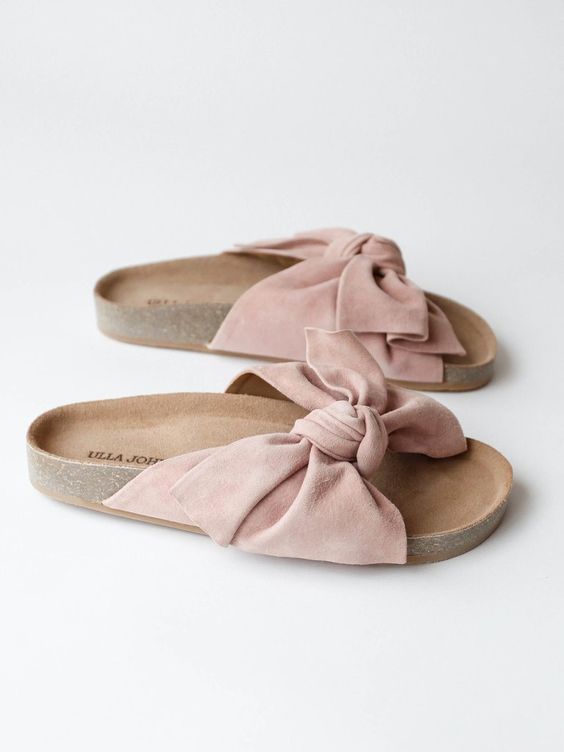 After we talk a lot about the many outfits above, now we will guide you to achieve the ultimate spring footwear! Considering the cherry blossom shows a lovely pink accent outside, that inspires us to wear cute footwear.
In the picture above, there is a pair of lovely pink knotted slides. This comfortable footwear has a lightweight and breathable feature that suit the spring weather which has a shade of warm weather and cool breezy air. This footwear is suited to compliment your cute look in a floral dress and also perfect to accompany you walking on the street. So, take them to have a flight with you and cheering the cherry blossom vacation!
Easy-going Sneakers!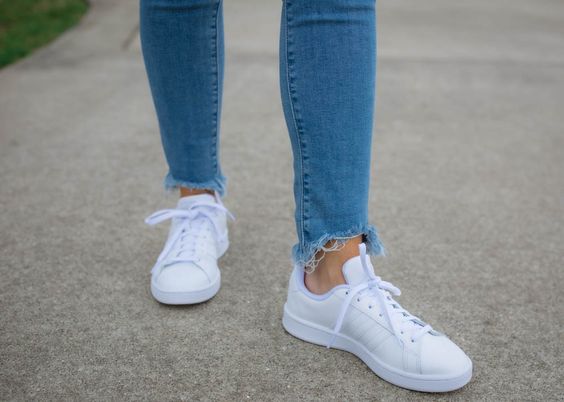 When you are going to have a long trip, do not forget to bring this casual footwear, sneakers! They are super comfortable to wear in many hours that make them suit to accompany your long trip! Sneakers are not only comfortable but also chic casual footwear. They look so good to combine with jeans, a skirt, and even a dress. So, let them follow you to have a flight and feel the ambiance of cheerful spring vacation!
Accessories
Talking about women's fashion style, we can not leave behind the accessories that will improve women's look! There are many accessories available to enhance your appearance. They transform into some intriguing bags and pieces of jewelry. In this spring travel packing list idea, we will guide you to have three ultimate spring accessories. So, do not miss any of them!
Sunglasses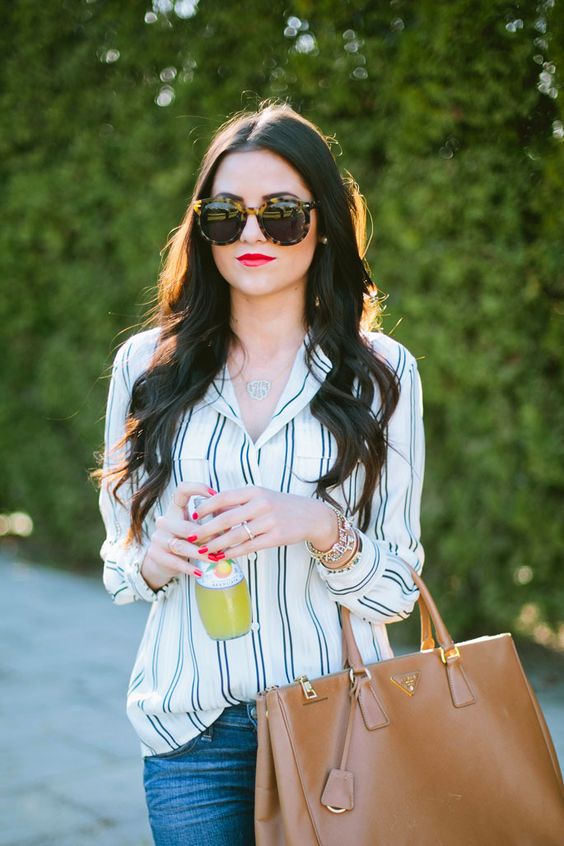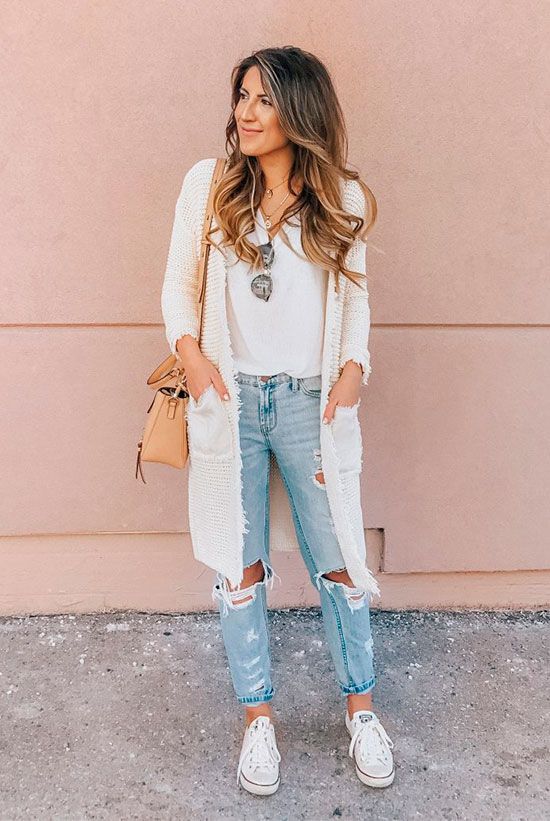 When you feel confused to bring simple accessories into your spring travel bag, calm down cause we guide you to bring useful and trendy accessories to accompany your trip!
Sunglasses are needed when you go to travel in warm seasons such as spring and summer. It can protect our eyes from the over sunlight that affects a blurry sight! Besides that, we can style sunglasses to improve our look. Simply, hang it on your collar to make you look more stylish. Do not hesitate to try this, you'll look awesome!
Nude Clutch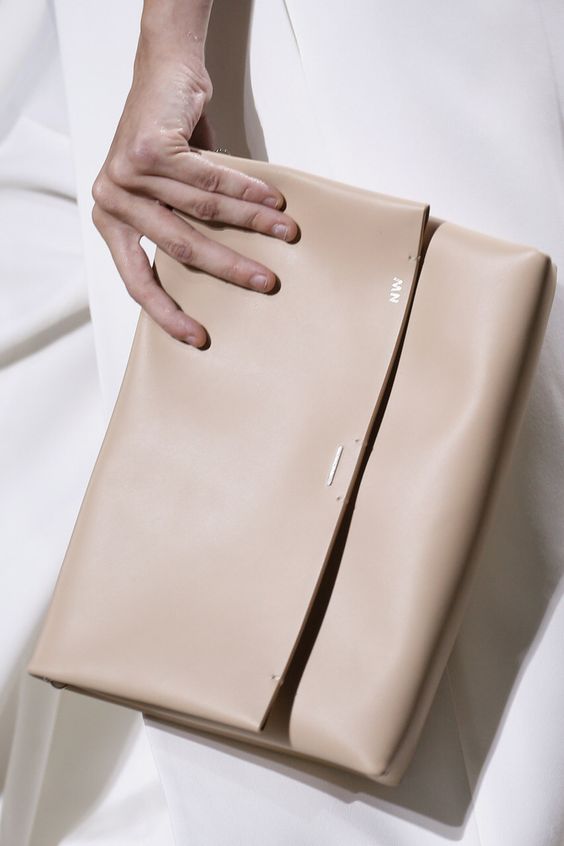 Are you looking for a simple and carriable bag to compliment your neutral spring outfits? We suggest you to bring a nude clutch! They are simple and lightweight in design. The glossy feature of this clutch bag makes you look elegant in a simple way!
Everyday Tote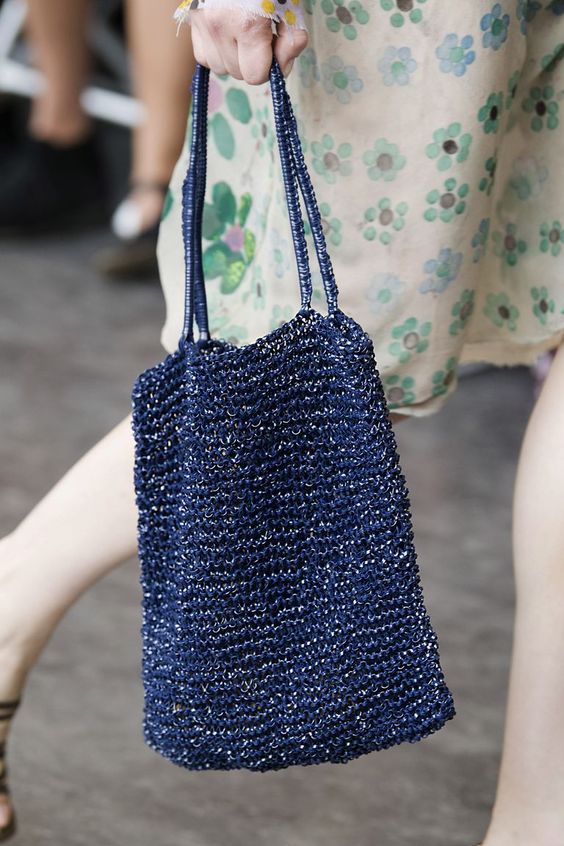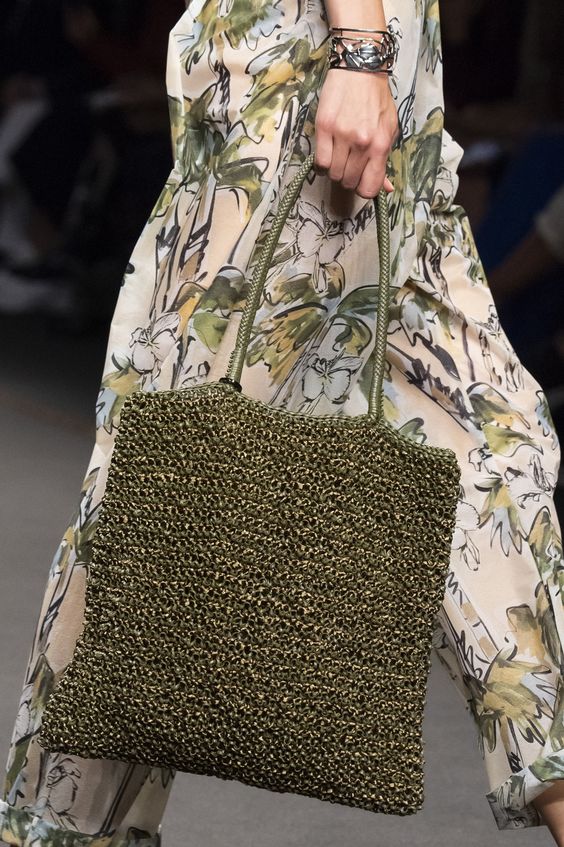 After introducing a nude clutch to accompany a spring outfit, we let you to bring a knitted bag! The unique texture and earthy color shade make a tote bag deserve to accompany your spring chic style! When you dress in a beautiful floral dress then accompany with an earthy color tote bag makes you look so down to earth in the cherry blossom season!
So, those are 15 essentials packing list spring travel outfit ideas we already packed for you! Appearing complete travel spring outfits guides from head to toe.
There are some points we should highlight from the spring outfits ideas above! Some of them are lightweight that will make our skin feel comfortable to travel in warm weather. Appearing floral accents such as in the midi and maxi floral dress to embrace the blooming season. Then, there are some neutral outfits that blend perfectly with cherry blossom surroundings. Completing the spring outfits with comfortable footwear and some simple accessories that can improve your chic spring look!
We hope you enjoy our writing and we also hope this could help you all out to pack effective clothes for traveling in the spring season!