Getting bored with your daily outfit style? There's nothing wrong if you want to try a new style. But of course, you still have to consider about the stylish look and comfy feel. Because it's all you need when you get dressed. I know changing our usual style means we get out of our comfort zone, where we must adapt and try to be confident with our new style.
Therefore, you have to choose a style that won't make you look too much and feel comfy to gain confidence. Okay, one of the outfit styles that can be the choice for you is the Korean daily outfit style! I guess, you already know how simple the Korean style is because it carries a casual look. It's going to be the best choice for those who want to change their style.
Moreover, to apply this style, you don't need to a lot of outfits. It only needed around 3 outfits to do the mix and match. Sounds great for your daily outfit? Certainly! You're gonna look fabulous every single day! So, let's go to the topic.
28 Fabulous Korean Outfit Ideas for Your Daily
Korean Basic Outfit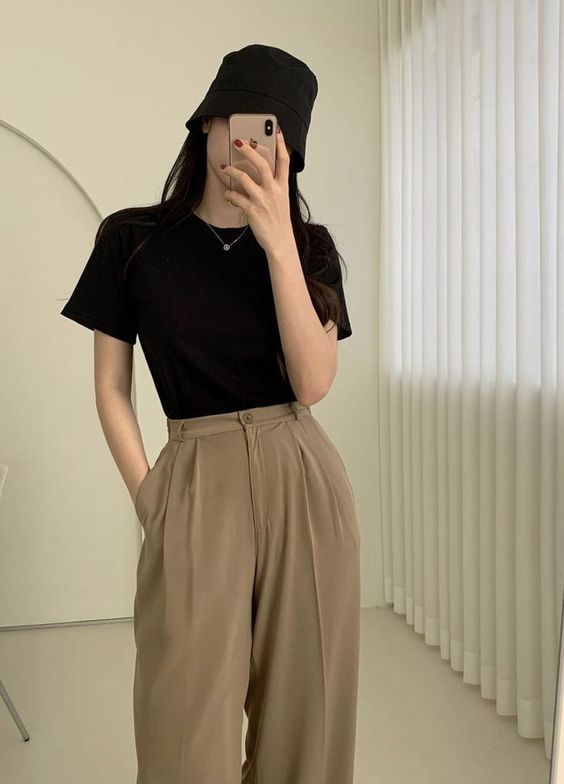 Do you know the most popular basic outfit in Korea is wearing loose pants and a basic t-shirt? Yes, most Korean girls wear this outfit when they want to look simple and casual. It's suitable to use for hangouts or just having a street walk. If you want to look more fashionable, you could add some accessories such as a bucket hat, a necklace, or other accessories that you might think would be suited.
Short Pants and Knit Top for the Chill Day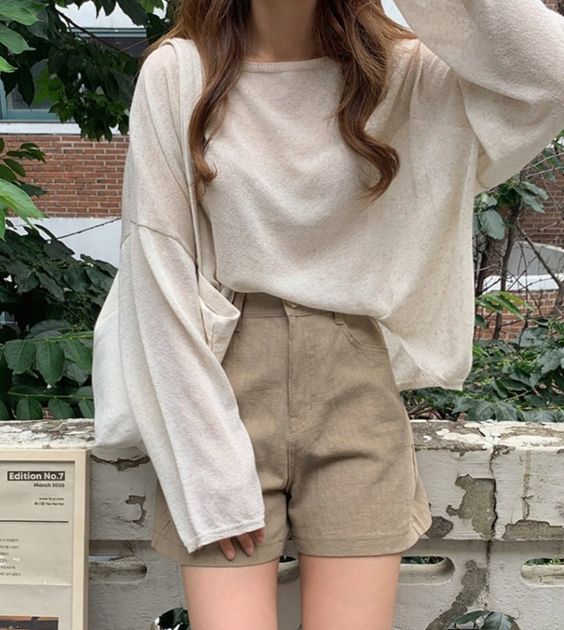 The weekend is the time for you to have a chill day. And it would be perfect if you can wear an outfit that can give a comfortable feel too. Therefore, we choose short pants and a knit top for you! Looks ordinary? Don't worry, some necklaces, earrings, and hair accessories will improve your fashion style.
Mix Off-Shoulder Top with Denim Skirt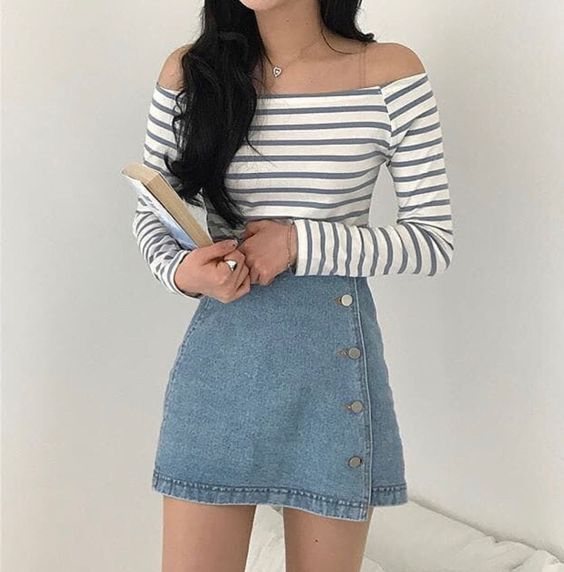 Sometimes, we want to look girly and this feeling is totally fine! You can wear denim skirts and an off-shoulder top to get the look that you want. This outfit will be suited to use for casual occasions like going to school, hangouts, or street walking. Furthermore, for the shoes and the bag part, you can adjust based on your mood.
Get the Casual Look by Wearing Loose Pants and Polo Top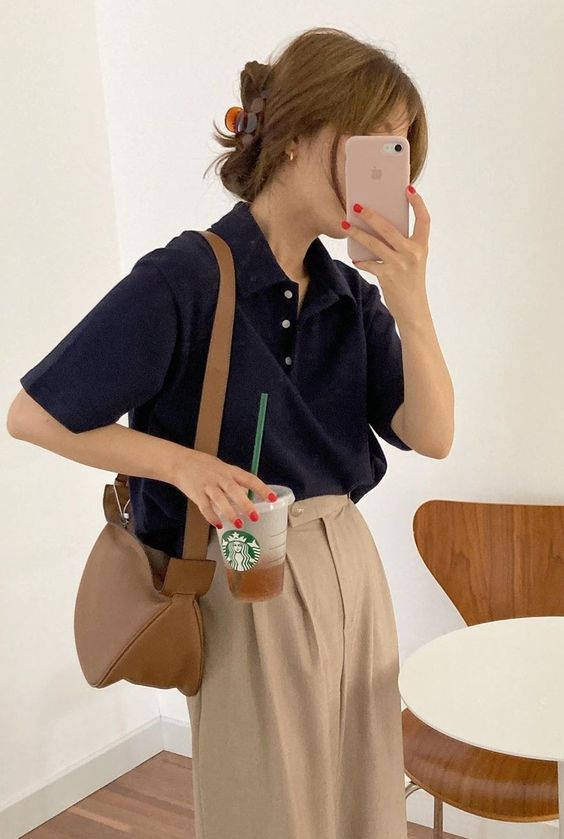 Use loose pants and mix them with a polo top to look casual. This going to be the perfect casual outfit to wear for any casual occasion. You only need sneakers and a tote bag to complete your outfit style. Then, you're ready to go!
Use Denim Overall with Ruffle Sleeves Top to Look Playful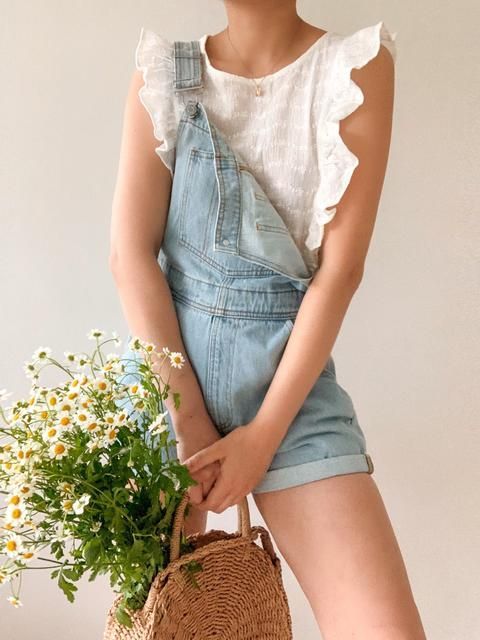 Having a petite body would be matched with a playful look because it will make you look cuter. If you think that so, the outfit that you need is denim overall and a ruffle sleeves top. These combinations can make you look playful, that's why it is suited to use for hangouts or even going on date. Lastly, wear sneakers and a sling bag for the finishing touch.
Looking Classy in Blazer and Short Pants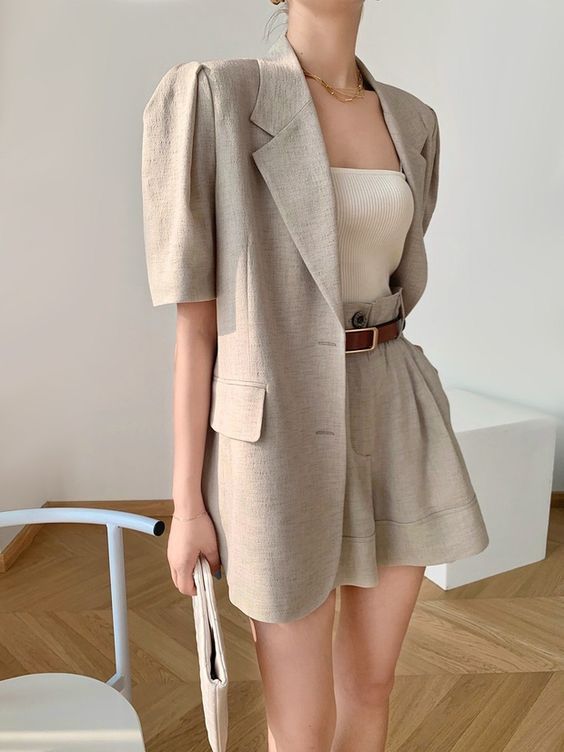 Who wants to look classy like a girl boss? I know this look will be every girl's dream. To get the classy look, you just have to mix and match in the right way. Therefore, mixing short pants with a blazer can be the solution. Meanwhile, for the innerwear, just use a tank top to create sexy vibes.
Sweatpants and a Cropped Cardigan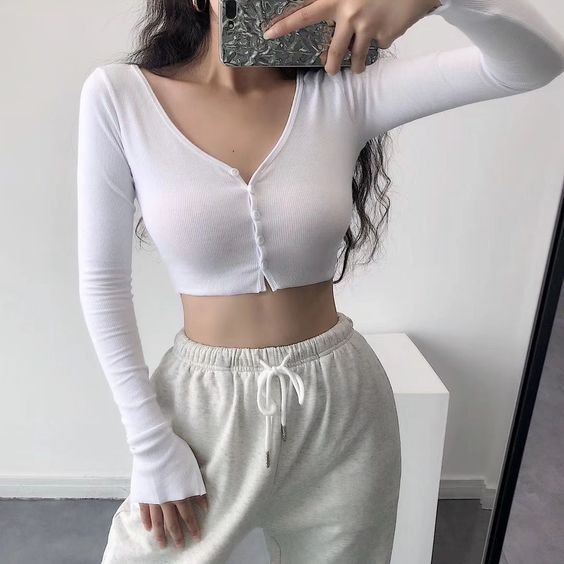 Love wearing sweatpants? Me too! Because sweatpants are one of the comfiest bottoms that won't bother the moves. To make this outfit fashionable, you can style it with a cropped cardigan. Then, add some accessories that have a simple design to give the glamorous look.
One Shoulder Dress for Special Occasions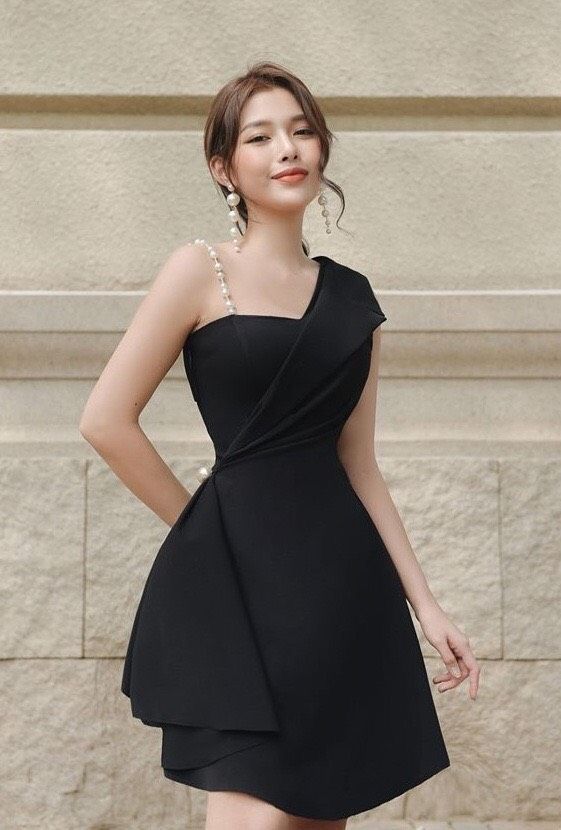 Feeling confused about the outfit that you could wear for special occasions? Have you ever thought about one shoulder dress? Even if the design looks simple, it would make you look elegant. Moreover, if you could add some accessories that are made from gold or silver. Next, use stiletto heels for the shoes and a clutch to carry some of your stuff.
Puffy Dress to Get a Cute Look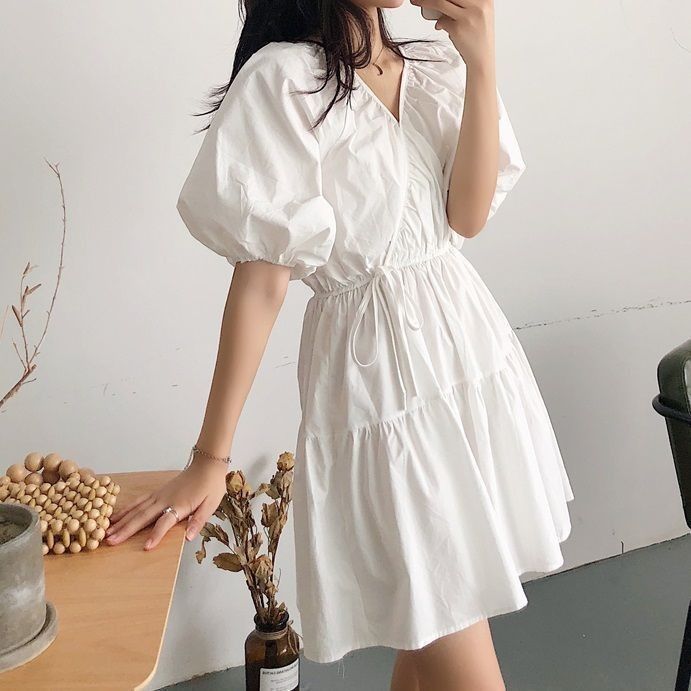 Another outfit idea for petite-body girls! The idea that we want to give is about the dress. Yes, you can wear a puffy dress that will make your small and short body look cuter and more attractive. You can get any look from this dress whether casual look, vintage aesthetic, and a lot of styles based on the shoes and bag that you wear. Very worth buying, right?
Mix and Match a Cardigan with Span Skirts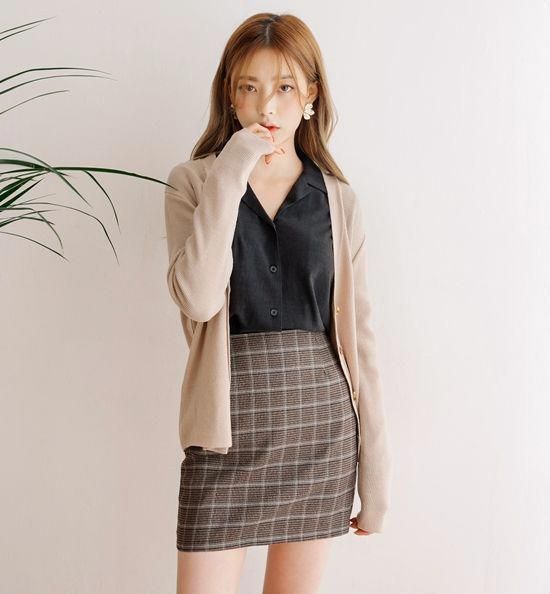 Korean style is very identic with a span skirt. So, at this time, we want you to wear span skirts and combine them with a cardigan. Furthermore, you could wear any kind of top for the inner. Just make sure it would match the place that you want to go to.
Denim Pants and Shirt
The next style is using denim pants. Of course, you don't have to feel doubt about these bottoms because it's one of my go-to bottoms when I feel clueless. Combine your denim pants with a shirt as the outer, then add your favorite tank top for the inner. Furthermore, choose between sneakers or sandals for the shoes.
Tweed Set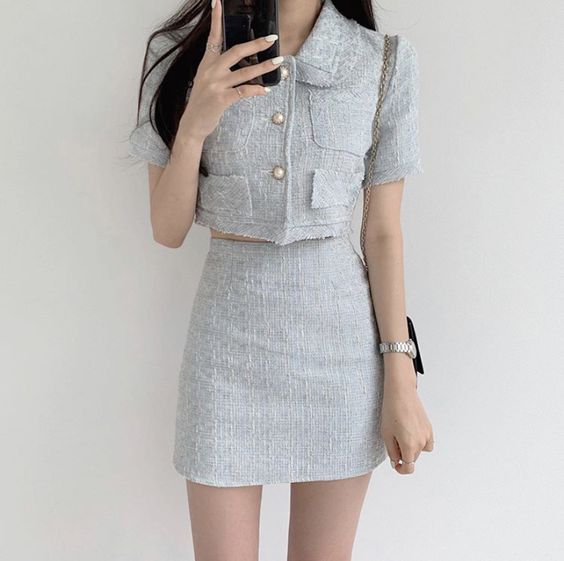 If you are a Korean drama lover, you are already familiar with tweed outfits. This kind of outfit will make you look elegant without trying hard to mix and match. Because the tweed span skirts and a cardigan tweed will achieve the look that you desire. Furthermore, you may add a few accessories that carry a simple design to make your outfit fancier.
Short Ripped Jeans and a Cardigan for Hangout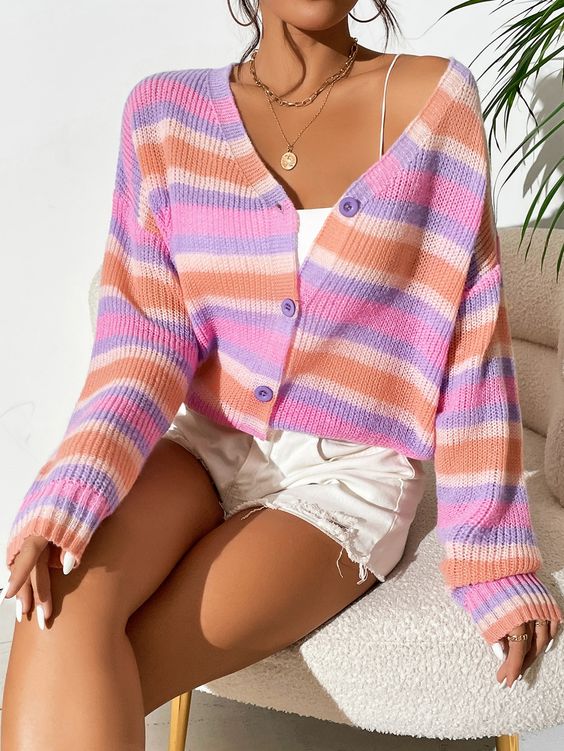 Finding an outfit idea for hangouts? Here is the answer for you! try to wear a cardigan and short ripped jeans. You will look casual without feeling uncomfortable with this outfit. Especially, when you use sneakers for the shoes and a shoulder bag for the bag. Lastly, use accessories that look simple to avoid the tacky look.
Korean Office Look Outfit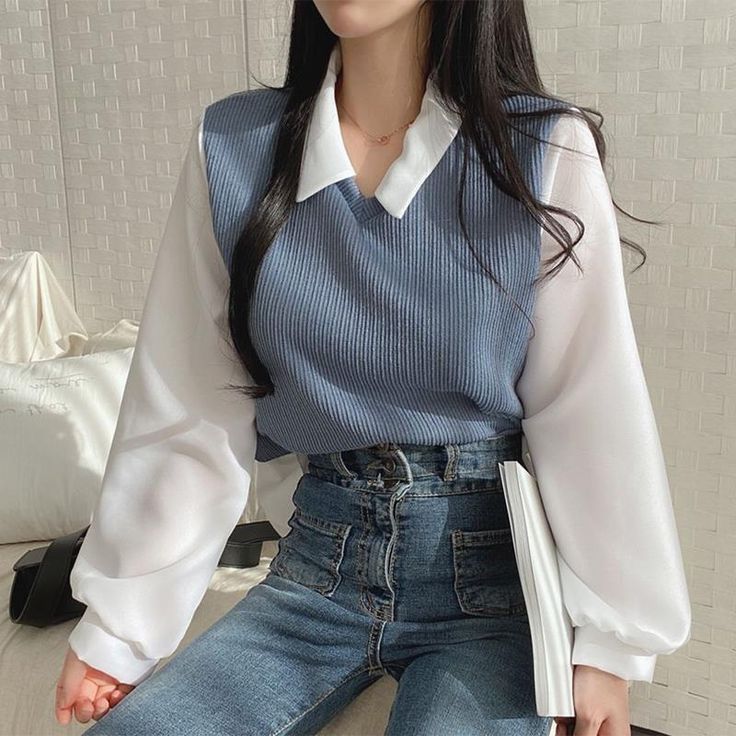 Mix and match jeans and a vest if you want to wear this Korean style for work. Because you can look formal and fashionable by using a vest as outerwear. Then, for the inner, just choose between a shirt or a blouse. Furthermore, use boots to make your outfit chicer or heels to get a feminine look.
T-Shirt and Midi Skirt to Look Feminine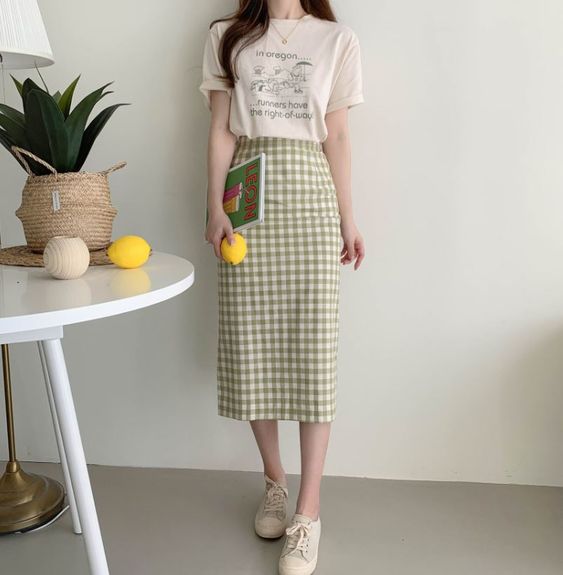 Looking feminine is very easy to get with this style. Even though this outfit tends to look casual, it is still possible to achieve feminine vibes. So, wearing midi skirts is gonna be the right choice to build the looks that you want. Next, to keep the casual look, you have to wear a tank top or t-shirt. Furthermore, for the shoes, you can choose the kind of shoes that feels comfy for your occasion.
Make Your Daily Outfit Stylish with a Transparent Shirt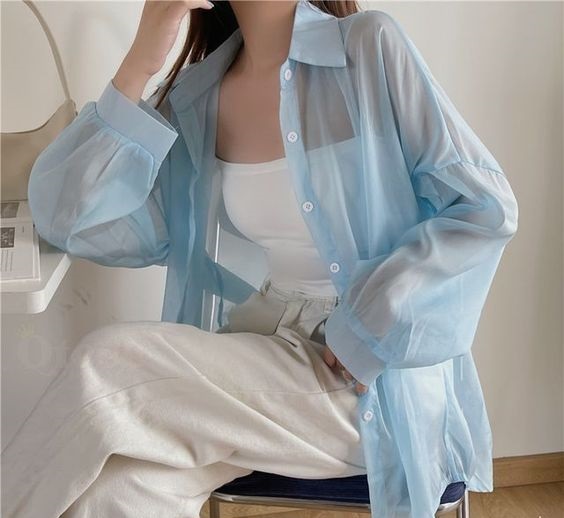 Feel bored with our previous ideas? I will not dodge, because that's true. The previous ideas are for those people who want to play safe. Meanwhile, if you want to look different without looking too much, a transparent shirt can be the best problem-solving. Make this outfit as outerwear, and you can combine it with any kind of top or bottoms based on the place and event.
V-Neck Dress for Garden Hangout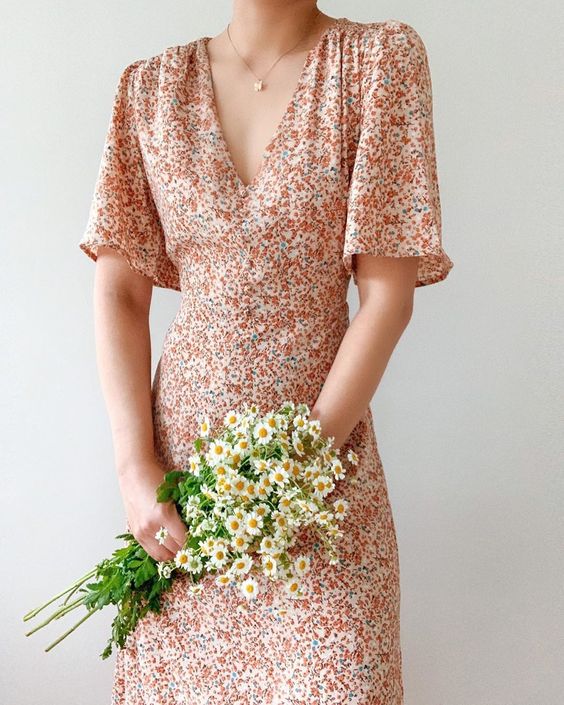 Going to the garden would be great if you wear a dress. Because this place is suitable for the kind of outfit that looks girly and pretty to balance the vibes. And if you want the kind of dress that looks polite and mature, a V-neck dress is going to be the best choice. Don't miss out on the necklaces that can make your empty neck looks prettier and any other accessories to support your look.
Keep Your Outfit Simple Using Loose Pants and a Tank Top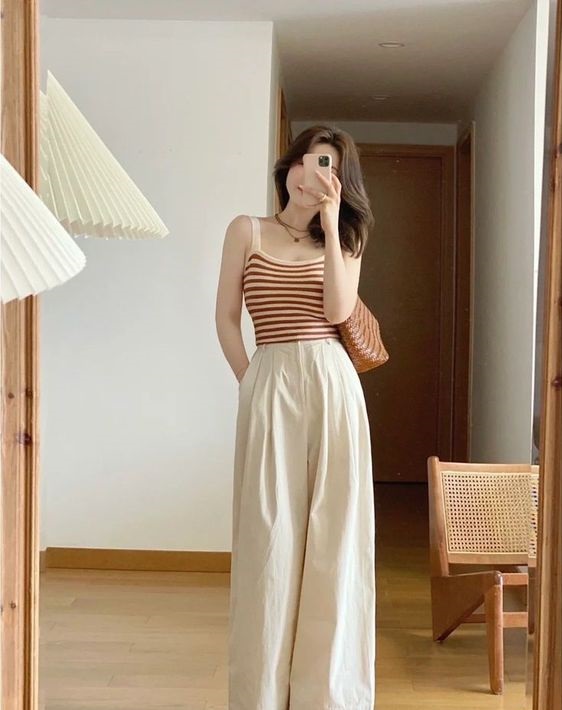 Want an even simpler outfit? Okay, we have loose pants and a tank top. These outfits are enough for those who just want to chill out at the café or do street walking. You only have to put on sneakers or loafers for the shoes and your outfit already looks gorgeous! Add a cap or others accessories to make your outfit more fashionable.
Puffy Sleeves Top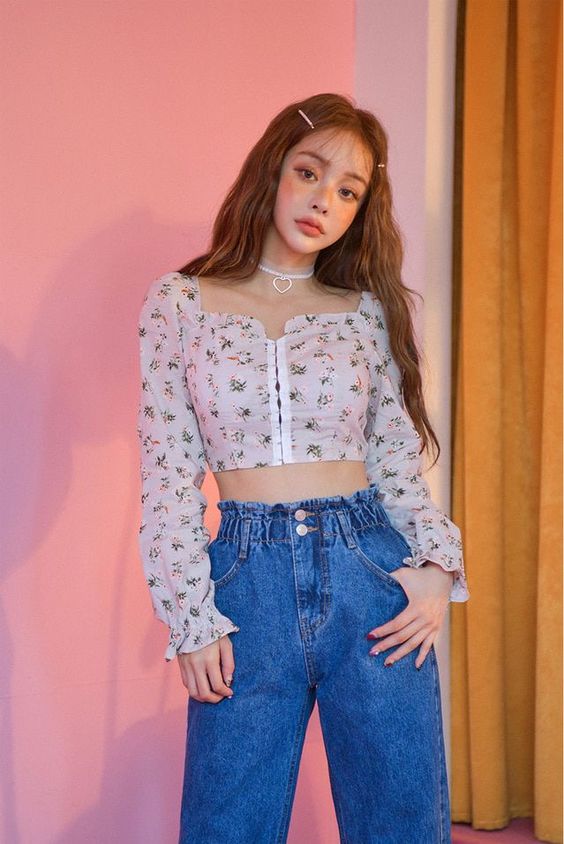 Puffy sleeves top is one of the most popular tops in Korea. Although, this outfit is already popular in other countries, Korea success in making this top more hype. This gonna be suited if you mix it with jeans, loose pants, or even skirts. Therefore, this top can be called a universal outfit too.
Face the Cold Weather with Korean Outfit Style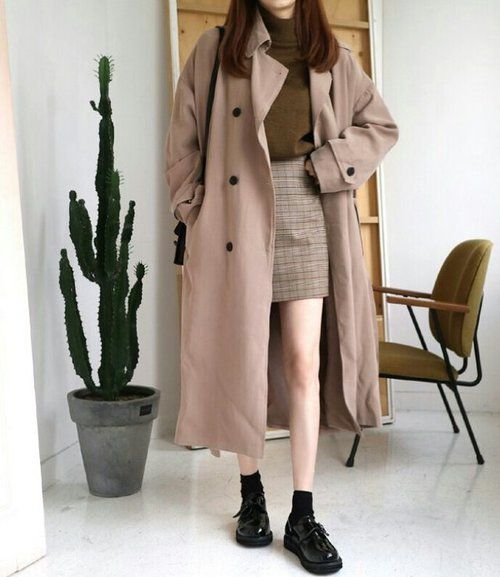 Living in a cold weather country? You have to prepare an outfit that can keep your body warm and look fashionable at the same time. Okay, one of the ideas that you can put into your list is the combination between span skirts and a coat. Who doesn't know about this outfit look? And wearing a turtleneck top as the inner will support the warm feel.
Mini Skirt and Knit Sweater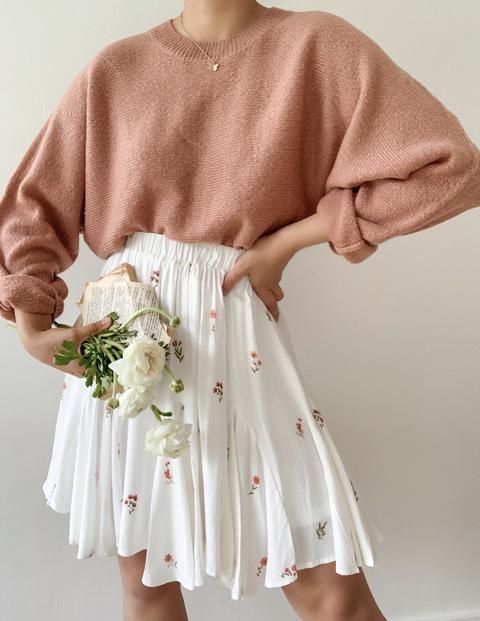 Another outfit that will make you look playful is a mini skirt. You can combine this skirt with anything that you want, but if you love the idea above, you can wear a knit sweater. This outfit is suitable for springtime or even summer. Don't worry, you won't feel hot, because you could prefer the knit top that has a thin fabric to give the cold feeling.
Combine Patterned Pants and a Tied Shirt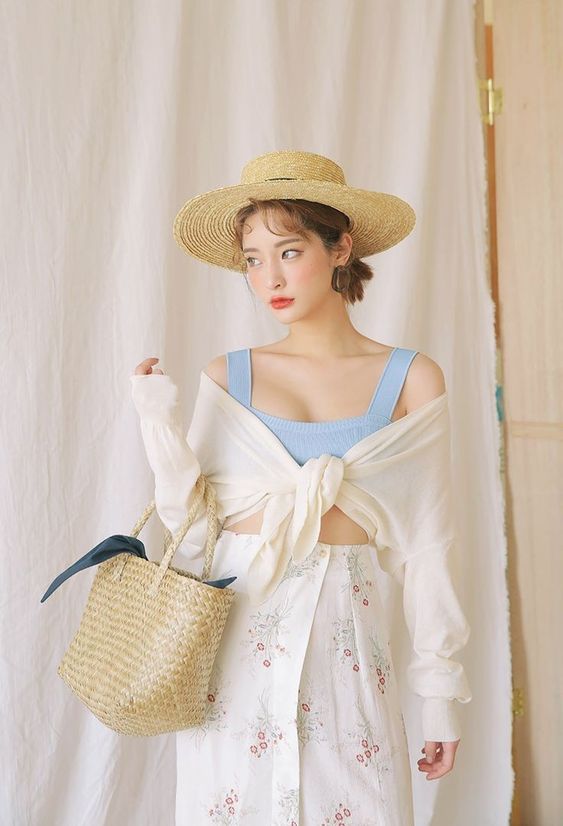 If you are the type of person that has a cheerful personality, you have to adapt it to your outfit too. Because it will make your body look shiny and alive. Therefore, using patterned pants and mixing them with a tied shirt is going to be the right decision. Next, use a bright color tank to live up the cheerful vibes. And voila! You will look attractive in a while.
Mix a Cardigan and Loose Pants for College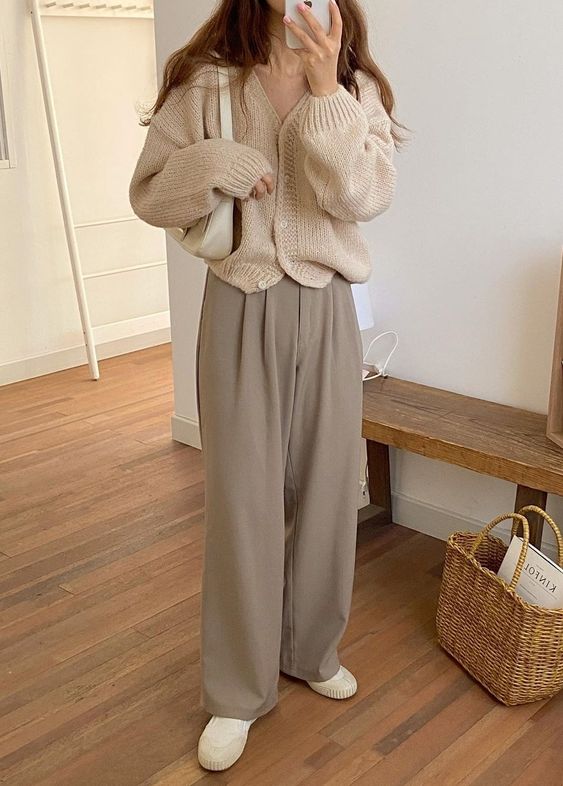 Style your loose pants and a knit cardigan for college. You will still look fashionable even though wearing a polite outfit. Furthermore, pair this outfit with sneakers and a tote bag to finish out this outfit look. Lastly, if you love wearing accessories, try to use an accessory that are made from silver to look elegant.
Korean Sporty Outfit Style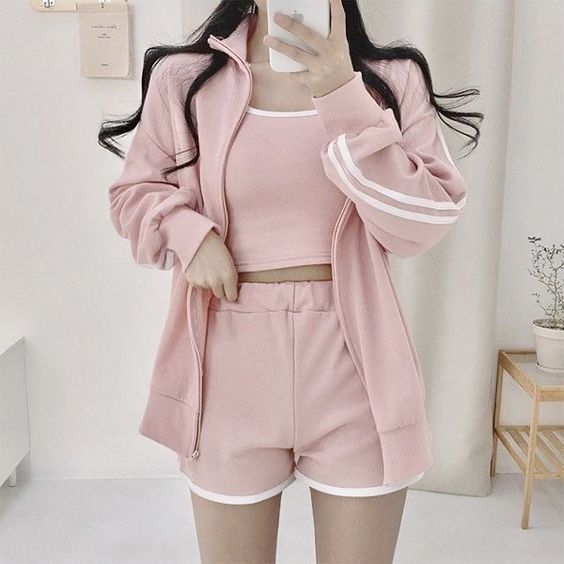 Want to do exercise but feeling confused about mixing your outfits? It's so easy, all you need is short baggy pants, a sports bra, and a jacket. Meanwhile, for the part of the shoe, sneakers gonna be the only choice. Furthermore, if you need to carry some of your stuff, just go on with a waist bag or sling bag.
Embroidery Ruffle Dress
Are the V-neck dress not fit your body? It's okay, moreover, if you're still a teenager, you better avoid using the V-neck dress because it can make you look older. So, another dress that can be the choice is an embroidery ruffle dress! The vintage design of this dress will give you a pretty look and will make you look younger. Furthermore, it's going to be amazing if you mix it with lace-up sandals and simple accessories.
Feel Comfy Wearing Short Pants and a Cropped Hoodie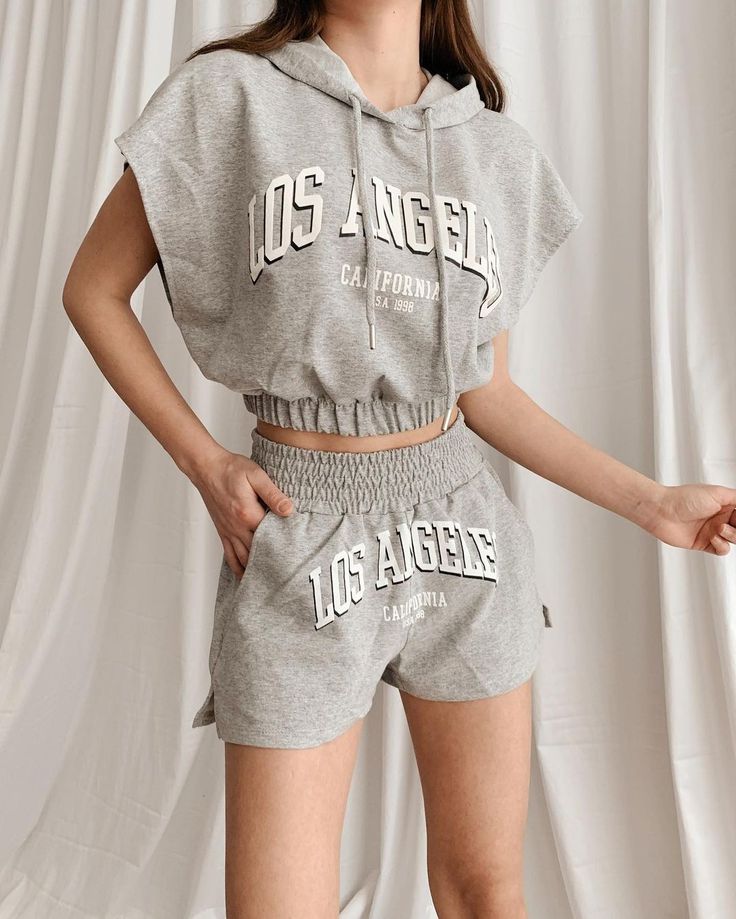 Still not enough with the sporty outfit style? Okay, you can keep the short baggy pants. Meanwhile, for the top, you are allowed to change it with a cropped tank hoodie. It will be simpler than the ideas before, and of course, can also use for hangouts. Furthermore, add a cap for the hair accessory to make your outfit more sporty.
Use Overall Short Pants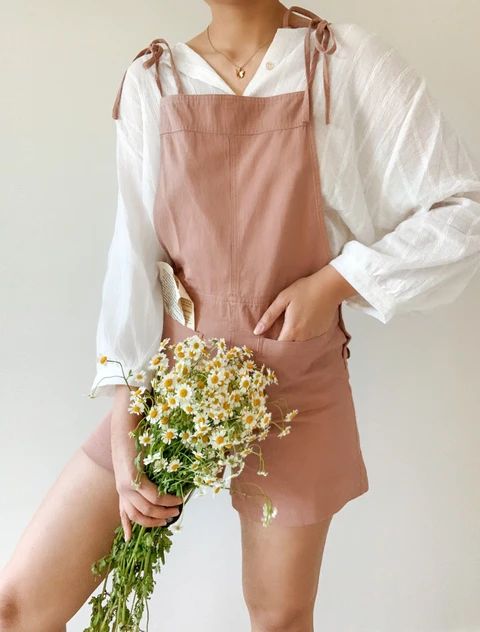 not comfortable wearing a denim overall? How about the overalls that are made from cotton material? This fabric will not bother your moves and give you a cold feeling. For the inner of these overalls, you can choose it whatever you like based on your mood. But I guess, it will be suited with a shirt or blouse.
Mini Dress with Transparent Shirt for the Fashionable Outfit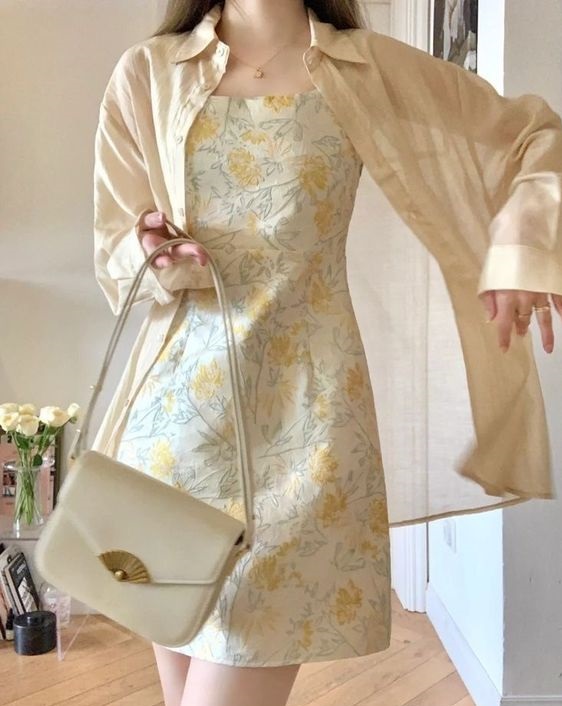 Going back to the transparent shirt! If you want to make your transparent shirt outfit more girly, you have to combine it with a mini dress. For the last touch, add shoes, a shoulder bag, and a few accessories to look stylish. This idea is perfect for those who want to go hangouts, go to the garden, or even have a museum hangout.
Now it's time for us to close this topic! What do you think about our 28 outfit ideas that carry casual Korean style? I'm sure it will boost your confidence level because it can make you look fabulous. I hope you can enjoy this topic and get some inspiration!