Who gets bored with the usual style? Sometimes, you have to be brave when styling your outfit to look different. I know a lot of you will be afraid of the tacky look and tends to stay in your comfort zone. But come on, if you are like this, you can't explore anything and of course, your knowledge gonna be less. Isn't using a basic outfit every day make you lose your charm?
Therefore, you need to get a new style that can make you look playful and attractive at the same time. So, I guess, you came to the right site! Because it will improve your knowledge about styling the outfit to get a playful look for any occasion or to make it simple, this topic is about playful outfit ideas.
Don't worry our ideas won't be difficult because we make it for beginners until the fashion expert. You only need to wear a colorful and unique outfit. Furthermore, choose the kind of style that is suitable for the occasions that you want to go to. Already feels the excitement? Me either, girls!
25 Playful Outfit Ideas for Any Occasions
Get the Playful Look in Basic Outfit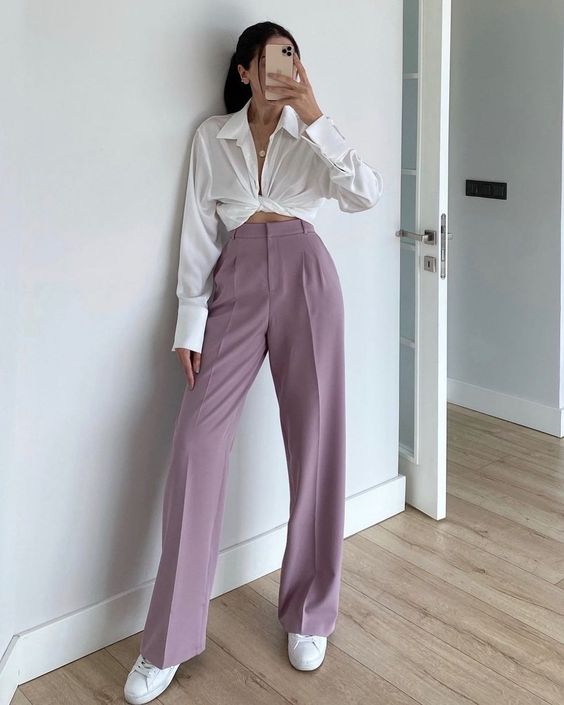 Still comfortable with the basic outfit? It's okay, you can do it little by little to get out of your comfort zone. Start by choosing a bright color such as purple color for the loose pants. Furthermore, mix it with a white wrap shirt. Then, add gold jewelry to make your outfit look fancy. Now, you already level up your basic outfits!
Use a Bow Tank Top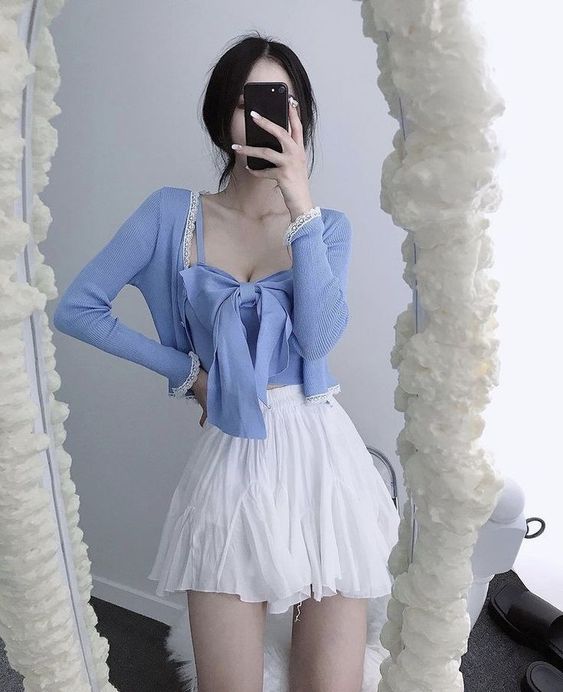 This bow tank is popular because of Jennie Blackpink. She really slays this tank and makes every girl want to have this outfit. We really support you having this cute bow tank top because it can give you a playful look. Moreover, if you wear a mini skirt as the bottoms and sneakers to complete your outfit look.
Styling the Playful Outfit for Formal Occasion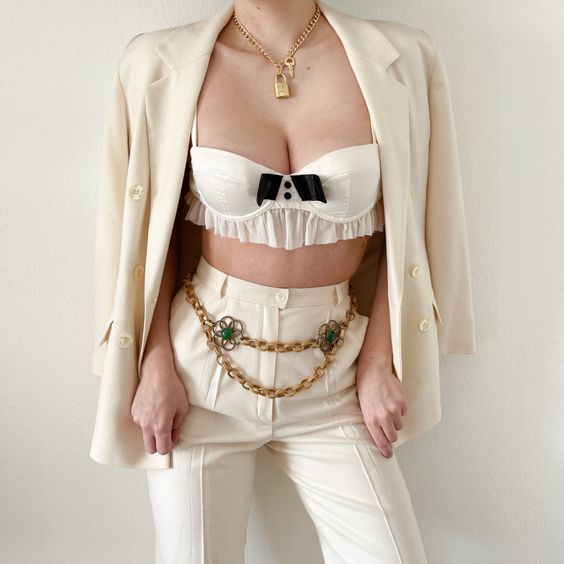 Who said a playful outfit can't be worn for formal occasions? Go try using loose pants and a blazer. Then, use a cropped tank top for the innerwear. Don't miss out on the accessories to build up your playful vibes. And voila! You've done get the playful outfit to go to the formal occasions!
Puffy Sleeves Top and Mini Skirt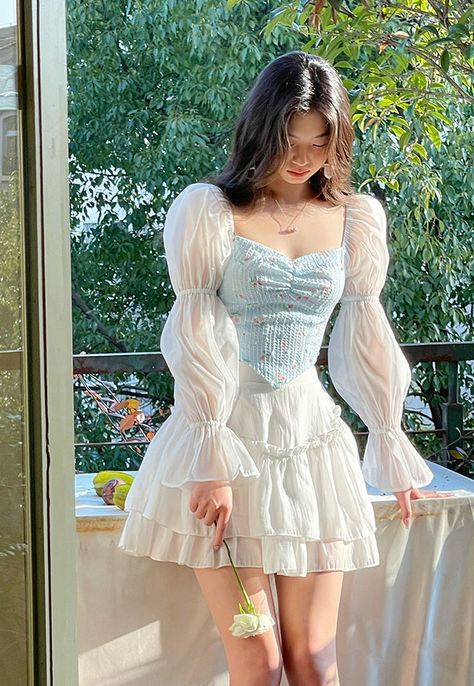 Mixing your puffy sleeves top and mini skirt can give you a playful and cottage-core vibe at the same time. Wear the accessories, lace-up sandals, and sling bag to finish your outfit style. If you're asking where you can wear this outfit, our answer gonna be a garden! Or you can also use it for hangouts with your friends and doing a photoshoot.
Wear Overall with an Off-Shoulder Top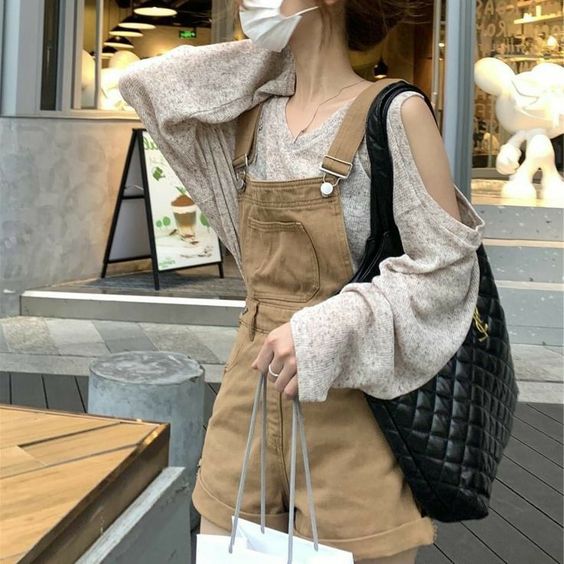 Want to look playful for hangouts with your friends? Here is the idea for you! Mix and match overall with an off-shoulder top. Make sure you choose the fabric of the outfit that can give a comfy feel so it won't bother you when having a move. Furthermore, choose sneakers for the shoes and a waist bag to carry your stuff.
Flare Mini Dress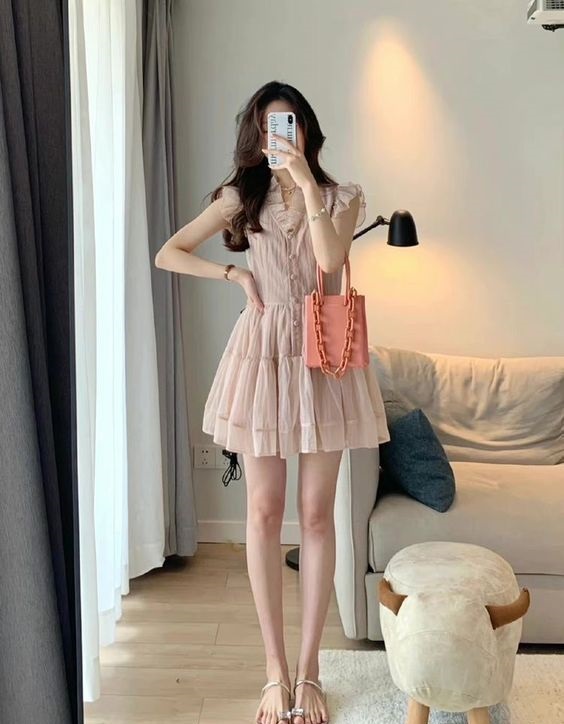 Flare mini dress is a kind of dress for people who want to look playful but are afraid of the tacky look. Because this dress is very simple although the design looks complicated. Therefore, you have to avoid using many accessories and prefer sandals for the toe. I believe you will love this idea for hangouts or doing a street walk.
Ripped Pants and Tube Tank to Look Like a Tumblr Girl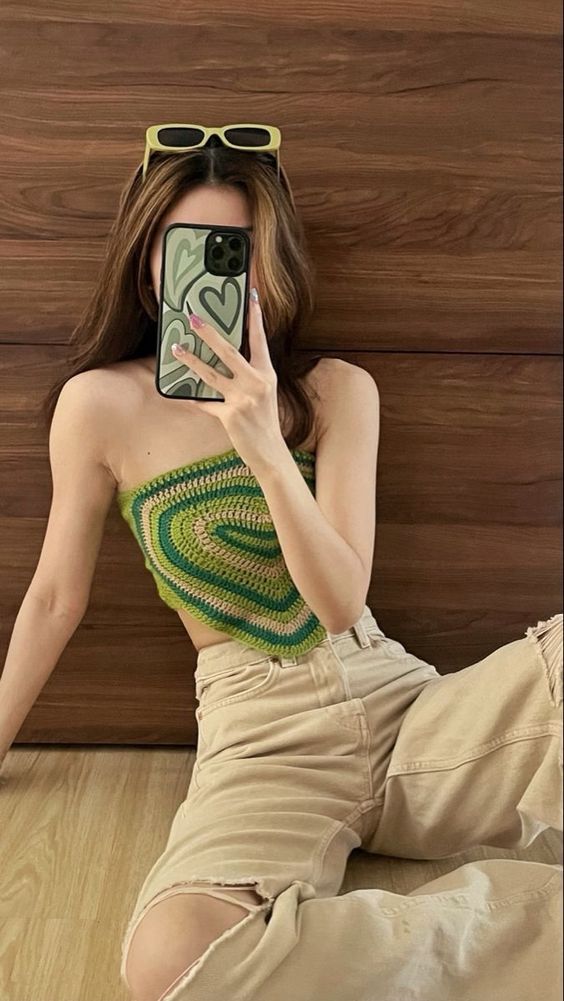 Are you a big fan of Tumblr girls that happen on social media platforms? Girls, to be like them is so easy, you only need to mix and match your outfit in the right way. Maybe you can follow the girl in the picture above, she wears ripped pants and a tube tank. To make it playful, try to choose a neon color like green and balance it with brown color.
How to Mix and Match the Playful Outfit for a Party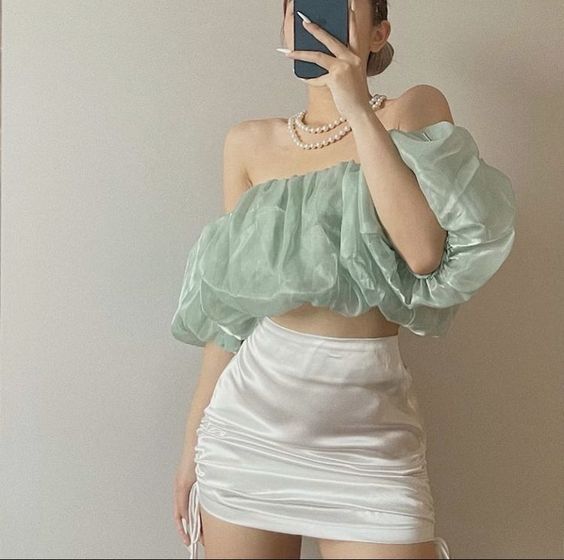 Going to a party is not always using an outfit that looks elegant. You can look different wearing the span skirt and ruffle off-shoulder top. Then, use pearl accessories to prevent looking too much. Furthermore, heels and a clutch for completing your party outfits. I'm sure you will get everyone's eyes because you look very charming!
Embroidery One Set
Isn't the embroidery outfit looking cute? Especially if this outfit wearing by petite girls. I guess you will look very cute. But don't be sad, even if you're not a petite person, you still can nail this outfit. Because all you need is add accessories such as necklaces, earrings, and bracelets. This outfit gonna be suitable to use for hangouts, going to the garden, and street walking.
Color Block Jeans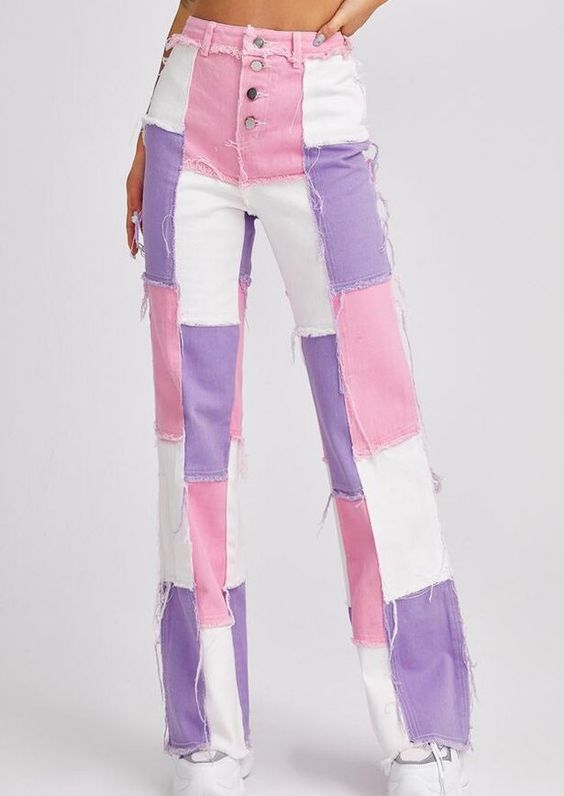 The next outfit is color-block jeans. Do you familiar with this outfit that happens in 2022? If you kind of person that active on social media, you won't miss out on this one. And yes, you need to have these color-block jeans to get the playful look. We recommend you style it with a crop top, cardigan, tank top, or jacket.
Look Cute with Ruffle Dress and Shirt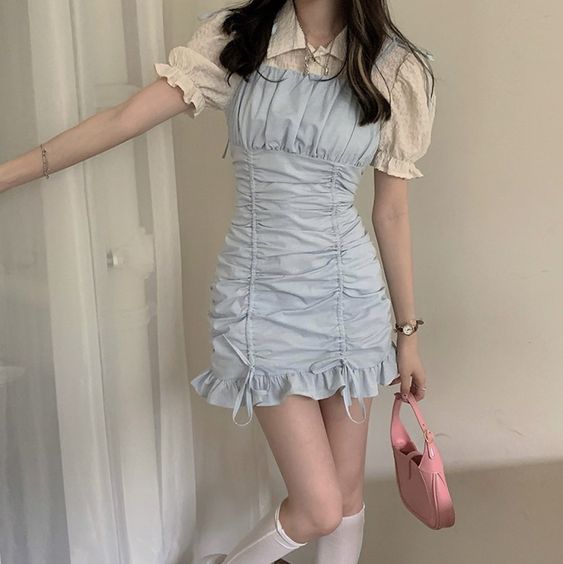 Although embroidery outfits already make you look cute, but there's an outfit that much cuter. Do you know what it is? As you can see from the picture, yes the answer is a ruffle bodycon dress with a shirt. Maybe you can go on with a shirt that has puffy sleeves and a round collar to support the vibes of the dress. Meanwhile, for the shoes, use long socks and marry jane's platform heels. Also, the accessories for making your outfit more stylish.
Puffy Sleeves Dress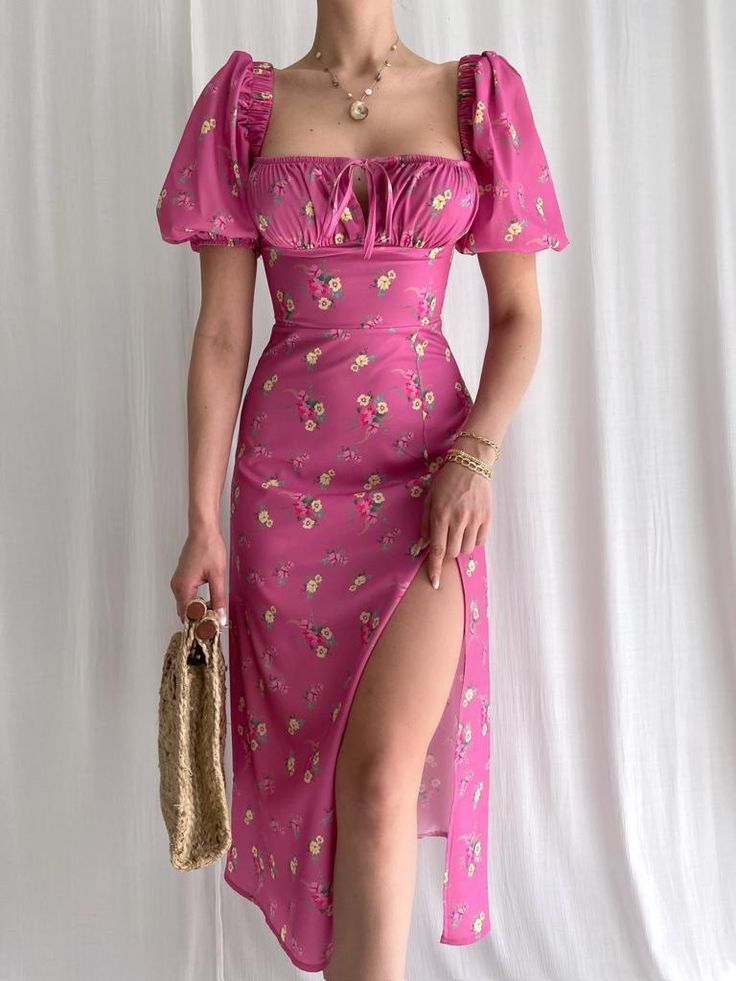 Besides using a puffy sleeves top, you can also use the puffy sleeves dress. It's perfect for those who want a simple outfit and doesn't like the layering technique. Meanwhile, you can get the vibes as the purpose of this topic by using a neon color like neon pink or yellow. Make sure the color of the outfit is suitable for your skin tone to look harmonious.
Make Your Outfit Chicer Using Patterned Skirts and Crop Jacket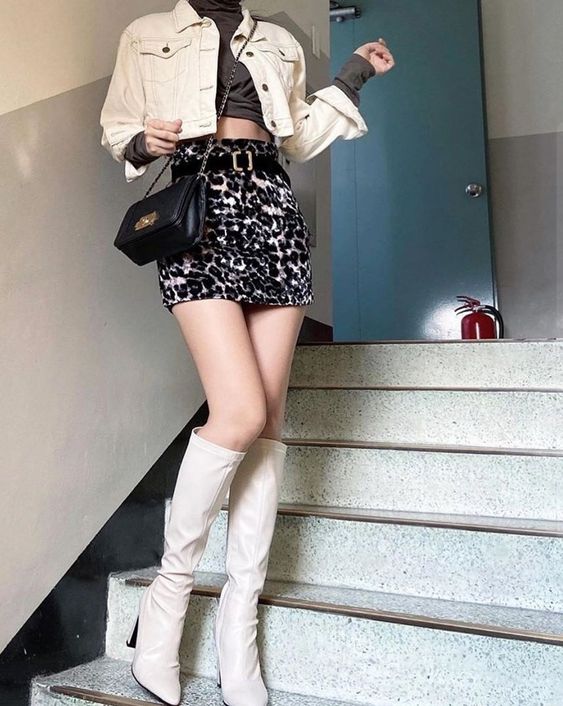 The playful outfit can also achieve a chic look. You can combine the black patterned span skirt with a crop denim jacket. Meanwhile, wear the turtleneck top as the innerwear. If you think this outfit is for the cold weather, then you're right! Or you can use it for going to the cinema and the place that possibly can make your body cold.
Bomber Jacket to Get the 90's Vibes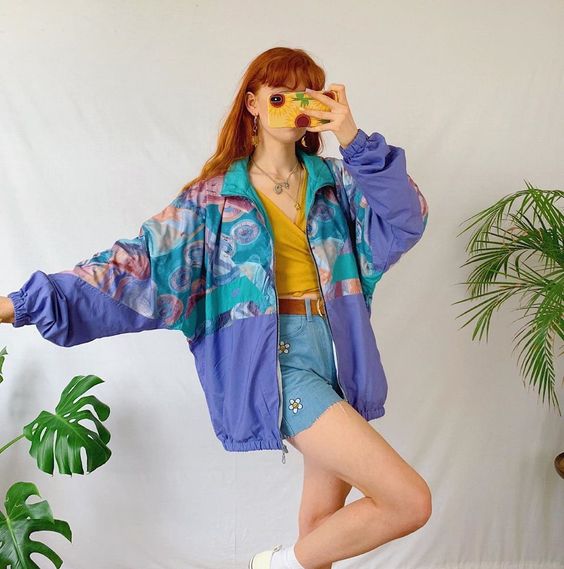 There are a lot of people who love the '90s outfit and I am one of them. It's because a '90s outfit will make you look attractive without putting so much effort into styling your outfit. Just combine short jeans with a bomber jacket that has a neon color. Then, to give a touch of modernity, wear a cropped tank top for the inner. Don't forget about the accessories such as a belt and headband to complete the vibes.
Tweed Set Outfit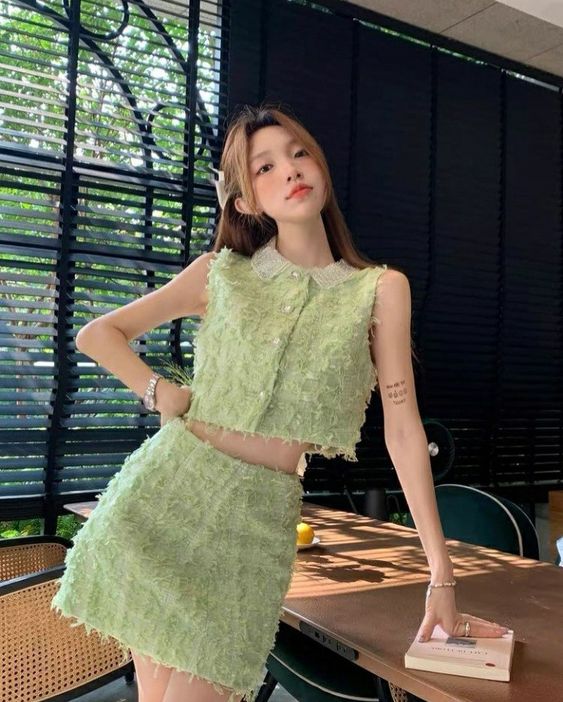 Besides making you look elegant and classy, you can also get a playful look with a tweed outfit! Use cut sleeves tops and span skirts in bright colors. Furthermore, you can add bows or hairpins to the hair to give a cute look. Trust me, you will look younger when you wear this outfit. And another benefit of this outfit is can be worn for any occasion whether casual occasions or formal occasions.
Baggy Pants and Oversized T-Shirt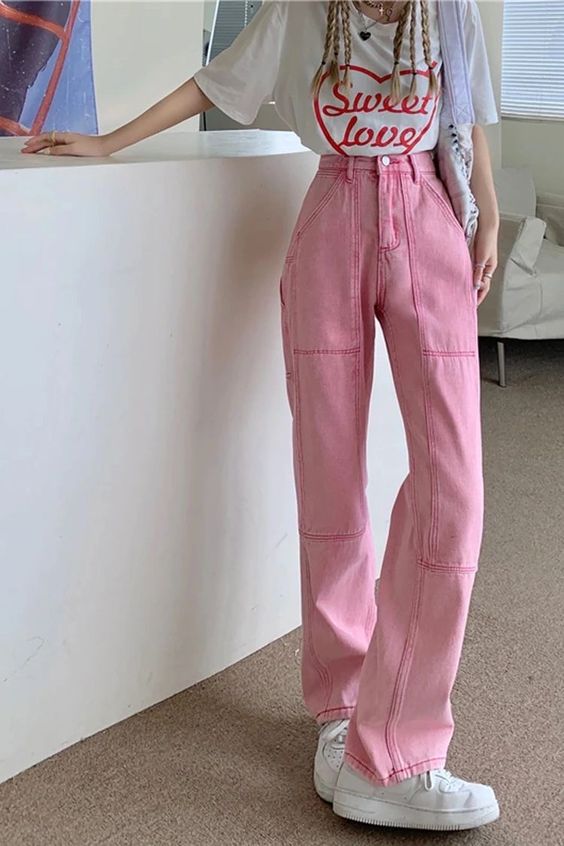 Wear baggy pants and an oversized t-shirt on your chill day. This is the best outfit to wear when you want to get relax from the tight outfit that bothers your moves. Pairing this outfit look with sneakers to level up the comfortable feel. Furthermore, a tote bag and a cap to finish out your fashion style.
Playful Look Wearing Satin Tank and Span Skirt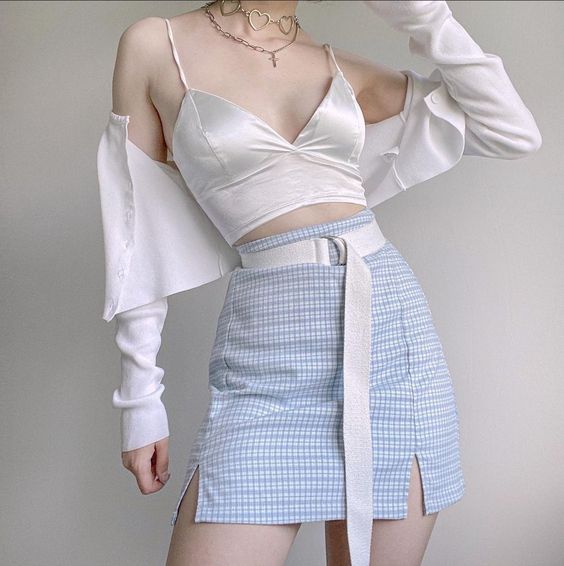 Another outfit that you can wear for a party! Which are a satin tank and tartan span skirt. To give a glamorous vibe, you must use an accessory that is made from gold or silver. Layering technique on this outfit is allowed because it won't give a tacky look. Furthermore, if you feel this outfit is too open, just add outerwear such as a cardigan, jacket, or blazer. Choose the kind of outer that matches the event!
Tartan Halter Dress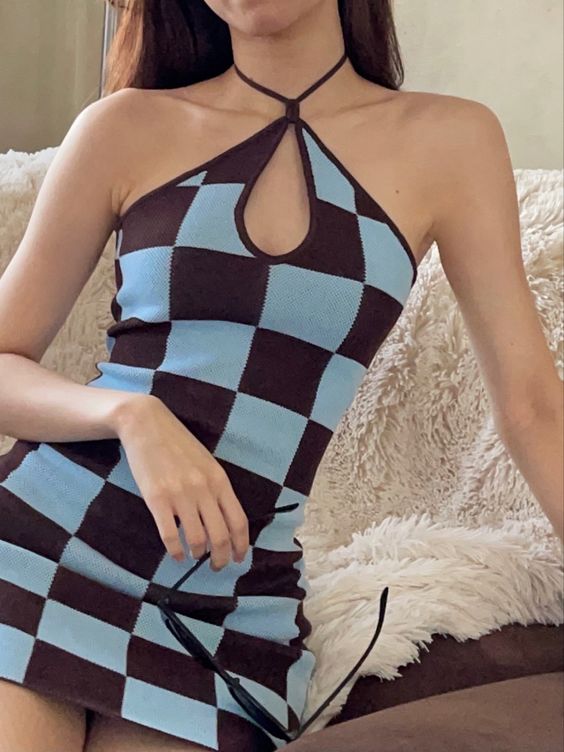 The tartan halter dress is great for people who want to avoid layering outfits but still won't look ordinary. If you thinking of using necklaces, I guess you have to skip them this time because they can't balance the dress. Just go on with earrings, bracelets, or sunglasses for the accessories. To make it aesthetic, wear chunky boots and a shoulder bag as the last touch.
Mix Patterned Sweatpants and Lace Tank Top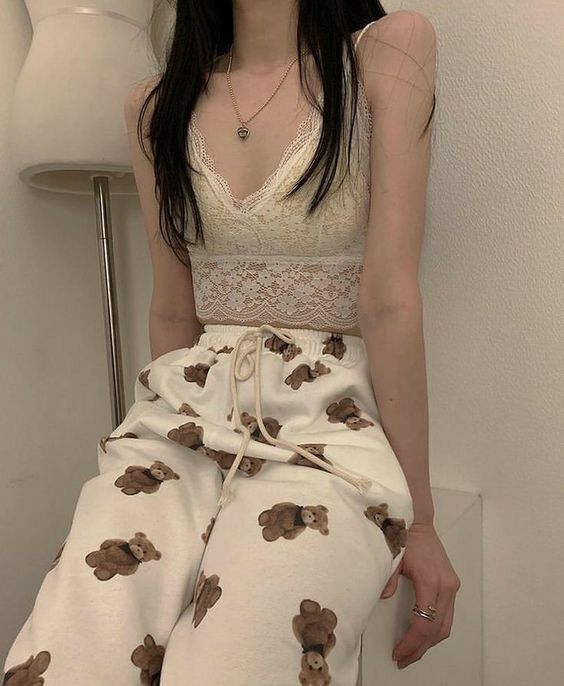 When you look at the photos above, the first thing that crosses your mind is a sleepsuit outfit, right? But, if you want to look playful, you have to be brave to using a kind of outfit like this. Instead of the outfit for sleep, pairing patterned sweatpants and a lace tank top can give you an attractive, also comfy feel. Therefore, it's very recommended to use it to chill out or hangouts.
Mini Flare Skirt and Crop Jacket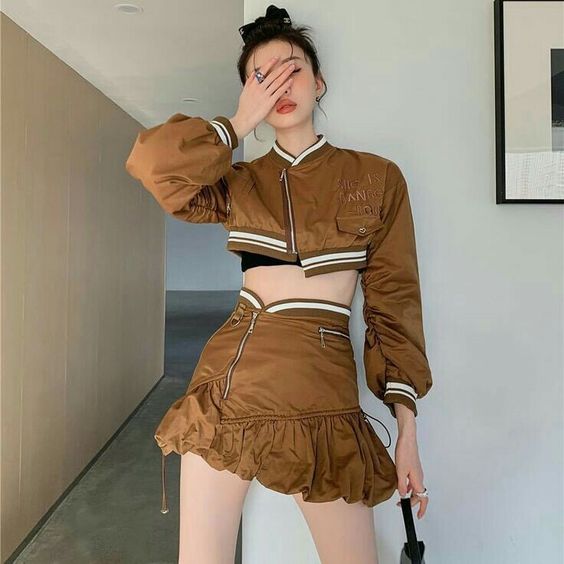 A mini flare skirt and cropped bomber jacket can give you a sporty look. This is perfect for you who want to look girly but prioritize the comfy feel. For the accessories, you only need to wear a watch, choker necklaces, and a cap. Furthermore, for the shoes and the bag, definitely sneakers and a backpack bag.
Autumn or Winter Playful Outfit Look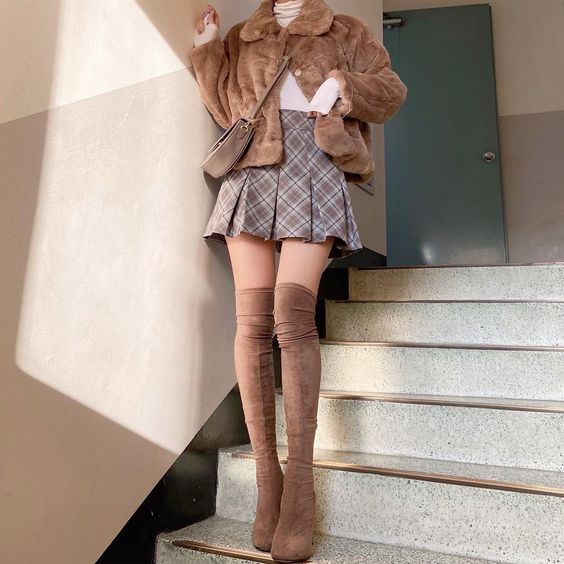 If you still need an outfit idea for the cold weather or seasons, maybe you put this idea into your list. Styling the tennis skirt with a fur jacket as the outer. Next, to give more warm feel, you will need a turtleneck top as the inner. Furthermore, the thing that we never miss out from the cold weather outfit is the high-knee boots. I'm sure you already know that this outfit will be suitable to use for school, college, or hangouts.
Tube Dress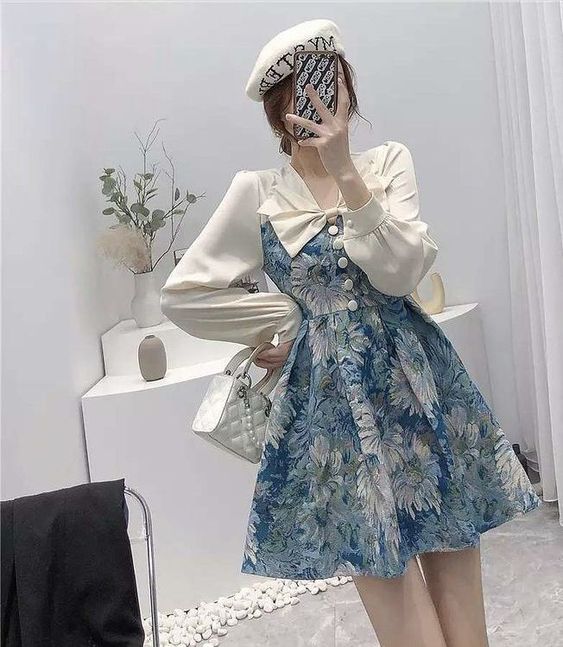 This idea is inspired by a Japanese girl. Isn't a Japanese girl look charming in their outfit? Okay, you need to buy a tube dress that has a pattern. Meanwhile, for the innerwear, you can adjust to your mood or occasion. But our suggestion gonna fall into a shirt that has puffy sleeves because it will be the same as the Japanese girl outfit. You can change it to another top if you don't have it or don't like it.
Span Skirt and a Cropped Vest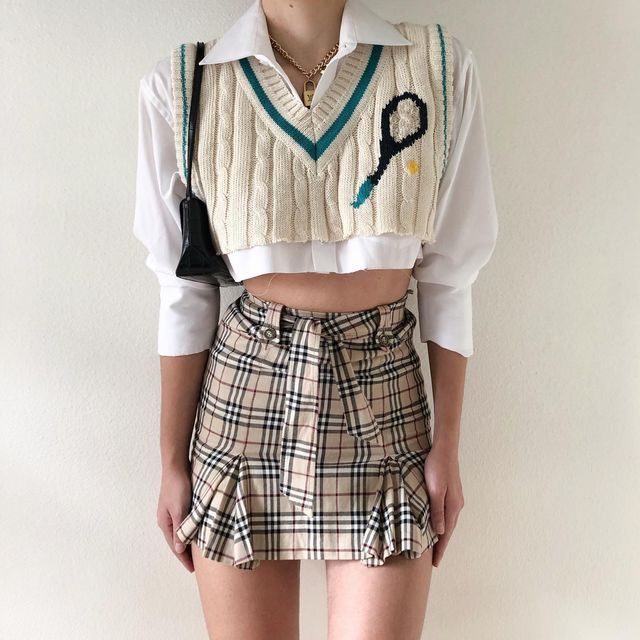 In the previous idea, we were inspired by a Japanese girl, but now we get the inspiration from a high school western girl. Usually, the kind of style that they wear is a combination of a mini-span skirt with a cropped vest. Then, to complete the look, you need to add an inner like a tank top, t-shirt, or shirt. You can adjust it based on your favorite.
Style Tartan Pants with Denim Jacket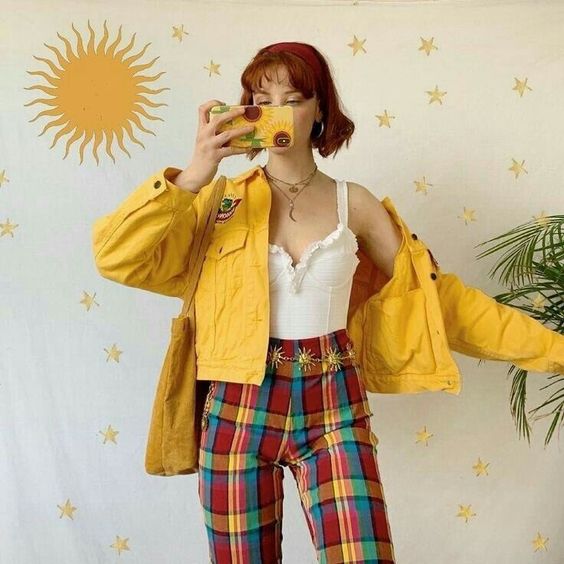 Tartan pants, the bright color of a denim jacket, and a corset tank will never fail to achieve a playful look. The style that carries the 90s is suitable with accessories that are made from beads. Furthermore, use mary jane platform heels to support the vintage look. Use it for hangouts or photoshoots if you are still curious about where you can use this kind of outfit.
Off-Shoulder Dress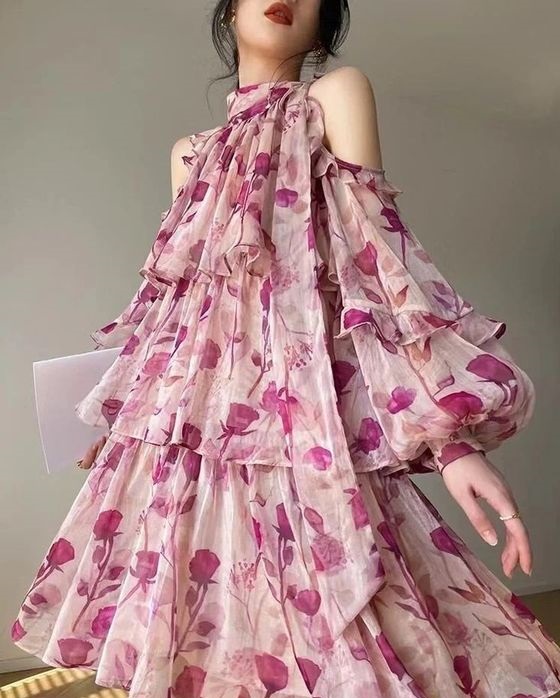 The last idea of this topic gonna make you look pretty, playful, and cute. Not only that, but this also uses a simple outfit such as an off-shoulder dress. Choose a dress that has patterned to avoid the boring look. And of course, you still have to use a bright color outfit! Finish this style using laces sandals or heels, then a few accessories that look simple as your dress. And you can nail this day!
Now our 25 outfit ideas to look playful for any occasion are done! Is there an idea that interests you? Or do you love the whole of these ideas? Don't be confused, just consider which kind of outfit matches your style and can make you feel confident when you wear it. I hope you get the inspiration and enjoy it!