I'm sure, the big day this month that you've waited for except Christmas is new year's day! Because all around the world will celebrate this day and feels excited to face the new year. So, all you have to do is prepare your best outfit for this event to boost your confidence while taking the picture to capture the moment that happens only once a year.
Surely, choosing an outfit is not an easy thing! Moreover, if you are having lack knowledge about fashion. But, you don't have to worry, because you can get a lot of inspiration from any platform, and also we will give you some outfit ideas that you can copy. If you can follow our ideas, I think you're gonna look gorgeous while new year's eve!
Don't forget to adjust the outfit to the occasions that you want to attend. And it is also important to wear a harmonious color that avoids a tacky look. Who's been feeling excited about this topic? Okay, let's get into the 25 outfit ideas to look gorgeous on new year's eve!
Jeans and a Tank Top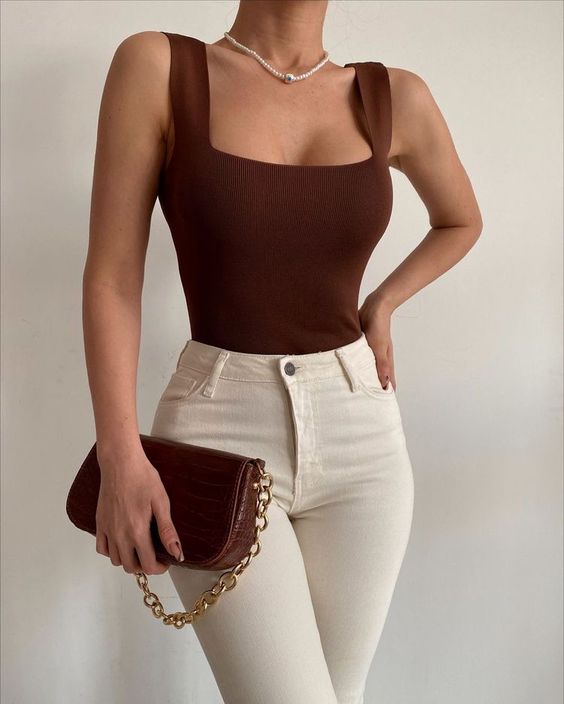 In a simple outfit, you can wear jeans and a tank top. This is the outfit you can wear if you fear looking too much. Wear an accessory to make the outfit look glamorous like necklaces or earrings that are made from gold. Pairing this style with ankle boots or heels for the shoes. Then, a clutch or shoulder bag for bringing your stuff.
Mix Span Skirts and a Coat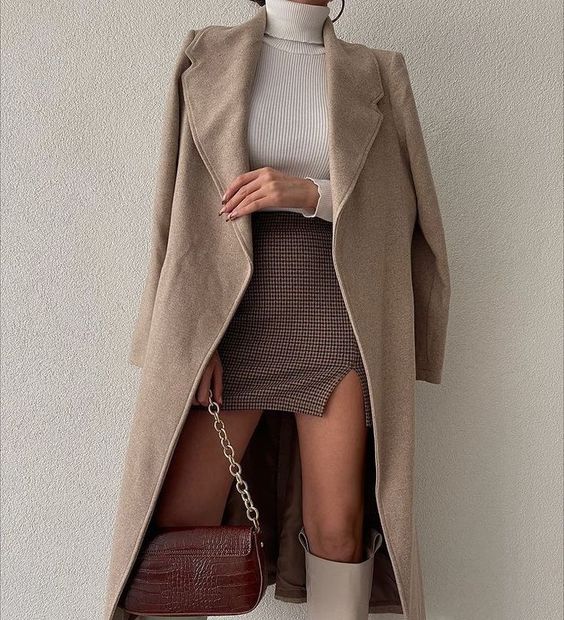 Easy to feel cold? So, you need to wear an extra warm outfit such as a turtleneck top and a span skirt to balance the look. Don't miss wearing a coat that can support the warm feel. This outfit would be perfect if you have an outdoor party. Just use boots and a shoulder bag to look chicer. Or you may change the boots with heels if you want to look ordinary.
Sheer Blouse with Sequin Skirts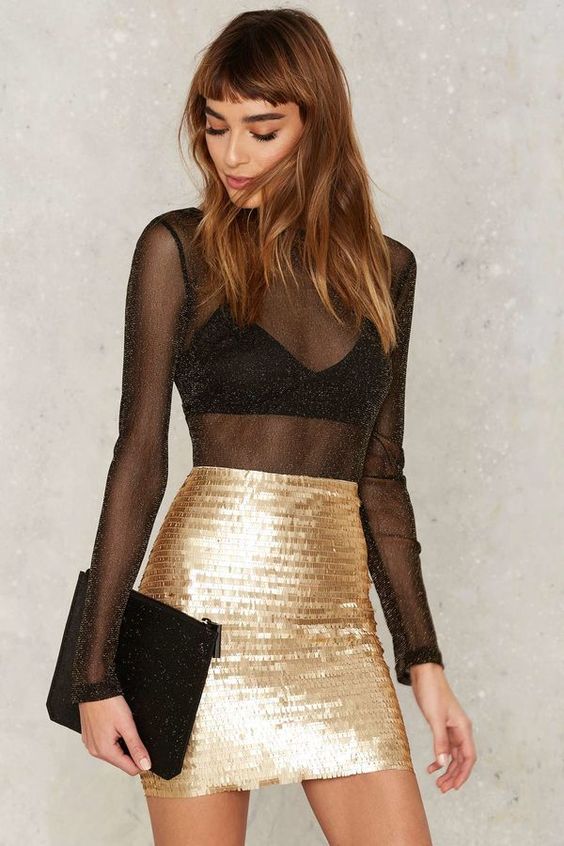 New year's eve will not be complete without a sparkling outfit. So, sequin skirts are the best choice if you want to look sparkle on this day. Mix your sequin skirts with a sheer blouse and a crop tank top as the inner top. Furthermore, for finishing this look, you just have to add some accessories, ankle boots, and a clutch. Then, you are done!
Use Satin Dress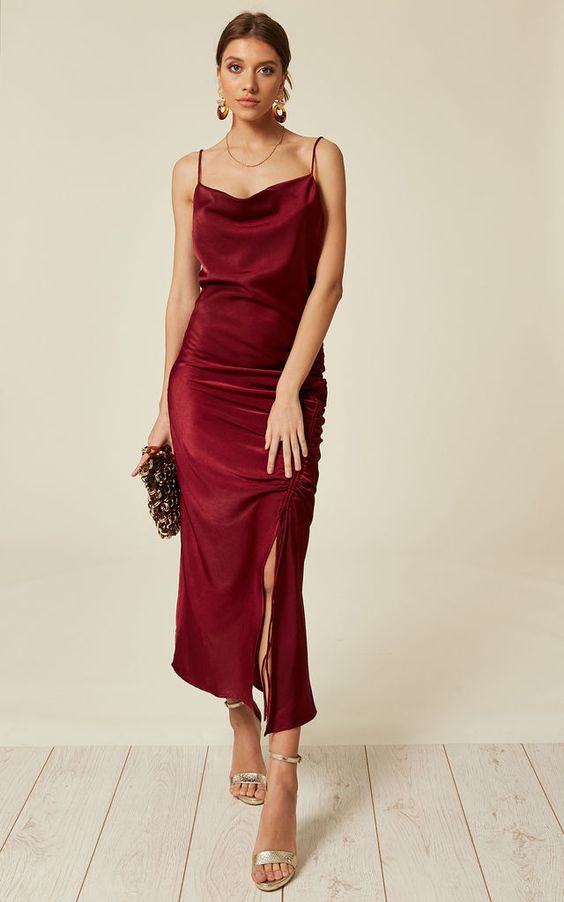 If you prefer using a dress over any outfit, maybe a satin dress will look good on you. The satin fabric has a shiny and flowy fabric that can give you an elegant vibe. Use an accessory to balance the dress and make you look more fashionable. Furthermore, wear ankle-strap heels for the shoes and a clutch to save the important items.
Wear Loose Pants and a Crop Vest
I know you would do anything to make your outfit look more stylish. Especially, makes ordinary outfits turn into stylish ones. Now, we will give you a recommendation for a pair of loose pants and a vest. But for the vest, you can fold it in to give a crop effect. Meanwhile, use a shirt or a basic t-shirt for the innerwear.
Still not enough? How about adding accessories that you like? And you can do a layering technique too. Furthermore, mix this outfit with boots or sneakers. Lastly, use a shoulder bag, sling bag, or clutch as the bag.
Leather Pants and a Knit Top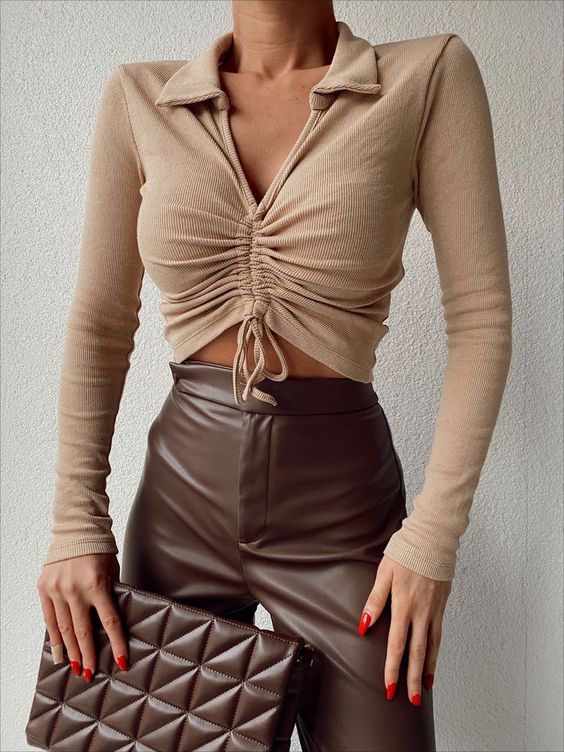 If you don't want to look tacky, it's obvious simple outfit is the answer. But I believe you will think a simple outfit can't make you look fashionable. That statement is wrong! You just need to combine leather pants and a knit wrap knit top. And voila, you get the look that you want.
Next, to fill in the blank space in this outfit, add a few accessories that have a chic design like chain necklaces, sunglasses, and many more. Furthermore, ankle boots and a shoulder bag finish out this outfit style.
Pants with Laces Tank Top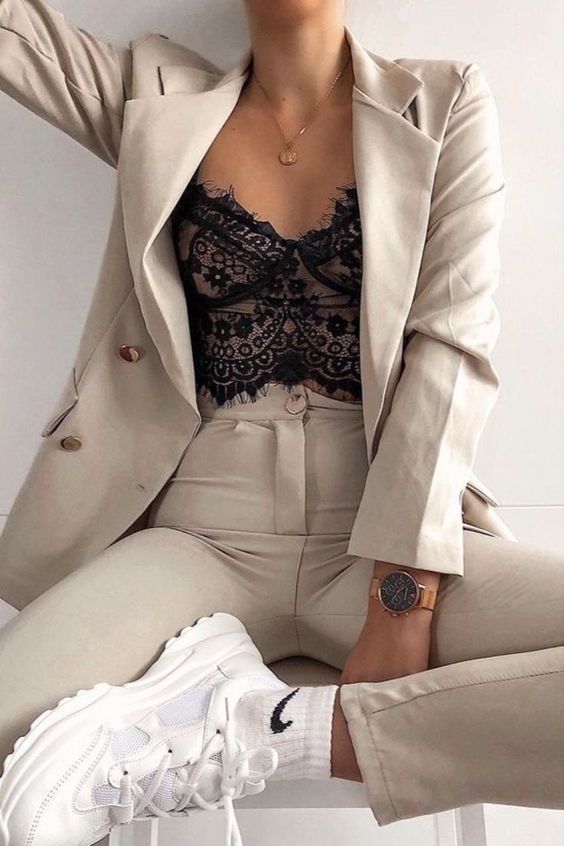 This style is gonna be suitable for you who love formal dress up. Don't worry, you won't look like you want to go to the office because we want to make it casual. Mix and match, pants with a lace tank top and a blazer. Wear simple design accessories that are made from gold or silver to look fancy. Lastly, use sneakers and a handbag.
Puffy Sleeves Dress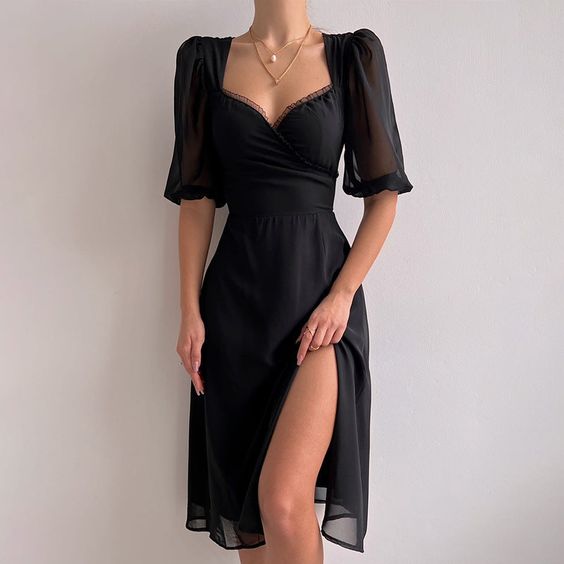 Don't like a satin dress because it looks too glamorous? Okay, if you are a casual person, I think you might love a puffy sleeves dress. The design of this dress will make you look simple but still give elegant vibes. And this dress also is equipped with a low square neck that can show your neckline.
Therefore, to make your neck look prettier, you may go on with a necklace that has a simple design. Furthermore, level up your fashion style by wearing stiletto heels and a clutch. What are you waiting for? Go add this idea to your list!
Get a Casual Look with Jeans and a Polo Knit Sweater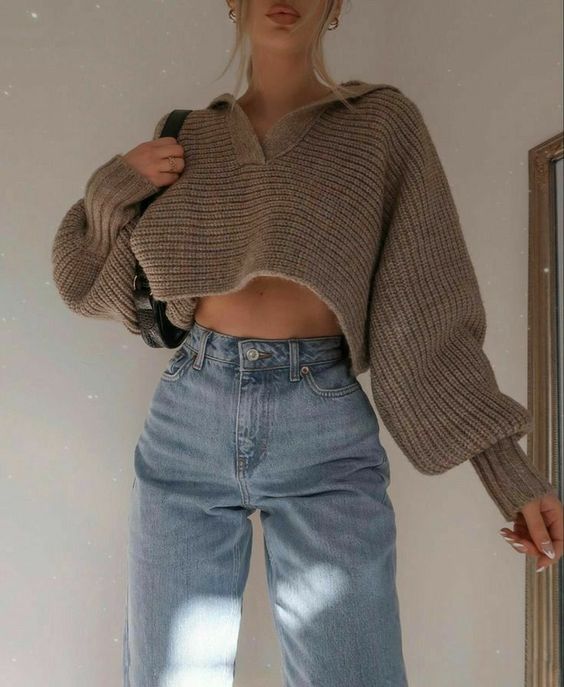 Sometimes to celebrate new year's eve not always by having a party. You can also just chill out with your friends in the room or backyard. So, for this occasion, you need a comfy outfit but never forget about looking stylish! Therefore, jeans and a polo knit sweater gonna be the best choice!
You may add accessories with a cute design to make it chicer. Then, sneakers can help you for protecting your toe and balance the style. Furthermore, wear a waist bag or a shoulder bag if you need to carry your items.
Wear Sequin Dress to Look Glamorous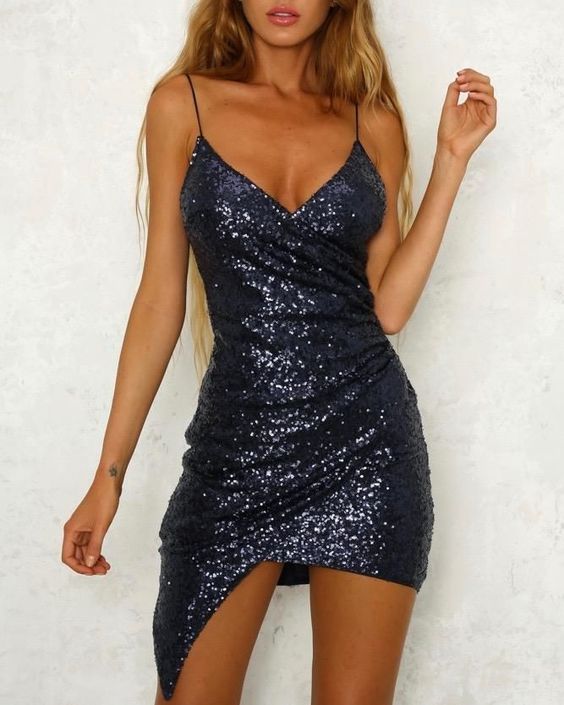 Going back to the sparkle outfit look! Now, you can wear a sequin dress if sequin skirts are not suited for you. This dress also will make you look sexier by showing off your body shape and neckline. Because this outfit already looks shiny, you may skip the accessories or wear the accessories that look not too shiny to avoid looking too much. Now, just complete your outfit look with ankle strap heels and a clutch.
Mix and Match Jumpsuit with Obi Belt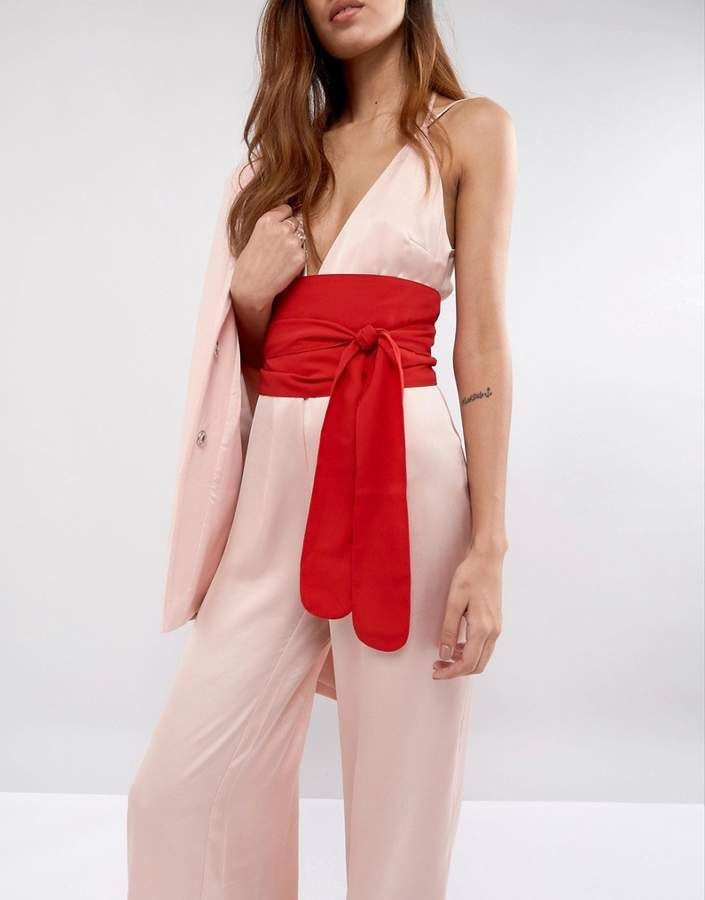 This one is suitable for those who have a petite body. Of course, wearing a jumpsuit because it can make your body looks taller and slimmer. Then, to make it stylish, you have to mix it with the obi belt that has been on trend lately.
Next, put some accessories that can make your outfit look fancy and glamorous which is great for party or having dinner. Furthermore, pair this outfit with any kind of shoes that you like by adjusting to the occasion and a shoulder bag or handbag.
Jeans with Laces Tank Top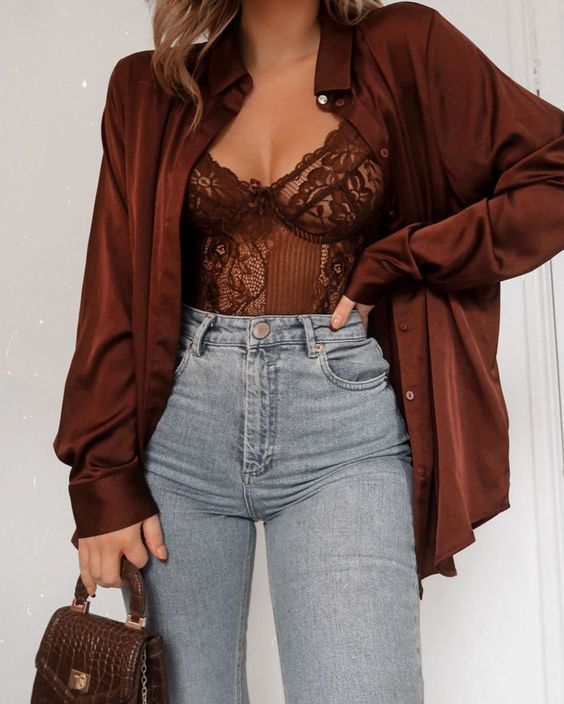 In the previous idea, we already use a lace tank top for the formal outfit. And now, we're gonna make it look casual by mixing it with jeans and a satin shirt. Don't worry, you still get the elegant look by wearing a satin shirt. Still feeling less? I think wearing accessories will help you to gain the look that you want. And also complete this look with sneakers or heels for the shoes and a handbag for the bag.
Loose Pants and a Tank Top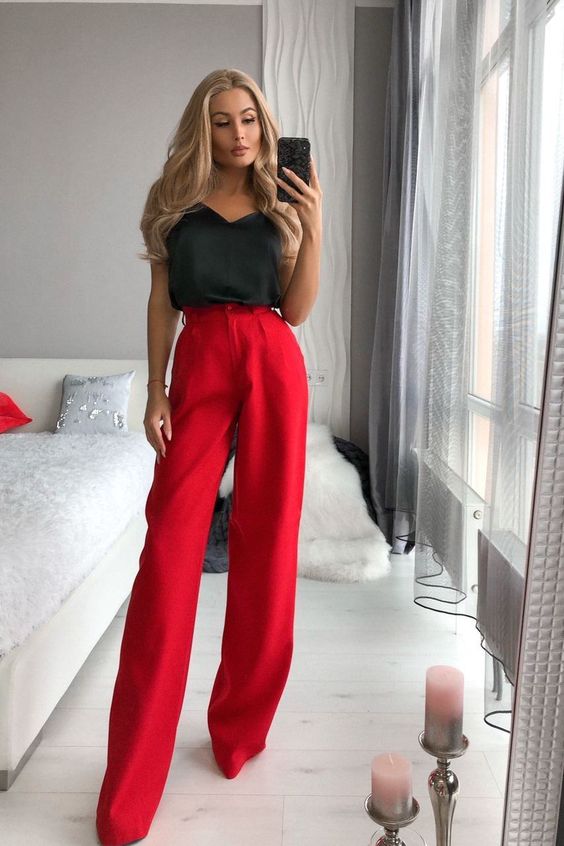 Another outfit idea that wearing a tank top. For this time, you just have to use loose pants as the combination of this tank top. I'm sure, you will not satisfied with the look, that's why we will suggest you use your favorite accessories to create fancy vibes.
Continue to the toe, wear heels to balance the feminine look, and a clutch if you want to bring some of your stuff. This kind of outfit that suitable to use on any occasion from casual to formal occasions. So, for those who feel clueless, you need this one idea!
Halter Dress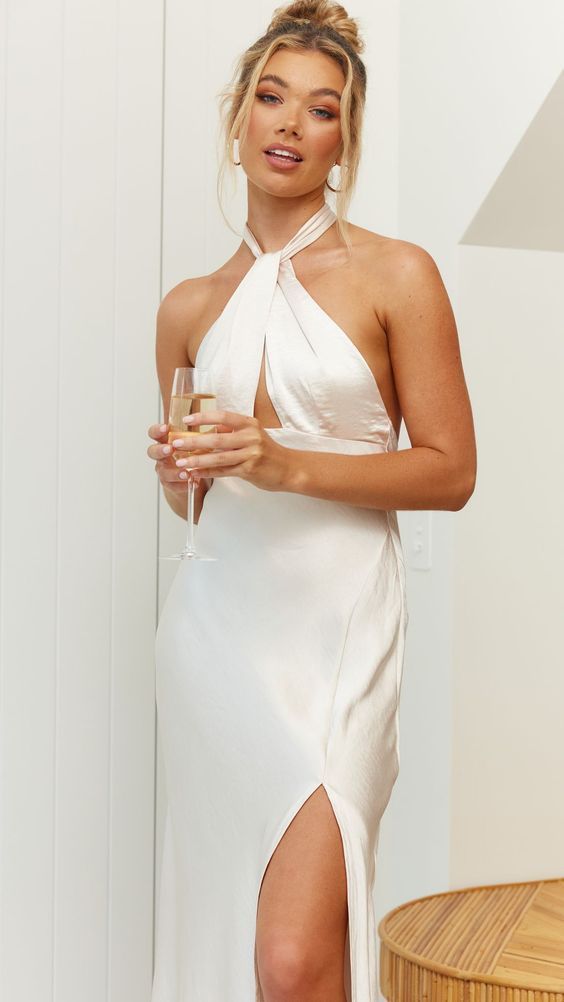 A halter dress will be perfect for you who love complicated designs. Besides that, a halter dress will make you look gorgeous without putting in so much effort. If you want to wear accessories, you can go on with earrings or bracelets. Try to avoid using necklaces that can make you look too much. The last thing is shoes and a bag, we gonna recommend you wear stiletto heels and a clutch.
Pleated Skirts and Blazers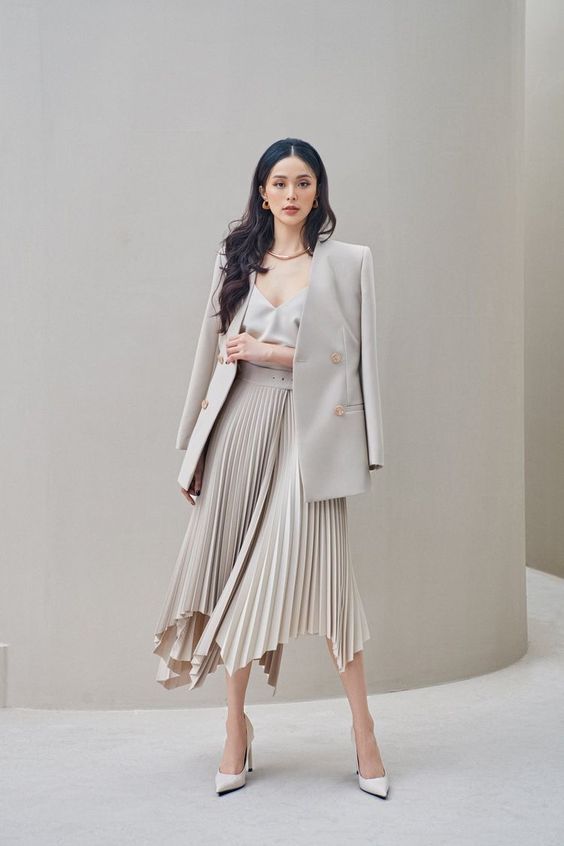 Not all people will love an open dress, therefore, we create this idea for you! Mix and match pleated midi skirts and a blazer. Then, a satin tank top as the innerwear. You can give a touch of necklaces or any kind of accessories that are made from silver and gold. Furthermore, choose your favorite shoes and bags by adapting to the event.
Bodycon Dress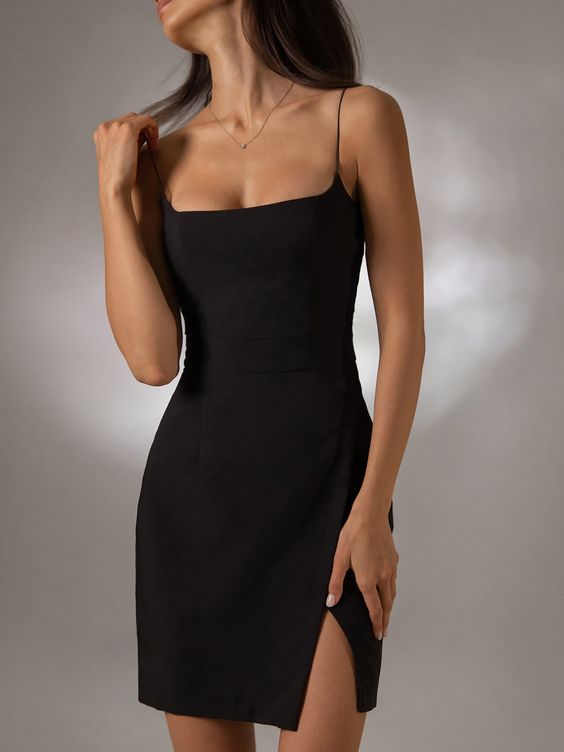 Searching for a dress that can make you look simple and gorgeous at the same time? Here is the answer! Yes, bodycon dress, girls! This outfit becomes the safe outfit that you can use when feeling stuck about styling the outfit. You can go on with only this dress or mix it with outerwear such as a blazer, cardigan, or shirt. Don't forget to add accessories to make this ordinary dress turn amazing. Then, for the shoes, you can combine this bodycon dress with any shoes and either with the bag.
Leather Pants with Sheer Blouse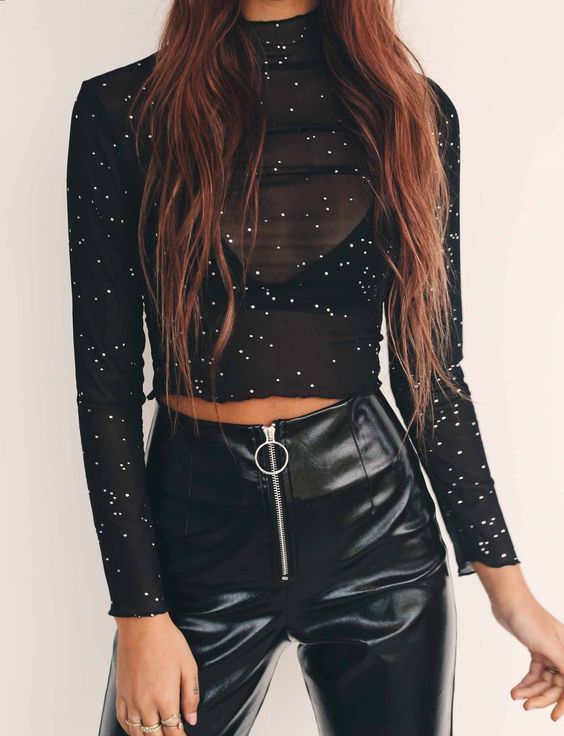 New year's eve is the time for you to look chic by wearing leather pants with a sheer blouse and a crop tank top. It will be great to wear if you having a party or just want to have a night out with your friends. Make it chicer by doing a layering technique to the accessories. Don't forget about the boots and a shoulder bag that can complete your fashion style.
Style Loose Pants with a Crop Blazer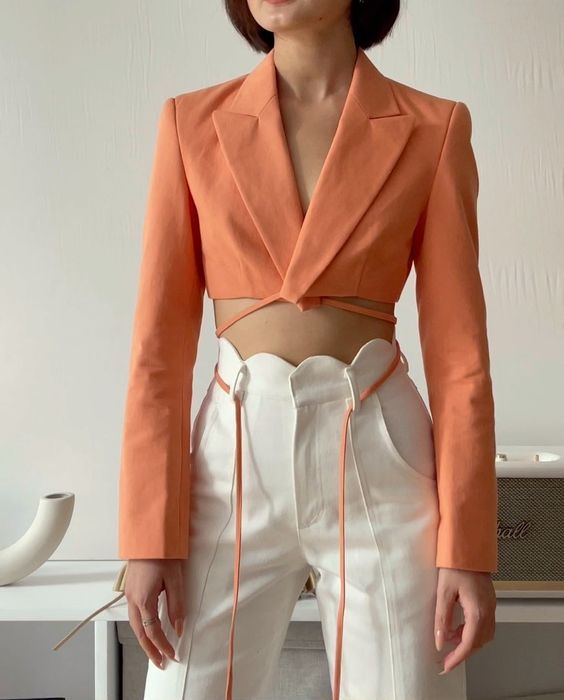 Being confused about which kind of outfit can make you look fashionable and following the trend? The answer is so easy! Styling your loose pants with a cropped blazer. You may leave the innerwear but you can also wear a crop tank top for it. Use a gold accessory to make your outfit more stylish. Furthermore, chunky shoes and a waist bag help you on achieving the looks that you want. Now, you already being a trendy girl!
Jeans with Satin Shirt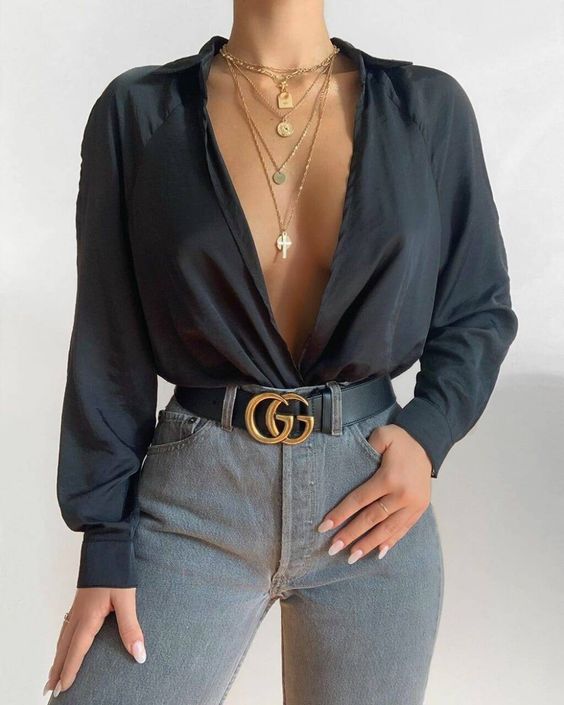 Looks sexy in a casual outfit impossible? Who said that? Anything could happen in this world including getting a sexy look by wearing a casual outfit. Mix your jeans with a satin dress and let a few buttons loose. Don't wear any inner tops to get the sexy vibes.
Then, doing a layering technique wear gold accessories to look chicer. Furthermore, use boots if you want to look chic or heels to look casual. And last, add your favorite handbag to finish the look.
Loose Pants and a Tube Top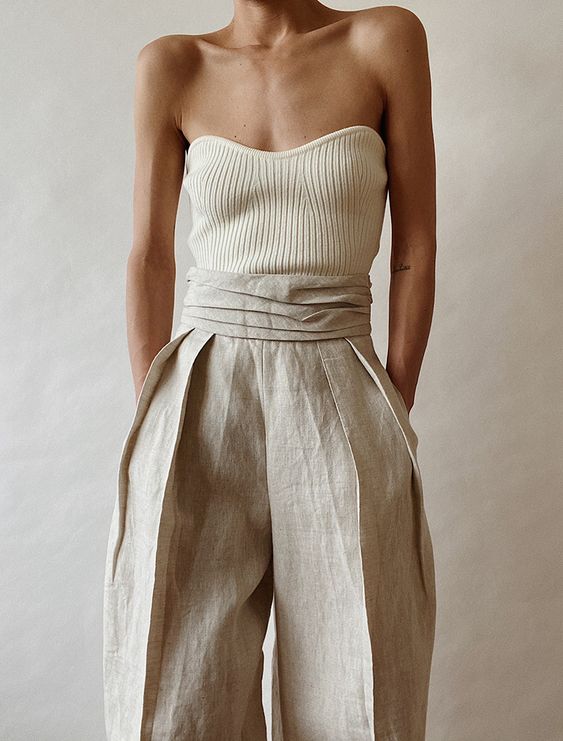 Still about a tank top, now you can combine a tube top and loose pants. This would make you look simple and avoid the tacky look. You may use accessories if you feel this outfit looks ordinary and not too attractive. To keep it simple, use heels and a clutch. Therefore, this outfit is really recommended for a casual event.
Split Dress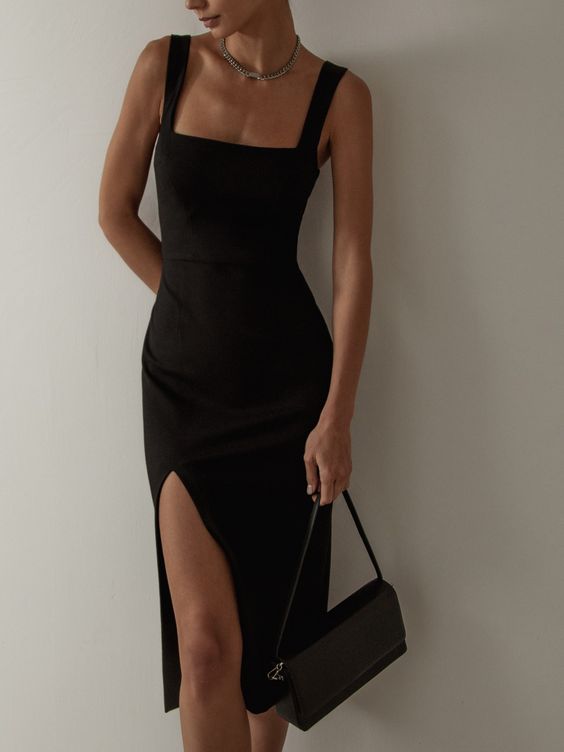 Who agrees with me that a split dress is a dress that can give you any kind of look that you want? Then, the split at the bottom of the dress will help you to get free to move. Not only that, but this dress also has a press body design that will shape your body so you can look sexier if wearing it. So, interested to wear this outfit for the last day of this year?
Wrap Dress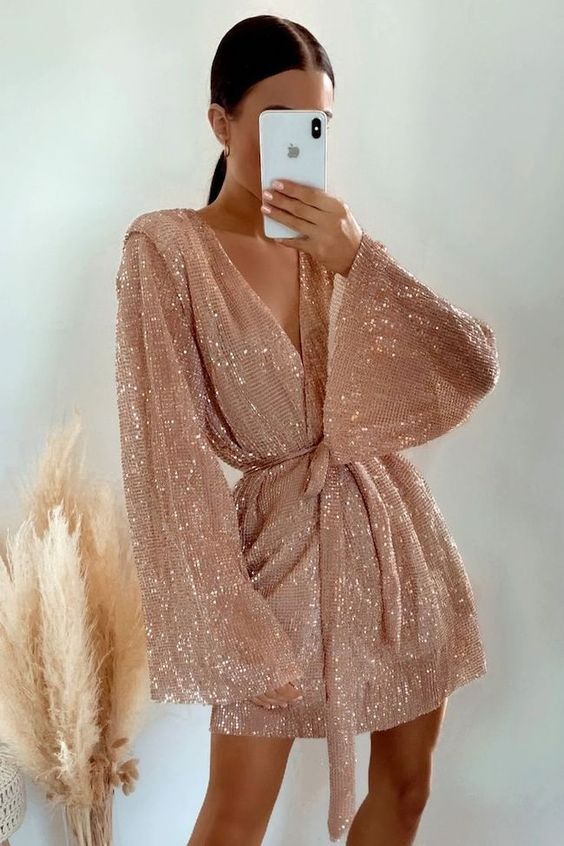 Need more of an outfit that can make you look sparkle? Go try this sequin wrap dress! I think it's a type of dress that not looks too open so perfect to wear for people who don't want to look sexy. You can also add a tank top if you want. And again, we remind you to not wear too many accessories if wearing sequin outfits to avoid looking too much.
Mini Dress with a Sleeveless Blazer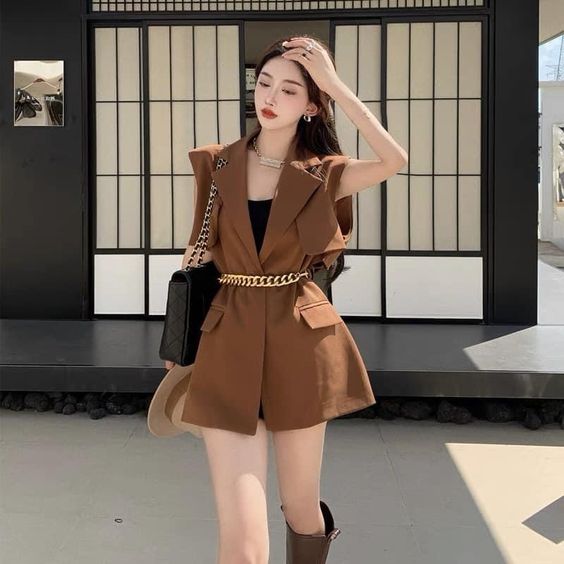 Getting the chic look in a mini dress and a sleeveless blazer. To help you make this outfit chicer, add a chain belt to your waist. Also, a belt can help you to shape your body. Now you just have to finish the style with boots and a shoulder bag.
Span Skirts and a Cardigan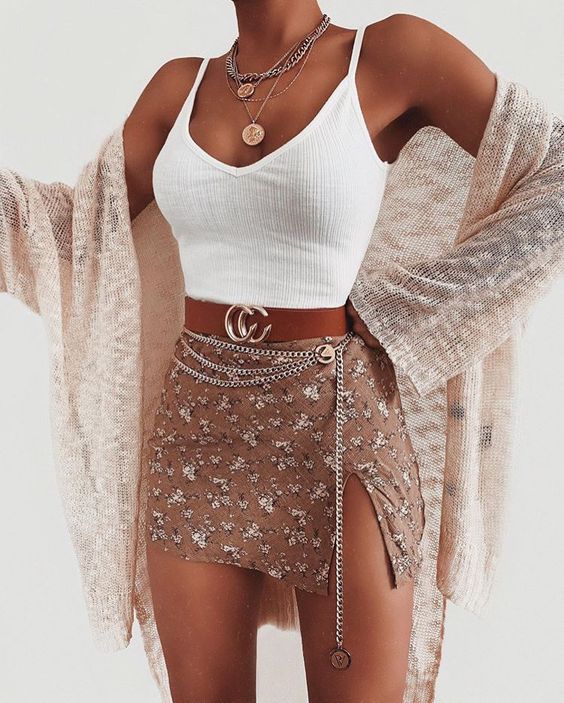 If you don't want to wear a simple outfit for a casual event, you can go on with a span skirt, a long cardigan, and a tank top. Give the extra look by wearing a belt and a chain to your waist. Then for another accessory, you can adjust it to your mood. Furthermore, this outfit will be great if you can combine it with boots and a micro bag.
Pants and Puffy Sleeves Top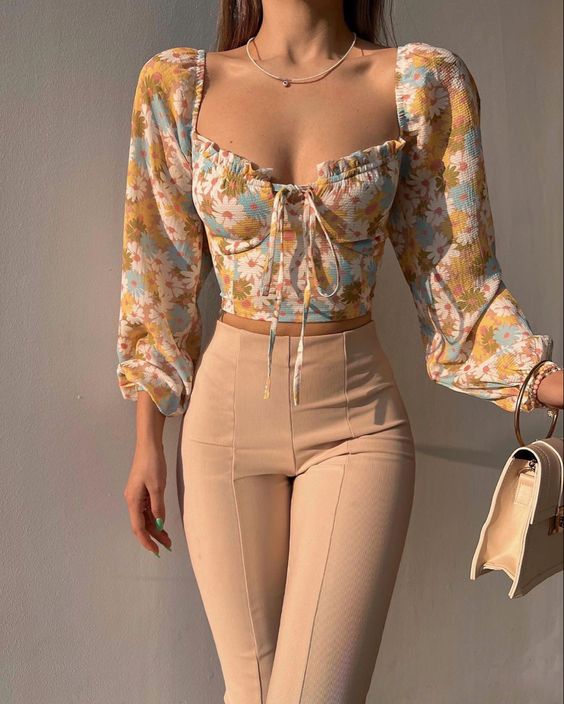 This idea is suited for you that has a girly and feminine personality! Mix the pants and a puffy sleeves top. To make your neck look pretty, you just have to put on a simple necklace and earrings. Wear heels and a handbag for the last touch. Now, you can imagine, walking out with this gorgeous outfit!
So, are there any ideas that interest you? I'm sure the answer is gonna be a lot! Okay, you already got 25 outfit inspirations that will make you look gorgeous on new year's eve. Therefore, you don't have to feel confused anymore. Enjoy this moment with someone that you love and happy new year everyone!