Drufashion.com – Are you a fan of the Riverdale TV series? If so, you must be known the talented young actor Cole Sprouse takes the role of a Bughead in that teenage tv series. His brilliant career not only shines when he grows up into a charming Hollywood actor. He is been known since he was a kid. He was playing as a Cody Martin in the Disney Channel called "The Suite Life Zack and Cody". Lately, in 2019 he impressed us with his acting break us into tears in the Romantic Drama genre titled Five Feet Apart.
With abundant his successful career, it isn't a struggle to notice his fashion style. Just like other Hollywood stars, he has his own personal taste in fashion mode. He is fashion style is quite unique. He usually comes with a sleek and full of menswear accent that you could definitely steal his style! Let's steal the adorable Cole Sprouse street style look down below!
Chic casual wear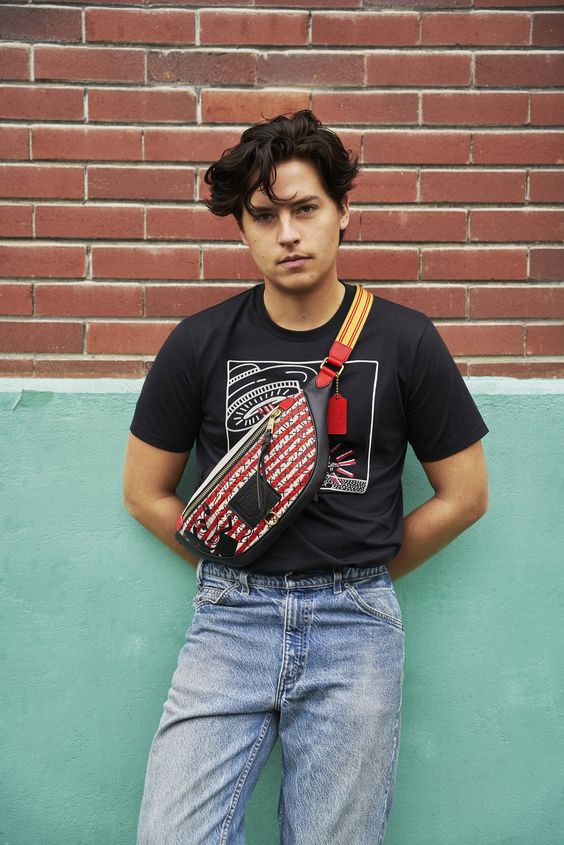 The Hollywood star Cole Sprouse rocking a street style by matching up the casual wear. He brilliantly pairs a black graphic tee with a washed boyfriend denim jeans. We can copy his look by choosing a tuck-in t-shirt style that can bold the young men's fashion look! For the accessory, he wore a couch Disney mickey mouse x Keith haring. He knows exactly how to pair casual wear, absolutely looking chic, you rock it, man!
Laidback college look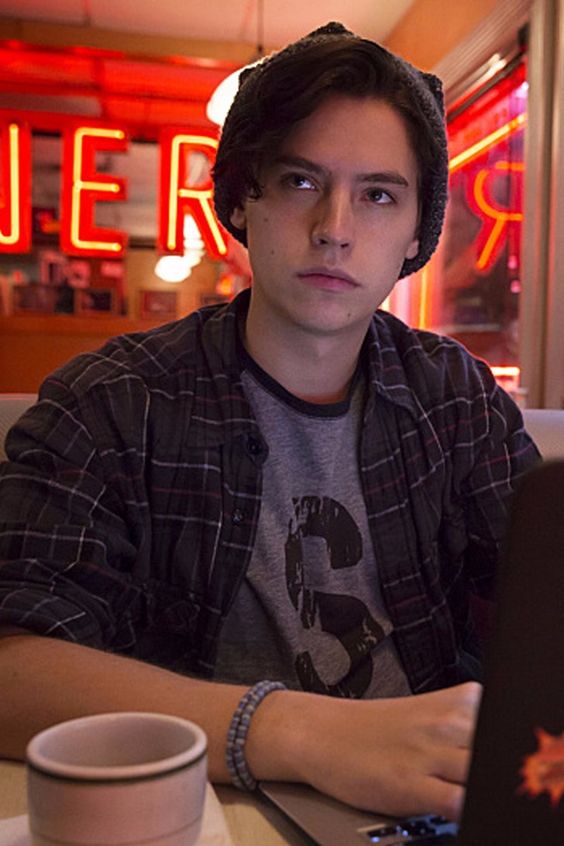 A Riverdale star showing a cute college man look by styling a casual tee and layering it up with a plaid shirt. In addition, he wore a beanie hat and a few bracelets that look so cute actually! Do you love this comforting laidback college style? Otherwise, you can copy this style for the essential back-to-school outfit idea!
So sleek and masculine!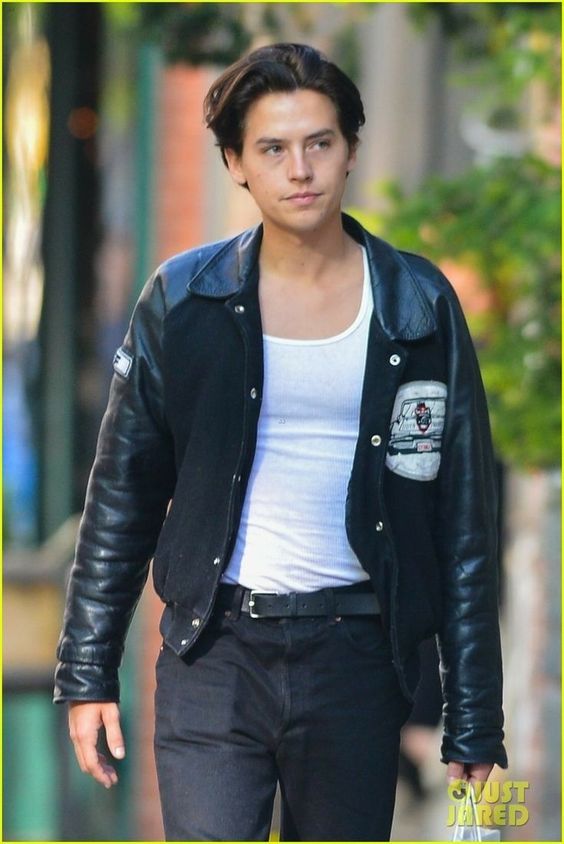 As we alluded to earlier that Cole Sprouse has a sleek and typical masculine fashion style that every man begging that style! In this picture, he killed masculine style! Spotted walking on the street, Cole Sprouse wearing a white tank top and layer with a black leather jacket. The simple pair but has a great impact on anybody who sees it. Then, he is being generous to pair this look with black trousers. Featuring minimalist outfit color tone, black and white is perfectly matched to show a sleek and manly look. Would you love to have his look for your street style?
Looking down to earth with neutral color tone outfit!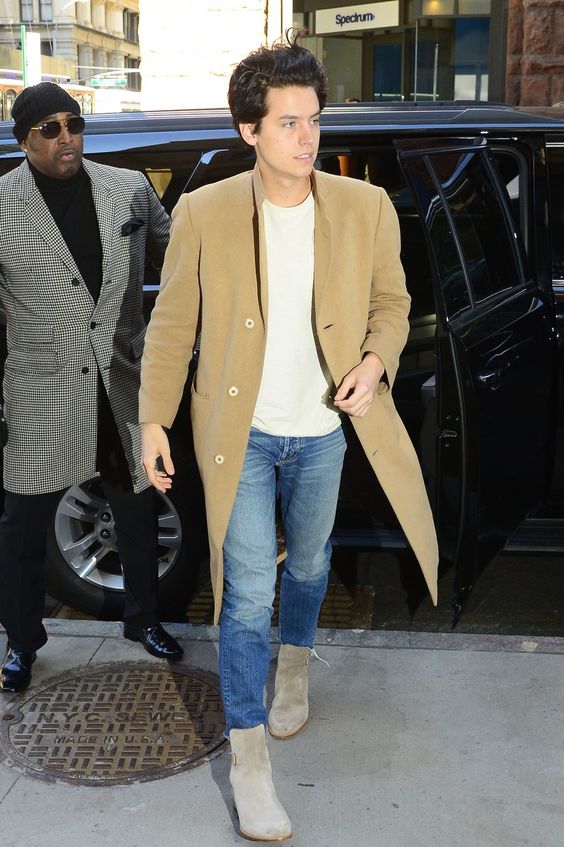 It's never been enough talking about Hollywood star street styles! Just like this one, Cole Sprouse has been shared the chic street style for fall! Choosing a seasonal color tone outfit might be tricky for some of us. But chill out, we love to share with you the essential color tone outfit that matched with fall season! The selection must come in a neutral color shade such as beige!
We are spotted Cole Sprouse on the street, he wore denim jeans and a casual white tee. Then, he layers up the casual tee with a beige coat. Wrapping up his soothing look with a pair of beige combat boots! These color tone combinations are so soothing to the eye!
Coachella street style vibe!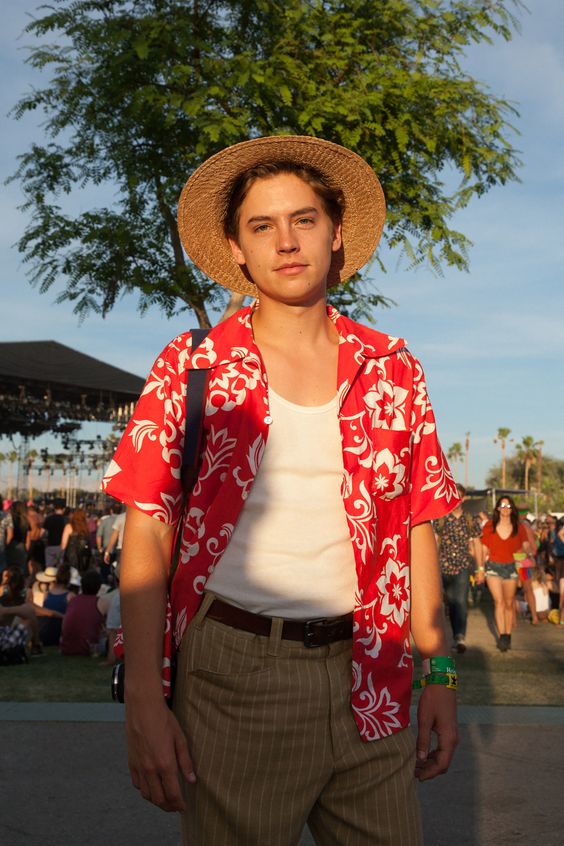 One of the biggest music festivals in the world called Coachella. This music festival usually held in April located in California. What we want to spot is the way Hollywood stars shows their interesting look. Now, we are featuring the interesting super laidback Cole Sprouse fashion style attending the Coachella music festival.
Love is in the air! The warmth of spring weather welcomes us with a cheerful ambiance! It's a perfect time to wear something light and comfortable, including Cole Sprouse. He was attending Coachella with a comforting spring look vibe! Started off wearing a white tank top then layer it up with a lightweight floral tee. Then, he matches his laidback style with striped trousers. To complete his laidback Coachella fashion look, he wears a summer hat. If you don't have an idea to wear in spring and summer, you can definitely try this style, it's worth it!
Showing an athleisure body with workout wear!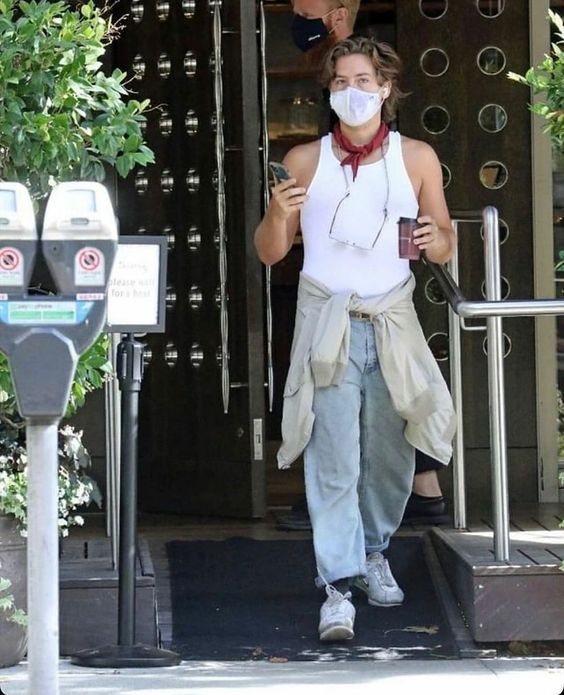 It's important to keep our body fit especially in this pandemic era. Going to the gym and have some workouts can strengthen our metabolism. But then, there is one thing that could be a border for us to go to a gym. Believe it or not, fitting up the workout outfit can be areal border to go for a gym. Many of us lose confidence wearing workout gym.
Here we have a solution for you. Basically, we can trick workout wear with some basic outfits in our wardrobe! Seriously, it will work, just like the Hollywood young actor star has proven it! He loves to wear a white tank top that stretches very well and fits his body. Then he combines it with wide-leg denim jeans, both combinations are super comfortable and lightweight. For the footwear option, a pair of white sneakers can be worn to accompany your athleisure look! Giving a statement to your look by wrapping a jacket around your waist and wrap a scarf around your neck. With tousled hair, Cole Sprouse just looks amazing still!
Cool Airport look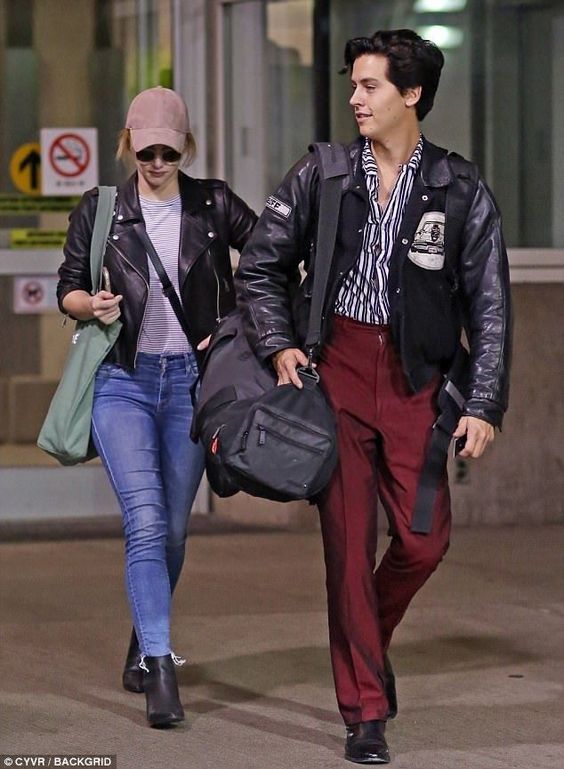 Another remarkable Cole Sprouse fashion looks when he is spotted in the airport with his beloved one Lili Reinhart. He wore a striped tee inside and layer it up with a black leather jacket. Going down, we can see that Cole Sprouse wearing maroon pants. Through this portrait, we can see that how clever Cole Sprouse in the mix and match outfit. He's completely mixing different patterns, textures, and color saturation in one single look, that's awesome! Would you like to try his awesome style?
Rocking street style with corduroy jacket!
We have come to the last best street style look by Cole Sprouse. In the picture above, Sprouse using the layering concept. Starting off with a casual tee inside, then layer it up with a plaid shirt and wrap it all out with an outstanding corduroy jacket! Then, we can look right down at his style, he wears fitted black pants and combat boots. This pair of clothing styles make a big statement! It's just too cool to rock street style, would you like to try?
Conclusion
It's always been exciting talking about celebrity street fashion styles. In this writing, we are featuring a young talented Hollywood actor, Cole Sprouse. He's been known since he was a little kid, leading the Disney TV Series played in The Suite Life Zack and Cody, Cole Sprouse played with his twin brother Dylan Sprouse. The time has passed and the Disney star turns to be a talented and charming American actor. His popularity on top when he plays as Jughead in the Riverdale tv series. Moreover, he's awesome fashion styles in great demand among young people.
In this writing, we already share with you some of the best and adorable Cole Sprouse street style look. Featuring the casual outfit style, to the quirky mix and match his fashion style. We guarantee those looks will improve your street style look. We hope you enjoy our writing and don't be afraid to discover your own street style!