Drufashion.com – When our world in a massive dilemma during the covid-19 issue. Children are supposed to study at home, people tend to work at home. And we have to keep the distance from each other. After passing a year studying at home, we are so happy that this year we're back to school!
We're so excited to get back to school, meeting our friends, and have to study in the class. After passing a lot of time not going to school, we are a little bit confused to choose what type of outfit to school? Well, calm down because here we will guide you to choose mix and match outfit ideas that will elevate your look!
What is the ideal school outfit ideas to be worn this year? In order to stay at home in the pandemic era. It has been changed the fashion style that focuses on laidback feature outfits. But don't worry about looking unfashioned by choosing a comfortable outfit. Lately, in the trend outfit right now, comfortable features in great demand. And we will find out a lot of comfortable outfits that have trendy looks.
Here we will show you the best 9 mix and match back-to-school outfit ideas that could be your inspiration. So, do not miss any of them!
Cool graphic tee and loose fitted jeans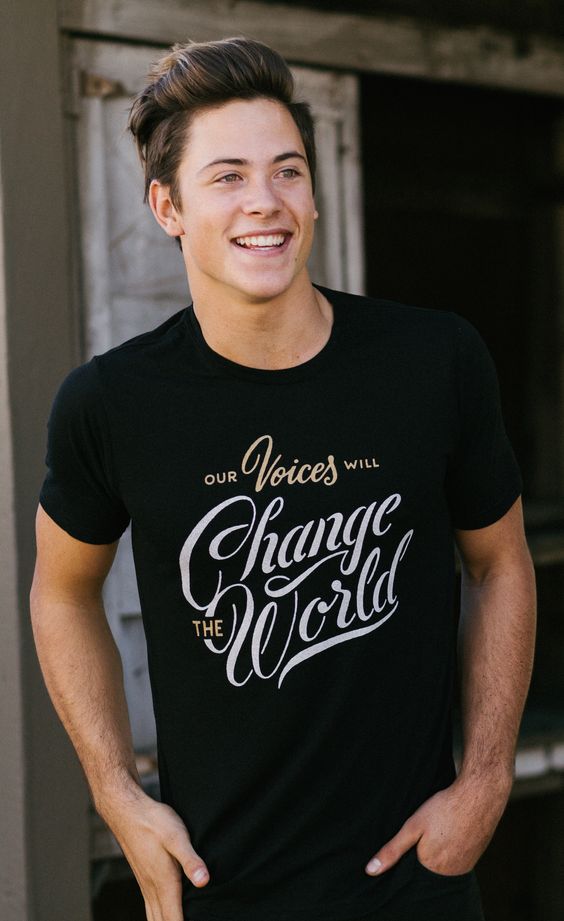 Matching up the tee and jeans is a timeless pair of the men's guy. Upgrade your look by choosing a fitted graphic tee. And it can combine with loose-fitted jeans to comfy your day at school. Complete your casual look with a pair of sneakers. The way you dress casually in a simple outfit, makes you look down to earth and cool!
Denim jacket and casual tee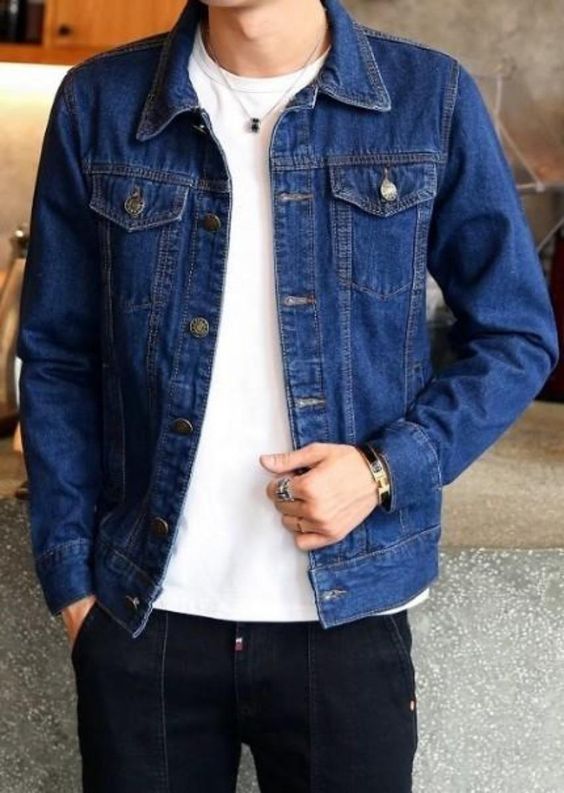 Urban outfitters must have these basic outfits for styling a trendy daily look. Simply pairing up the casual tee with a statement denim jacket will make you look cool! You will never fail to try this style. So do not hesitate to choose this style for your back-to-school outfit idea!
Chinos and lightweight sweater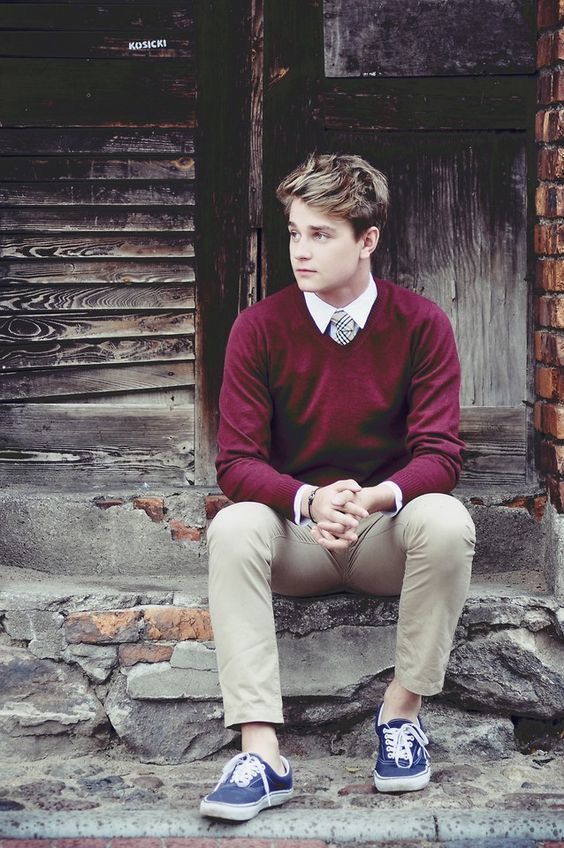 Another cute outfit pair for a young guy is matching up chinos with a lightweight sweater. We are pretty sure you have these pants in your basic wardrobe. So, do not be confused about picking what to wear for your first day back to school. Chinos have a neutral and light color tone, to brings out the attractiveness of a young boy. It can be paired up with a vivid color outfit. For instance, a maroon sweater will enhance your look. Then, the canvas sneaker can be paired up to complete your chic young guy look!
Bomber jacket and cargo pants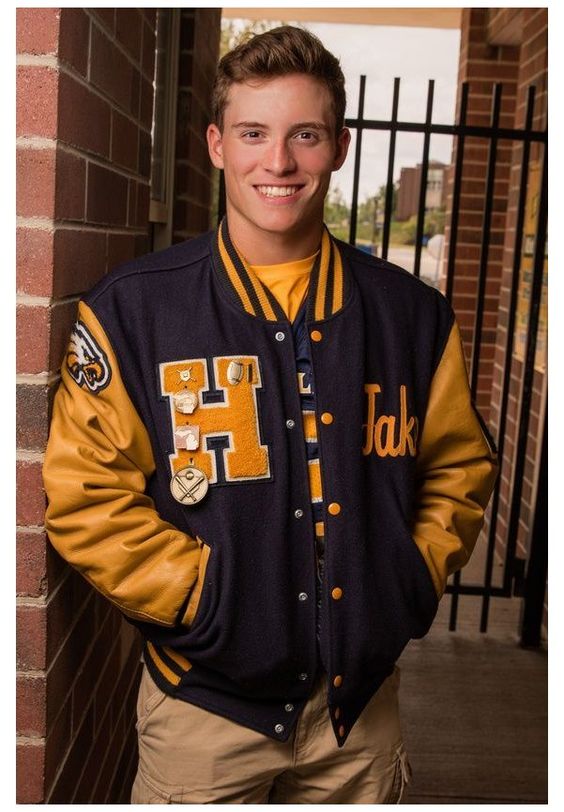 On the first day back to school, we are pretty sure, you guys all want to look impressive on that day! There are many ways to attract a cool young guy's fashion style. Each one of them is a styling bomber jacket to keep your look sporty! You can choose a bomber jacket that has a light and dark color saturation. Just like in the picture above, the combination of yellow and dark blue is so freaking cool!
The yellow accent color tone on this jacket made up of leather. Besides, give you a sporty look, leather accent materials can bring out the sleekness of masculine fashion style! You can pair up the bomber jacket with a casual tee inside. For the lower outfit, cargo pants can be worn to support a sporty look you had even more! Complete your style by wearing a pair of sneakers. Would you like to have this sporty look on the first back-to-school outfit idea?
Hoodie and ripped jeans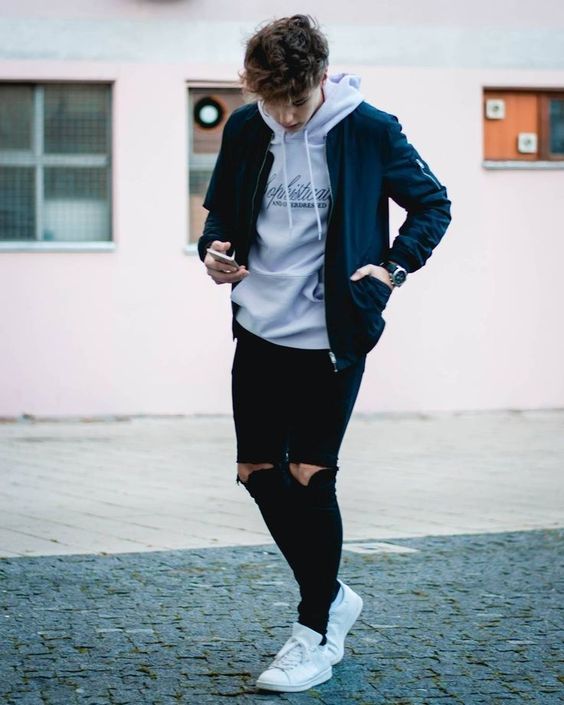 You will never look unfashioned styling hoodie! Simply, pairing up a cool hoodie with ripped denim jeans. The hoodie will make you feel warm and comfortable inside, while black ripped jeans give a statement to your look. Rocking this street style look with comfortable sneakers. Now, you are ready to go back to school with this cool fashion look!
Corduroy jacket and casual tee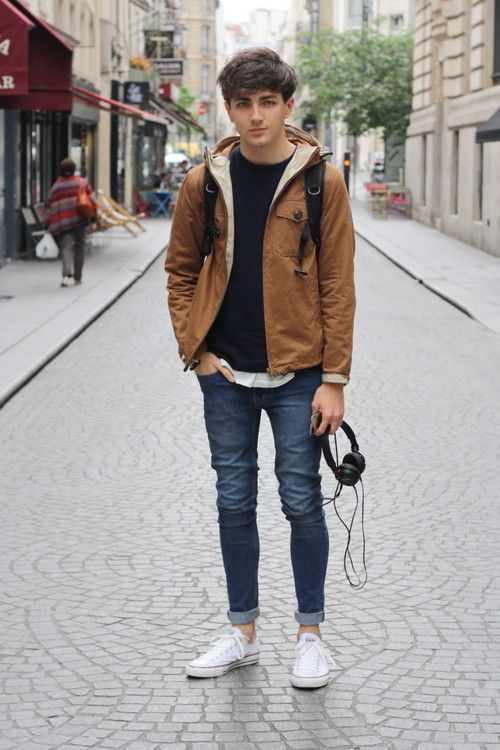 Basically, the men's fashion style tends to look simple and casual. The only thing that makes you different from others is the way you choose the high-quality materials and simple feature outfits! You can pair the casual tee that always been men's favorite wear. Upgrade your casual tee with a brown corduroy jacket. The black tee and brown corduroy jacket blend perfectly. To accompany your cool style, you can choose a subtle jeans color tone such as dark blue. Completing a youthful look with a pair of canvas sneakers.
Stripped shirt and jeans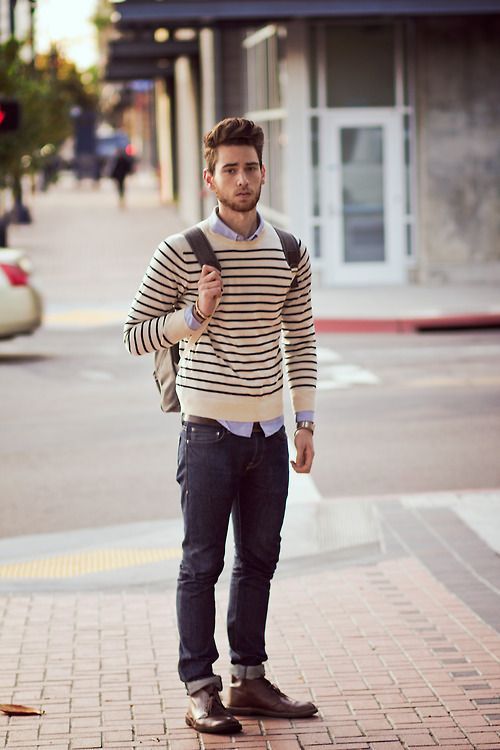 A striped sweatshirt for a school outfit? This shirt is giving you a laidback style, and it's not bad to be paired up with jeans. Before you wear a sweatshirt, you can pair it with a casual shirt. To give a statement to your look, a pair of leather shoes can be worn too! We guarantee, combining a laidback outfit with a statement piece of the outfit is an updated fashion look this year. So, do not hesitate to try this style!
Layering outfit styles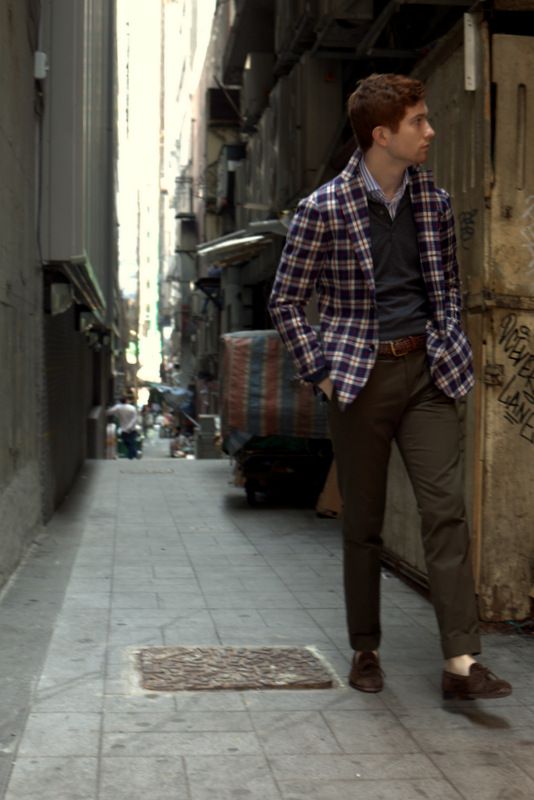 Young guys, the layering outfit concept does not look good for ladies only. You can do it too! Do not worry about the mess you might think it'll gonna be! Well, let's start matching up the outfits immediately! First of all, you can wear a casual striped shirt for the first layer. Then, you can layer it up with a very light sweatshirt. This will not make you feel burnt in the three pieces of outfits. For the last layer, a plaid jacket can be worn to upgrade your look! For the final touch, chinos pants and a pair of leather shoes can be paired up to give a statement look!
Combining lightweight plaid shirt and sweater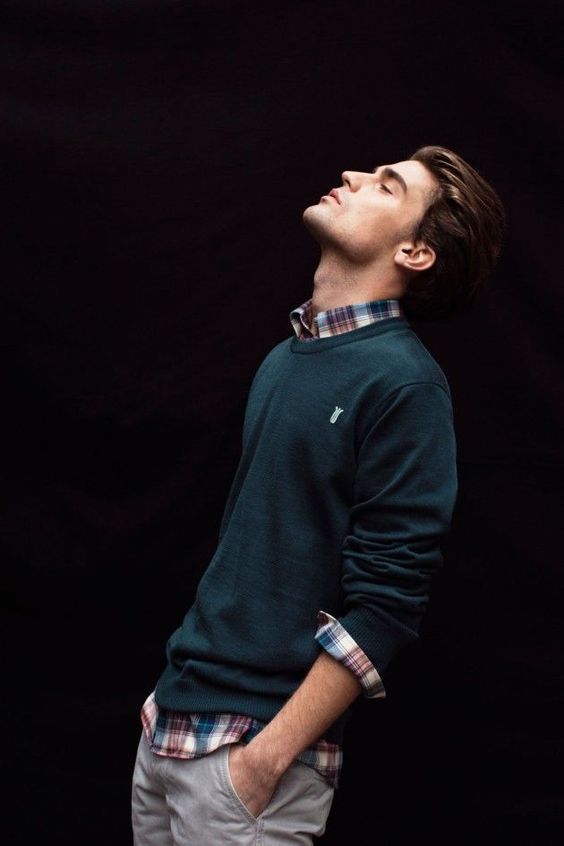 Another cool layering style you can copy to impress your friend on the first back to the school day. There is a matching lightweight plaid shirt and sweatshirt. First of all, wear a plaid shirt and then layer it with an earthy color sweatshirt. Showing the plaid shirt collar out of the sweatshirt and around the wrist. This definitely will make you look in a trendy urban fashion style. To make you even comfortable in your dress, khaki pant and sneakers can be paired up! Revamp your look with a trendy and comfortable fashion style!
Conclusion
In this writing, we already share with you 9 mix and match back-to-school outfit ideas for young guys. We hope you enjoy every style we display above. We guarantee that all of those styles are looking good and so wearable in the trend fashion this year! There are sporty looks, chic, sleek, casual, and masculine outfit ideas that you can try! Which one is your favorite style?