Drufashion.com – Summer has come with its shine and the warm weather welcoming us with a sense of cheer and happiness! The summer is the best time for a leg day! Giving your leg breathe and feel the air outside while you are exploring the sunny day!
Men, summer is just the perfect time to show your athleisure body. And if you are thinking about the perfect item to style your summer day. We can simply on playing the basic items. For such the tee and the shorts pants of course! In this writing, we will be sharing with you some of the best men's shorts 2021 trends outfit ideas that could liven up your day this summer!
Considering shorts are the staple item in men's wardrobe, you need to update your basic wardrobe ideas. So, you won't look like an old-fashioned man! Here we will guide you to have the best shorts in 2021 to wear, get a laidback style and classy look by our shorts recommendations down below. Don't miss any of them!
Going with versatile and classic style for this sultry summer day!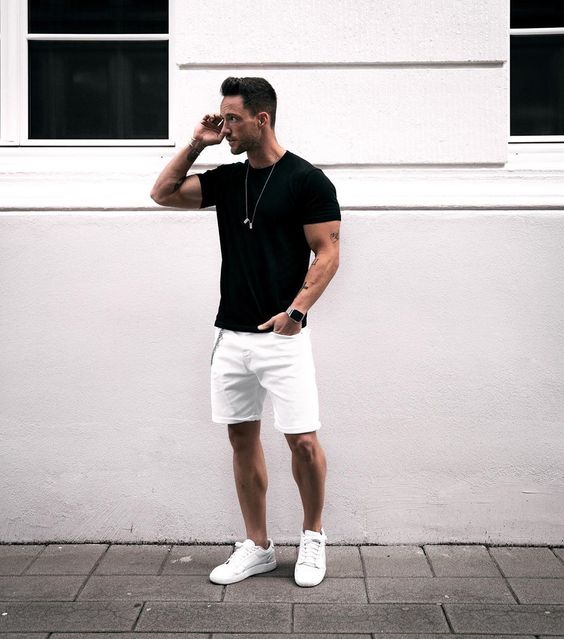 There are timeless outfits that always-on trends every single year. The casual black and white matching outfits look simple but quite impactful. In this summertime, you cannot go wrong to mix and match the casual outfit in your wardrobe. The white short chinos and casual black tee are enough to give you a cool laidback style! In addition, bring your timeless white sneakers to join your casual look idea!
Elastic waistband navy shorts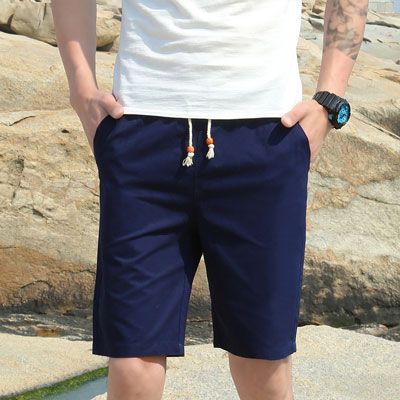 The next summer shorts trends for guys fall to a comfortable feature outfit. During the covid 19 pandemic, people were supposed to stay at home, and during the quarantine time, we transform our fashion trend to be more comfortable to wear but still look cool, what a combo to wear in this summertime! Guys, you can choose the earthy color tone outfit for such navy shorts. The elastic waistband gives you extra comfort in styling your fashion outfit of the day!
Bermuda shorts to rock your streetwear look idea!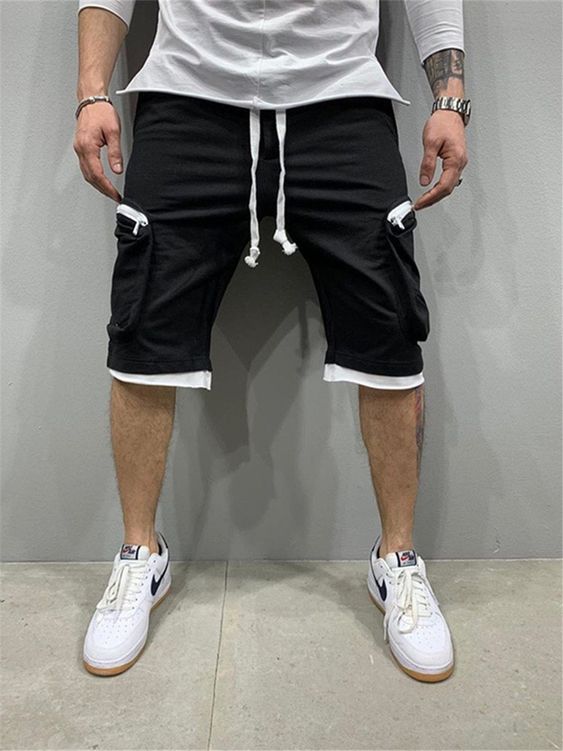 There is another summer shorts item you cannot forget to rock your street style for the warm weather. There are Bermuda shorts! It is completed with a large pocket that helps you to put some kind of stuff and give you more a sporty look style! You can match these Bermuda shorts with a simple sweatshirt or even a tee. In addition, a pair of running shoes can be joined your cool streetwear look idea!
Get a sporty look with black Duvin shorts!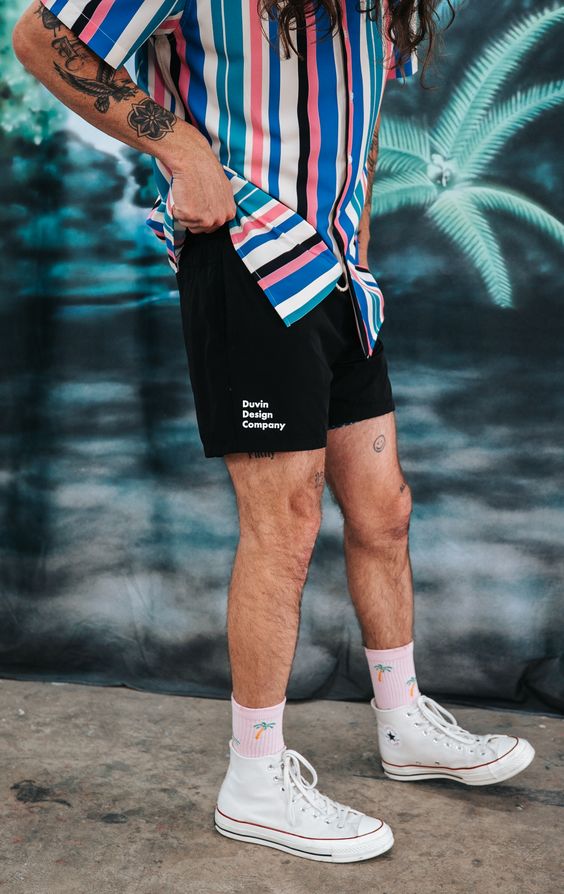 Another quirky trendy look in 2021 is going back on casual items. We want to highlight again about fashion trends and what to wear in 2021 is back on the comfortable feature. The black sports shorts from Duvin can be your option to wear this summer! Pair it up with the pinstriped shirts is already give you a trendy summer look. Moreover, the ankle socks and white canvas sneakers give you a statement casual sporty look!
Ripped denim jeans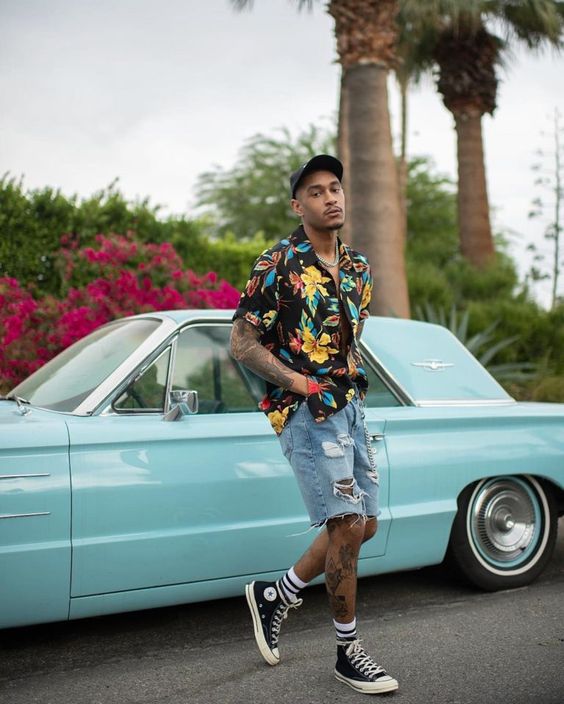 When it comes on styling summer outfit ideas, we cannot leave behind the short pants and short sleeve tee and shirts. These items will give us comfort, especially during the hot days, we need some extra breathable feature outfits. Figuring out what types of cool shorts are for styling your street look. We find the idea to choose ripped denim jeans.
Jeans are the cool and versatile streetwear item you need to have on your wardrobe! For young people, this item is necessary to style their fashion look for hanging out with friends or chilling outside. The jeans have a unique fiber texture and are quite different from other textiles. This cloth accent gives a statement to your street look. So, you can mix and match the washed denim shorts with a floral summer shirt. Are you ready to have a summer vacation?
Printed summer shorts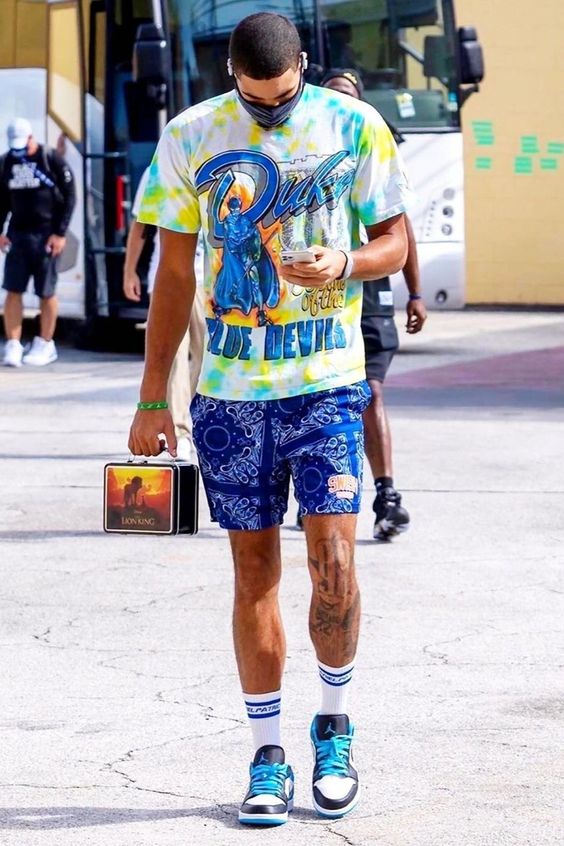 Giving the vibrant look to embark the summer days by wearing floral prints. There is nothing wrong with the floral accent for guys. You can choose a blue or other dark color tone outfit. Then the printed floral accent gives you a quirky summer look. Complete your chic summer shorts with a graphic tee. Are you ready to start summer vacation with vibrant outfit ideas this year?
 Military camo shorts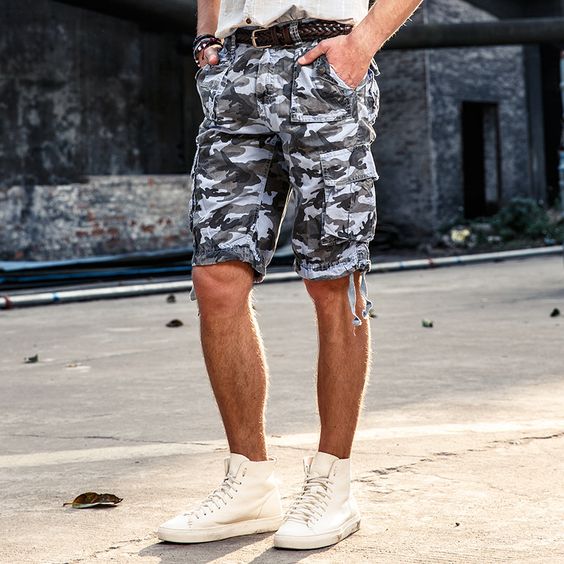 Another cool short you can style for this summer vacation is military camo shorts. It gives you a masculine, complete it with a leather belt gives you a trendy street look idea. For the upper clothing style, you can pair this camo short with a casual shirt or even a tee. A pair of white sneakers accompany your casual look idea!
Cotton punk jogger shorts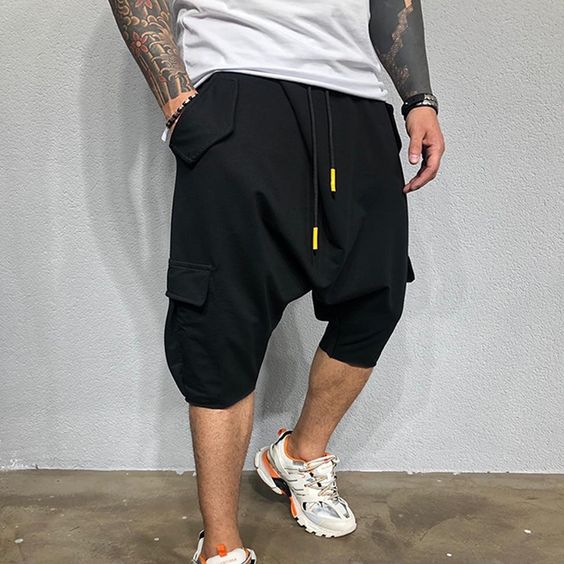 Are you looking for a seriously cool and comfortable outfit for the summertime? There are lots of short pants available to style your look. But, there is one very trendy item and great demand throughout this year is a cotton punk jogger pants! This short is made from cotton which has a soft fiber cloth and breathable fabric feature. This is absolutely a good offer for styling the hot summer days! Then you can simply match up this short pants with a tee, or an oversized hoodie. This will be a cool summer street-style look!
Masculine look with cargo short pants!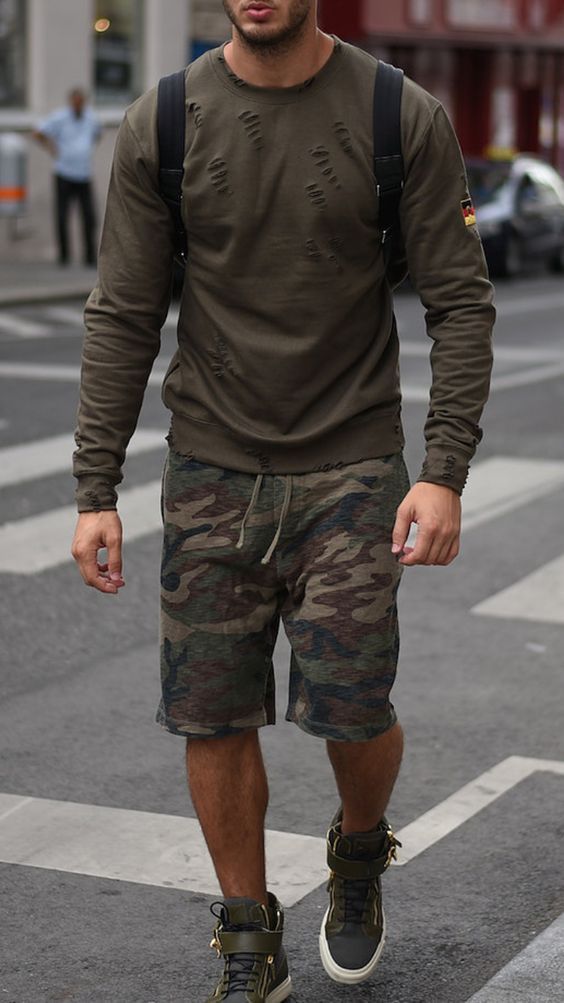 Bringing out the sense of adventurous men's soul with an absolute masculine fashion look! We found out the cargo pants are quite cool to liven up your summer travel outfit idea. It gives you an impactful manly look idea while giving your legs breath well. You can combine it with the earthy color tone upper outfit to give you a bold manly look. To comfy your journey, a pair of cool earthy color sneakers can join your street look!
Conclusion
The warm and cheerful clear summer sky gives great excitement to every soul! Looking trendy for summertime has been a routine agenda for every one of us. Styling the comfortable accent outfit without being less trendy is a must for you guys to shine in this summer. We hope you enjoy the men's shorts 2021 trends outfit ideas we have shared with you, happy summer vacation everyone!