Drufashion.com – Are you one of many fans of Korean movie drama? Or one of many fans of Korean Kpop stars like BTS, Blackpink, and so on? Whatever it is, if you like something about Korean, you must be known how they style their fashion look. In this article, we will find out Korean casual outfits style for females.
Do you ever see Blackpink epic performance at Coachella or one of their most memorable performances? They all look so adorable, am I right? They all look so cute and inspire many girls around the world to rock their fashion styles.  At this moment, we will show you all how to look cute like Korean girls do! Without taking too much time, let us check some casual outfits to style like Korean females Stars!
Rock Korean Casual Style With Oversized Tee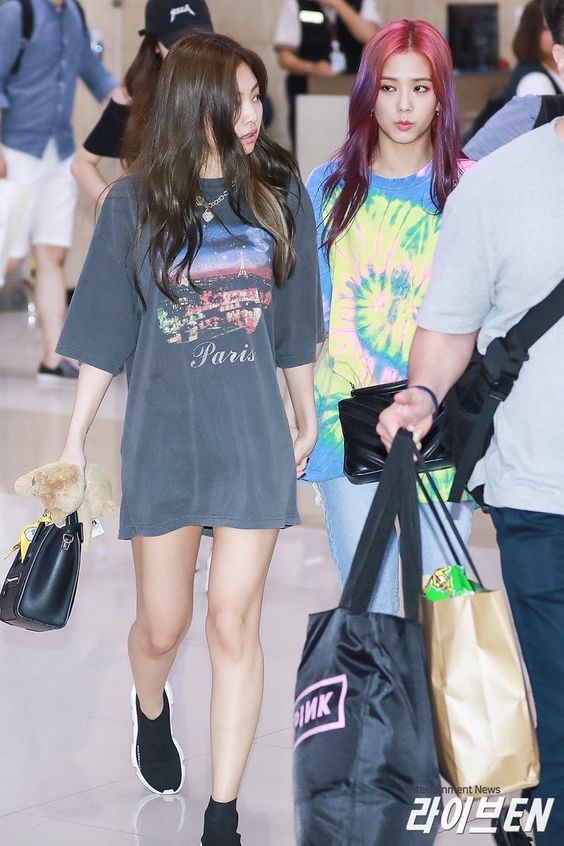 Kpop lovers, do you know who is she? Right, she is Jeanie from Blackpink, she rocks a casual outfit style with an oversized tee. Like many other Korean females, they love to wear oversized tee for their informal situation. They love to treat oversized tee as a dress too, look at the picture above Jeannie not seen wear a pant or skirt. She shows off her lovely legs. So girls Jeanie's style can be your inspiration to wear an oversized tee. Showing your lovely, smooth, and slim legs like Kpop idol with an oversized tee as your dress. Complimenting your casual style with comfortable shoe sneaker, enjoy Korean casual wear oversized tee on a sunny day, you rock the casual street style girls!
High-waisted Mini Skirt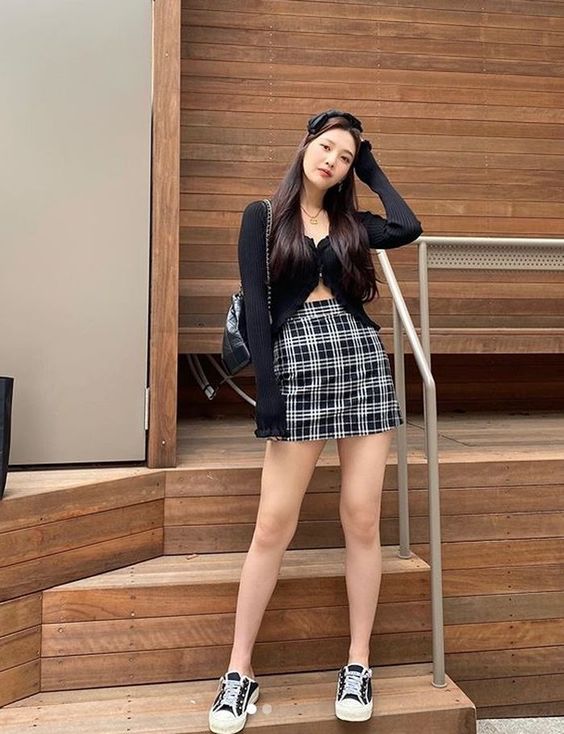 We will see a dozen girls wearing a high-waisted mini skirt in Korea. Combining high waisted mini skirt with a cropped blouse is commonly known for Korean street style outfits. Showing their nice legs with that skirt and cropped top blouse well enough to define their girly look for street style. They do love also combining their girly look with sporty ones, such as wearing sneakers to complement their casual style. Their mix-matching outfits evoke beautiful visual appearance no wonder that Korean fashion style now on trend across the globe. Do you want to look cute like Korean? You must-have a high-waisted skirt on your list!
Long Coat For Korean Casual Outfits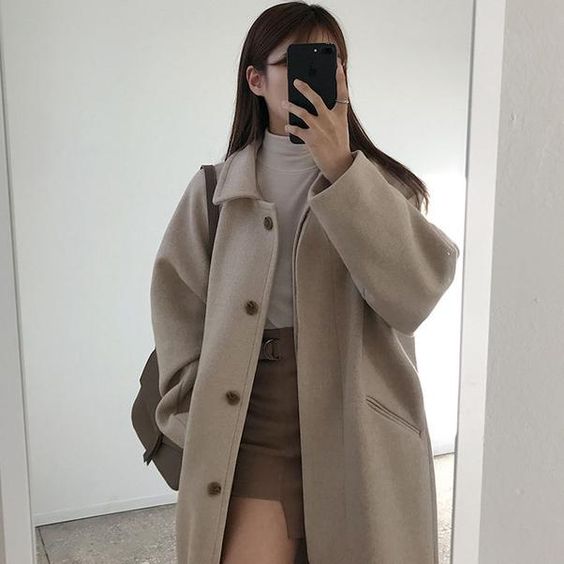 Do you wonder have seen lots of Korean girls wearing long-coat soft hues in Korean movie drama? You can trick this style to be your casual outfit to go to the office or even hanging out with friends in the fall. Choosing a pastel coat and layered it with a high-waisted mini skirt for the lower outfit and a high neck shirt at the top. So, girls, you can try these Korean casual outfits with a long coat pastel. Do you love this piece of casual wear?
Oversized Korean Glasses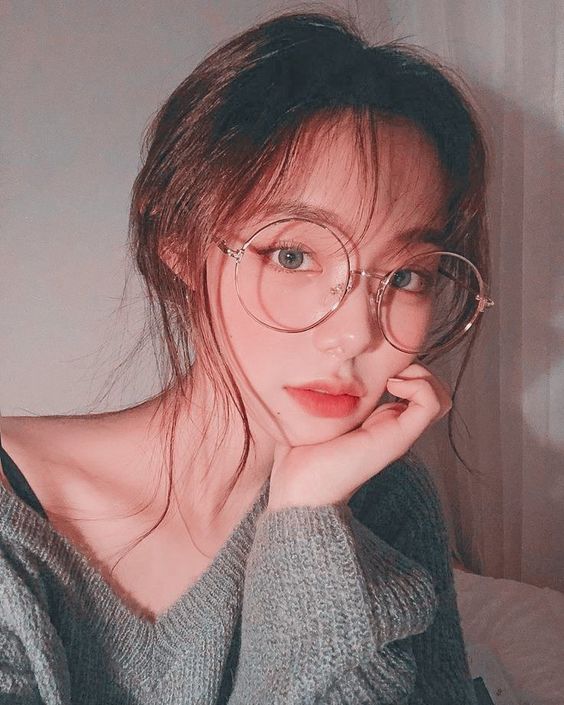 What is the highlight thing do you see in the picture above? Yes, it is an oversized glasses. It is a comment accessory in Korean casual style. It can help them look more fashionable and oversized glasses also enlarge their eyes and sharpen their eyes look behind the transparent glass.
Casual Style In Retro Vintage Jeans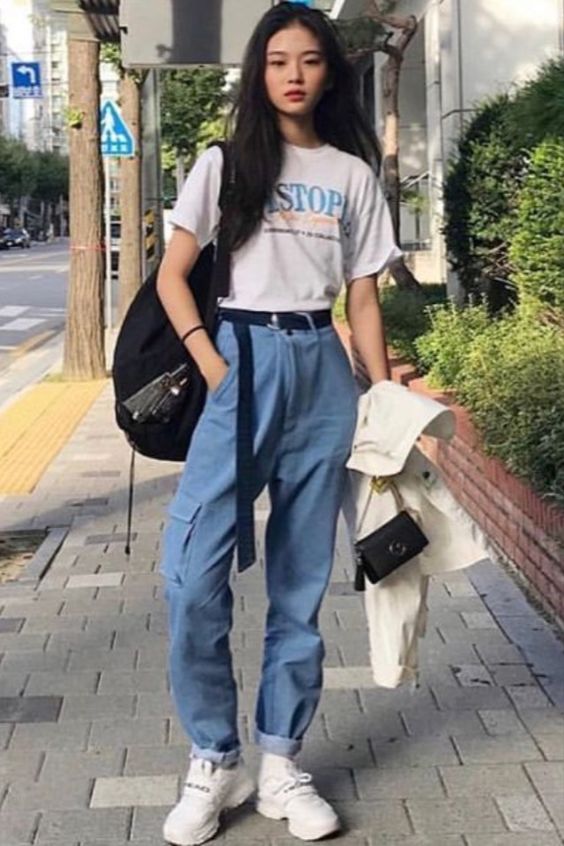 Another casual wear from Korean girl is mix and matching retro vintage jeans and top tee, looking casual and trendy. Matching this cool style with sneakers. Then you are completely rocking street style with Korean casual outfits for females!
Oversized Plaid Shirt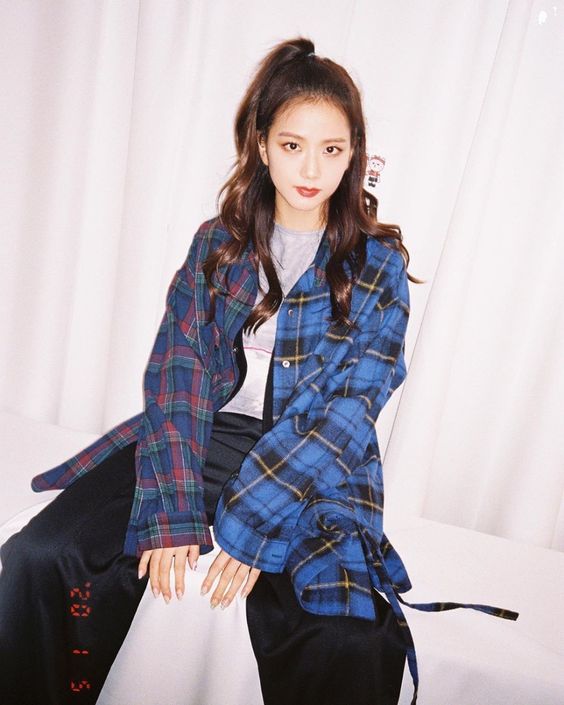 I think you already familiar with this pretty girl, yeah she is Jisoo Blackpink. Se is looking adorable with an oversized plaid shirt. We can copy her style that looks awesome! She wears a gray tee, layer with an oversized plaid shirt and oversized sports pants. This cool casual style is beyond oversized outfits, awesome!
Young Korean girls love to have many experiments in trend fashion. One of them is they like to were something over and much over outfit than her body size. Girls look so cute when they are in oversized outfits. So, you can carry off your boyfriend's outfit which much bigger than your own, do not worry you will look cute with it!
Oversized Hoodie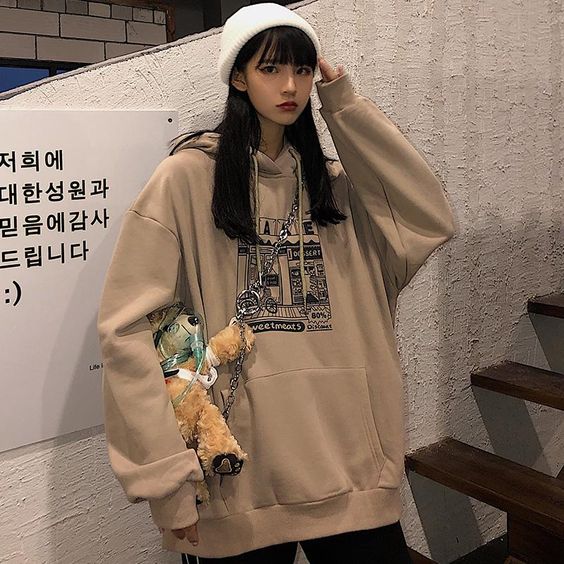 A beautiful slim Korean girl loves to wear oversized outfits. That looks cute on them, they usually combine an oversized hoodie with fashionable hats or beanies, for the lower side they matching up with legging or denim jeans. Rocking their casual style with comfortable footwear sneakers. To sweeten the casual style they usually wear a cross bag. So, girls, you can rock street style with an oversize hoodie. Do you love this Korean casual outfit?
Bucket Hats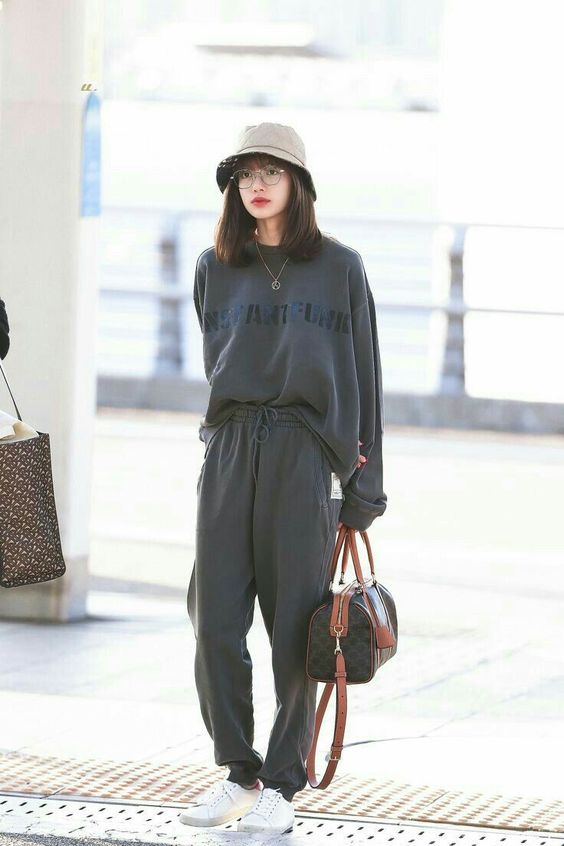 We can copy a comfortable casual style from a Kpop idol Lisa Blackpink. She is wearing a bucket hat so often if you considered that. Now let us see what she wears from head to toe for her casual style. She wears a cream bucket hat, and a gray jogging suit, and a pair of sneakers, that looks so comfortable and looking cool casual mix-matching outfits.
A bucket hat is a common casual outfit in Korea in summer. It is also suited to accompany you traveling. It can block the sun while you working outside and so comfortable to wear all day long outside. Let us have this one to be on the list of Korean casual outfit styles and dress up like K-pop stars!
Double Denim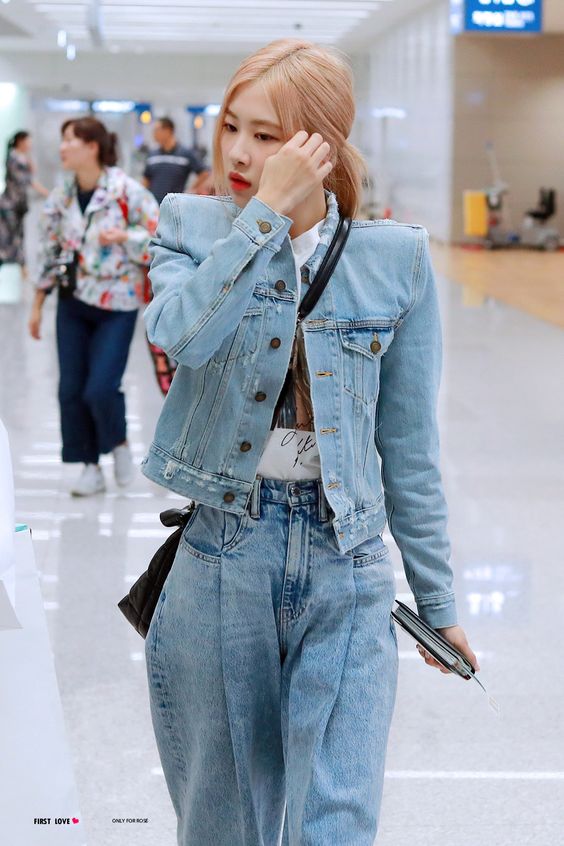 Do you know her? Yeah, I think you all know her Kpop lovers! She is Rose Blackpink. Now, we will talk about her casual outfit style. She wears double denim at the same time, for the inside, she wears a white printed tee top. To compliment her casual style, she wears a black cross-body bag and a pair of sneakers.
Double denim is not only popular in Korean casual style, but also around the world. Do you love this double denim to live alive your casual fashion style?
Check out also double denim of Selena Gomez style in our previous writing!
Korean Female Casual Outfits With Blazer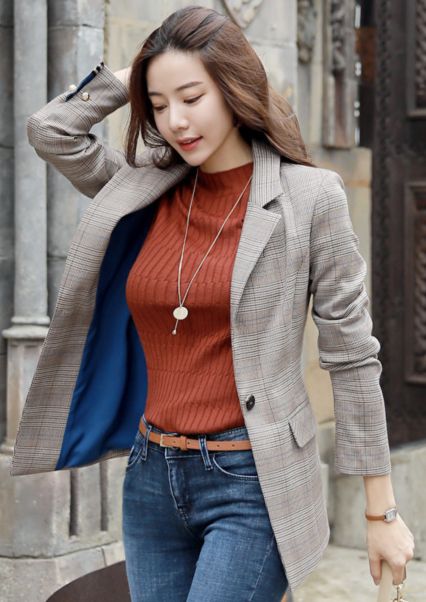 Korean loves layering their outfits that will turn to be chic casual style. Wearing a statement blazer combine it with a t-shirt or knitted slim pullover shirt that will match perfectly. We can pair a blazer with jeans or trousers!
Korean Fashionable Hats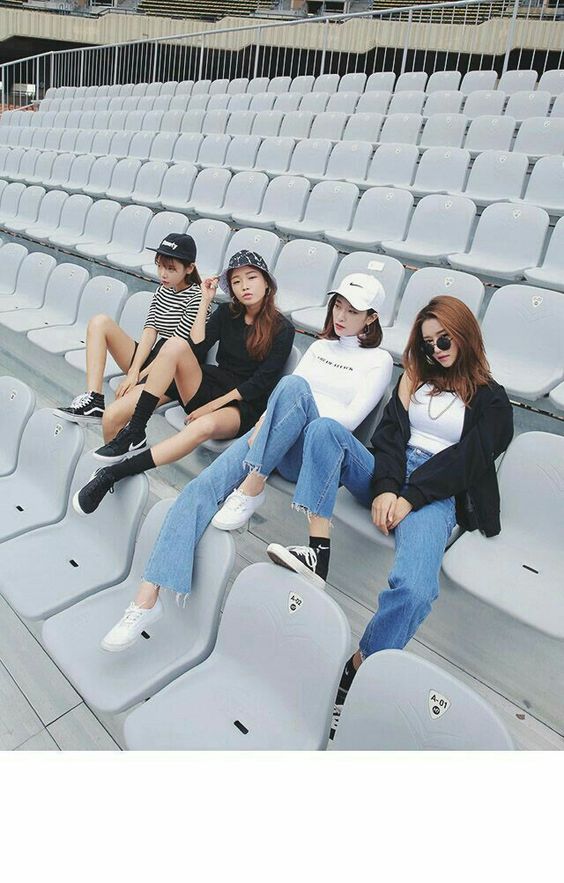 Korean outfits style love to work on their fashionable hats. It helps to create a statement Korean outfits look. If you one of the Korean outfit lovers, you can grab various collections of fashionable hats. From a simple baseball cap, beanie, bucket, to the most elegant hat beret, you have to own them in your closet!
Matching up Tops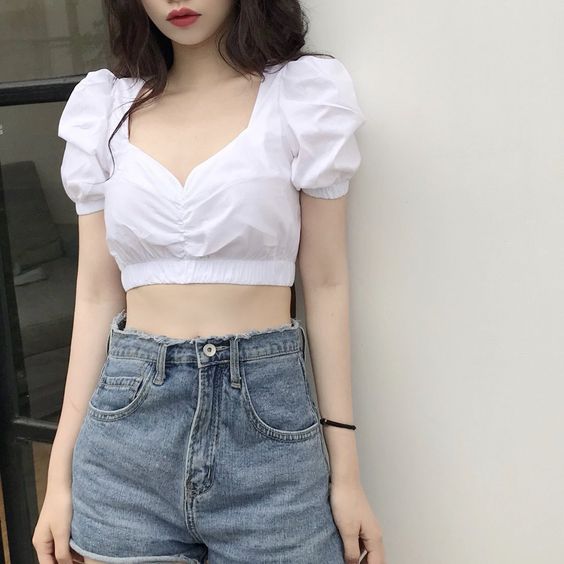 We will see lots of Korean females love to matching their lovely tops with another outfit such as jeans, trousers, and skirt. In the picture above, you can see a girl wearing white balloon sleeves tops and pairing it with high-waisted short jeans. It looks so lovely!  Check other Korean tops below that will suit your lovely casual style!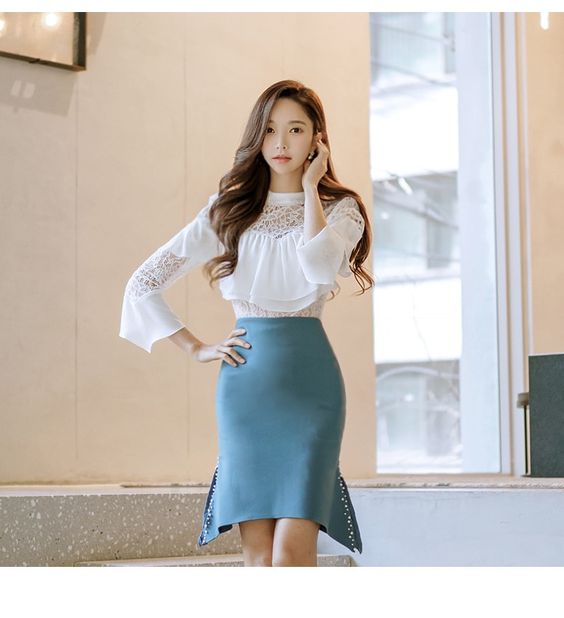 Elegant lace tops combine with a high-waisted blue mini skirt work very well together!
Knitted-tops with buttons also looking good with denim jeans or skirts!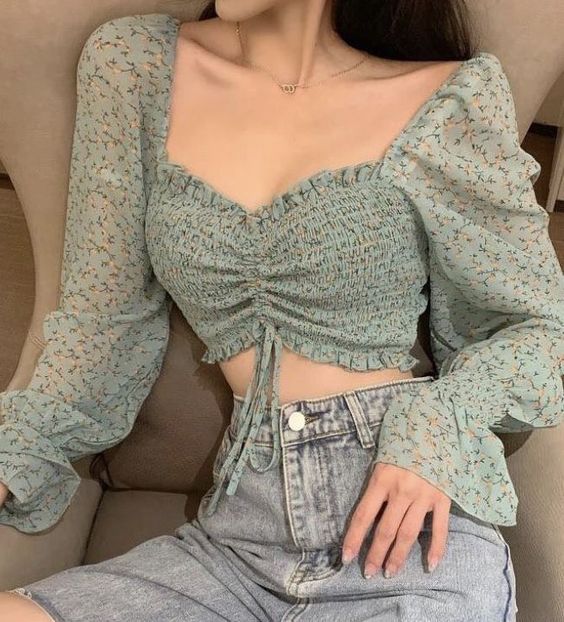 Looking so cute with an embroidered puffed shirt at tops with a high-waisted skirt!
That is all Korean tops selection you can try to live alive your Korean casual style! Which one is your favorite?
Baggy Jeans To Liven Up Korean Casual Outfit Style!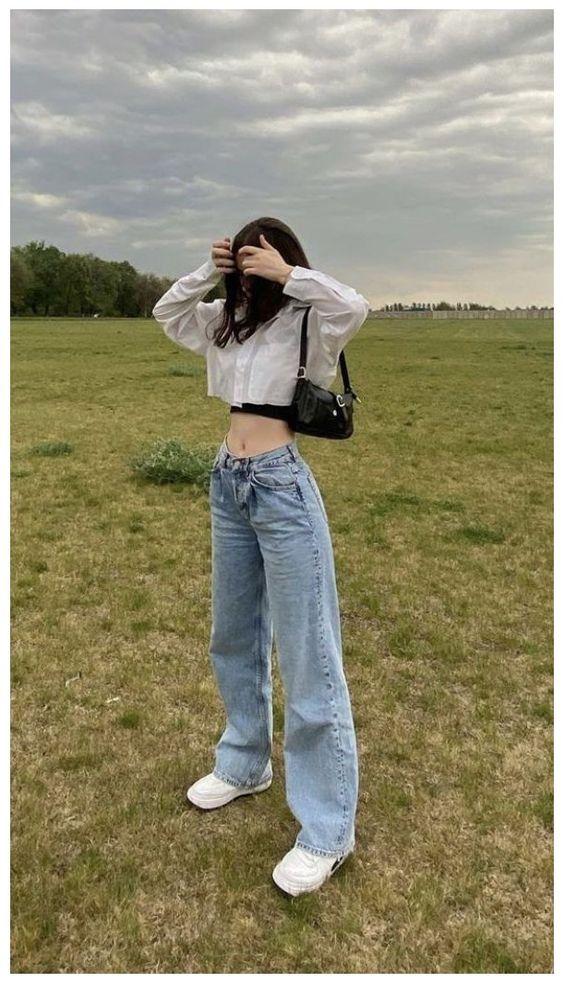 Working on baggy jeans is a great way to liven up Korean casual outfits for females. They usually combine baggy jeans with tops. Creating a bigger look on the lower side and a simple look on the upper side. Matching it works looks sporty with a pair of lovely sneakers. You rock it girl, swag!
Sneakers For Casual Style!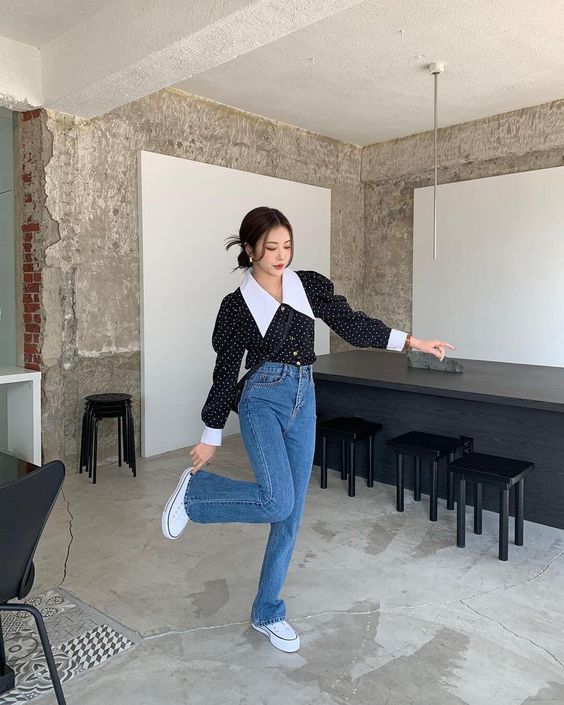 Always bringing sneakers for casual styles. Wearing sneakers for hanging out with friends, walking on the street, or joining an informal situation is much needed. Sneakers bring lots of comforts that is why work so good for casual style.
Kpop are so famous around the world now, not only for their K-Dramas, boyband and girlfriend groups but also so popular cause its modern fashion style both for woman and men. In this article, we highlight Korean casual styles for females.
There are some must-have Korean casual outfits for females to create a statement modern Korean look. They are: Oversized tee, high-waisted mini skirt, long coat with pastels hues, oversized glasses, retro vintage jeans, bucket hat, double denim, statement blazer, fashionable hats, mix-matching top, baggy jeans and the last one is sneakers. Those all must-have Korean casual outfits for females and dress up like K-pop Stars! Don't miss any of them!
By having some of the many items on the lists above you can rock your Korean casual style. Appearing four members of Blackpink as a model of Korean casual fashion style for females. Which one casual look turns to be your favorite style?
We hope this article can help you to find out Korean outfits to rock your casual style. Keeping up our mind with positive vibes, be healthy, and look trendy! Have a nice day everyone.