Drufashion.com – The famous American pop singer and actress Selena Gomez always wins to catch our eyes with her magnificent fashion style. Starting off with her amazing collection of casual style, country look, mixing leather outfit to create a classy look to the most interesting girly look in a floral dress, they are so stunning!
She will show us about choosing and mixing the outfits that will turn to be unexpected street style goals. The queen of Disney, Selena Gomez also has unlimited fashion styles that we can copy her chic look. We often see her awesome outfit anywhere, whether she just go around to have a cup of Starbucks coffee, having romantic dinner, a magnificent red carpet looks, to the most winning look from her American Music Award performance. They all look fantastic!
The star of Wizard Waverly place gave us lots of chic street style. We can not ignore her fashion style to be one of the most eye-catching looks. Here we will show you the best 20 of Selena Gomez street styles!
1 of 20
Classy in Black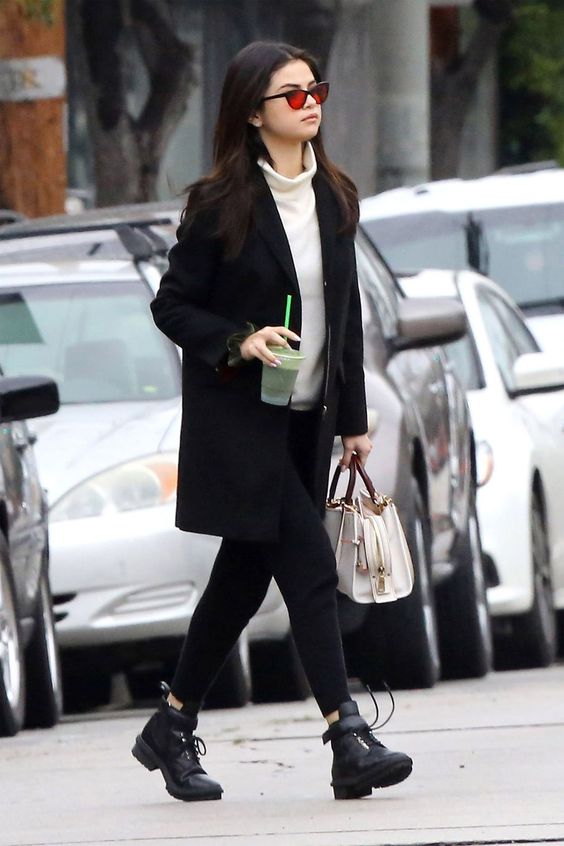 She is rocking on the street! Combining a long black coat, cream turtleneck sweater, black pants, black combat boots make her so rocking on the street, adding a sweet look with a cream handy bag, red mirror glasses. That look makes us obsessed with her street style wearing black color dominantly, you rock girl!
2 of 20
Looking Chic with Casual Striped Top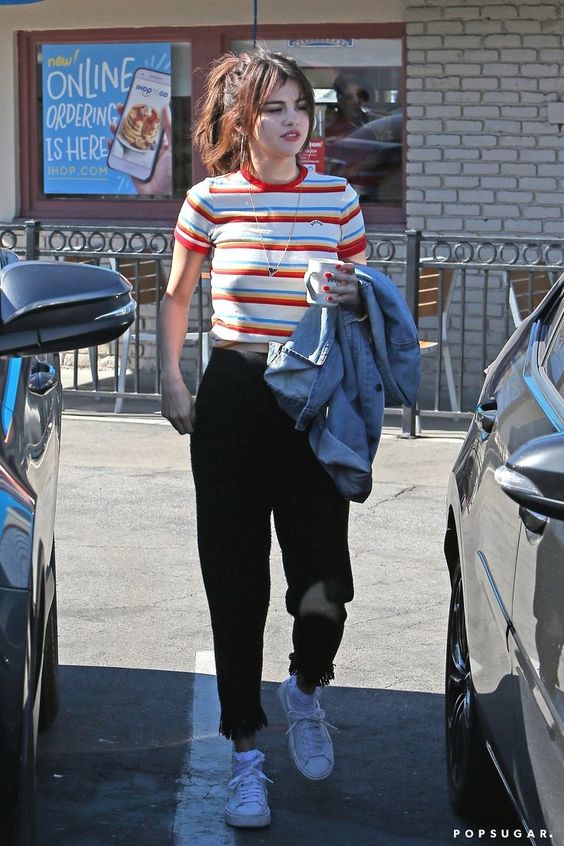 Another stunning street style looks from an American singer, she is looking so fresh in the morning sun. Wearing a colorful striped top with black pants, white sneakers, and a denim jacket. What a remarkable morning shiny look!
3 of 20
Oversized Sweater and Flared Jeans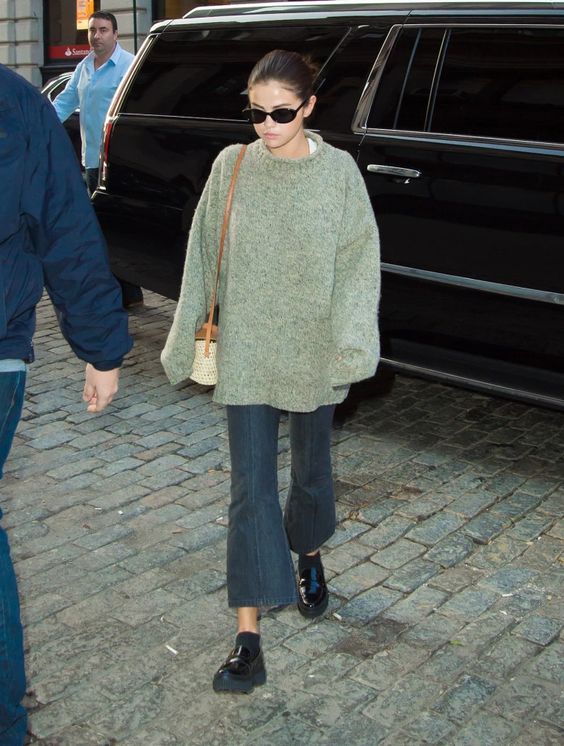 Bringing out your comfortable and warm oversize sweater into your street style. We can mix it with flared jeans and black loafers as we can see a Hollywood star looking chic with black sunglasses, so let try her mix-matching style!
4 of 20
Look Chic with Bright Color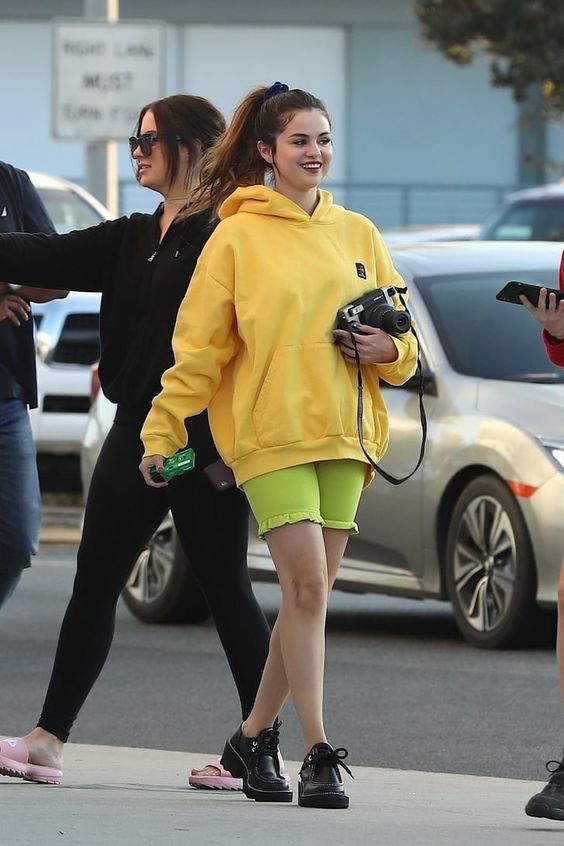 Do you feel confused matching your clothes to hang out with friends? If so, we can try Selena Gomez street style. She looks so fresh in a yellow hoodie and green biker shorts, it looks more homey and comfortable to wear. We can also steal her style by wearing black leather boots to complement casual wear. Looking chic with bright color items and fashionable black leather boots is a must-try for hanging out with friends!
5 of 20
Looking Sweet in A Wrap Dress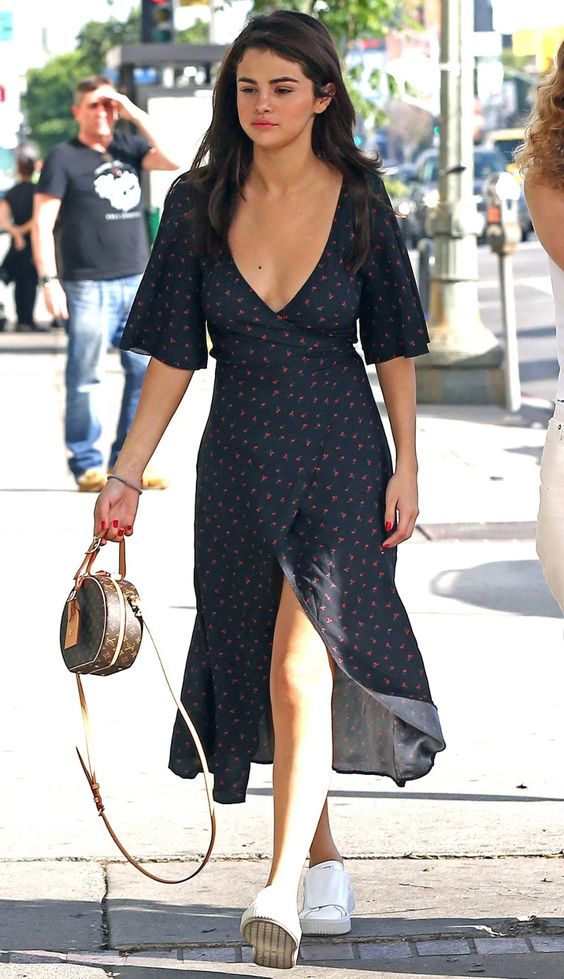 Selena Gomez always wins to catch our eyes with her bunches of lovable street styles. In this picture above, she wears a navy wrap dress with a little floral pattern, a pair of white sandal loafer, and a cute circular bag. She looks so simple yet sweet girly look!
So, ladies we can adopt her girly style to walk outside on a sunny day, and this look also good for having fun and relax on the beach.
6 of 20
Get Rid of Sweat In A Blazing Hot Day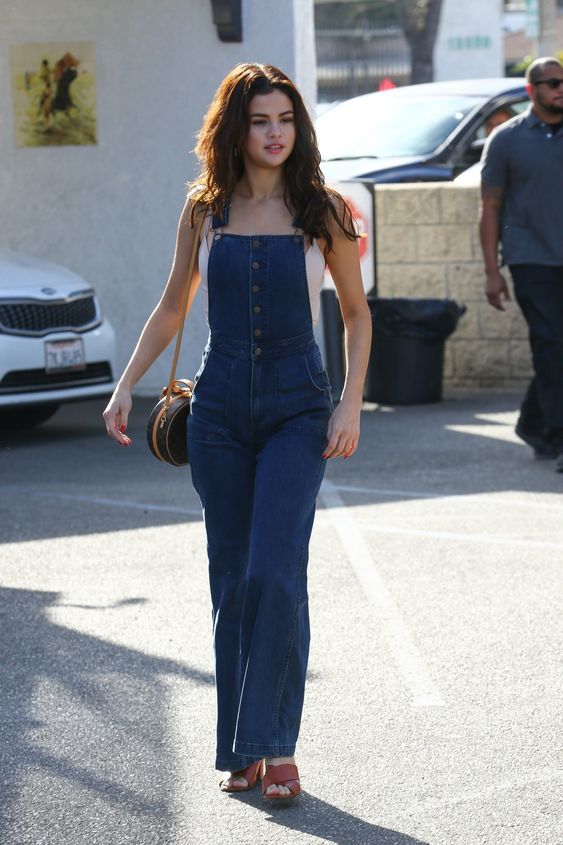 Feeling bored mixing overall with a t-shirt? Well, we can peek at this pop star style. Matching your overall with a sleeveless U-neck tank top can be your wear solution on the blazing hot summer day. To improve her casual street style, Selena Gomez wears cross strap block heel open toe and a lovely circular bag just awesomely good. This matching overall with a tank top should be on our list of summer wears style.
7 of 20
Awesome Street Style with Kimono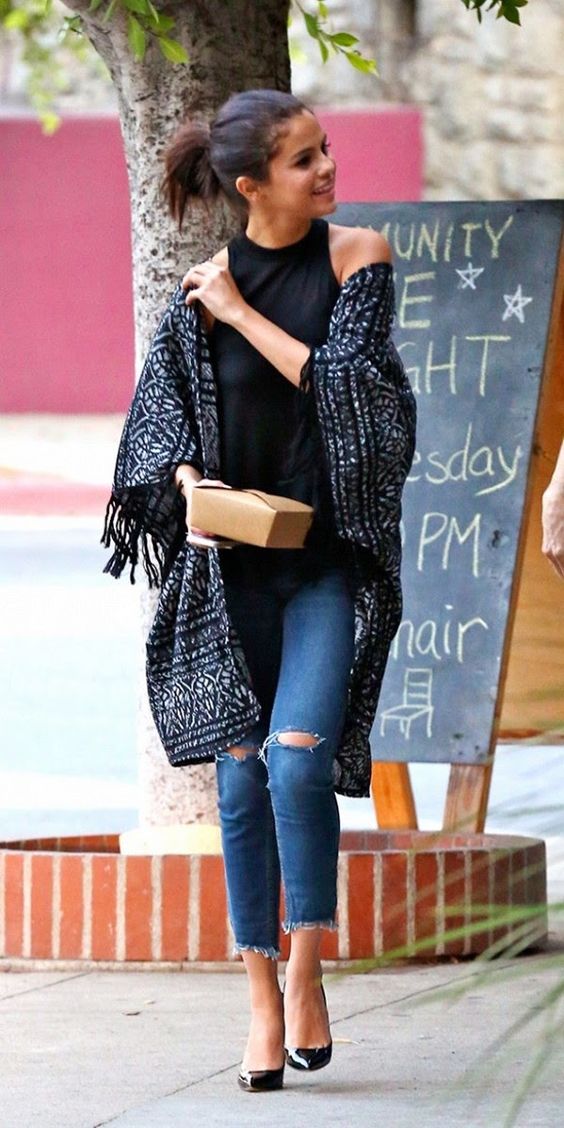 We can not bear her style. She looks so fantastic in a printed kimono, blacktop, and distressed skinny jeans. My kind of street style honestly! She blends her casual look with a feminine touch of black pumps. Do you love her street style too?
8 of 20
Glow up with Summer Sun Dress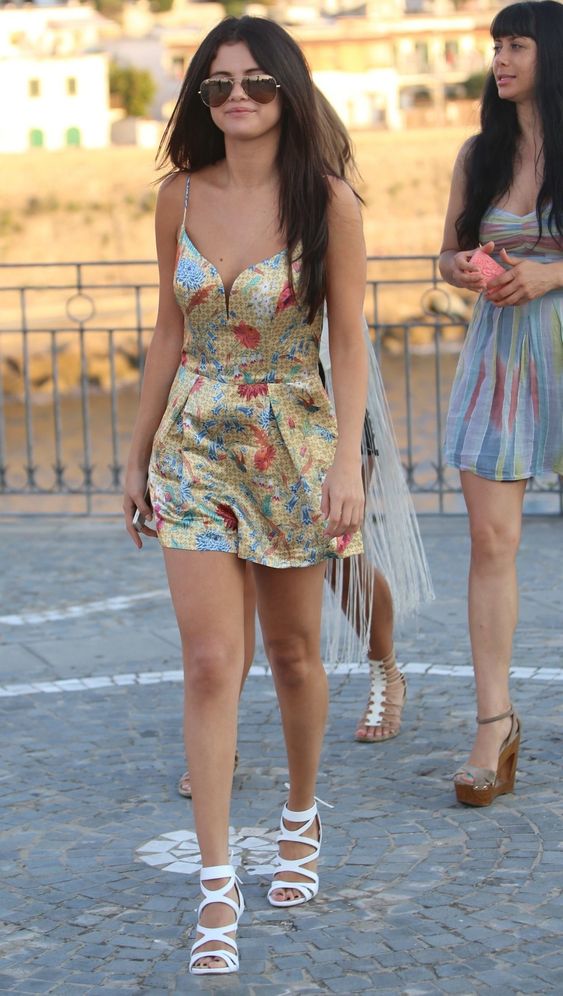 Simple, elegant, and cute are not enough words to define what Selena Gomez looks like in the picture above. We all know she is one of the famous celebrity trendsetter fashion. Alright, we can copy her stunning street style by knowing what she wore. She wore a printed satin sundress, fashionable aviator sunglasses, and a pair of lovely white gladiator high heels open toe cross strap sandals. If you don't like to wear high heels we can substitute them with white sneakers, both look amazing too!
9 of 20
Rock Your Street style with Printed Down Tee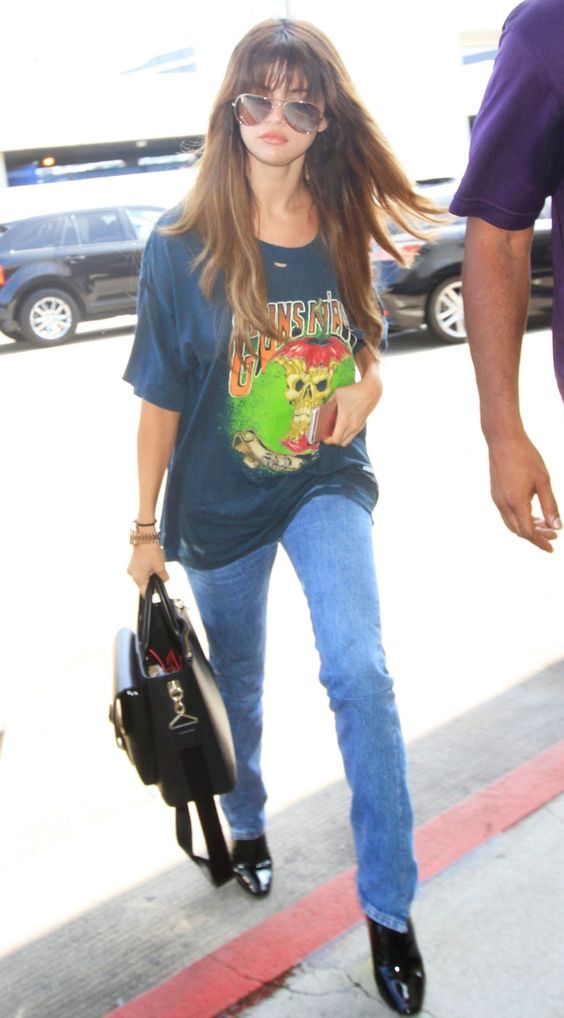 Rocking street style by matching up a printed blue down tee with a pair of black pump ankle boots. To add a catchy look, she wears aviator sunglasses and a black handbag. Would you love to try this look?
10 of 20
Get a Sporty Look With Baseball Cap!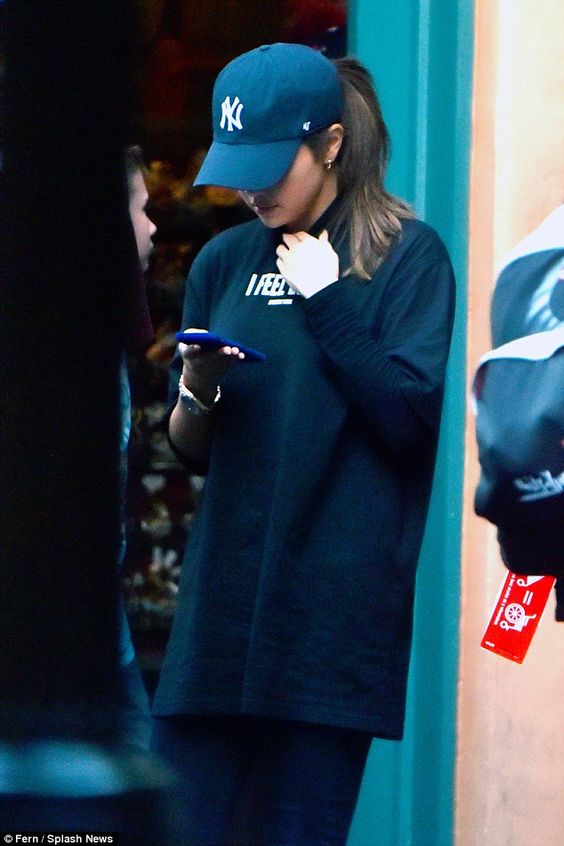 She looks so awesome in a sporty look, isn't she? She wears a navy long-sleeved T-shirt, matching it with a navy New York Yankee baseball cap and the same hues jeans. We can try this style for creating a sporty look!
11 of 20
Looking Fit WIth Workout Wear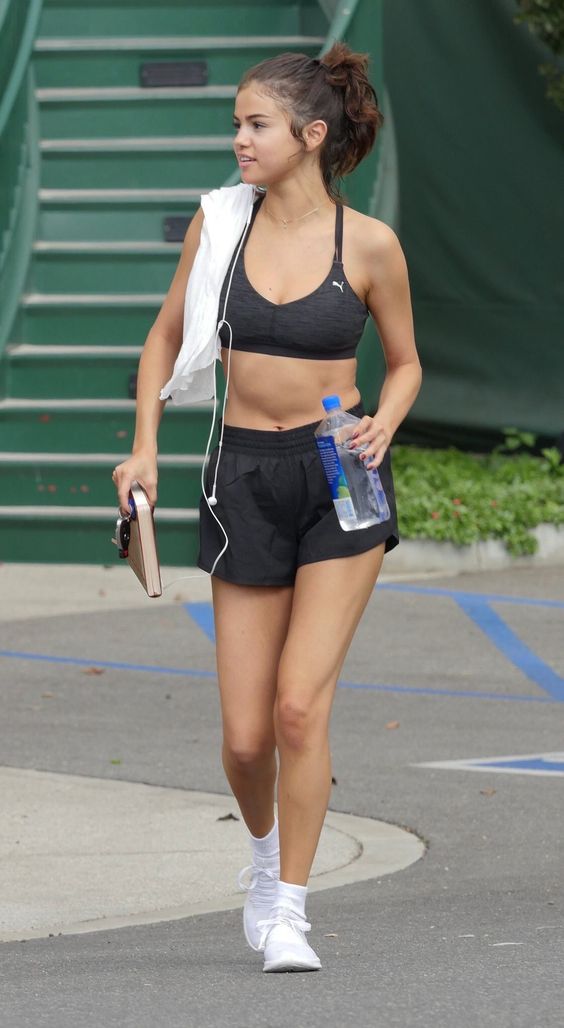 We can wrap up this celebrity style, a simple workout outfit from head to toe. She wears a black sports bra from the Puma collection, black short pants, white running socks, and sneakers. She is holding a bottle of water after gym and sweating, amazing abs anyway.
12 of 20
So Typical Street Style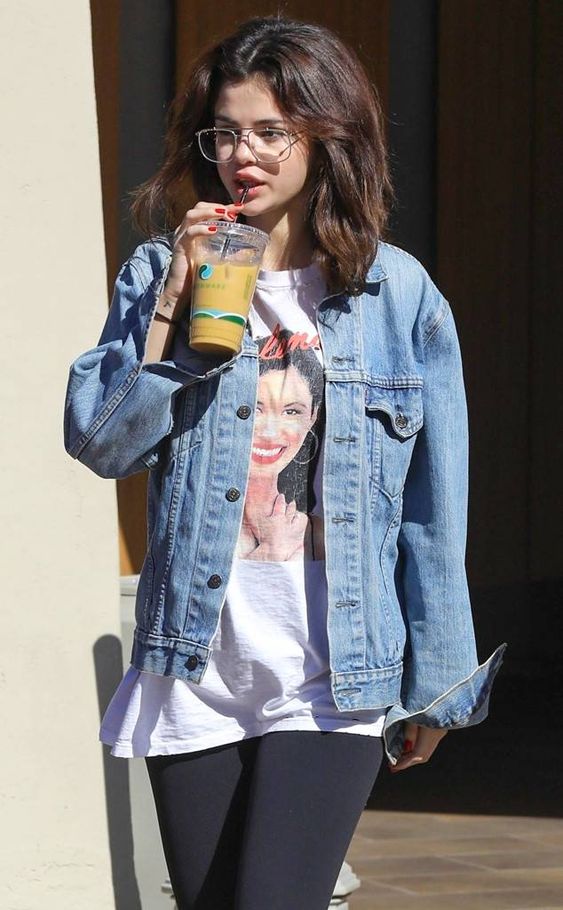 A denim jacket is a typical item for youngsters to have a street-style look. In the picture above, a 28-year-old singer wearing a white printed Selena Quintanilla tee, Denim jacket, black legging, and transparent glasses make her look like a teenage girl. She polishes her nail with red to contrast with her casual and neutral outfit. That is a simple and timeless casual outfit that you will love to walk outside or hanging out with friends.
13 of 20
Looking Cool With Leather Jacket!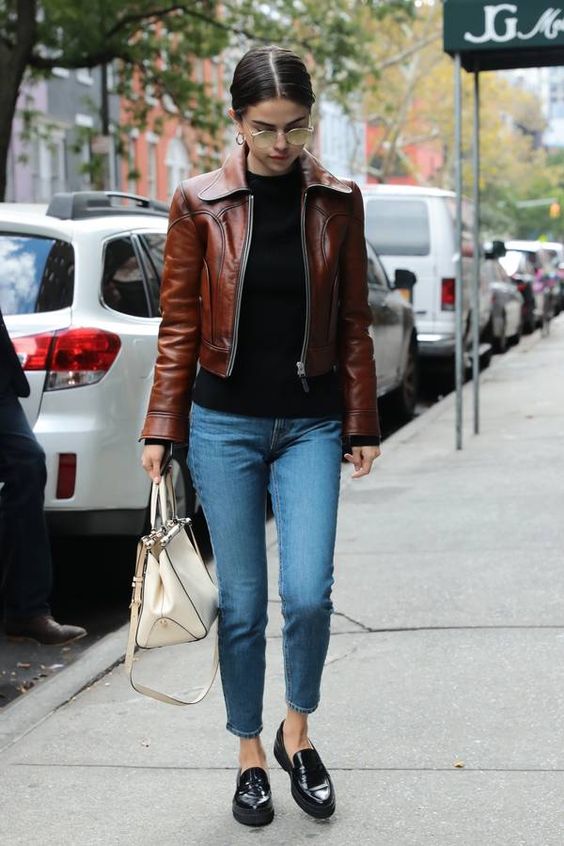 She slayed us again with her street style. Oh gosh, she damn gorgeous with a leather jacket! We can write down the fashion items that she wears in that picture above. On the upper, she wears a black jersey sleeve, dark brown leather jacket. On the lower side, she wears straight denim jeans and a pair of black shiny loafers. For accessories, she wears rounded glasses and a white satchel bag. She looks so damn cool af! Would you like to try this looking cool street style?
14 of 20
Queen of Summer!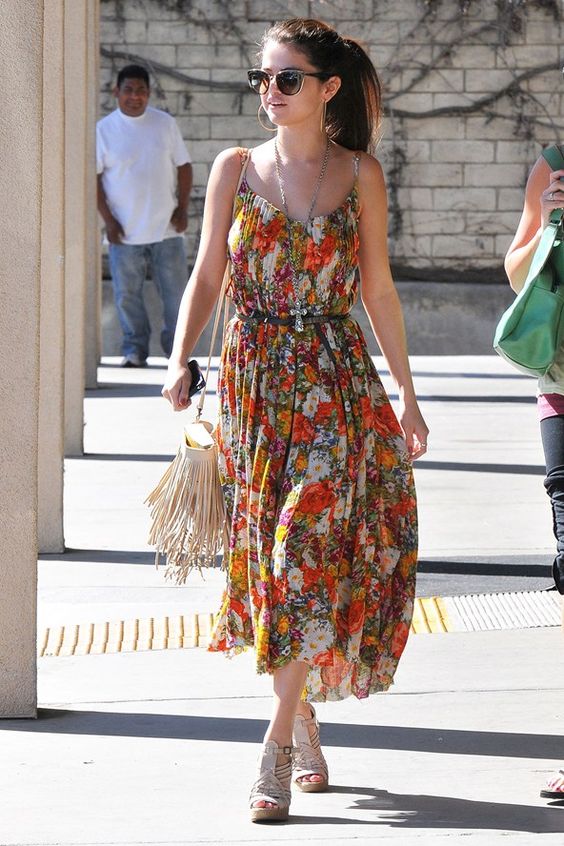 She is a goddess down to earth! Another epic fashion street style from queen Selena Gomez, She walks on the bright sunshiny day with an outstanding floral maxi dress.
She wore a floral maxi dress, creating a double layer with a leather belt, cream heeled sandals, and a beautiful cream sling bag. Those items are looking so good with her. Now, we will see what accessories she wore to create an extra dimension of fashionable looks that suit her floral dress. She wore oversized sunglasses, a pair of precious gold hoop earrings, sterling silver cross necklace.
Would you like to try her style for your sunny day in the summer season, wearing a floral maxi dress with matching accessories will make you a queen of summer! Let's have a try ladies!
15 of 20
Casual Street Style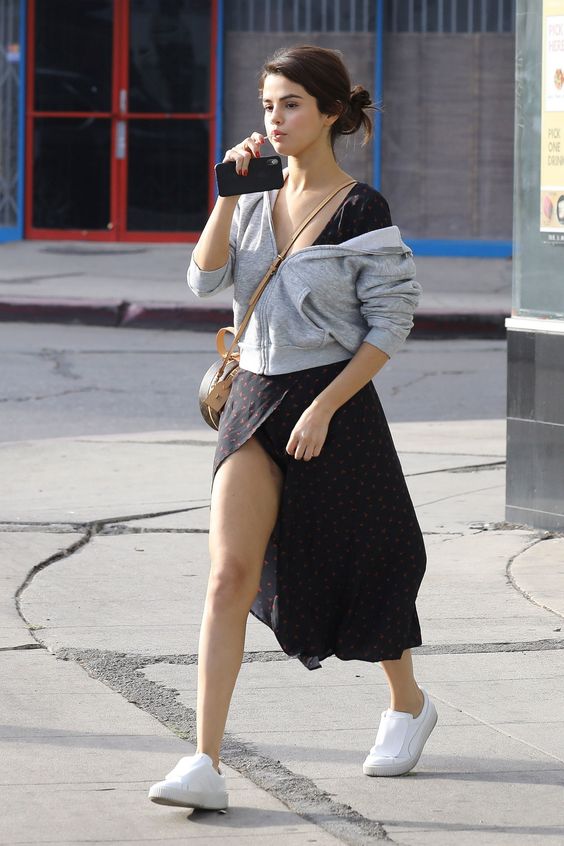 Another secret formula from a 28-year-old singer, looking chic walking on the street in matching casual wears that will make you feel in low-key!
Selena Gomez spotted walking on the street wearing casual outfits, she looks stunning. She is combining a navy wrap floral dress with a sweatshirt gray jacket that looks awesome! She also wears white sneakers to create a more casual look and then a sling bag around her waist.
This casual street style is easy to apply, it doesn't require much effort to look chic on the street, and one point plus of having this style is absolutely giving us so much comfort. Hanging out and relax wearing comfortable outfits is a highlight of street style.
16 of 20
Hoodie to Standout Street Style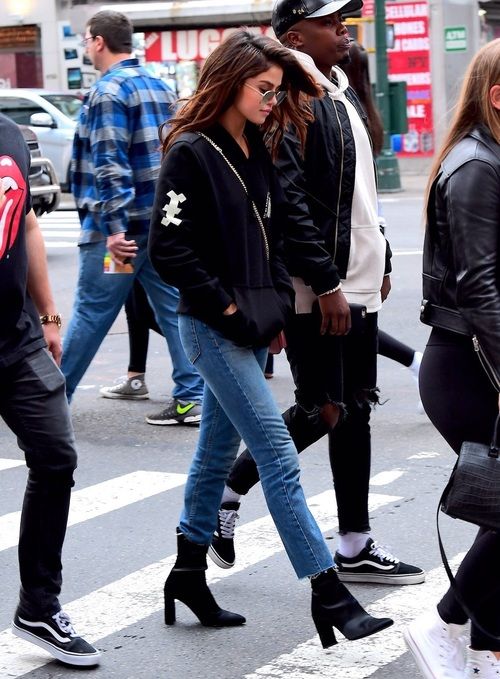 Wearing a black hoodie to standout the street style as Selena did. She wore a black hoodie, straight jeans, and black heeled boots. That combination is quite simple but lets us see the result, it looks so stunning that can stand out from the street style. Selena Gomez also loves to combine a sling bag and oversized glasses to sweeten up her style. How do you think about her street style? And do you want to try this style from a masterpiece of a fashion trendsetter?
17 of 20
A Double Denim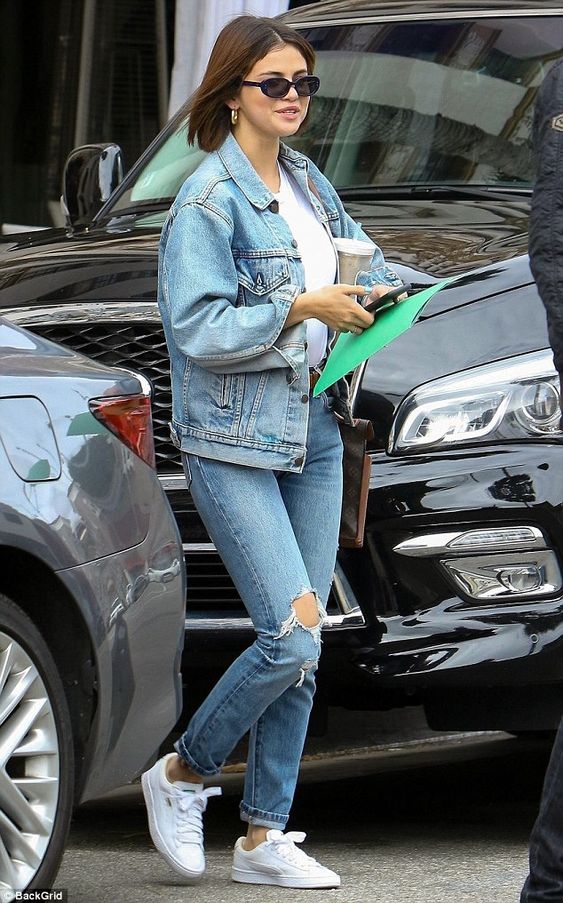 Have you ever tried double denim for your casual street style? If not yet, let try this one.
In the picture above, Selena Gomez wearing double denim at the same time. To avoid monotone color, She wears a white shirt for the upper side, and then there is a pair of white sneakers for the lower side outfit. She also adding a few accessories to make her look more stunning but does not change her simple look. She wears sunglasses type D, and medium-size gold hook earrings. So, without a doubt to wear double denim at the same time to rock street style look.
18 of 20
Crushing Street Style Inspired by Country Look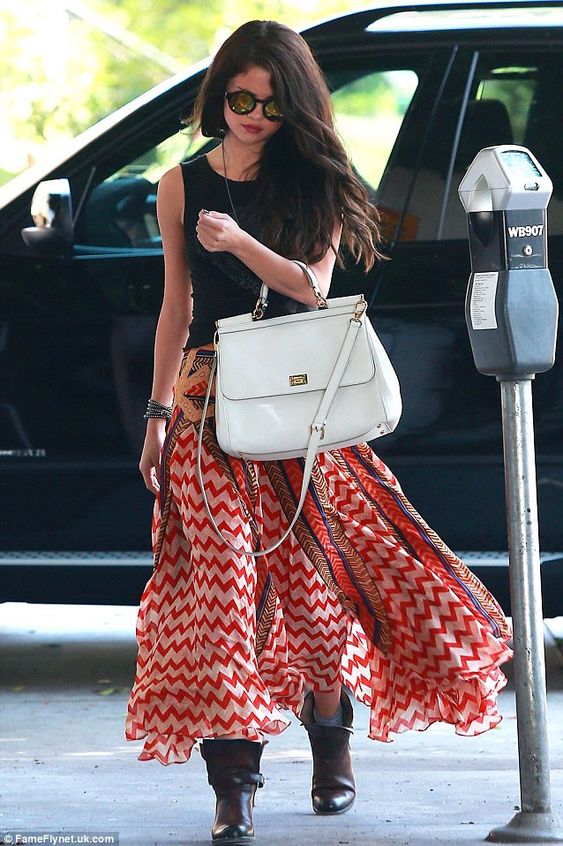 Creating an anti-mainstream street style is not a big deal for pop singer Selena Gomez. In this picture, she appeared a bountiful country style on the street. Let us check her combining and matching formula for this country-style look. These are the items that Selena Gomez wears from head to toe, you might be searching for.
She wears a black L'Agence turtleneck, a maxi skirt from Theodora and Callum, basic sunglasses, studded cowboy ankle boot from Mossimo Supply Co. Kalayla, and a white lady bag. Those are some items you need to have if you want to try Selena Gomez country style.
She has an amazing capability of mix and matching outfits that will turn out to be the most standout street style moment. So, would you try this country look outfit for your street style?
19 of 20
Metalic Pleated Skirt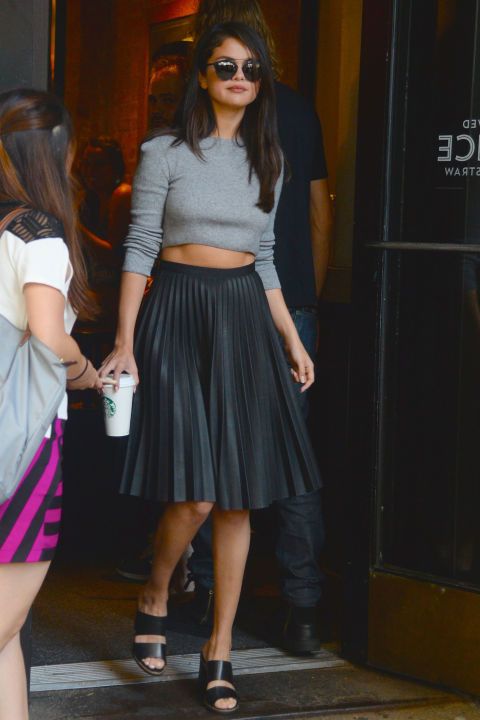 Are you looking for a simple autumnal street style? We would love to give you this simple look for cheering your day! Look at that picture above! Selena Gomez seems endlessly slayed us with her various street style. Once in the fall season, we spotted Selena Gomez looks stunning with her pleated skirt. We can try this one of her look for our fall street style. She wears a gray jumper combine with a metallic pleated skirt, pair of black platform wedge sandals, and black sunglasses. She matching her autumnal outfit in the same hues that make her look simple but so bold. I think we have to try this one too, it looks simple and elegant at the same time.
20 of 20
Rocking Street Style with Vetements Sweatsuits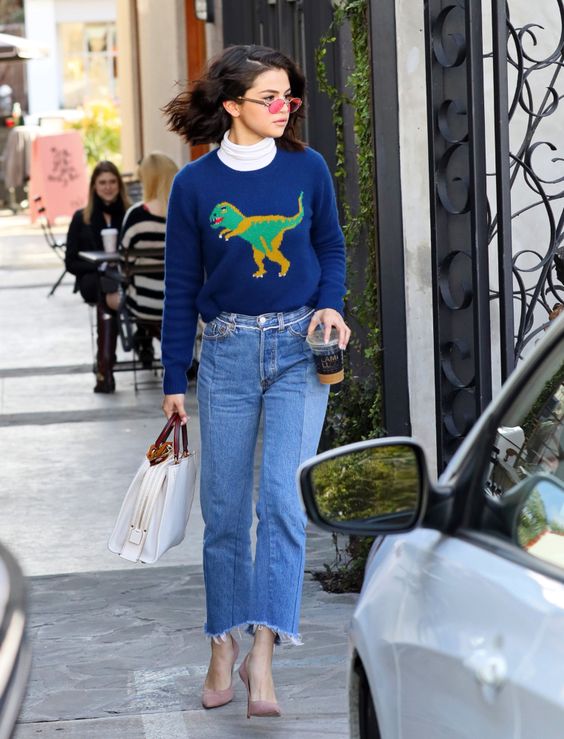 We have come to the last 20 Selena Gomez street styles! Again, the famous American singer Selena Gomez gives us the idea to have an outstanding street style look. It looks quite simple and comfortable to wear. Without taking a time too much, let us mention the items that she wears like in the picture. Alright, she wears blue roll-neck Vetements sweatsuits, high-waist jeans, a pair of pink pumps, and a white handbag. I mostly forget to mention one more item that she wears, it is red-mirror sunglasses! Do you love this Selena Gomez street style piece?
We have come to the conclusion now. An American pop singer Selena Gomez has shown us a bunch of street style ideas which really help us to find and improve our street look. There is plenty of feminine, sporty, classy, and even anti-mainstream street style looks.
We can copy her style to look girly such as combining floral dress, skirts, hoop earrings, and pumps sandals. If we want our street style to be more comfortable we can choose, t-shirt, jeans, denim jacket, and sneakers. Another street style idea is showing a classy look, we can choose a leather outfit and boots that create a bold classy look.
Anyway, we can choose the outfit that suits us the most. One more thing to be a highlight of having great our own street style is to feel confident in every footprint step we go.
I hope this article can help you to find out a perfect outfit idea for your street style, and let me know which one is your favorite Selena Gomez street style that could define yours?