Drufashion.com – Who does not know the famous American pop singer Ariana Grande? We guarantee you all know her. The Dangerous Women singer has billion views streams on Youtube for the entire world. Not wonder that her name is one of the top chart Hollywood actresses and singers.
Ariana began her professional career since she was a kid. She started to join Nickelodeon in 2008, she was playing in a drama musical called Broadway. She does not even stop raise her career in acting. In 2010, she started to sing and her first album was launched. With her pure singing talent, she begins to sing and sing more. With a unique high note voice, she can reach easily, she turns to be a queen of the pop singer.
As an American pop singer who has millions of fans around the world. Ariana Grande often appears in her unique fashion style. She has her own unique style that we could follow! Fashion style! Yeah, that is what we will exactly talk about a lot in this writing. You might a lot seeing her performing her song with her special look, ponytail, wearing sharp heels, and an oversized hoodie. Well, that's Ari really into it! Let's peel off 8 remarkable Ariana Grande street style looks down below. So, don't miss any of them!
Chic minimalist look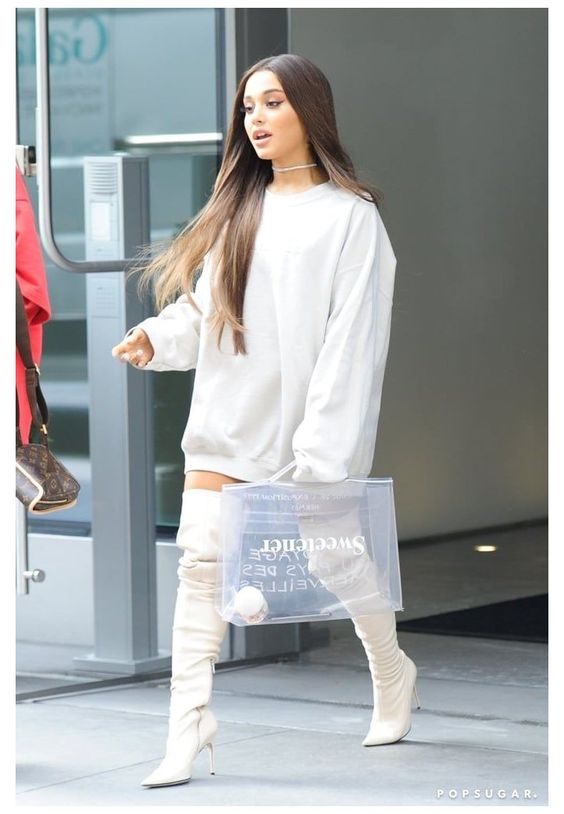 Being a pop star that always been chased by the paparazzi wherever she goes is part of her life. As we alluded to earlier, she has a unique fashion style. Her body is might tiny but she loves to wear oversized clothing.
Ariana Grande has spotted walking on the street and makes us adore her street style. In this picture, she chooses a chic minimalist style! Pairing the white oversized sweatshirt on top with a pair of white stiletto-heeled boots as her fave. These shoes will make your legs look a mile longer than the actual size! Then, she wears a simple accessory, a single-line white choker around her neck. Would you like to style a white sweatshirt as Ariana did?
Glow up on the summer day!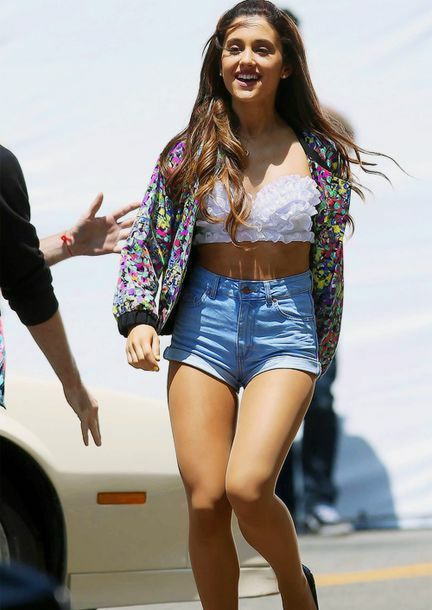 Summer will come soon, let's cheer the warm season with comfortable and chic summer outfits! If you don't have the idea yet, don't worry about that! Let's take a look at this Ariana Grande summer essential look. With the sun upon us, we need lightweight outfits and comfortable features to be worn on hot sunny days.
Let's steal Ari summer street style! She pairs the short denim jeans with a white ruffle top. This outfit is super cute for young girls tho! Furthermore, she gives a statement to her summer look by wearing a colorful floral bomber jacket. To complete the comfortable outfit, a pair of flat shoes can be your option!
Remarkable Ari's Sporty street style look!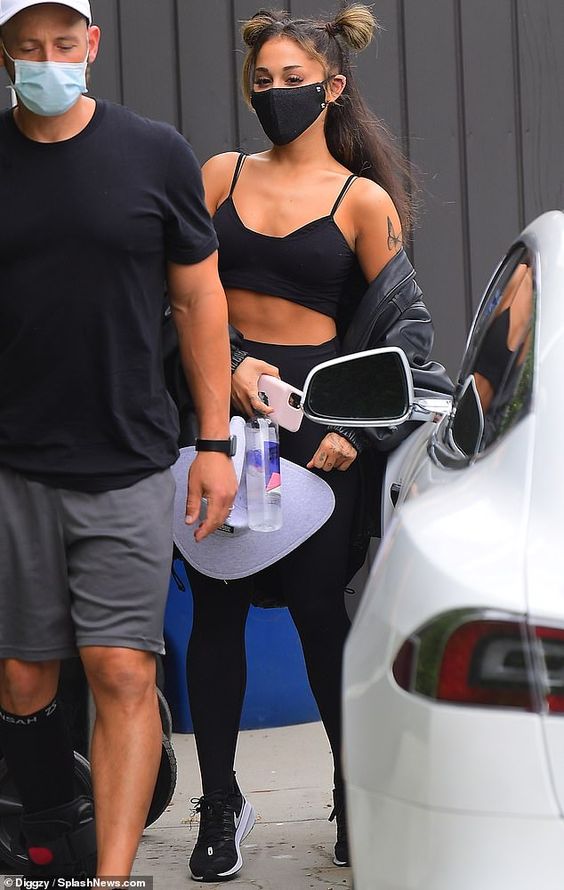 Are you looking for an outstanding sporty look that could show your athleisure body? Girls, obviously you can copy Ari's style above. She came beautifully with her body goal! In this essential, she wears a full-on black saturation color tone outfit. She pairs a sports black bra and well-stretch black legging. This pair will successfully show your athleisure body! What we love about this style is that she cleverly give a big impact on her look. Layering her sporty look by wearing a black leather jacket, that looks cool, 100% approved!
Summer laidback style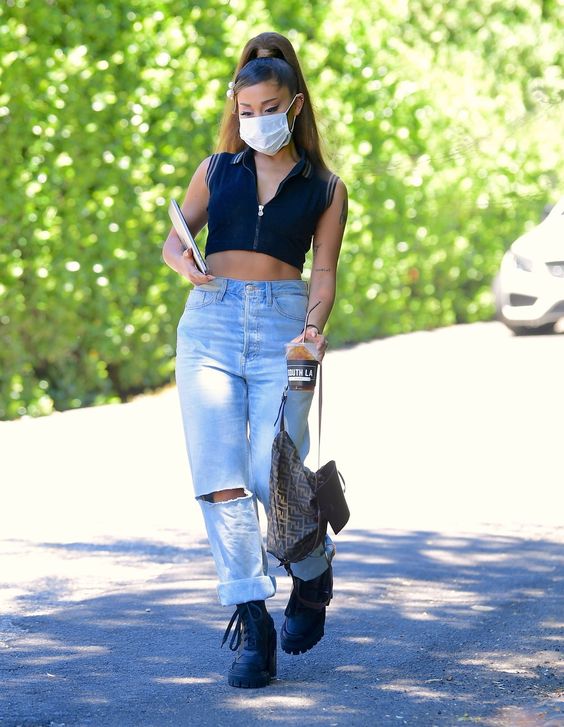 Figuring out what kind of fashion style to rock summer days? If you looking so, here share the idea for you! Simply matching up the ripped-washed denim jeans with a pair of statement black combat boots, that's a street style killer! For the top outfit, you can match with your favorite tank top which has lightweight and breathable features that suit summer days!
Styling oversized hoodie for a cool street style!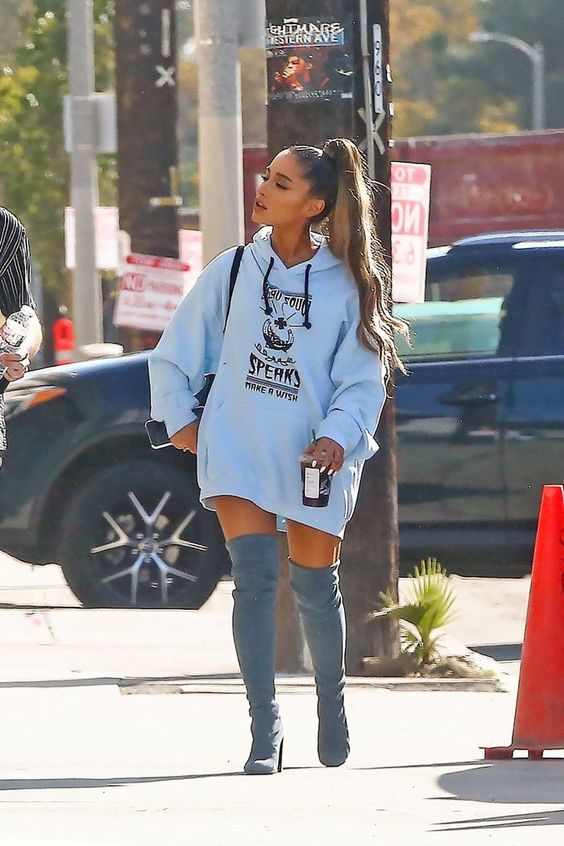 It isn't rare to see Ariana Grande styling an oversized hoodie for her everyday fashion style! She's spotted walking on the street wearing a light blue oversized hoodie, with her cute ponytail hairstyle that fits perfectly her casual style. Then, she wraps casual wear and improves her look by wearing a pair of thigh-high heeled boots in blue latex. You can bring a small backpack to accompany your casual style, that looks cute!
Casual airport look

Running and chasing the right time to go to the airport is terrible. What exactly happens to many people. Well, to eliminate that worst thing to happen to you, let's make everything simple. Including preparing an airport outfit that could cut down your time! Let's go with some casual and basic outfits in our wardrobe. So, we don't need to think a lot about what should I wear going to the airport!
Just like this pop singer does, she looks stunning with her casual outfits in the airport. Alright, she wore a knitted white sweater and pair it up with black legging. Then, she casually wears a brown beanie hat. These outfits style is super comfortable, why not try some basics outfit for the airport style?
Cute fall outfit style!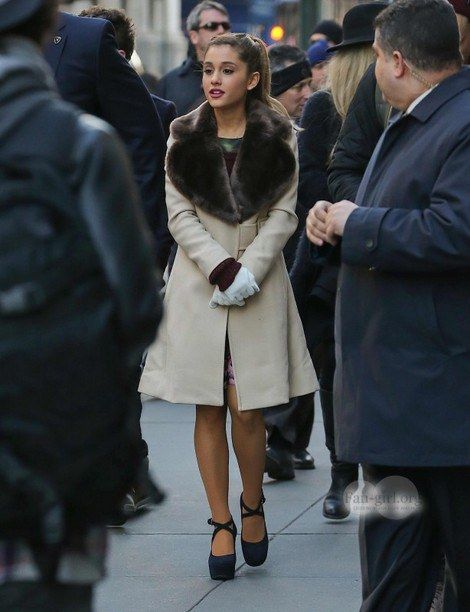 Another remarkable Ariana Grande street style look falls to this cold-weather essential outfit. She wore a beige coat from Mary Jane. This soothing color tone outfit is just perfect to style for fall! Then, she pairs her simple look with beautiful heeled wedges. The beige and blue color tones are working properly together for the fall season. Would you like to try this Ariana Grande street look?
Adorable winter street fashion look!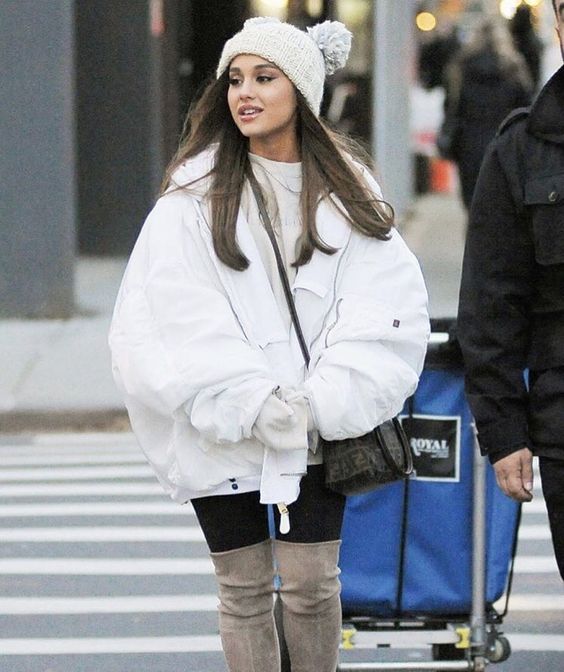 We have come to the last best Ariana Grande's street look in this writing! She's looking so adorable in this winter essential outfit! With the biting cold air outside, we need something that could warm us inside. In the picture above, Ariana Grande looks so adorable in a white winter jacket. As we can see, she wears a very soft color tone sweatshirt inside then layer it up with a bubbly white winter jacket! Avoiding jumble layering outfit, she cleverly took black legging that fit her legs! Again, she gives a statement to her look by wearing thigh-high boot latex. Don't forget to wear a beanie hat and gloves to make you feel comfortable on the chilly winter day outside!
Conclusion
We already share with you some of the best Ariana Grande street style looks. As we already all of her looks above, there are plenty of casual outfits that could be her street style option. They are comfortable and just perfect to style your daily lifestyle. We also learn something from her look, immediately we consider that she has her own statement accent on her look. Guess what? Definitely, it's all about the high-thigh latex boots that she loves to wear and improve her casual look! So, girls, you have a big chance to glow up and rocking the street style with some basics outfits! But then, you have to know what you like the most to wear in everyday life. So, you will feel confident about it and yet people will consider your signature fashion style! The key to achieving a remarkable look is never to stop observing your clothing styles! Happy weekend everyone!