Drufashion.com – Urban outfitters lately tend to choose laid-back casual wear to look in fashion. The casual style includes a personal outfit taste, that makes every individual person has his or her own style. That what makes a casual style is so unique!
Some of us love to wear full-on comfortable outfits. And a half tend to mix rugged outfits to create a statement on their casual look. For men, casual wear must come to a comfortable, sleek, and simple outfit item. Those elements of outfits could define men's personality. A daily casual mix and match outfit will make them look down-to-earth and it can be shown their true personality!
Dressing in a casual style won't make you lose the trendy look. Since people spending more time at home, our fashion outfits look most turn to all laid-back style. Figuring out what types of casual outfits could elevate your look while choosing comfortable items! We will guide you to have some essential items you have to own in your wardrobe to rock a casual style! As a result, you will achieve the balance of a comfortable outfit and look stylish both at the same time!
Here are a few basic tips for you to perfect men's casual outfit ideas!
First of all, we have to know some men's basic wardrobe. On this wardrobe, you will find lots of versatile and casual outfits look.
The second rule is to know what you love the most! For instance, you love to wear a baseball cap and casual tee to rock your casual style. Making sure you include the "special" piece of outfit and accessories you really love to wear. So, that people will recognize your style. As a result, you have owned your personal dress code and achieve the anti-mainstream casual wear look from others.
Here we will inform you of 12 essential items to perfect men's casual outfit ideas! Without taking too much time, let's dig into those essentials down below!
Casual tee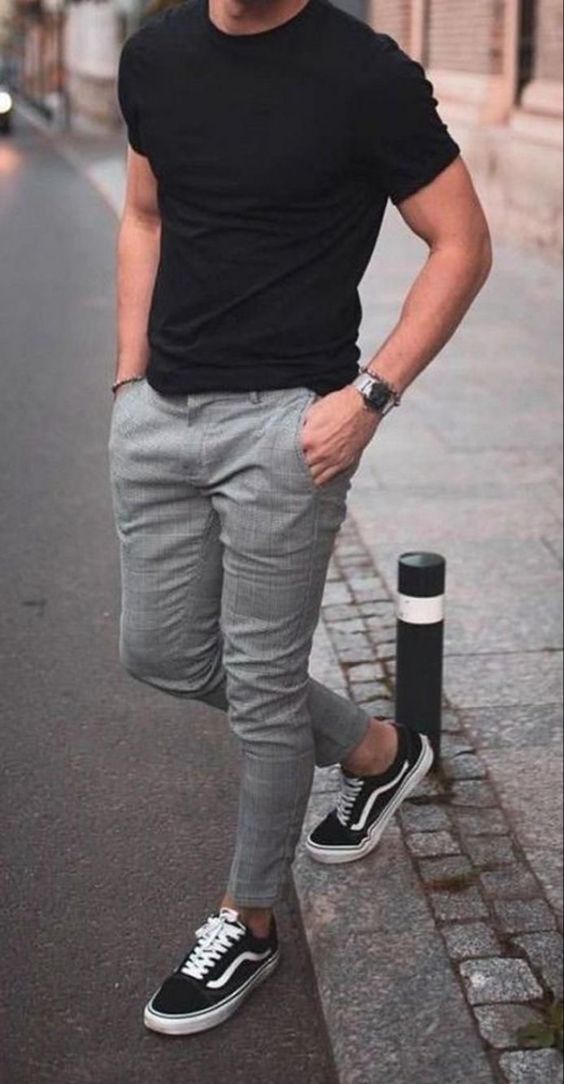 The timeless men's casual outfit idea must come into a casual tee. No matter where you are going to, a black or white casual tee is just perfect to be paired up to rock your casual style! Matching the black casual tee with trousers will make you look simple and chic! To perfect your laid-back style, A pair of comfortable footwear can be worn, yeah you've got it, sneakers!
Denim jeans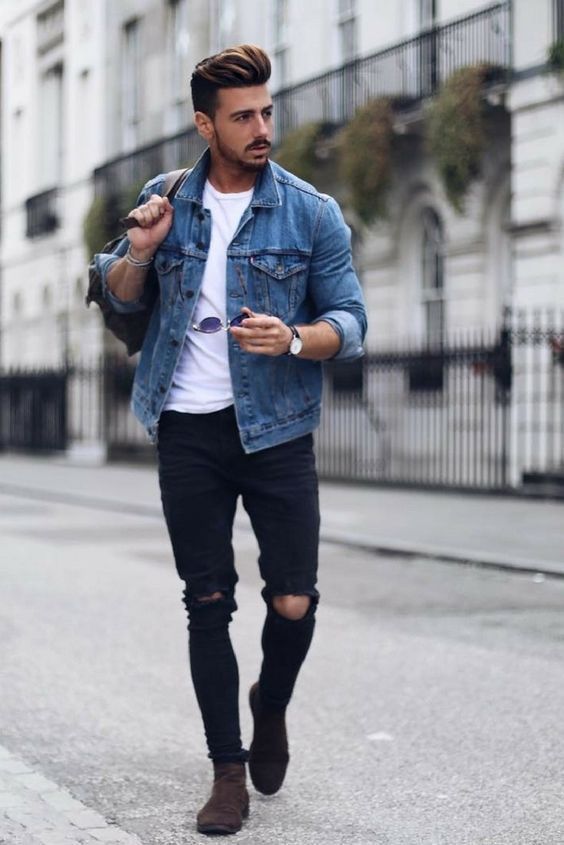 Denim jeans have unique textures and look garments. It's been known for its durability and stylish look pant. So, denim jeans are highly recommended to elevate your casual style! Denim jeans are available in many colors from black to washed blue denim, they all just perfect to rock your style!
Denim jeans are a versatile urban fashion item that can be paired with a shirt, tee, or anything you like to wear. In the case of styling a casual look, we can simply match denim jeans with a tee. You can try a minimalist look by combining a black and white undertone outfit for your laid-back style. The black undertone outfit could give a statement to your look. On the other hand, a white undertone outfit will give you elegant look. When those two combine together in your look, simple combination but BOOM outcome!
To amplify your casual style, a blue denim jacket and a pair of leather shoes can be worn! In addition, attach sunglasses to your collar and a classy watch wrap in your hand. You look so classy!
Casual shirt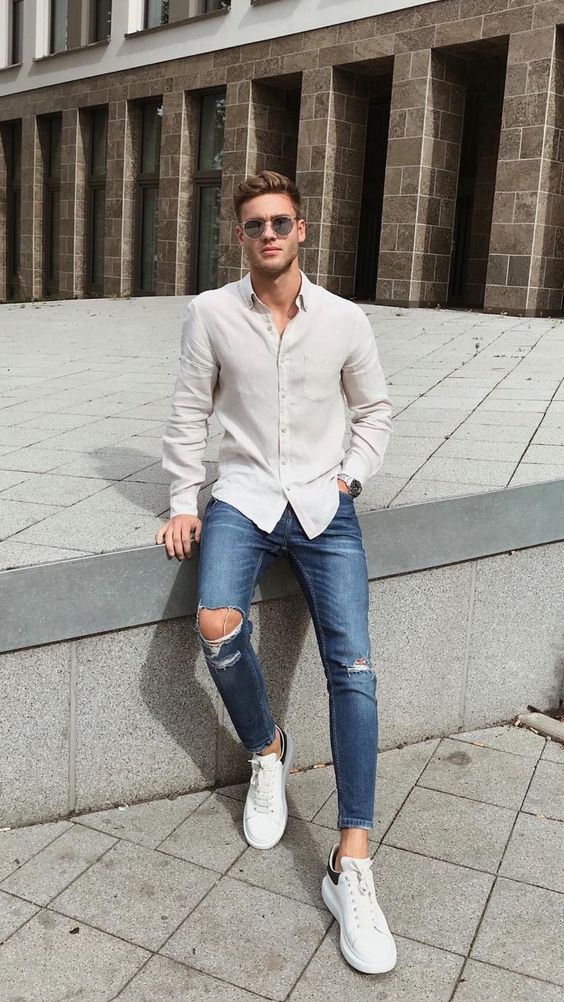 Styling casual shirt for a trendy street style look? Is that really work? We guarantee that it looks dope! To achieve a great casual street style look, we can choose a shirt made from linen. This garment accent will make your look less busy. That is why it's perfect to style a casual look!
Pairing up the white linen shirt with ripped denim jeans will elevate your street look! To comfy your casual look, a pair of white sneakers can be worn! Upgrade your look by wearing sunglasses and a stylish watch. Now you are ready to be a man of the street by styling casual shirts, you rocking it man!
Polo shirt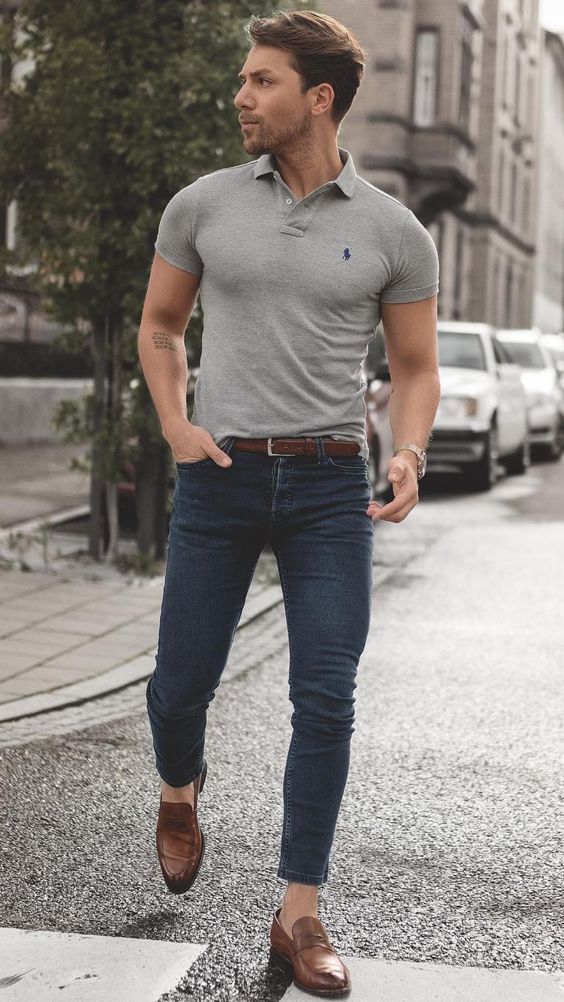 Another essential casual item you need to own in your wardrobe is a polo shirt. Choosing the earthy or neutral color shirt for a timeless look. When you get a neutral polo shirt we suggest you combine it with a darker color of jeans.
The polo shirt made from cotton is very comfortable and suit to accompany your sunny day. The neutral fiber of cotton can absorb the extra sweat. Creating a casual outfit that combines with your personal style such as wearing a pair of leather shoes can elevate your look. In this way, you've achieved a simple and chic look at the same time!
Chinos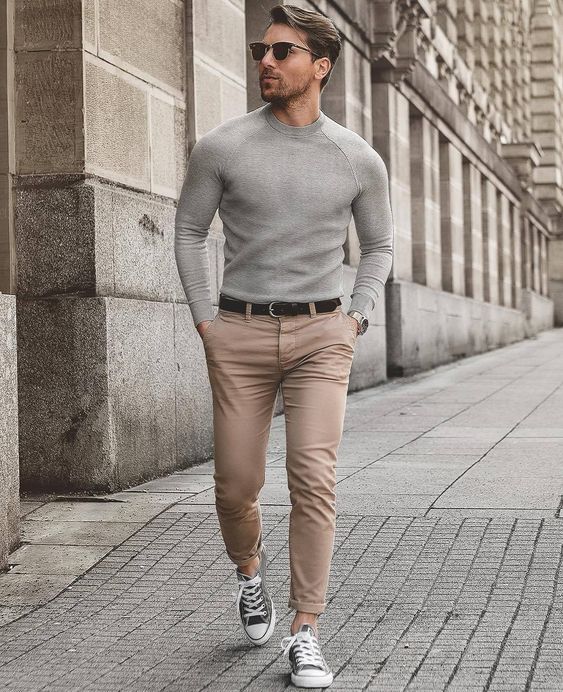 Creating an anti-mainstream look by styling chinos and casual knit sweaters could be your inspiration! Chinos is well-known for its comfortable feature garment and soft undertone look. The neutral beige color pant is good to be paired off with any other upper clothes. For instance, soft hue chinos combine with a gray knit sweater are successfully make you look sleek. Plus you can wear a pair of classic canvas sneakers to define your laid-back style! A classy watch and sunglasses can be worn to give a statement to your casual look!
Casual knitwear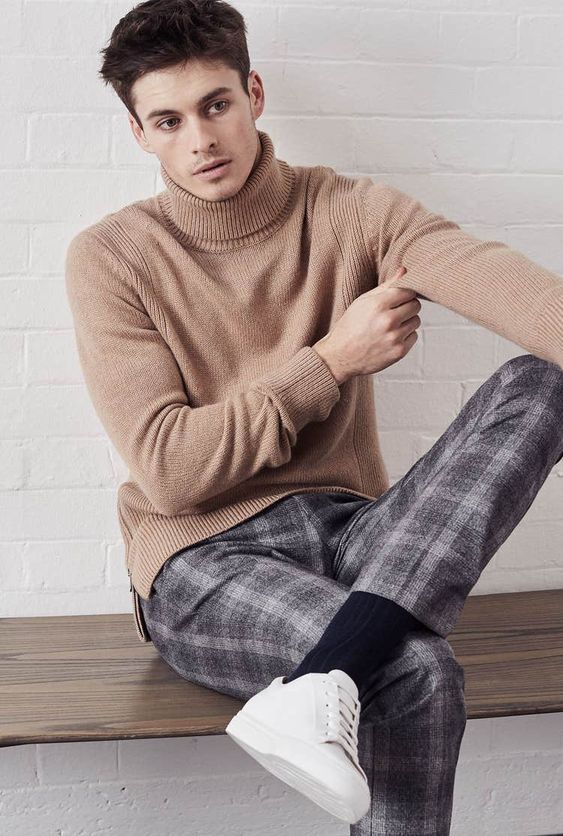 Another essential men's casual outfit is fall to casual knitwear. There is cold and hot weather in a year. So, make sure to include a warm outfit in your wardrobe. In the colder season, we can style casual knitwear to rock our casual style! Mix and match a turtle neck sweater with plaid pants will make you look so down to earth. Complete your laid-back style by wearing a pair of sneakers!
Hoodie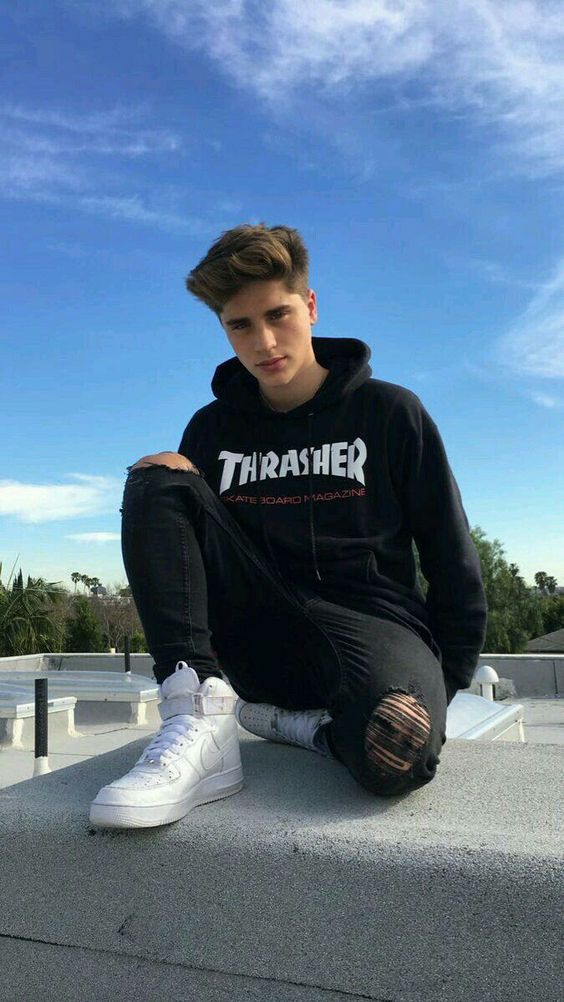 For urban outfitters now, styling hoodie is not only for cold weather outside. The trend fashion now make hoodie are good to be worn in all year round, even on the warm sunny days we still can nail it!
Guys, we can choose the loose hoodie to style our look. It's been chosen because the loose type makes us comfortable. It won't make us feel tight, even on sunny days outside.
It's easy to fit hoodie for a casual look, you can simply match the hoodie with denim jeans. Then, complete a chic urban look with a pair of white sneakers. We guarantee these combinations are so popular among young men right now!
Cargo pants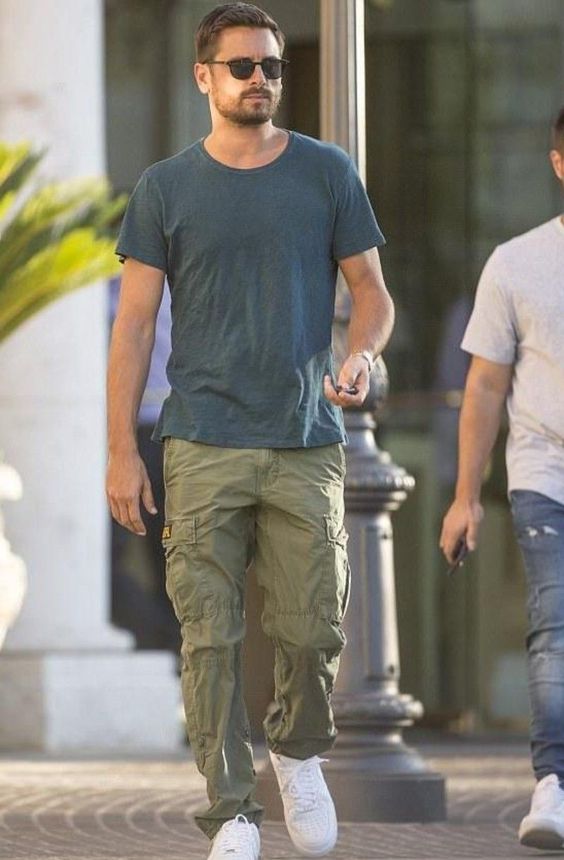 Cargo pants are so popular men's outfit item, not only for men but also women love to wear them! So, guys, you have to own these cool pants in your wardrobe! At first, cargo pants are designed for military purposes. It has a dark green color shade and has lots of pockets as camouflage. But now, the fashion trend offers us various styles of cargo pants. There is a cargo pant with one pocket, two pockets and so on. It is also available in many colors and materials. So you can choose depending on what cargo pants you want to style!
Urban outfitters, we can match cargo pants with a casual tee. There are many styles you can try, such as styling cargo pants with a tee for a laid-back style. The slim-fit hoodie also looks good to be paired off with cargo pants.
Bermuda short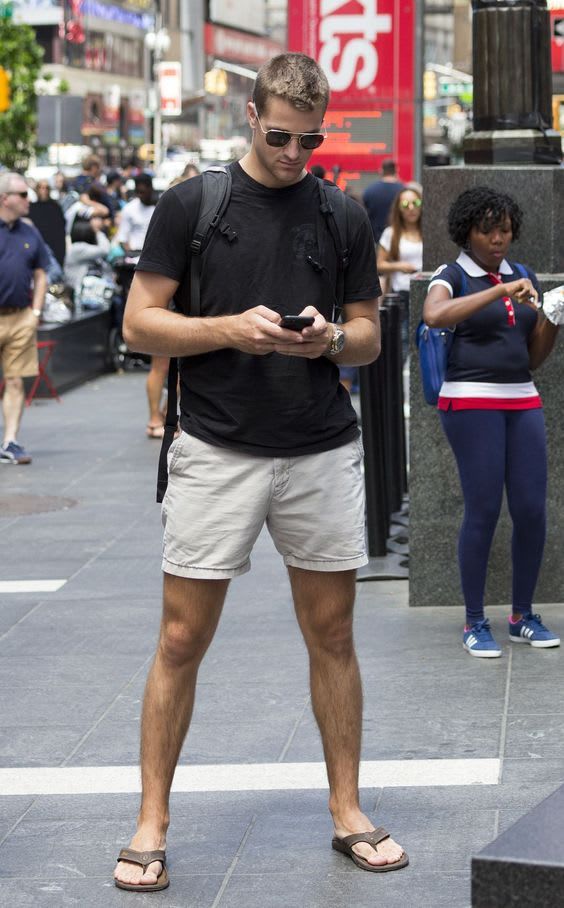 When we talk about casual fashion items for men. We could not forget Bermuda short. This Bermuda short is completely comfortable to wear during summer days. When the temperature outside getting hot, that is a perfect time to wear Bermuda shorts. Besides styling casually, we guarantee this pant will make you look stylish without being too much effort. To get a simple look, it can be paired with a casual tee. Finally, we can comfy summer outfits with a pair of casual sandals!
Bomber jacket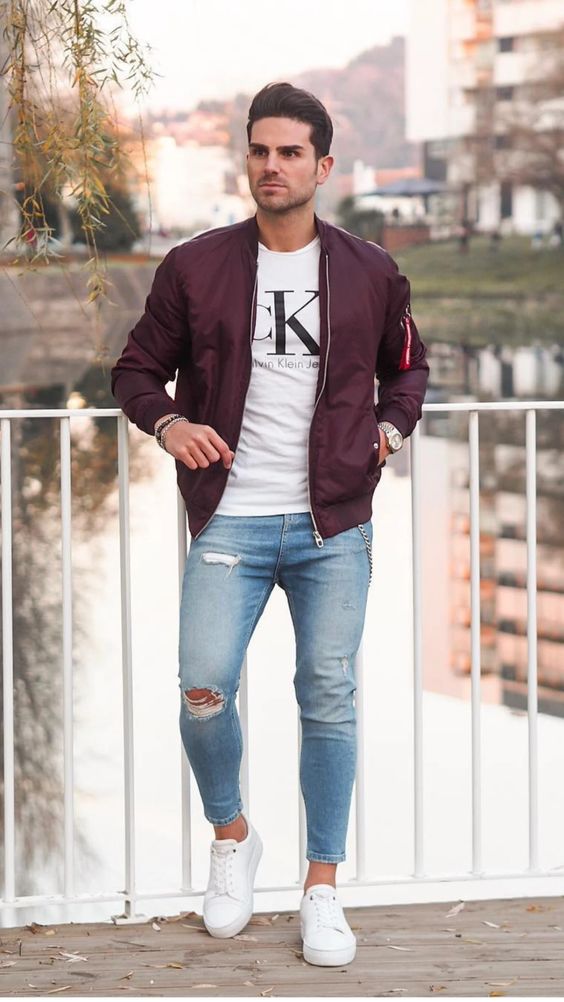 A bomber jacket has been fashion-oriented from time to time. There are some made from cotton fleece which is super comfortable to wear on sunny days. The cotton material will absorb the excess sweat. When the weather outside is getting colder, we can choose a bomber jacket made from a leather jacket. It warms us inside and makes us look sleek and masculine! Guys, you can style a bomber jacket with a casual tee. To bold a casual look, we can wear a pair of sneakers!
Sneakers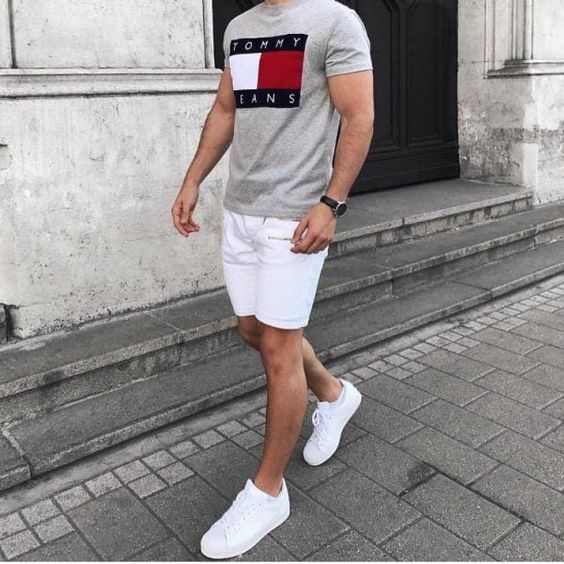 Why do people like to wear sneakers nowadays? The answer is that because sneaker is so comfortable to wear. Besides that, the sneaker also can give a sporty look. Now, sneakers are not the only item that usually wears on Sundays. Because it refers to style a laid-back day. But then the trend fashion item now focuses on a comfortable feature. So, without a doubt, we can wear sneakers to accompany our daily casual style!
Flip flop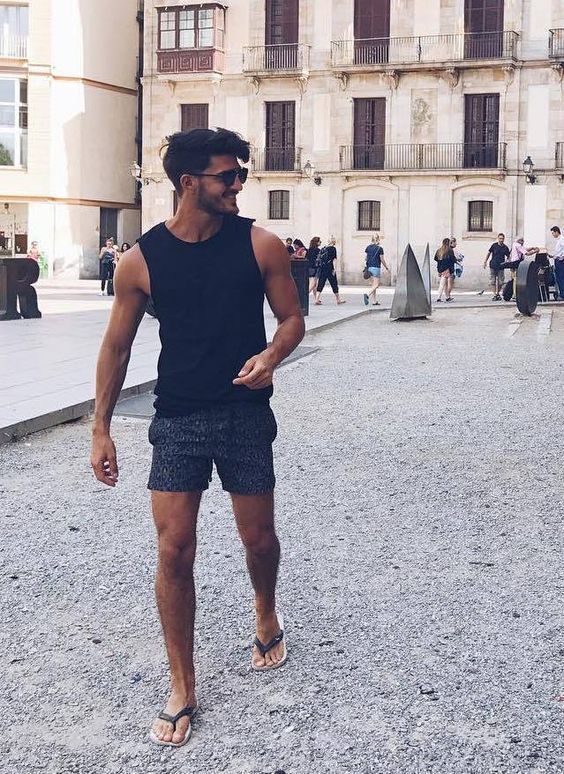 Another comfortable footwear to accompany the casual style is a flip-flop. This footwear is super comfortable to wear in warm weather such as summer. The all-open hollow design makes the air touch our skin. As a result, we feel comfortable walking outside on hot summer days!
Conclusion
Lately, the trend fashion outfits tend to choose a comfortable feature. Whether for workwear outfits, people love to mix casual wear for a semi-formal occasion. So, there is no doubt to elevate our look with super comfortable outfits!
Choosing comfortable garments such as linen to create a super laid-back casual style. We have provided 12 essential outfit items to rock your casual look above. Complete with comfortable footwear that will work in harmony with your casual outfit! We hope you enjoy this casual look inspiration and find out your own laid-back style!