Drufashion.com – If you've always dreamed about romantic wedding decoration, the colorful floral ornaments, romantic marquee, will make your dream feels so true. But more than that, a wedding is also an event to show the trend fashion and most importantly to be the best look and version. Because that day is so priceless ladies! If you have a plan and soon want to have it. In this writing, we will help you to find out elegant garden-themed wedding dresses. Or even just to save the style for your dream wedding on another day. Be ready for whimsical and elegant bridal dresses that fit for summer! Let's check them all!
Off-shoulder white wedding dress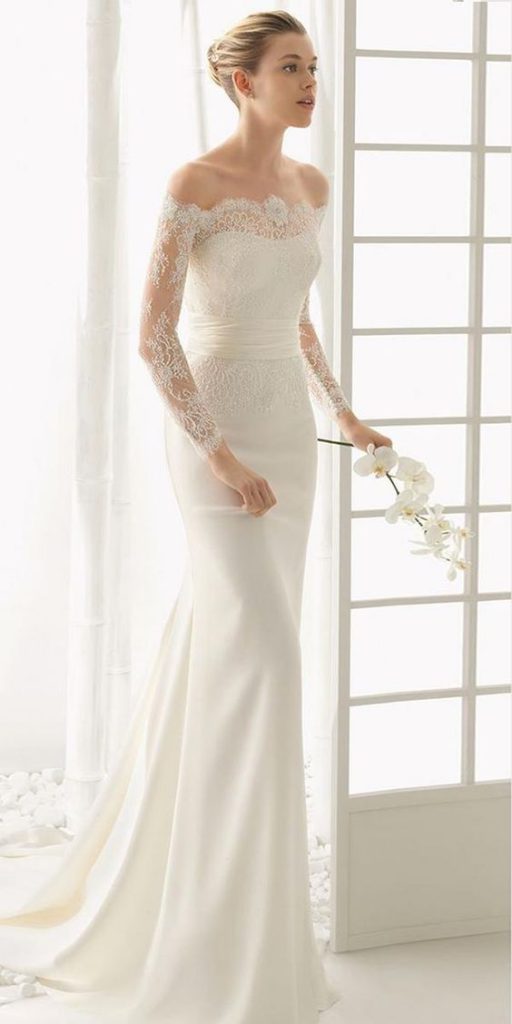 This white wedding dress appears in the simple decoration but extremely looking so elegant! The sheath design simply makes your beautiful body shines. The off-shoulder style makes you effortlessly graceful, the belted design makes your hips look naturally beautiful and the plain mermaid skirt style makes your appearance more classy! The simple neutral color bridal dress will be perfect to wear in the garden wedding-themed decor. The subtle color tone and simple ornament successfully showcase the elegant bridal look!
Butterfly dress
With the essence of warm-weather essential, we love to spend our day outside. Park or garden to be a magical place that full of green lush scenery topped with floral ornaments alluring serious laidback style of life. This magical ambiance makes lots of couples hold their big day at this time. Ladies, we are pretty sure, you want to look special on your wedding day. There is something we have to prepare well, most of us have fitted our dress. So, if you are still a little bit confused about what to wear on that day. Here we give you a solution, the essence of blush pink color tone will give energy but create a subtle look. Which is so damn beautiful! The braided floral ornaments on the blush pink shade dress are so gorgeous. In addition, the butterfly sleeve makes it even more delicate!
Stunning embroidered dress for a garden wedding theme!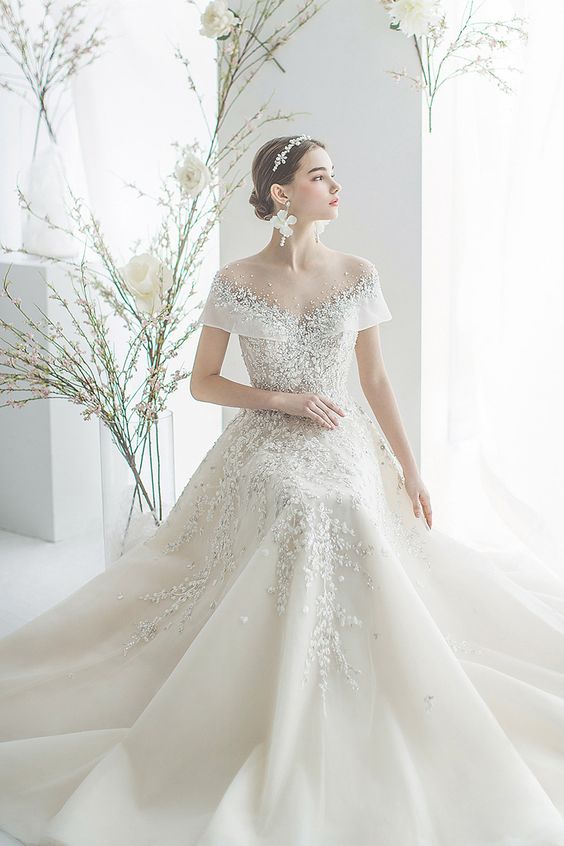 This one might be the best wedding dress that showcases the energy of summer nuptial events in an elegant way. How could any bridal deny this gorgeous gown! A super sleek and soft fabric for the gown makes you feel comfortable. Then well-design neckline gives your skin a glow. The beautiful floral and leaved embroidered pattern successfully crafted the simple white gown. The tinge embroidered floral ornaments give a whimsical and elegant garden-themed wedding dress! Styling your hair and simply decorate with soft floral accessories, that is an absolute perfection of a classy wedding garden style! Tell us do you fall in love with this gorgeous one?
Sweet-Heart neckline bridal dress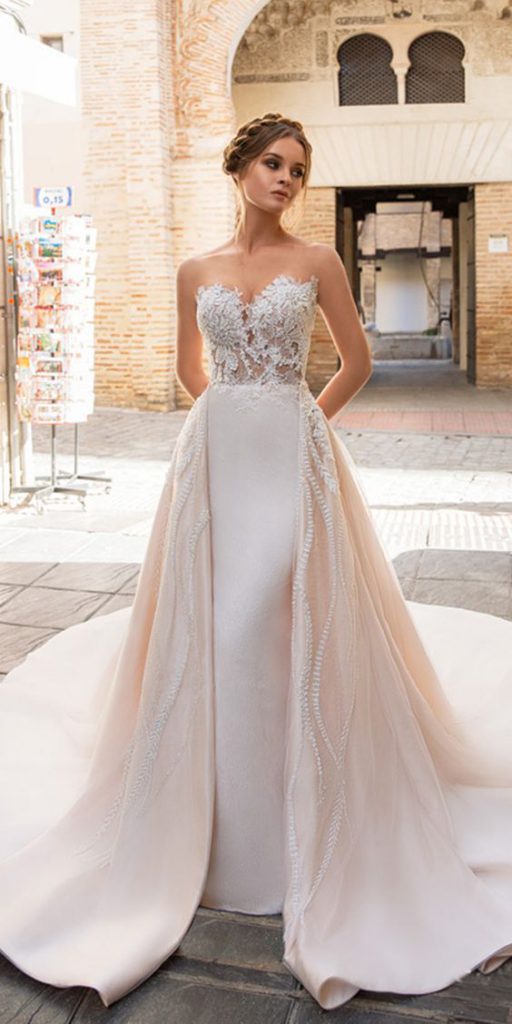 Another beautiful bridal dress we want to show you is a sweet-heart neckline design. Topped with embroidered floral accents that combine with soft blush pink long gown give you a princess impression look! The lace design on the upper side makes you feel comfortable on the arid day nuptial ceremony. On the lower side, the flowy gown will make your feet free to move and feel the fresh air of summertime right on your wedding day! White is a pure and elegant color tone that everyone loves to wear on their big day. Since then, this color essence to be a color palette for garden bridal dresses.
Inspire a whimsical garden wedding dress by adding a blush of soft pink palette. It successfully softens your look and less busy. Then braid your hair that will enhance the beauty of the bridal look! It looks simple with a soft palette and a less busy ornament makes it so elegant on showcasing garden wedding themed!
Super lightweight and breathable wedding dress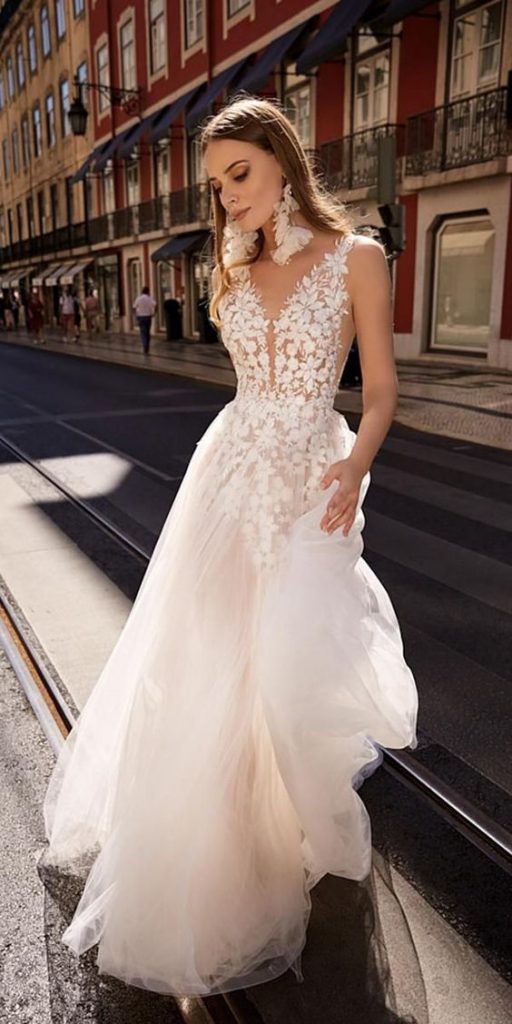 We are not finished yet showing you some whimsical and elegant garden wedding dresses! Here we have a super lightweight and breathable bridal dress that will fit any summer nuptial decoration. The flowy accent made from a sheer tulle skirt makes you free to move even at your wedding! The lace feature on the upper side is combined all together with the tulle skirt style, makes it even more breathable. So, we don't have to worry about the hot temperature on arid days. This super lightweight and breathable wedding gown are super cozy to wear!
A-line wedding dress with exclusive blue embroidered flowers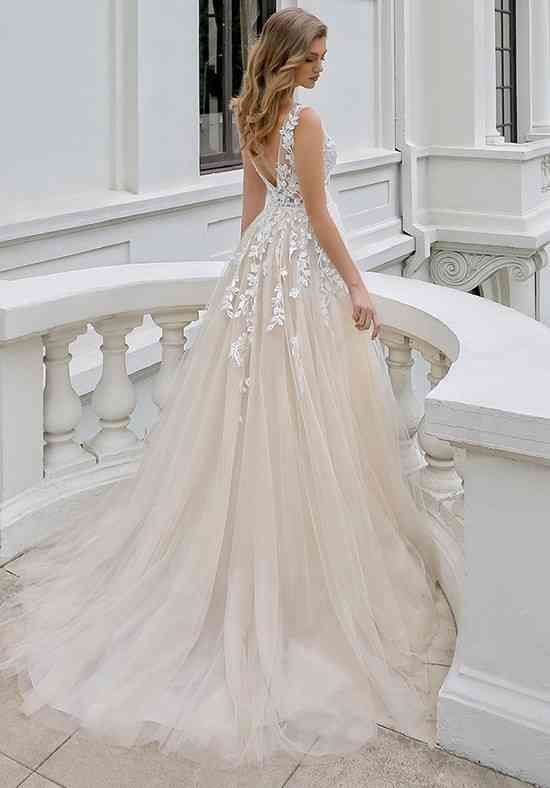 Summer is such a lovely season, the sun is shining, the beautiful clear sky and the blue ocean are ready to welcome beach vacation. The green and lush park or garden setting also includes creating a cheerful arid day ambiance! Having a wedding on a beautiful sunny day in the green and relaxing botanical garden is so precious! Make sure you dress well for your special day ever. Here we have the exclusive embroidered flowers that stick beautifully in an A-line dress. The soft color palette meets the exclusive blue floral ornaments gives the bride a look so down-to-earth. A soothing color tone is just gorgeous and elegant for a garden wedding theme!
Puffy sleeves garden wedding dress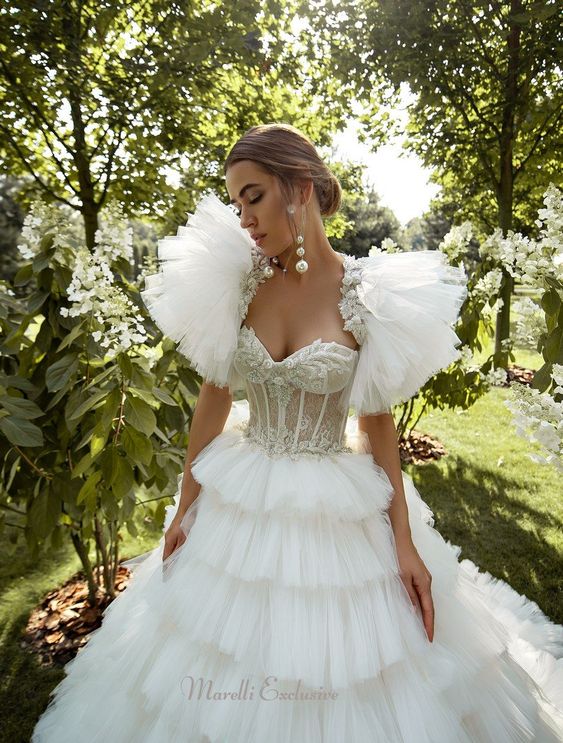 One last amazing garden wedding dress in this writing is a puffy sleeve and ruffle skirt design. The sweetheart neckline combined with two removable puffy sleeves looking so cute for a garden nuptial wedding theme. The corset design help to shape your beautiful body make it look more simple, especially when you wear a gown skirt dress, showcasing a beautiful natural waist is needed!
Conclusion
Alluring the laidback ambiance, the garden wedding theme is such big a dream to many girls. Celebrating your lovely day with a stunning look. Well, we are here to help you on choosing the best garden wedding dress you could possibly wear in the botanical, park, or backyard garden.
Based on what we've seen above, there is white color palette stands out the most to create a bridal wedding dress. White symbolizes a pure and elegant look, so it is just perfect for you. In addition, we can also use a soft color palette for such a blush of pink or blue. Make sure to choose a very light color shade to give a soothing bridal impression look. The second important element is adding the floral accent to your gown, we can choose lace or embroider, so the white gown will not look plain and unattractive. We hope you enjoy these dresses and hopefully, you get one that is your favorite!