Drufashion.com – Do you feel bored in styling street outfits every time you go? Well, that is the sign you have to dress up your look with something new. If you're confused about styling flat and so basic street look. Then, calm down, cause here we have some outstanding street-style outfits looks you can follow! In this writing, we will be sharing Gigi Hadid's street fashion styles. Yeah, we all know that she's one of the American supermodels.
Before we dig into Gigi Hadid's street fashion look. It's better to know about her a little bit. Alright, she has been working in modeling since she was a little kid. Exactly, when she was 2 years old, she worked with Paul Marciano and she's been in the Guess cover. In 2013, she begin her professional career as a model, her first walk in the New York Fashion Week. Her modeling career is gone through very well. Then, she makes sure her name set on the best 50 models around the world. Such a fantastic career!
Having a brilliant modeling career makes Gigi Hadid look amazing. Don't doubt her fashion styles, because she nailed every piece of outfit she wore! In this writing, we will be sharing with you 6 adorable looks of supermodel Gigi Hadid street styles. So, don't miss any of them!
Gigi Hadid street fashion look with an oversized hoodie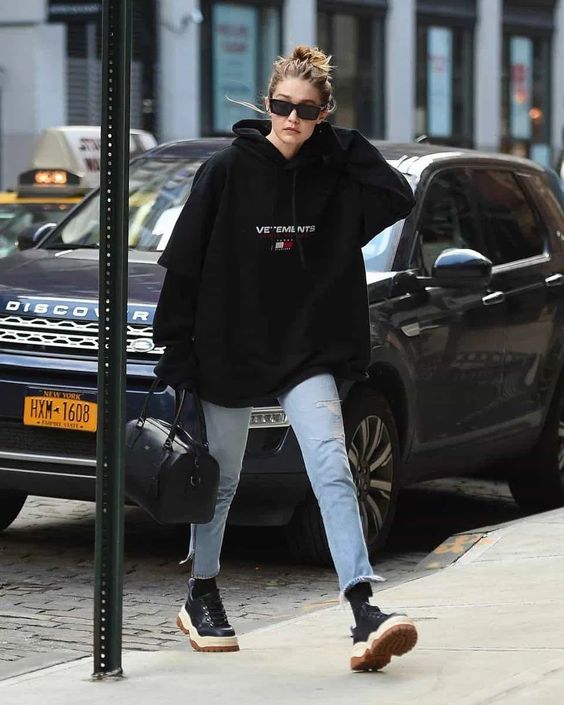 Don't ever get bored styling an oversized hoodie for your street style! Just like this supermodel prove the elegant street look by wearing an oversized hoodie! Styling this oversized hoodie with something that fit your body, our pick must come to the pencil denim jeans. The washed denim jeans' color tone contrast with a solid black outfit creates wonderful saturation. Complete your look with a pair of black leather sneakers. To give a statement to your casual street look, you can wear sunglasses and bring a black leather handbag. Are you ready to have this supermodel look?
Chic street summer outfit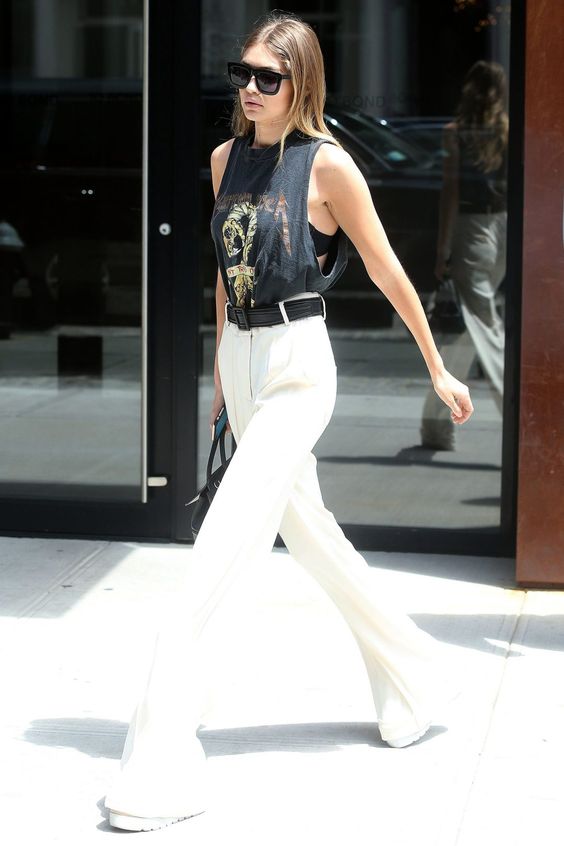 If you are getting bored of styling casual outfits for hanging out with friends. Then, this Gigi's look can be your inspiration! She's looking so damn gorgeous with a white wide-leg trouser, then she casually matching it with a sleeveless black tee on the top. She wears this on a summer day. As we can see that she combines the minimalist color tone outfit to makes us adore her look. The saturation color tone outfit made from matching up black and white is absolutely outstanding! In addition, she wears a belt to shape her beautiful waist. Would you love to try this Gigi's fashion look on the next summer? We guarantee that will be your casual cultural reset!
Going out with double denim!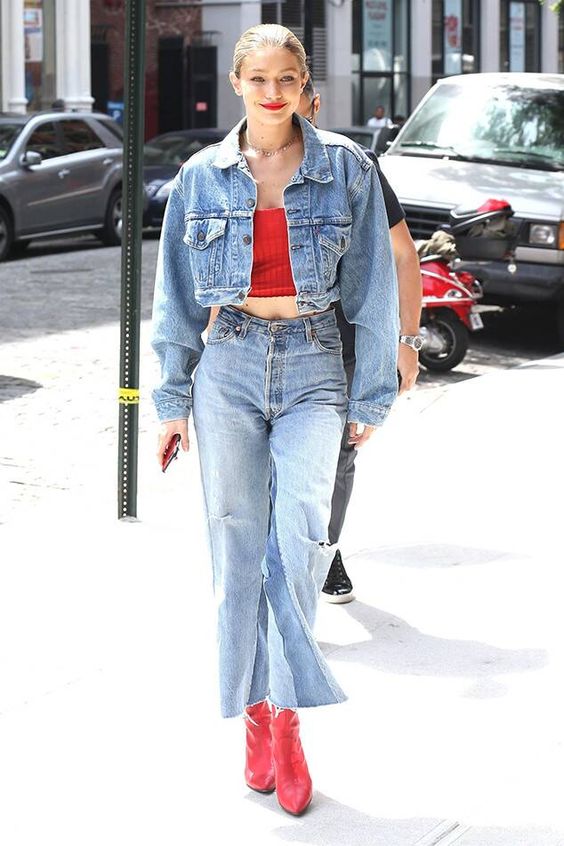 Gigi Hadid spotted walking on the street wearing double denim. So, why can't we do that? Even the supermodel did that. We are pretty sure you have denim jeans and a jacket in your wardrobe. Well, it's barely to deny this timeless outfit into our wardrobe essential! If you get one, don't wait for too long. Let's pair them as well!
Gigi Hadid wears the same color tone denim jeans in washed blue color shade. What makes her look so special in this picture? Well, we think you got the idea! She's using a statement color, red to stand out her look. We can learn from her style this one, she matches outfit that has absolute different color tone, red and washed denim. Her red tops and a pair of red-heeled shoes give a quirky accent to her look. So, girls, don't be afraid of mixing color and be confident about it!
Glow with a bath robe-inspired outfit!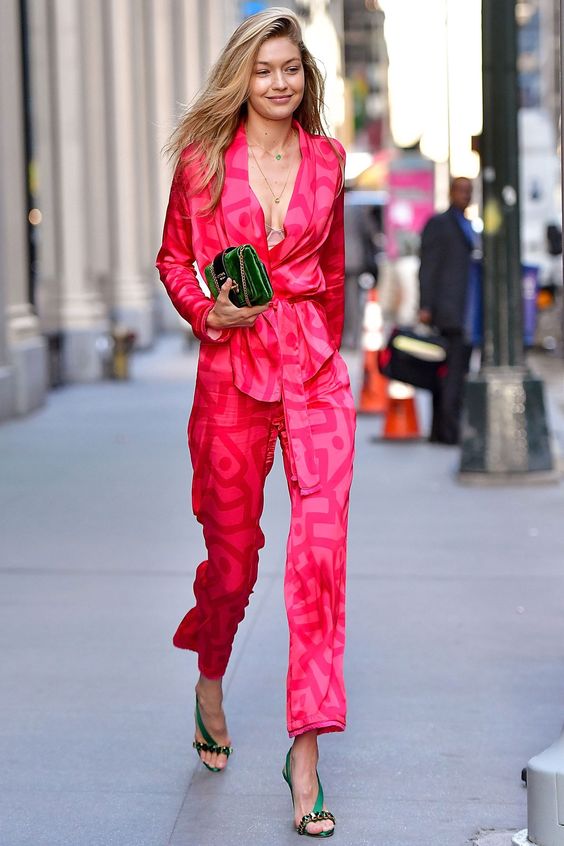 Moving on from a basic casual tee for styling a trendy street look! Here we caught Gigi wearing a bath robe-inspired outfit walking on the street! Well, she's nailed the street look! Being a supermodel makes her fashion outfit look far from boring. She always observes her style and yet be a fashion trendsetter for many people! Unusual clothing, a bathrobe can be worn for styling a street look! Well, she makes a cultural reset for the street look.
She's wearing a bath-robe inspired outfit walking on the street, and it seems of her off-duty busy work. She plays fun with her laidback outfit, and it looks great actually! To steal her look, you can choose a bathrobe-inspired outfit made from rayon or silk. These material are super soft, has cooling down, and lightweight feature, that just perfect to style on summer days! To elevate your casual look, you can wear a pair of heeled sandals!
Track pants and crew neck sweater!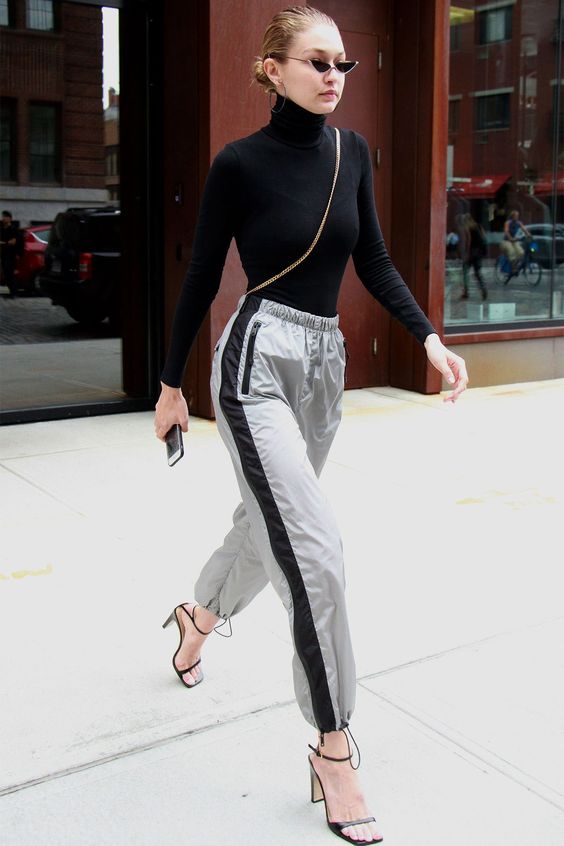 Creating a quirky street fashion look for Gigi Hadid might be an easy piece of cake! Well, actually it does for us! One thing about the fashion rule we have to know that is only freedom. There is no exact rule that could be your border to style your look on the street. It's all about confidence and loves the way you wear and that's it.
If you are still confused about how to style your street look. Here we show you how Gigi Hadid nailed it! She mixes and matches a black crew neck sweater with silver track pants. You might be thinking it's a rare pair. But, look at her, she did very well tho! Alright, then she wraps her look by wearing a pair of strap heeled sandals! Are you ready to wear some casual basic outfit to style like a supermodel?
Mix and match striped pants with a blacktop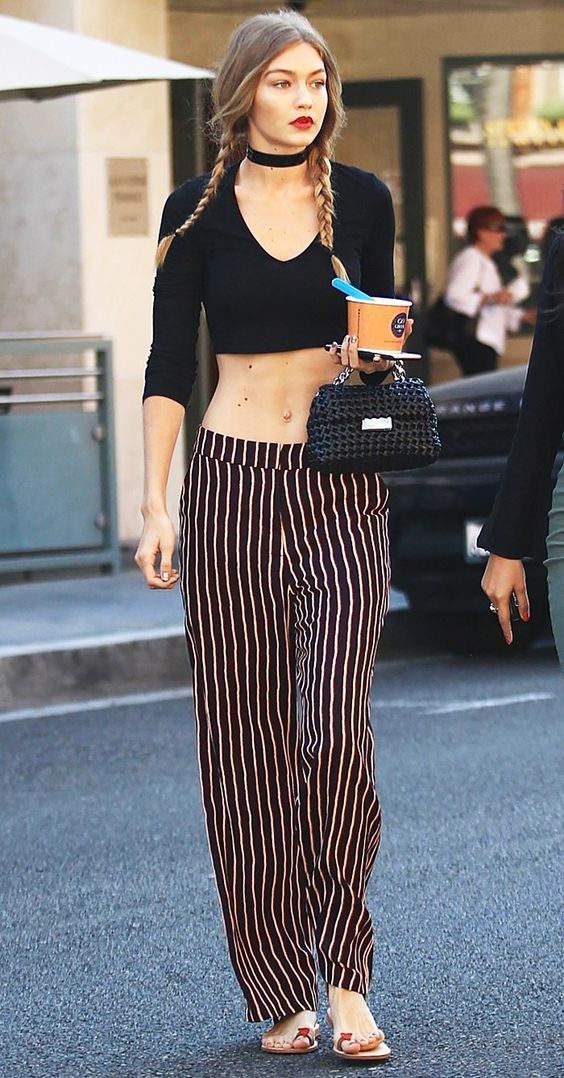 Another adorable Gigi Hadid looks we can follow is the way she mixes and matches striped pants and a blacktop. Then, she wears a simple black cocker around her neck. This look reminds us of the chic vintage fashion style. Finally, she wraps up her down-to-earth look with a pair of casual flat sandals. Then, you can wear a simple little bag to accompany your chic street style!
Conclusion
Those are the 6 adorable supermodel Gigi Hadid's street looks we already share with you. After we see her fashion essentials, there we can see the freedom in mic and match outfits. We highlight her outfit essentials in a mix of the different color saturation and that is a big punch of her look, of course in a good way! So, the key on mix and match quirky fashion look depends on your confidence. The way you feel confident about what you wear, there you look absolutely stand out on it. So, don't be afraid of observing your own style, and we hope this writing can improve your trendy look! Have a nice day everyone!