Drufashion.com – The holiday season may look a little bit different this year. With the covid-19 issues that make us in the stressful condition. But, it does not mean to immerse our desire to explore our fashion style. Providing casual outfits is on trend this year, it's packed with a unique mix and match outfits that will not make your holiday fashion style feel boring!
There are a few comfortable fashion item that looks cool to rock your holiday fashion style. For instance, wide-leg jeans feel so comfortable to wear and looking chic to style our casual holiday occasion. Then, the material selection also takes an important role in creating a casual holiday outfit. Materials such as cotton, nylon, linen are used to create a comfortable piece of the outfit. Without taking too much time, let's take a look at the mix and match outfit. Get ready to look chic with casual holiday outfit ideas for ladies down below!
Silk skirt and long sleeve shirt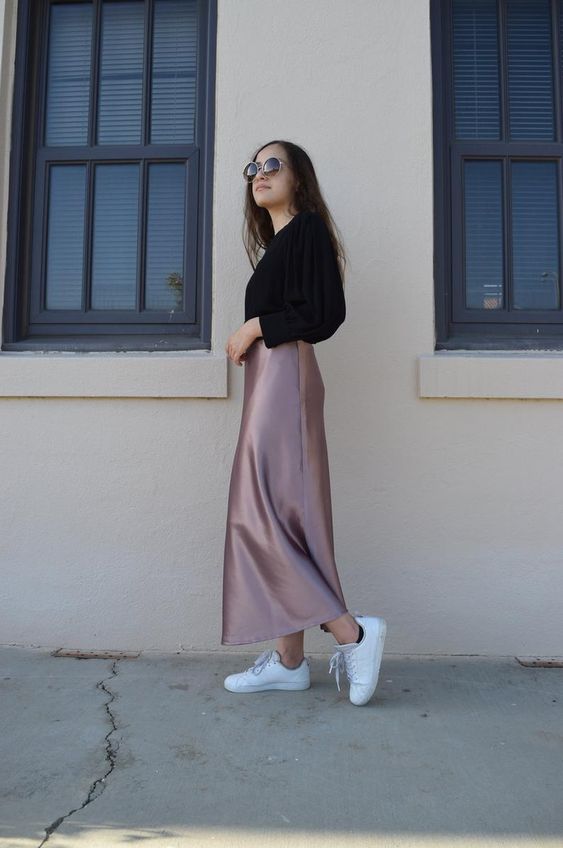 Giving your holiday outfit look fancy with a silk midi skirt. It can be paired with a comfortable black knitted sweater. Those two combinations feel so comfortable to wear. The glossy accent made from a silk midi skirt successfully makes your holiday look amazing! A pair of white sneakers can be worn to complete your laidback style! wearing simple accessories such as sunglasses to protect your eyes from UV rays. Plus, it will elevate our beach holiday look. Girls, you can wear this fashion style to go to dinner on the beach vacation. Get ready to look stunning with a comfortable outfit this year!
Chic casual holiday outfit idea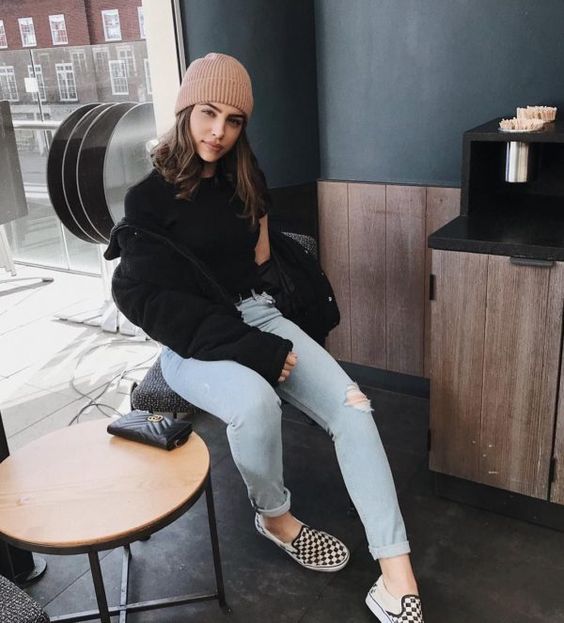 When the air outside is colder that does not mean to stop you to dress well and looking chic! Starting off to wear a short sleeve knit sweater and they layer it up with a black knit coat. And then combine it with washed ripped denim jeans. To make your style look even chicer, a retro belt can be worn. A pair of plaid canvas sneakers strengthen your casual look. In addition, a beige knit winter hat can be worn to give more a stylish look! Completing your casual look by carrying a black leather clutch. Now, you are ready to kill a street style with this casual look!
Casual summer holiday outfit idea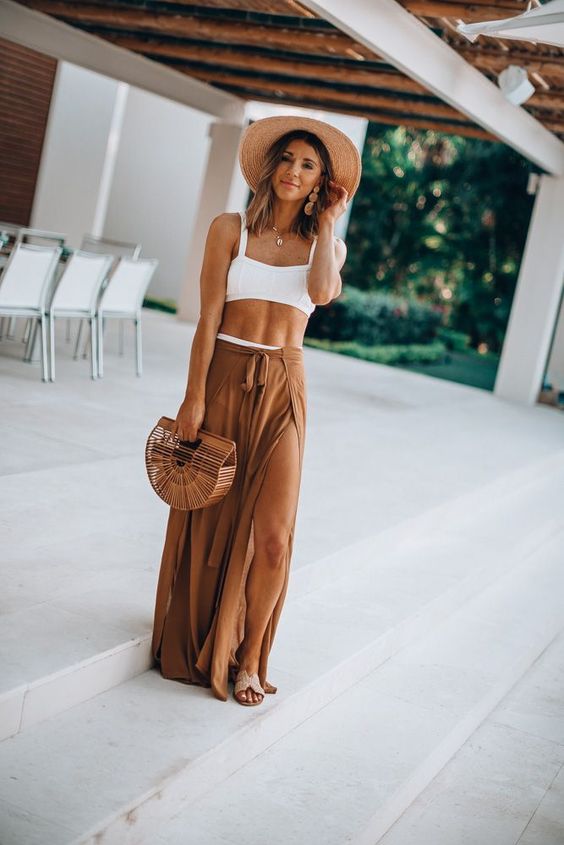 With the sun upon us in summer, we need to wear something light, breathable, and comfortable for sure! Ladies, you can wear a white swimsuit when you go on the beach vacation. The neutral swimsuit will perfect to combine with another piece of the outfit.
An earthy color maxi skirt made from a line can elevate your look. Wrap the linen skirt to your waist that makes you look so down to earth! The swimsuit on the top will keep your skin breathe well on hot summer days. To give extra beach vacation outfit essentials, you can wear a beach hat, bring a rattan bag, and complete with a casual summer sandal. All of those outfits will give you comfort to the next level!
Thanksgiving outfit ideas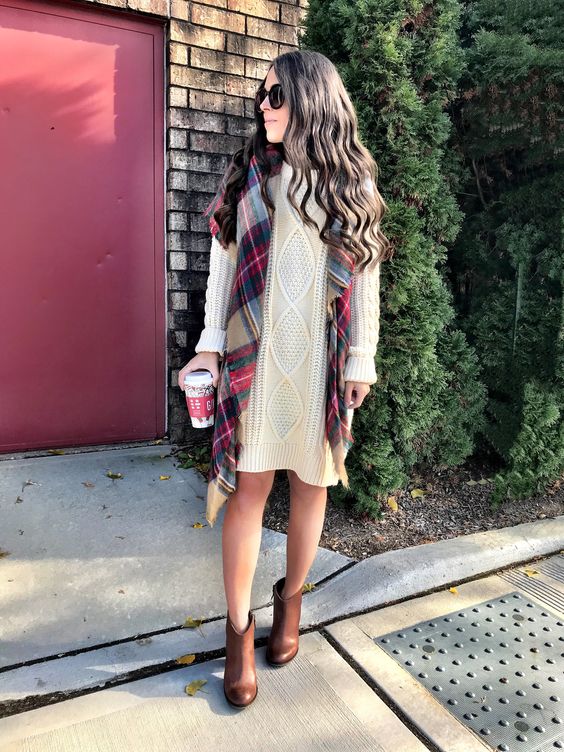 There is nothing better than gathering with all of our family in a lovely home! having a big feast that celebrates with our family such as thanksgiving occasion is something priceless moment! As we know this is a family occasion, there is one rule to style this holiday outfit that is comfortable! Ladies, you can wear a knit dress sweater and then mix it up with a plaid scarf kimono. To elevate your style, you can wear a pair of leather shoes. These outfit styles are super comfortable and looking chic at the same time. So, don't hesitate to copy this style to celebrate thanksgiving day with your beloved family or friends!
New year casual holiday outfit style!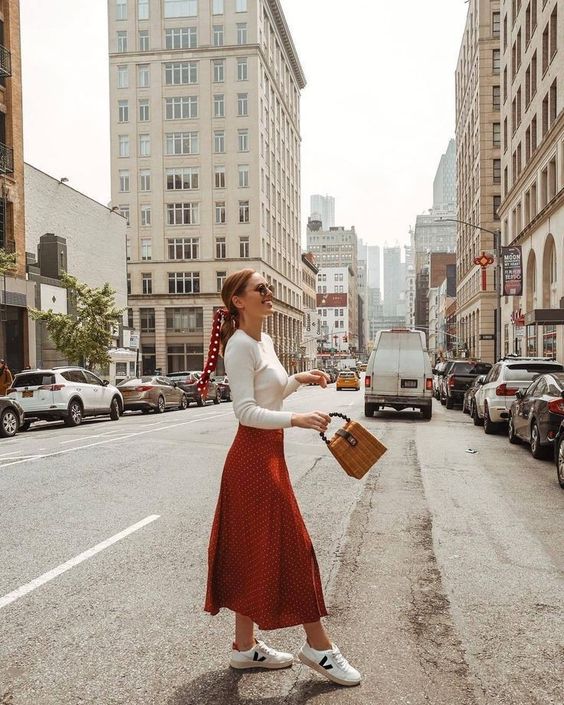 When it comes to the end of the year, you girls are busy finding the Christmas outfit of the day. But have you ever think to mix and matching affordable outfits in your wardrobe? There is nothing wrong to grab some casual outfits to be comfortable and chic holiday outfits. Alright, for a Christmas holiday, you can try to find the red undertone outfit. As we can see in the picture above, she wears a red polka maxi skirt and then simply matching it up with a white knit sweatshirt as the top.
To upgrade your casual holiday look, you can tie a polka satin scarf bandana to your ponytail. Completing your simple look by wearing white sneakers, round sunglasses, and a small rattan bag. Now you are ready to have some fun holiday outside of the door with these down-to-earth outfit styles!
Spring holiday outfit idea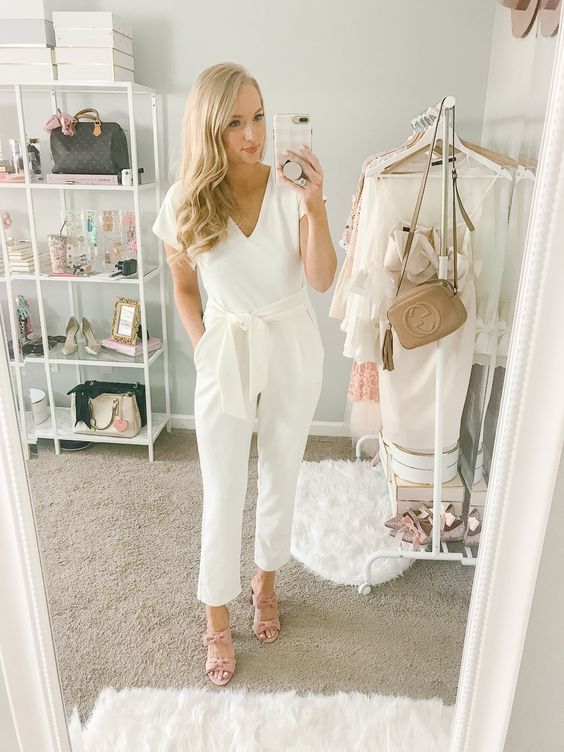 Love is in the air! Let's cheer cherry blossom season with an affordable and cute holiday outfit style! Spring is identical to a soft neutral palette outfit. It's because the neutral undertone outfit is looking good with the blooming season ambiance outside. Alright, we can style a white v neck shirt made from satin and white trouser. For the footwear, you can wear a pair of light pink heel sandals. It's quite simple spring holiday outfit idea! Wanna try it?
Casual outfit style for a fall occasion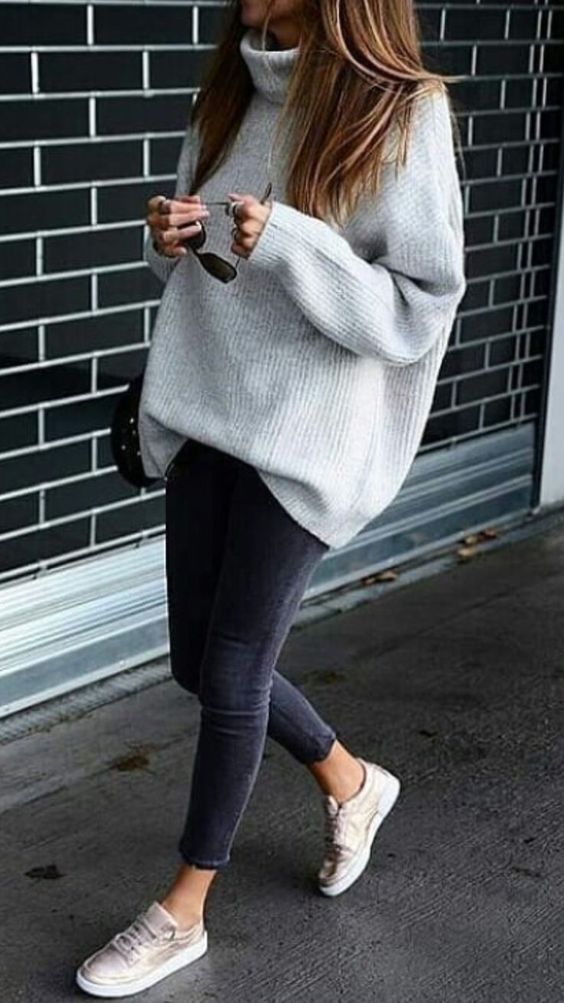 It is a perfect time to style a knit sweater for a colder season of the year. When it comes to the autumn holiday, we can style an earthy color knit sweater such as gray. For the lower outfit, we can the skinny jeans to give a simple look. Completing your casual laidback holiday style with a pair of sneakers! It's worth styling a sweater for a colder month!
Conclusion
The trend fashion holiday outfit in this year is based on comfortable outfits. No matter to style it at home or even going outside of the door. A comfortable outfit is still the highlight! We already provide some casual outfits that you can copy the style! Having Thanksgiving with family, Christmas celebration, or even going outside to cheer on cherry blossom season. We have packed complete casual items you can wear on any holiday occasion you have! We hope you enjoy our writing and do not hesitate to try these laidback outfits!