Drufashion.com – There is nothing better than to enjoy summertime on the beach! laying on the beach chair, and hiding under the palm trees while drinking coconut water is an absolute feel in paradise! To enjoy the beach time vacation, we have to consider wearing comfortable outfits and footwear during summer.
People love to welcome a couple of warm months of the year by spending the day outside of the door. Where being outside in summer can make us feel the warmth of the sun which is a great feeling after passing colder weather throughout the year!
What should we prepare to welcome summer? It definitely preparing summer outfits. We can fulfill our wardrobe with light and bright summer outfits and restore all the thick clothes down. Now, we also prepare for some perfect footwear for summer. Some of them should be lightweight, comfortable, and bright to cheer the warm summer days!
Ladies, here we have some casual summer footwear to liven up your fun sunny days, and we let you find affordable shoes and sandals for warm weather! They look so lovely to accompany your activity during summer days, so do not miss any of them!
Lovely Pineapple Flat Toe Slippers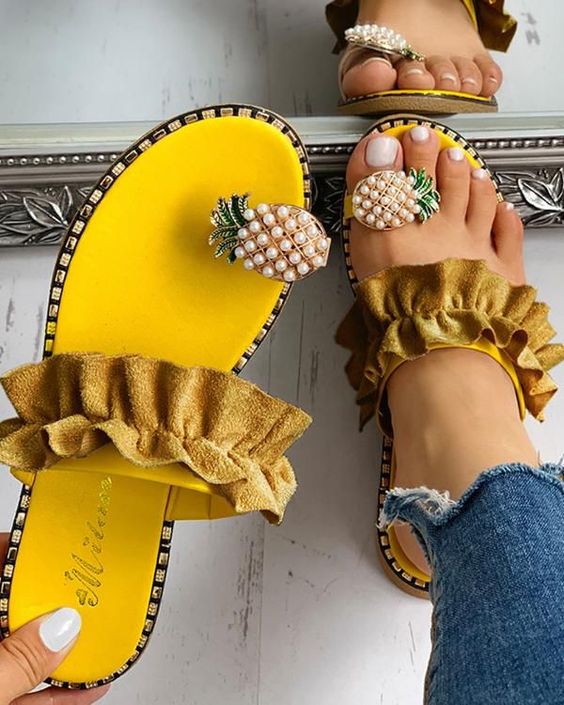 Our first offer about ladies' casual summer footwear comes to the slippers. They are simple and lightweight, that is why perfect to wear during summer. There are available slippers in many styles, one of them is a pineapple slippers design. The slippers allow the air to touch our feet' skin, so they breathe well during the humid weather. They look so pretty and shining in yellow, that is affordable sandals you can wear to cheer summer days outside! Do you love these pair of pineapple slippers that matched your summer outfit?
Comfy Sole Sandals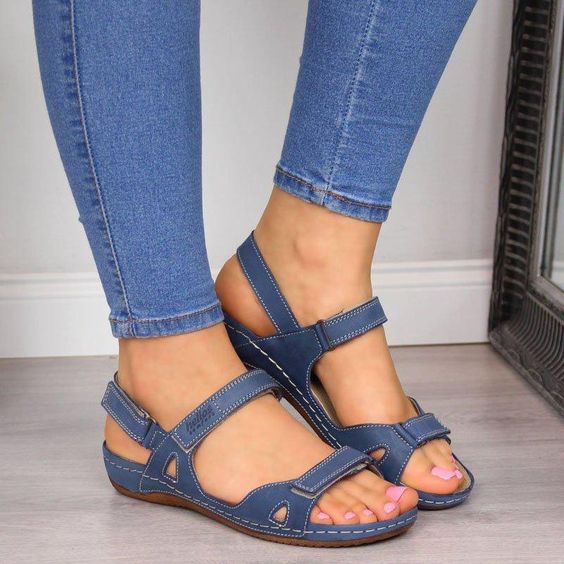 There is nothing better than to wear comfortable footwear for the summer season. This pair of blue sole sandals could be your preference in choosing summer footwear. They have a breathable design, which shows open toes and ankles. Do not worry about having wet feet when you wear shoes nor sore feet while walking on the hot summer days outside. These sole sandals will match your casual styles!
Denim Knotted Sandals For Your Summer Casual Style!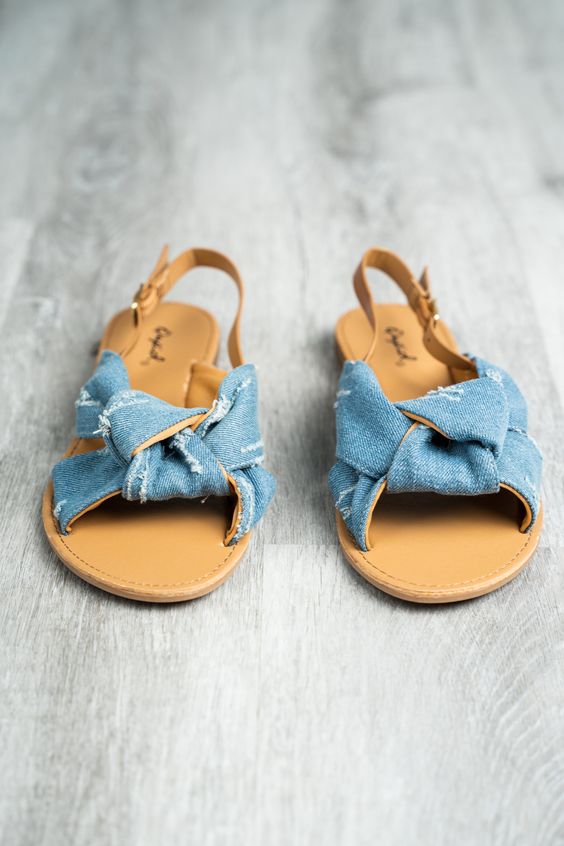 Giving a denim touch to knotted sandals will bring a good casual taste. We all know that styling denim for casual style is timeless. Matching up our casual style with these knotted denim sandals. These sandals have a flat base which is comfortable to wear in many hours outside.
Footbed Sandals With Pink Bow Accent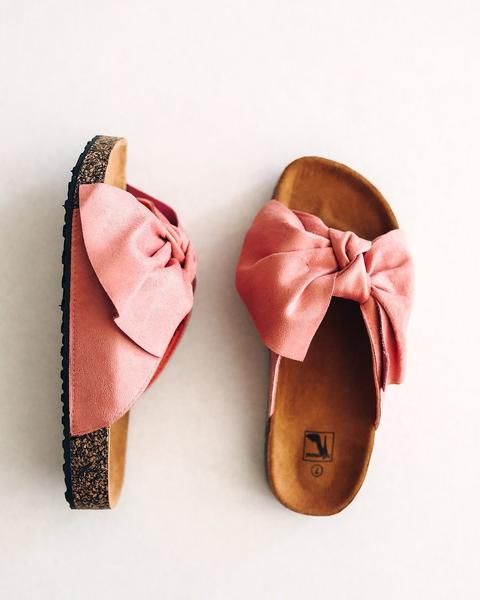 Our next casual summer footwear goes along with footbed sandals. These are padded sandals that are super comfortable to wear on summer days, these sandals designed to look cute with a bow pink accent. Get a cute look and comfortable footwear with these footbed sandals, do you love to have a casual summer style with a cute and girly look? Well, you can wear these pink bow footbed sandals for this summer!
Shoe Sandal Tessel Leather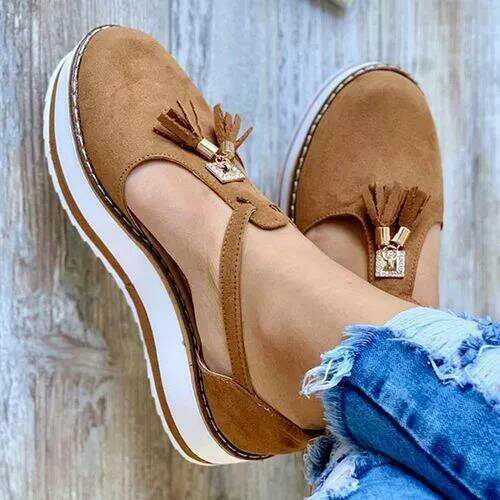 When the warm weather comes but you still in love wearing shoes, we can trick the way by wearing a pair of shoe sandals! The combination of shoes and sandals makes this footwear so affordable to wear during summer. It has the shape of shoes but it also has the hollow as we can find in sandals, there a half-open space shoe design that makes our feet skin breathe well during the humid days of summer.
Now, we guide you to choose a casual summer shoe sandal! Ladies, you can choose the shoe sandals made from leather. As you can see in the picture above, these shoe sandals look so lovely to comfy your casual style in the warm weather!
Breathable Sneakers with Comfortable Elastic Band!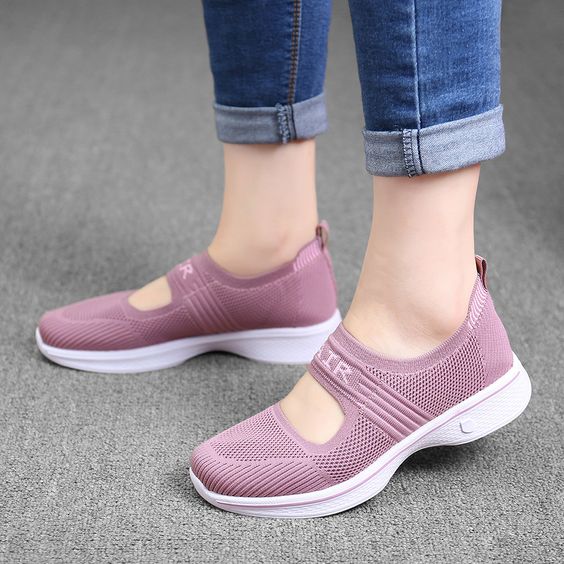 Are you the one who loves sneakers to fashion your street style? If so, you can't skip this item to rock the street style during summer!
What type of sneaker that suits you most during the hot summer days? Alright, ladies, we suggest you wear breathable sneakers and comfy with an elastic band that will make your feet comfortable walking on a hot day.
Pairing these sneakers with your casual street styles such as wearing jeans and a t-shirt. These sneakers also giving you a sporty look in your relaxed fashion style.
Blue High Heel Slipper Sandals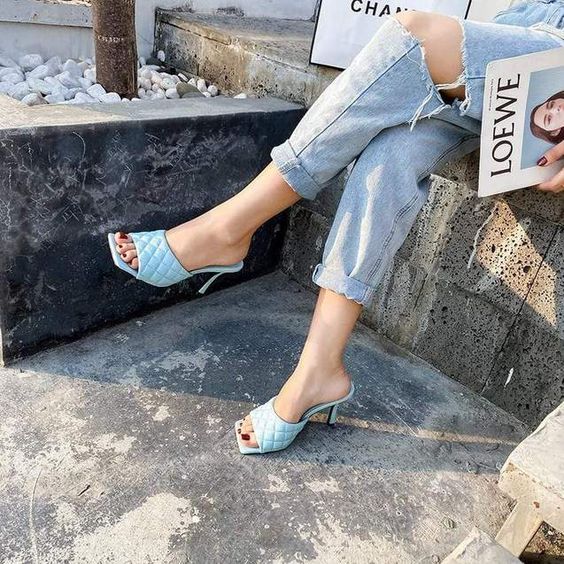 After talking about slippers, footbed sandals to sneakers, now let's give a chance to the potential high heel slipper sandals to rock summer casual style!
If you are a high-heel lover, then you should try these gorgeous high heel slipper sandals to accompany you on the summer day. Matching this heeled sandal with ripped denim jeans will make you look stand out in casual summer style!
Ruffle Summer Slipper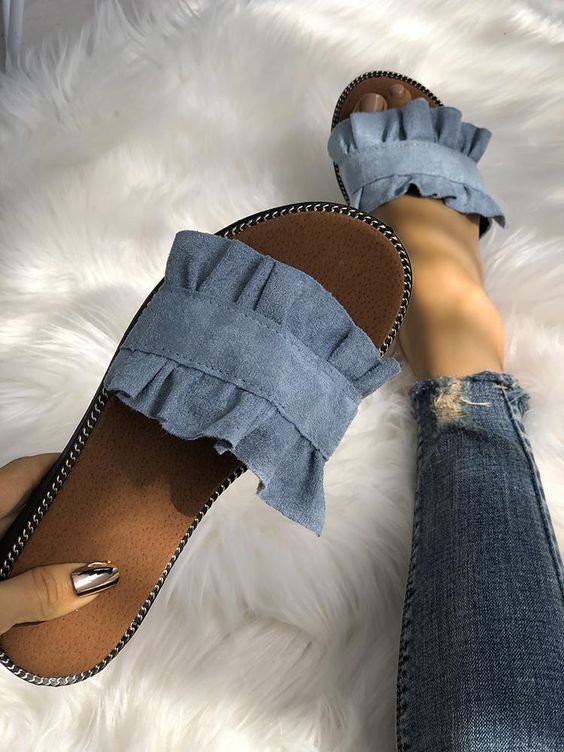 When the summer comes, it is the best time for us to wear slippers! Slipper is the most breathable footwear ever, that what makes slipper is one of the best women footwear during summer. Girls, lately there are over hundreds of slipper styles available. So, you can choose any type of slippers that suit you the most. Ladies, we have to offer you a lovely pair of ruffle slippers, it is beautiful in blue! This slipper will look good to accompany your street style or even having a beach vacation, let's try this on!
Beautiful Heel Wedges Sandals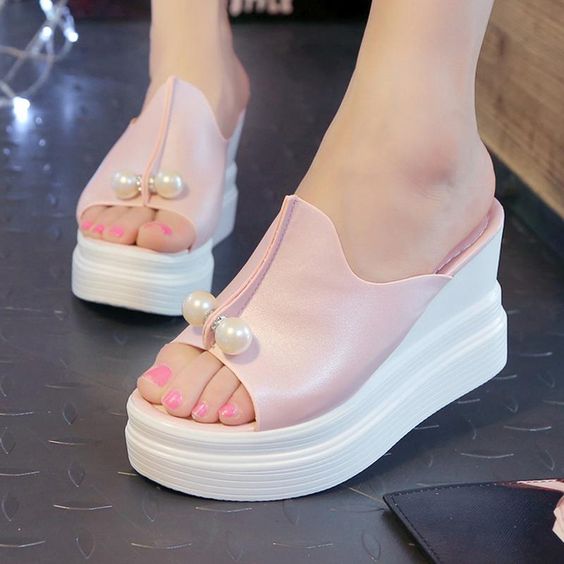 After displaying various summer footwear above, we are not yet talking about wedges. Right at this time, we feature wedges sandals! Do you want to have lovely wedges sandals like in the picture above? Well, you can shop it on the net, there where you can get these lovely wedge heel sandals. It has two pearls that tuck at the front and has a soft pink hue slipper, and then the heeled wedge in white. The neutral palette of these shoes combines well together with two pearls at the front, what lovely and sparkling these wedges are!
Flat Woven Women Slippers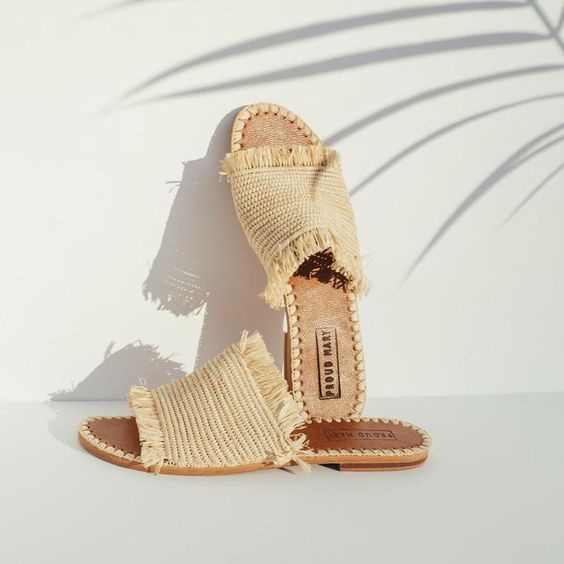 Do you have a plan to on the beach vacation this summer? If so, we offer you to bring footwear that bold in natural material, so you will look more natural blend with the beach vibe! Let us take this pair of flat woven slippers. These sleepers show natural textures such as seagrass for the slop and then playing more textures by adding a tassel pattern at the front and back of the slop. These woven slops combine together with the leather base that creates a balanced natural look. So, ladies do not wait any longer to have this woven slipper to welcome the summer holiday on the beach!
Boho Flat Slippers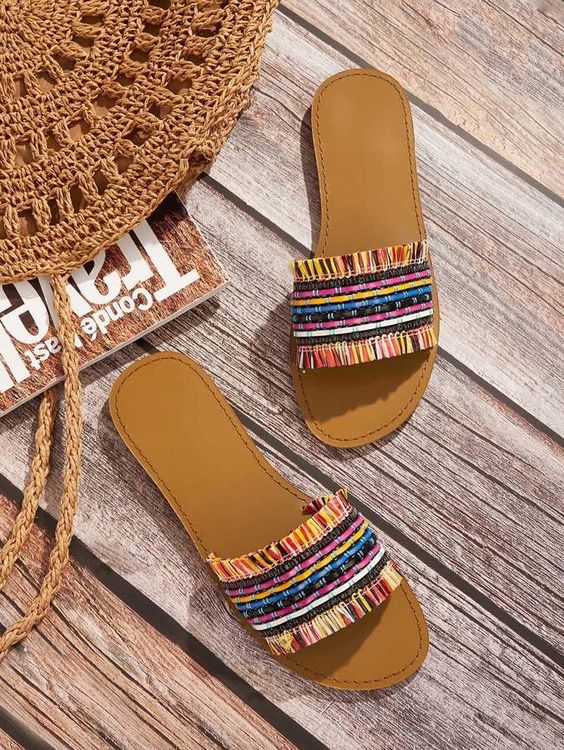 Getting close to nature with matched outfits and footwear, we can wear boho flat slippers where we go to the beach. These base slippers made from leather and then it has a unique appearance with a boho slipper-style on top. The textural and colorful boho style makes this slipper look stand out. So, without a doubt, grab these boho flat slippers into your summer footwear list this year! You will look so natural and blend well together with nature!
Casual Summer Flat Shoes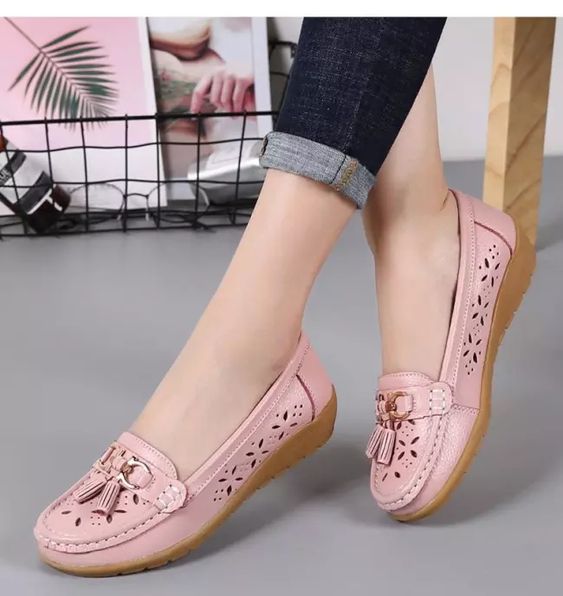 There are other comfortable shoes for all of you ladies! Yeah, you got what we mean, they must be flat shoes! This is a must-have women's footwear, many of you have these shoes on your shoe rack, isn't it?
These leather flat shoes will suit your summer casual look, it has a simple design by appearing floral hollow on its surface which make this shoes so breathable. Besides the breathable design, these flat shoes also made from leather which has a flexible texture. That all-essential feature on that sleeper will make us feel comfortable walking on the summer day outside!
Leather Suede Slide Sandals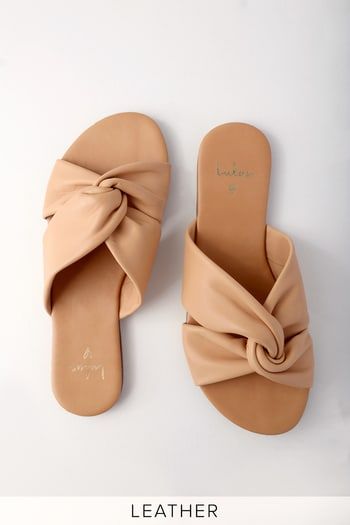 Our last casual summer footwear for ladies comes to the leather suede slide sandals. It has soft textures and an open-toe design which makes our feet feel comfortable to walk on the sunny days of summer. It has a beige color that makes this neutral hue match your casual summer look. These leather sandals not only look beautiful but also have a lightweight feature that will comfy you even more while walking outside!
Those are 13 affordable shoes and sandals for warm weather we already collected for you! Girls, there are some tips before you go to buy new summer footwear, they should be feature essential summer footwear such as breathable, easy to slip on, and made from soft material, so it won't hurt your feet while wearing them for many hours during summer.
Styling casual summer outfits need casual footwear, there are many footwear options available if you want to achieve the casual look this summer. There are slippers, knotted sandals, wedges, sneakers, flat shoes to the high heels sandals. So, girls you have the honor to choose your own footwear style, it depends on what you love to wear, and make sure it can survive on the hot summer days.
The most important thing to choose footwear is something that makes you feel confident and just be who you are! We hope you enjoy our writing about ladies' casual summer footwear and you will find affordable shoes and sandals for warm weather!