Be ready for warmer weather after a bitingly cold winter! Look out through your window and see magical blooming scenery embellish around your house, every corner on the street, and you will say wow every step you walk on the park, what amazing cherry blossom are!
Girls, you can embrace the blooming season by showing your cutest girly look that will make everyone could not stop staring at you! We can cheer the sunny and blooming day with some fresh outfits look. There are some girly styles you can copy for your spring fashion outfits style. Starting by matching sets outfits, choosing pastel hues for spring, printed floral dress, floral printed tee to the famous mini and midi skirt. Let us have some experiments to matching up various outfits for this beautiful and rousing season!
Girls, here we have 20 girly outfits to embrace the spring! These are some cute styles recommendations that will make you beg to have a shopping spree!
Gorgeous and Cute in Pink Pastel!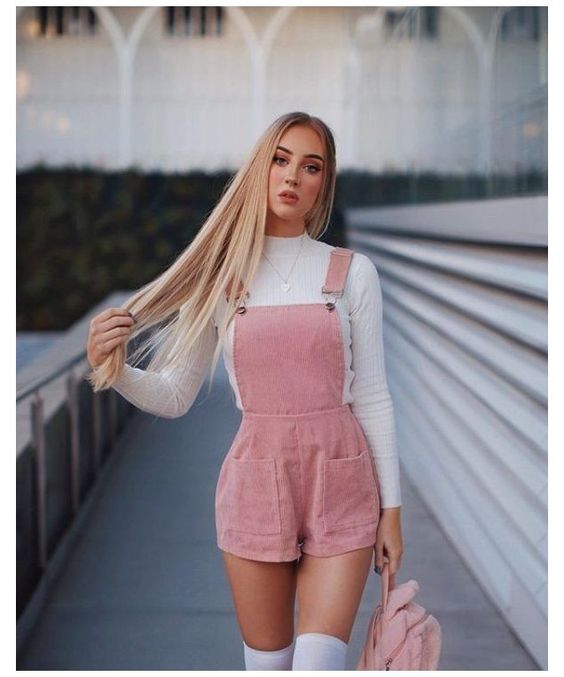 Looking so gorgeous and cute with pink pastel outfits! Matching up the white mock-neck crop jumper pullover with pink corduroy short overalls and two front pockets complementing your girly spring look. There is a cold wind biting your skin in early spring still, so if you cannot wait for wearing mini outfits we can trick it by combining sweater tops and short outfits for the lower side. Keeping your legs warm with long socks high thigh cotton. Now, you are ready to embrace spring with fashionable and girly outfits!
Looking Cute With Casual Spring Outfits!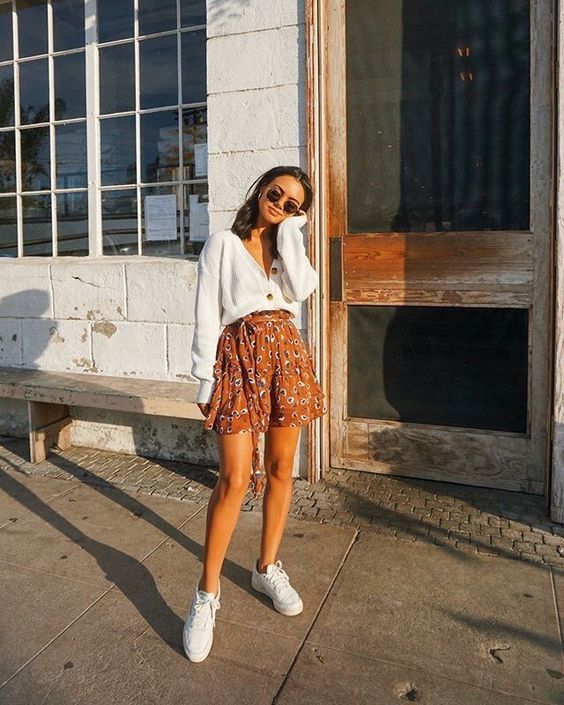 Showing your girly and cute look for the spring with casual wear is so simple and easy to do. Wearing open button long sleeves knitted crop tops with a brown and pattern mini skirt simply makes you look cute. Fasten one or two buttons of your crop tops then you are ready to receive the warmer weather. Combining your casual girly style with a pair of white sneakers. It does not require much effort to look cute in spring. This cute girly style is so much easy to apply on your cheerful day, with minimum effort styling but a maximum result you get. Simple, comfortable, you look awesome in your dress girl!
Look Cute and Cool For This Spring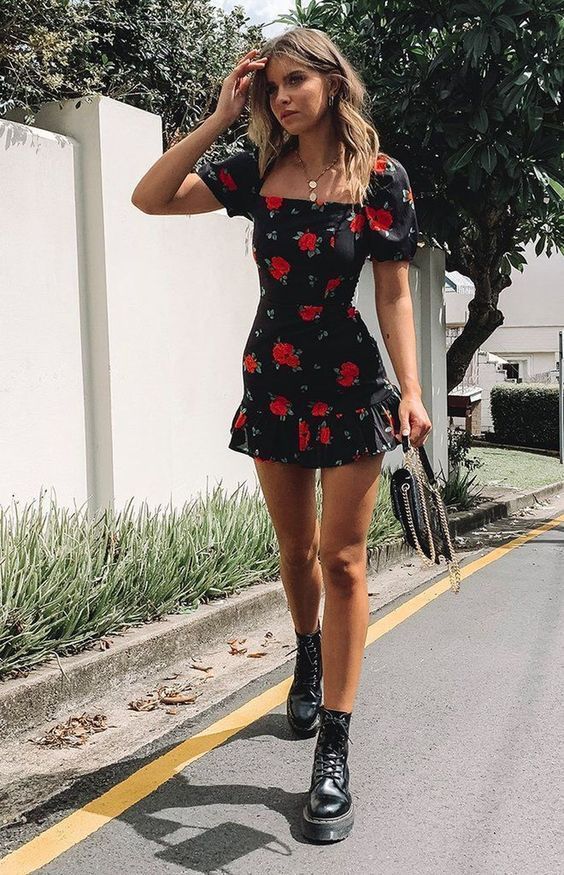 Do you want to create a double dimension of looking cute and the other side is looking cool? We can trick that style for this spring, girls! We can choose a mini square neckline black and red floral dress that look so cute, for the lower side, you can wear a pair of black combat boots to make you look cool besides your girly look. Complementing your gorgeous look with a mini bag. Now, you have a perfect transition from girly to the cool style, ready for rocking spring girls?
Check out our latest article: Selena Gomez sport outfit styles
Cute Girly Style With Mini Skirt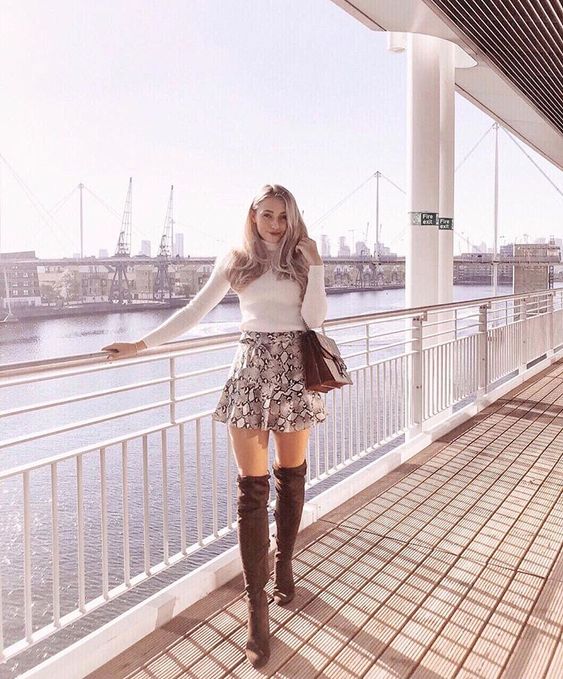 Defining your fashionable spring outfits with a strong girly look. Matching a skirt and tops is always the option to look girly. For fashionable girly spring outfits, we can blend a white cropped roll neck jumper with a gray block pattern mini skirt, to improve our fashionable girly style match with brown over thigh boots. This eye-catching girly style will impress lots of people, believe me, it works!
Totally Beautiful Girly Look In Floral Dress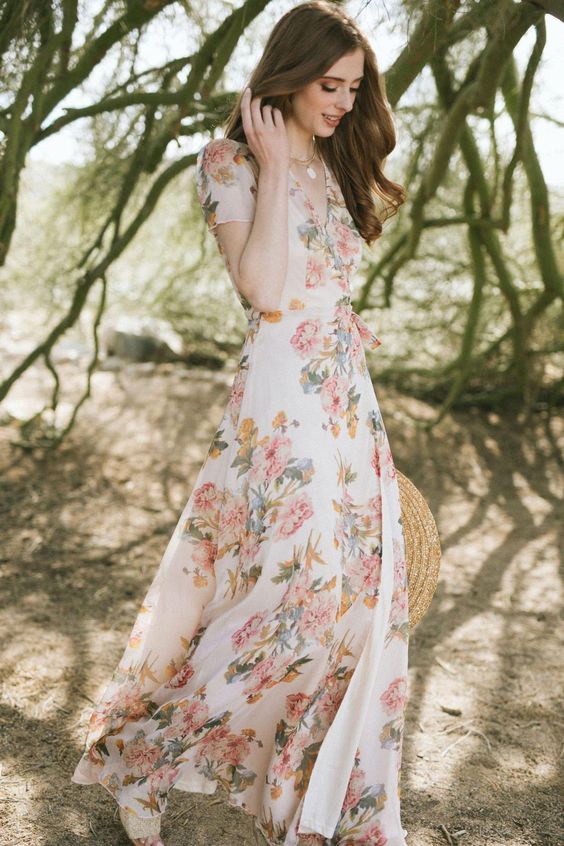 The goddess down to earth on spring! That is my way to reflect my feeling when seeing girls dress so well with their feminine looks. The floral dress is a must-have outfit during the cherry blossom season. It looks so beautiful and combines well together with nature. Girls, you have to try this beautiful piece outfit, a floral wrap maxi dress with such a lovely blush tone will cheer your look on spring!
Blush Pink Outfit To Rock Girly Spring look!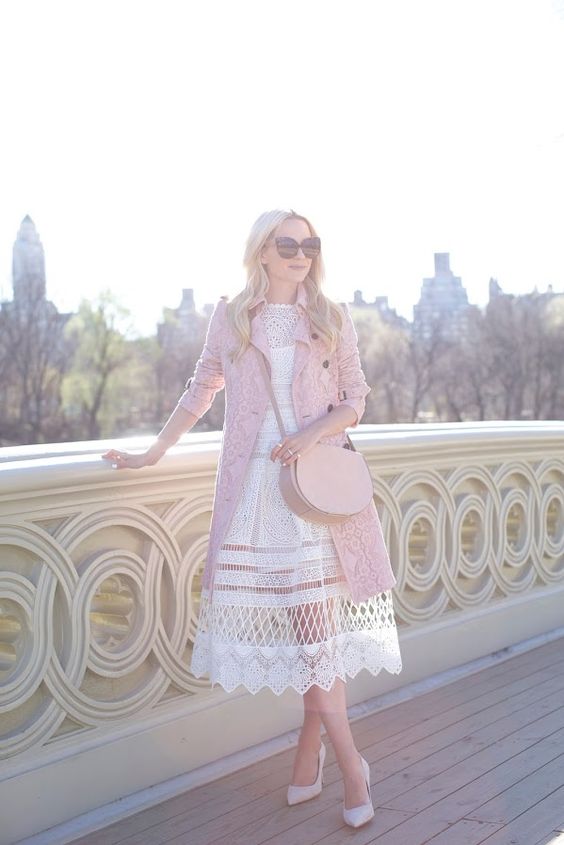 You will never go wrong by choosing pink blush outfits to extend your cute girly style during spring. As we already mentioned above, pastels' hues are so good for the spring. In the picture above, a really cute girly style presented perfectly in a white lace dress and cover up with a pink lace trench coat. Complimenting the absolute girly look with the same pink hues sling bag, and a pair of lovely light pink punch. Do you like pastel's hues girly outfits to embrace the spring?
Looking Cute With Chunky Knit Sweater and Hot Pants Jeans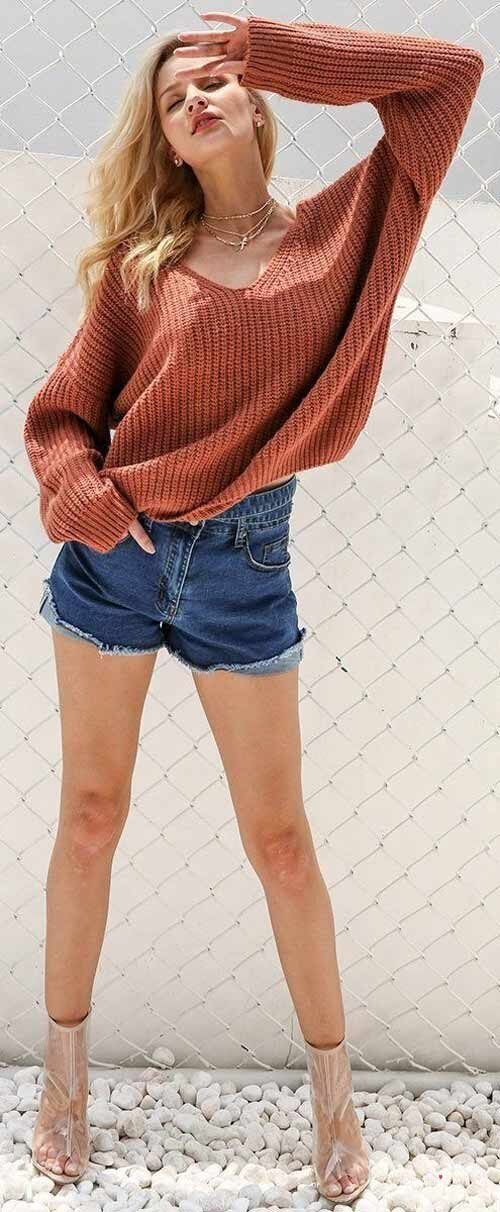 We talked a lot about girly outfits by pairing skirts and sweaters. Now, let us give a chance at jeans wear! Rocking spring girl's outfits with a chunky knit sweater and hot pants jeans. Both of them looks good together, you can pairing this look with shoe heels or sneaker. This looks cute and quite simple for spring, isn't it?
Floral Tee Inspire Spring Outfit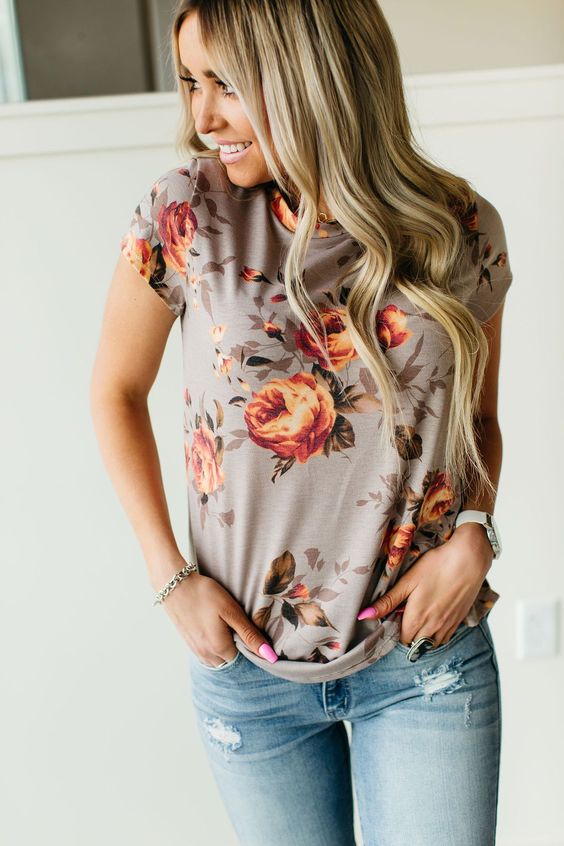 When the snow has disappeared and the stifling cold has gone, the warmer season comes with its beautiful phenomenon cherry blossom. It brings warmth and happiness to us. Let us embrace this warmth and cheerful weather for tea time oops "tee time" that's what I mean. Giving chance with your floral tee and your favorite jeans to glow up in cherry blossom season!
Looking Cute In Asymmetrical Skirt!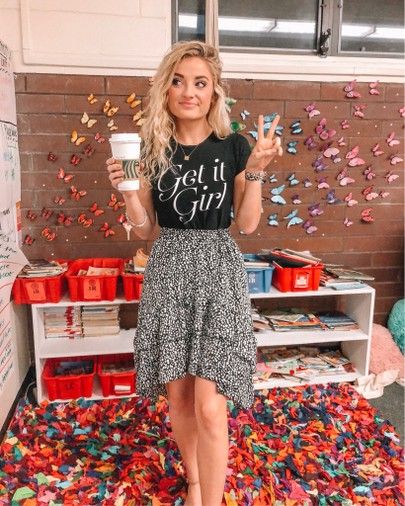 Girls, have you ever tried an asymmetrical skirt for a spring outfit? If not et, you should have to try this one, I guarantee it looks so lovely to define your girly look in spring.
Pairing your asymmetrical floral dress with a monochrome tee such as black. Why do we have to match the floral skirt with a monochrome and simple tee design? The answer is quite simple, we don't want our outfits to look in over-tone color. So, the black tee matched perfectly sweet with an asymmetrical flower skirt. So, girls do not take too much time to think, grab your floral skirt and t-shirt in your wardrobe and you are ready to welcome cherry blossom season!
Denim Jacket and Floral Dress, What a Combination Spring Outfits!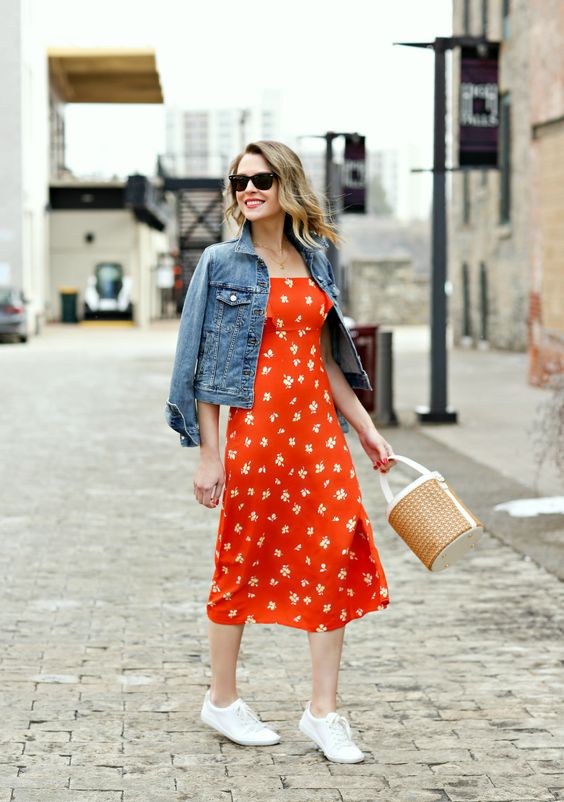 If you already matching up jeans with a floral tee, now let us give a chance with a timeless outfit Denim Jacket. We can match it with many outfits wear, including your lovely floral dress. Simple, matching your floral dress and a denim jacket as your outer. It creates a timeless spring street style, to make your cute look, even more, you can wear white sneakers. Now, you are ready to walk outside and hanging out with friends in the incredible cherry blossom season!
Check out our latest street style here: Selena Gomez Street style!
Luxurious Girly Style In Spring!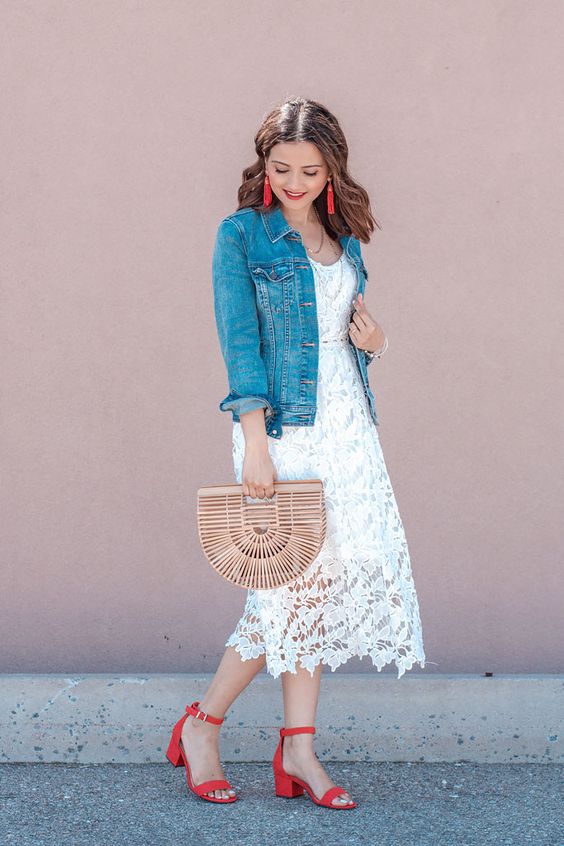 A luxurious white lace dress and a timeless denim jacket will make you rock the spring street style! Giving dramatic contrast with red heels sandals and a pair of beautiful red earrings that will catch every pair of eyes' attention to adore your girly style. So, girls, be confident of what you wear and rock the spring style in your own way!
Girly and Classy Spring Style, Try This Floral Kimono!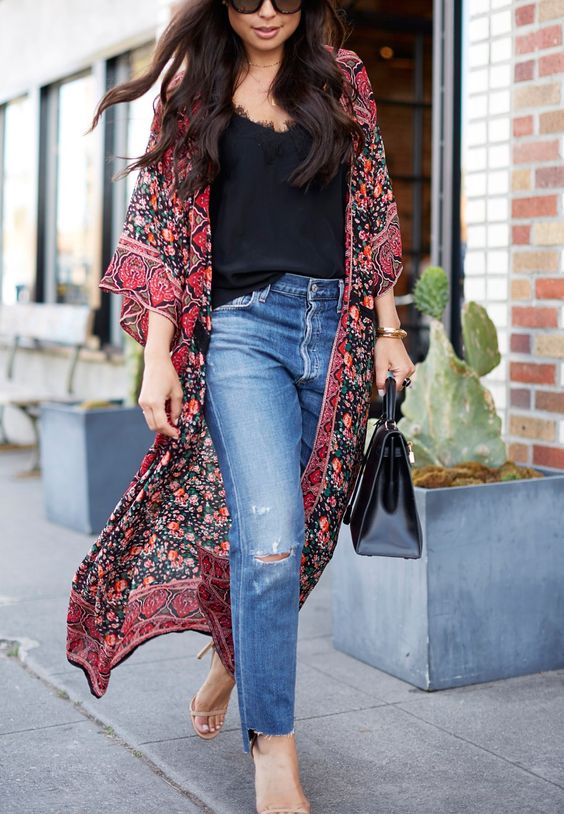 Another inspiring girly spring-outfit turn to floral kimono. Styling your cute spring style with a black cropped top, layering with red-black-orange floral kimono, high-waisted ripped jeans, and a pair of lovely cream heels sandals. To complement your spring style, add some accessories such as a black handbag and sunglasses. It is another tip if you not really into wear dresses, you can wear a floral Kimono as an alternative choice. We hope you like this and try it for your street style in spring!
Embrace the Spring With Bright Color Outfits!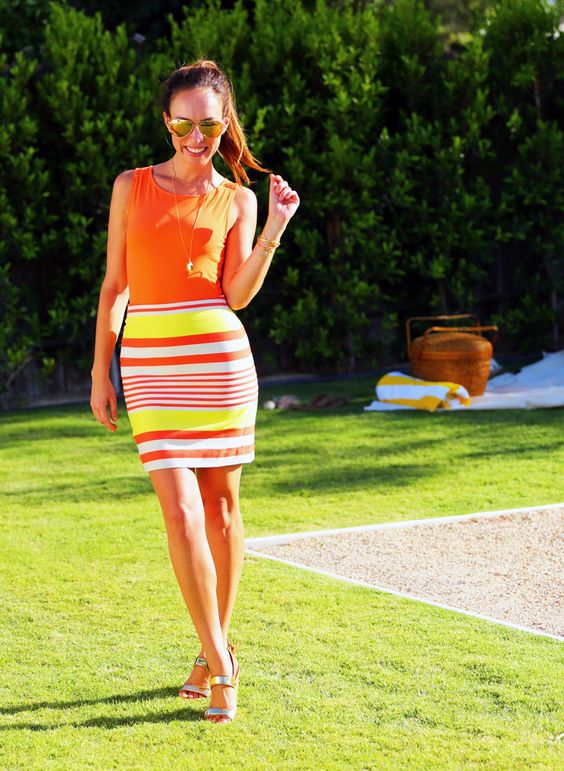 After all covered in white and colds weather in winter ends, the earth comes back alive appearing its beauty. Blooming colorful flowers all around that is so amazing to see the season transition from cold into cheerful and warm weather. Spring brings warmth and a cheerful feeling with its beauty.
What is the perfect outfit to accompany us during the spring? Is that something bright? Yeah, we got it, something bright! Blending our bright outfits with beautiful and bright scenery in the blooming season is a great idea. We can choose orange, yellow as the color of spring.
Wearing orange cropped tops and a stripped yellow-orange-white mini skirt. For the footwear, we can choose heels sandals to create a more girly look. Now, we are ready for cheering the spring with some bright outfits!
Looking So Girly and Beautiful in Ditsy Floral Dress!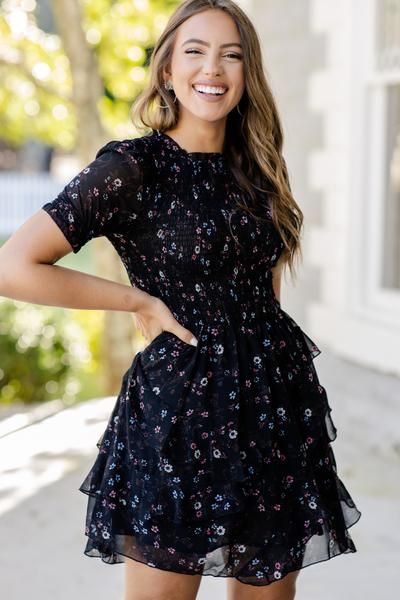 Spring is a season where the flowers bloom generously. The spring also inspired us to make a beautiful woman's outfit, for example, floral dresses. There are lots and lots of floral dresses in any style and pattern. Now what we discussed is a black ditsy floral dress!
This black ditsy floral dress has a smocked top with short puff sleeves, small printed little flowers for detailing, on the lower side it is a ruffled ditsy floral skirt. This dress is simple and also comfortable to wear. So, do you want to put a ditsy floral dress into your spring outfits collections?
Blazer and Skirt For Spring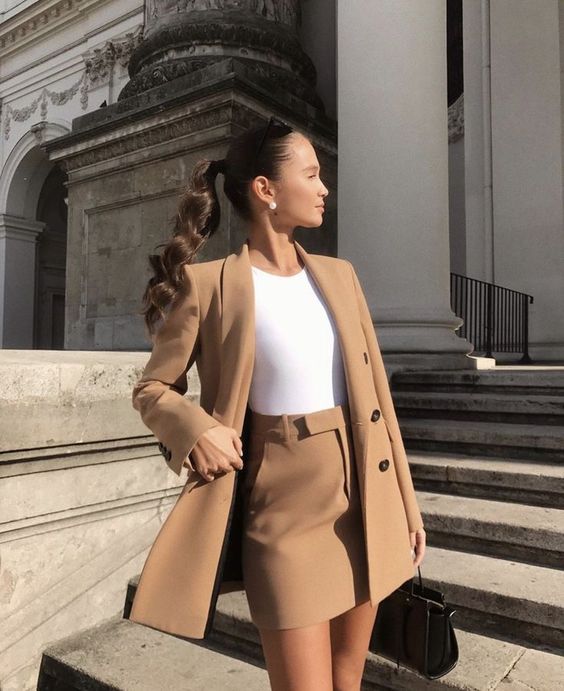 Pastel colors are so good to wear in spring. For a working woman who wants to embrace spring and wants to look stylish can choose pastel colors for the outfits. We can match up a luxurious camel blazer and the same hues mini skirt. Giving a sweet touch with white tank tops to create greater saturation. Complimenting your formal look with a black handbag and black pumps.
Floral Bomber Jacket For Spring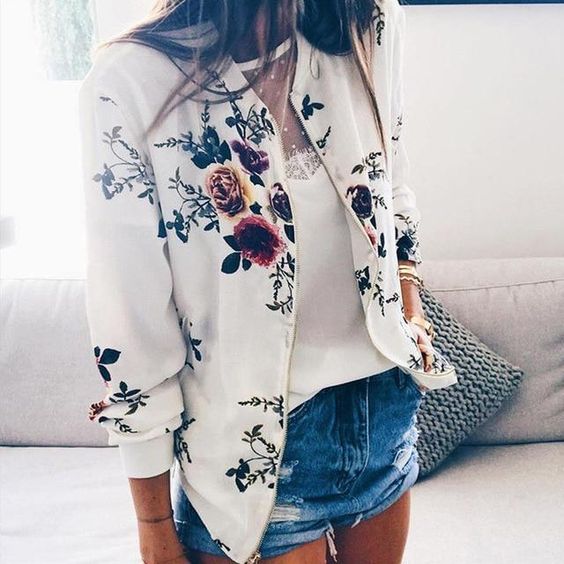 Are you a fan of the bomber jacket? If so, you can not miss this outfit item for the spring! You can wear a floral bomber jacket combining with a tee or tops before wearing a bomber jacket, for the lower side, you can match your hot pants jeans, and a pair of sneakers.
Cute and Comfortable Spring Outfits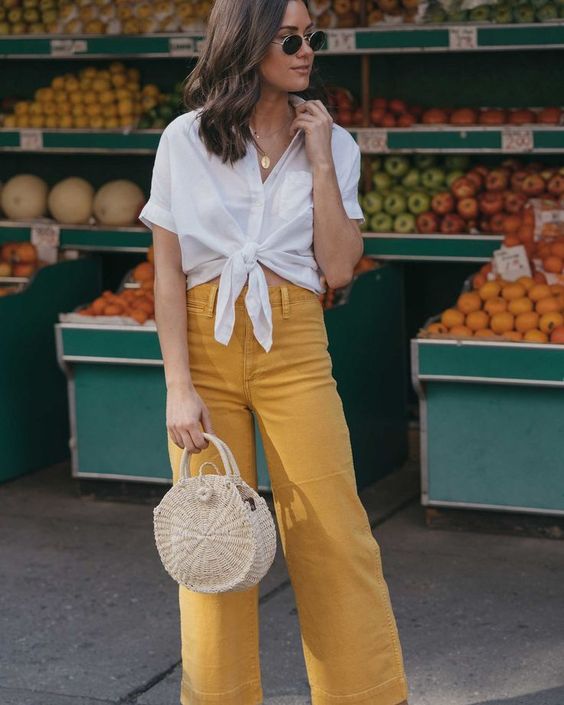 Are you looking for a cute and comfortable outfit for the spring? Well, it is not something difficult for it. We can choose yellow cropped pants with a white button-down shirt. Complimenting your simple and chic look, you can bring a cream knitting bag. You look simple but so lovely in your outfit selection. Cheering the spring with a comfy outfit is a must-have spending leisure time!
A Baby Doll Dress For A Cute Spring Look!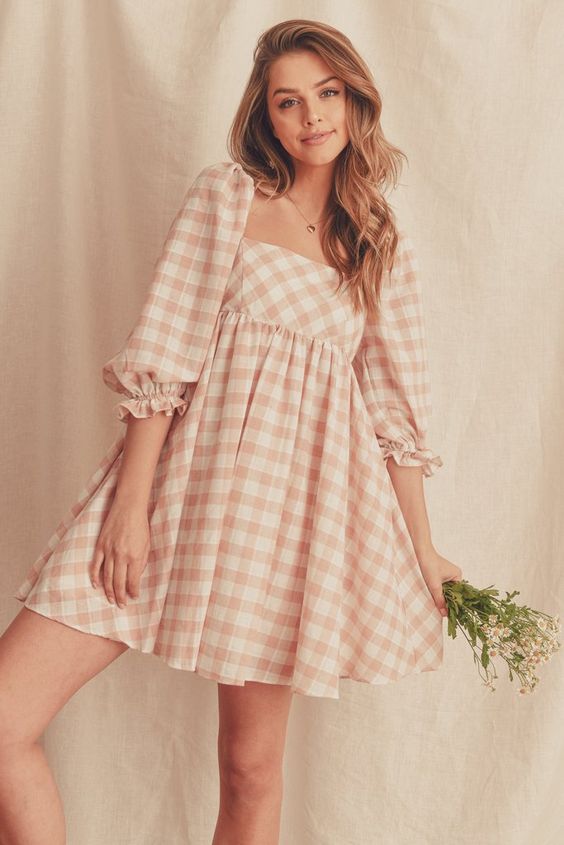 Another cute outfit for spring is a baby doll dress. This type of dress looking so good for young girls, teenage girls to show their lovely look during the spring. This dress has a soft color with a square neckline, elastic band features. Complimenting a youth breath style with flats, then you immediately turn to be the most natural look and blend well together in spring!
So Girly In Bow Pink Dress!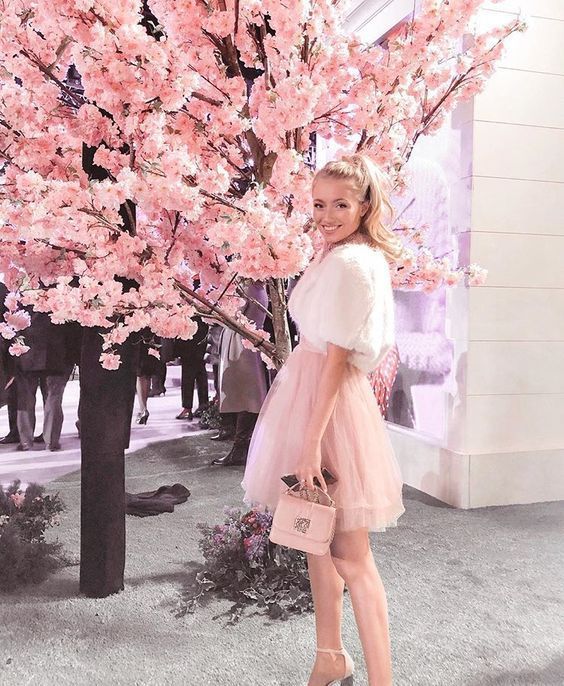 Matching up your girly look with the same hues of cherry blossom! This is looking so cute, combining white fluffy crop tops on the upper side and match it up with a bow pink dress. Complimenting your cute look with a micro handbag and pink heels. By dressing like this, you can feel the cherry blossom on your own, that is so cute!
Midi Skirt for Spring!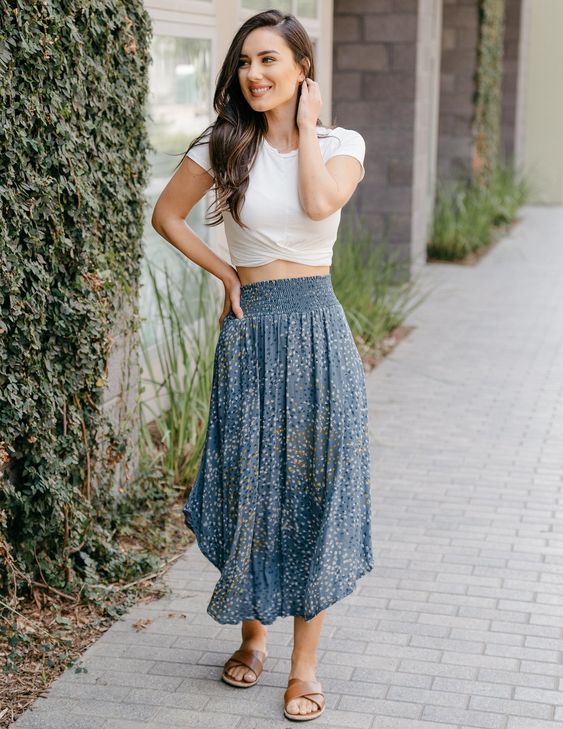 One last cute and girly style to embrace the spring comes to a midi skirt! A lovely and simple look to enjoy the spring season is a must-have outfit you should own! Pairing white short sleeves tops and a polka blue midi skirt make you look cute in a simple way. To comfy your spring outfit, you can wear sandals or flats to accompany you walking on cherry blossom season. So, girls do you love this simple and cute style for your spring outfits?
Every girl is unique, including the way how they style their outfits. In this article, we focused on cute and girly look ideas for spring or we called it cherry blossom season. As we all know spring is home to blooming flowers. It is so beautiful and fascinating to see the flowers bloom everywhere after a cold stifling winter season, do you agree with that?
The beautiful blooming flowers are the main idea to inspire cute and girly spring outfits. Appearing lots of floral dress, floral features on the tee, and some soft pastels hues outfits that look good for cheering cherry blossom season. So, those are 20 cute and girly styles outfits to embrace the spring! Did you capture each one of them to be your favorite girly look?