Drufashion.com – When we receive a wedding invitation, we often confuse about how to choose the fit and flare matching outfits for the wedding ceremony. Especially, if we feel in there is nothing to wear feeling, that's scary! To avoid those moments come back to our life, we have to prepare well. In this writing, we will guide you to have the basic stuff you can do in styling a casual wedding outfit. Thankfully to the summer season. Because the summer fashion essentials are all about being simple in a laidback style!
We will be sharing a few tips in the mix and match casual attire to nail summer male wedding guest outfits. And if you don't have one yet, make sure you grab one to keep in your wardrobe. So, you will not get dressed up in a hurry without knowing what to wear for the wedding party!
Mix and match white shirt and neutral trouser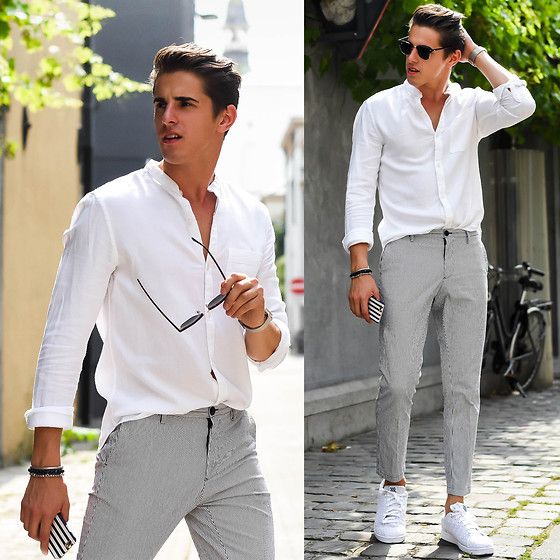 Men, we thought you already have the plain white shirt in your basic wardrobe. The neutral white shirt is so multifunction. It can be wear on formal and semi-formal occasions. Pairing up the white shirt with the gray trouser is enough to keep you in style going to a casual wedding party. Giving the laidback style, you can take a pair of white sneakers. These shoes are always good to style summer fashion look. In addition, you can wear simple accessories to complete your style. Sunglasses and a classy watch will improve your look. Now, you really know how to style a proper summer wedding guest attire!
Wear the bow-tie to attend a casual summer wedding look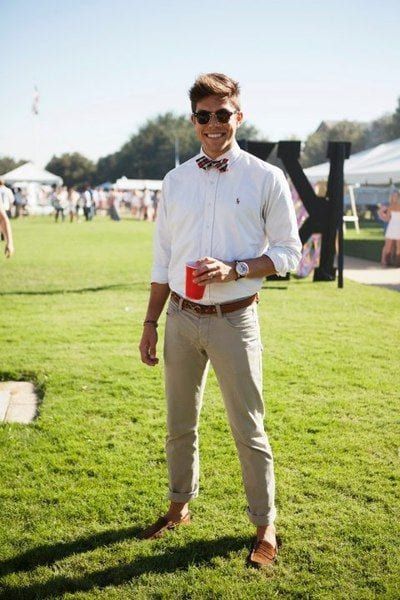 Men, you do not need to think too much to attend the casual wedding beach ceremony. We are still playing on the basic casual attire. Just grab the white shirt in your wardrobe and then matching it with a neutral trouser color tone. If the casual guest wedding looks above paired with white sneakers. Now, you can have another look by wearing a pair of leather shoes. Then wrap your look by wearing a statement accessory for such a bow tie.
Styling up your floral shirt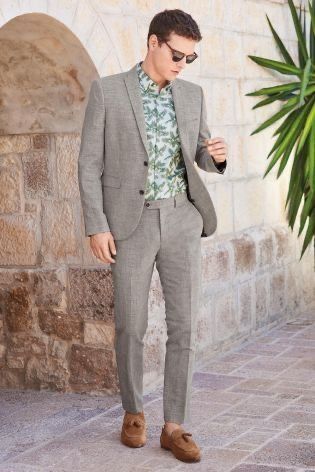 With the sense of cheerful summer day, we can also style the floral shirt to attend wedding events. The floral shirt is a great item to nail the summer wedding guest outfit look. This pattern and colorful floral shirt make you look trendy. So, guys, you can wear the tuck-in shirt and then wrap your casual floral shirt with a suit. A pair of leather shoes can join this casual summer essential.
Nail your summer wedding guest look with a floral tie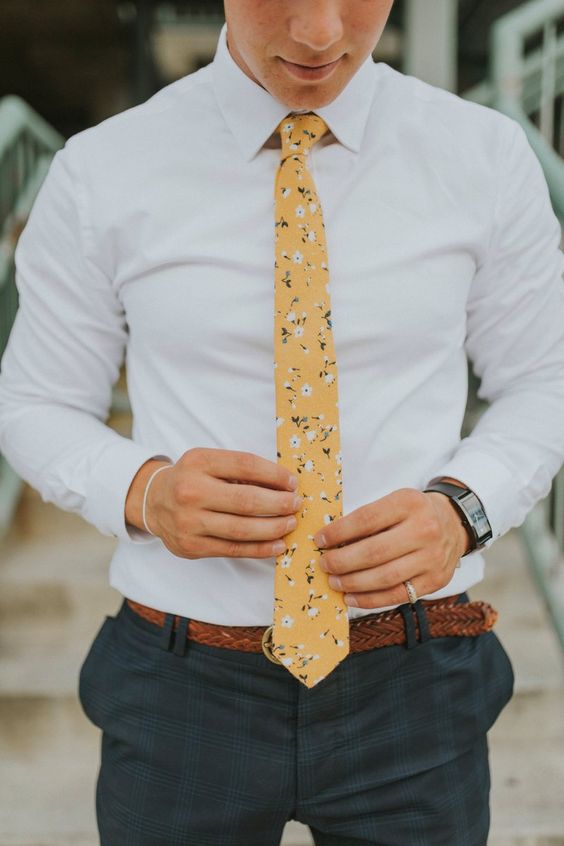 Another summer casual wedding attire for male guests is using a mix and match basic items. The plain white shirt combines with dark plaid trousers is the proper way to keep you relaxed. With the laidback warm-weather essential, we have a lot of freedom in styling the laidback comfortable feature. Just like in this casual guest look. The yellow floral bow color tone will make you glow up in the summertime.
Rustic country look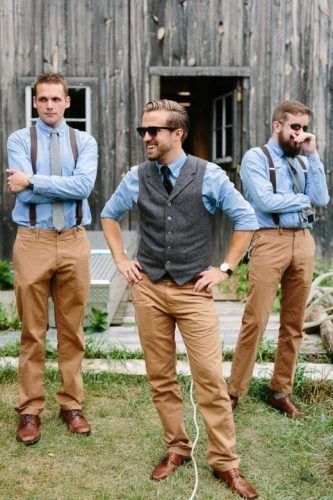 Another chic guest looks for men is wearing the rustic country look. The pair of Khaki pants and the long sleeve shirt are perfect. To give you a cowboy unique look, the leather vest or suspender can be worn to bold the country look. Then, the pair of leather shoes will make you look sleek. The combination of casual wear combines with unique accessories giving great desire and interest in our fashion look. So, do you have an idea to wear casual attire with distinctive accessories style?
Rocking vintage style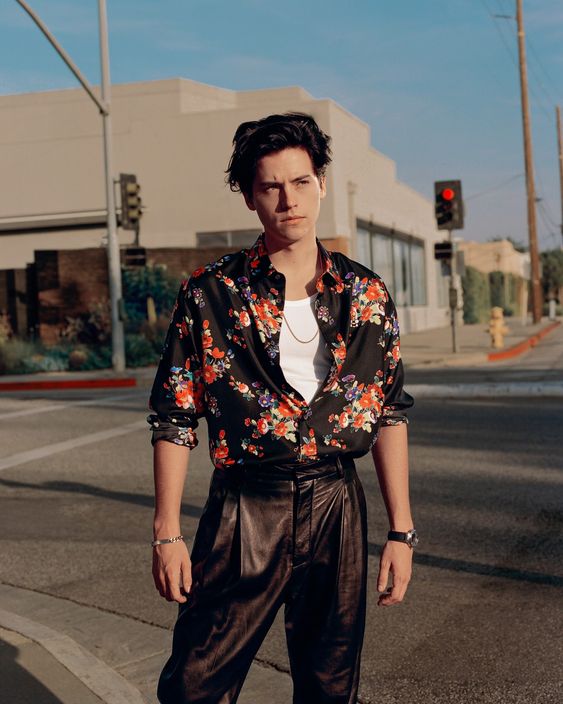 Are you going to the beach wedding party? Then you don't need to be worried about how to style your outfit. It's all about the laidback and aesthetic items. Now, we introduce you to the awesome piece of vintage items to keep you in style at a wedding party. Out of casual shirts, the vintage floral shirt is more attractive to the eye. Combine it with dark leather pants that will make you look in bold vintage style. Open-button down the shirt, and showing the attitude by wearing the white shirt inside. This matching item is polite enough to nail men's wedding guest outfits for summer. This look is quite comfortable and trendy enough to attend a beach wedding ceremony. Capturing this chic look when you attend the wedding party in the summertime will remind your great fashion taste. No problem to be the apple of the eye in the crowd. This lovely vintage fashion style deserves to cheer!
Suit combination to attend the summer wedding party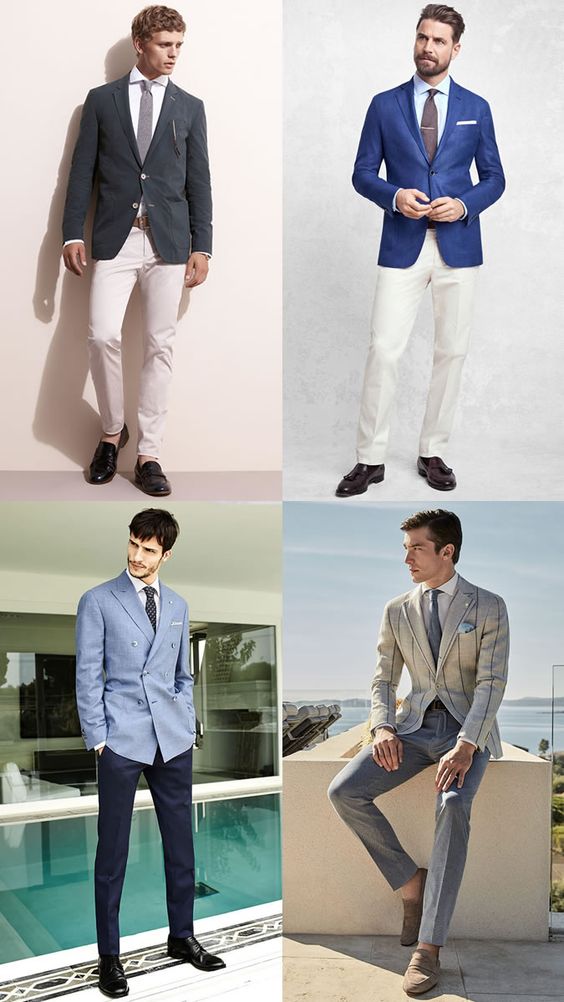 There is no doubt to go in matching suits to attend wedding occasion. Pairing the fit trouser but not too lose feature to give you good shape postures. Then, tuck in the shirt inside before you wrap it with a suit. You can wear any appropriate tie option that could transform the laidback summer ambiance.
Nail striped shirt for casual wedding guest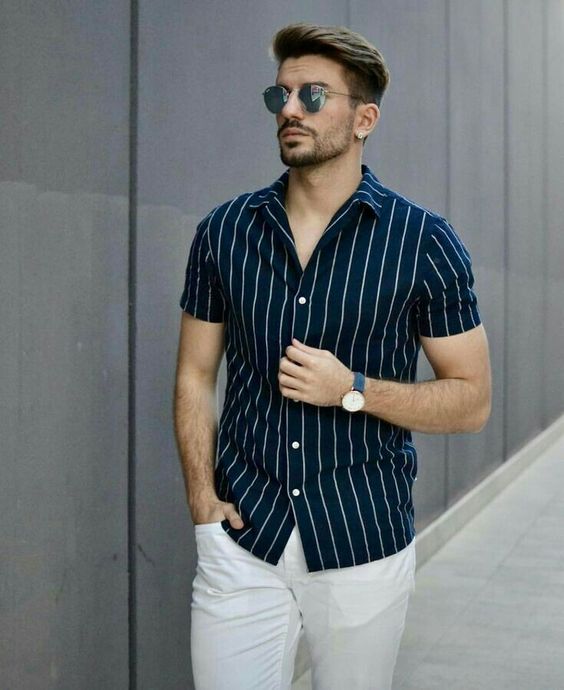 Summer is the laidback season of the year, the sun is shining the clear sky invites us to join the lovely weather outside. We all know that styling a striped shirt is always fun for summer outfit essentials. Guys, you can also wear a striped shirt to attend the casual beach wedding party. You will not break the rule and look outdated wearing a striped tee tho. We can use the fit white khaki pants and combine them with a blue-color tone striped shirt. This two-color saturation is so matching. Open up one button shirt to showcase your masculine look and give the summer fashion look essential. Then, you can wear leather shoes or even white sneakers. Both are amazing to accompany your laidback style! In addition, sunglasses and a watch are important accessories you can wear to improve your chill-out beach fashion style!
Conclusion
When we receive a wedding invitation, one thing that we think about first on how to nail a perfect wedding guest look. There is no one who wants to look worn out at the wedding party. But, thankfully if we get the wedding invitation in the summer season. That means there is nothing too much worry about styling summer season essential. The warm laidback weather makes us want to relax in comfortable outfit ideas. When it comes to a summer wedding occasion, choosing some basic outfits won't break the rule! People will understand the summer look must be all about being casual, cozy, with a proper elegant touch is enough!
If you are looking for the proper summer wedding guest attire, using basic clothing in your wardrobe will save your look. Starting off the white shirt that mostly everyone has in a wardrobe. You can mix and match white shirts with the neutral color tone trouser. Then you can accentuate summer essential accessories, wearing sunglasses and a chic floral tie will improve your casual look. Moving on from a casual look, we can dive into some chic fashion styles. For such a classic vintage look or even a unique rustic look, these styles will make your nail the summer guest outfits look. Observing your own style and mix it with casual items could literally define who you are. So, you will have confidence walking through beach wedding parties when you are in comfortable outfits. After knowing some tips on how to nail male wedding guests look for the summer season. Do you find any idea how you would like to dress for a wedding even?