Drufashion.com – The spring season has come to the final time and soon we will welcome summer. We've got prepared transitional outfits this year. The last year, the pandemic issue has forced us to stay at home all year round. Limiting physical social interaction for our health reason, avoid virus infection. Due to the pandemic issue has spread across the globe. That changes many sectors in our life, including lifestyle. The situation force some designer to create comfortable outfit trends beside still keep it look fashionable.
In 2021, this year is full of hope and our world will recover soon from this pandemic issue. In the fashion trends this year, that idea, the hope that transforms our dress code tends to choose loose size means freedom. In addition, bright accent color embraces the spirit and hopes. So, it's a perfect time to embrace spring-summer men's fashion trends 2021. Let's have a look at the style down below!
Colorful transitional fashion outfit idea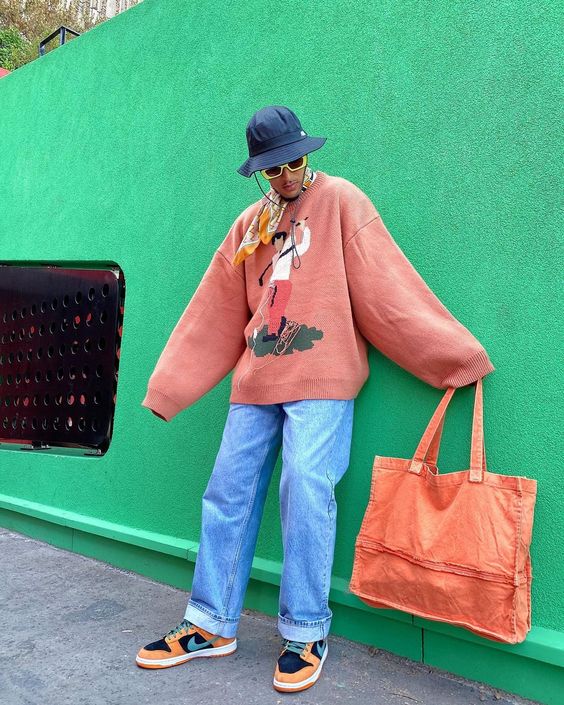 With the love on the air, this spring and we have a huge hope this year. Let's embrace wearing bright accent outfits! Starting off wearing an orange oversized sweatshirt with light blue loose denim jeans. Giving more color accent to your look with a pair of orange sneakers. In addition, you can choose some accessories such as a bag, hat, and scarf. It's all about freedom, do not hesitate to mix up colorful outfits to your style this spring.
Besides colorful outfits accent that stands out in this look. We want to highlight that this outfit comes along with a loose size. Since we stay at home a lot, we love to wear loose casual wear that full of comfort. So, the transition outfit style now, we can do the same manner just like we staying at home. Wearing loose casual wear for any occasion we have. The comfortable outfit feature transforms into an oversized clothing style. Do not hesitate to try this outfit's style for spring-summer outfit ideas!
Semi-formal look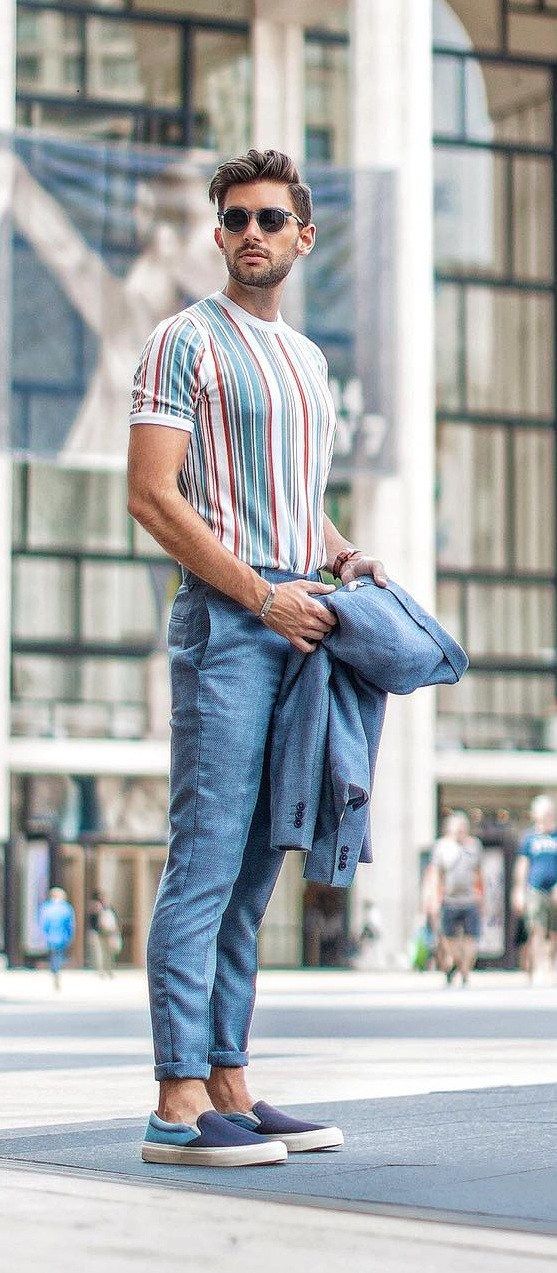 Celebrating a year that full of hope by wearing a colorful accent outfit is a good idea. The vibrant color can cheer the ambiance. Men are used to wearing dark color outfits, but now you don't have to worry about wearing a bright outfit feature. Just like the blooming season outside that offers massive colorful flowers, you can do the same manner too in this spring!
For this transitional season spring to summer, you can wear a striped tee as a sign of summer essentials. Usually, a striped summer tee has a blue strip line or black strip. To create a distinctive fashion look, we can transform the striped look into a colorful one. Then we can wear this casual tee with the suit. This semi-formal look can be your option to go to the office. Mixing up formal workwear and casual wear is one of the trends in fashion now. Would you like to try it?
Cute pair of a transitional outfit
The lovely blooming season hasn't gone yet, we can style our look with a calm spring atmosphere by wearing a neutral or earthy color outfit. Beige chinos can be worn to give spring outfit look essentials. After that, we can choose a striped tee to embrace the summer season that nearly comes soon. Both combinations feel so right to style a transitional warm outfit look. Finally, you can match your super cute look with a pair of sneakers. Do you love this transitional outfit idea?
Styling bomber jacket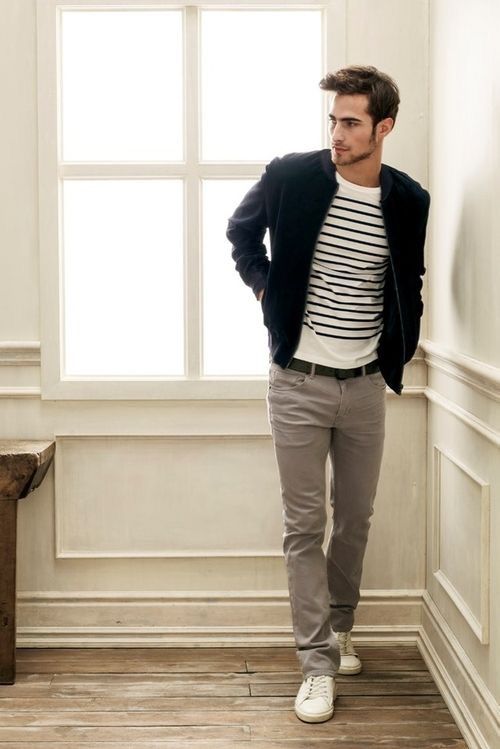 Adding a masculine outfit look to your cute transitional outfit by wearing a bomber jacket! At this time, you can pick some soft-color outfits that could make you look calm! Simply grab casual neutral chinos in your basic wardrobe and matching up with a striped tee inside. In addition, wrap your casual look with a bomber jacket. This bomber jacket absolutely improves your look. Now, you look so down to earth and awesome in this casual pair!
Quirky sweater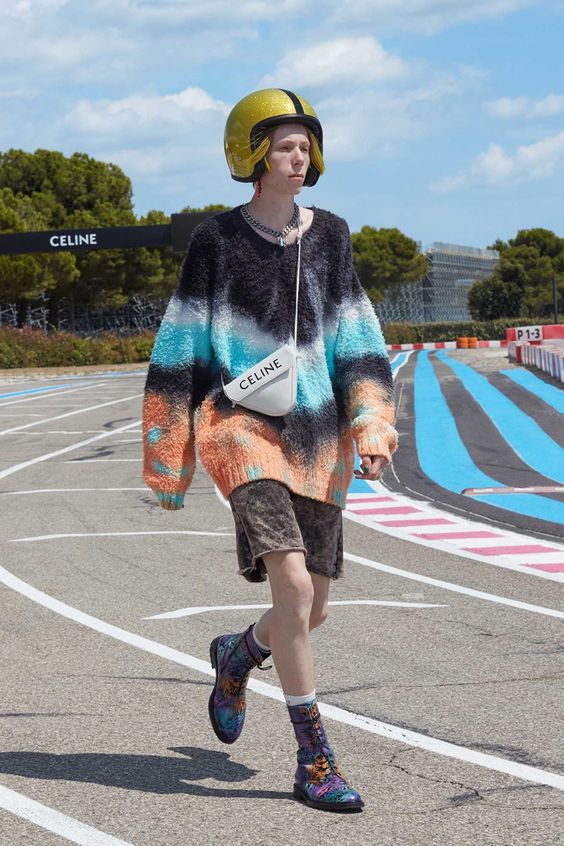 Another quirky transitional spring summer men's fashion outfit idea is displaying a colorful wool sweater. It sounds weird to wear a wool sweater on hot days. But, we have to remember the fashion trends in 2021 are all about freedom. Showing a different look from others is something unique and stylish. But some people who do not have this fashion look will obviously reject it. But hey, we live on our own and just keep the style alive!
To start this quirky fashion look, you can wear a colorful woolen sweater from Celine. After that, you can choose pants that have unique textures. Complete your quirky look with a pair of printed boots. Are you ready to try this style immediately?
Statement look with kimono!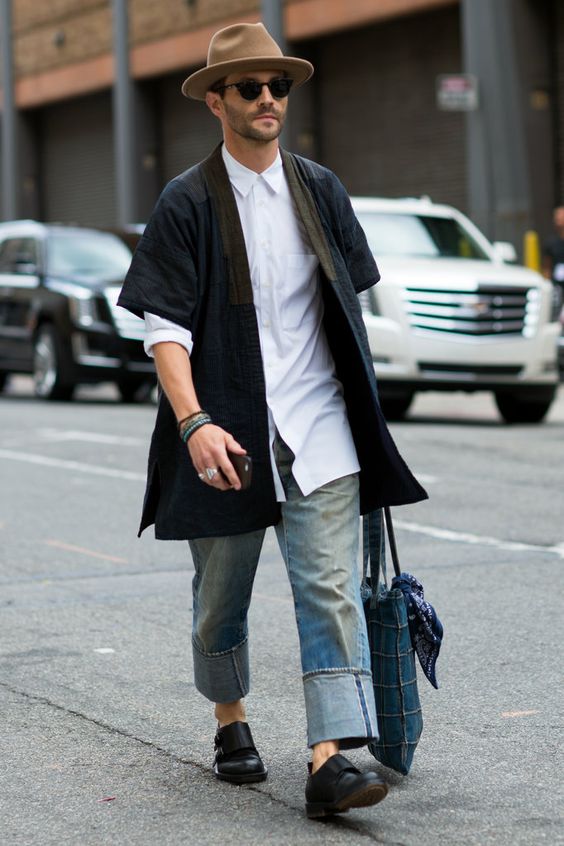 The kimono does not always look proper for women. In the trend fashion outfit, men you can have that look too! This outer will make you look awesome, seriously? It's all about the ability to mix and match outfits you can do. If you don't have the idea yet, here we will share with you the example that you can copy the style!
Starting from the very base, we can choose loose denim jeans that will make you absolutely comfortable. Then, you can go on an oversized casual shirt. In addition, wrap it all out with a dark kimono. It will give a statement to your look! Finally, touch your quirky look with a few accessories such as a trilby hat, leather black shoes, and sunglasses!
Vibrant color in casual outfit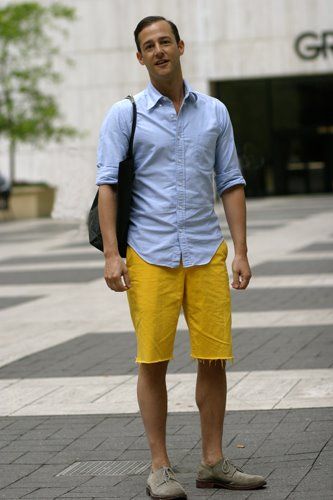 Our last transitional outfit recommendation now falls to bright color ideas on casual outfit essentials. It's pretty cute to pair a baby blue shirt with yellow shorts! The bright pant will elevate your look and embrace a cheerful warm season. Then, balance your look with a pair of earthy color shoes!
With the air even warmer outside, this laidback outfit is perfect to be worn in the late spring! Plus, you get the advantage of bright pants that will make your look stand out. It is such a fantastic matched outfit for summer without feeling weird tho!
Conclusion
With the full of hope ambiance, 2021 gives us some sort of new fashion looks. There are colorful and comfortable outfit is the concern in this year. Above, we already display some quirky transitional outfits for men. The freedom in mix and match outfit is what we need to welcome the summer days. Do you love these quirky transitional spring summer men's fashion trends 2021? We hope you enjoy our writing and do not ever be afraid to express your own style!