Drufashion.com – Waiting for a newborn baby is a blessing to any parent, all over the world. Imagining a baby comes to this world with a tiny finger, toes, lovely cheek, and the softest skin when you touch it, that is all bring unbounded happiness to all parents.
Before the baby was born, parents are busy to shop clothes for their little one. Shopping for clothes to dress your baby would be exciting especially for the first time. Planning and considering what kind of clothes suit you most for your lovely one! What is exactly the time do we shop for our baby? the answer is obviously anytime you want and makes sure it is compatible with your budget!
Whether baby boy or girl, shopping for clothes excitement would be equally the same. Fashionable young couple moms and dads wherever you are, you both surely want to dress your baby in fashionable clothes. But one thing you should consider to buy clothes for your little baby is something comfortable and safe to wear. Our tip for you moms, buying baby clothes that have soft textures such as organic materials, cotton.
In this writing, we will show you various fashionable girl outfits style to dress your cute little girl! So, moms here we have some ideas to dress your little sweet girl to look fashionable. With abundant clothes ideas and mix-matching style, you will love to have. Don't miss any fashionable baby girl clothes with a bunch of cute little girl outfits!
Cute Baby Girl Clothes!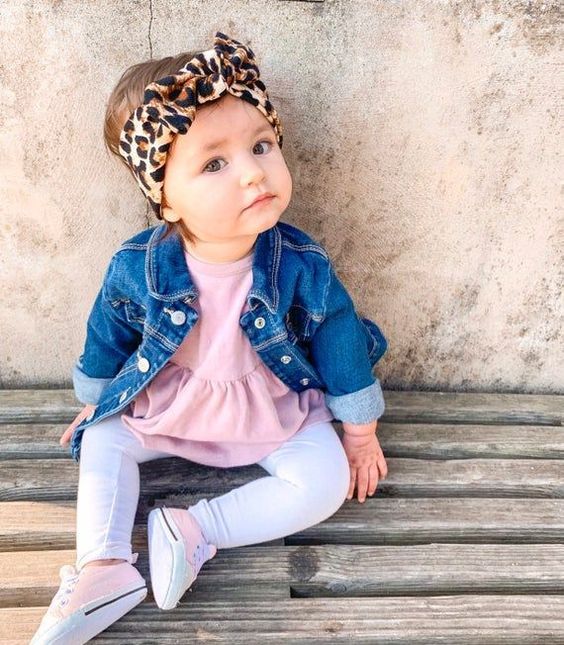 Are you looking for a cute style to dress your little girl? Here we have some ideas to share with you. If you have a one-year-old baby girl, you can dress her in cute outfits but also looks fashionable. Look at the baby in the picture above, she is so damn cute! What she wears from head to toe? She is wearing a top knot headband with a cheetah pattern, looking down for her cute outfits, she wears a lovely pink dress layer with a denim jacket, to comfort her legs she wears a white legging and a pair of fashionable baby sneakers.
So, mom, you can style your little girl with a fashionable accessory such as a top knot headband, choosing the soft color and comfortable outfits. Now, your little girl looks so cute and fashionable!
Check out our latest writing about stylish baby boy clothes that looks so adorable!
Looking Cute In Affordable Outfits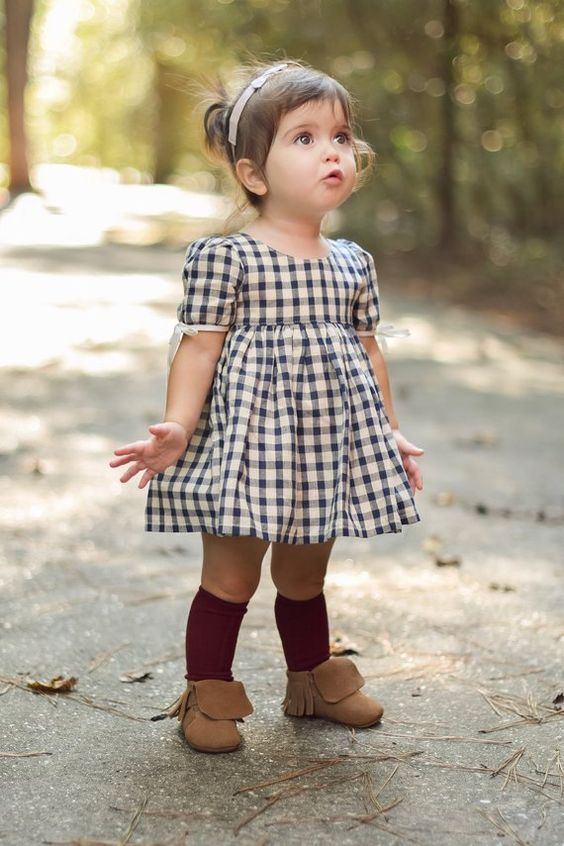 Dress up your "little kween" with some affordable outfits, those are easy to get but look cute tho! We can steal her style in the picture above. She wears a headband, short sleeve plaid dress, and then mix-matching style footwear. Combining walking brown boots and a pair of maroon knee-high socks. She is a real little princess that dresses in affordable outfits! Do you love these pieces of mix-matching affordable outfits for your little princess?
Check out our spring outfits collection ideas here: Must-try 20 Girly Outfits To Embrace The Spring!
Elegant Little Princess Clothes!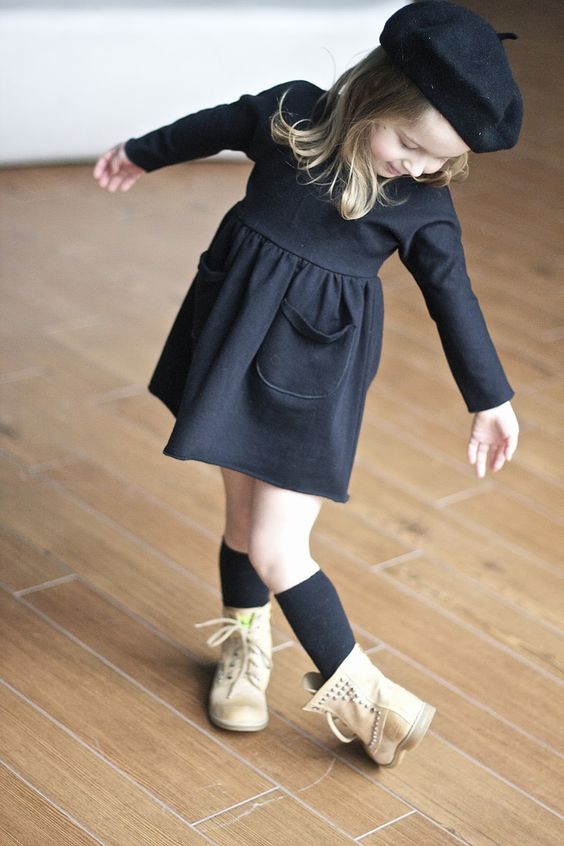 Moms, are you the one who stuck to dress your little girl? We hope these outfits look could help you to find out fashionable baby girl clothes! Let us see her fashionable outfits and what she wears from head to toe.
Black what is standout the most in her elegant fashion style! This cute little girl, combine a black long sleeve dress with the same hue beret hat that is quite simple but yet looks elegant with a beret hat. Now, we look at what she wears for her lovely foot! She is combining soft color leather boots and black knee socks. Featuring simple outfits in black and combine with leather boots is what a mix of outfits! So, moms don't be afraid to style your little girl with fashionable outfits, we will show you many more outfit ideas!
Sporty Street Style
Another fashionable outfit for little girls is showing a sporty look. You can dress your little princess in casual street style wear. What should we have to dress our little cute girl to have a fashionable sporty look? Alright, we need a beanie hat, long sleeve sweatshirt, leggings, walking shoes and socks.
It is okay to dress your little girl in black and white hues clothes, give the balance, and sweeten her sporty look with a red beanie hat and pullover the socks on legging to give a layer of textures. Now, she looks so cool in a sporty look. So, moms if you bored to dress your little princess in a girly look, you can try this sporty look!
Cute Outfits For Fall, Get Warm!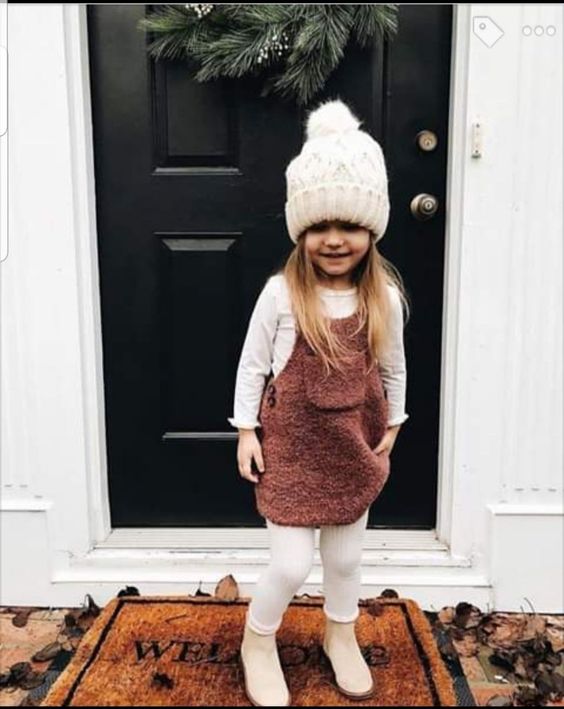 When the summer has gone and the fall comes, it is exactly we prepare warmer clothes. The transition between summer and winter makes the fall season has decrease temperatures, approximately has 22-celsius degrees. So, then we prepare warmer clothes to welcome fall! Not only prepare for us but also for our little girl too. How to style a little girl in fashionable clothes for fall? Calm down moms, you don't have to be overwhelmed by transition weather from sunny days with light outfits to the cooler weather in fall that needs warmer clothes!
Comfy our little girl with warm clothes for fall. We can put on a warm winter hat on her, along with a long sleeves shirt, legging, and simple boots. Matching her plain outfits with a brown warm overall. Now, your little princess looks fashionable and comfortable in fall!
Cute Winter Outfits For Little Girls!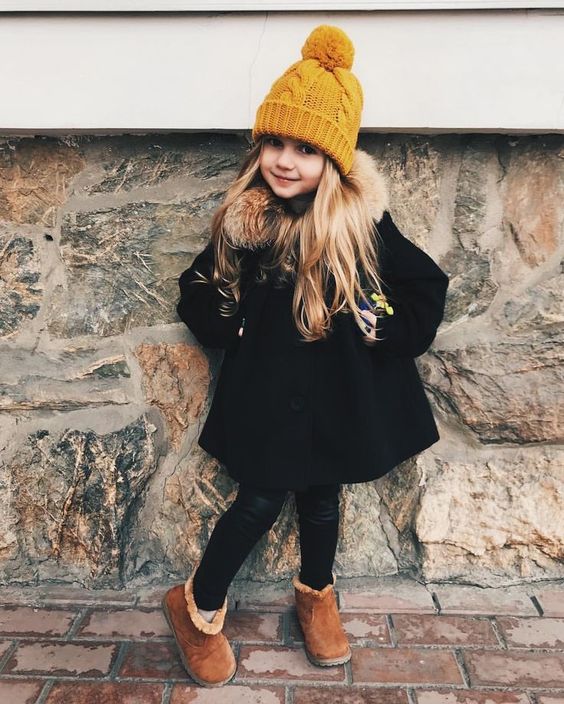 We already discussed a cute little girl's fashionable outfits for the fall season, now we move to winter! The weather is getting colder and the temperatures can hit the extreme level of 0 degrees or even worst. We have to invest our time in the warmer season to keep some clothes for winter.
Winter is not only being in thick clothes, wearing a bundled of outfits, and boring outfit style. Who says that all bad things about winter! We can trick the style to look fashionable in winter. Moms, you can dress your little one in a black winter coat, black leather pants, a pair of brown winter boots, and keeping her head warm with a bright color winter hat. You look so cute, girl!
Chic Sporty Look For Little Girl!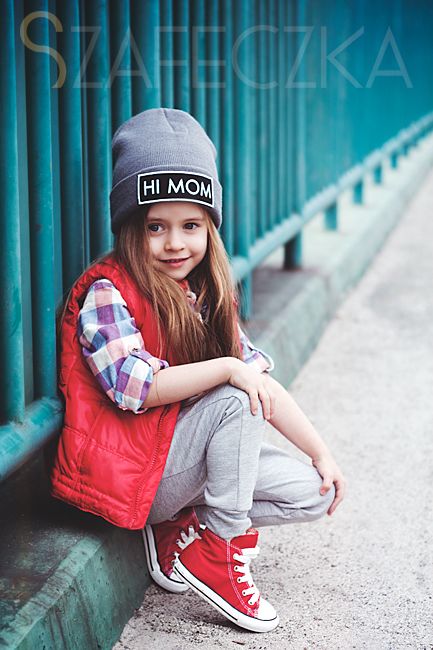 When the sun is shining outside and the weather is getting warmer. It is time to take our little girl outside of the door! Walking on the street and go shopping would be the joy of spending free time!
Alright, it is time to show your best street-style outfit ideas to your lovely little girl. A sporty look is always a good option to rock the street style to everyone, including your little girl! Giving the chance for your bright sneakers to shines! Mix-matching a light plaid shirt with jogger pants and combine with a bright color bubble vest. Adding a beanie hat to strengthen your little girl's sporty look. Wow, she looks so cool and ready to spend time outside with cheerful and colorful outfits!
Outfits For Summer!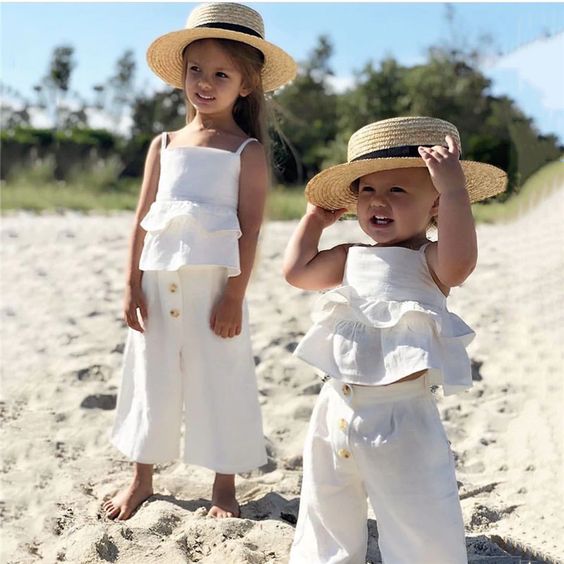 Preparing outfits for kids for beach time could be something crucial, we need to choose light clothing but also you are thinking much about fashionable outfits to show on a glowy day. Do not worry about that, styling our little girl for beach summer outfits is so easy. All you need to bring is light outfits and breathable ones, such as a sleeveless ruffled white dress, comfortable wide trousers, so your baby's skin can breathe well during the hot sunny day. Protecting your girl from an extreme sun's heat with a beach summer hat.
It is been amazing to enjoy a sunny day on a beach. Seeing the kids playing sands and their wide happy smiles is something incalculable happiness.
Support Their Exploration With Light Outfits!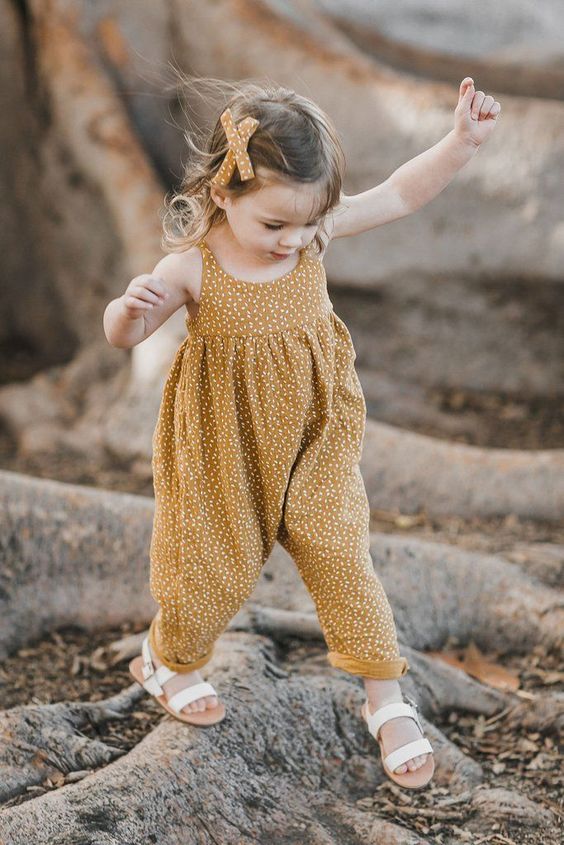 While your little girl having an exploration, support her by dressing her in light and comfortable outfits! We can dress her in a lovely golden jumpsuit and double-strip sandals. We can stick a clip on her hair that has the same pattern as her dress. That is a simple cute little girl outfit to comfy her in exploration!
Cute and Fashionable Baby Girl Clothes!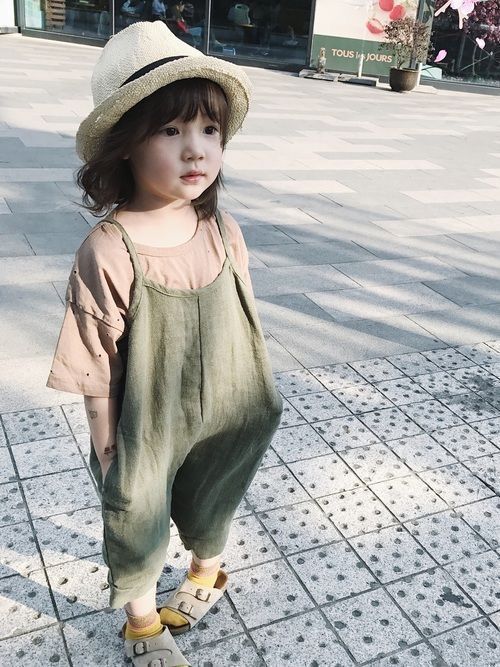 We have come to the last fashionable baby girl clothes ideas! This little girl is looking so cute in her chic street-style outfits. She wears a pastel hue tee, layers on with an earthy color baggy jumpsuit, and relaxes walking on the street with sandals. Completing her chic casual street style with a summer woven hat. Do you fall in love with these cute little girl outfits?
Girls have tons of various outfit styles since they were a baby, from a girly look with abundant accessories available and contrast to the sporty style that looks simple and cool!
In this writing, we already collecting some fashionable baby girl clothes you may need to dress your little princess. Appearing some inspired-outfit for any season. Starting with some amazing summer clothes which provide light materials, so your little girl feels comfortable doing her exploration outside on a sunny day. Move to the fall season, which needs warmer clothes such as a sweatshirt that can protect your little cute girl from cooler weather. Next, fashionable baby girl clothes for winter include a bright winter hat, boots, and winter coat.
Styling our little girl with an abundant selection of fashionable outfits is so exciting! Seeing them happy with what their wear should be our focal point on styling them. We hope this writing could help you to find out fashionable and cute little girl outfits to style in every day!