Drufashion.com – With the sun upon us, let's embrace the warm summer days outside! And I've got packing on my brain! Figuring out wherever you will go to travel, a summer day is a perfect time to start your journey! Going to Europe and see some of the best historic buildings will be so fun with the clear sky upon us! Or even exploring the road trip and having hanging out on the beach will be so much fun in summer!
To comfy your journey in summer vacation, you have to prepare very well the essentials of summer outfits and what you should wear to look trendy summer airport travel outfit idea! If you are confused about summer travel outfit ideas, here we will be sharing with you a compact guide on packing mix and match travel summer travel wardrobe. So, don't miss any of them, Ladies!
Neutral casual dress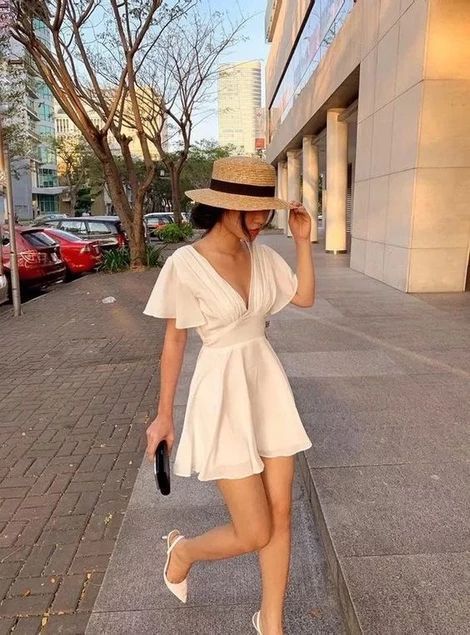 Exploring the warm summer days with a beautiful and down-to-earth casual dress is just perfect! The neutral color tone for such, white, black, and beige could be on your summer travel wardrobe-essentials. For instance, this belted white mini dress will make you look cute and effortlessly looking so chic! Complete your girly outfit look by wearing the white pumps and summer straw hat is gorgeous!
Floral dress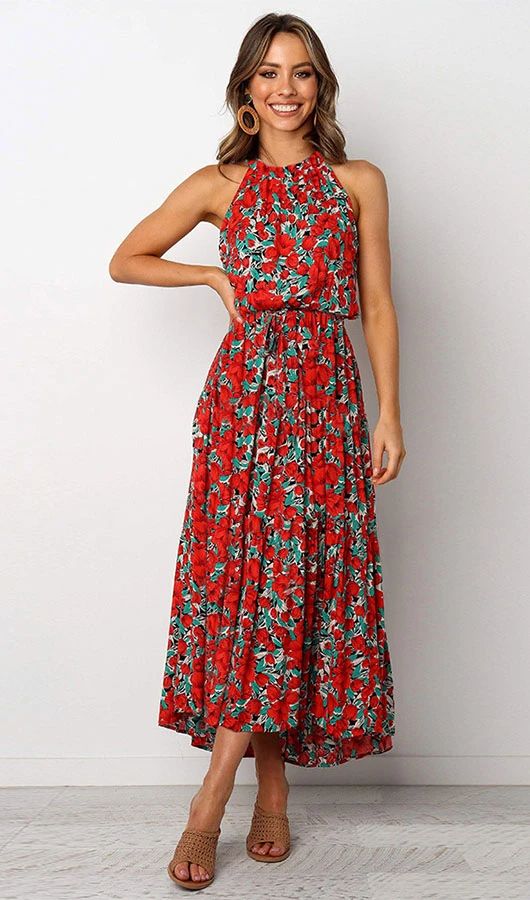 To accompany your trip in summer, let's take at least 2 dresses on our packing list. In the previous dress, you already get neutral, now you've got something cheerful dress that could embrace the sunny days! The sleeveless floral midi dress is so lovely to wear on a sultry summer day!
Swimsuit
Another outfit you have to include in your summer travel packing list is a swimsuit. With the warm weather and sunny days, it's hard to resist enjoying the beach vacation. So, make sure to bring at least one swimsuit in your travel bag. You can go in a bright and colorful swimsuit to embrace the sunny summer days!
Midi skirt!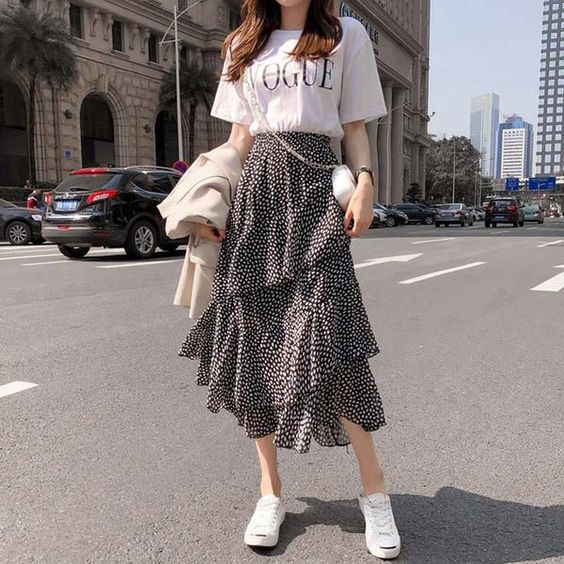 The lightweight and breathable feature outfits are so comfortable to wear in drought weather. Besides, taking a few dresses, a beautiful midi skirt can be added to your summer travel wardrobe essentials too! Simple, we can mix and match this pretty polka shirt with a neutral graphic tee! In addition, the neutral white sneakers can join the laidback summer street fashion look!
Short sleeve summer tee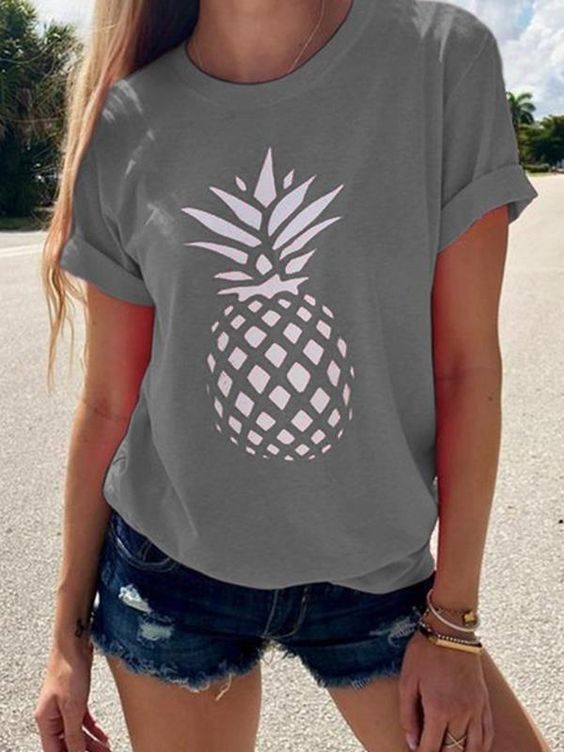 Talking about mix and match summer outfit ideas, we cannot leave behind the combination of short sleeve neutral tee and summer shorts. These casual outfit ideas are perfect to be worn for the street style or even get a laidback moment on the beach! Pairing up your casual look with a pair of comfortable strap sandals!
Denim shorts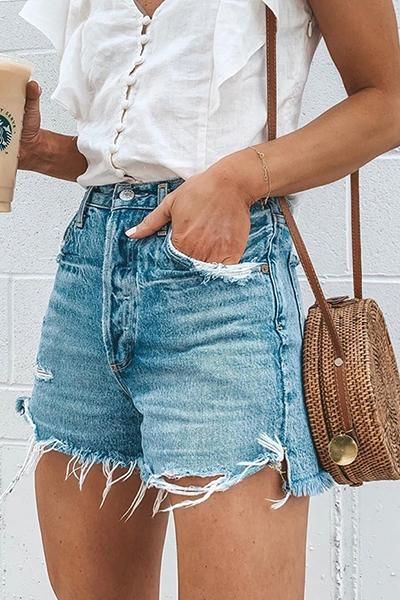 Fulfill your summer wardrobe essentials with some light back and breathable outfit design. It's a perfect time to wear shorts! The denim shorts is a timeless piece of outfit that you can easily to be mix and match with. That will give you a chic summer outfit idea! You can match the denim shorts with the neutral blouse or short tee that looks simple and cute tho! The pair of white sneakers or summer sandals completed your laidback look!
Denim Jacket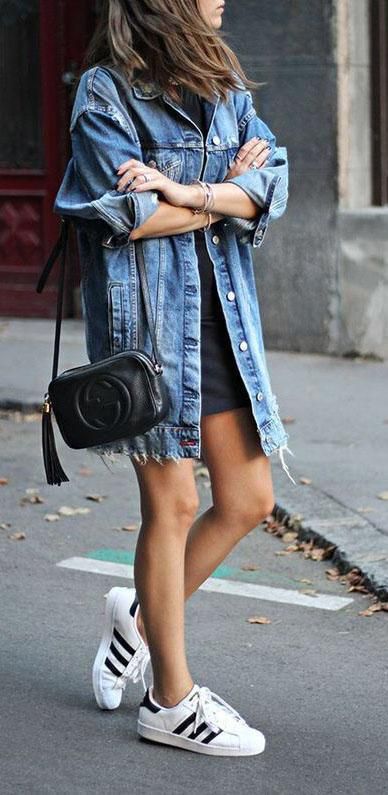 No matter what the weather is, we have to bring a jacket before we go travel abroad. The timeless denim jacket could be added to your travel bag! Pairing up the denim jacket with an oversized tee is looking so chic actually! Then, the pair of white sneakers join the timeless casual and trendy street style look! The small crossbody bag can join your casual style!
Plaid summer trouser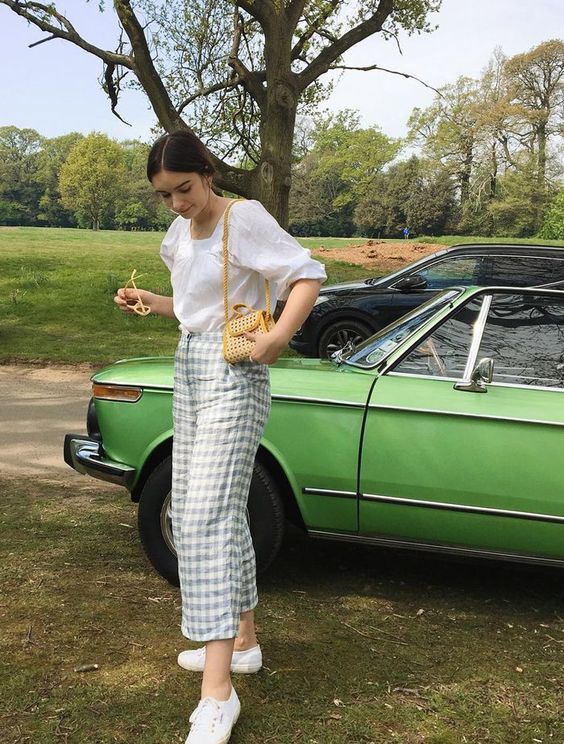 Besides packing the denim shorts, we can also bring lightweight and chic trousers for such as the plaid one. It gives you a complete casual look in summer vacation style and gives you a full comfortable feel during the hot sunny days. We can mix and match the plaid trouser with a neutral white blouse. That's all you get a lovely summer fashion look! In addition, the pair of sneakers can be worn to join your casual summer fashion idea!
White knit sweater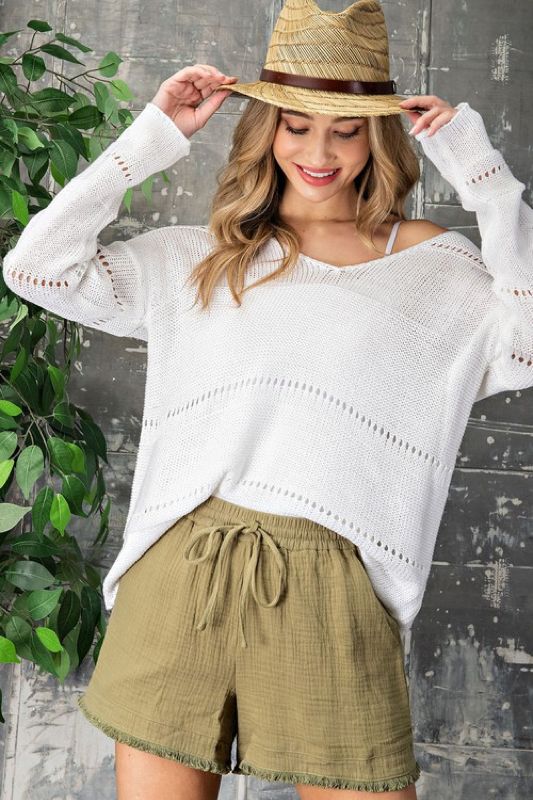 Another tops outfit essential you can grab before traveling is the neutral knit sweater. Even though summer offers hot weather, but what we have to expect that is not always will be. For such a summer night, it definitely feels cold, so we've got the warm piece of outfit to comfy our journey! The neutral white knit sweater with a lightweight feature is perfect to style your summer night outfit essential. You can mix and match this sweater with your comfortable shorts or even the trouser!
Accessories
Besides packing some essential pieces of summer travel outfits, we also need to bring some accessories to support our look and comfy our journey! Here are some accessories you may need when traveling on summer days!
Straw hat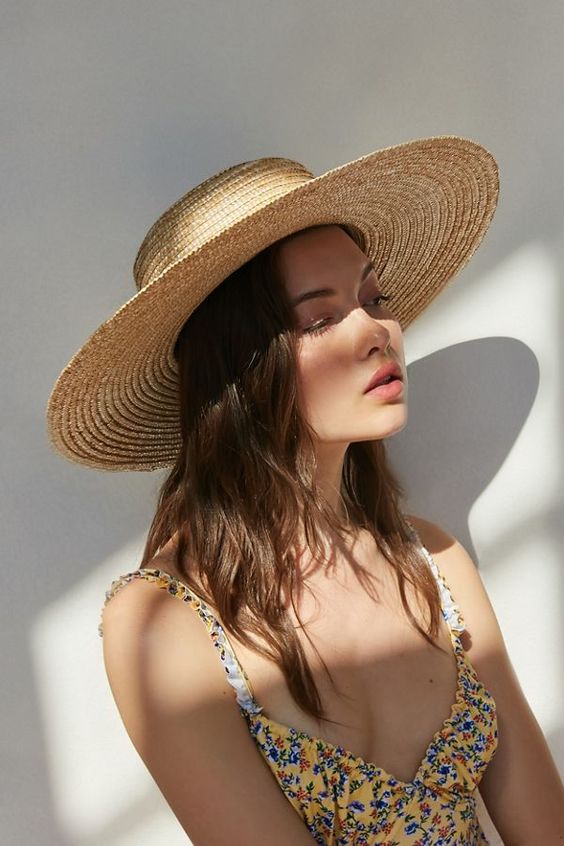 There is nothing better to wear the straw hat on a hot summer day! It gives us the shaded that could block the sun through our heads and our face. And it also incredibly look fashionable to wear on a sultry day, giving a laidback fashion look and so down-to-earth! One thing we notice about the straw hat, we have to bring the packable straw hat, so it does not fulfill our travel bag!
Sunglasses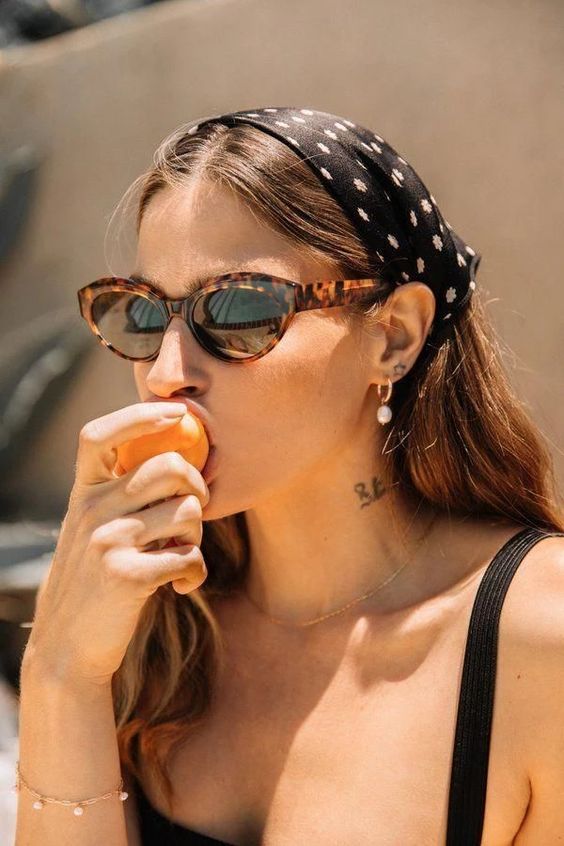 Enjoying the beautiful sea on the beach indeed so comforting. But, if it's the sun is too hot and shining, we have something to take care of our eyes! The answer is to wear sunglasses on hot sunny days. It could protect our eyes from the dangerous UV rays that could be reflected on our eyes. So, don't forget to bring sunglasses in your crossbody bag. Then, immediately you can wear it anytime you need it!
Straw bangle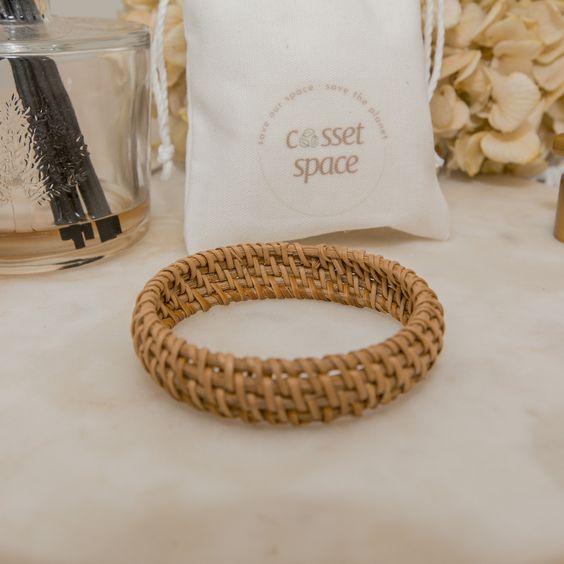 To give you a quirky summer travel fashion look, you can give a statement by wearing the straw bangle. That could define your laidback fashion look and beautify your summer fashion outfit look!
Linen scarf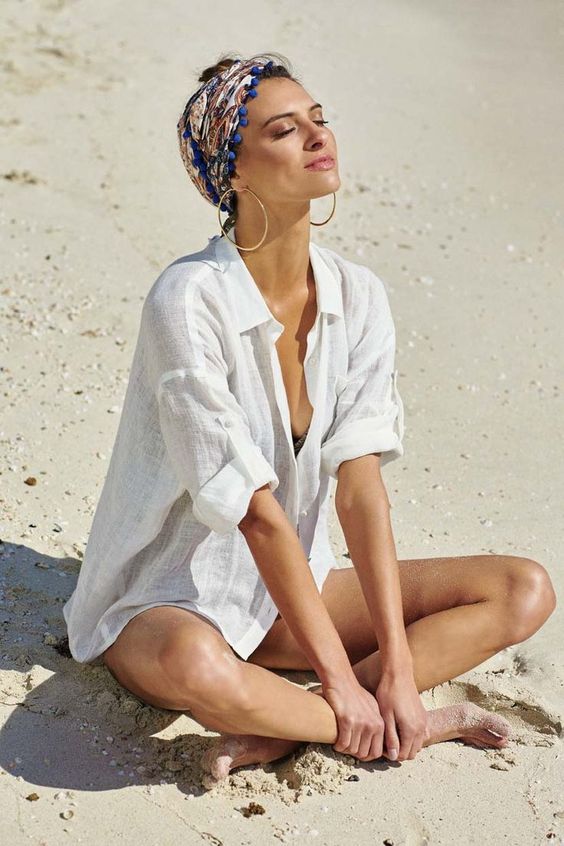 One last summer accessory you can grab or wear for your summer travel outfit ideas is a scarf! You can style the linen scarf in many different ways. For such wrapping, the scarf on your head is a beautiful bandana. Then, wrap on your neck, to give an aesthetic summer fashion trend idea, or even wearing a scarf to tie your hair, that's all absolutely cute!
Shoes and sandals
Whether for travel abroad or even hanging out with friends in a casual holiday vacation. We are often confused about matching our outfits with the proper footwear idea. Well, for this summer travel outfit vacation, you don't need to worry about that, basically, we will inform you of the most wearable and comfortable pieces of footwear you can bring to accompany your journey, Let's dig in!
White sneakers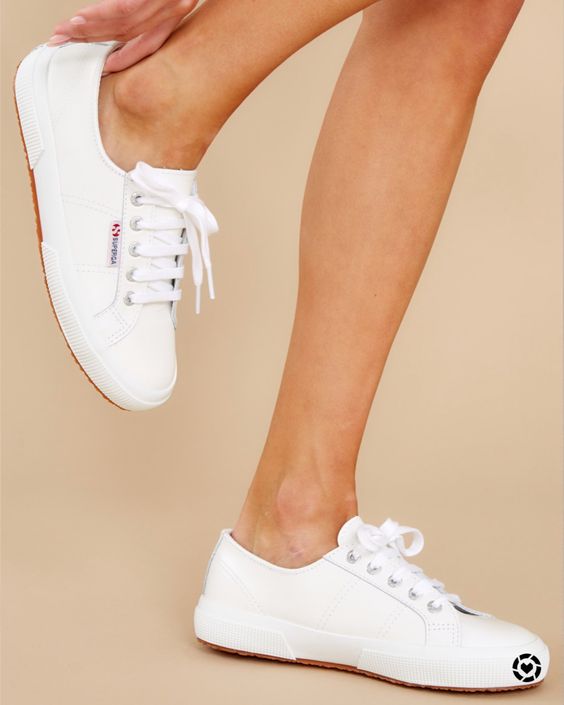 If you wanna go on the simple packing list for your travel idea. Then, you have to bring only the necessary items that you really need the most! We find out the most wearable shoes for styling summer vacation are the white sneakers! The neutral color tone and comfortable features are what we need the most to enjoy the summer holiday! The white sneakers also easy to be paired with any summer outfit you wear on, they are so timeless and look chic too!
Sandals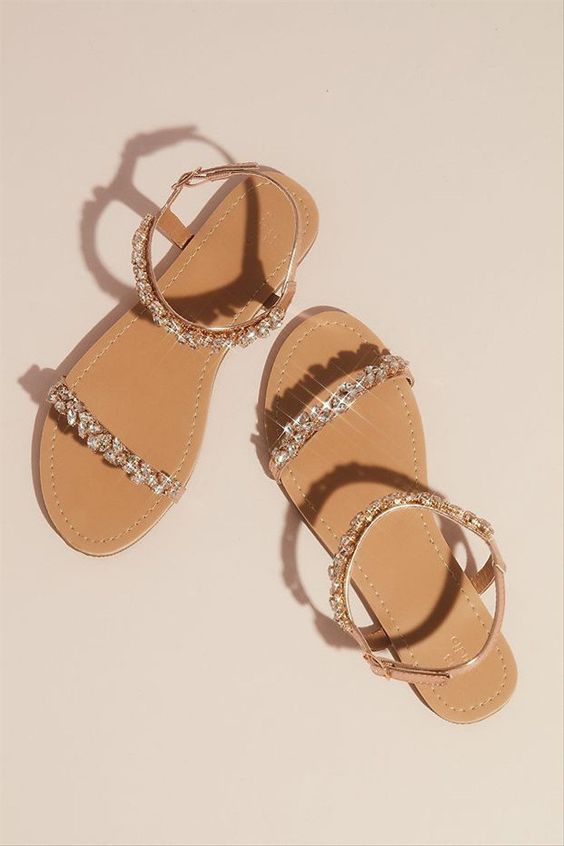 We don't wanna miss the warmth of the sun by covering our feet with shoes all day long! Just open and wear sandals to make or skin can breathe and enjoy the summer days. Figuring out what types of summer sandals, actually quite varies. You can go with comfortable flat strap sandals or heels, or even the cute slides summer sandals that could comfy our day walking outside!
Conclusion
In this writing, we already compiled the compact guide of mix and match summer travel outfit ideas. Consisting of some necessary summer outfit essentials, and completed with some quirky summer accessories, and then wrap it up with some basic summer footwear. We hope this complete guide can help you to pack your summer travel wardrobe-essentials. Happy weekend everyone and enjoys the summer holiday vacation!