A holiday is coming! Have you known what you should do to spend your holiday? I know some of you already have planning to go to your favorite place. Not only prepare about the destination but you should also prepare yourself like do the packing. You should choose your best outfit and the thing that we never leave is makeup.
You don't want your makeup look cakey or craking on the holiday, right? Because it will make your mood down and you will feel insecure that can cause you won't take a photo. This is the very worst condition that you should avoid! You should enjoy your holiday and take a lot of photos that can be your memory.
So, you don't have to worry girls! You can overcome this problem by following our tips and makeup idea! I'm sure you will love this kind of makeup, besides it can make you look pretty, this makeup also can stay long last without cakey or cracking. And this makeup will make you feel confident so you can take a lot of photos. Are you feeling excited? Okay, without any for the do, let's start the tutorial.
Quick and Simple Holiday Makeup Tutorial
1. Use Contact Lenses to Change the Glasses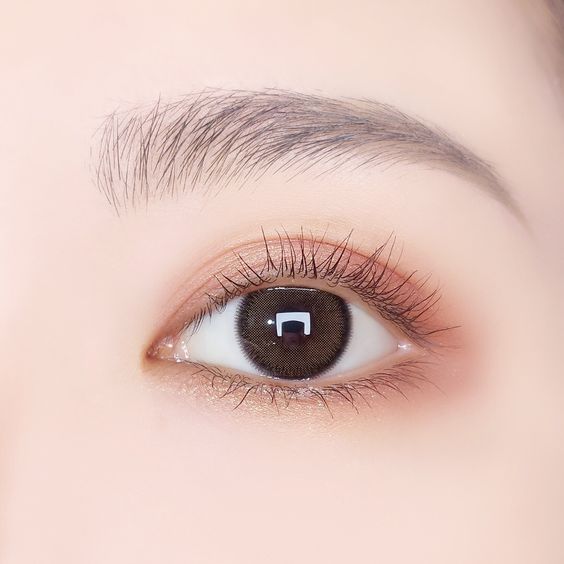 Do you have a visual impairment? And do you still wear glasses wherever you go? It will very disturbing, right? Moreover, when you're on holiday, you tend to use sunglasses to make you look stylish and also protect your eyes from the sunlight. Therefore, we recommend you change the glasses with contact lenses.
Contact lenses to be created very simple and will not disturb your activity. And it can throw out your nerd look because of the glasses. But we don't recommend it if you have sensitive eyes, because if you wear it for a long time it will cause irritation.
Because contact lenses have variative colors and types, we will give you some recommendations. If you want to look natural, you can prefer clear or brown color lenses with a small diameter. But if you have slit-eyed, you can choose contact lenses with 14,5 – 15 diameters that can make your eyes look bigger. And lastly, you can choose bright color lenses like grey or blue if you want to look bold.
2. Prepare Your Skin Very Well with Skincare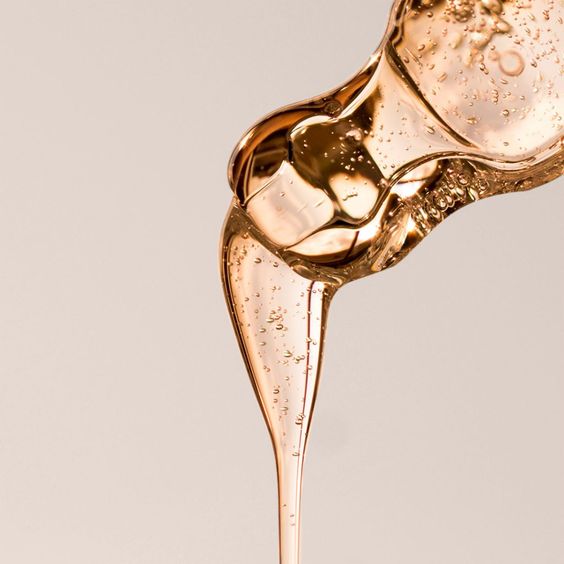 Move on to your face, before you put on your makeup, you should prepare your skin first with skincare. Make sure your skin is hydrated and moist to prevent your makeup from cakey or cracking. This is the first thing that you can do to have long-lasting makeup!
With hydrated and moist skin, your makeup can stick well on your skin so it will not easy to get a move. Besides that, wearing skincare before makeup can also protect your skin from chemical makeup that can cause acne or skin breakout.
I know for you who have oily skin will be afraid to wear skincare because it will make your skin oily and make your makeup cakey. But you're wrong! Even if you have oily skin you should need to wear skincare, but you can wear every product in fewer amounts. And you can choose skincare based on your skin type.
And for you who have dry skin, because of the different places and weather, I'm sure your skin will be drier than before. So, you should make sure you wear a thick skincare product that can moisten the skin. If you put makeup on dry skin, your skincare will not stick on your skin so your makeup will crack in a few hours.
3. Choose Primer Based on Your Skin Type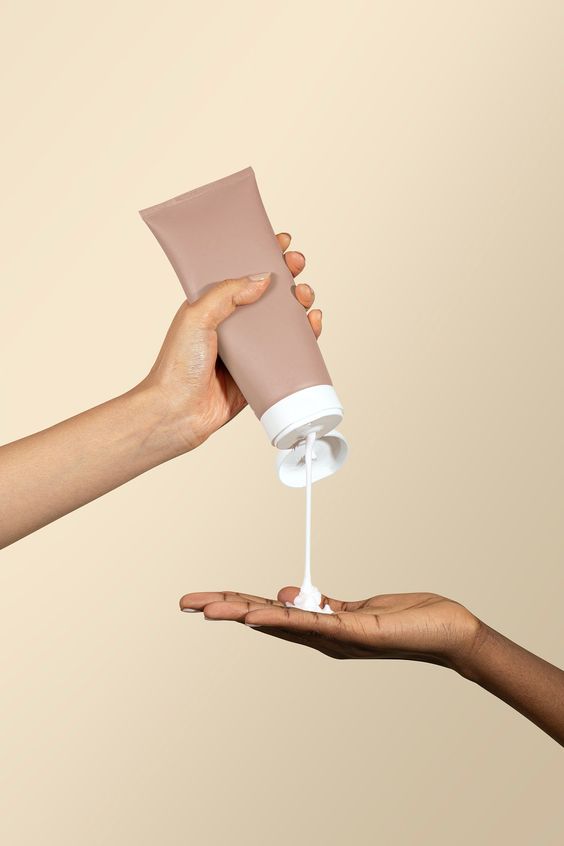 Who said primer is not important? Otherwise, primer is very important that can make your makeup look flawless. Wearing primer is one of the steps to prevent cakey or cracking makeup. Therefore, you should choose primer based on your skin type to get the maximal result.
If you have oily skin and big pores, you can choose a primer that has a silicone or cream texture that can hold oil on your face and blur your big pores. And for those people with dry skin, you can choose a primer that can hydrate and moist your skin, usually, it has a gel or cream texture. You can put on the primer all over your place and be more focused on the area that easy to get oil or crack.
4. Light-Weight Complexion to Make You Feel Comfy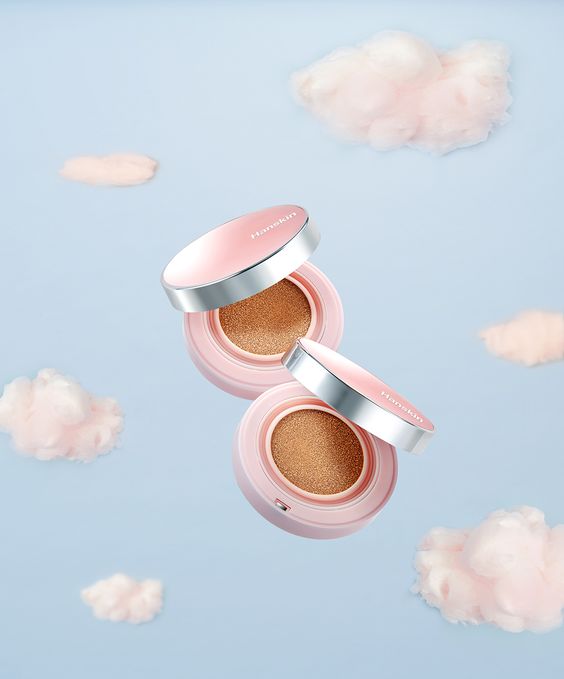 Next, for the complexion, you can choose a complexion product that feels light on your skin. And you can also choose a product that has light to medium coverage. The purpose of wearing complexion at this time is just to make your skin look better and even your skin tone. Therefore, light to medium coverage is enough.
If you asking why we choose a light to medium coverage product, it's because this product is very light weight on your skin and not easy to get crack or cakey. It can make you feel comfortable, especially to use all day long.
You can choose complexion based on your skin type, but we suggest you prefer a matte finish complexion. If you feel the wearing foundation is too heavy, you can change it with a cushion. Besides it feeling light on your skin, it also has a very compact packaging that is very suited for traveling.
5. Cover Your Blemishes with Concealer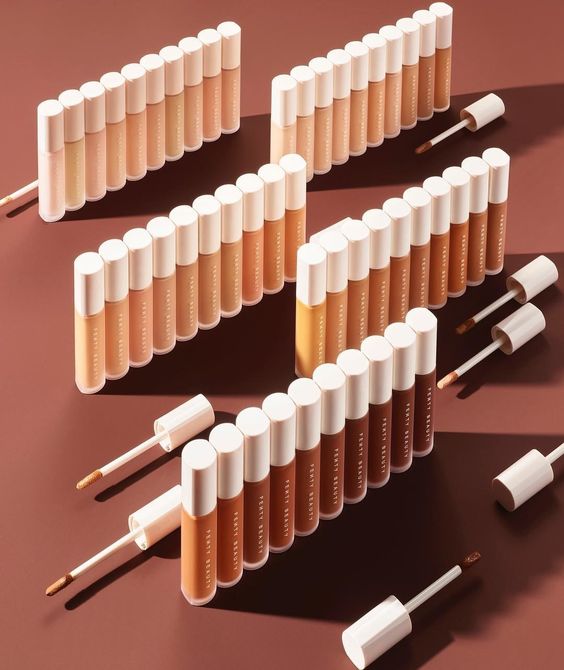 Because you wear a light coverage complexion, I'm sure your blemishes like acne or dark spot still can be seen. So, you can wear a concealer as the solution to this problem. Even if you wear a concealer you still need to make it light to prevent your makeup from cakey or cracking.
That's why you can choose a liquid product over cream. Wear the concealer on the area that needs extra coverage like dark spots or acne. Furthermore, you can blend it with a beauty sponge or fingers if you want a natural finish look.
6. Cream or Powder Bronzer to Bring Back the Face Dimension
Usually, we recommend wearing contour but at this time you can prefer a bronzer that can give the natural finish look. The bronzer has softer color than contour. If you are confused about where you put on the bronzer, it's the same as you put on the contour, girls.
Bronzer also has two types there are cream and powder. If you want a long-lasting bronzer, you can choose cream. And the cream product is also good for you who have dry skin because it can prevent cracking. But if you have oily skin, maybe powder bronzer will be a great choice for you and you can blend it with a large bronzer brush to get the natural look.
Not only for bring back the face dimension, but bronzer can also give an illusion to your face. You can apply bronzer under your cheekbone to get a thin cheek, jawline for having a V-shape Face illusion, hairline to give a small face look, and last on your nose to make your nose look pointy.
7. Cream or Powder Blush to Make You Look Fresh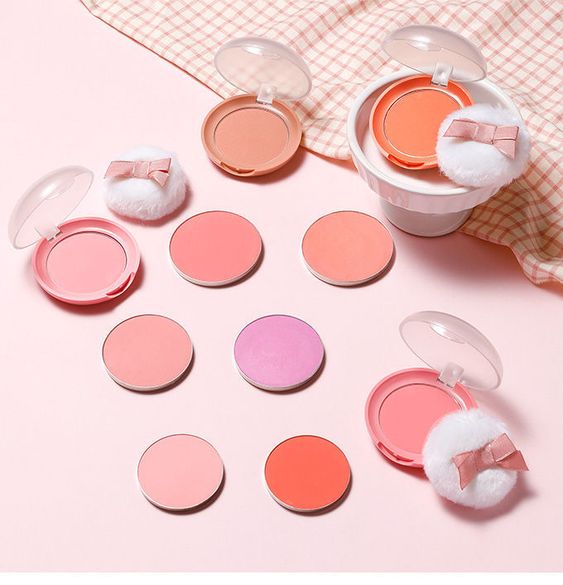 You know wearing blush is very important to make your face look fresher. Usually, on the holiday, you want to enjoy your time and forget about the health of your skin. This is can cause your face looks dull and tend to look pale.
But don't worry, because you can use blush as the solution to having a fresh face. Even if you have less time to sleep, you still can look fresh. Besides that, blush has the function to make you look sweet.
Same as a bronzer, blush also has two types which are cream and powder blush. For you who want to have natural blushy cheeks, you can choose cream blush. But for you who have oily skin, you should choose powder blush. For this kind of makeup, you can choose peach or coral blush to make it look natural.
8. Set Your Base Makeup with Loose Powder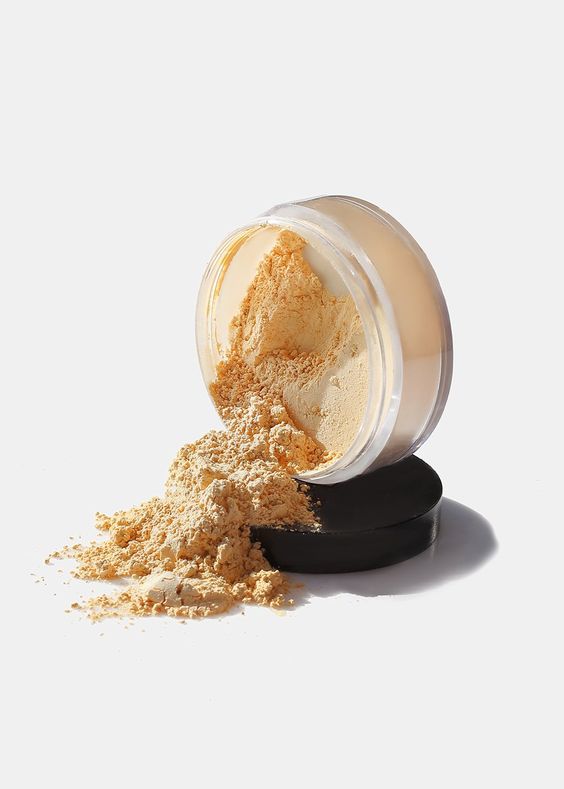 This makeup is considered a lightweight and natural finish. Therefore, you should choose a loose powder to set your makeup. The function of powder on this makeup is just to set your base makeup to make sure it will not easily get melted or cracked.
Also, we suggest you choose a translucent powder for not to change the color of your skin. But if you don't have translucent powder, you can prefer powder that has a similar shade to your skin tone. And I have a tip for you to make your makeup long-lasting.
I'm sure some of you already know about the baking technique. Of course, this is the solution for you who have oily skin to make your makeup more long-lasting. Doing this baking technique is easy! You just have to put a lot of powder with a sponge on the area that easy to get oil or crack. Furthermore, you can wait a few minutes until it's set, then you can continue to blend with a powder brush.
9. Natural Brows Shape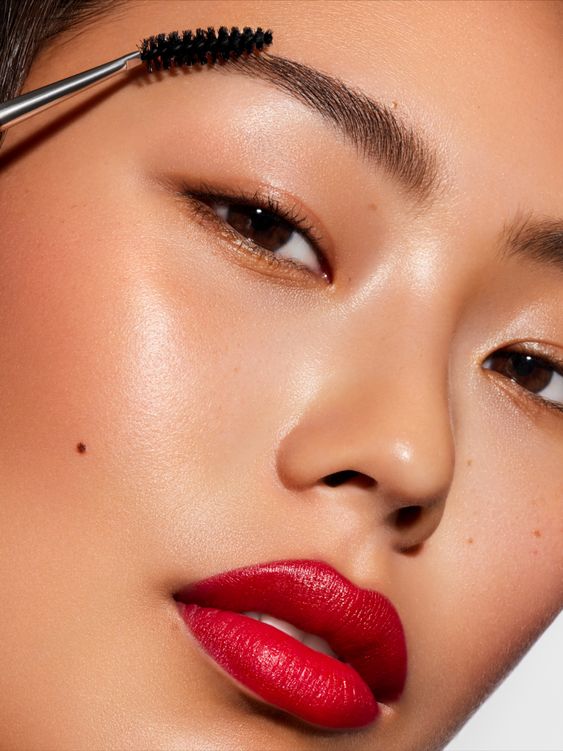 I think on fleek brows are too much for the holiday makeup, that's why you can choose natural brows shape. Or you can also choose a feathered brows shape. Just choose which one is suitable for you.
First, you just have to brush up your hair brows. Then, use an eyebrow pencil to draw your brows shape following your natural brows. Don't forget to fill in the blank space, but you should do it slowly to make sure it stays natural. Furthermore, you can finish your brows with brows mascara to set your hair brows and make it look feathered.
10. Brown Color Eyeshadow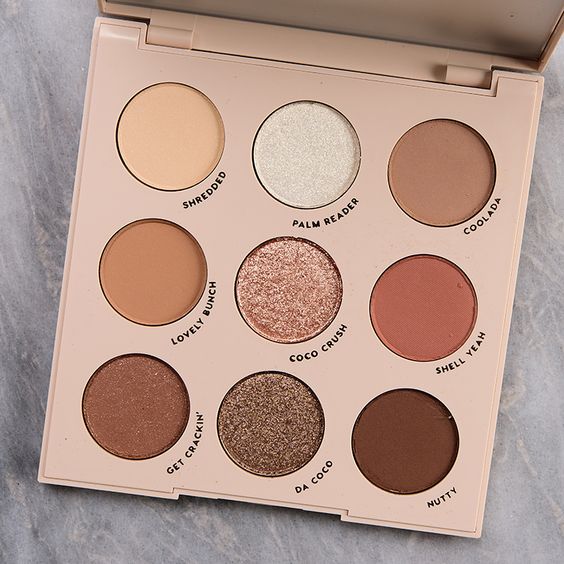 If you want your makeup to look natural, you can skip this one. But if you feel your skin looks pale, you can wear eyeshadow. You should choose one or two colors of eyeshadow to keep this makeup natural. And you can prefer brown color just to give a shape to your eyes.
First, use the light brown color all over your eyes. Furthermore, you can continue to apply dark brown eyeshadow on your crease and outer corner to make your eyes look deep. And last, use a shimmer color on the inner corner to make your eyes look awake and fresh.
11. Natural Shape Eyeliner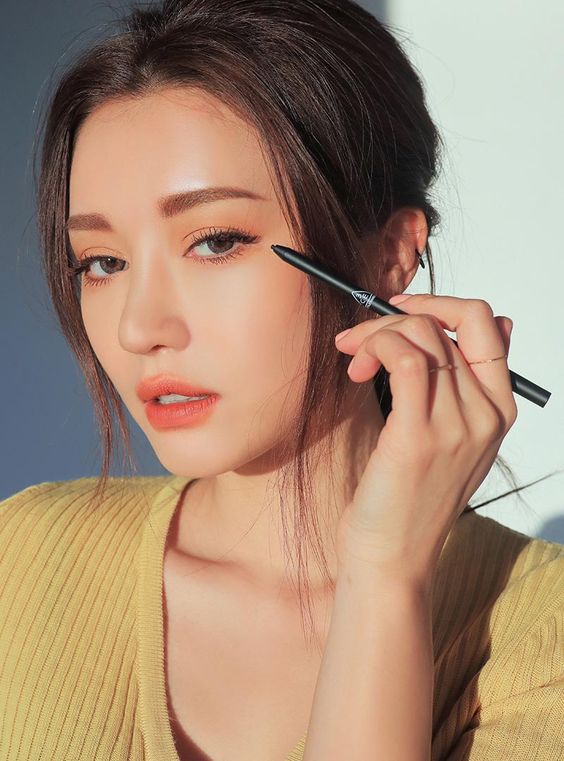 Same as the eyeshadow, you can also skip this part if you already have big eyes. But for you who can live without eyeliner because you have small eyes, don't worry because you still can use it. Choose the natural shape eyeliner and use brown color eyeliner that will make it more natural. Furthermore, you can start to draw the eyeliner from the inner corner to your outer corner. And add a small wing at the end of your eyes to give the illusion like your having long eyes.
12. Make Your Eyes Look Awake with Mascara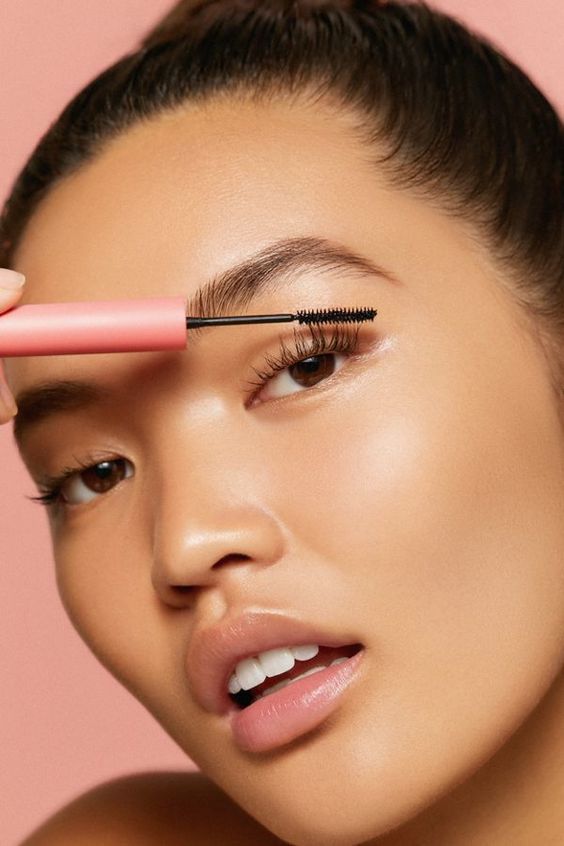 If you have long and thick lashes maybe you're lucky. But for you who have shorts and thin lashes, you don't have to feel sad because there's a product called mascara. Mascara has the function to make your lashes look longer and thicker. And if you wear mascara it will make your eyes look bigger and awake.
Before you put on the mascara, you should curl your lashes first to make your eyes look pretty. Curl your lashes carefully with an eyelash curler. Furthermore, you can continue to apply mascara to your upper and lower lashes.
13. Highlighter to Give Glowing Effect Skin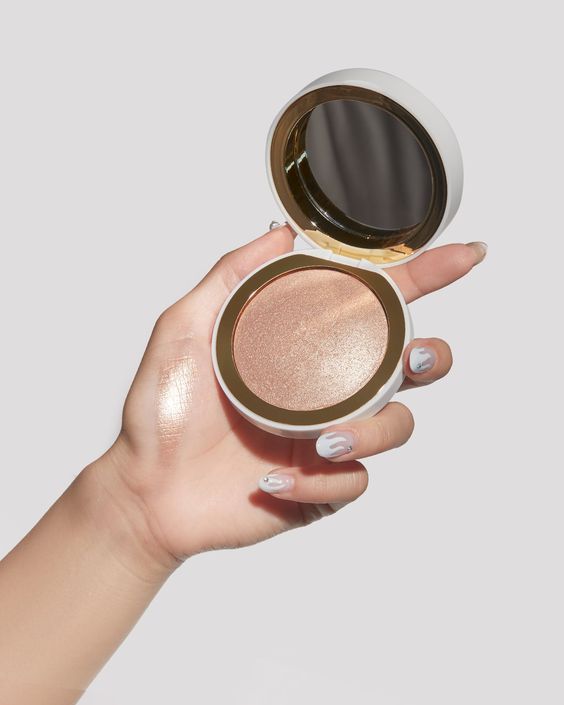 Have unhealthy skin? You can use the highlighter as the alternative! Highlighter can give you glowing-looking skin. Not only make your skin glow, but this product also can give a dimension to your face besides contour or bronzer.
Choose the color of the highlighter that's the same as your skin tone. You can choose champagne color highlighter if you have light skin. Then, a gold color highlighter for the dark skin tone. And lastly, for you who have pink undertone skin, a rose color highlighter will be gorgeous on you.
Who's still confused about where the right place to put on the highlighter? Okay, let me tell you, girls! You can put the highlighter on the highest point of your face like the cheekbones, brow bone, forehead, chin, and nose. Make sure you blend it well to prevent the tacky look.
14. Nude Color Lipstick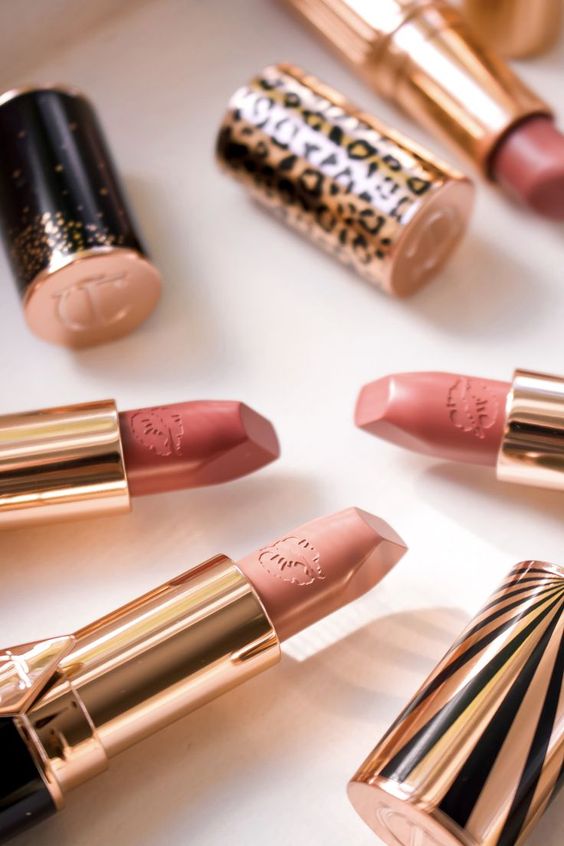 Move on to the girl's favorite part. Do you know what it is? Yes, you're right! The answer is lipstick! I know girls can live without lipstick because this is a life-saver product when their faces look pale. So, for this makeup, you can choose a nude color for the lipstick to make it look natural. But if you feel weird with the nude color, you can do an ombre lip.
First, you have to conceal the dark line using concealer. After you blend it, you can move on to apply nude lipstick. You can stop in this step if you already feel satisfied. But if you feel it makes your face look pale, you can continue applying darker color lipstick like mauve or red on the inner lips. Then you should blend it until there's no harsh line to get soft ombre lips.
15. Setting Spray to Lock Your Whole Makeup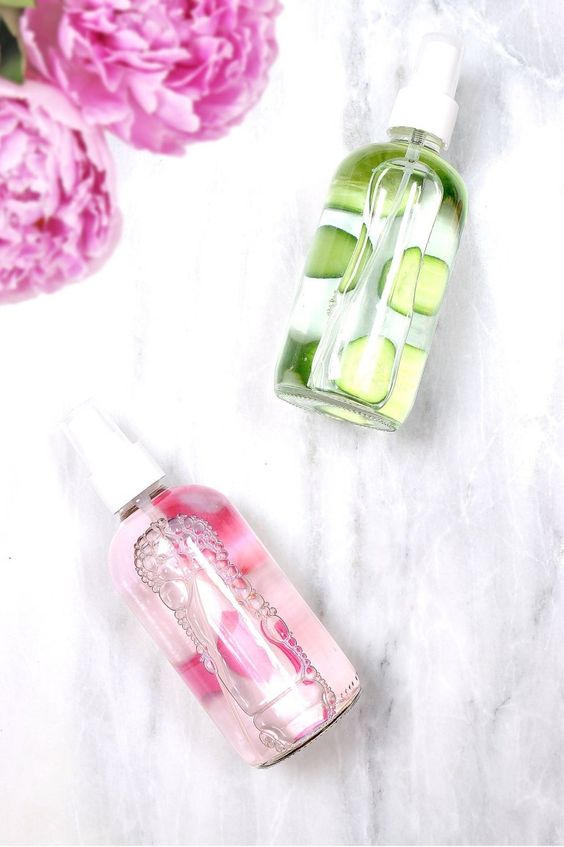 Now we have already turned into the last step of this makeup. Yes, wear a setting spray to lock your whole makeup. This is the key to having long-lasting makeup without cracking or cakey. So, you should choose the right type of setting spray based on your skin type.
If you have oily skin, choose the setting spray that has a matte finish because it can hold the oil on your face all day long. And for you with dry skin, you can prefer setting spray with a dewy finish to hydrate your skin and prevent your makeup being cracking.
And your makeup is done! Isn't it very simple and suitable to use for the holiday? With this natural makeup, you're ready to spend your holiday all day long. Say no to the crack and cakey makeup anymore because if you can follow this tutorial, your makeup gonna be flawless all the time. I think that's it about the tutorial, hope you can enjoy this how to get long-lasting makeup for holiday or quick and simple holiday makeup ideas.