Drufashion.com – During the covid 19 pandemic that makes students study at home for a long period of time. Lately, in 2021 students and teachers are cheering cause they can go back to school. So, the process of teaching and learning can be held at school back!
Girls, you might really happy to come back to school. But with the new circumstances, you might be confused about what types of clothes I should wear to attend the first school day? If you think about that, do not worry about that. Because in this writing, we will guide you to have some basic rules that save your appearance for the first time back to school!
We highlight the basic rule styling the first back-to-school outfit. They are must be comfortable! Since we've spent a lot of time at home, it changes our style to choose a more laid-back outfit. Is that sound just casual, isn't it? But, we do not have to worry to feel so casual and sounds boring!
In trend outfits now, we will find lots and lots of outstanding casual outfits! The creativity in mix-and-match outfits in our wardrobe makes us look down to earth! Without taking too much time, we guide you to achieve 10 cute back-to-school outfit ideas for teenage girls down below!
Button-down shirt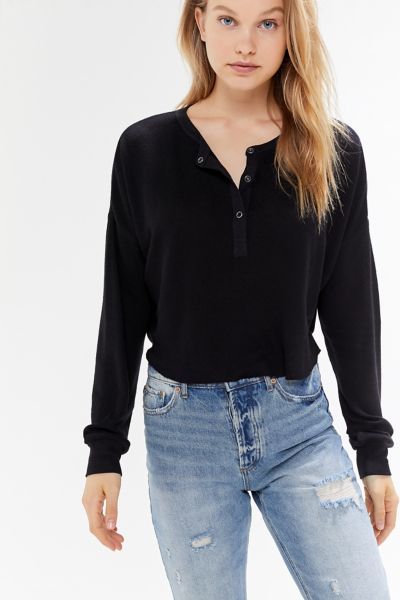 As we alluded to earlier, the trend fashion item now is so generous with a comfortable feature. A black button-down shirt will not fail your first school day! To give you an excellent comfortable outfit, you better choose the loose style rather than the tight one. Matching up your casual shirt with a washed denim jeans. Without being over, you dress in a proper amount that will save your look on the first school day! For the footwear option, you can wear a pair of white sneakers or a pair of black ballet flats!
Loose jeans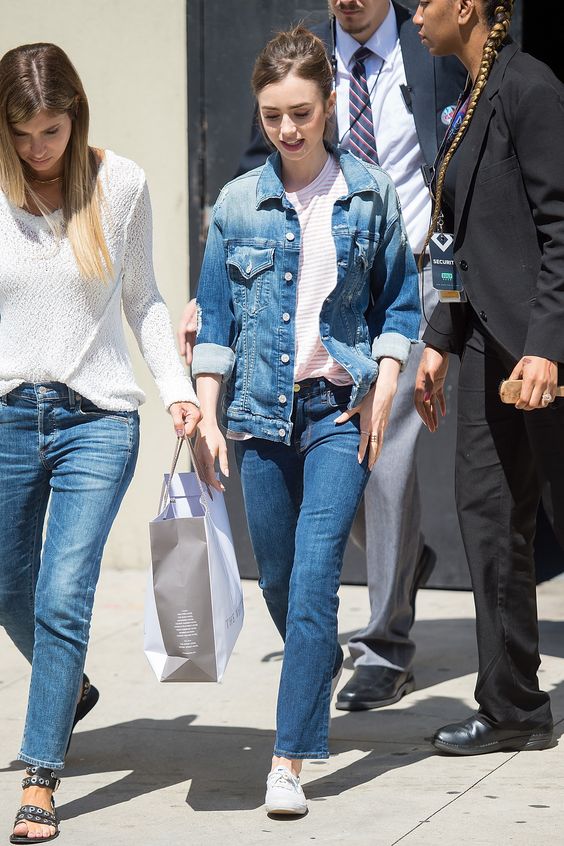 From then to now, jeans are the favorite fashion item to go out, including to style school outfit ideas. Girls, you can choose a loose jean style to give you full comfort for your first back to the school day. Pairing up your loose jeans with a casual tee. To give an attractive teen look outfit, you can wear a bright tee. Then layer it up with a denim jacket. Matching up your casual style with comfortable footwear, sneakers! Now, you are ready to go to school and meet your friends with a cool and affordable fashion outfit!
Legging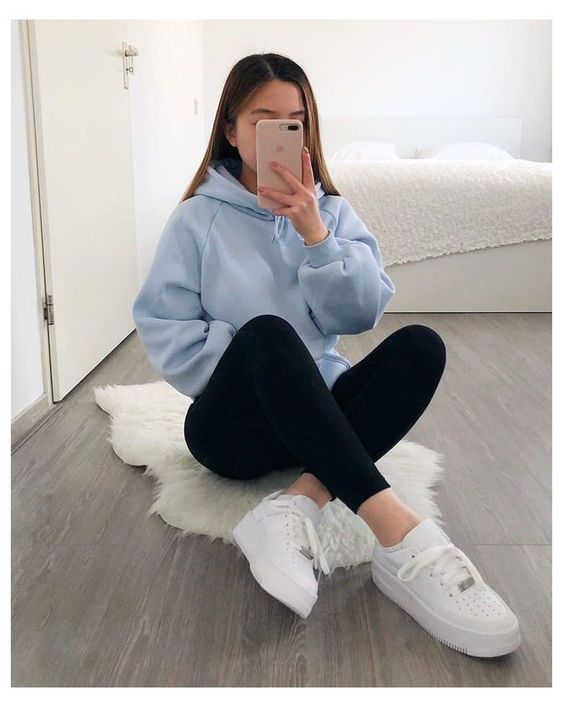 Wearing legging and an oversized hoodie for your first day back to school is not a bad idea! Simple black legging will look good combined with an oversized outfit item. We don't have to afraid of the unfashioned look we get. As long we comfortable in it, and we confident to wear it, that's what matters! Styling your casual look with a pair of sneakers. We believe that a comfortable outfit will increase the confidence of those who wear it!
T-shirt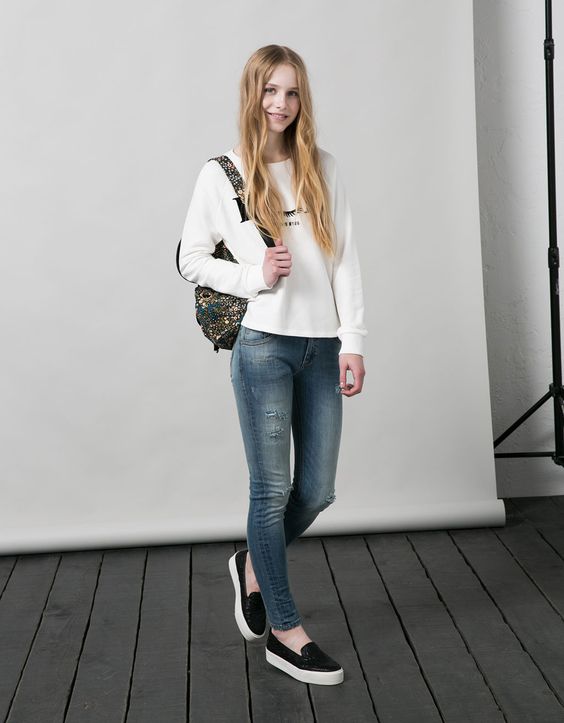 Rocking your first day of school with a long sleeve tee will make you look simple but cute! Choosing the high-quality garment tee that will improve your casual look. To elevate your look, you can be pairing up your white long sleeve tee with a washed denim jeans. Those two combinations are enough to show your school outfit style! Do not forget to wear your favorite sneakers!
Short-sleeve tee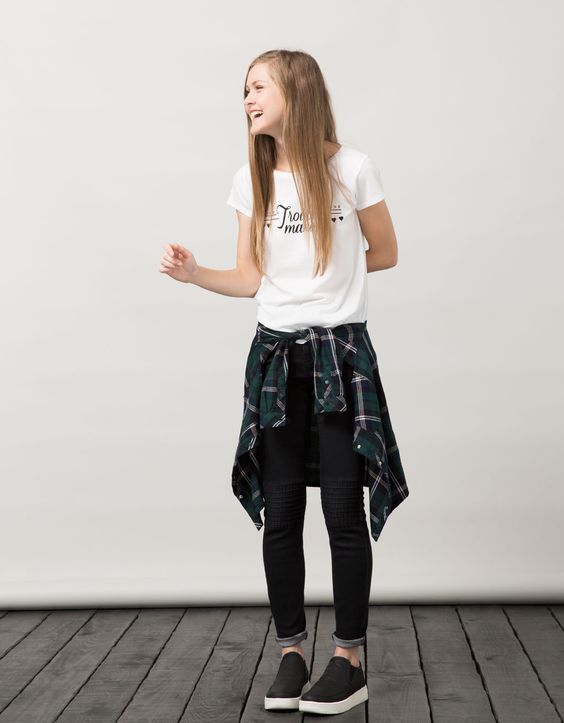 We are pretty sure you have already owned the casual white tee in your wardrobe, right? If so, we can style this timeless item to be back to school outfit idea! The key point in styling casual tee is on the proper mix and match combination. Young girls, you do not need to look for some extra outfit to show your flaw! Simply, pairing up your casual tee with your favorite jeans. If you have a plaid shirt, you can wrap it around your waist to give a cool urban look! Finally, the sneakers can be paired up to complete your style!
Bomber jacket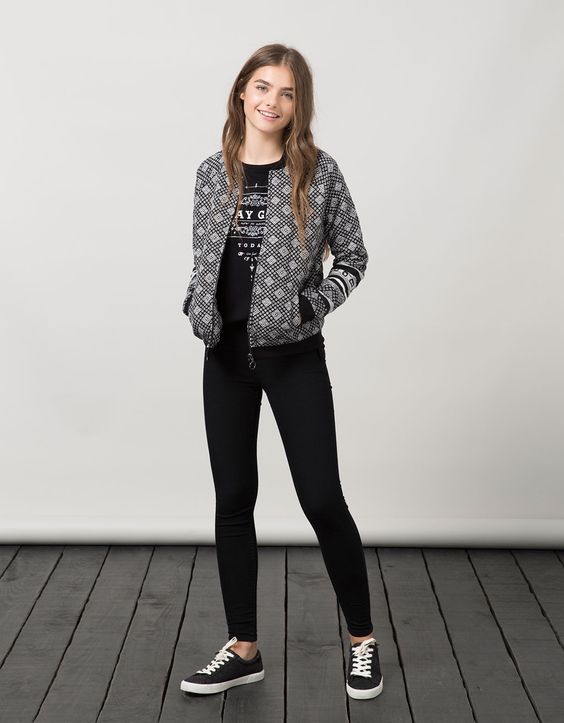 Get a unique yet sporty look by styling a bomber jacket with a casual black tee! Young girls, you can copy her style! Choosing a unique bomber jacket like in the picture above to differ your style from your friends! After that, you can choose affordable pants, that is black jeans! Complete your chic look with a pair of sneakers!
Sweatshirt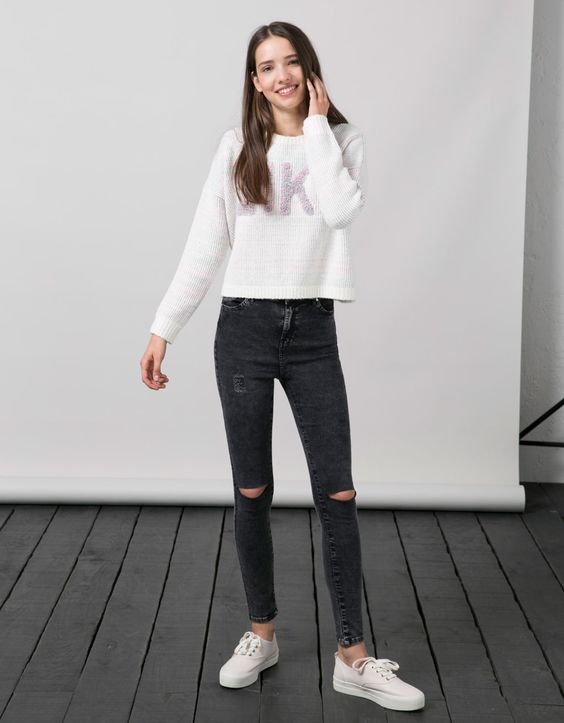 Another way to style your back-to-school outfit fall to a sweatshirt! A lightweight and chic sweatshirt from Kalvin Klein could be your option! Styling up this sweatshirt with ripped jeans pants will make you look effortlessly cool! Perfect your casual look with a pair of white sneakers! Are you ready to go back to school, girls?
Colorful fashion look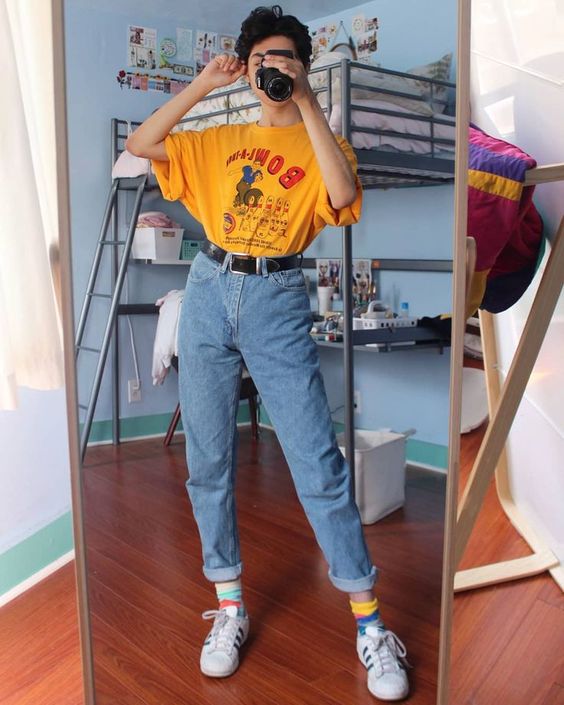 Giving the extra punch to your look by choosing some colorful outfits! Young girls, basically a bright outfit such as yellow will make you glow! Choosing the bright color and oversized tee then combine it with a calm denim jeans color tone. Styling high-waisted denim jeans with a retro belt. That will enhance your look! You can add a more colorful accent accessory, a pair of colorful shocks can be worn to fir your glow look! Then, you can simply pair your chic look with a pair of sneakers. Girls, would you like to try this super cute outfit look to go to school?
Knit sweater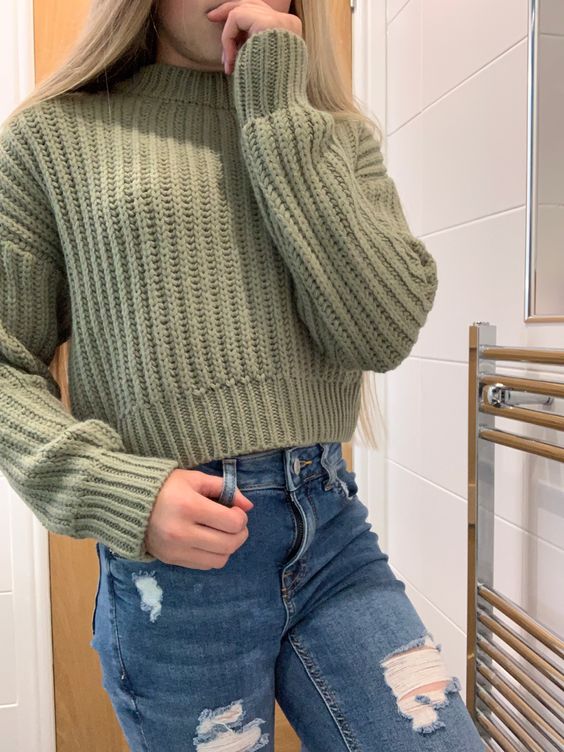 Stying knitwear to school for the colder season is never failing! So, girls, you can combine your comfortable knit sweater with statement jean pants. A knit sweater will warm you up and the jeans pant will make you look cool. So, you will never get cold while being at school in the colder weather. Young girls, when the weather outside is getting colder, you can also layer up your knit sweater with the coat. Finally, perfect your laid-back style with a pair of sneakers!
Plaid loose pants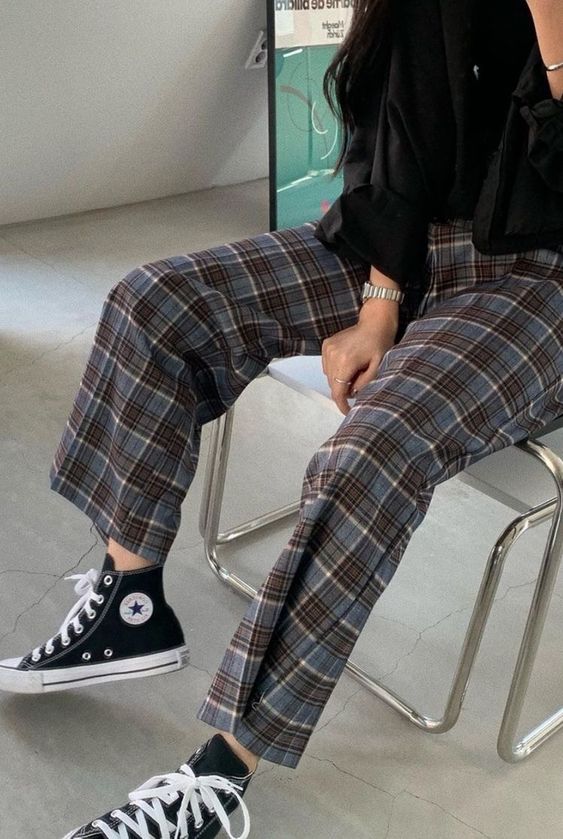 Our last comfortable school outfit idea for teenage girls is plaid loose pants! You can pair up these comfortable pants with a neutral color tee or shirt. Plaid pants will give you a trendy look. Girls, you can pair up your trendy look with a pair of classic black canvas sneakers, you look so amazing!
Conclusion
The covid 19 issue has been transformed the trend outfit styles among us! People love to mix and match comfortable outfits for going out fashion looks. Including the school fashion look that prefer to choose laid-back feature to be worn every single day.
We already share with you 10 cute back-to-school outfit ideas for teenage girls above. All of those essentials are included comfortable feature. The benefit of styling outfits in a comfortable way is that we can feel much more confident in them! We hope you enjoy our writing and get ready to go back to school with a new look!