Drufashion.com – Bonnes Vacances d'été! Happy summer holiday everyone! The Parisian fashion look may be the most sought-after fashion style around the globe. It seems that fashion was born in Paris. It cannot be denied that many of the top world's fashion brands were born in Paris. If we travel to this romantic city, we will find many women and men come across showcase their fashionable Parisian style.
With the sun upon us, the warm weather of the summer season gather us to join the cheerful moment outside. Having a picnic in the park is simply fun and enjoyable during the warm summer season. Or even hanging outside with friends or your lovely one on the sun shining summer day!
To begin your journey in the summertime this year, we will be sharing some trendy Parisian looks. Let's have a look at trendy French girl summer fashion style that will improve your summer look effortlessly cool! Before digging into the French fashion style for summer down below. We have to know what is the French fashion style and how to get that look? Basically, to get the French girl fashion style is quite simple. As long as you know the proper mix and match the casual item. And then go with simple and quality accessories, there you will get the chic Parisian fashion style. We will be sharing some ideas to pick some casual items to get the trendy French summer fashion style down below, don't miss any of them!
Casual street style with classic basic clothes!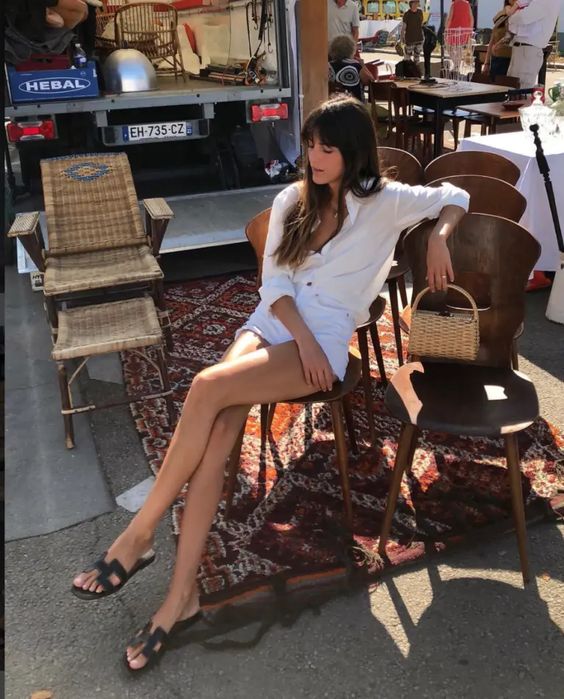 You might be thinking of styling the Parisian street look must look elegant and going with such a branded fashion brand item. Actually, we can achieve the Parisian fashion style based on our own style. To get a casual-chic street style look this summer, we can take the casual summer shorts in our wardrobe.
The white shorts have a neutral color tone and also effortlessly achieve the classic casual look! Combining the white shorts with the neutral white shirt too. This plain color combination does not make you look stiff. The French girl does know how to style a casual look properly! Open down the button of your casual shirt, this will help you to get a laid-back style. In addition, the casual strap sandal and mini woven rattan bag can join your summer look. These casual combination items look perfectly matched together, it literally hands down the summer look! You don't need such glamour accessories to get a trendy French summer fashion look!
Lovely floral mini dress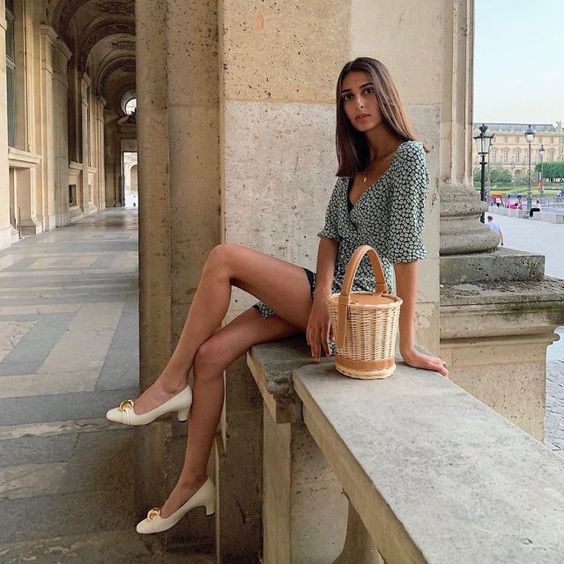 when the summer comes, there is nothing way better to wear a dress. The floral dress is quite cute for styling summer! But, one thing we notice is how the French girl styling the floral dress for summer. They don't like big floral prints on their dress. It's quite enough to have small floral prints on their dress.
So, ladies, we can take a cute floral mini dress or maxi dress with small floral prints accent on it. Pairing your lovely floral dress with a pair of heels shoes or comfortable strap sandals. Giving the summer fashion vibe by wearing the straw bag wherever you go. As you can see, the French girl loves to combine the basic item with a proper accessory. What a brilliant mix of the outfit make they look effortlessly trendy in any season all year round!
Classic minimalist chic outfit Parisian style!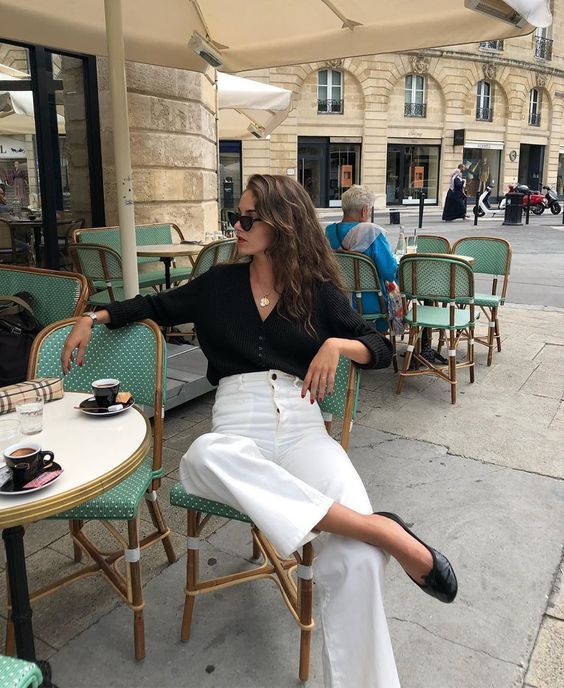 The French girl is well-known for their awesome fashionable style. They know exactly how to get a proper style for a daily fashion look, to the formal occasion. Just look how stylish they are choosing the basic classic items to be worn on the casual summer look! She's combining the neutral white wide-leg trouser with black knitwear. Very comfortable knitwear with v-neck collar style still look proper to wear on the warm summer day! Styling your black knitwear with a tuck-in shirt style. This will make you look taller and slimmer, this is perfect to style your knitwear for summer!
For the bottom side, a pair of black leather flat shoes can join your classic minimalist street style! In addition, wearing sunglasses can improve your summer vibe fashion look. Moreover, the simple gold necklace and metal watch kick your casual minimalist chic aesthetic style look so classy! Are you ready to have this classic French girl summer fashion style?
Nail striped tee like a French girl!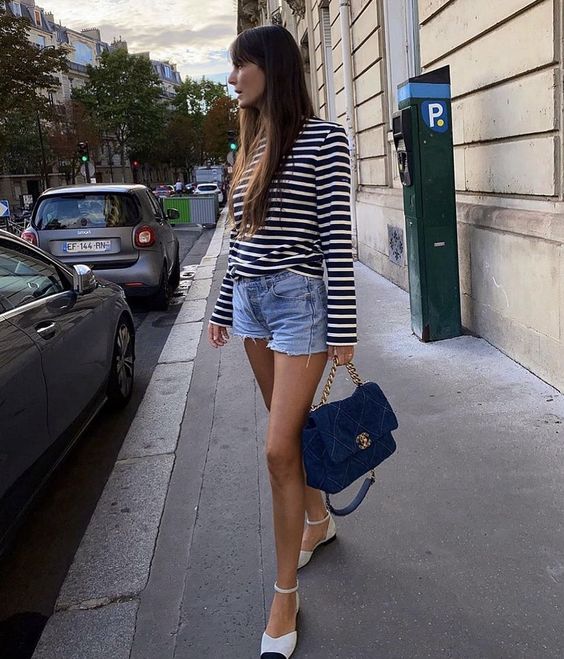 Without a doubt, the striped tee is the basic casual clothing item that is needed to style a trendy casual French look! Just take your striped tee and then simply combine it with washed denim shorts. These matching outfits literally look simple, cute, and define the youth style look. Giving the feminine look by wearing simple strap sandals or shoes. To bold the Parisian style look, a simple bag from Chanel could accompany your lovely casual look!
Aesthetic French girl summer look!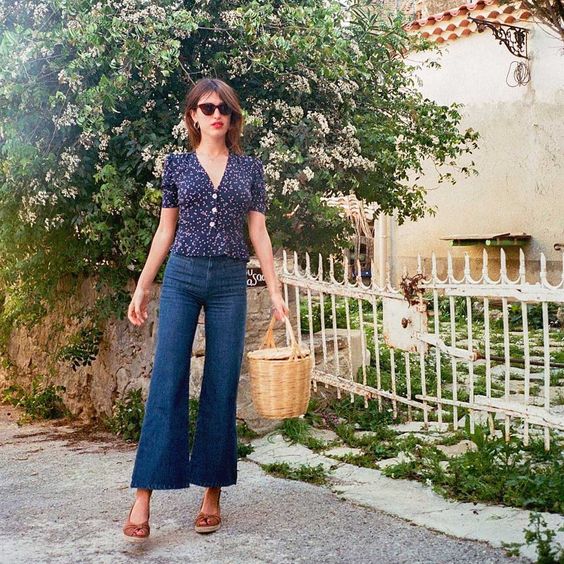 There is nothing wrong to try the aesthetic French girl summer style! They are literally gorgeous in feminine style. Well, let's get started with the look! For the bottom clothing item, you can pick wide-leg denim jeans, this super comfortable and breathable feature will make your leg feel comfortable during hot summer days! Then, for the top clothing item, a lovely floral blouse looks awesome paired with the wide-leg jeans. To give a feminine look, a pair of strap heeled sandals in an earthy color tone will make you look down-to-earth! Moreover, you can wear sunglasses and bring a lovely straw hat in your hand. And that's all, you definitely have aesthetic summer French girl look!
A perfect match of lovely floral midi dress and vintage blouse!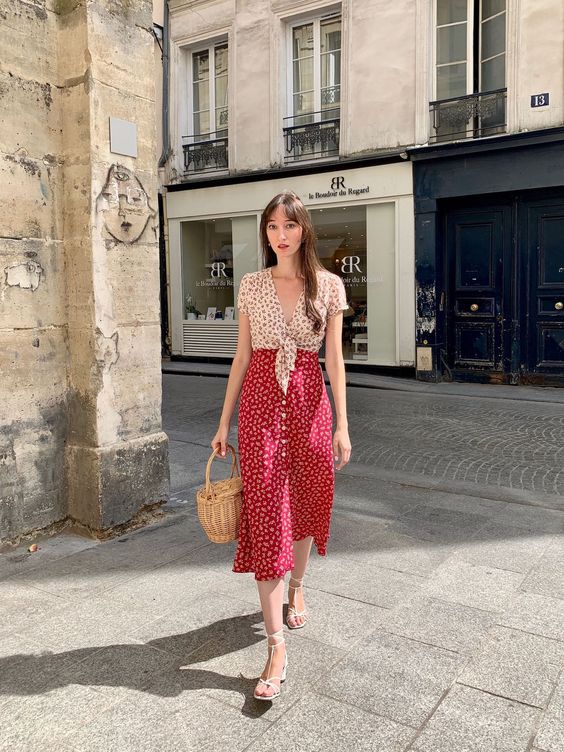 Imagine the renaissance and romanticism era in Paris a long time ago. Where people love to embrace the beauty of nature. And at that time, the vintage style that embraces floral prints was in great demand in such an era. Actually, girl, you look so lovely to dress in the floral prints! To get this lovely Parisian summer fashion style essential. You can pick a floral midi dress, and then combine it with a vintage neutral blouse. The color saturation of the red midi dress and neural top outfit gives you a down-to-earth look! In addition, a pair of white heels sandals give you a lovely girly look. In addition, you can style your hair with a linen bandana or tie it with a lovely scrunchie. This absolutely gorgeous Parisian summer look! Don't forget to bring the straw bag to bold the summer vibe!
Final words
Traveling or hanging outside in the summer season is quite attempting! We can see the beautiful clear sky above and the warm sun touch our skin. It's such a pleasant environment to be in outdoor! Well, to embrace the summer vibe vacation, we have compiled some of the best casual French girl summer fashion ideas that could be your inspo!
Picking some casual outfits and then wrap with proper accessories, make the Parisian fashion style look awesome! They know exactly how to pair the casual item and the wrap with proper accessories, it literally makes their look so effortlessly cool! In this writing, we have shared with you some of the best trendy French fashion summer styles above. There are floral accent outfits, casual basic clothing items, and the bring a straw bag to embrace chic summer vibe outfit style! We hope you enjoy the styles above, and soon you can try the aesthetic Parisian summer trends outfit styles! Happy summer holiday everyone, bonnes Vacances d'été!