Drufashion.com – While hearing basic minimalist chic outfits, we might think it easy. In fact, styling in a minimalist chic aesthetic is not that easy. On contrary, we find it easy to mix and match the colorful outfits to look stand out. If we got that issue, let's learn some basic pairing up the classic minimalist outfits.
Before we dig into some gorgeous mix and match minimalist outfit style down below. Let's know some basic rules to achieve that style!
The same color tone but a different shade
Do you know what is that means? It's better to give an example rather than describe it in miles long way. For instance, we have a beige coat, then we can layer it with turn down the color saturation to be lighter than beige. Then, for the pant option, we can match it with neutral white pants.
Matching up outfits with the same color tone will be so boring without playing different textures. To make our minimalist style look chic and intriguing we can mixture the textures. For instance, knit sweater, corduroy, lace outfit, and so on.
Combine classic and modern outfit piece
Whether our discussion is talking about classic minimalist, but that does not mean to stop the modern touch to be paired with. Combining a unique classic outfit and refresh our look with modern touch just feel so appealing!
After knowing some basic rules to style casual classic minimalist style. Now, we will share with you how it works down below!
Earthy color palette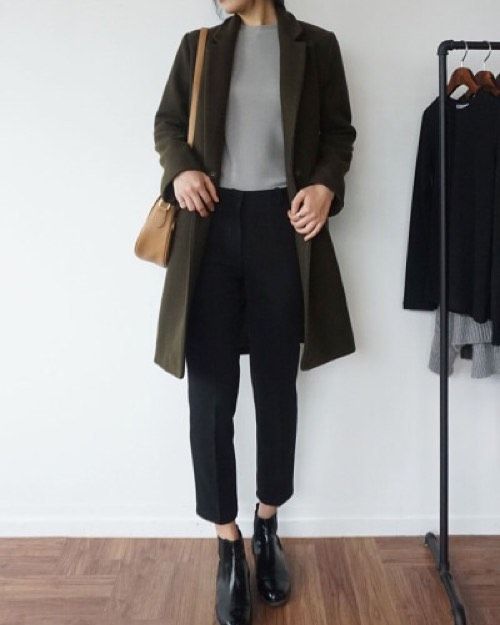 Styling minimalist outfit with earthy color tone clothes looks amazing! First of all, we can wear a soft color tone inside, a gray sweatshirt can be an option. Then, layer it with an earthy color tone coat that has muted green color palette. After that, we can match our outfit with dark-color tone pants. Our choice come to a timeless black pant. Complete this casual outfit style with statement shoes. A pair of black leather shoes will elevate our fashion look! Dressing outfit this way, we have already applied the basic chic minimalist aesthetic look above. These matching outfits find a balance of the same color tone in a different shade and different textures.
Chic off-shoulder asymmetric top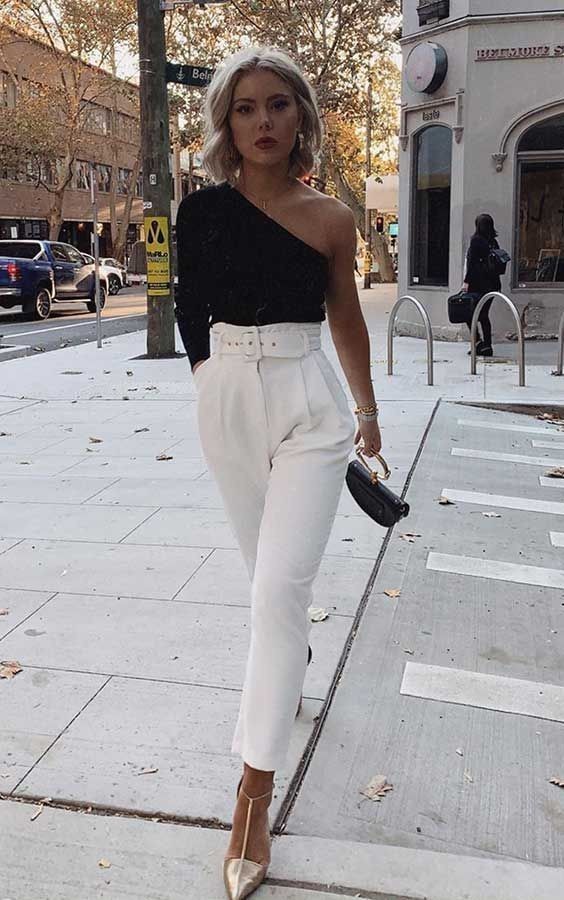 Defining your classy minimalist outfit with a modern piece of outfit! Wearing a black chic off-shoulder asymmetric top will bold the urban look lately. Then, matching up the blacktop with a contrasting color tone pant. A white belted pant will go properly with an asymmetrical top. Finally, to improve your style, a pair of silver heel shoes can be worn. In addition, a black mini bag can be worn. To improve your elegant look, you can attach gold accent accessories. Now, you are absolutely stunning in minimalist style!
Neutral color tone outfit style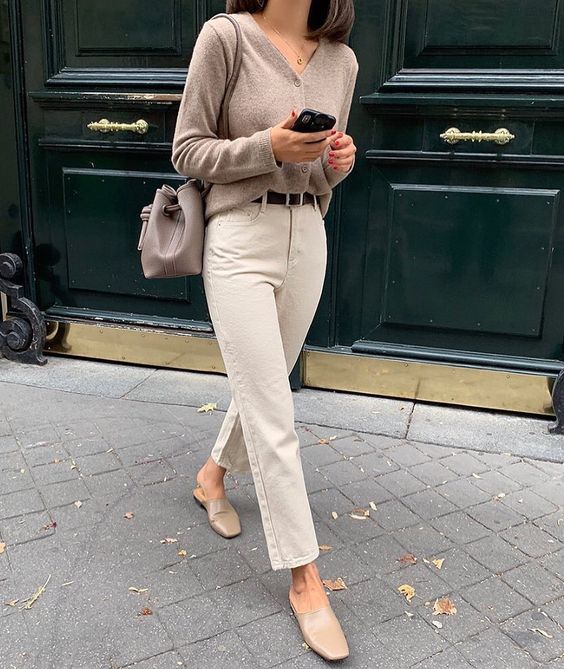 Looking casual in neutral color tone outfits. Starting off wearing a button-down sweatshirt that has the seamless knit feature. This item will give a texture to a minimalist style. Then, combine the knit sweatshirt with soft beige pants. Comfy your casual look with flat leather shoes and a leather sling bag in the same color tone. This casual dress can be worn for informal occasions and it also won't break the office dress code. What a versatile and comfortable outfit!
Go with basic items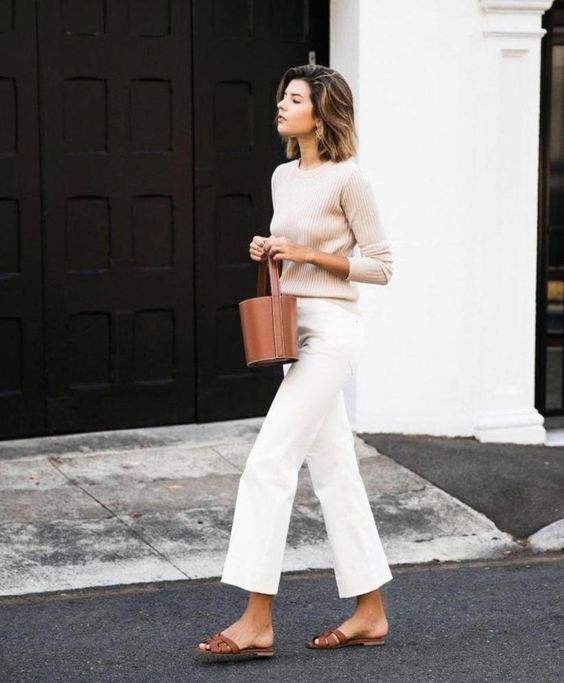 The next classic minimalist chic aesthetic style is fall to basic outfits. Grabbing a neutral beige knit sweater in your wardrobe. Then match up the neutral knit sweater with a white wide-leg trouser. This matching outfit is super comfortable. Defining your chic and give aesthetic to your casual look by wearing a cute leather brown handbag. Choosing the same saturation color tone sandals with your bag. Looking chic with some basic items is simple and appealing, isn't it?
Minimalist style with layering concept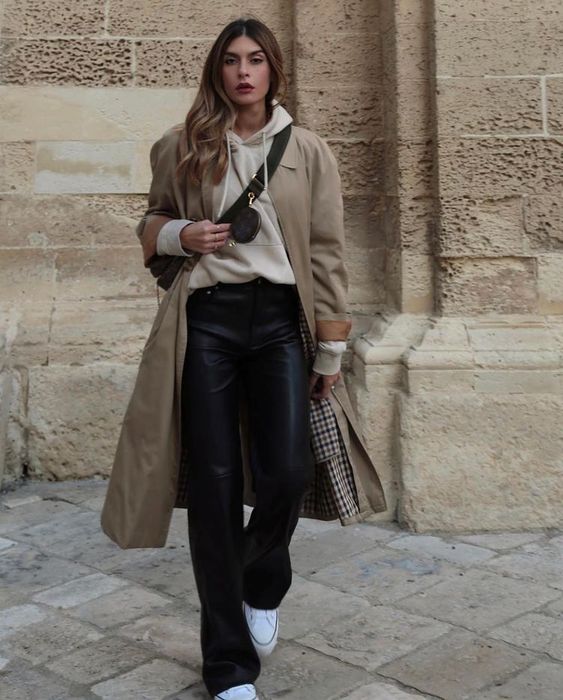 Considering styling our look in minimalist style, we have to know very basic knowledge about it. This style embracing a neutral and earthy color tone to show its beauty and perfection.
If you have no idea how to start matching up the outfits, you can copy this layering style. Simply, we can take a neutral color tone hoodie, and then layer it up with the same color tone coat. Don't worry about styling these two warm clothes, they are just perfect to be paired with. After that, we can give an impact to our look by wearing black leather pants. Finally, you can wear a pair of canvas sneakers and a sling bag to bold the masculine style!
Minimalist chic outfit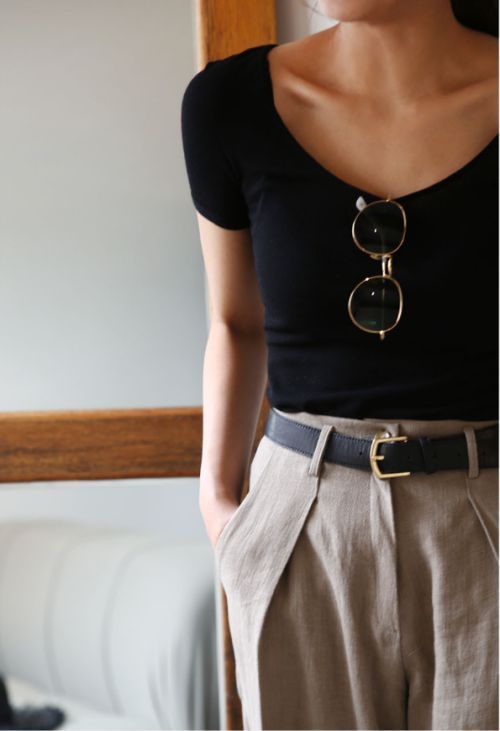 To liven up your casual style, we've been compiling basic outfits that could be paired with simple accessories. As a result, you'll find the aesthetic of the minimal outfit. We're pretty sure, you have a basic linen trouser in your wardrobe. This pant is super comfortable and chooses the neutral color tone that won't break any dress code! After that, we can simply combine it with a black tee that fits with your body. Create a distinctive casual feature outfit by wearing a retro belt. Finally, give a modern look by hanging sunglasses on your collar. We guarantee this look is practical and looking great for a casual outfit idea!
Aesthetic minimalist style in black!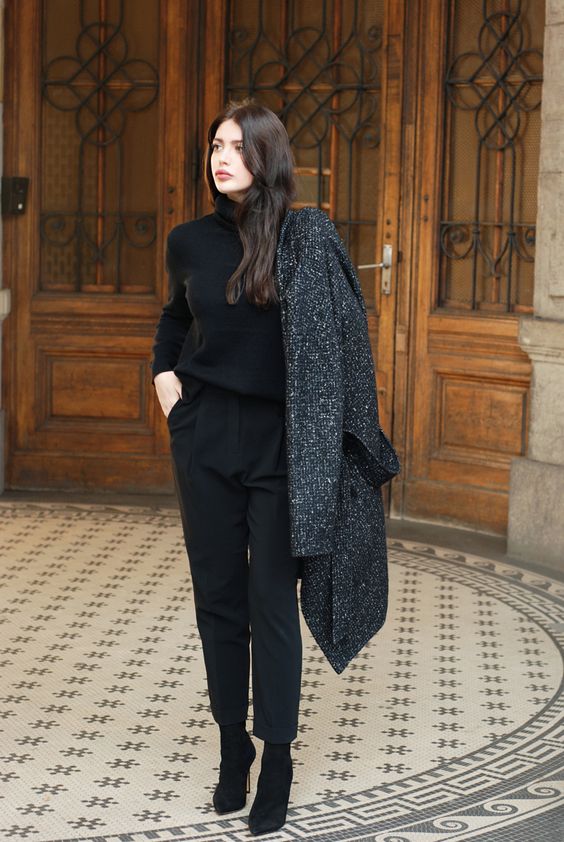 Dressing all in black? Many of us have been tried this formula and that looks great actually! Well, we share with you how to choose a minimalist style using one color tone, black! Starting off to collect a few comfortable outfits, crew neck sweaters, and trousers remember all in black. In addition, you can combine it with a wool coat that has the same color tone but a different shade. For example, a black wool coat that has a white and gray accent color tone.
A different color shade will elevate your black minimalist style! Finally, a pair of black heel shoes can be worn to create a big statement to your fashion look! It's super comfortable to wear in the colder season such as fall and winter plus it looks outstanding!
Two-tone accent color minimalist chic aesthetic outfit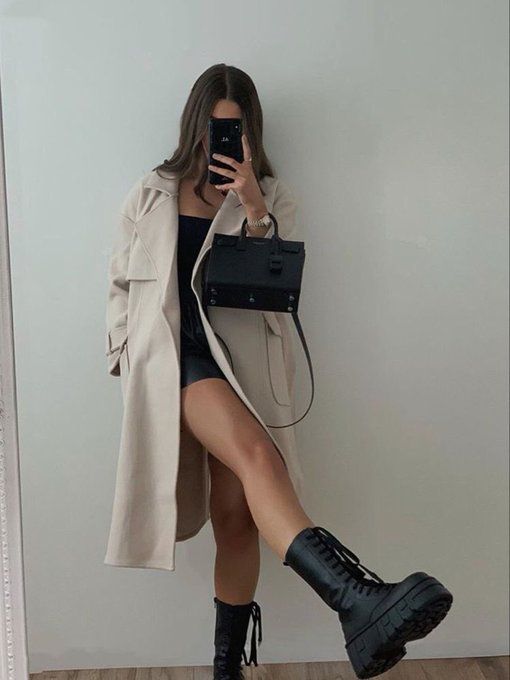 Another classic minimalist chic aesthetic outfit we want to display in this writing. This style featuring two-tone accent color that is black and soft beige color. This style is quite simple that does not require a complicated layering concept. You only need to wear a mini black dress inside and then layer it up with a soft cotton coat in beige. The combination of this two-tone accent color outfit is subtly and outstanding! To liven up your casual style you can wear a pair of black combat boots. You look amazing!
Conclusion
When we hear minimalist style, our mind towards to simple matching-up outfit, But, in fact, there are a few rules styling minimalist outfits to look chic and aesthetic. We already compiled those basic rules outside but we want back to highlight them in this summary, they are:
The same color tone but a different shade
Different textures
Combine classic and modern outfit piece
After knowing those basic rules we hope you find out your own style. Be creative in mix and match or layering concepts that could define your style. We hope you enjoy our writing and tips to style classic minimalist chic outfits to liven up your casual style!