Drufashion.com – There are tons of casual styles you can liven up every single day.  Casual style can define who you are if we refer to the statement of " you are what you wear today!" Before we jump out to the masculine casual style, better for us to know what is the essence of casual style is.
The essential of casual wear is base on its comfort, so you can wear them all day long. We can improve the casual style that will bring us into a stylish look. Through mix-matching outfits that turn to be your fav!
Men, have you ever feel overwhelmed to choose the outfits for your first date or even meet your crush? We suggest you do not feel too much pressure to impress someone you love with a complicated thought about dressing up. Be yourself and dress what you suit the most. Believe us, she will love to see you in the real version of yourself!
To improve your masculine casual style, we offer you some tips for a mix-matching outfit that can boost your casual style look. Don't miss any of them!
Mix-matching Plaid Shirt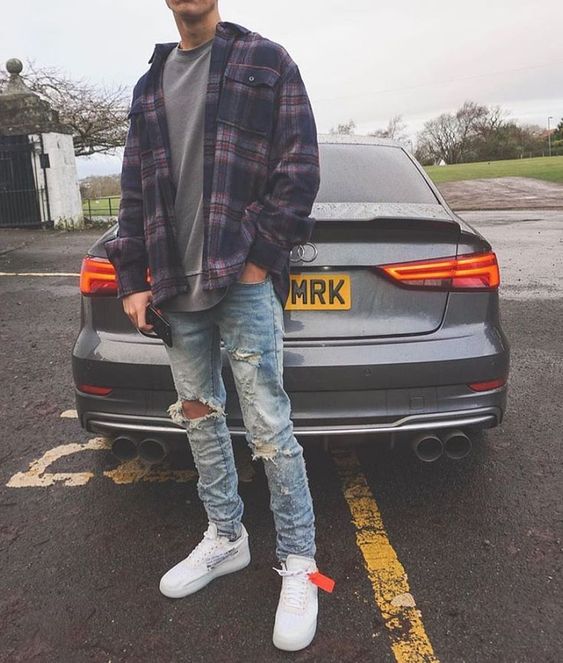 Our first masculine casual style idea comes to the mix-matching plaid shirt. This casual style looks so down-to-earth for men. Mix matching a plaid shirt with a neutral tee, combine it with ripped jeans and a pair of white sneakers, that looks cool!
This casual style is just perfect to accompany hang out with friends and walking out on the street. A simple mix-matching outfit but looks cool tho! There is a message behind your messy look street style is that you show your own taste in clothing, being confident in what you dress and you will be surprised that many girls adore your honesty about your dress. so, guys, you can attract women with your daily masculine style!
Keep Stylish in Simple And Comfortable Outfit!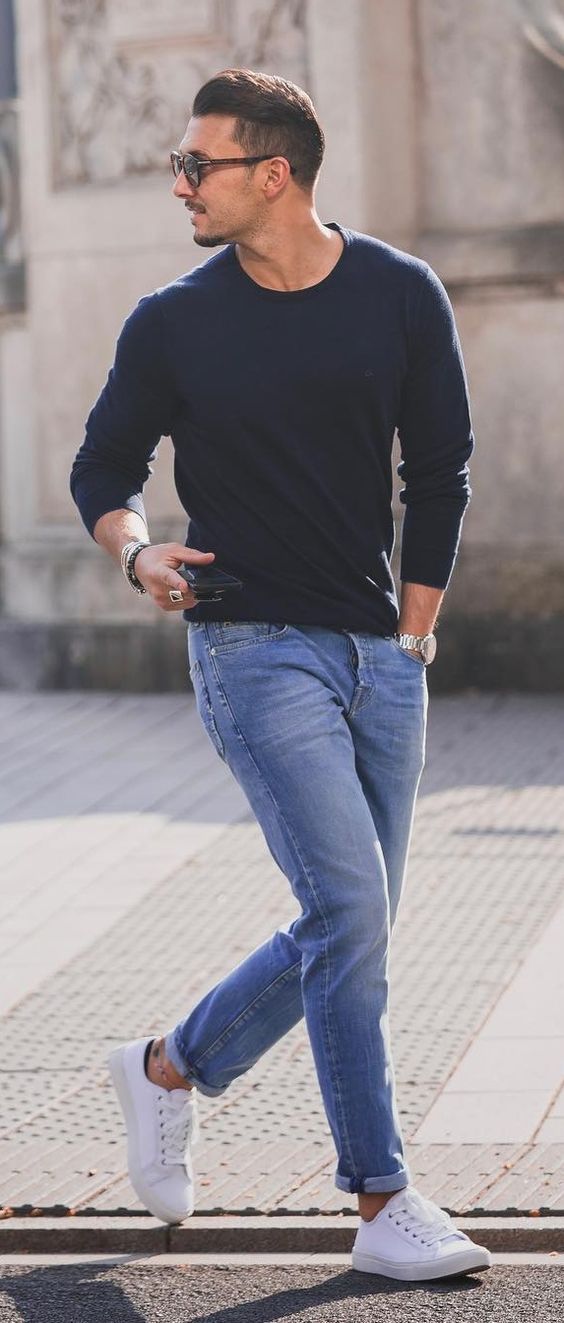 Many times you feel uncomfortable how to dress well? If you have that problem, don't take it too seriously. Here we offer you fresh and stylish masculine casual wear that you will love! Simply combining your dark hue sweatshirt with denim jeans, comfort your casual style with a pair of sneakers. This is the easiest way to dress masculine casual style.
Think about the simplicity and incredible outcome, think about this style. You can not go wrong with a sweatshirt, denim jeans, and sneakers to rock the street style. So, men, you need to try this piece to look cool in a simple way!
Check out our latest writing: 15 Stylish Baby Boy Clothe| Looks So Adorable!
Presentable Casual Masculine Style!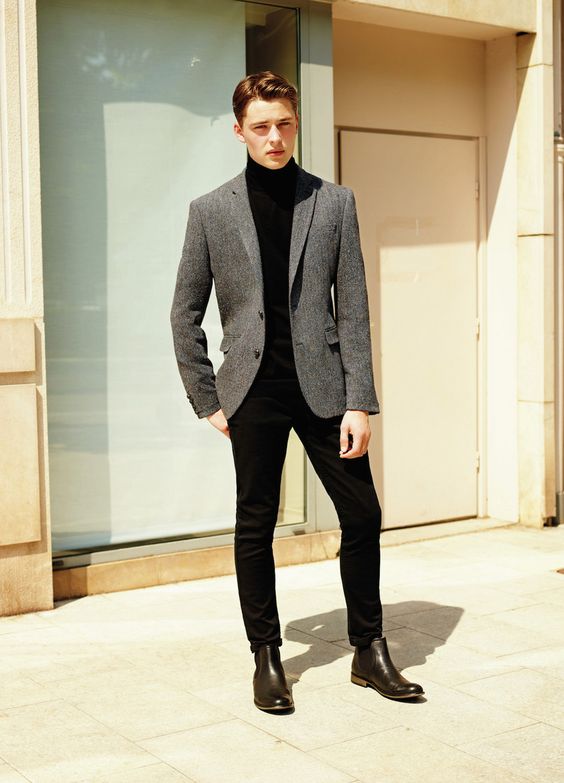 If you are the type of person who loves to dress neatly, this presentable masculine style suits you the most. This casual masculine style is so attractive to the eyes. What should we get to have that look? Well, all you need to wear is a black high neck sweatshirt, layer up with a v neck coat, and black skinny jeans. Completing your masculine style with a pair of leather boots.
Be ready to attract women with your presentable casual masculine style outfits! Do you love this one?
Open Button-Down Shirt For Men's Casual Style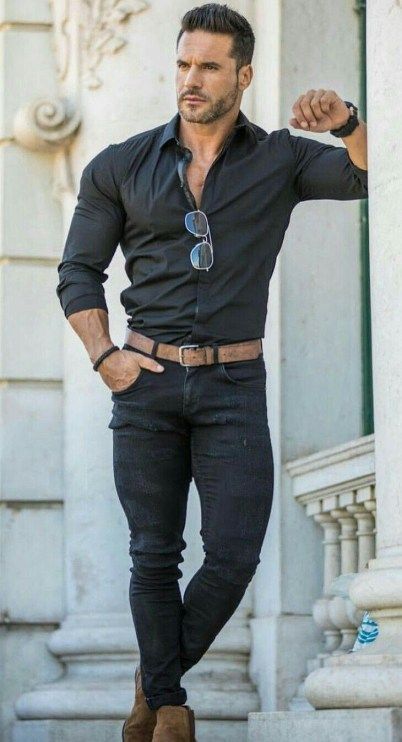 If you have a nice athleisure body, you can wear a navy blue shirt, button-down your shirt to show your cool abs! Matching up your masculine casual style with black skinny jeans. And completing your manly look with a pair of corduroy boots, you look awesome!
Casual Masculine Style With Leather Jacket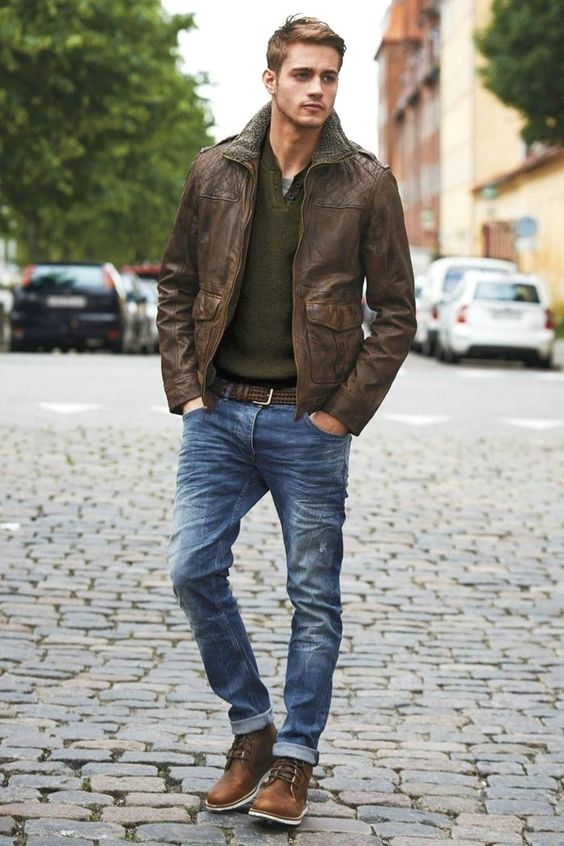 Another men's casual style is matching on a leather jacket. For so long, leather jackets always be a part of men's outfits. So, you can wear a leather jacket to look masculine obviously! Layering your earthy color sweatshirt with a leather jacket, then combine it with roll-up jeans to give a touch of a casual look. Complete your manly look with a pair of leather boots.
Rock Manly Casual Style With A Coolest Bomber Jacket!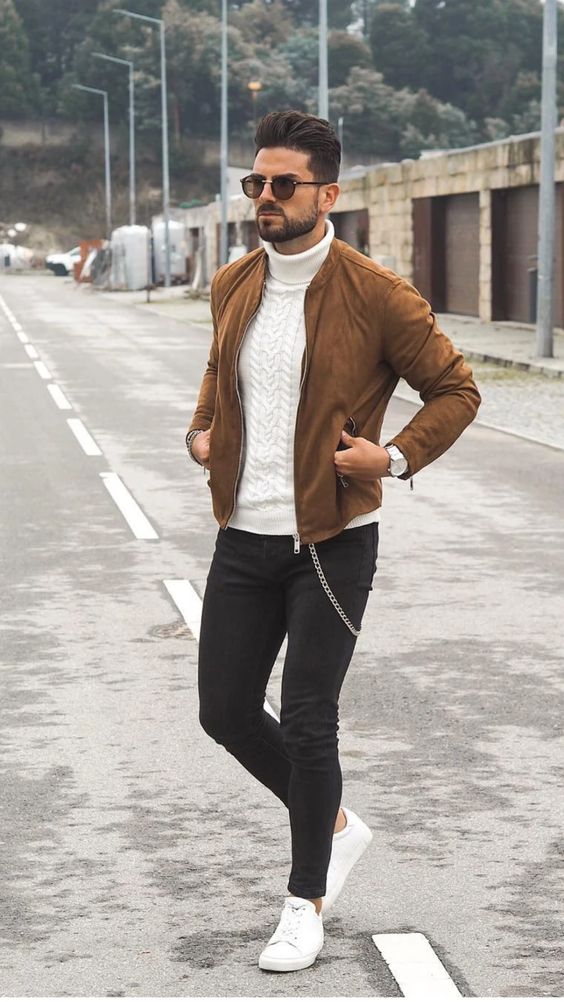 Are you the one who looks for cool masculine casual outfits to attract your crush? Here we have a mix-matching style you will love to get! Starting off on the upper outfits, mix and matching a cool brown bomber jacket and white knitted long neck sweater, going to the lower side outfits, you can matching up your black skinny jeans with a pair of lovely white sneakers. Giving some accessories to accompany your cool manly style with black sunglasses, and a stylish watch. Now, you got that manly look, we guarantee this will attract women with your daily masculine style!
Masculine Casual style: Sporty Outfits Ideas!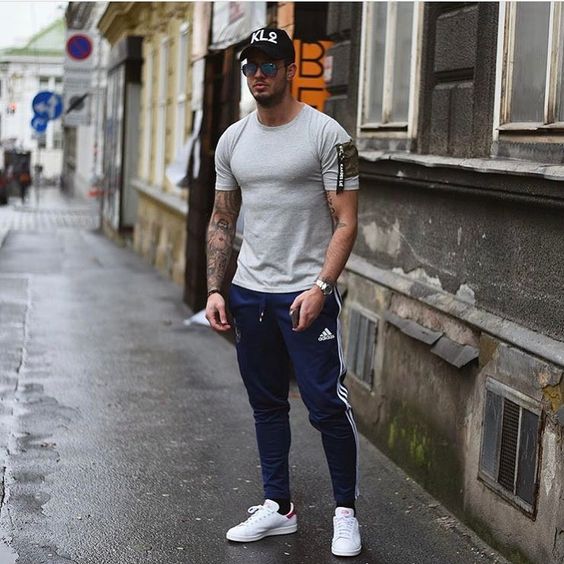 Guys, you will never go wrong choosing sports outfits to show your masculine casual fashion look, this is a simple matching-up outfit but we guarantee many women adore to see men dress in sports outfits! So, all you need to have to get this cool sporty look from head to toe are a black cap, a fitted body tee, track pants, and a pair of comfortable footwear sneakers.
These sports outfits can be your option to show your masculine casual style, besides a stylish sporty casual look, you will feel lots of comfort in that outfits. This casual sporty look just perfect to accompany your day, and rock a street style!
Keep It Simple!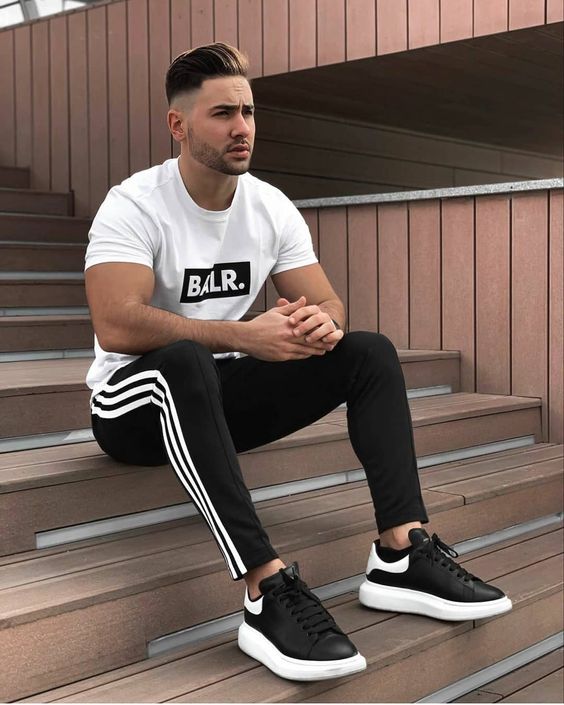 Another casual style for men, along with sporty look outfits. The sporty look is so good with man, creating cool manly fashion style. The key to style this casual sporty look is to keep it simple!
Combining a tee with jogger pants, and then for the footwear, you can maximize a simple casual sporty look with sneakers. Now, you already dress well for a manly casual style. Women will love the way you dress in a simple way but again remain your standout manly casual style.
Relax in Casual Style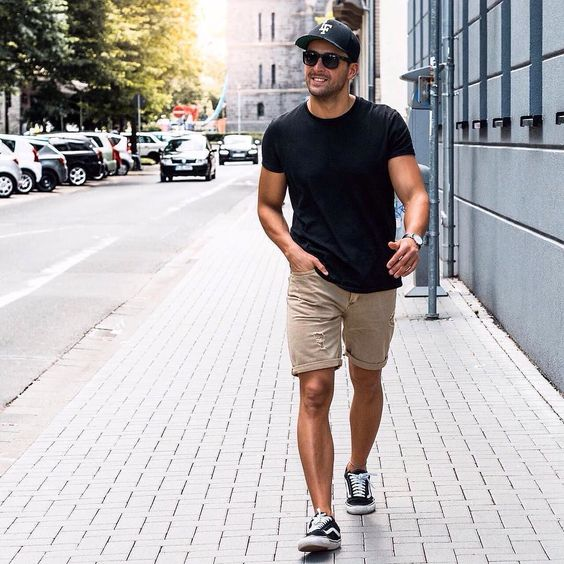 Showing your casual style in a simple way is a great idea. Men love to wear simple outfits to show their manly look. This one is a way to achieve that goal.
You can wear a simple short sleeve tee, and short pants, joining your relaxed style with a pair of sneakers, and you can give a sporty look with a baseball cap. It is a typical men's casual style, but we agree this simple and relax fashion style is so good for your street style. Now, you ready to chill out with friends outside on a sunny day.
Perfect Manly Outfits For Summer!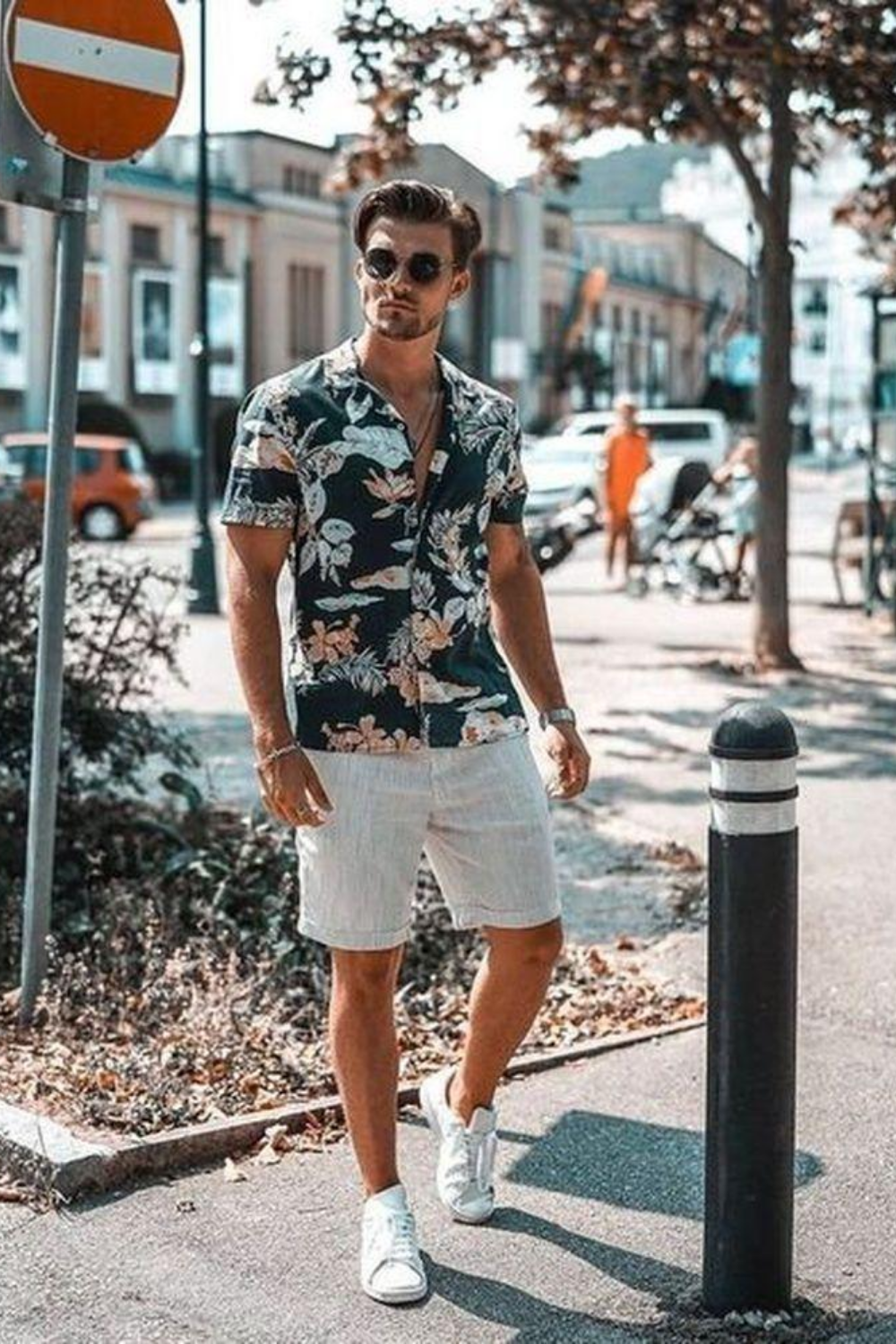 Are you looking for an eye-catching summer outfit? Here we have the idea to make you look cool on a sunny day of summer!
You can wear a vintage short sleeve shirt with a floral pattern and combine your chill style with lovely white short pants, these two look so cool together! Improving your masculine casual style with a pair of sneakers or sandals will be suits your style too. Wearing your sunglasses and so you are ready to have fun on the beach!
Rocking Masculine Casual Street Style With Cargo Pants!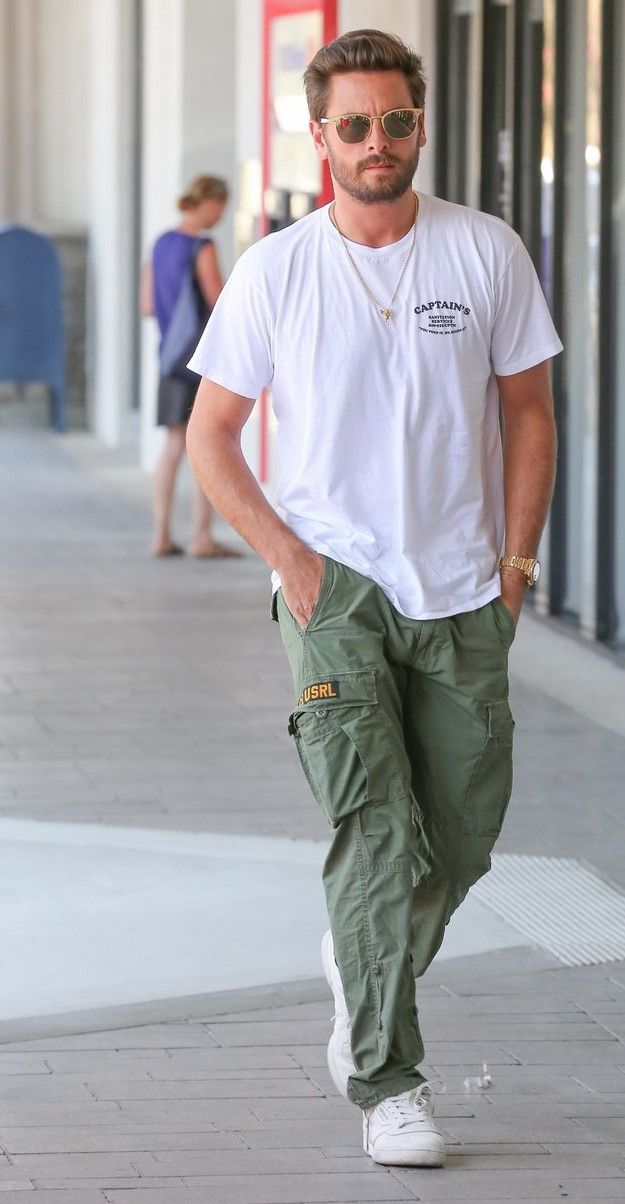 Cargo pants are must-have casual wear for men. You can easily match up these cool cargo pants with a simple short sleeve tee. Perfecting your manly casual style with a pair of comfortable footwear sneakers. We guarantee you look so cool in cargo pants and a simple tee. Rocking street style with simple outfits is something men love to do.
Men love to wear simple outfits to show their manly look. There are many ways available to achieve that goal, such as wearing a tee, short pants, and sneakers then that is enough to define the manly casual look for a man.
There are basics wear you need to have for showing your masculine casual look. They are tee, shirt, leather jacket, bomber jacket, denim jeans, flannel shirt, short pants, and cargo pants. And there is some fitted footwear to accompany your casual style. They are must be a pair of sneakers, sandals, and boots.
You have to choose casual wear that suits you the most, the rule to get that goal is wearing something that gives you confidence and reflect who you are. Do not keep pushing yourself to wear something that really not into you. Be the full version of yourself, dress up in your taste of fashion style. Women love to see you confident being who you are, no matter what kind of style you dress up, showing your honest personality with a down-to-earth style. And that is all you have to know to achieve your own masculine casual fashion ideas.
We hope you enjoy our writing, and we offer you 11 masculine casual styles that could be your preferences to achieve your casual manly look. And we hope our tips could help you to be a version of yourself and attract women with your own style!