Drufashion.com – Before the baby is born, the parents are busy finding the baby's outfits for both girls or boys. Fulfill the baby's wardrobe with a bunch of cute and affordable clothes is a must before they were born into this world. Styling various outfits not only for girls, so the boys can do in their own way.  When you have a baby boy, it does not mean to make you less shopping for having cute and adorable clothing.
Moms, there is one thing we should consider before styling our kids in fashionable outfits. Be kind and generous in selecting safe and comfortable outfits. Never urge something that doesn't safe enough wears for a baby. We suggest you choose soft materials such as cotton for toddlers' outfits. Making them comfortable in a stylish outfit is our duty. So, without taking too much time, let us show you 15 stylish baby boy clothes that will make your baby looks so adorable!
1 out of 15
Stylish Baby Boy Clothes With Sweatshirt and Jeans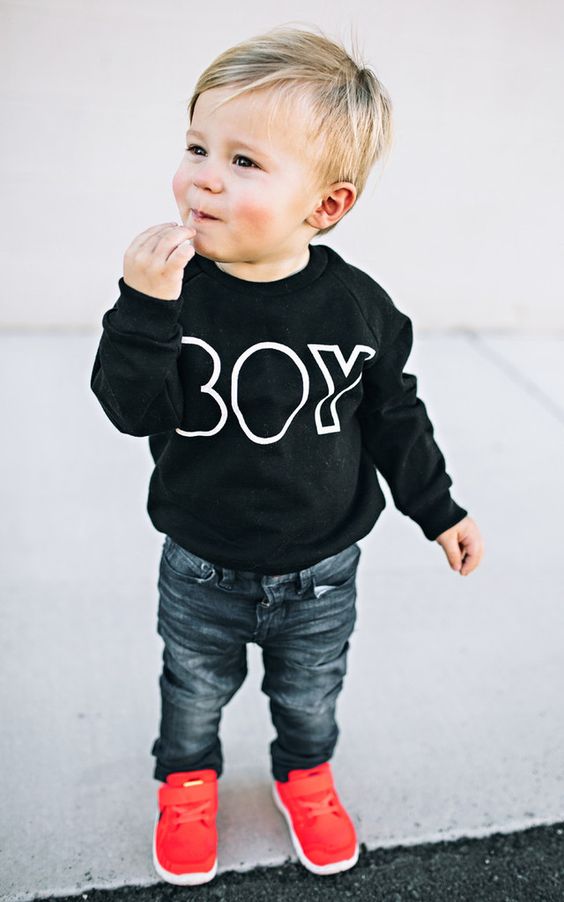 He is looking so adorable in a black winter sweatshirt and baby boy jeans. Completing his stylish look with red sneakers. These outfits are so simple but look so cute! Your baby boy will gonna rock the street style and give a cool impression since he is a baby.
2 out of 15
Casual Outfits For Baby Boy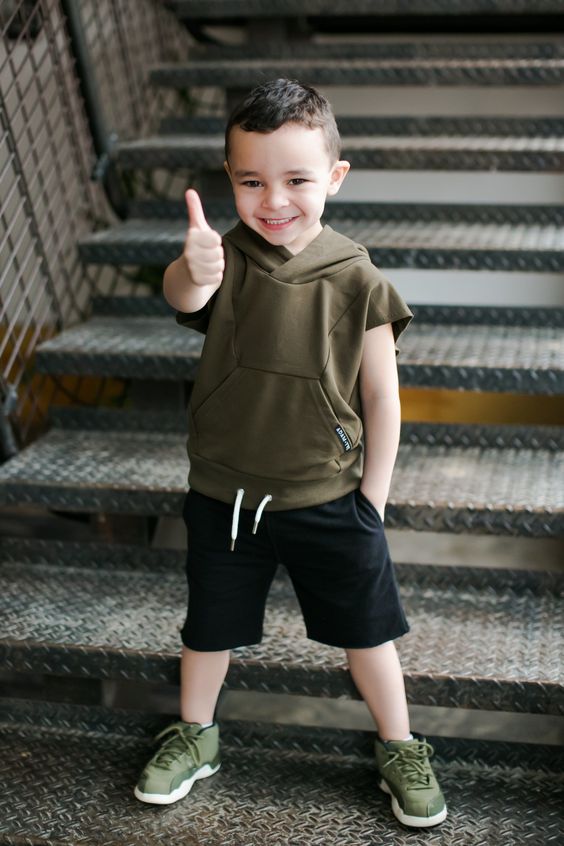 This casual style is perfect for summer. Styling your little boy with a sleeveless hoodie t-shirt and a black t-shirt. For the footwear, give him green sneakers that fit with his sleeveless t-shirt in olive green color. He is chilling on a summer day!
3 out of 15
Boy In Street Style!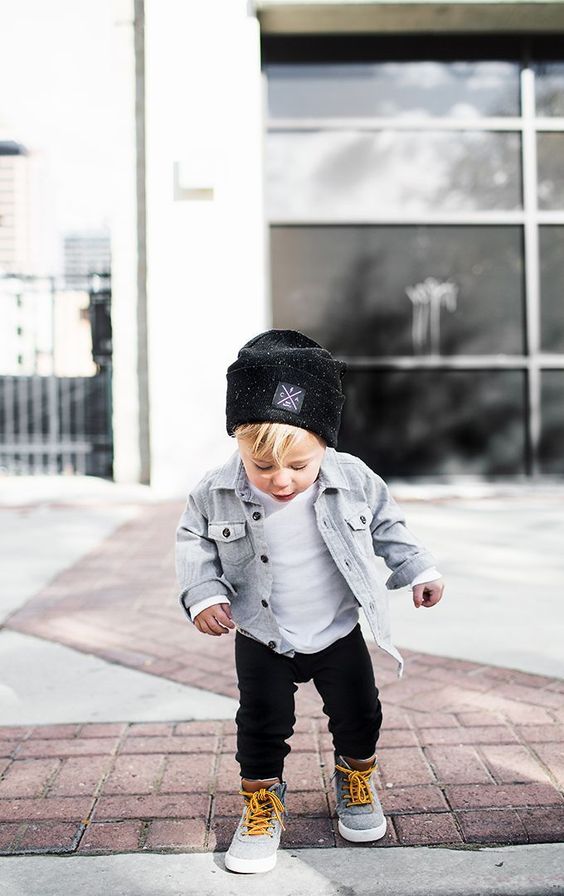 Styling your baby boy with cool street-style outfits. Choosing the monochrome color for his outfits it's a great deal to your baby. Fitting his style with leisure black trousers, a pair of comfortable walking baby shoes with yellow shoelaces to give a touch of attractiveness. For the upper infant's baby boy, we can suit him with a white long sleeve t-shirt and layered well with a denim jacket. To sweeten his street-style look, we can put on a black beanie. Now, he is completely in stylish mode, looks so adorable, isn't he?
4 out of 15
This Baby Boy Looking Chic and Cute!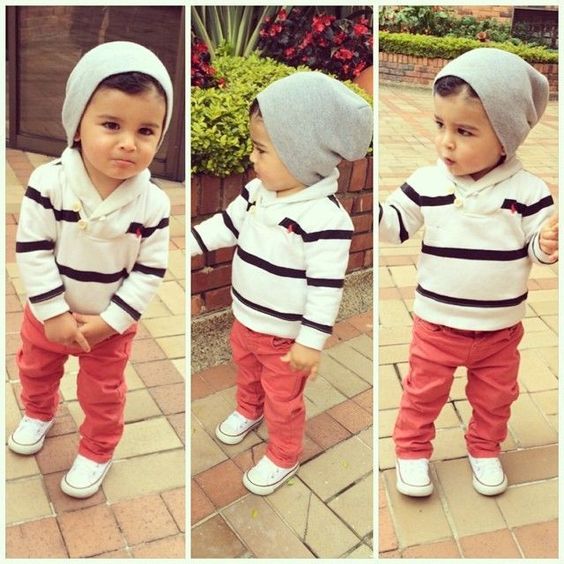 Styling your little boy with some comfortable outfits but could make him look extremely cute! Here are some selections of comfortable outfits that your baby would be happy in stylish mode. We can choose a bright color for his pants. The combination of red leisure trousers matches very well with a striped sweatshirt, put on a grey beanie hat to make him warm in fall. Matching up this sweet boy look with a pair of white sneakers. He looks so adorable! Everyone would love to come and cheer him cause he is so lovely!
5 out of 15
Shining through sunny days in summer!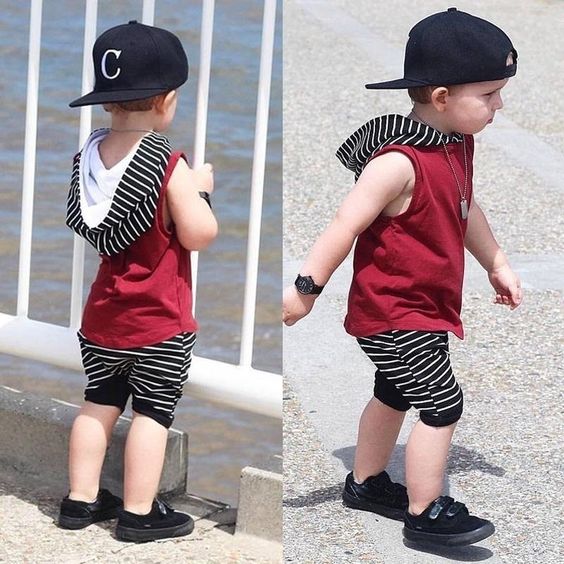 Are you looking for stylish baby boy clothes for summer? We can trick the style to make him shine through the sunny days! Pairing a sleeveless hoodie with a set of striped shorts. Comfy his foot walking on the hot street with a pair of black walking shoes. Advance his cool style with a black cap. now, he is ready to go out and embrace the summer outside!
6 out of 15
Sporty Look Baby Boy Clothing
A sporty look for a baby boy can be an option to look stylish. We can copy the sporty style of this cute little boy. He is wearing a red plaid leisure trouser, a grey sweater hoodie, and a warm and soft jacket. Giving an extra sporty look with a white hat and red sneakers.
7 out of 15
Rocking The Street On Army Pants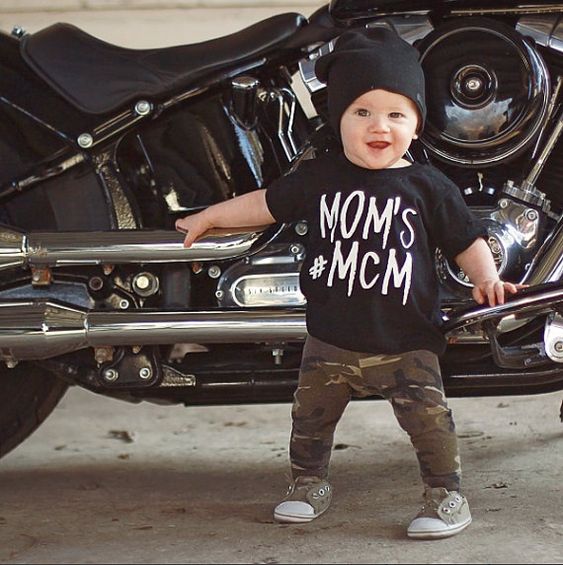 Fashion like a true rider! Your lovely little boy can dress like that. It seriously looks so cool by appearing casual, vintage, and sporty all at the same time. One thing we should remember to style our kids with fashionable outfits is to prioritize comfort. Choosing the outfits with soft materials, so they won't hurt your kids while wearing them.
Here we have clothing items that will make your little boy looks so fashionable. Rocking the street style with army pants, a black printed tee, a black beanie, and a pair of chuck canvas sneakers. So, do you fall in love with these sporty baby boy clothes!
8 out of 15
Mix-matching Stylish Baby Boy Clothing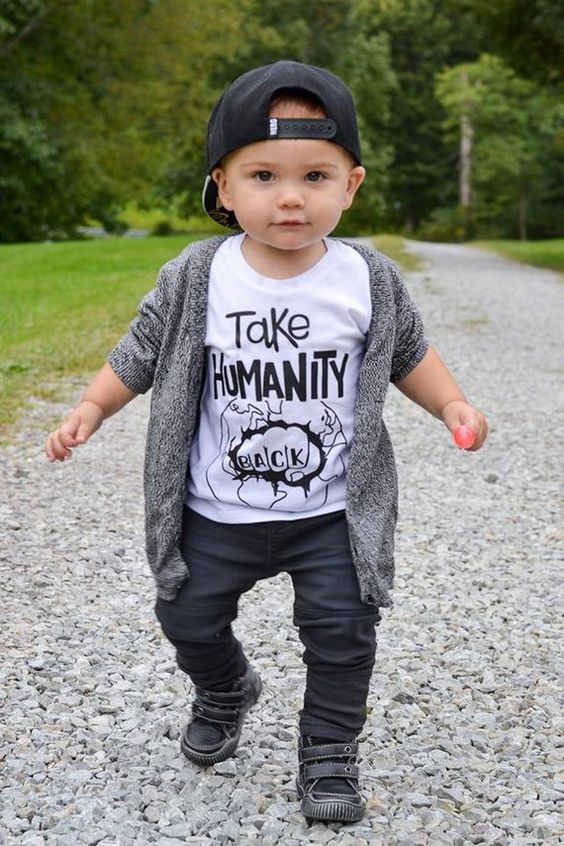 It is a pleasure to shop for nice clothes for our kids. We can try a mix-matching outfit to create fashionable baby boy outfits. We will mention a mix-matching outfit for a toddler boy from head to toe. Don't miss any of them!
Alright, start from the upper outfits, put on a black cap, white printed tee, layer on with a knitted cardigan in a grey hue, rocking his fashion style with leisure leather track pants and a pair of black leather boots. So, mom do you fall in love with this adorable outfit to styling your little boy?
9 out of 15
Stylish Little Boy In Comfortable Outfits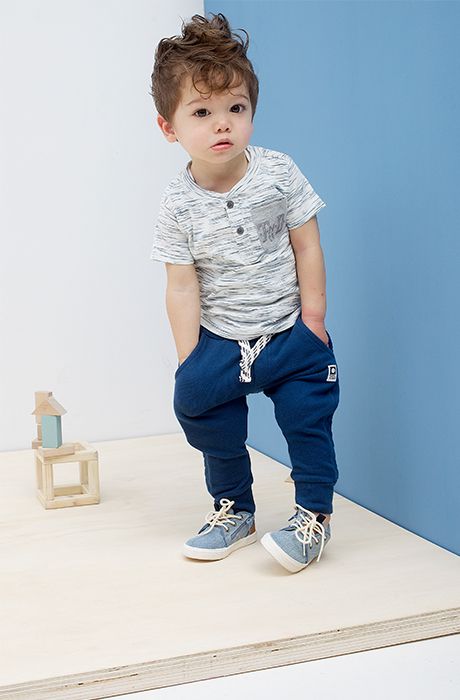 Other stylish baby boy clothes come with comfortable outfits. Do you want to style your little boy but worry it will make him uncomfortable? Well, you do not have to be worried about that. We can choose some outfits that are so comfortable to wear but remain stylish.
Matching up comfortable outfits such as button-up t-shirt and navy thick sweatpants. Completing this stylish comfortable look with a pair of canvas sneakers. These outfits also comfortable if your boy having his nap.
10 out of 15
Adorable Little Boy In College Style Outfits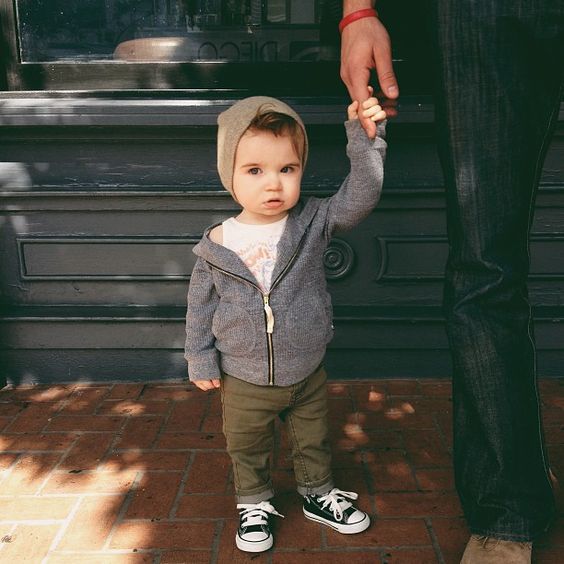 This boy is looking so cute, he dresses very typical college style. Now we will mention what he wears from head to toe. He wears a light brown beanie, a knit jacket, and inside of it there is a white sleeveless tee, corduroy pants, and a pair of classic black canvas sneakers. This look is so typical of the college-style but it looks so cute to your boy. So, mom and dad, you can try these outfits to styling your little boy, we believe that he will look so adorable!
11 out of 15
Cool Style Baby Boy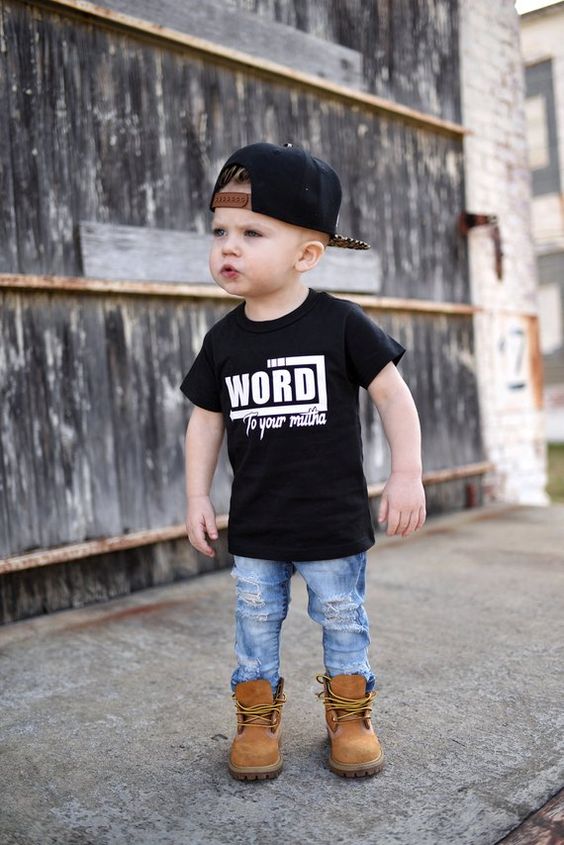 A stylish baby boy clothes with a pair of brown ankle boots combining with ripped jeans looking so good. For the upper outfits, he wears a black tee and then completed it with a black snapback hat. You look so masculine, little boy!
12 out of 15
Rocking a Homie Fashionable Outfits!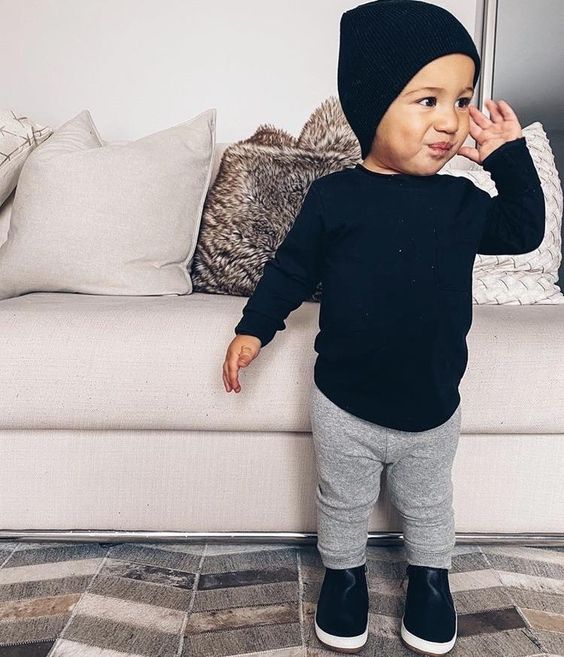 As we already discussed above, fashionable outfits for kids should remain comfortable as its prioritized, especially for toddlers who need soft, breathable material outfits. So, do not ever push him to look fashionable but that can make him uncomfortable in his wear.
Moms, here we have outfits item that will make your little boy stand in a fashionable look but it keeps him comfortable. If the weather is colder, you can dress your little boy in a round long sleeve black t-shirt, and stretchable leggings, and a black beanie hat that will make him warm during the cold weather. For comfortable footwear, moms you can put on sneakers for your little boy. We guarantee these comfortable outfits will suit your kid especially while staying at home.
13 out of 15
Baby Shark Boy Outfit Sets For Summer Look So Adorable!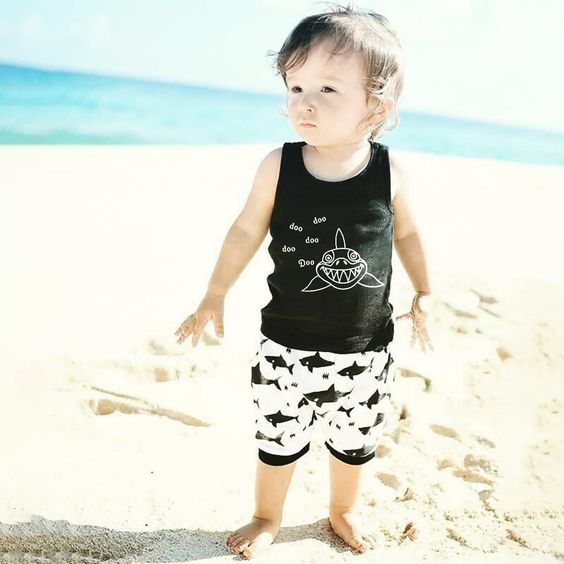 When the summer has come, it is a perfect beach time! Preparing some summer outfits can be so tricky especially when you have a baby you need to prepare it too. Moms, don't be worry and just take it easy.
It does not take much time to prepare your kid's outfit for a beach. You only need to take a suit beach outfit. Featuring shorts pant and a sleeveless tee.
14 out of 15
Fashionable Tropical Outfits Look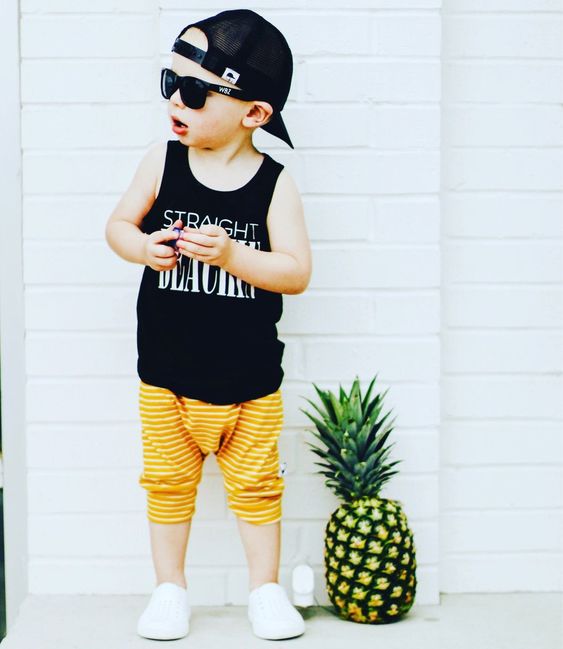 When the winter is fading and the warmer weather comes with beautiful sunny days. It is time to wear a shorts and sleeveless tee! Moms, if you have a little boy, you can dress your lovely one with a black sleeveless tee combine with bright striped yellow pants. Completing his chill style with comfortable footwear such as sneakers. To avoid the sun's heat you can put on a cap on his head. Now, your little boy ready to have a cheerful day with fresh hues outfits! What a perfect summer outfit you look so adorable boy!
15 out of 15
Stylish Baby Boy Clothes Perfect For Street Style!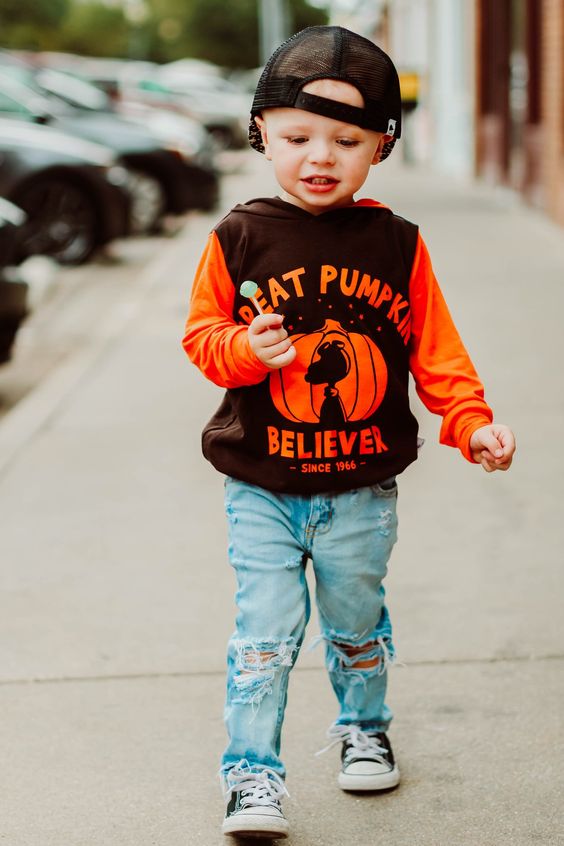 Rocking street style is not the only aiming for young peeps. It also works for little boys and girls. Fashionable toddlers are so adorable. Now, what should we have to style a little boy for an amazing street-style look? Simply, wearing ripped jeans, classic black canvas sneakers, a hoodie, and a cap. This casual look so adorable for a little boy, you rock the street style baby!
The birth of a baby brought happiness and a life-changing moment for parents. While waiting for the baby is born, some parents mostly have check-ups with the doctor to see the baby's gender, so they will prepare better for their child. If it's a boy then they will prepare lots of boy outfits and vice versa. Both baby girls or boys bring the same happiness to their parents.
In this article, we already collecting 15 stylish baby boy clothes that look so adorable! Starting off the comfortable outfits for staying at homes, rocking the street style, funky style, to the most livable outfits for cheering sunny days on a beach that looks standout and so fashionable!
We highlighting about stylish outfits for toddlers should remain comfortable as its priorities. Parents should be selective in choosing baby's outfits that are safe to wear all day long instead of appearing stylish look. We hope this writing could help you to find out stylish look for your little boy that will turn to be an adorable toddler!