You need to renew your appearance this season! This has the purpose to avoid the boring look and make you look more fashionable. One of the other aspects that you have to consider is your hair. Not only the haircut, but you need a new kind of hairstyle. Yes, styling your hair will help you to look attractive.
I know it will be very confusing, especially for those who never styled their hair. Okay, you have to stay calm and read our topic about easy spring hairstyle ideas that will make you look fabulous on any occasion. We will give you step-by-step on how to achieve every hairstyle. Furthermore, all you have to do is matched the hairstyle to your occasion.
Remember not to choose the wrong hairstyle! Because it will make you look tacky, instead of fashionable. Therefore, you have to choose the hairstyle carefully, and make sure it is suitable to your outfit too. Don't worry, we will make the tutorial as easy as possible so that can be followed by those who are still beginners. Now, let's straight to the topic!
Easy Spring Hairstyle Ideas to Look Fabulous
Keep Your Hair Straight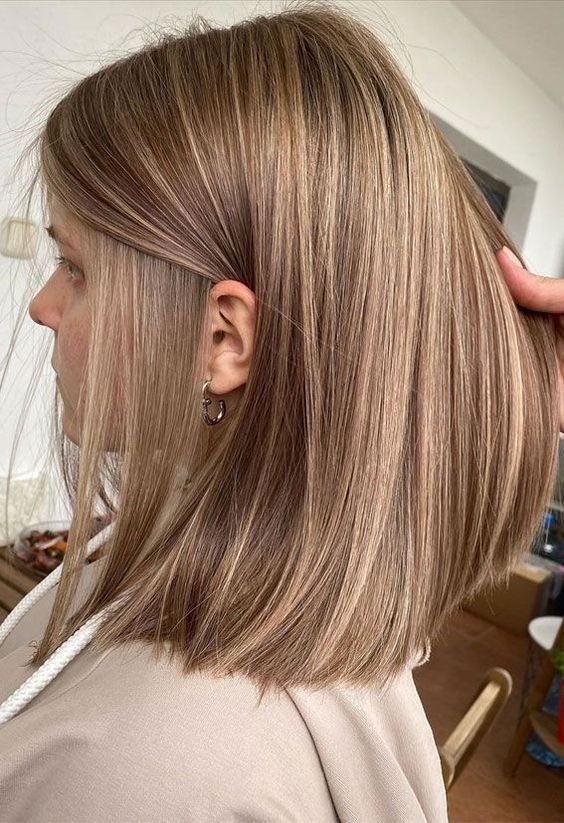 Is your hair already straight? You can keep it to get the classy look! But, make sure your hair looks neat. That's why, if you have space-time, you can use an iron to make it neater. This also applies to people with curly hair. Don't forget to wear heat protection first to keep the health of your hair.
Add Flowers to Your Hair for the Photo Shoot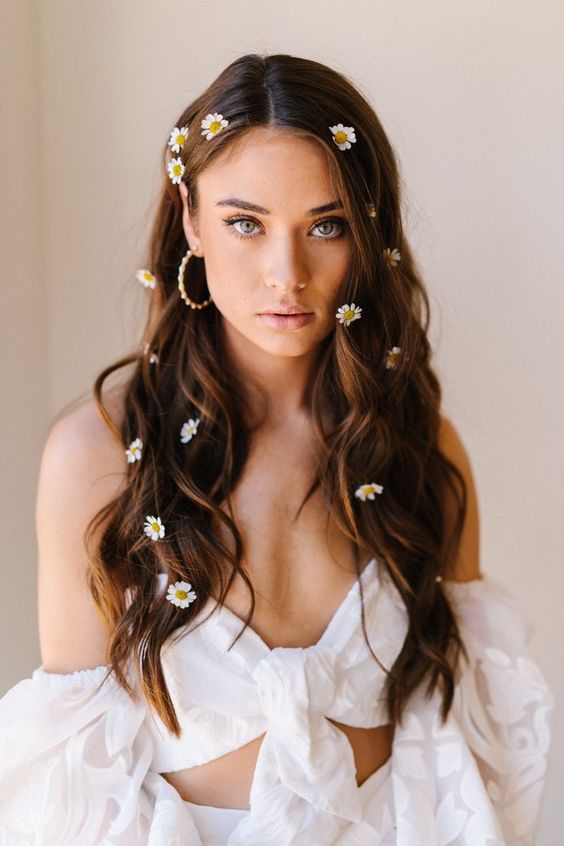 You must pay extra attention to your hair if you want to have a photo shoot. So, to adjust the vibes of the spring, you can add flowers as much as you need to the top of your hair. Can be a flower in the form of a hairpin or a real flower if you want to look totality. Just choose which type you want or need.
Half Ponytail with Scrunchie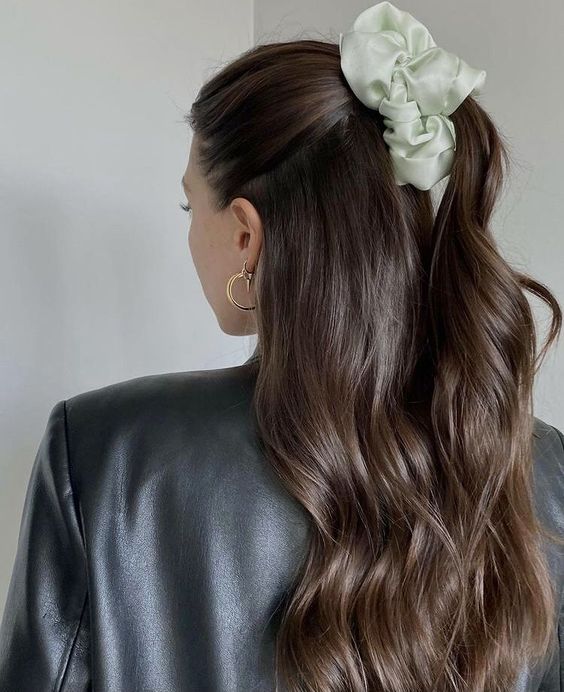 There's no doubt that a half ponytail is one of the comfort hairstyles. Besides it easy to get, this hairstyle capable to make you look prettier. You only need to separate your hair into two sections, then tied the top of your hair into a high pigtail. Now, your half ponytail is finished! Use a scrunchie for the hair tie if you want to look more stylish.
Look Sweet by Using Ribbon
Sweeten your hair by using a ribbon! Usually, people use this for the half-ponytail hairstyle. Or you can also use this for any hairstyle that you think it's gonna be a match. Pairing this hair accessory with a dress or girly outfit. Believe me, you're gonna be the sweetest person and attract people's attention.
Two-Sided French Braid Ponytail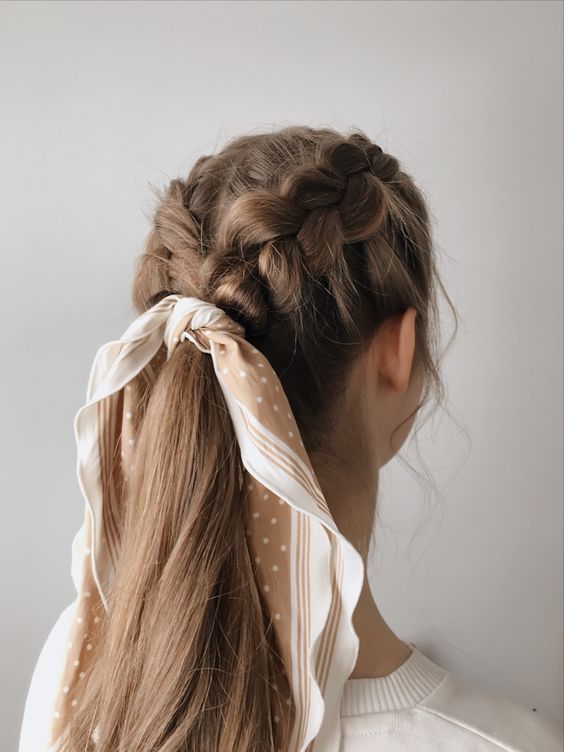 A two-sided French braid ponytail is the kind of hairstyle that gives you a cottage-core vibe. It can be combined with the country girl outfit look. Even if it looks hard, in fact, it's very easy to make. Divide your hair into two parts, then start making the braid from the upper of your hair. Connect the braid all the way to the bottom of your head. Do the same thing to another part. Furthermore, combine two sections to make the ponytail and secure it with a hair tie or scarf.
Wear a Bucket Hat to Look Stylish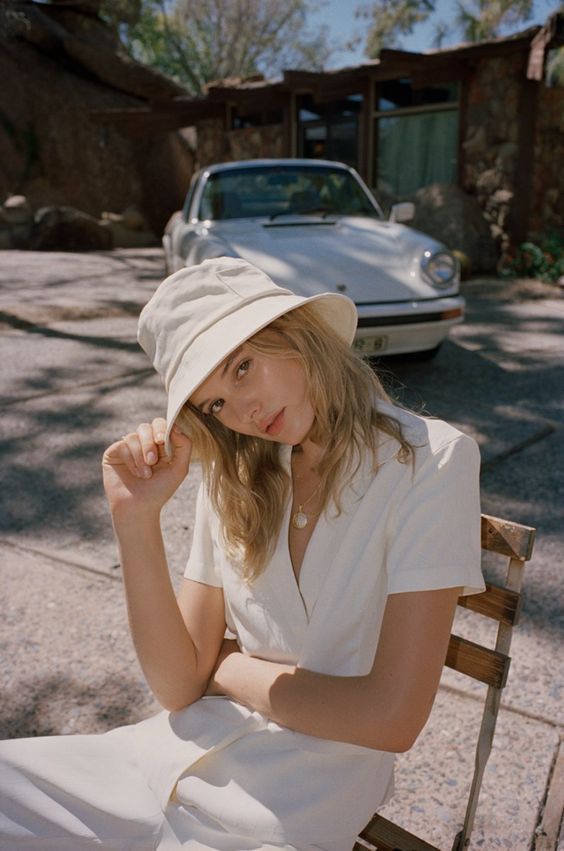 Your hair is messy but feeling lazy to style it? A bucket hat gonna be the best solution for you! Moreover, using this hair accessory will help you to look stylish. It's gonna be great if you can mix it with a casual outfit.
High Bun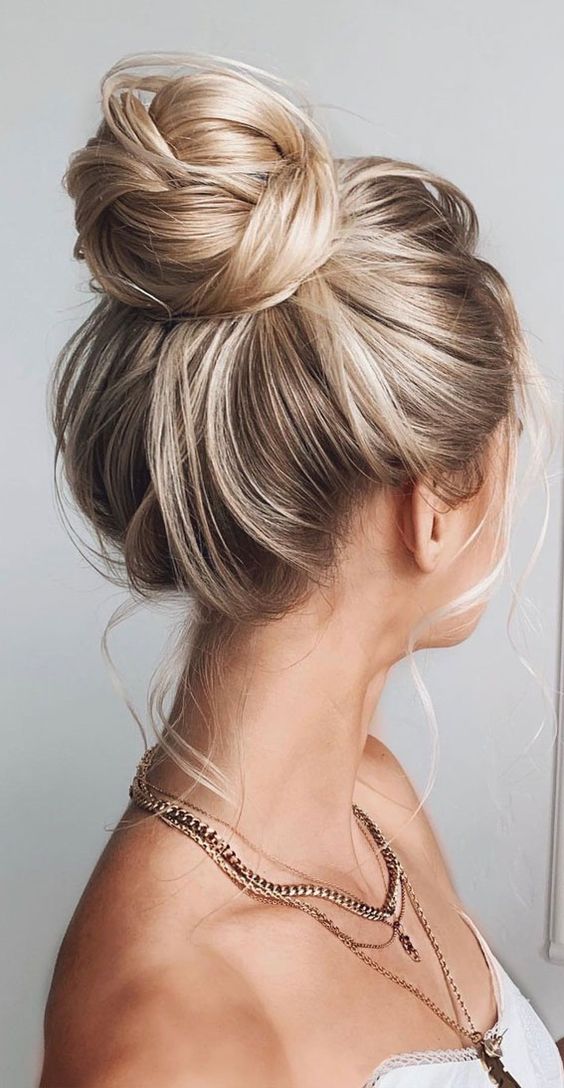 The high bun is a hairstyle that can be used for any occasion. You can make it neat if you want to attend a party or special event. Meanwhile, for casual occasions, just let your hair be messy to support your outfit look. So, where do you want to use this hairstyle?
Twisted Ponytail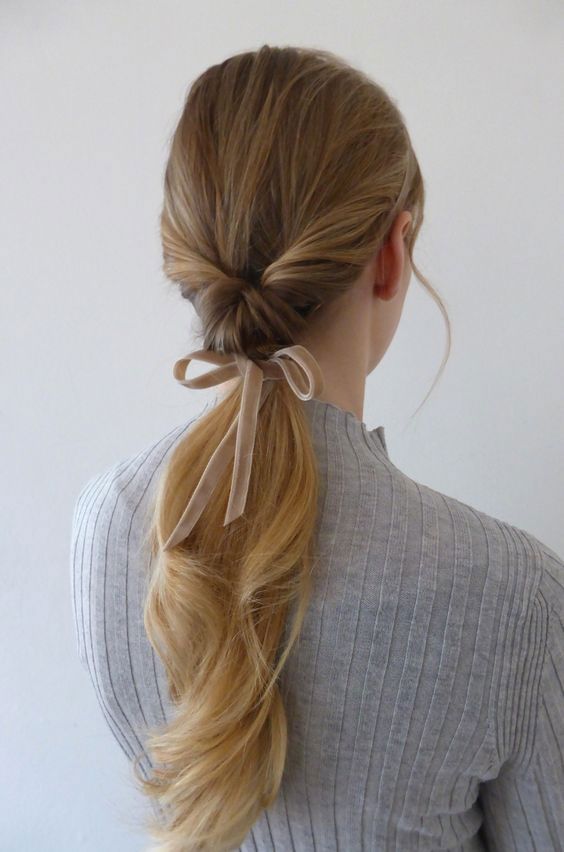 Who are agree with me that a low ponytail is the easiest hairstyle ever? But, if you want to make it look different, you can do a twisted ponytail. First, make the low ponytail, then make a hole and continue to insert your hair into a hole. Prettier your hair with a ribbon and now you're ready to go!
Two Half Pigtails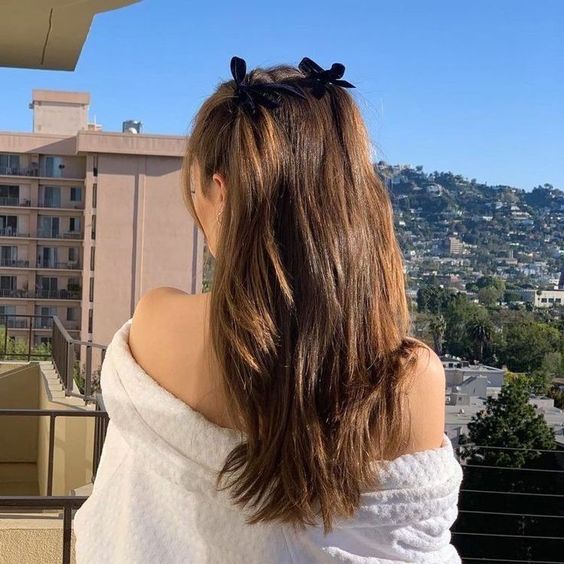 If you want to look like a Tumblr girl, you need to use this hairstyle. Yes, two-half pigtails are the answer! This hairstyle will give you a cute, pretty, and classy look at the same time. But, we don't recommend you wear it for a formal event. Maybe you still can use it for a casual party or hangouts with your friends.
Bubble Ponytail Hair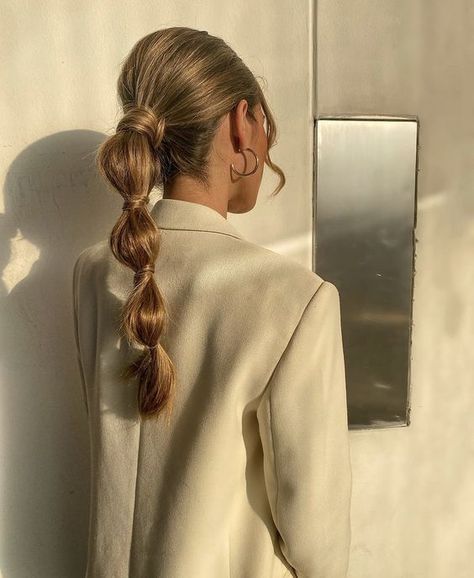 If you are a person that loves being different and unique, bubble ponytail hair will be suited for you. It's almost close to a high ponytail, but you need to add more hair ties to the tail to give a bubble effect look. Even if this hairstyle looks childish, it will be great to be mixed with a formal outfit like a blazer or shirt.
Claw Clip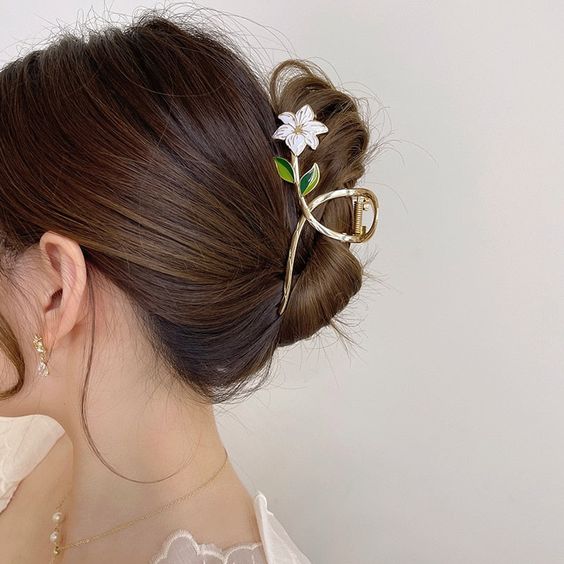 Only have 5 minutes for styling your hair? Don't panic, girls! There's always a way to solve your problem like using a claw clip. You can do a French twist hair by twisting your hair from the bottom to the top. Then, if your hair is long, you can fold it. Furthermore, secure the twist with a claw clip. Now you get gorgeous hair in a short time!
Wavy Hair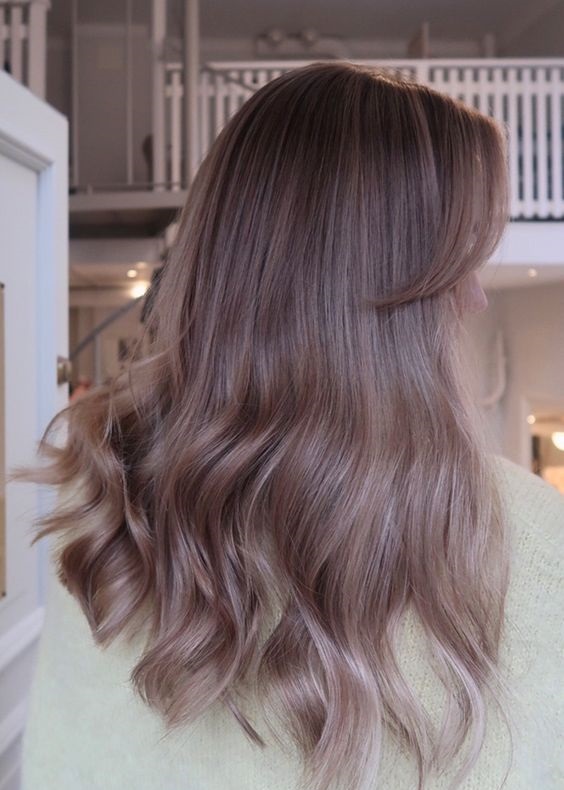 Next is the most popular hairstyle lately. Because wavy hair will make every girl look prettier and suitable for any kind of occasion. If you want to get this hair, you need to prepare a curling iron with a large diameter. First, use heat protection to avoid hair damage. Then separate your hair into a few sections to make it easy when doing the curl. Next, curl your hair and when it has done, use your fingers to loosen the curl which can create a wavy effect. Lastly, wear hair spray to keep the wave long-last.
Braided Ponytail with Scarf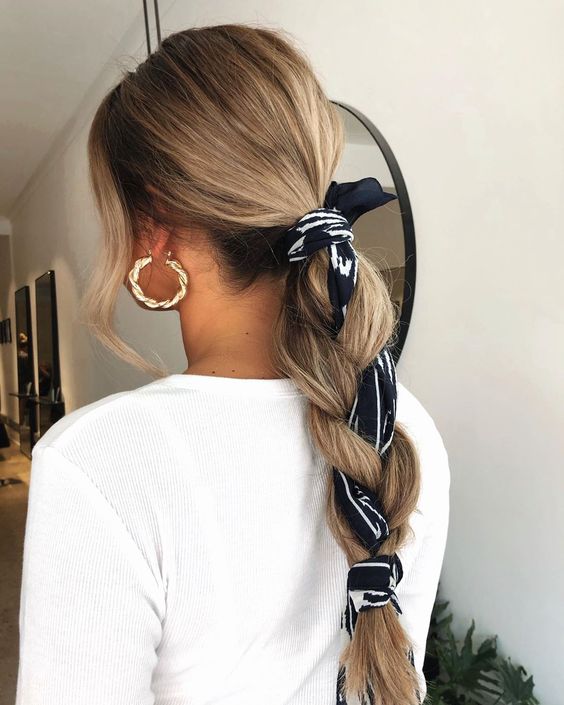 If you are a person who is very concerned about fashion, you would love this one. Braided ponytail with scarf hair! This hairstyle will make you many times more fashionable and of course, it is easy to achieve. First, make a low ponytail and tied it with a scarf. Use the rest of the scarf as a mixture of the braids. And last, secure the braid using the same scarf. What do you think? Interesting enough?
Twisted Bangs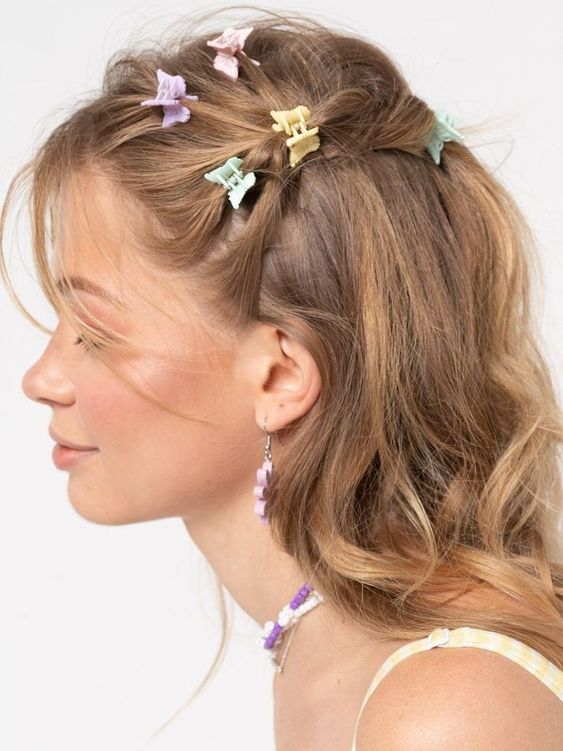 Who loves 90's style? Or do you want to attend the occasions that have a '90s theme? Let's try this twisted bang hair. You only need a few hairpins to recreate this hairstyle. Then, divided your bangs into a few parts. After you've done with the step, you can twist every part and use a hairpin to lock the twist. This hairstyle can also use for hangouts or doing a photo shoot too.
Messy Twisted Bun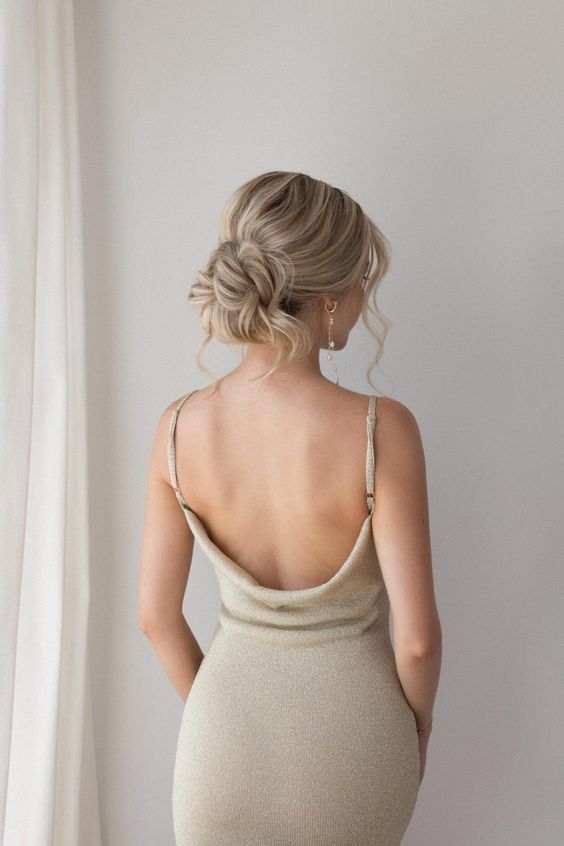 You will be very confident if using a messy twisted bun for attending a party or formal event. This is the kind of hairstyle that can give you an elegant vibe for a while. Moreover, getting this hair is very quick and simple. You need to curl your hair first before making this hairstyle. Next, make a low ponytail and twisted the tail. Secure every twist with a bobby pin and voila your hair is finished!
Half Bubble Ponytail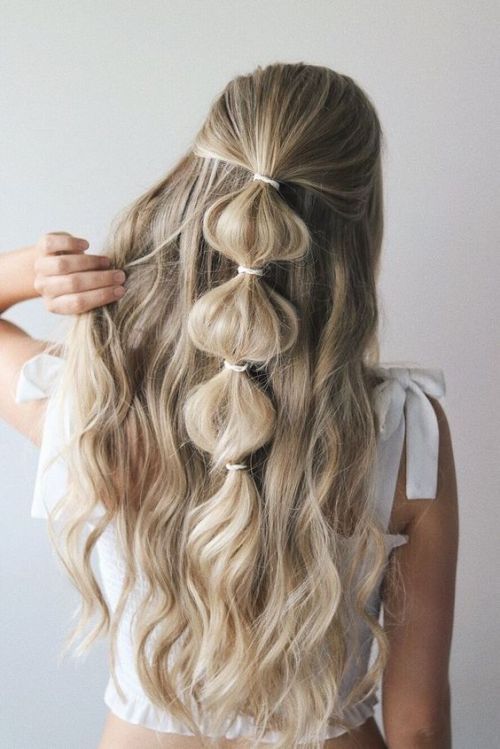 I know not all people love all their hair tied. Especially if your face shape tends to look big or having a chubby cheek. Hair gonna be the only thing that you have to hide your imperfections. So, you can choose half bubble ponytail over the high bubble ponytail.
You can also let a few hairs on your bangs loose to hide your face shape. To make this hairstyle is also similar to the usual bubble ponytail. The difference is you just take half of your hair and use hair ties to make the bubble effect. It's optional, if you want to look more stylish, you can curl the rest of your hair that's not being tied.
Look Feminine in Headband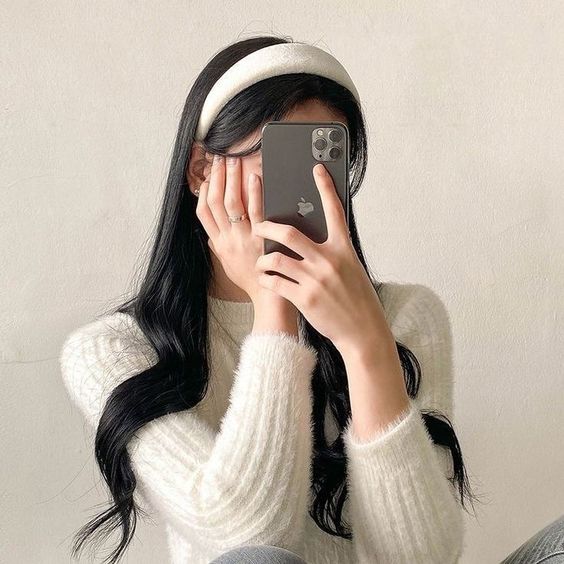 Calling out the feminine girls outside! You will need this hair accessory very badly! Because it is easy to get and use. Certainly, will never fail to give you a feminine vibe. And the answer to all that statement is a headband.
Who doesn't know about this one accessory? Even a lot of girls dare to collect it to help them match the outfit that she gonna wear. Without feeling doubt, I also recommend a headband for you because it can be your current go-to hair accessory to hide your limp hair.
Make It Simple with High Ponytail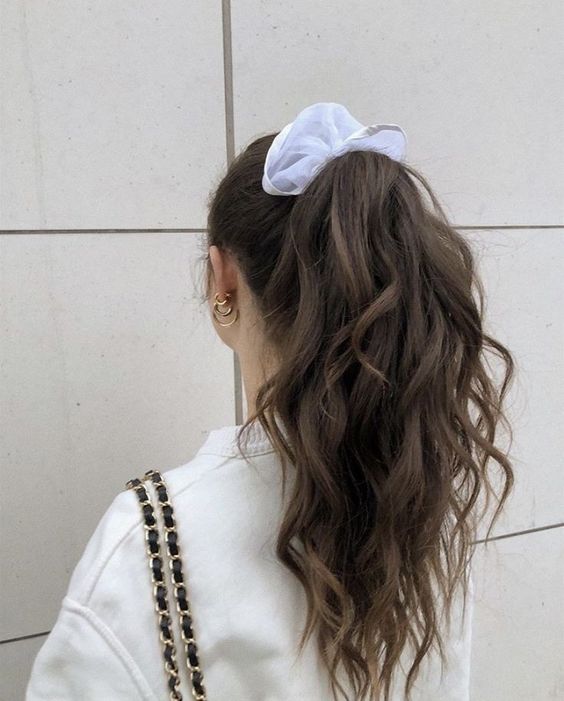 Don't have enough time to get prepared but your hair is kind of messy? You can't get out with that hair! So, take your scrunchie and do a high ponytail. Believe me, this hairstyle only takes less than 5 minutes of your time. Even, you can create this hair wherever you are.
Crown Braid Hairstyle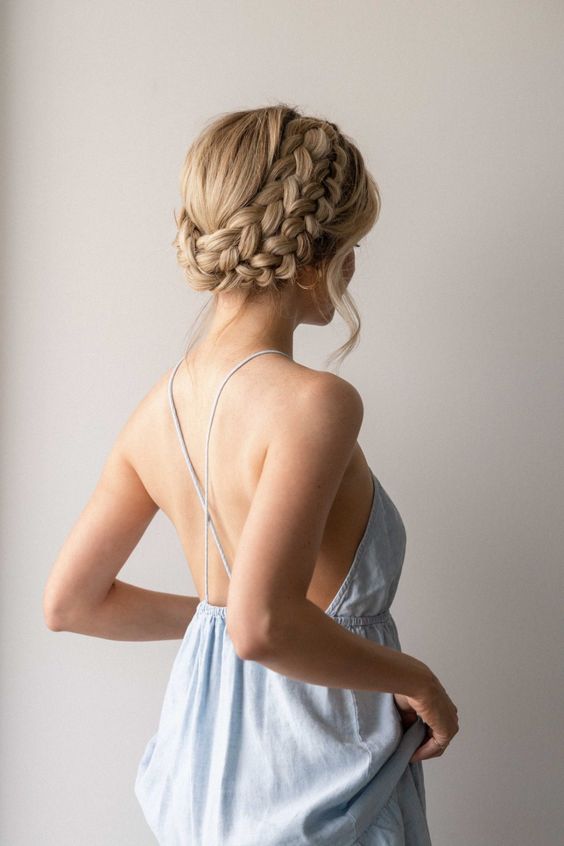 Having a plan of being a bridesmaid or attending the party? Don't waste your money on going to the salon. Because crown braid hair is an easy hairstyle that you can do by yourself. Not only that, this hairstyle will make you look pretty and very suitable to be compared with a dress.
For making this hair, you can brush your hair first. Next, separate your hair into two parts and make the braid in each part. Furthermore, bring up the two parts of the braid crossing your head and secure it with bobby pins. To make your hair look sweeter, you can loosen the bangs and curl it. Lastly, pull slowly your hair to give a messy effect.
Low Ponytail to Get the Elegant Vibes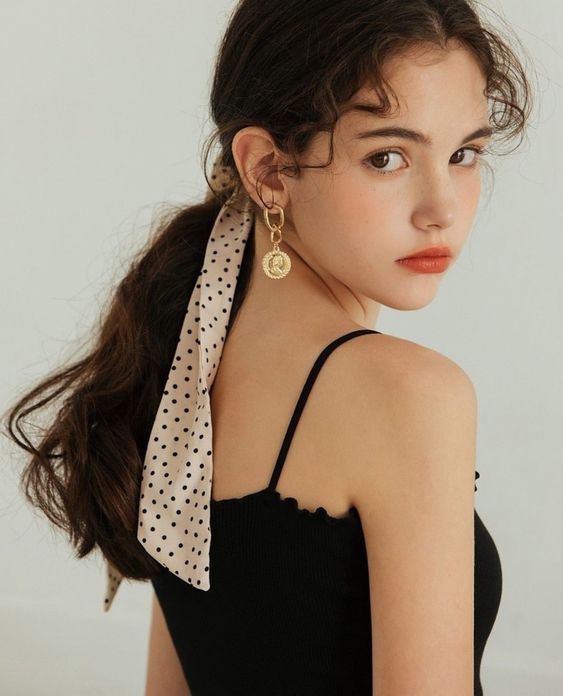 Even a low ponytail is look ordinary but you can deny that this hairstyle is very easy to get, especially for those who are in hurry. Okay, if you have a scarf or ribbon, maybe you can add it to the top of the hair tie that is capable to level up this hairstyle. I'm sure you will look much more fashionable after adding this hair accessory.
Wear a Hairpin to Secure Your Hair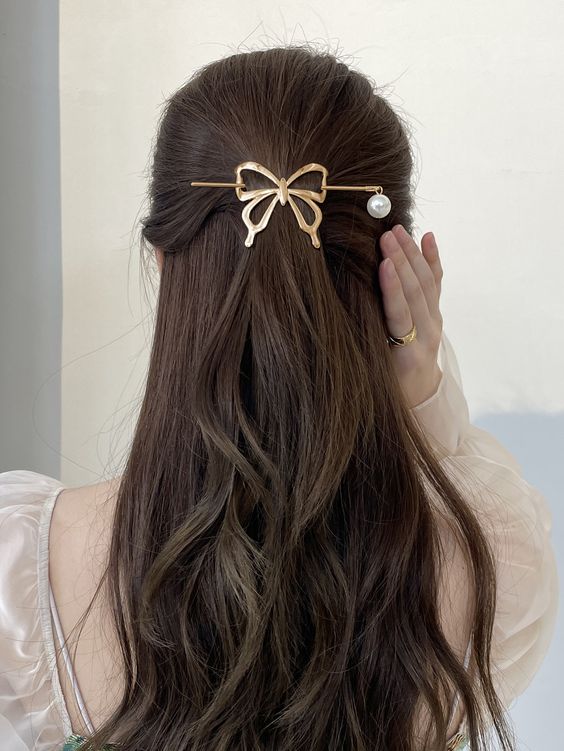 We've done talking about scarf, ribbons, and claw clips. So, now, another accessory that we're gonna discuss is a hairpin. You can use a hairpin to clamp the bangs or secure the hair ties. Therefore, you have to choose the right type of hairpin based on its function. There's nothing wrong if you want to collect this hair accessory too.
Vibing the Springtime with Flower Crown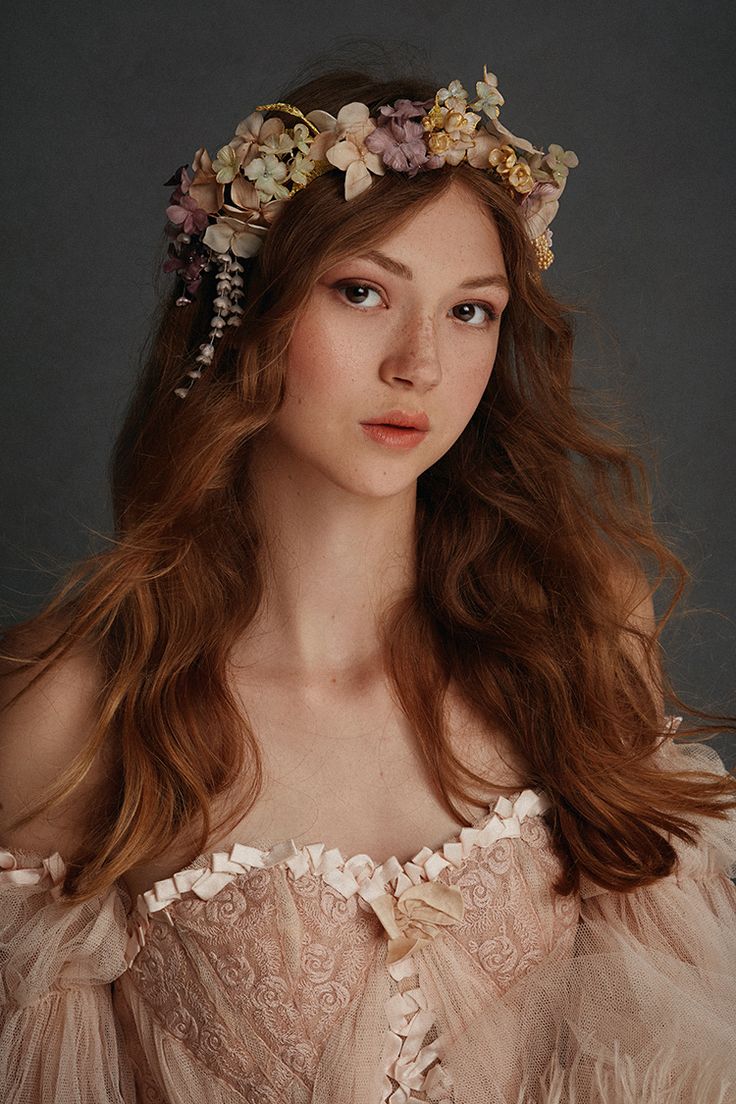 Springtime is never gonna far away from flowers. Maybe in the previous idea, the flower is the form of a hairpin or just a flower piece that is attached to the hair. But now, the flower is in the form of a crown. This hair accessory has been popular in the past year, and of course every springtime, it's gonna back to the trend. You can use this flower crown to attend a spring party or do a photo shoot.
Twisted Half Ponytail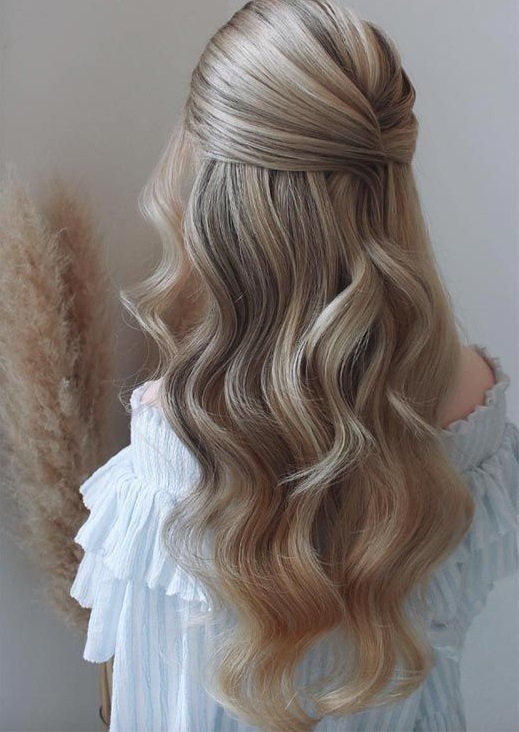 Besides crown braid, you can use this twisted ponytail for your special occasions too. This hair is easier than the crown braid hair. You can curl your hair first before creating the hair. And take half of your hair, then trim using a comb. Before you secure it with a hairpin, you can twist the tail for 1-2 rounds. Give a touch of other hair accessories like flowers or pearls if you want to make it glamorous.
Two Bubble Pigtails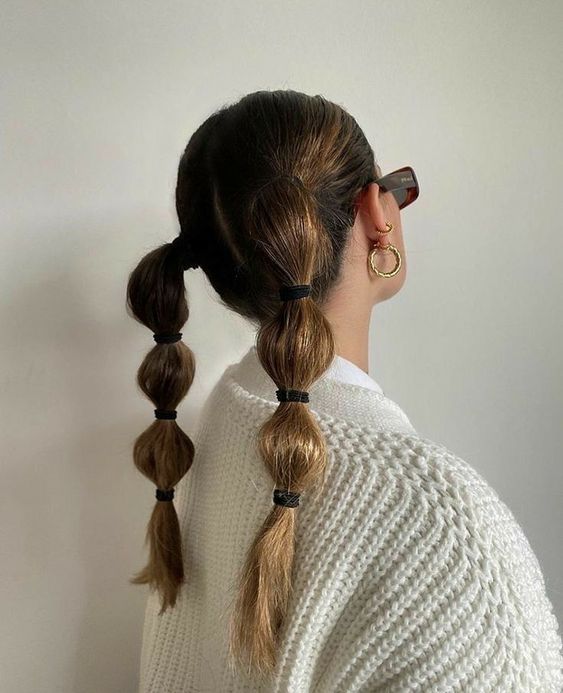 There are bubble ponytails, half bubble ponytails, and here's about the two bubble pigtails. This kind of hairstyle that suitable for those who like the chic look. If you use a boyish outfit style, it's more ways chicer. Moreover, when you add sunglasses, believe me, you gonna kill the day!
Loose Braided Ponytail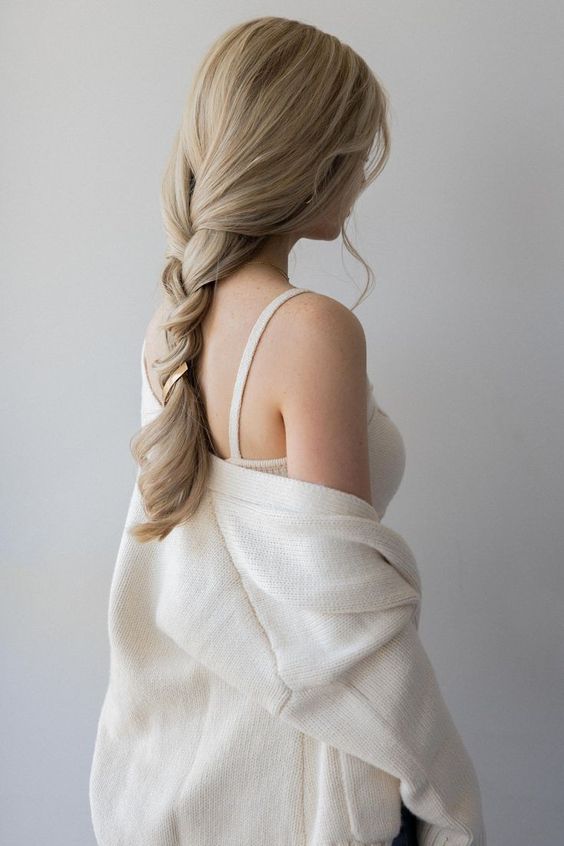 A loosely braided ponytail is intended for you who have a gentle and calm personality. Or if you want to look innocent, you may use this hairstyle too. Same as a braided ponytail, but you have to pull slowly the braid to give a loose effect look. You can also use a scarf to tie the braid, but that's optional, depending on your preference.
Turn Your Scarf into Headband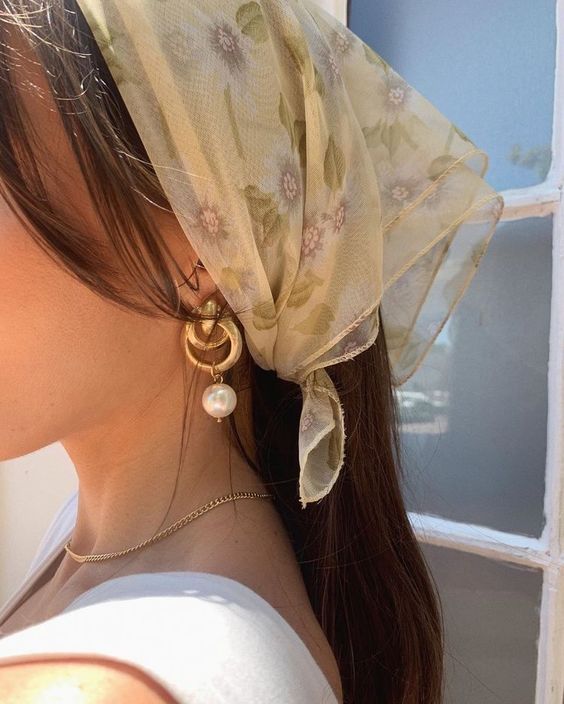 There are a lot of ways to style your scarf as a hair accessory. In this idea, you can make your scarf as a headband. Fold your scarf into a triangle shape, then put it on the top of your hair. Don't forget to tie the scarf to make sure it won't go anywhere. The kind of hair accessory that will be perfect to pair with any kind of outfit style from boyish to girly outfits.
Low Bun Hair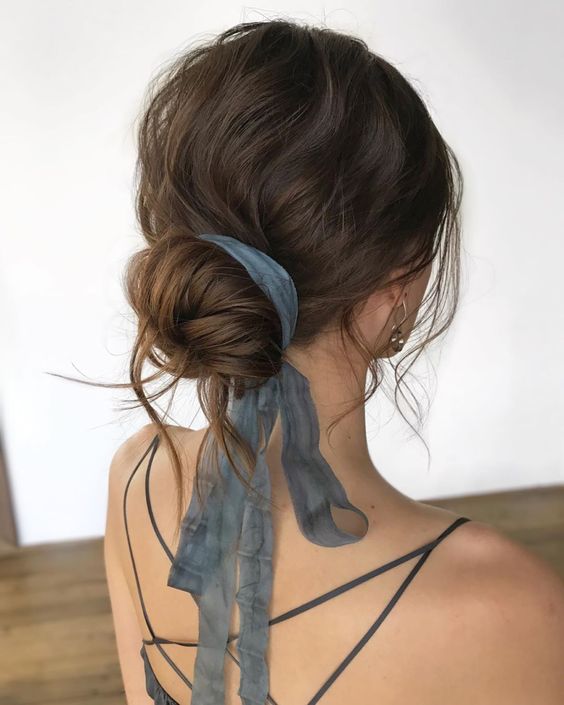 A low bun is another hairstyle that you can mix with any kind of outfit style. But before you do the bun, you have to curl your hair to create a messy look. But again, this step is optional, if you don't have time, you may leave it. Next, make a low ponytail first and continue by twisting the hair until it looks like a bun. Add a scarf if you want to bring this hairstyle to another level.
Voluminous Ponytail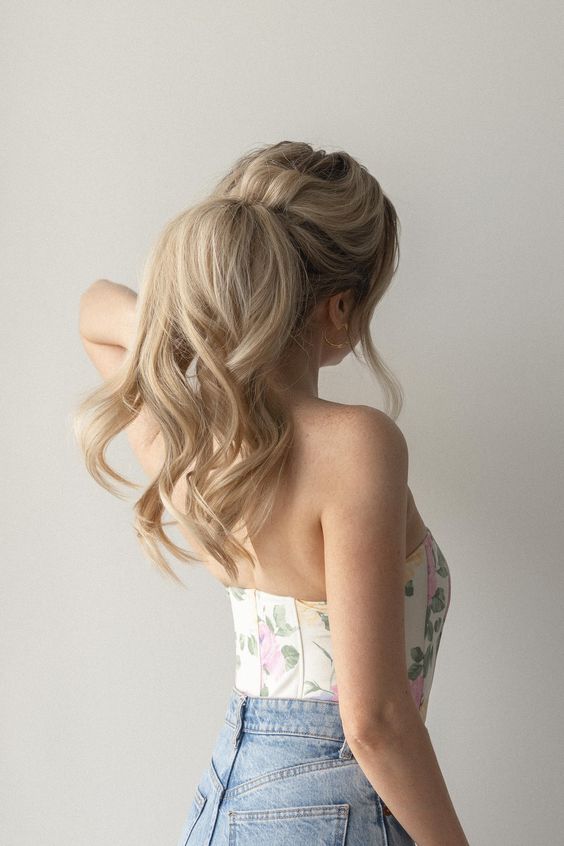 Does your hair look limp? Even styling your hair doesn't give any effect on your bad hair? Okay, you can solve this problem with a voluminous ponytail. First, you can spray a dry shampoo to lose the oil on your hair. Followed by teasing the top of your hair to give volume. Furthermore, finish out by making a usual high ponytail and tying it with a hair tie.
That's it about the easy spring hairstyle ideas that might inspire you. Do you think our tutorial is easy enough to follow for those who are still beginners? I think so! We already try our best for giving you a simple step. I hope you like and enjoy this topic!