Who is experiencing acne skin? I know what it feels like! You will tend to get unconfident because you feel your skin is bad. Besides wearing skincare, you can also wear makeup to help you cover the acne and scars. Is it won't help you because the acne is still seen? I guess you did something wrong while doing the makeup.
Not only the product, but the technique of using makeup can also determine your makeup finish. Start to feel confused? Don't worry, because we will teach you and give you some tips about using makeup for acne-prone skin. Believe me, this kind of topic will save your life and gain back your confidence level.
If you think it's gonna be hard, you should throw away that mind! This tutorial is intended for those of you who are still beginners. That's why you can follow our tutorial easily. Are you ready for changing your look? Let's go to the main topic!
Flawless Makeup for Acne Prone Skin Tutorial
Do Skin Preparation First to Protect the Skin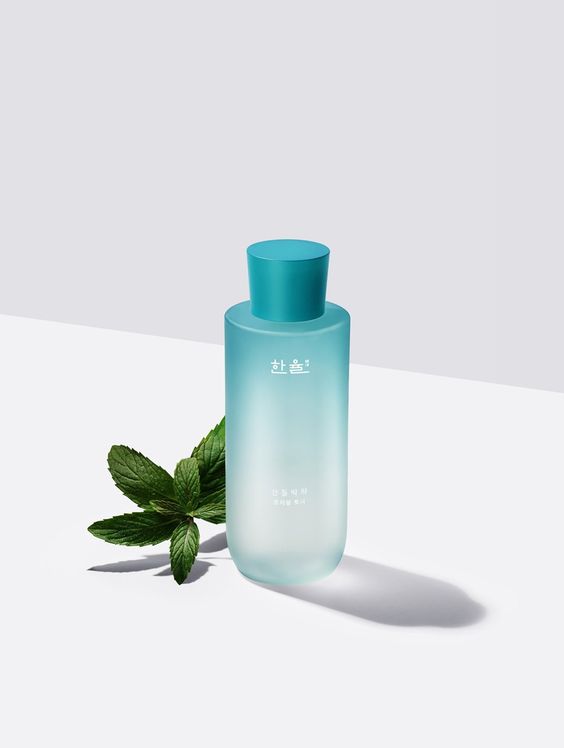 Because your skin is under the problem which is acne. You have to do extra protection to avoid the chemical makeup getting into your skin. Because it will make your skin get worst or even cause inflammation.
Therefore, before using makeup, you have to wear skincare that is suited to your skin type. Like skincare that has Salicylic Acid or Tea Tree ingredients. Besides that, using skincare that can calm your skin such as Centella Asiatica or Aloe Vera would also help you reduce the redness. Remember to use less product that can prevent greasy makeup.
Primer Could Blur the Big Pores
Usually, people that have acne-prone skin tend to have big pores. Certainly, it will disturb the finish of your makeup. So, applying primer is very recommended to blur the big pores and also hold the oil on your skin. Believe me, using a primer before complexion will change your makeup game to another level!
Okay, if you feel confused about what kind of primer that suited to your acne skin, the answer is the primer that has a silicone base. Furthermore, apply the product on the area that has big pores or easy-to-get oil like the T-zone area.
Even the Skin with Color Correction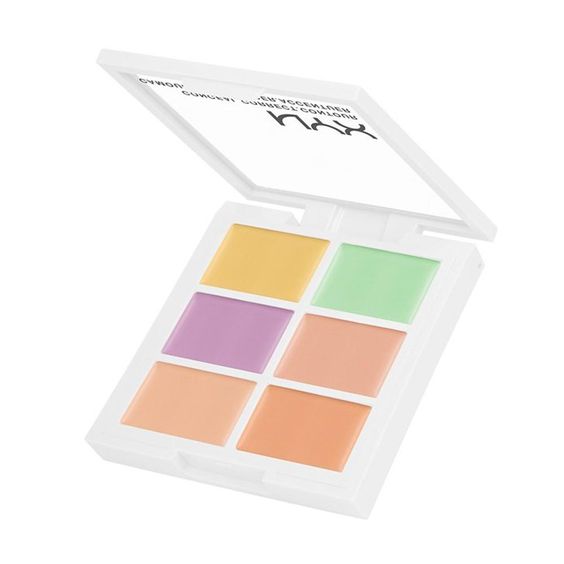 This product is key to making your skin look flawless! Because color correction will help you to even your skin tone by using the opposite color. Such as green color to correct the redness or acne. Then, yellow or orange color to correct the dark spot. After knowing the function of each color, you can apply it to the area that needs to be corrected.
Concealer First Before Foundation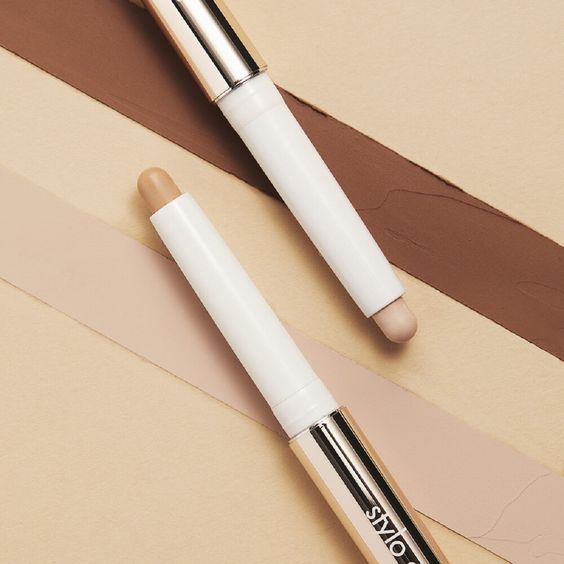 Maybe it will sound strange to those of you, but you have to use concealer first before the foundation. The purpose of this step is to cover the color correction and even the skin. We recommend you wear a liquid concealer if this makeup is for daily use. Meanwhile, use the cream concealer for special occasions makeup.
After deciding the type of concealer, use the product only on the area where you apply the color correction. Furthermore, blend the concealer slowly with a concealer brush to get coverage. You have to do this step carefully to get a flawless finish.
Choose the Foundation That Matched Your Skin Tone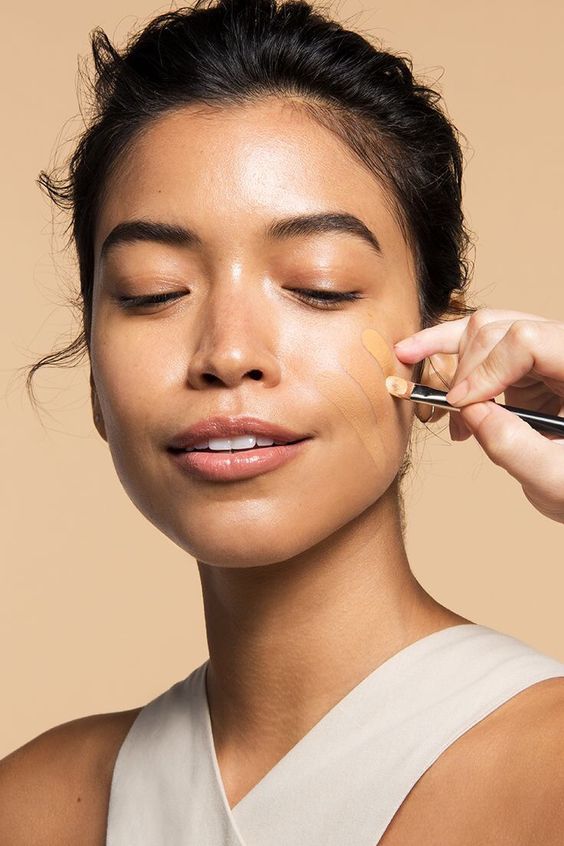 Now, we're moving on to the main complexion! Of course, foundation! The first thing that you have to consider is shade. Try to use a shade of foundation that matches your skin tone to avoid the tacky look. The second thing is about the finish, you will need a foundation that has a matte finish to prevent greasy makeup.
Lastly, is about the coverage! For this aspect can be determined by the level of your acne condition. If it is still light, you can prefer light to medium coverage. Meanwhile, for severe conditions, you must use a medium to full coverage. Furthermore, blend the foundation with a wet sponge to keep the natural look.
Set the Based Makeup with Loose Powder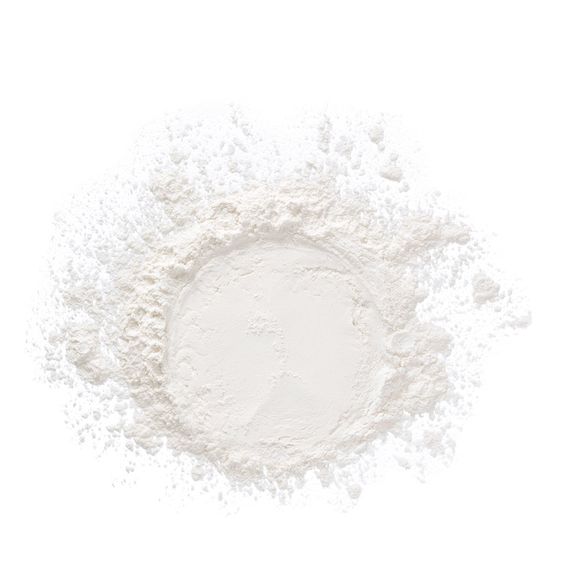 Isn't your skin look flawless now? I believe you will feel happier! But, if you don't set it with a powder, it would crack or lose easily. Therefore, you have to set it immediately after you feel the complexion is enough. Because we want to make this makeup as natural as possible, we already choose the type of powder that feels light.
Yes, you're right! A loose powder is a solution. You can wear a translucent powder too that has no color to not change your skin tone. So, it's up to you which kind of powder you want to use. Next, try to do the baking technique by applying a lot of product on the area where you already put the concealer or easy-to-get oil. Don't forget to blend the powder after you feel it set.
Wear Powder Contour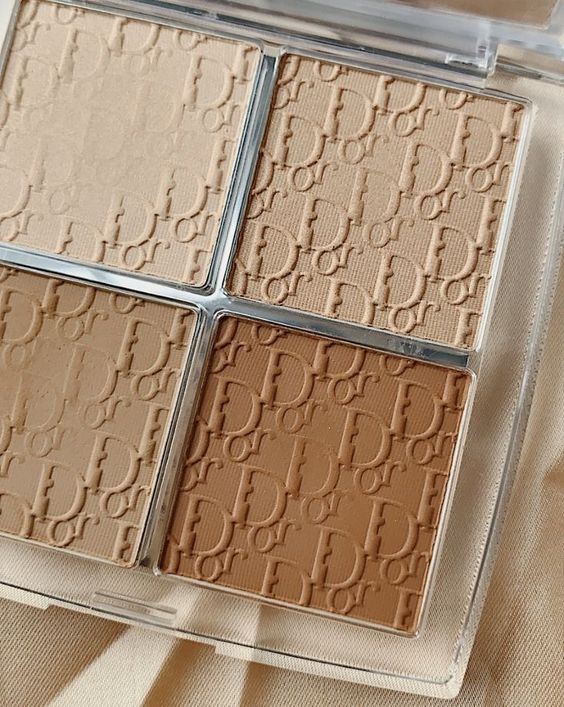 Because you using a lot of complexion product that will lose the dimension of your face, you need to bring it back to make your makeup looks more natural. Therefore, you will need the use of contour! Okay, for acne-prone skin try to prefer a product that has a powder texture that can simultaneously cover the skin texture.
For the color of the contour, choose the color that has 1-2 tones below your skin color. Furthermore, with a contour blush, apply it under the cheekbone, nose, hairline, and last jawline. Or you can also contour your face based on the face shape.
Make Your Makeup Sweeter by Using Blush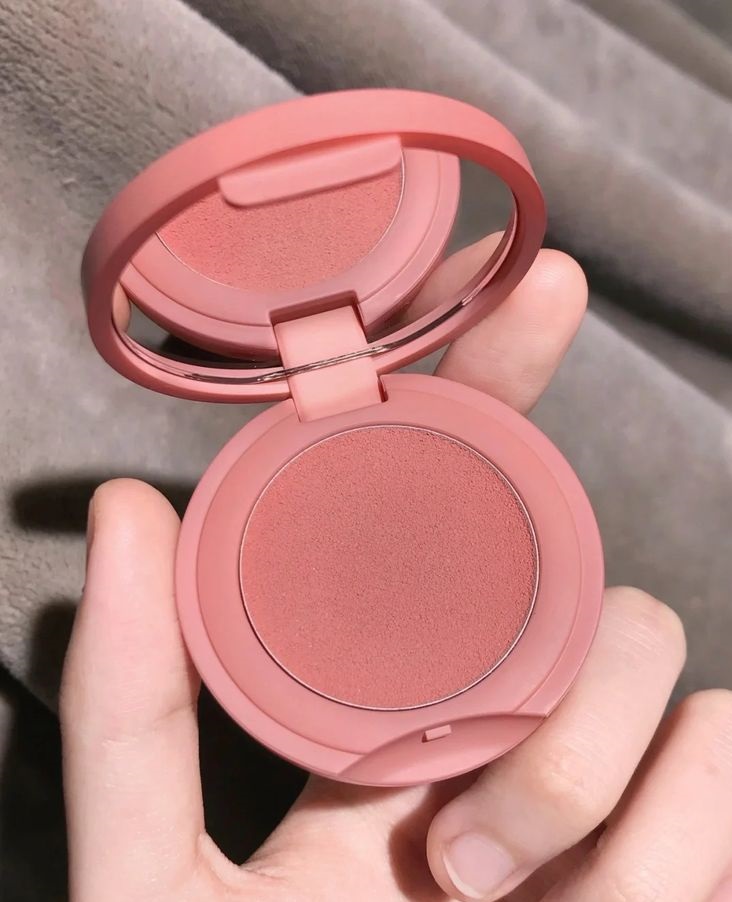 Make your makeup look sweeter and more colorful with blush. And of course, powder blush is going to be our choice! Avoid using the blush product that's containing glitter because it will make your skin texture visible. Meanwhile, for the color, you could choose a soft color like peach, coral, or nude. Just adjust it to the occasion or your skin tone if you want to get perfect makeup.
Draw Your Eyebrows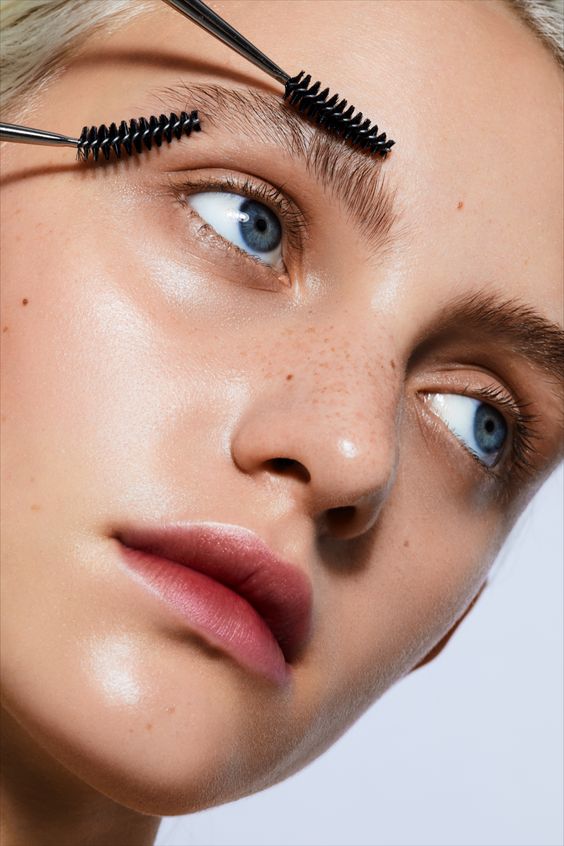 Now turn to the step that we will never forget is drawing the eyebrows! Yes, brows are the most important part of makeup that can determine your makeup look too. Because we've done using a lot of complexion products at first, we should balance it by drawing natural brows. Or feathered brows can be good too.
Starting from brushing up the hair brows with a spoolie brush. If you want to get feathered brows, you can go on with brow wax or brow mascara. Next, draw the shape of your brows and fill it in with an eyebrow pencil that has a color like your hair. Furthermore, clean the edges with a concealer. Voila! Your brows look amazing now!
Wear the Neutral Color Eyeshadow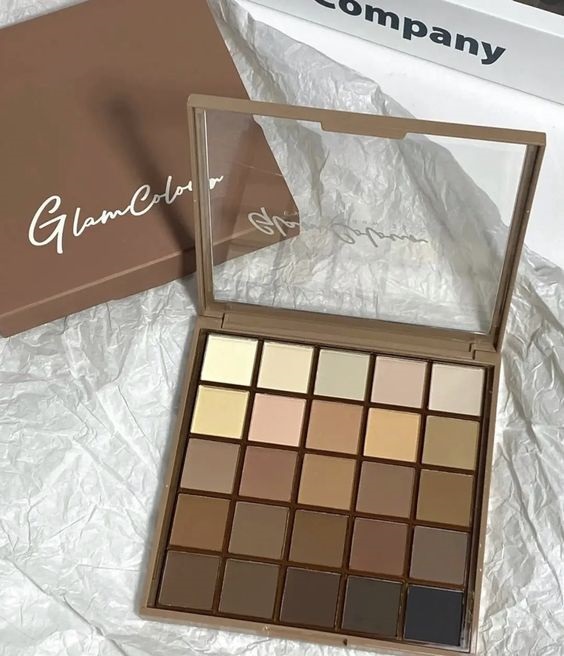 Neutral color eyeshadow for getting natural makeup. Don't worry, even if you're using a neutral color, you still can achieve bold eye makeup. So, it can be adjusted if you want to wear this makeup for a party or any special event. If you are confused about what color includes neutral color, the answer is brown and orange.
Make the transition by applying lighter color to your crease. Following the darker color at the outer corner of your eyes has the function to make your eyes deeper and bigger. Furthermore, to make your eyes pop, use a shimmer or glitter eyeshadow for the inner corner and the center of your eyelid. Ensure, you blend everything well until there's no harsh line.
Eyeliner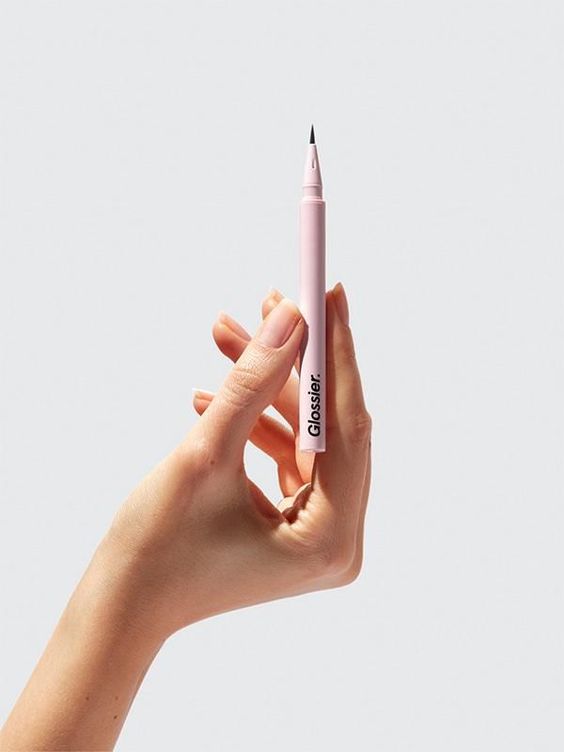 This step is very optional, you can leave it if you are in hurry. But, if you want to wear this makeup for a special event, we suggest you for not skip this step. Because eyeliner will help you to make your eyes look sharp and longer which every small eye needs. So, still don't know of drawing your eyeliner in the right way? Let us give you the tutorial.
First of all, you have to prepare the eyeliner that has a small end tip to make it easy when drawing the line. This kind of eyeliner that very helpful for those who are still a beginner. Then, you can start to draw the thin liner from the inner to the outer eyelid. Try to draw the line as close as possible to the growth of the lashes.
This tip has the function to make your eyeliner look more natural and help you on making a line. Furthermore, you can make a wing at the end of your eyes to get the longer eyes effect. The eyeliner is done! Isn't it quite easy?
Make Your Lashes Thick and Long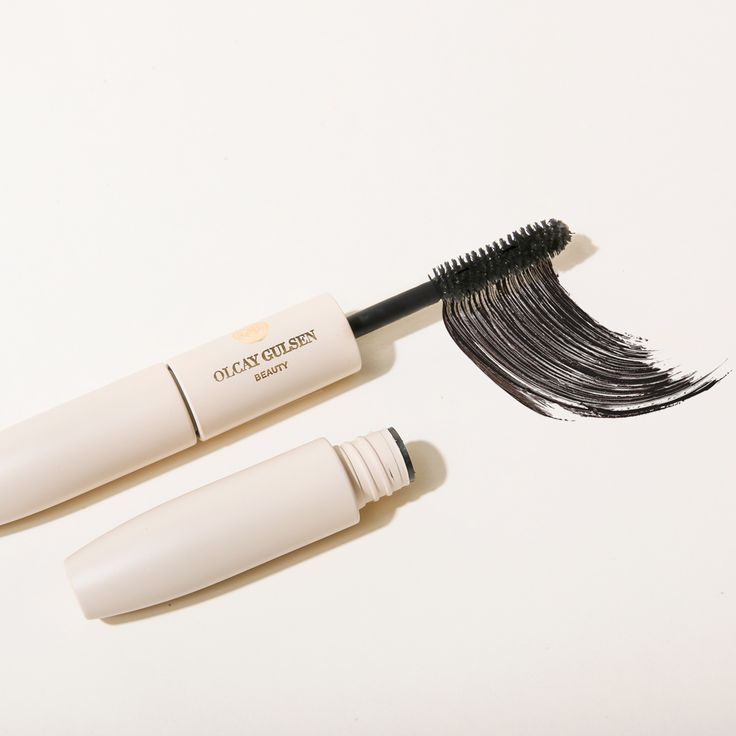 Your eye makeup won't be complete if your lashes are not on point! This is the step that will boost your eye makeup look. If your lashes look thicker and longer, it will help to make your eyes awake and bigger. For daily use makeup, mascara will be enough for you. Meanwhile, if this makeup is used for a party, photo shoot, or other special events, you must add false lashes.
First, curl your lashes with an eyelash curler that you already heat with a hair dryer. This technique will help you for having long-lasting curl lashes. Then, continue to apply the mascara to the lashes. Furthermore, if you need to add false lashes, you can use them after the mascara dries and make sure the lashes feel comfortable on your eyes.
Soft Blinding Highlighter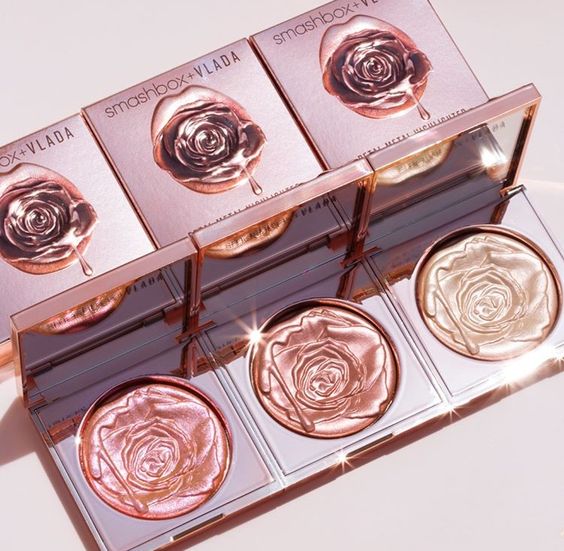 Avoid using a blinding highlighter if you have a skin texture. As we already said, highlighter or glitter just only makes your skin texture visible. Therefore, if you are a highlighter addict, maybe you have to use the kind of highlighter that has a soft finish.
Next, using the color highlighter based on your skin is very necessary to make your makeup look perfect. Our advice is to avoid applying the highlighter on the area where the skin texture is obvious. Furthermore, apply the highlighter only on the highest point of your face.
Lip Gloss for Getting Plump Lips
To distract people's attention from your acne and textured skin, you have to make another center point for this makeup. Usually, people will give more attention to the lips! That's why we want you to make your lips plump and healthy.
So, what product can be the solution to this problem? Certainly, lip gloss is the answer! For pale lips people, you are allowed to use lipstick or lip tint first. Furthermore, use a clear gloss or colored gloss to give the looks that you want.
Make Your Makeup Stay All Day with Setting Spray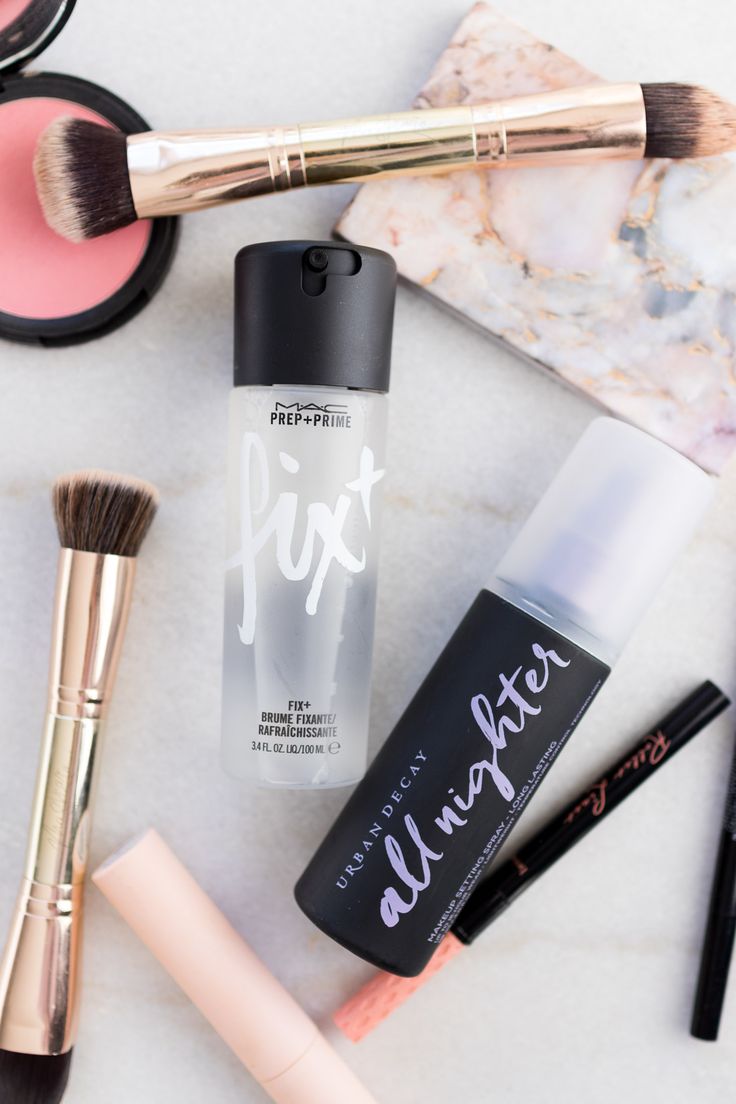 Imagine your thick complexion melting in the middle of the event. It's going to be the worst feeling ever! This shameful situation must be avoided! Therefore, you need a setting spray product as the lifesaver for your makeup.
Not only for locking your makeup, but this product can also use to make your makeup not powdery. Before you ask about what kind of setting spray that suited to your acne skin, we will tell you first! You need the setting spray product that has a matte finish. Again and again, it's used for preventing greasy makeup and making your makeup look flawless.
That's all about the tips and the tutorial from us! Easy enough to follow? I hope our expectations will be right! Because we already giving you the easiest tutorial. So, you don't need an expensive makeup product to get flawless makeup for your acne skin. All you need is only the right technique and products. This is the end of our topic, thank you, and happy weekend!