After a long time of holiday, you should prepare yourself for going back to school. I know you will feel lazy because you should go to school anymore. But you should feel excited because you're going to see all of your friends. And this is the time for you to fix your appearance from head to toe.
It means not only your outfits that need to change but your whole looks! Maybe you just think to change your looks it just changes your outfit's style, but you're wrong! Your face should look different too by wearing makeup.
Girls, it's okay to wear light makeup just to make your face look fresh and more awake. Don't be afraid it will make you look tacky, because we will give you some tips and tutorials on how to do light and natural makeup for back to school. And this is a quick and simple makeup, that's why even if you wake up late you still can do it. Are you feeling excited now? So without any for the do, let's move on to the tutorial!
Easy and Simple Back to School Makeup Tutorial
1. Change Your Glasses with Clear Lenses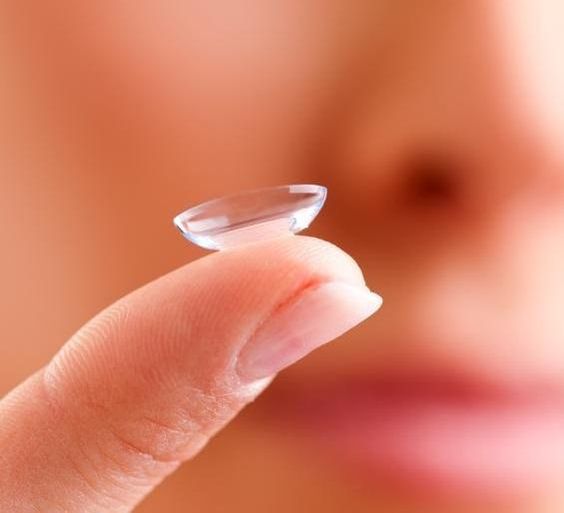 Still wear glasses? Girls, you're out of the style! Not only look like a nerd but wearing glasses can also disturb your activity, especially when you have to do exercise. Therefore, we recommend you change it to a more simple thing, which is contact lenses.
You might think wearing contact lenses make you look flashy, change your mind! Because we want to suggest you choose clear lenses. It will make your eyes look natural and very helpful for you who get visual impairment. But if you don't like wearing clear lenses, you can choose brown color lenses as the alternative.
2. Skincare First to Make Your Face Look Brighter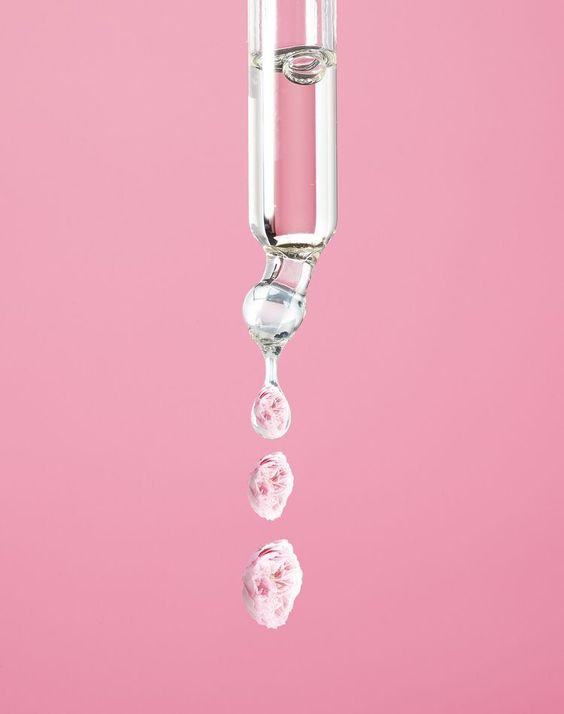 Now we're going to overcome your dull face with skincare! not only to make your face look brighter but also to help protect your skin from dust and pollution. You can choose skincare based on your skin type.
If you have oily skin you can choose light skincare and use only skincare that you need just to moisturize your skin. And if you have dry skin, you can choose skincare that can keep your skin hydrated. Don't forget to apply sunscreen to protect your skin from UV light. because you're still a teenager, we recommend you wear sunscreen that has SPF 30.
3. Primer to Protect Your Skin from Chemical Makeup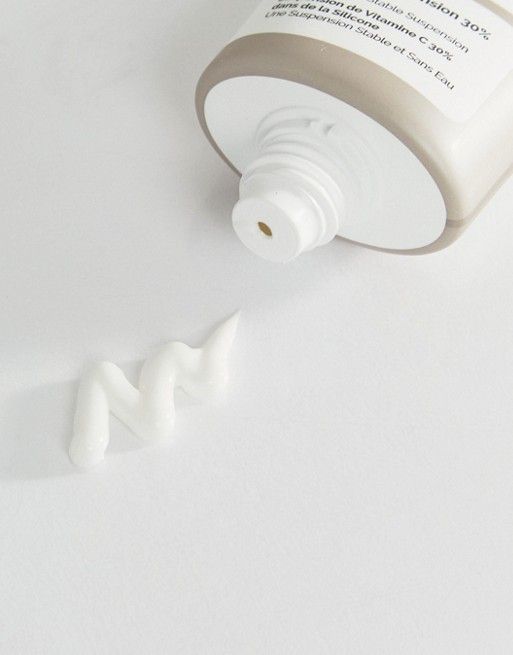 Some people just think primer is for making their makeup look flawless. But, primer can also protect your skin from chemical makeup. Moreover, teenager skin is still soft and flawless, you will need this one product to keep your skin healthy.
You can choose primer based on your skin type to get the maximum result. If you have oily skin, you can focus on a primer that can hold the oil on your face and blur your big pores. And it usually has a silicone texture. For those who have dry skin, you can choose gel or cream primer which is good for hydrating your skin so your makeup will not crack or cakey after a long time used.
4. CC cream to Even Your Skin Tone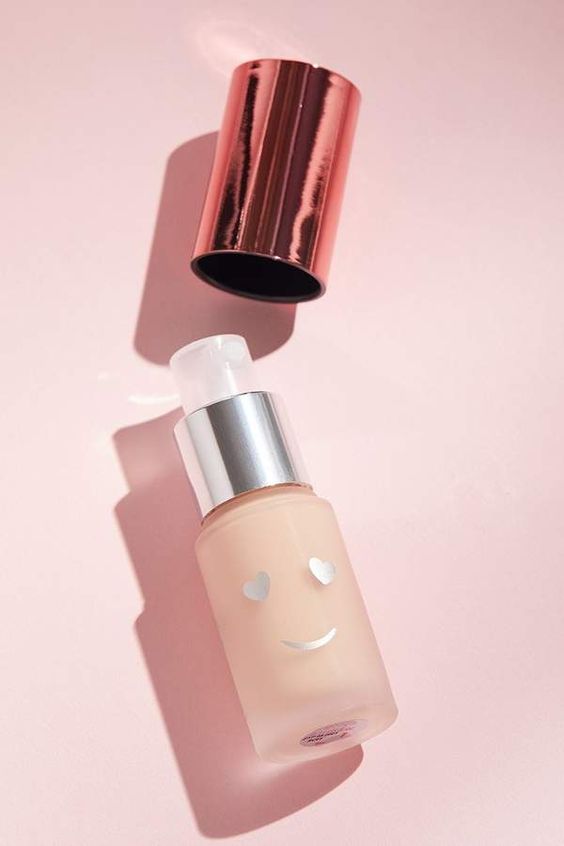 Have uneven skin? don't worry, because we have a solution for you! Yes, CC cream is gonna be your best choice. CC cream means color-correcting cream, that's why it can help to correct your discolored skin.
I know you will think it's too heavy for school, but the answer is no! This is the cream that has a light formula which is good for school and it's not easy to melt even if you've been sweating because it will stick well on your skin. Moreover, it has the function to brighten your skin.
5. Put on Concealer to Make Your Skin Look Perfect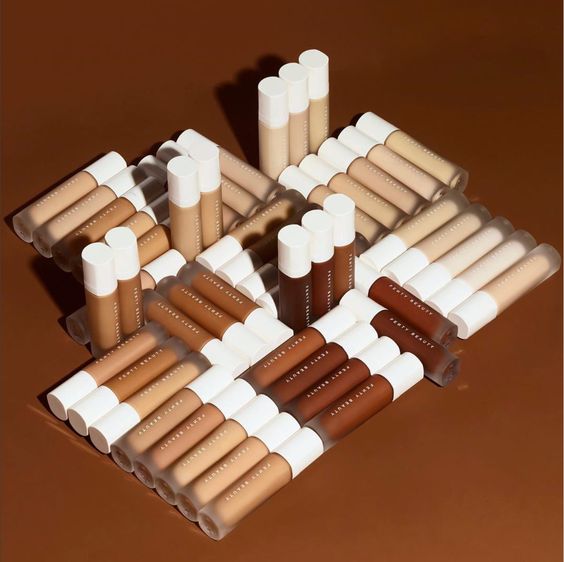 Most of the problems of a student are having a lot of tasks that made they will sleep late at night. This is the first cause of having a dark circle, and for you who have sensitive skin, maybe you might get acne too. Isn't it feel embarrassing to have this skin problem?
Ok girls, let me help you to fix it. You just need a high coverage concealer for the solution to this problem! Don't worry it won't make you look tacky or too much because we're gonna recommend you to put on the area that you need like the under eyes, acne, or dark spots. You can also blend it with your fingers to get the natural finish look and choose the shade that's similar to your skin tone.
6. Cream Contour to Bring Back Your Face Dimensions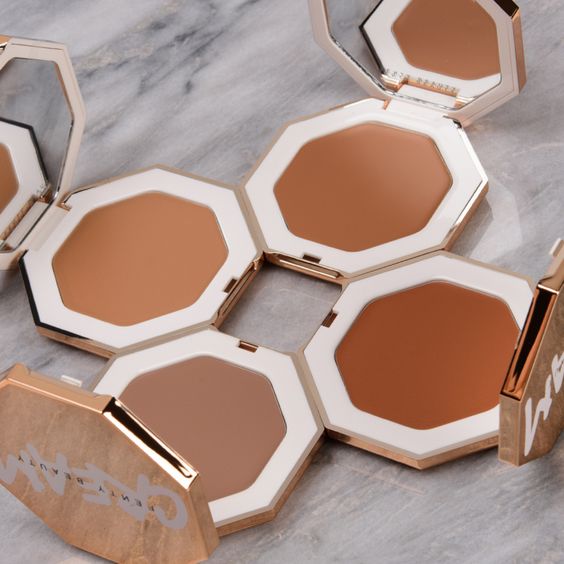 After you put on the complexion makeup, your face dimensions will be lost and your face will look flat. Therefore, can overcome it with contour to make your face look not pale. For contour products, we recommend you prefer cream contour.
Why cream contour? Because cream contour is more long-lasting than the powder and it also has a natural finish look that will suitable to use for school. Apply cream contour under your cheekbone, jawline, hairline, and nose. Don't forget to blend it well to prevent the tacky look.
7. Cream Blush to Make You Look Fresh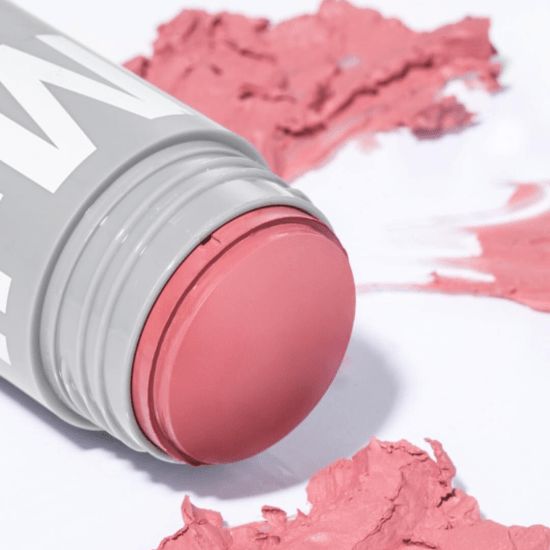 To make your face look fresh and sweet, you can use blush as the solution. But we don't recommend you to use powder blush because it doesn't stay long on your cheeks. Furthermore, it can also make you look like wear makeup.
Because we want to have a natural blushy cheek, you can choose cream blush with natural colors like peach or coral. And blend it well with your fingers to support the natural look, but you can also use a wet sponge. And voila, your face looks fresh and more awake now!
8. Translucent Powder to Get Natural Look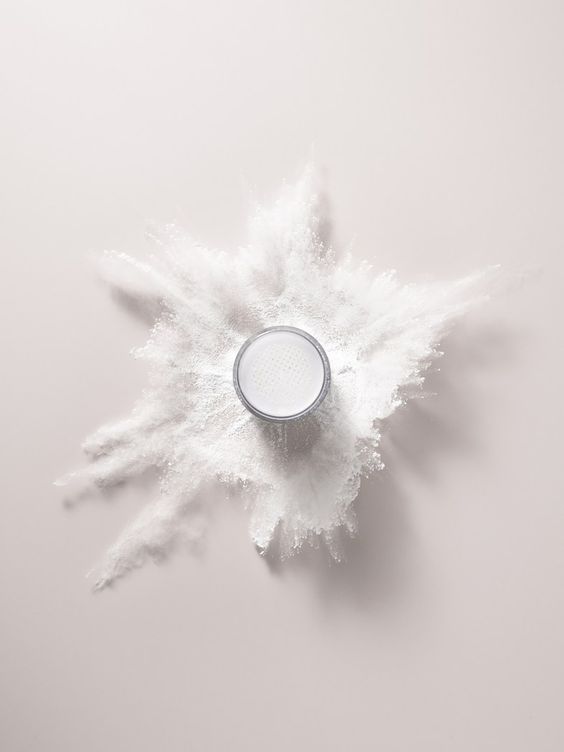 You don't want your base makeup melting in the middle of the day, right? Therefore, you need to set it! And we recommend you to set your makeup with translucent powder and to set your makeup well you can also choose loose powder.
You don't have to put on too much powder or even do a baking technique. Believe me, it will make your makeup feel heavy and look powdery. So you just have to put on less powder using a powder brush.
9. Natural Brows Look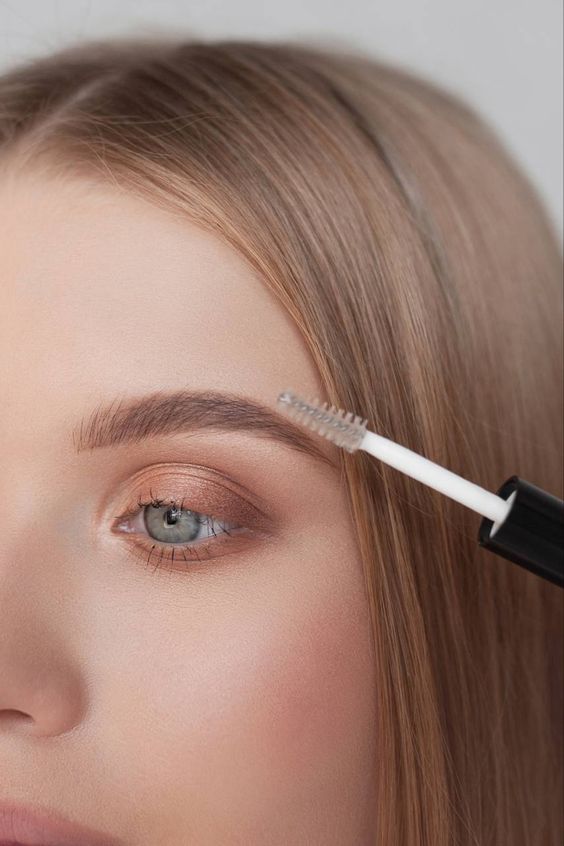 This is the hardest part of having natural makeup, of course, do natural brows look! If you don't have enough skill, it will be hard to do this part. Because it's easier to do on fleek brows than natural brows.
But don't be afraid girls, because we will give you easy tips on how to achieve natural brows look. The first that you can do is brush your brows up forward with a spoolie brush. Then, you can start to draw your brow by following your natural brow shape and choosing an eyebrow pencil that has a similar color to your hair. Furthermore, you can continue to fill in the brows with eyebrow powder.
But if you already have a shape and thick brows, you can skip drawing your eyebrows and just wear a clear mascara brow to make your hair brows stay in place. Besides that, wearing mascara brows can make your eyebrows look neater.
10. One Color Eyeshadow
This is optional, if you feel your face looks pale you can do this step. But if you feel your face already looks fresh and want a natural finish look, you can skip this one. You can wear one color of eyeshadow if you really need it and brown shadow will be the best choice for you.
If you think to wear the eyeshadow all over your eyelid, you're wrong! It will make your makeup look too much, that's why we suggest you wear it only on your crease and outer corner just to make dimensions and your eyes look deep.
11. Brown Color Eyeliner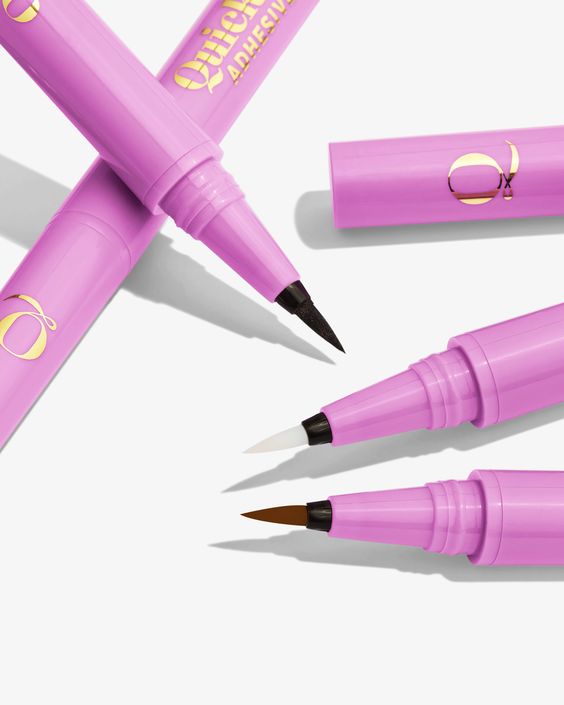 Move on to the eyeliner, if you already have big eyes, I'm sure you don't need to use this product. But if you want to make your eyes look sharp and long, you can use brown color eyeliner to make it look natural. Also, you can change it with dark brown shadow if you don't have eyeliner.
You can draw the liner just on the outer corner and just make a small wing, maybe you think it won't be seen, but don't worry it already make your eyes look longer and bigger. Isn't it very simple? Even if you're a beginner you can do it easily.
12. Make Your Eyes Open with Mascara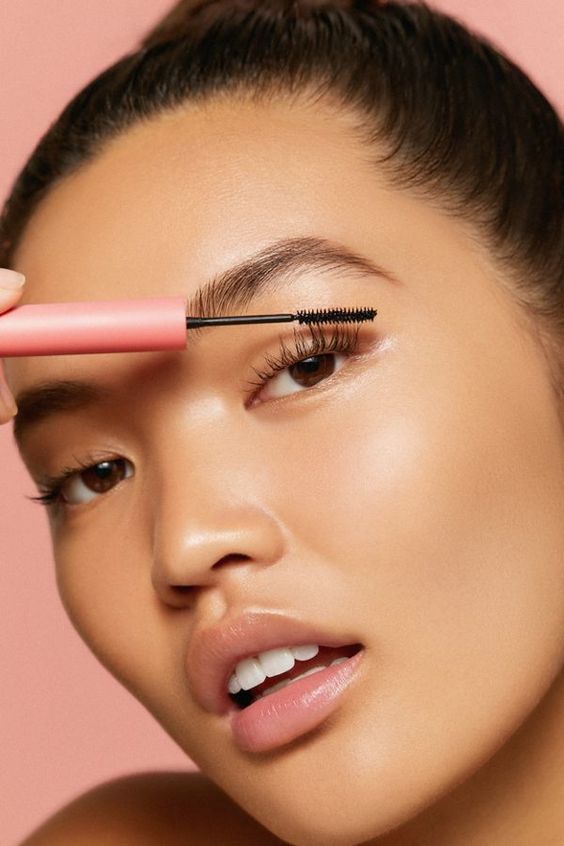 I know having long and curl lashes is almost every girl's dream. And also it will change a lot your face look because it can make your eyes look more open and bigger. But if you wear black mascara, your makeup will look too much and this is the reason why you prevent this step.
Now you don't have to worry anymore because we found the solution for you who want to have long and curl lashes. The answer is clear mascara! It will make your curl stay long last and can make your natural lashes look longer.
You can curl your lashes first using an eyelash curler. If you want to have a long-lasting curl, you can heat the eyelash curler with a hairdryer first and wait a few seconds then you can use it. Furthermore, apply clear mascara to your upper and lower lash.
13. Cream Highlighter to Get the Natural Glow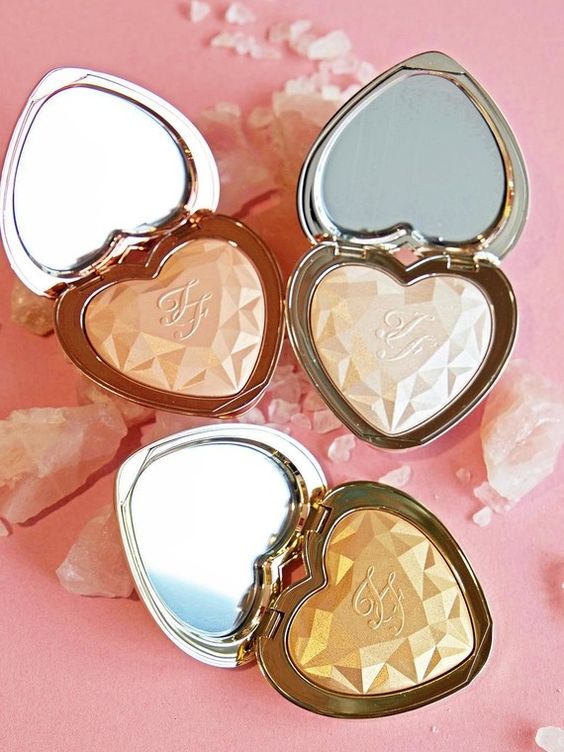 Do you want to have naturally glowing skin? You will love this step!  But if you don't like it, it's fine if you want to skip this step. For having a natural glow finish, you can prefer to use the cream highlighter and choose the shade that's similar to your skin tone.
Apply a little bit of cream highlighter on the highest point of your face or on the area that you want. Usually, people put the highlighter on their cheekbones, forehead, brow bone, nose, and chin to support their face dimensions. And also you can put it on the inner corner of the eyes to make your eyes look more awake.
14. Lip Tint for Natural Color Lips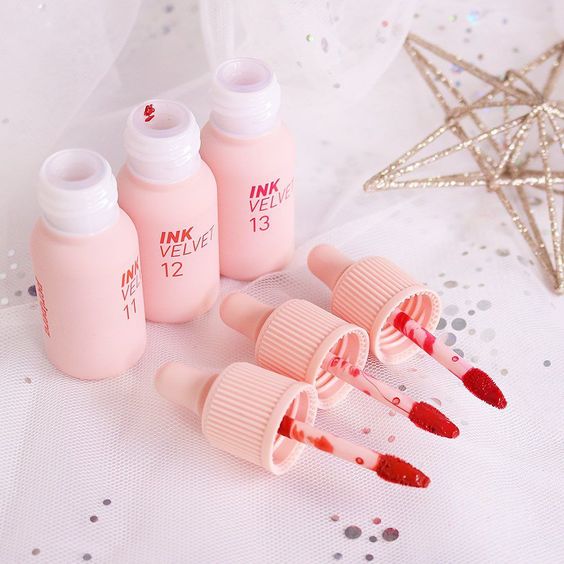 Makeup will not complete if you don't use lip product, am I right? But if you wear lipstick or lip cream can make you look like wear makeup. So you can choose lip tint as the solution for having natural lips color.
You can conceal the dark line on your lips with concealer first, then you can continue to wear lip tint on the inner part of your lips and blend it until there's no harsh line. If you feel wearing a lip tint still looks too much, you can also change it with color lip balm.
15. Set All Your Makeup with Face Mist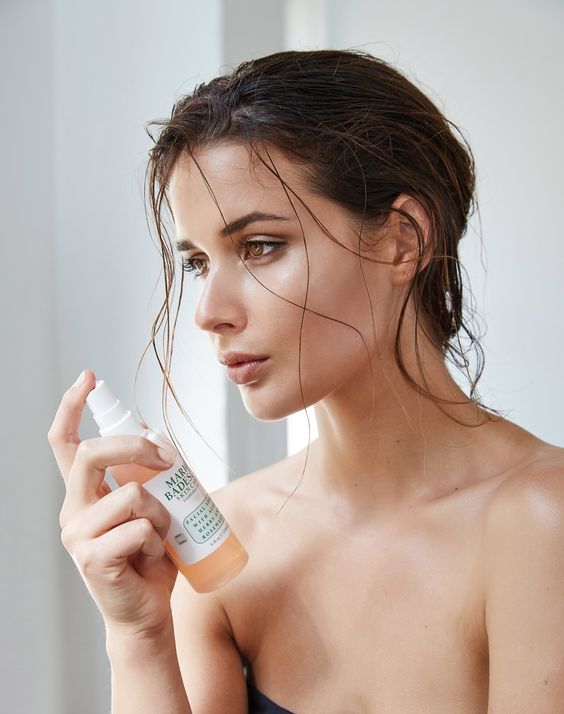 I know it sounds not ordinary to set your makeup with a face mist. But without you knowing, face mist can also change a setting spray. Moreover, for you who are still a teenager, you need a product that feels light on your skin to prevent breakout or acne.
You can spray the setting spray every 4 hours or when you feel your face dry. Because face mist contains skincare that is good for hydrating your skin even if your skin is oily you still need this one. So, you can choose face mist based on your skin type and skin problem.
Now we're done! What do you think? Isn't it very easy and quick? This makeup is so beginner-friendly because there's no hard technique. Besides that, this makeup will be very natural and suitable for school or you can make it as your daily makeup.
I think that's all about the tutorial and tips that we can share with you. Now you will look different in this school season. Say goodbye to the nerd and clumsy look because now you're gonna be the popular girl. So, I hope you can follow this tutorial easily and get the idea from easy and simple back to school makeup or makeup for school ideas.