Drufashion.com – Summer, it's all about being confident in a comfortable outfit. Break off the thick coat that wraps your shoulder around the colder season. It's time to refresh your sartorial style! With the bright and warm weather essentials, giving chance for loose and flowy dress to give a laidback style! It doesn't mean to show off your skin too much, but hey feel the sun on our skin is quite pleasing in the warm weather!
If you still thinking and figuring out how to styling summer outfits without sacrificing your own comfort. Here we will help you all out. Collecting the best summer outfit rules that won't beak you up into the old-fashion girl look and never sacrifice your comfort for a trendy look! Here are some best tips on styling summer fashion rules we want to share with you. Don't miss it, ladies!
Choose the natural fiber outfit to hide from the summer heat!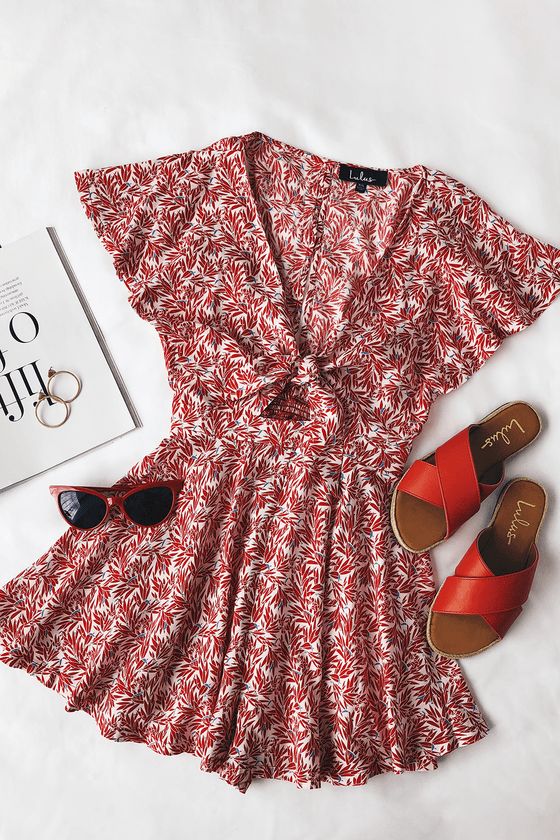 Before you come to buy a summer outfit, make sure you check the materials that made that outfit. You will not feel comfortable in the trendy-looking outfit but has the hot fiber outfit essential. The best natural fiber clothing to choose for the summer essentials is made from cotton, rayon, and lines. These three natural fibers clothes have a very soft texture and are also best to absorb sweat in hot weather. These materials will make us feel cool on hot summer days! Ladies, we can stay comfy and trendy in summer outfit ideas. For such wearing this mini beautiful summer dress that is made from rayon. The breathable flowy feature and cool rayon material will make you feel confident and also comfortable to wear on hot days!
Choose loose and flowy outfit feature styles!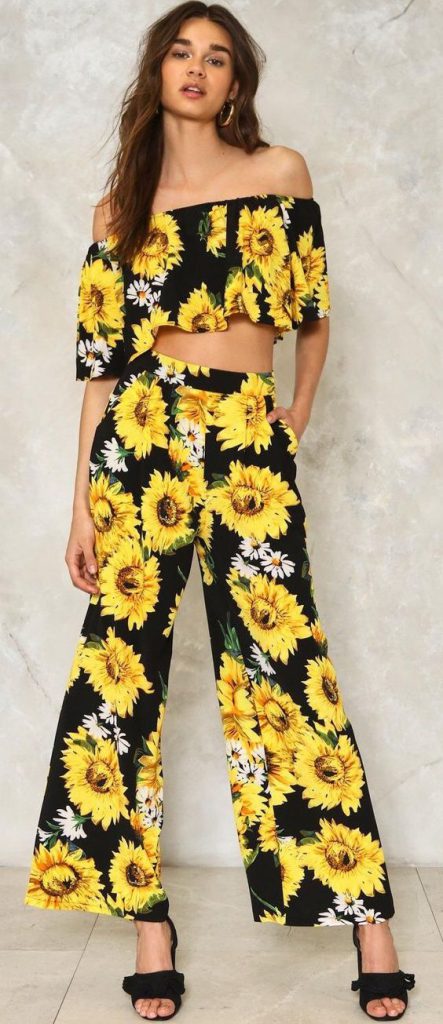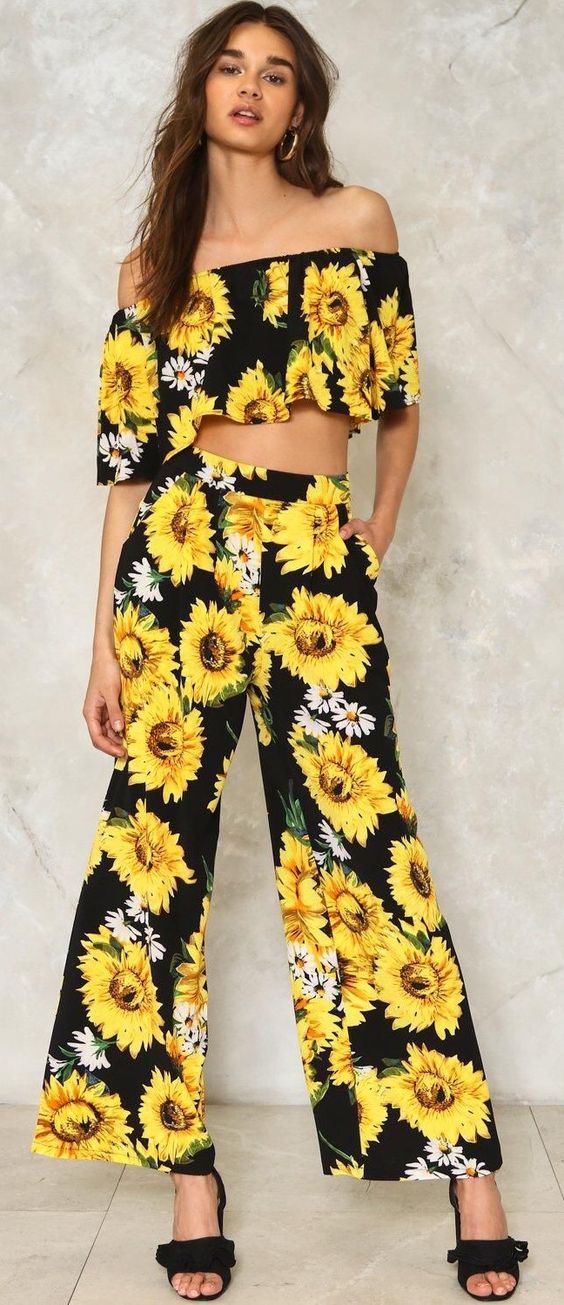 We have come to the peak of the summer season, and it's pretty damn hot while being outside! We're for sure need the flowy and loose feature outfits to comfy our look in the hot summer essentials! Don't wear tight pants or a shirt that will make your skin hard to breathe. Give a good air supply to your skin through the loose and flowy accent outfit styles! Ladies, there are many trendy outfit looks that have a super comfortable feature that we talk about right now. For such sunflower matching outfit in the picture above. The pants have a loose feature, so, the fresh air can access your skin through the wide-leg feature. And for the top, it has the same beautiful prints of your pants and the flowy accent top. It gives a comfortable combo of summer fashion essentials. And the bright color tone outfit won't break the summer rules too!
White sneakers and slip sandals for the win!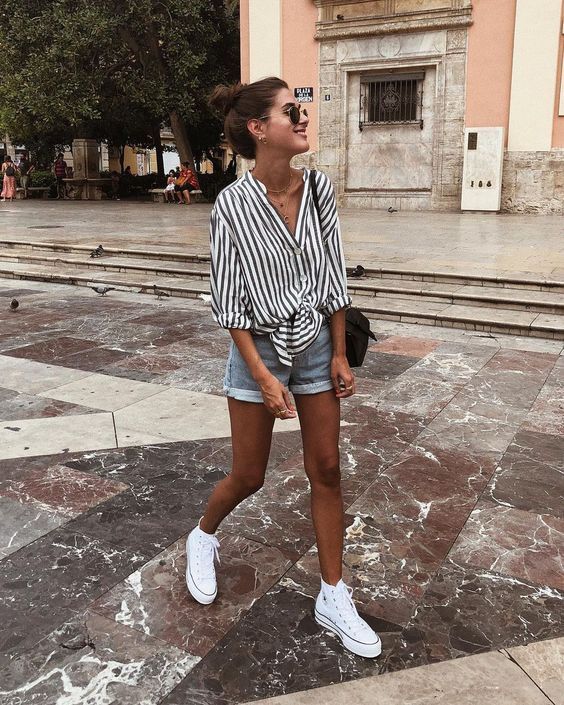 Another summer fashion rule is quite simple! We can choose white sneakers for a casual look. Matching up with denim shorts or the midi dress, white sneakers always looking good to give a chic summer look! In addition to the warm weather essentials, we can also wear comfortable summer sandals such as straps and slips sandals. It will give you a natural and laidback fashion look, especially when you go to the beach. A pair of comfortable sandals must be on your packing list ladies!
Time to get a striped shirt!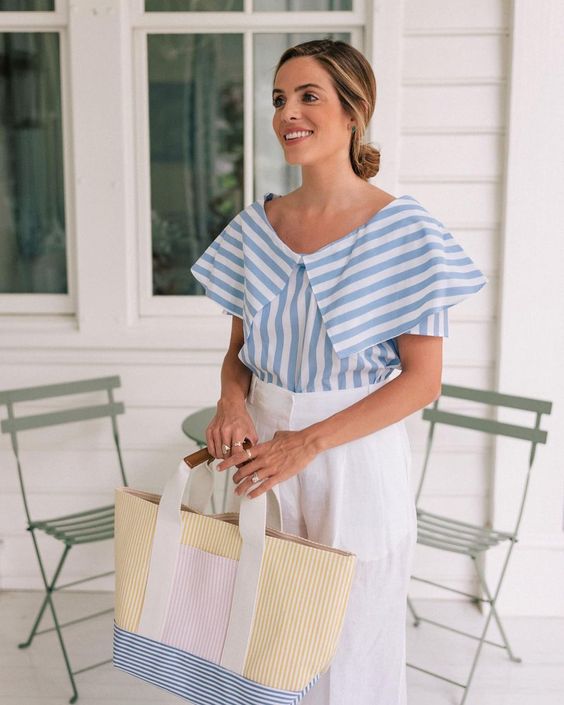 Another summer outfit rules you won't skip is styling the striped shirt! This type of shirt will never go old! The blue striped line onto the white base gives you a soothing and laidback ocean feel! You can combine this shirt with denim shorts or trousers as you want. This is pretty simple but makes you look trendy. Ready to style the striped shirt with your own style?
Time to wear your lovely shorts!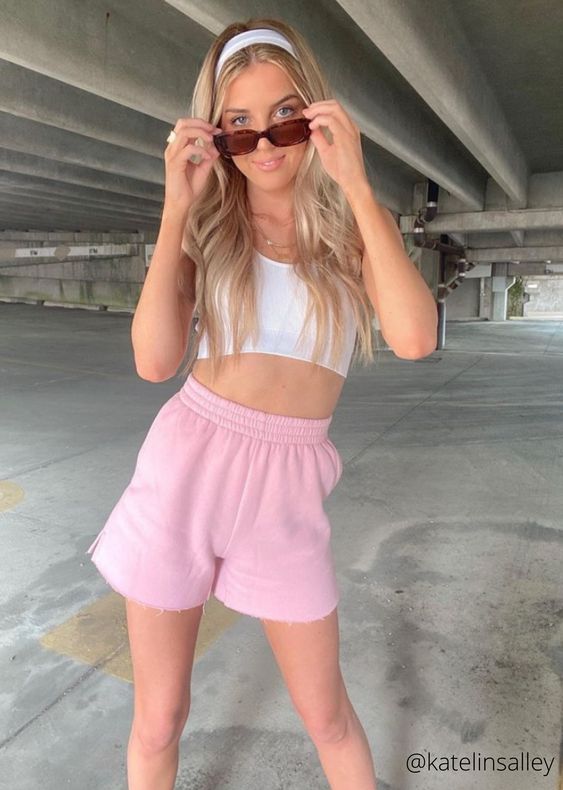 We are rolling up the peak summer season now, and thankful for it now you can style your look by wearing your lovely shorts! This pink flowy shirt is so lovely. Then pair this lovely short with a plain white tube top idea. The mix and match of soothing pink pastel color with the white plain tube top will give you a lovely and soothing fashion look! Just pair your look with a pair of white sneakers and few accessories for such woven bags and sunglasses. You are ready to go anywhere on summer days ladies!
Embrace prints and pattern outfits!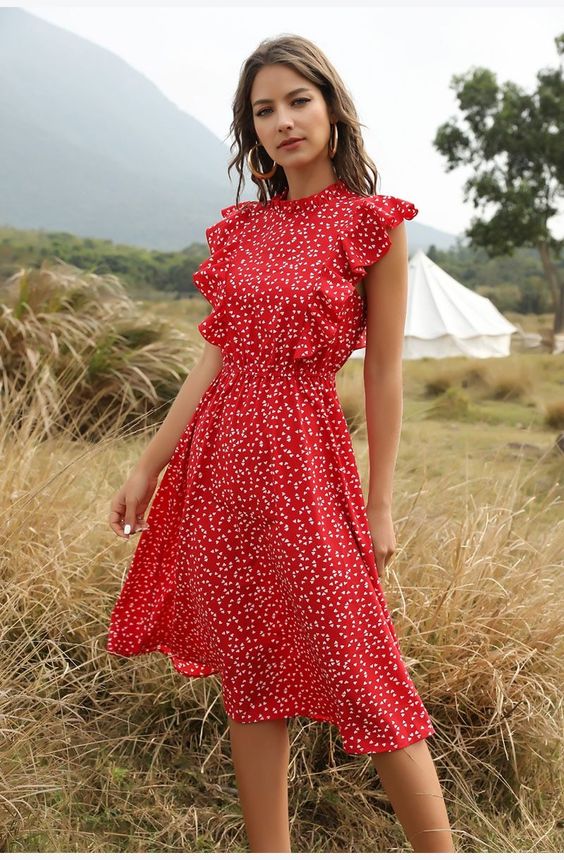 With the cheerful essentials of summer days. We need to cheer this love by wearing prints and pattern dresses! This beautiful polka dress is such a lovely summer dress. It has a flowy accent at the bottom and is made from soft material fabrics that will make you stay on a comfortable stage! If you want to catch the attention of anyone on the street. You can go with the bright accent color hue outfit for such red! Don't worry to keep in style with a bold and bright accent color shade outfit, that is looking good to embrace summer look essentials! On the contrary, if you want to show a gracefully and down-to-earth look. You can definitely do it with the neutral color tone outfit. The cream, baby blue are such good examples if you want to have a shooting summer look!
Styling your denim jacket!

Another way to keep you in style in the warm weather season. You can style your denim jacket to wrap your casual tee, or even styling it with your dress. Ladies, this street outfit item is so timeless to keep you in style! You can style the neutral black dress and layer it up with a denim jacket or even wrap it around your waist, it gives you an instant summer look! For the footwear option, a pair of white sneakers absolutely make you look stylish and casual at the same time!
Conclusion
Thus are the essentials of summer fashion rules we have shared with you. The most important rules in styling summer fashion ideas are to keep simple in comfortable outfits. We believe if we start from the comfortable outfit, plus with the simple but stylish feature. It will double up our confidence in styling the summer fashion looks! After knowing some basic rules about summer looks ideas, we hope can nail the warm-weather fashion essential based on your sartorial ideas!