Drufashion.com – Who does not love to receive a gift? Whether it's from a party, wedding event, and so on!  When the favor is unique and attractive that will cheer up everyone who receives it. In the sacred event, a unique wedding favor is more than just a present. It is the way the couple shows their gratitude and welcomes the guest who is able to attend their special day!
With the cheerful summer season, it is so pleasing to enjoy the warm day outside. It's not a surprise that many couples celebrate their wedding reception in the garden, beach, and any other beautiful outdoor place. In this writing, we will be a focus on the creative wedding favors ideas that can represent the cheerful summer days! To make our guests happy, let us show our gratitude by giving them a beautiful, useful, and of course unique favor. So, that they will remind our big day. We can say a successful event is when the brides, guests, and all people feel happy and enjoy the event. If you are going to hold your nuptial reception this summer season. Here we will help you to prepare summer wedding favor ideas that will make your guest happy, let's see them!
Grow your greeneries, grow your love!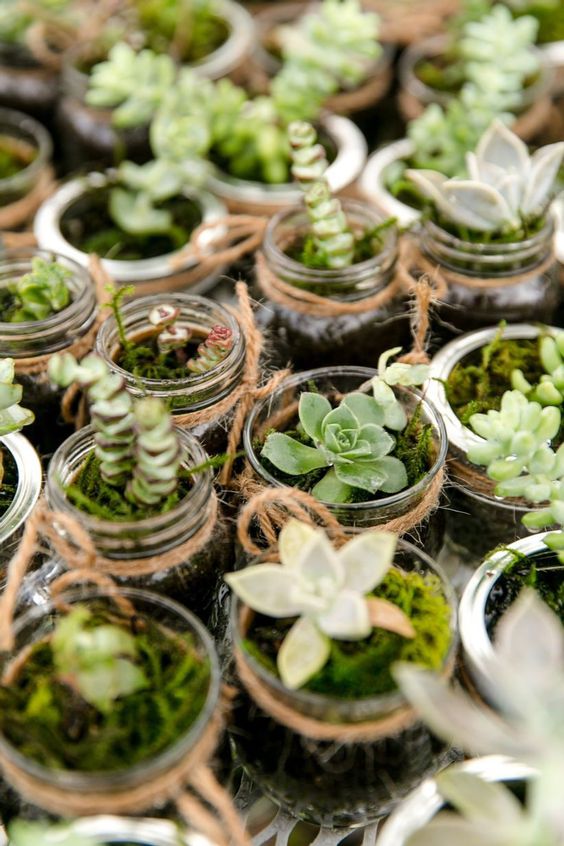 Choosing the right wedding favor for our guests might be so difficult. Creating something unique, cute, and also meaningful for anyone who comes is so tricky. But with us, don't worry too much about that, with warm and serenity laidback season. We have a bunch of ideas to create cute wedding favors!
Taking the concept of growing plants that need care and love is such a pretty cool idea to craft it as a gift for our guests! Alright, so what we need to do is prepare the jars as much as the invited guests. Then fill up the jar with the potting mix then finally plant a cute mini succulent inside. Wrap the jar with burlap rope and we can stick the paper saying thank you for coming. And write our name with our lovely one on the jar then saying 'Grow your plant, grow your love!' It is something unique, meaningful, and also an eco-friendly gift. So, if you've had a plan for the summer wedding reception. This DIY succulent jar could be the sweetest gift for your guests!
Honey wedding favor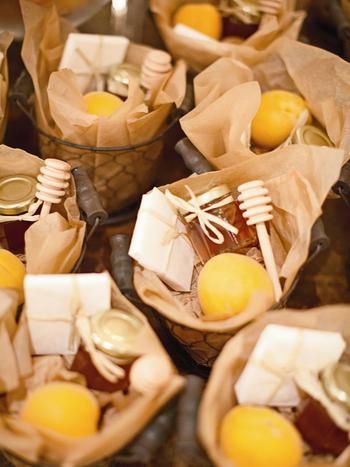 Another creative craft for summer wedding favor idea is a honey jar! The sweetness and the good thing come from honey could be a sweet gift for your guests. We can make the appearance looks cute, wrap the jar with the tape and combine it with a honey spoon and lemon in addition. It's a cute hamper that everybody will love it! Remaining the simple thing but useful and looks good is a key point on creating good wedding favors. In addition, we can put some nice words inside the hampers, touch your guest with kind words. This gift is truly amazing and so lovely!
Take off your heels and enjoy the party with comfortable feet!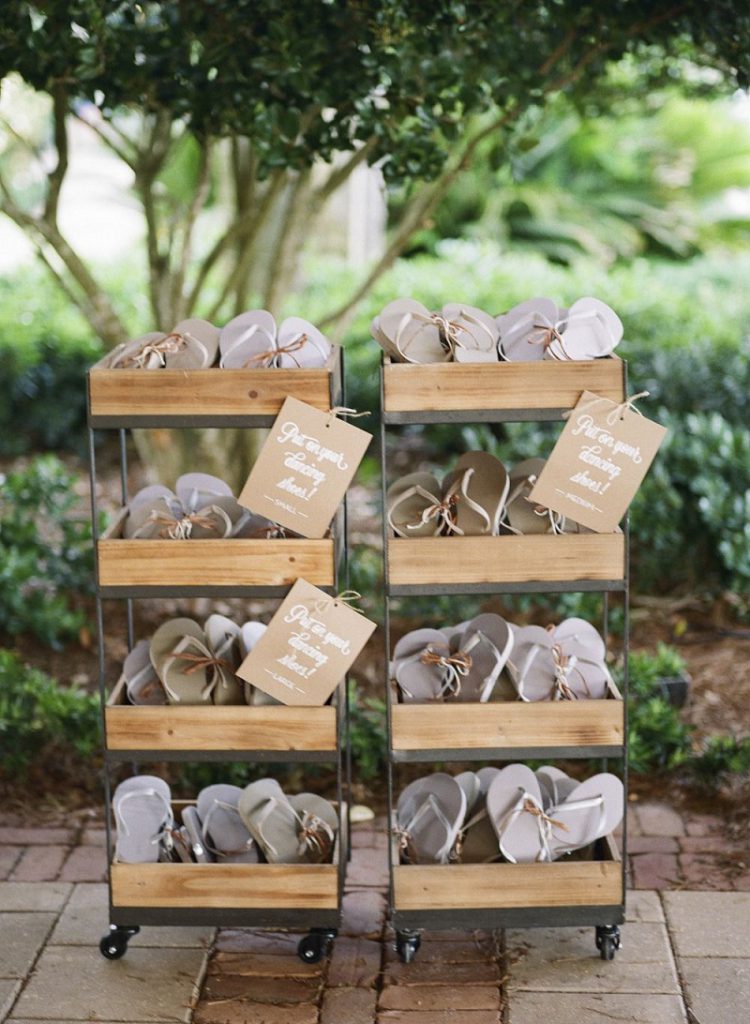 Another creative wedding favor idea is displaying sandals for your guest. It's truly amazing how we blend one together in the party night. Taking off your heels and let join the fun moment together and let your feet feel relaxed! This idea is quite simple but so useful. Especially, if your wedding venue is on the beach or in the backyard garden. Sandals are truly comfortable footwear to join the warm weather outside. So, keep them neatly in the racks and let the guest choose the size which fits their foot! We have to keep in mind that summer is a laidback season, so appearing simple and useful favors for all is something that we need the most!
Rosemary olive oil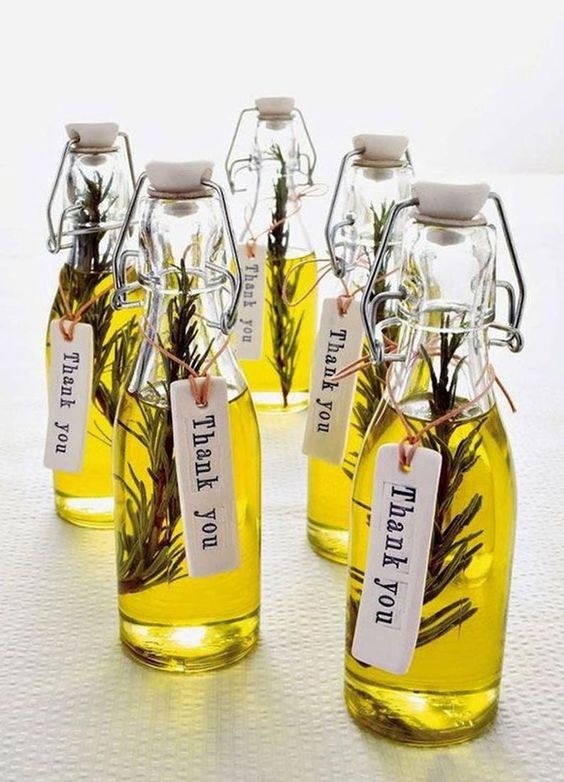 Thinking about the wedding favor is not easy at all. Because we want something that beautiful but also useful for everyone who takes it. Now, we introduce you to a DIY rosemary olive oil bottle. We are pretty sure the guest will love it and want to bring it back to their home. First of all, we have to choose the lovely bottle shape just like in the picture above, then fill it with olive oil and don't forget to add the rosemary leaves inside. Close the bottle neatly and don't forget to attach a few words on that battle to remark your wedding. We can say thank you and write the bride's name's on it. So, people will see it and remember your sweet gift from your unique summer nuptial event!
Get rid of the sweltering day with hand fan summer wedding favor idea!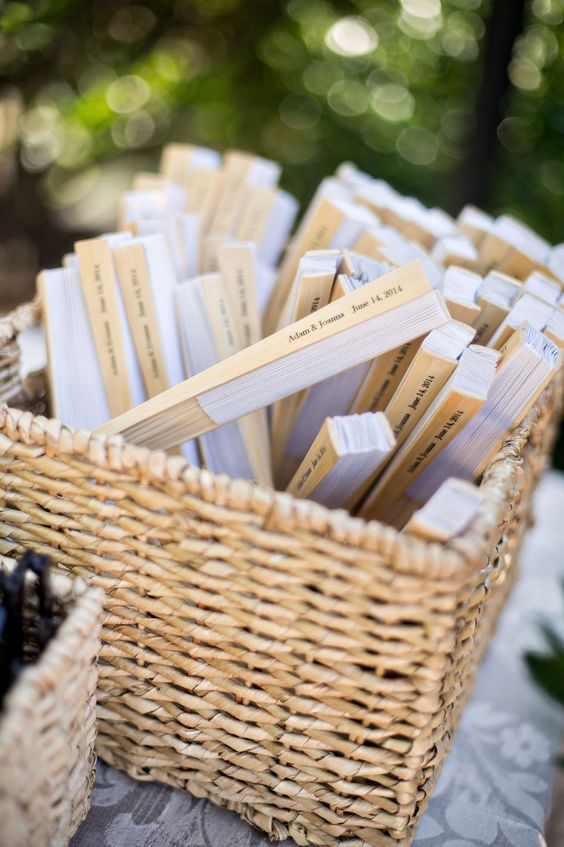 With the warm essence summer season, we cannot doubt the hot weather outside. Moreover, if you are going to hold a wedding reception outside, this hand fan could be a great idea for your summer nuptial theme idea! Keeping them in the rattan basket and let your guest take one before entering the space. It's an affordable wedding favor for the summer season. And for sure, it's a friendly budget too! We are also pretty sure your guest will love to take it and help them to get rid of the sweltering sunny day!
Sweet wedding favor idea – food lovers will love it!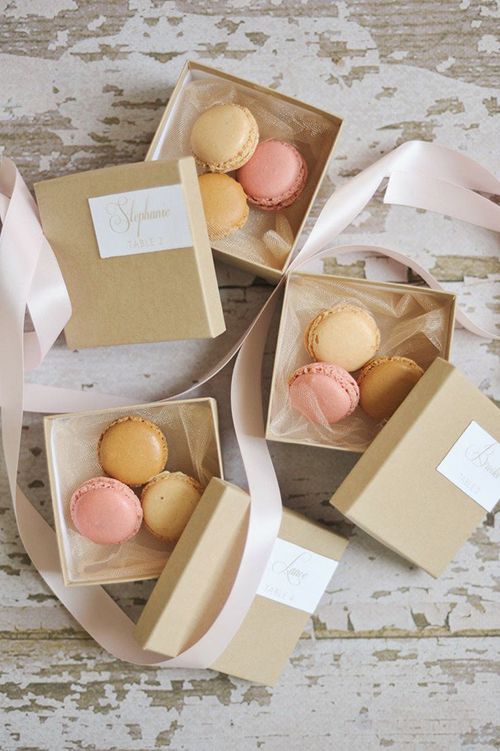 Moving on from the cute souvenir now we are displaying sweet desserts for your wedding favors. There are colorful lovely macarons that will sweeten their day. The essence of colorful pastel colors transforms into desserts that everyone will love it! Pack around three macarons into the box, decorate the mini hampers very well, so they look cute and attempting! These colors successfully liven up the cheerful summer wedding day. This one is a unique wedding favor idea that could liven up the bright nuptial day!
Gold sunglasses wedding favor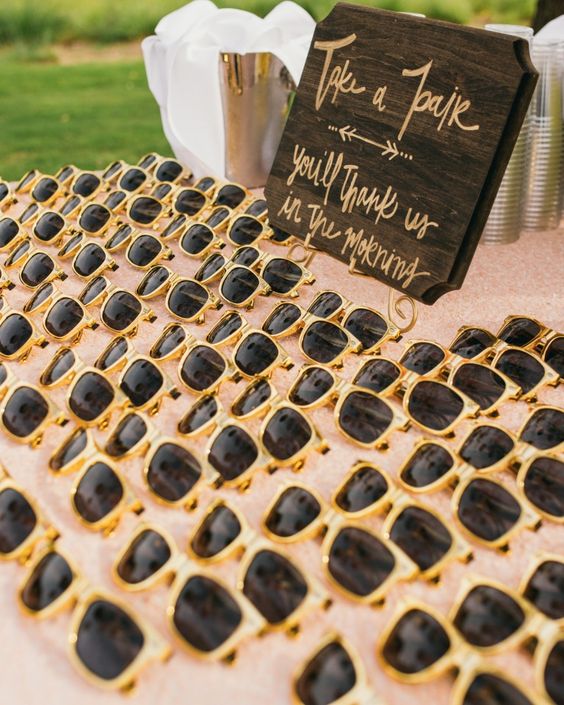 Figuring out what another thing that could be a good wedding favor for the summer season? We have a good deal for you! The gold sunglasses that are set on the table is free for your guest. Let them take one so that they are not going to be blinded by your love. Just kidding, so that their eyes are protected from the UV rays. It's a perfect souvenir for the beach wedding theme!
Conclusion
Summer is the laidback season, we love to feel the warm weather outside of the door! And we cannot deny that lots of couples hold their wedding reception in this season. The sky is perfectly clear, the sun is shining, and the warm weather touches and welcomes our skin to join the cheerful ambiance. That is why many of us love to hold the wedding this season!
What is something that could welcome and makes the guest feel happy? It is definitely the lovely favor that they receive at the entrance gate. Figuring out the unique craft but also affordable for any budget is quite challenging! But, don't take this hard feeling for granted because we have a solution for you! We have compiled some unique, creative, and affordable wedding favor ideas you could follow for the summer nuptial theme! From the simple pair of sandals to a cute macarons box that will sweeten the day. Now, we can decide which one could be the best favor for our special day. We hope you enjoy it and give you a good idea for creating lovely wedding favors!