Drufashion.com – Figuring out travel abroad is not an easy adventure, especially when you go alone or being a solo traveler. There are many things we should keep in mind before having a long trip. Preparation is the most important thing we should do it well to prevent a chaotic journey. Do not let the lack of preparation make you regret it once in a lifetime and ruin your journey.
Packing some clothes before we go travel is a substantial job. There is a travel outfit we should bring in our suitcase or backpack, that is a jacket. It protects us from biting cold weather and it also protects us from the blazing hot summer days.
Travel lovers did you know there is a legit multipurpose travel jacket on this trend now? This jacket packed with many updated features. Want to know more? Alright, let us see various styles of a multifunction jacket and find its benefits.
Before we dig into the multifunction jacket, let's talk about the price. Bringing concept versatility packed in one made this jacket is not cheap. The question that comes to mind is that compatible between the price and the benefit we get if we have that? Well, we will review this travel outfit down below.
Men's  MultiFunction Travel Jacket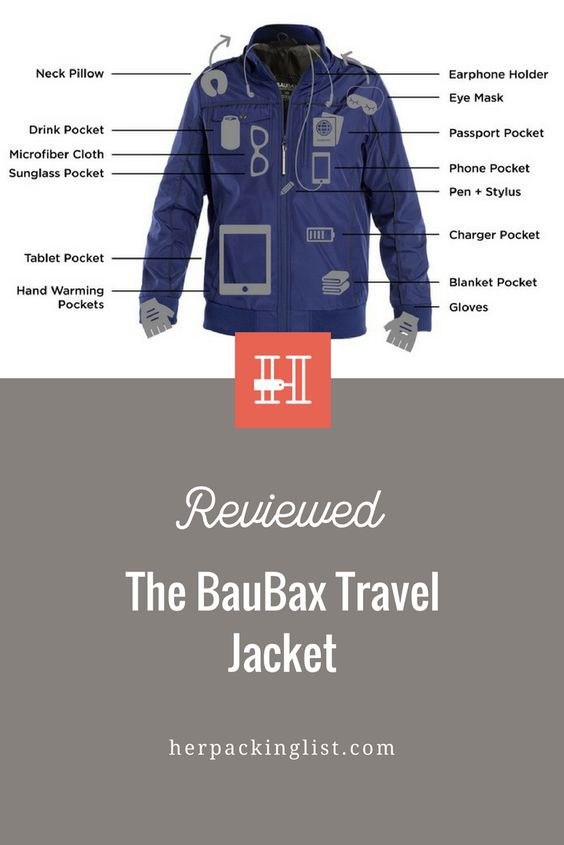 There are 14 functions you get that packed in just a single jacket! Let's find all that purpose!
Guys, check our writing about styling masculine style: 11 Masculine Casual Style | Attract Women With Your Daily Masculine Style!
Earphone Holder
Let us review the left side of this multi-function jacket. From the very top, there is an earphone holder where we can tuck our earphones behind the neck. In this way, we can lean our head on the seat without worrying that will slip to another way. It is also safe to accompany us running while listening to music.
2. Eye mask
Lower from the earphone holder we will find a pocket where the eye musk tuck. Open your left side jacket and simply take off the eye mask wherever you need it. This really helps us to sleep or rest on the plane, train, bus, nor car, take it out from the pocket and you are ready to use it. Without being in a rush, this jacket helps us to pack some needed accessories. Wherever you need it, take it out from the pocket and you ready to rest well in your plane seat!
3. Passport Pocket
Let us go to the lower spot of this jacket. Under the eye musk, we will find a passport packet, where we can keep our passport neatly. This is so helpful, it helps us to store the most important stuff when we travel abroad, passport. So then, if you already put your passport in the jacket then you will save it from the missing.
4. Phone Pocket
Go down from the passport pocket there we will find a phone pocket. It has a purpose for keeping our phones while wearing a travel jacket. Now, you already pack your passport and phone in a single outfit. Those two are the most important stuff when we were going to the airport. So, traveler, this jacket so helps us to pack our travel gear, isn't so?
5. Pen and Stylus
Still reviewing the left side of this jacket, beside of phone pocket right behind the zipper, we will get a pen and stylus that stick on the backside of the jacket. Anytime you need a pen to write your itinerary or maybe playing with a notebook you can use the stylus.
6. Charger Pocket
Right under the phone pocket, there is an available charger pocket. So, you don't have to worry about your charger left in your suitcase or any other places. All you need to wear simply just a travel jacket, you can charge your phone anywhere you are, that so practical, isn't it?
7. Blanket Pocket
The lowest spot in your travel jacket gear must be a blanket pocket. No more feel cold while being on the plane or bus by AC. Taking off the blanket from your pocket then you will get warm, do not worry about thinking about a thick blanket, it is a thin and affordable blanket but enough to warm you up while you have a long trip.
Check our writing about stylish baby boy clothes: 15 Stylish Baby Boy Clothes Looks So Adorable!
8. Neck Pillow
Now, we move to the right side of this travel jacket. On the very top, we will find a neck pillow tuck right under the shoulder. This really helps us to sleep well while having long trips. How to use them? Take out the thin neck pillow from your shoulder, and then blow them until its rises into the balloon shape. Then you ready to use them for sleeping or rest while you sit on the plane, car, or bus.
9. Drink Pocket
Under the shoulder, right on your chest, there is a drink pocket, I'm not sure this will work properly or not to keep a drink can in a pocket. But let's be generous to this function, maybe you need it or not, it depends on your experience. Would you love to try to put an open coke can in your pocket?
10. Microfiber Cloth
Cleaning a messy drop burger sauce to your outfit is not a major accident anymore. Calm down, you need a microfiber cloth in your pocket! Take it out and then swipe it to the dirty spot on your jacket. A cleaning job or swipe a dirty spot is not a problem anymore, cause we have a microfiber cloth in a jacket, that's awesome!
11. Sunglass Pocket
Beside a microfiber cloth, there is a sunglass pocket tuck on the right side of this jacket. When you walk outside on blazing hot summer days, you must be needed sunglasses to protect your eyes. Alright, you already have it in your jacket.
12. Tablet Pocket
When you open the right side of your travel jacket, there you will find a wide pocket, its purpose to store your tablet in a jacket.
13. Hand Warming Pocket
On the right external travel jacket, there is a hand-warming pocket. It is so useful when the weather getting colder and you can slip your hand in the pocket to feel warm.
14. Gloves
This multipurpose jacket provides gloves, that connected to the jacket wrist. How to wear them? Simply, pull out the gloves from the jacket wrist. This is so helpful to warm up our hands when the weather is colder!
After mentioning all 14 purposes of this travel jacket, we found out this travel jacket is so helpful. First of all, it can carry many travel stuff and pack in one place, which is helping travelers to store their important documents such as passports. By wearing this, we don't have to be worry forget our passport or find it in a little bit tricky way if we place it in our bag that contains lots of travel gear, just open your passport jacket then you already got it in a second. It makes airport checking faster and easier, isn't it?
The second benefit we got when we wear this one, it provides travel gear in a simple way, this jacket packed with much functional stuff to make our long trip feel fun. Waiting to arrive at our destination that takes many hours will not be a major problem any longer. We will feel comfortable on airplane seats even taking an economy class. We can blow lay on the neck pillow, listening to music, cover our eyes with eye musk then we ready to have a comfortable sleep.
This multifunction travel jacket costs a bit high than the usual jacket where it takes $40-50 this multifunction jacket start cost $90-125. Do we need it to accompany our long trip? Well, if we look for the function yes we do need it, but if you have to manage your trip on a budget it's better to save your money for anything you need to support the trip. This multifunction travel jacket also makes you look sporty while you have a long trip, do you like that?
We hope you enjoy our tips and review about travel wear. Whatsoever you will buy this men's travel jacket or not our wish you all have a safe long trip first, and discover a new place with dozens of unforgettable travel experiences. Stay healthy and have a nice day everyone!