Drufashion.com – Every decade has its own unique style. From clothing to the hairstyle it always takes a movement from time to time. If the 80's kids are famous for their classic old vintage look. Then the 90's generations tend to have the authentic old-style combine with an upgraded modern look. We can say that the 90's era is the link and transform the classic look that is wrapped with urban style. When we talk about the trend of the 90's fashion look, our mind will think about the nostalgic denim overall, and chokers. Yeah, we can't deny that those kids love to wear them as their fashion items.
There is an abundance of accessories styles and distinctive clothing styles make their existence still alive to now. We can see that choker trends on the hit popular and make a great comeback again to now. Denim overall is a street piece of outfits that were presented in the '90s, and as you can see now there are lots of various 90's outfit items that have been so popular to the fashion trend right now! In this writing, we will bring you back to the nostalgic 90's accessories items that still use to liven up the look in 2021! Let's reveal them down below!
Scrunchies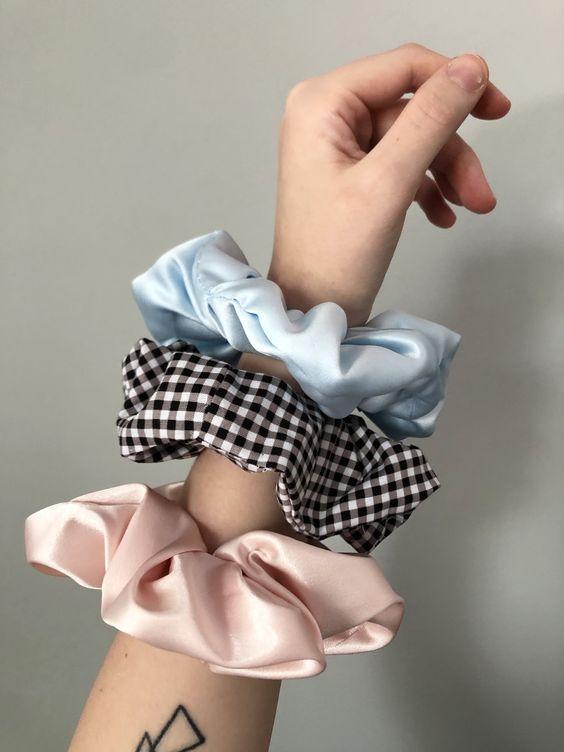 Scrunchies are one of the most used 90's kids wear to school, grown-ups, and showing the cute feminine look. The beautiful wave and soft material have various colors from pastels to bold ones. And there are lots of pattern scrunchies that will sweeten your look! Just look at these three lovely scrunchies on a girl's hand. There is the soft pink, blue, and polka scrunchie. Simply tie your hair with this lovely accessory that will liven up your feminine accent look! When it comes to summer or spring, wearing your beautiful sundress and then tie your precious hair with a lovely scrunchie that is matched with your dress color tone!
Charm Bracelet
The 90's girls love to wear charm bracelets in their hands! Made from metal, silver, or even gold. Creating a beautiful chain with decorative accents is called a charm bracelet. The feminine girl must behave this accessory in their drawers. They are simple, cute, and of course so lovely to be worn in the young girl's hand. And now, many of us still remind the power of the 90's fashion look and brought them up to the stylish fashion look in 2021!
Small sunglasses with colored glasses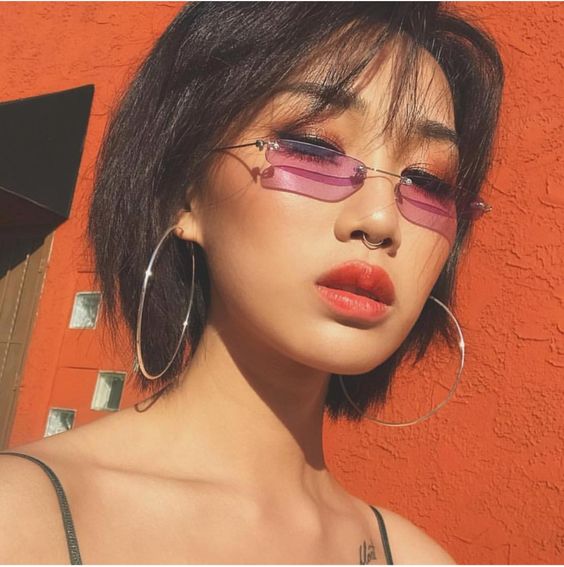 If you were born as a baby 90's kids, you will be common to see the small sunglasses with colored glass. Yeah, this is one of many 90's accessories that still exist and trending now. Having a messy hairstyle, wearing these colored sunglasses, and combine them with large earring loops make you rock the 90's fashion look! Do you feel inspired by this style, or do you wanna mix the accessories accent with your own style? We are pretty sure, that will make a statement to your look, want to try it?
Choker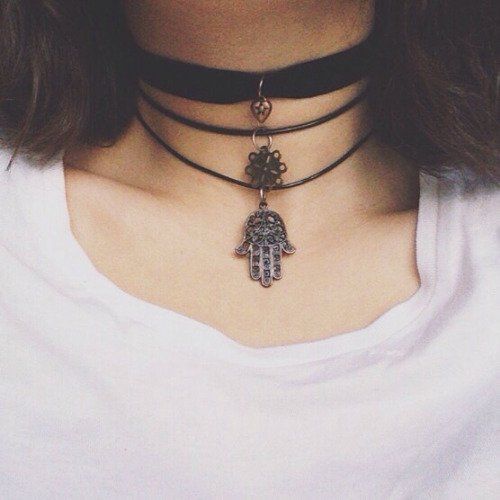 This one is a popular accessory that presents a 90's fashion style. The stylish black band wrap in your neck is the rock-style choker. If you want to show the boyish look and cool rocking street style, then this accessory could liven up your style. We can wear loose denim jeans with a loose tuck-in tee style. Then, this stylish simple black chocker could liven up your street style!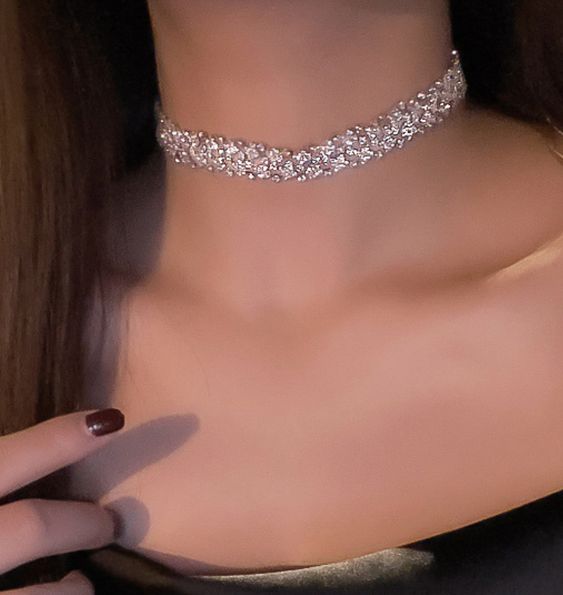 There are many styles of chokers including colors and various materials. This one is a beautiful diamond choker. The glossy accent from a diamond brings out the classy look. This choker fits for you to attend the party. Wrap in the elegant dress and liven up your classy look by wearing the diamond choker makes you ready to go to the date night or wedding late-night party!
Vintage boho
Anklets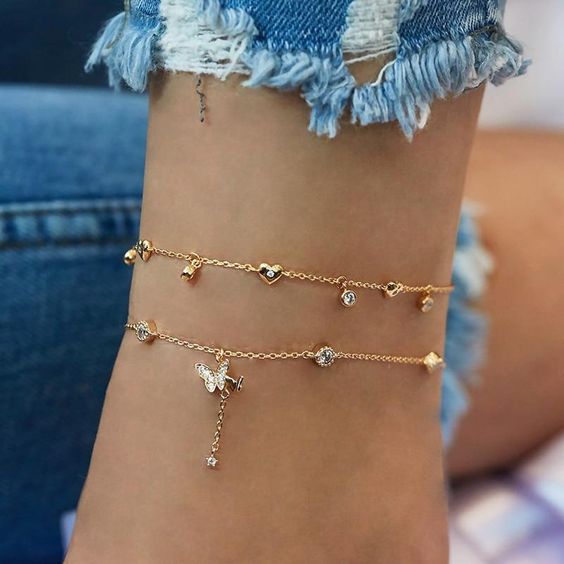 Remember of the anklets wherein the 90's we were obsessed with anklets? Well, this is the vintage boho anklet style made from gold. Showing the cheerful loom is something that the 90's fashion style likes the most. To get rid of the outdated pale fashion look in 2021, we can try the nostalgic 90's accessories style just like these anklets. Sometimes we need something to accentuate accessories to liven up our look. To get rid of the boring casual look, we can improve it by wearing this kind of accessories. The anklet makes your ankle looks prettier, let's try this one!
Bandana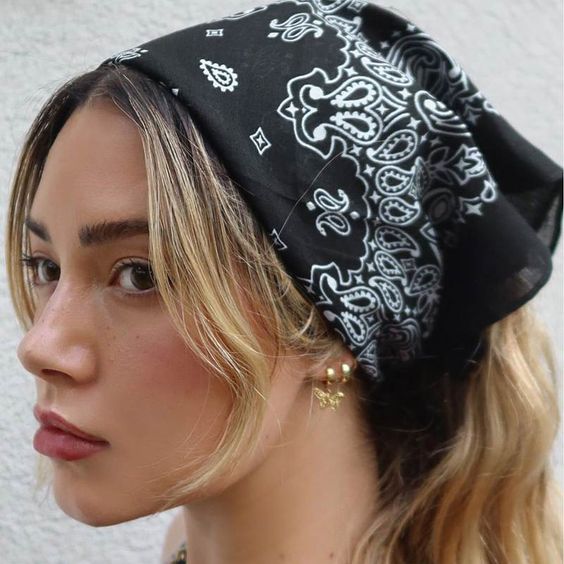 For girls, 90's youngsters never look so out of date. There are various cool accessories that could liven up your look! And this one, we remind you back about the stylish Bandana. Again, there are various colors and patterns we can choose that fit our style. Then you can also play with the styles. Just like this black bandana that wraps your head but showcases the wave of your front hair. Creating a ponytail at the back giving a cute impression. Girls, are you ready for the trips? You absolutely look cool with this style!
Bucket hat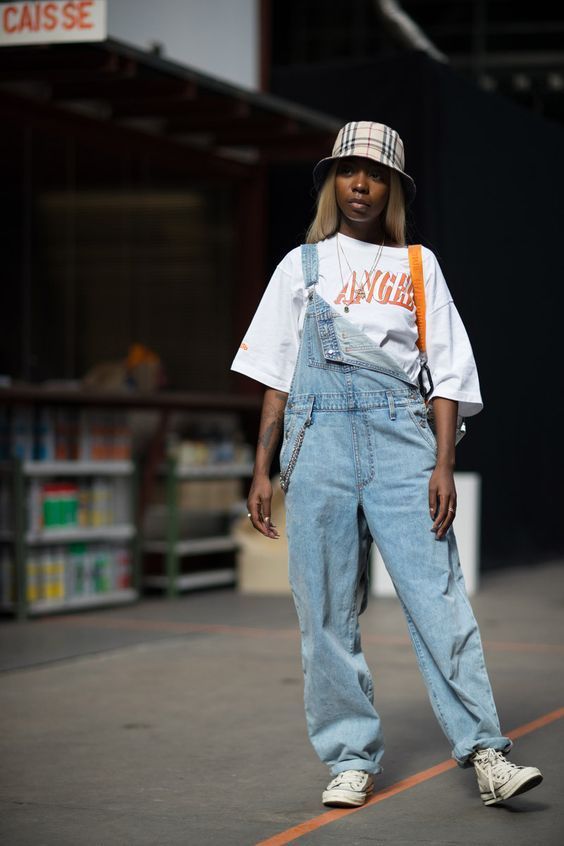 Do you find that bucket hat is a trend now? Basically, this kind of hat is already in great demand in the 90's era. Just like this model, it represents the cool street style of the 90's kid's era. Wearing the denim overall, then layer inside with the loose tee. Then, wear a pair of stylish canvas sneakers. Don't forget to wear the bucket hat too. It looks casual, comfortable, and could protect our skin from harmful UV radiation. So, this is a complete sample of 90's youngsters' looks at showcasing their street style!
Conclusion
We have come to the conclusion section now, in this writing, we have compiled various accessories that could remind us about the nostalgic 90's fashion memories. There are chokers, colorful scrunchies, the useful bucket hats. That is all still trending now. So, if you are looking for cool fashion items look, the 90's ideas are still worth trying to liven up our styles in 2021! We hope you enjoy this such a good nostalgic fashion trends edition and we can't wait to see you exploring your own style!