Drufashion.com – Taking back into the nostalgic '90s fashion style era, where the bomber jacket and flared wide-leg jeans are so hype. We cannot leave the glory of the '90s fashion style just so on. Indeed, it still alive and fervor the trend outfit now. It's never too old to bring the 90's fashion style to be one of the coolest outfits that have ever been made! In fact, we consider the cycle of fashion trend is the refinement of the former style!
We have developed a lot in fashion style. The 90's style brought an easy, casual, and chic look. Leading the oversized outfit currently back on-trend now. Matching up a crop top and high-waisted jeans not only be fancied on its era, but we do really love these two combinations in the latest fashion dress code now! We've come to the peak nostalgia of the 90's fashion trend!
We can't wait to show you some '90s outfit ideas, be ready to rock street styles with these hyping '90s mix and matching outfits completed with identical accessories!
Mix-matching Slip dress and tee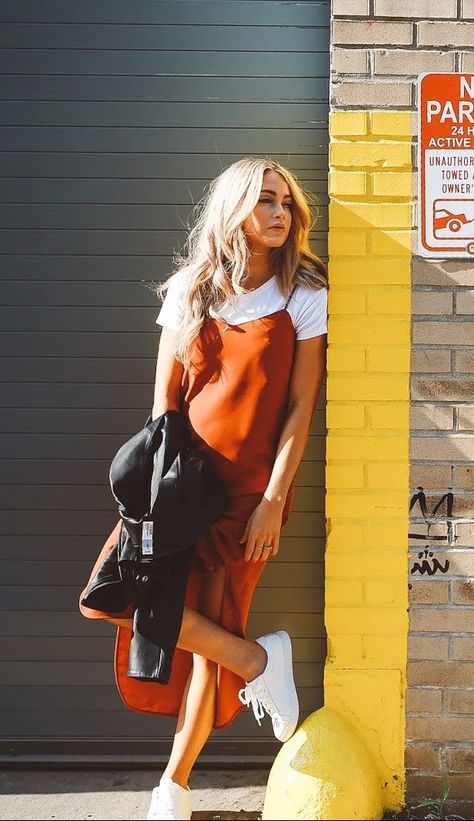 We're pretty sure you already common to see this matched outfit. Whether on the street, college nor been displayed in many clothes shop. Girl, you can match a white tee with your favorite slip dress. To rock your street style, you can wear a pair of casual white sneakers additionally we can layer the outfit with a black leather jacket. Rocking the street style with these 90's fashion outfits is so damn cool!
Flared jeans
Before skinny jeans came and being so popular now, we need to flashback to the loose and wide-leg jeans that have been so popular in the 90's era. Did you realize that surprisingly flared jeans becoming on-trend now? Let's see how the flared jeans can evoke a cool style down below!
Styling flared jeans and crop top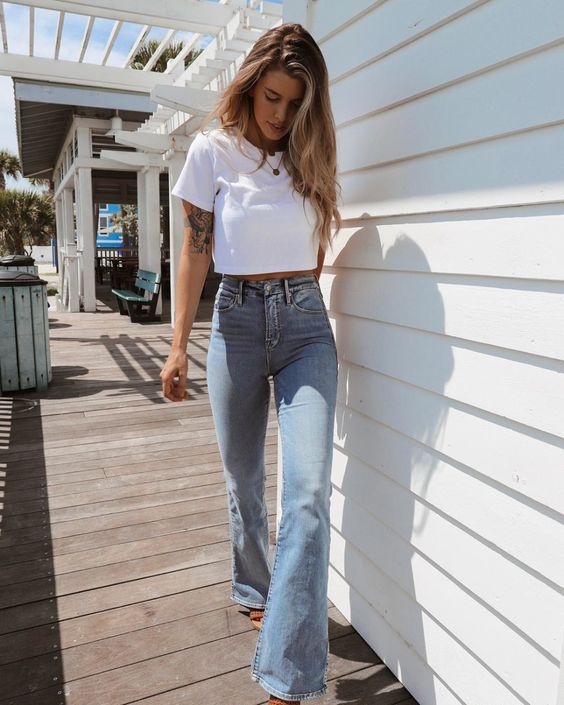 Revives the '90s energy by styling flared jeans into something cool outfit idea to hang out with friends on the street! Matching up the flared jeans with something simple for the upper outfit. Our choice must come to the crop top! For the footwear, we can choose sneakers or even heel sandals also looking good to rock this style! Do you love this casual style?
Overalls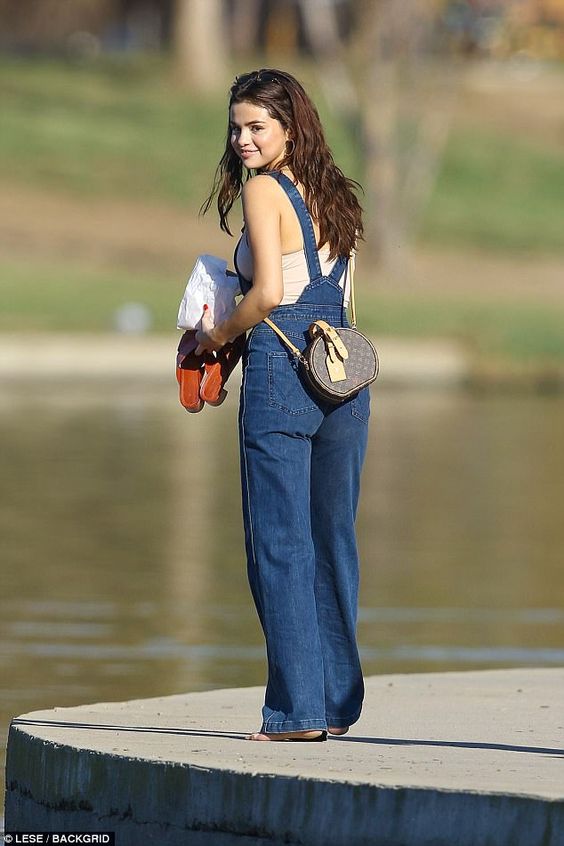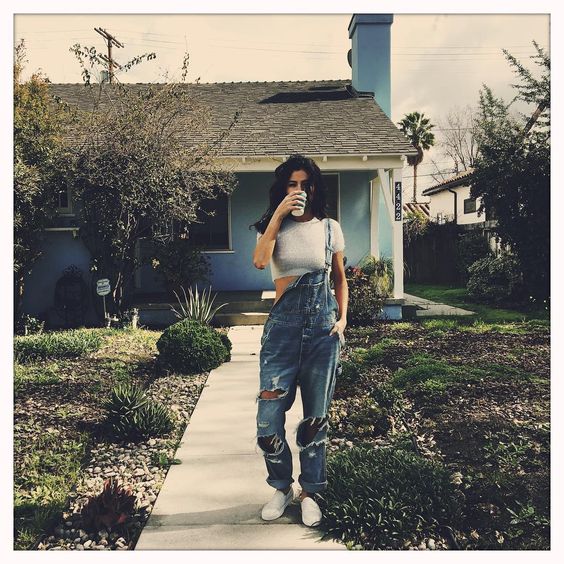 Who does not have this outfit item at least one overall in a girl's wardrobe? We're pretty sure you have this fashion item too! It's a must-have outfit in '90s style, from a little kid to a young lady, we love to wear this fashion item!
The ideal matched outfit to style an overall is definitely a crop top. In the picture above, an American musician Selena Gomez looking so gorgeous with her overalls outfit! She styles an overall with a tight crop top. Let's replicate her style, she wears flat sandals that matched with wide-leg overalls. This outfit is a suit for a laid-back vacation! In the second picture, she's styling the overalls with casual footwear, sneakers. That could be your inspo to create cool street-style young girls!
Bomber Jacket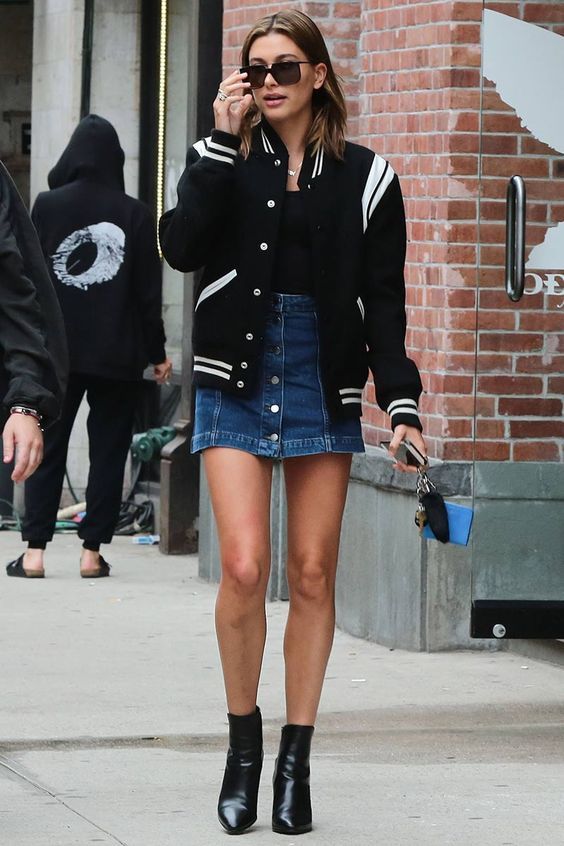 Another casual wear that is inherited by the '90s era is a bomber jacket! We love to style this trendy jacket on many casual occasions. Styling this bomber jacket with a tube top or crop top inside creates a simple and cool look!
Matching up these outfits with a skirt or denim jeans, furthermore wearing leather black boots are perfect to accompany your stylish street style. Be ready to rock your style with 90's fashion outfit ideas!
Ruffle Floral Dress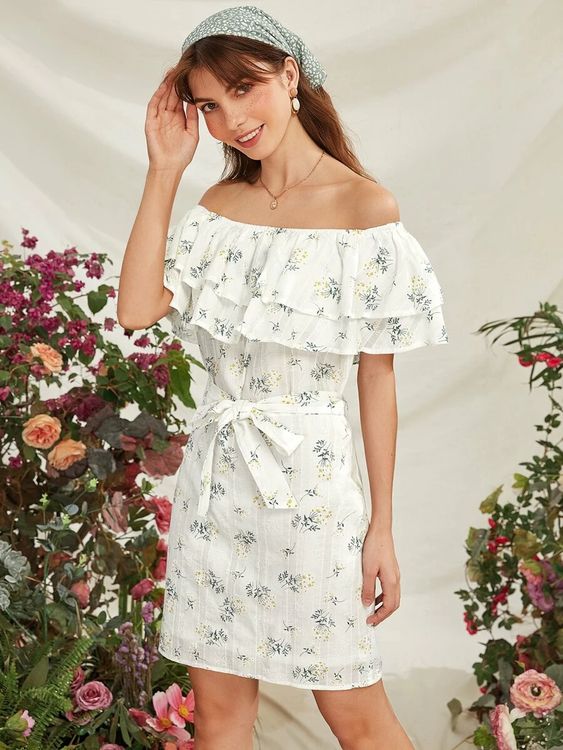 A ruffle floral dress also well-known in 90's outfit essentials. Embracing the vintage era by appearing floral accent on the dress is a beautiful women's outfit. A ruffle design makes the 90's floral dress looking cute. When the warmer seasons come, it's a perfect time to wear a floral dress! Complete your summer outfit with comfortable casual sandals. Girls, enhance your lovely look by wearing a floral bandana on your hair!
Plaid Shirt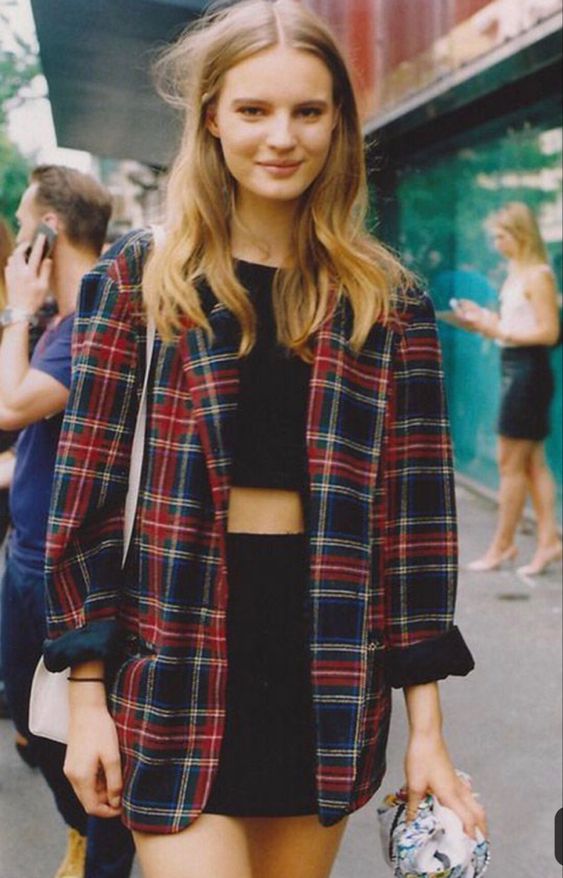 Youngsters in the 90's era really know how to dress in a cool street style! Oversized plaid shirt has been favorite casual fashion items since then and now. Many ways we can style a plaid shirt for instance mix and matching the plaid shirt with a tube top or tee inside. And we can wear neither denim jeans nor a skirt, both look awesome with a plaid shirt!
90's identical shoes
Moving on from 90's identical outfits, now we're going to share a few 90's shoes. So, don't miss any essential 90's shoes down below!
Platform Boots
Our first nostalgic shoes in the '90s are come down to platform boots. It has a solid feature that makes them perfect to accompany your adventure. It also suits to combine with jeans and a skirt. Wearing this platform boot will give you a hardcore punk look!
Canvas sneakers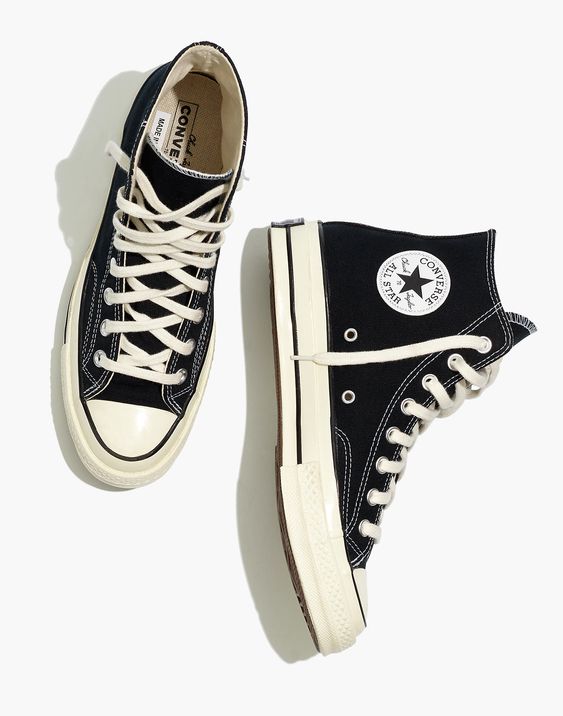 Other common shoes that hit on the 90's are canvas sneakers. Classic black canvas sneakers from Converse are in great demand since the 90's era till now. It such perfect footwear to accompany our casual style!
90's Identical Accessories
Chokers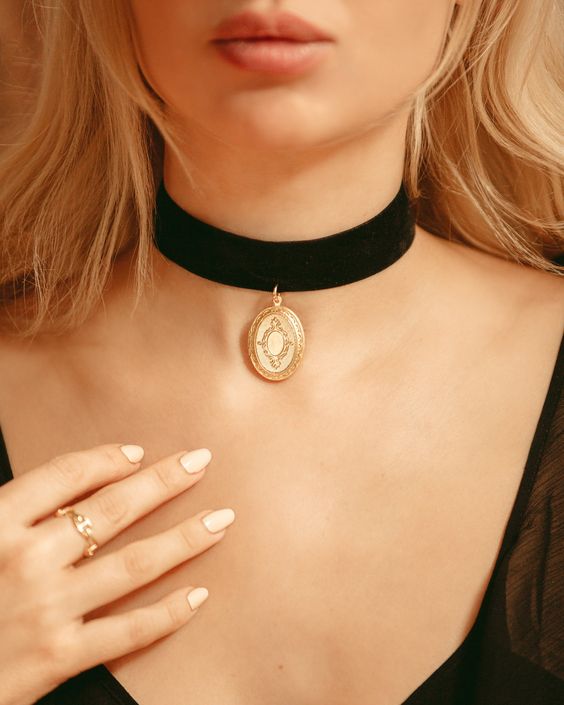 Chokers were identical '90s accessories. This collar-like necklace is worn tightly around the neck. It usually made from plastic, leather, fabric, or gold. Wearing this choker will give an edgy look to your appearance!
There are various collar styles available, we only need to choose the design that suits us the most. If you have no idea to choose a choker to style your 90's outfit. We offer you a black Victorian choker made from a black velvet ribbon and gold pendant. It seriously gives you an elegant look!
Hoop Earrings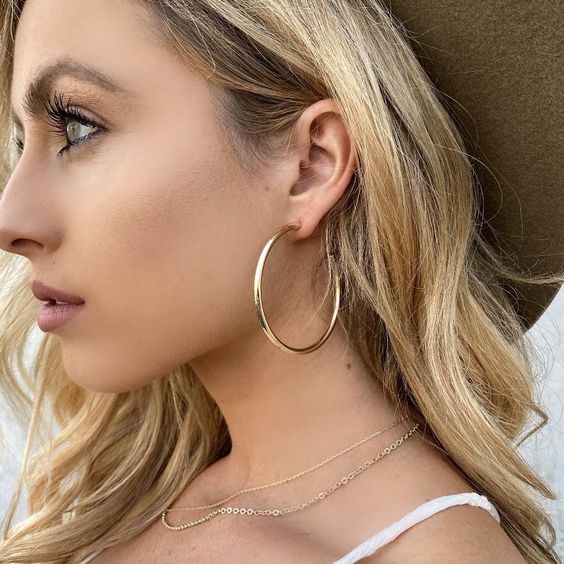 When we come into the 90's accessories, a choker is not the only item that reaches peak popularity. We can say hook earrings as famous as chokers! Women love to wear medium golden earrings to give a statement to their look! When you attend a formal event, wearing these gold hoop earrings will improve your elegant look!
Scrunchies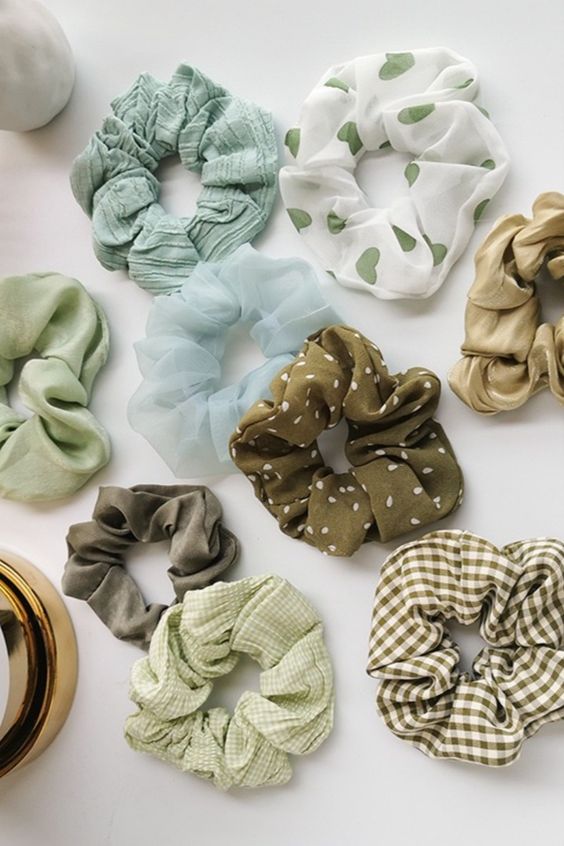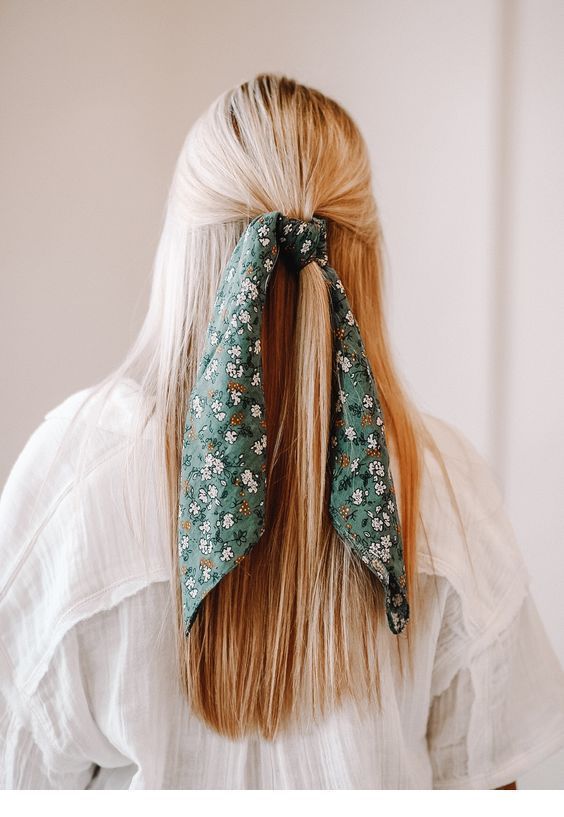 Scrunchies are on their peak fame in the 90's era. It offers various options in design and made from many materials such as satin. Far from boring, styling your hair with a lovely scrunchy will make you look cute. You can make a bun of your hair and decorate it with this pastel scrunchy. Or it can be worn with a pigtails style. Styling your hair with scrunchy will make you look cute and flawless!
Conclusion
There are some 90's cool outfits you can replicate to rock your fashion style now! It's never too old to wear the 90's fashion trend at this time. Styling flared jeans, crop top, then layer with a plaid shirt, wrap your cool style with a pair of platform boots is such a definite cool style! To create a casual look, you can wear classic black canvas shoes, both platform boot and canvas shoes equally look cool!
Different from the cool funky fashion style we already explained above, the 90's fashion style also friendly to welcome you with a lovely feminine look! Wearing a ruffled floral dress, casual sandals, and completed with lovely scrunchy for your cute hairstyles!
If you're born and raised in the 90's era you'll thank for the childhood fashion-style memories you had. Because it makes a big deal in trend fashion style now. We hope this article could remind you back the glory of the 90's fashion style. Are you ready to rock your style with 90's fashion outfit ideas?