Drufashion.com – A singer, actress, and model Kim Jisoo literally busy all year round. She begins her career as a singer with the most powerful girl band, Blackpink. Jisoo with her member friends has a successful career, it's proven that their song always in great demand among young people. Their attractiveness and their charm on the stage make us adore every single performance they lead. Let's say How You Like That one of their hit songs globally. One of the most successful singles called Ice Cream they have made with the world pop star Selena Gomez. Their massive popularity is unshaken!
Kim Jisoo hundred times amaze us with her gorgeous look. We often see Blackpink on the stage and they are definitely amazing. Now, we are curious and looking for the Kpop star on their off-duty days. The answer is that they look equally impressive for both on stage and off stage. We really love Jisoo Blackpink fashion style, because she has offered a ton of outstanding mix and match outfit essentials.
With the flaws Blackpink's members have, we are curious how they look and styling daily fashion outfits. Out of the stage, Kim Jisoo always has outstanding pieces of outfits to share with us! We will be sharing a roundup of Jisoo Blackpink fashion style and her stylish Dior looks. Don't miss any of them!
Rocking the late-night party!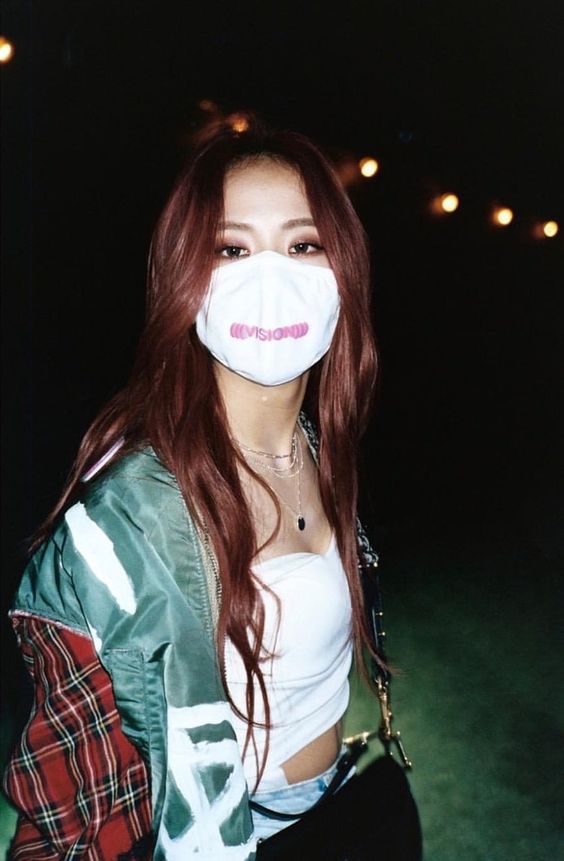 In the captured above, she attended the Coachella music festival. We are amazed that she looks so impressive styling rock style in the late night. In her off-duty time, we love how Jisoo expresses her fashion taste out from the stage look. Differ from her mate member Rose's street style, she has more various waves of fashion style, which is quite interesting!
That night, Jisoo wearing a white top and then layers it with a rocking damn cool bomber jacket! Then she pairs her casual look with washed denim jeans. In addition, to complete her impressive laidback look, she wears a black sling bag and a golden accessory. This Dior princess absolutely knows how to dress well!
Chic airport look!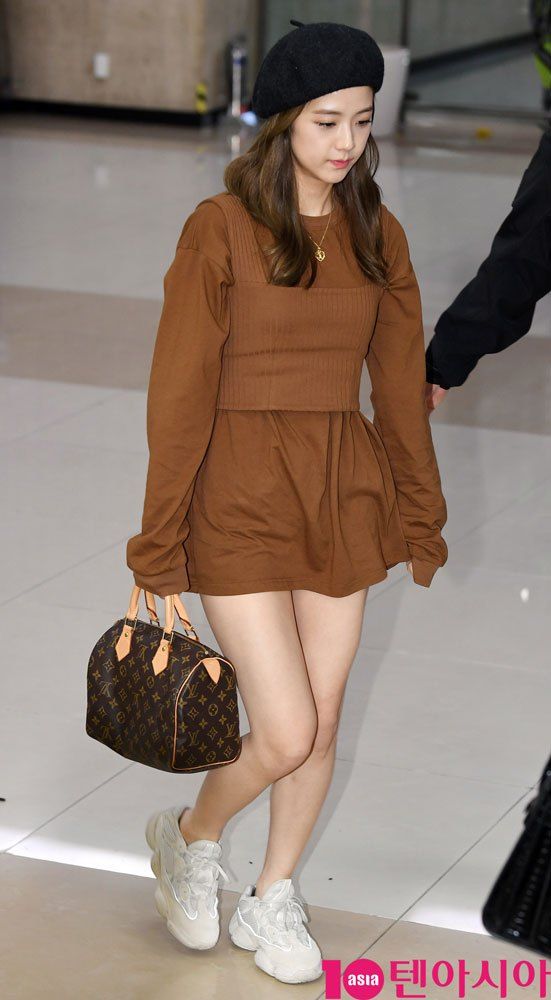 As we alluded to earlier that Kim Jisoo has an abundant style collection. The Kpop stars also known for their stylish look. They look chic and so adorable, just like this Blackpink's member Kim Jisoo spotted in the airport wearing a chic essential fashion look. She's so eye-catching! She's wearing the brown mini dress and pair it up with a brown pleated top. Then she casually matched her chic look with a pair of white sneakers. A Korean Dior princess wearing a black beret hat to make improve her chic look. In addition, a Dior leather bag accompanies her chic airport look! She's so stunning!
Flawless with Vintage dress by Dior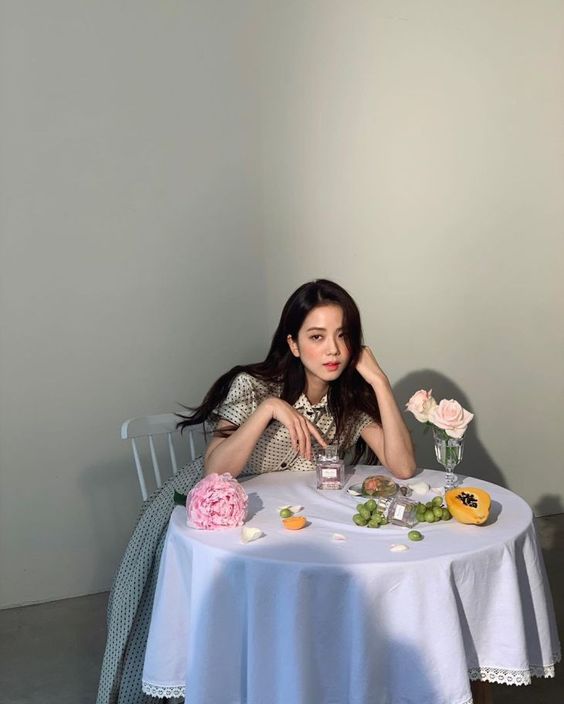 Maria Grazia Chiuri is a well-known Dior designer that embraces feminine fashion outfits. She beautifully designs a dress that fits with a beautiful young lady such as Jisoo. This girl has absolute charm, there is no doubt about her visual. Then, Jisoo start to work as a model and house ambassador of Paris fashion brand Christion Dior. Maria beautifully designs girly spring outfit essentials. The little polka pattern on the neutral dress literally embraces the vintage array. This dress has short sleeves and the front button looking so classic. When spring comes, embark the lovely air with the beautiful vintage dress is just amazing!
Casual fashion ideas!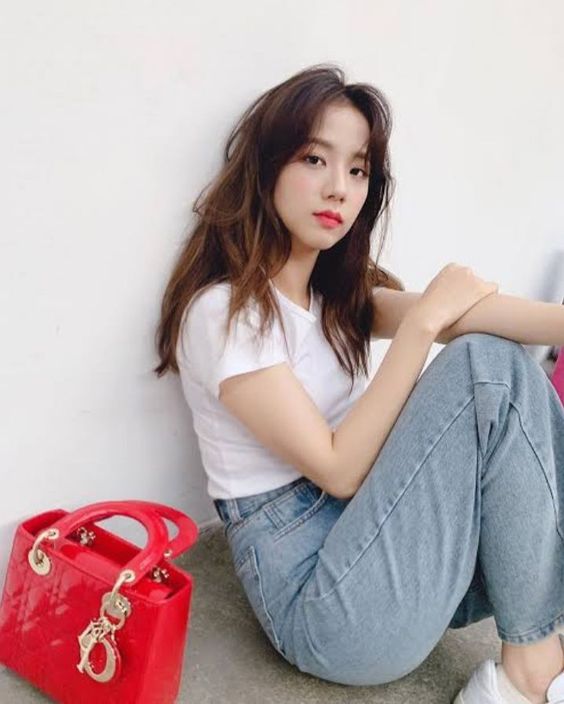 Jisoo has become devoted to Dior, she is honored to be a housing ambassador in that Paris fashion brand. She has captured a lot of mesmerizing photoshoots with Dior. There are plenty of gorgeous looks from feminine, masculine, to the casual style which we display now in the picture above. Jisoo looks so stunning with her washed Dior jeans with a wide-leg feature. Then, the designer suits the jeans with a white tuck-in t-shirt. White Christian Dior's shoes accompany her laidback style. To boost this trendy casual look, she gives the statement red leather tote bag from Dior!  With the messy hairstyle, she completely looks so lovely in the daily streetwear outfit!
Queen of Dior's winter lookbook!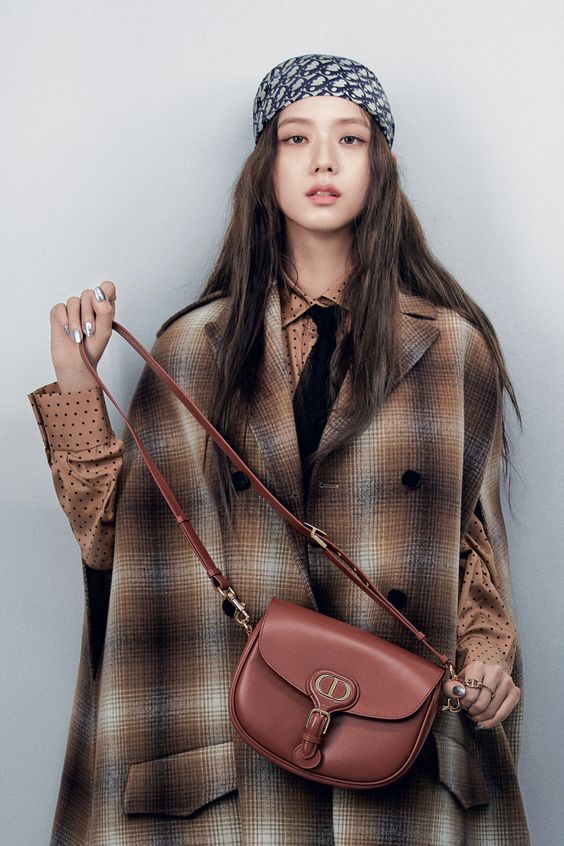 Kim Jisoo has been embellished with Dior's lookbook, from summer to winter lookbook fashion outfit styles! Her stylish Dior look is proven in this winter lookbook collection. She's wearing a polka shirt inside with a black tie. Then layer it up with a quirky coat and after that, she wears a bandana to make a statement to this Dior's winter fashion lookbook. To give the sweet accent to Jisoo's boyish winter look, she brings her leather Dior sling bag. This winter look is so stylish and you will not get bored in styling winter layering tips like this!
Rocking the show with the plaid Dior dress!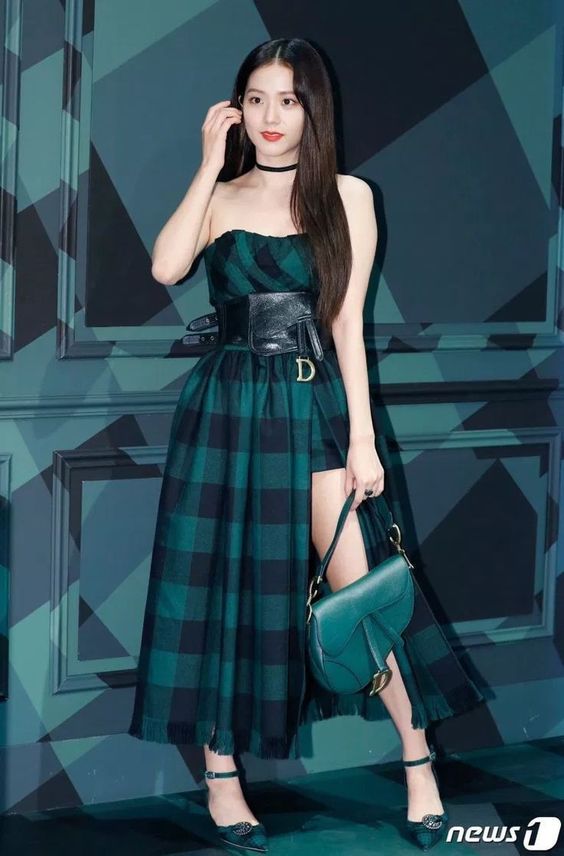 One of the most well-known fashion brands in Paris, Christian Dior never stops working with some of the tops designers in the world! Maria Grazia Chiuri specializes in creating a feminine Dior's fashion look. As a result, she has innovated a lot of beautiful dresses, one of them is tuck on Jisoo's body. She wears a plaid dress pattern in a green accent. Giving the quirky powerful feminine style, she wraps the leather bag on her waist, it gives the rockish touch to her feminine look. In addition, she wears a 90's fashion accessory essential, chocker. The pair of green heel shoes successfully give flaw to her look. She's absolutely rocking the show with this beautiful asymmetrical Dior dress!
Chic street style vibe!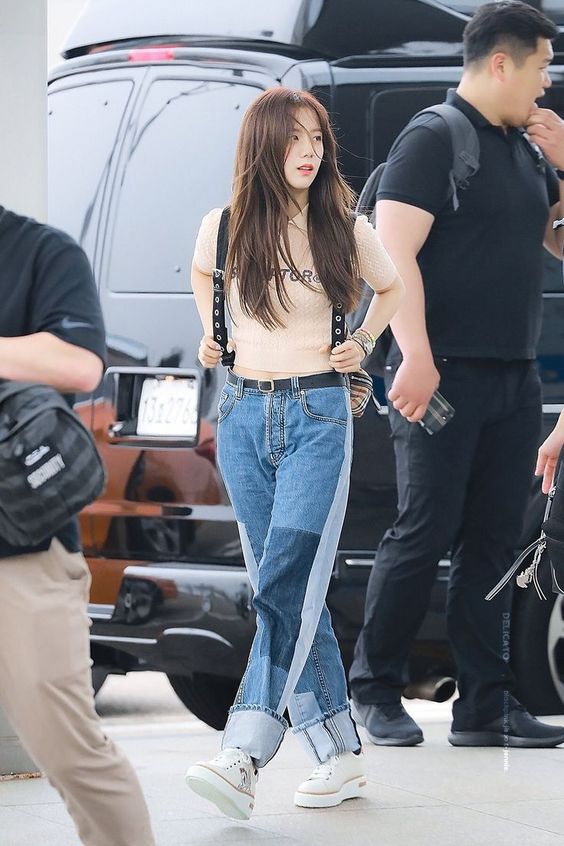 A Korean singer, Jisoo always has an abundance of clothing styles collection. For both on the stage and off stage, she slays every moment she passes by. Jisoo spotted walking on the street and we do love her streetwear essentials. She wears the patchwork denim jeans and pairs it up with a neutral top tee. In addition white sneakers and a travel small bag pack join her streetwear essentials! She looks so cute, you can follow her style hang out with friends!
If you need more streetwear outfit ideas, you can check the best Selena Gomez street style. We hope you've got the idea that fits your fashion taste!
Trendy street style fashion idea!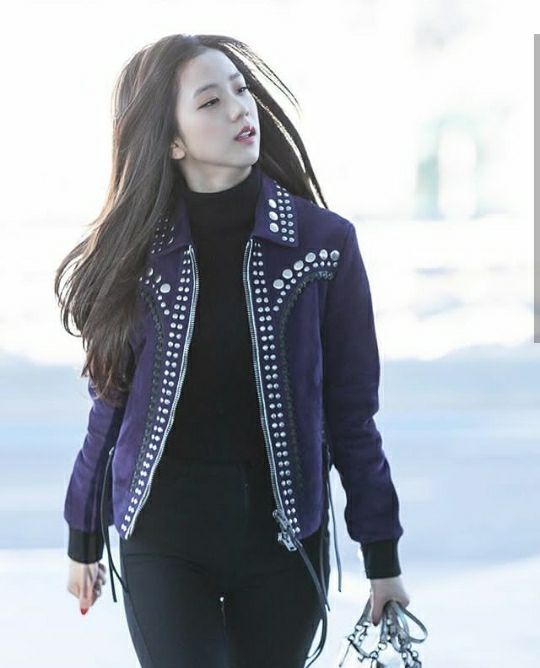 If you are bored styling a basic item for the casual streetwear style, you can follow Jisoo's cool streetwear essentials. She's wearing a black crew neck sweater with black skinny jeans. Then, she layers up her look with a purple bomber jacket. No more boring casual outfit to hang out with friends!
Conclusion
Blackpink is one of the biggest group bands in the world, they are blessed with 4 talented and beautiful girls. Jennie, Lisa, Rose, and Jisoo always have outstanding looks both on stage and off stage. In this writing, we already shared a roundup of Jisoo Blackpink fashion styles. Features Jisoo's stylish Dior looks and her off-duty clothing style. We hope you enjoy the writing and could inspire you in styling fashion outfit ideas!