Drufashion.com – We are entering the peak of the summer season this year. The sun is shining and the night is longer. It's a season that people spend most of their time enjoying outdoor activities. There are many things to do in summer, such as having a picnic in the garden, getting a laidback time on the beach, or having a road trip with friends. It is a season that is full of excitement to do a lot of adventure!
To begin your day in this cheerful season of the year, we can choose comfortable but trendy outfits! Embark a sartorial summer outfit ideas with some quirky casual summer shirts. It is indeed easy to mix and match the casual summer look. We can play on a mix and match of shorts and tee, follow with a pair of white sneakers. In addition, include the personal taste of the outfit can elevate our own style. To achieve the men's casual summer shirts we will be sharing with you some best summer shirts. So, styling a cozy and trendy look in these sultry summer days will be quite fun and easier to follow!
Here are the 10 best men's casual summer shirts for styling a cozy and trendy look you can follow immediately!
Blue chambray shirt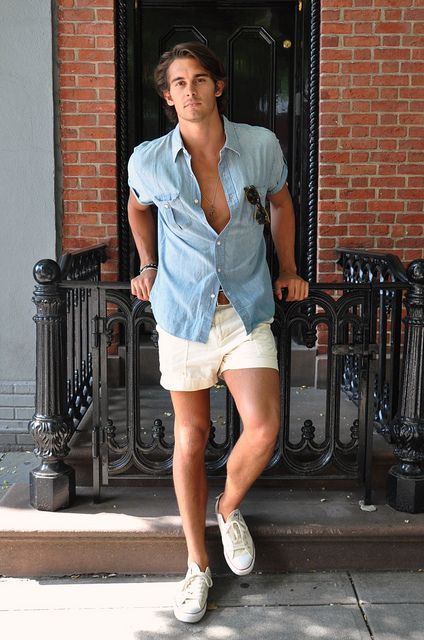 With the warm essential weather outside, it's hard to resist not going outside. Enjoying the clear sky, beautiful sunny days. Men, if you are looking for a casual summer shirt to accompany your look while walking outside. Here we introduce you to a very casual and comfortable shirt that can be worn to style a trendy summer look! A blue chambray shirt with the button-down feature is quite enough to make you look amazingly good! Mix and match this shirt with neutral men's summer shorts. In addition, a pair of white sneakers can join your down-to-earth casual summer fashion look!
Printed black Hawaiian floral shirt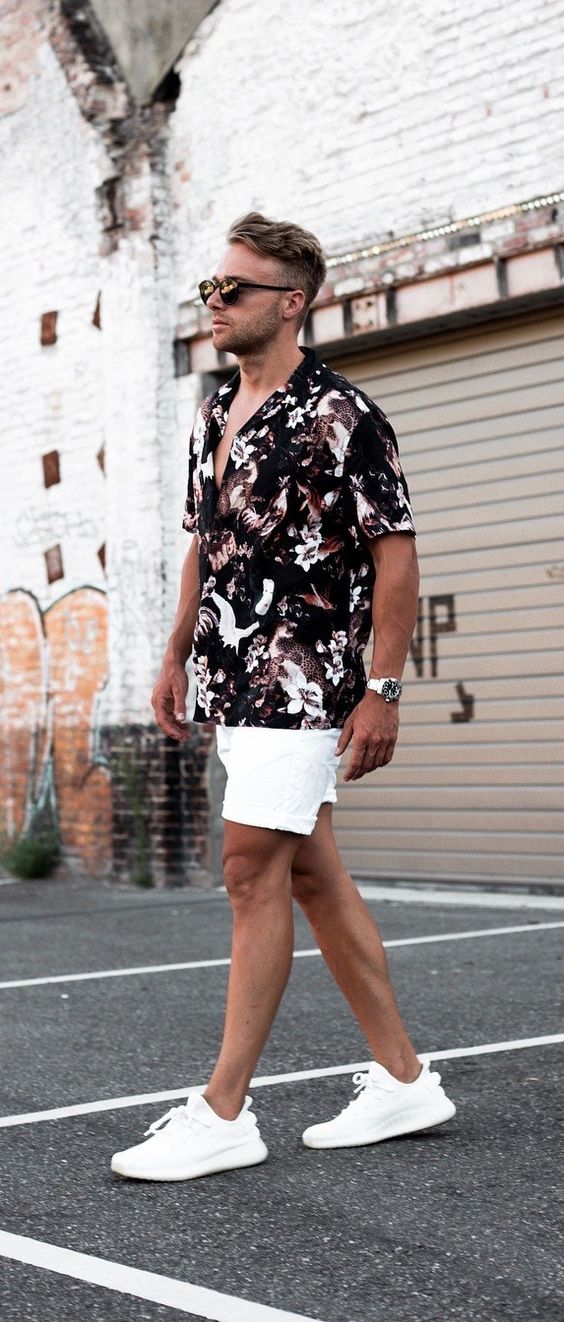 With a great excitement of summer days feel, we can pick some patterns and beautiful shirts. For instance, this black floral Hawaiian shirt perfectly matched your laidback summer fashion look! To showcase your awesome printed floral shirt, the white short pant can be paired with! The neutral bottom is suited perfectly with any kind of color tone outfit! So, we can highlight this cool Hawaiian floral shirt over these neutral white pants. To give a clear casual visual look that attaches to your style, the white sneakers can be combined!
Comfortable cotton-linen striped shirt!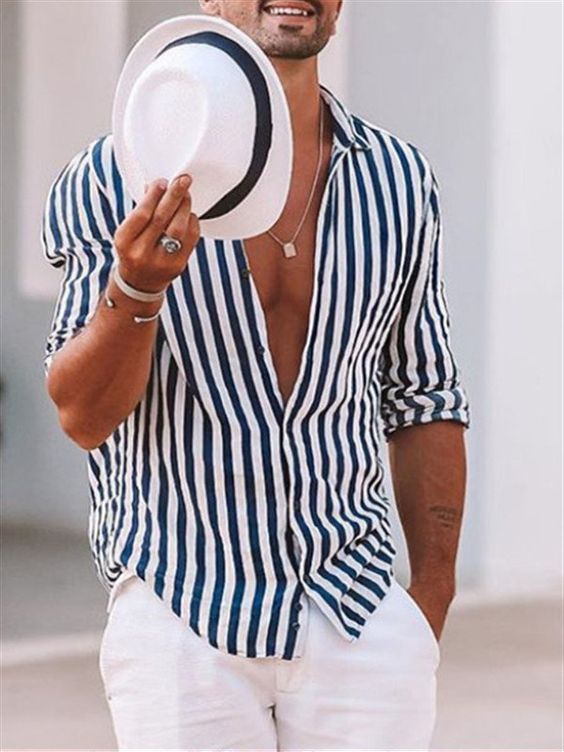 Another cool casual shirt that could elevate your look in the summer season is a striped shirt. There is no doubt choosing a striped shirt for styling the nautical fashion look. The pattern of striped blue line over the white base shirt. It symbolizes the waves of the ocean. The blue color tone itself meaning as the blue ocean. So, there is nothing wrong to grab this striped shirt for your casual summer look!
This cool summer shirt is made from a combination of cotton and linen material. The cotton itself has very well absorbing and natural hollow fiber. In addition, the linen material has a very soft texture that will make us comfortable in it! Again, to showcase this cool shirt, we can match up this shirt with neutral short pants. Giving a quirky nautical fashion look by wearing the white Panama hat! Complete your look by wearing sneakers or casual sandals to give a cozier feel!
Neutral floral summer shirt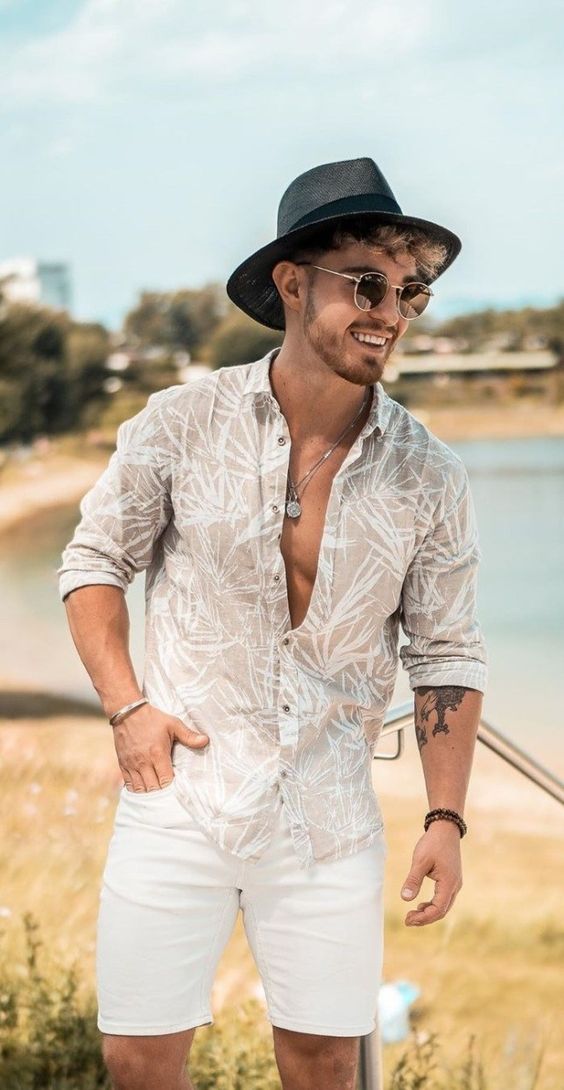 If you are looking for a casual shirt that can transform your look into a soothing look. We can choose the neutral casual floral summer shirt. A very light brown color tone with summer foliage prints giving you a successful calming summer fashion appearance! In addition, you can pair it with neutral shorts. Giving a cool summer look essential, you can wear a few simple accessories, for such the black Panama hat and sunglasses. The pair of comfortable summer sandals can join your down-to-earth summer fashion look!
Miami beach summer shirt to liven up your summer day!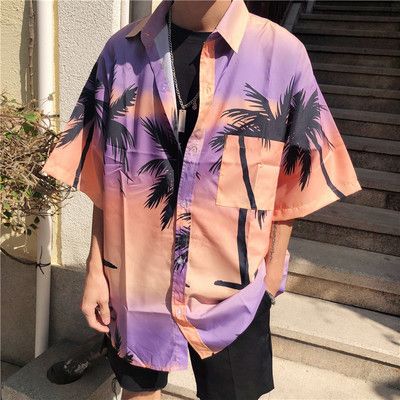 Another cool shirt you can wear this summer is the Miami beach shirt! The printed beautiful Miami beach sunset view is so gorgeous to be applied on the shirt. Well, you can choose the cotton and linen material shirt to give a cozy combo! Cotton is well-known as the natural hollow fiber, that helps our skin to breathe well while wearing this shirt, then the linen itself has a very soft texture that will make us super comfortable. These two combination material is such a great pleasing accent especially for the hot days in summer!
An oversized Miami beach printed shirt also can be a great layering outfit for summer. The lightweight and cooling-down shirt will not make us feel burn even on the blazing hot day. We can wear the neutral tee inside, and then layer it up with this Miami beach shirt to give a trendy fashion look! For the bottom outfit, we can pair this simple layering concept with the neutral short pant. For a young guy, a pair of canvas sneakers can be worn to give a stylish street fashion essential. So, do you fall in love with this matching casual summer outfit look?
Plain basic linen shirt
If you are the kind of guy who loves the soft pastel colors outfit. Then this plain linen basic shirt could definitely be your best option to style your daily summer fashion look! The green pastel color shade is totally soothing to the eye!
Summer is also a perfect season to show your athleisure body. So, you can style the button-down shirt to showcase your amazing manly chest look! Pairing this soothing cool shirt with neutral white shorts. We guarantee, these outfit combinations are quite comforting to the eye! A few simple accessories can be worn to elevate your casual style. An elegant metal watch and sunglasses can join your down-to-earth look!
Printed flamingo summer shirt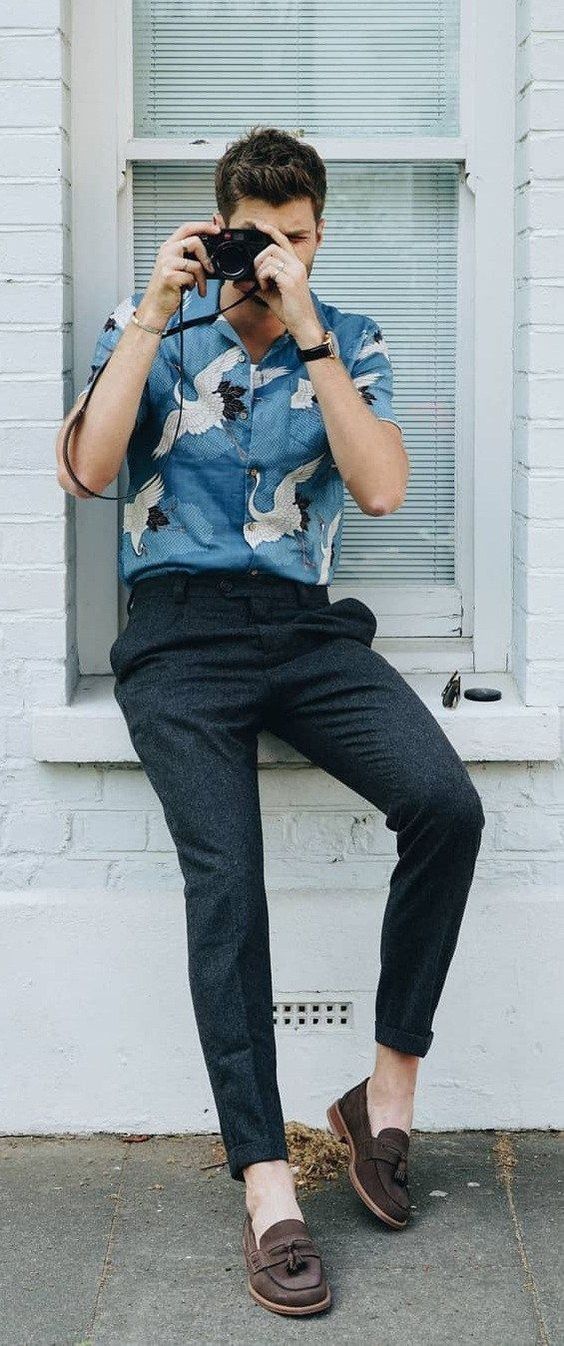 Embark the cheerful summer days with cool summer outfit essentials. The printed shirt is one of the best choices you can grab to extend your lively warm weather outfit essentials! Figuring out what types of cool prints you can choose to showcase the summer ambiance. We have collected some floral, beautiful Hawaiian beach, and to this lovely flamingo summer shirt! This tropical bird is one of the essential summer prints we can choose! So, let's go to the killer summer mix and match outfit style right now!
Pairing up the neutral trouser with this blue flamingo shirt! For the footwear item, we can choose leather shoes. If you wanna create a smart casual summer fashion look, this matching outfit could be a great idea! It has a very sleek casual summer look that features your sleek and masculine casual fashion idea! Would you like to try this awesome summer combination outfit?
Final words
We are entering the warmest season of the year, summer! With the essential of the clear sky and sunny days, it gives a lot of excitement to our souls! With this awesome weather ambiance, it is hard to resist not going outside. Figuring out what types of outfits could liven up your look in this summer season. We have collected some of the best casual summer shirts for men! From the neutral soothing feature to the printed summer shirt essentials. We hope you enjoy the mix and match casual summer fashion look ideas we already shared with you. Moreover, you can wear a few accessories to upgrade a casual outfit style! Happy summer holidays everybody!