Drufashion.com – The spring has come to the last this year, and time to embrace summer days! What is your to-do list this summer? Are you having a plan to go to the beach or traveling to the place you want to visit? Whatever your plan this summer, we are pretty sure you have prepared a chic summer casual outfit.
Figuring out what types of clothes suit to accompany summer holiday vacation style. Well, there are lots and lots of preferences for you men! Have you ever been watched superyacht movies at night with your family? We're not going to talk about the movie anyway, it's all about the fashionable look who have been the actors wore on the movie scene. I mean, those guys are so cool, so why not we are trying that nautical fashion look! In this way, we can elevate our laidback style to be more classy!
In this writing, we will guide you to get some preferences for both upscale and down-to-earth summer fashion styles. So, stay tuned!
Fresh look with a navy sweatshirt and white shirt pants!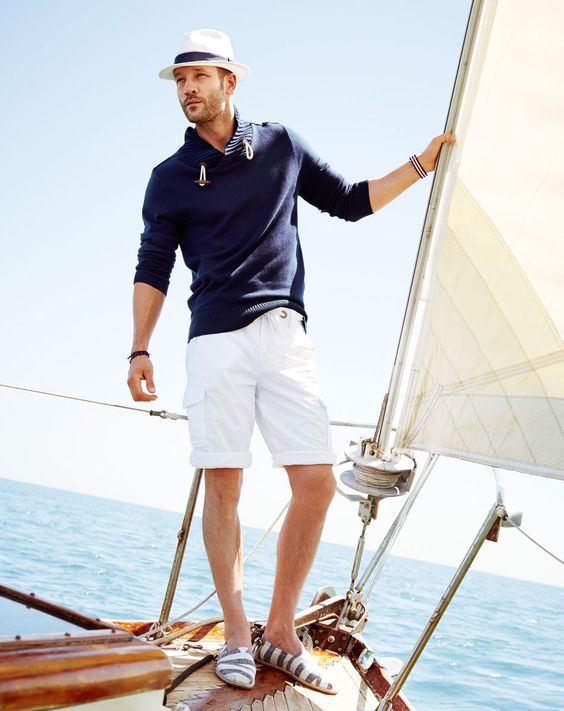 Upgrade your summer look with a relaxed nautical outfit style. To achieve an amazing nautical look is quite simple, we only need to choose light and fresh fiber garments that could show relax the style. In addition, navy and white could define the nautical look.
Well, let's to the main point now, creating a fresh nautical fashion style by wearing a navy sweatshirt and white short pants. Don't forget to wear a sailing hat with stripes navy accent line. Completed your fresh summer look by wearing a pair of striped slippers. Men. you can also wear simple accessories to define your nautical look for instance a striped bracelet. Be ready to have fun on the summer day with this stunning relaxed summer outfit style!
Anyway, did you know that why navy color tone is considered to be a nautical dress code? Laidback to the mid 19 century, where the British empire in the Victorian era introduced the Royal navy as the maritime power dress code. With the British presence power that maritime fashion color outfit has spread throughout the world. Until now, we are considered that navy is a maritime color outfit.
Classy layering nautical look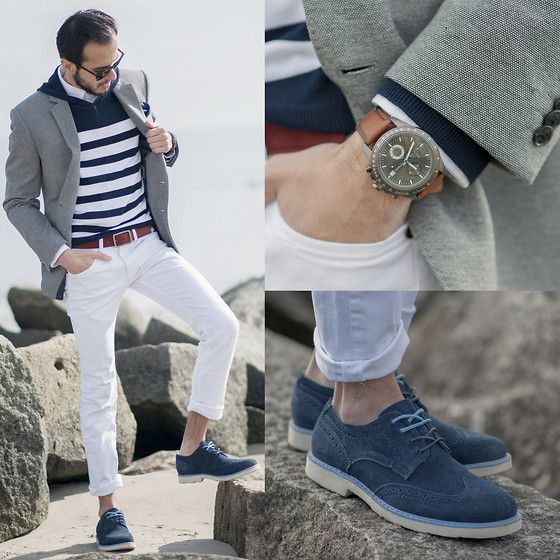 Styling the beach style is all about freedom, you don't need to be always showing your chest all day long to attract your athleisure body. Differing from others, you can do layering concepts on this summer vacation. Don't worry about breaking the summer dress code. Because we will guide you to have a classy beach outfits style that won't make you feel cramped!
For the first layer, wear something light such as a lightweight shirt in a neutral color. On the next layer, a lightweight striped sweatshirt can be chosen to bold a nautical look. Then, we go to the last layer, wearing a super lightweight coat in a neutral color. Then, we go down we find out white chinos are perfect to combine layering outfit style above. Improve your look by wearing statement accessories. A classy watch and high-quality leather belt will make you look sleek. Don't forget to comfy your holiday time with comfortable shoes. A pair of blue sneakers made from kudu leather material is perfect to join your fruitful journey this summer!
Sheer navy shirt for an upscale casual outfit idea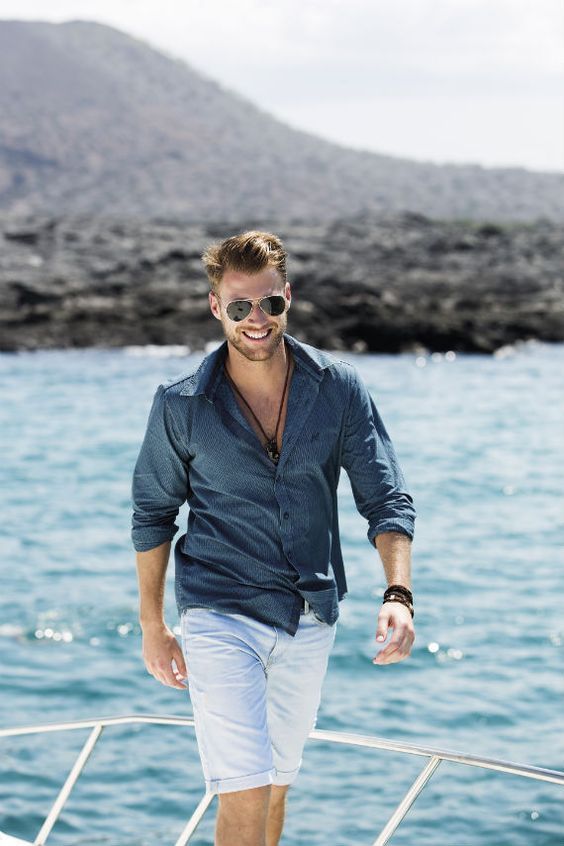 We have another cool nautical outfit idea for this summer. You can style casually still but upgrade your laidback look with a sheer navy shirt and white short chinos. These two combinations are super comfortable that just perfect to style a black style. The sheer navy shirt is breathable and has a glossy accent feature that will improve your look. Open down the two buttons on your collar that could show your athleisure chest. Complete your beach fashion look by wearing sunglasses. You definitely look simple but so charming with this shirt. Now, you are ready to have a cocktail party, Miami vibes are waiting for you!
Casual white shirt and a basic shirt chinos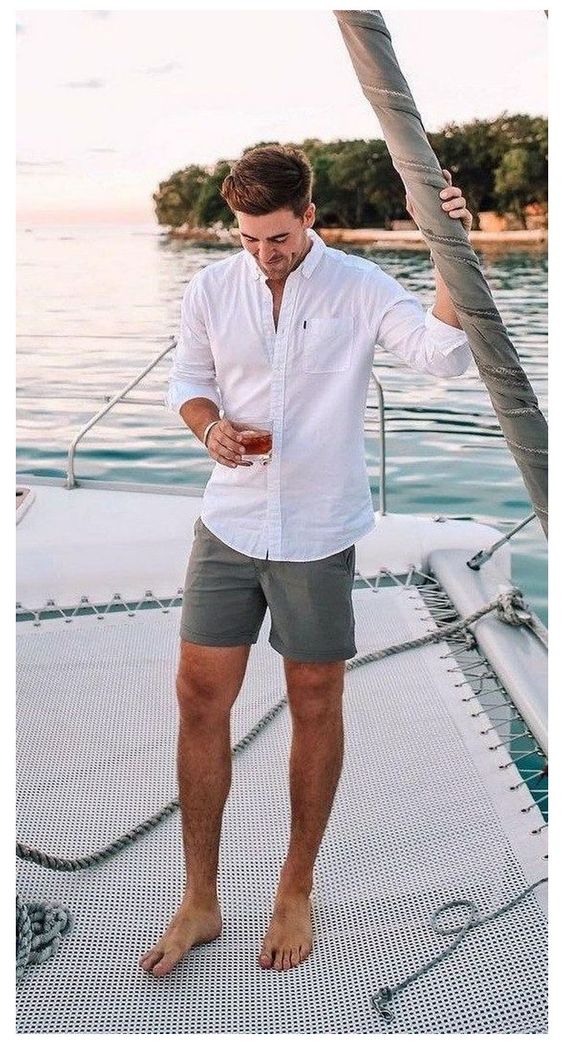 It's okay to pick some basic outfits in your basic wardrobe essentials for a beach vacation. The combination of a casual white shirt with basic short chinos is awesome too! For more information, white can be your option to substitute navy color tone outfit. The neutral color of white will make you look down to earth! Moreover, a white shirt is a timeless outfit that every man has in their basic wardrobe. In addition, white is a versatile color that easy to be paired with any color tone outfit you have. To style your white shirtless busy, you can open the button down. See, you still nailed the nautical dress code even with a few basic outfits!
Styling like a French guy with a striped Breton shirt!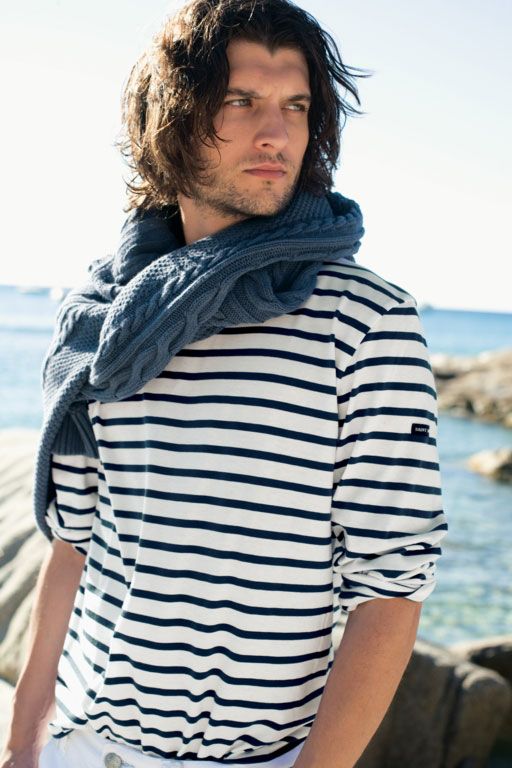 Do you want to look stylish and fresh on this summer vacation? Alright, we've found the answer for you! Let's have a look at the French guy beach fashion style. Where they simply combine an original striped Breton shirt and white chinos. These two combinations are so damn good! They really know how to look good on hot summer days. With the sun upon us, it's better to wear a neutral outfit to soften our look, just like this white outfit's color tone that will refresh your look. The presence of striped accent on your look will bold the nautical vibe!
Anchor prints shirt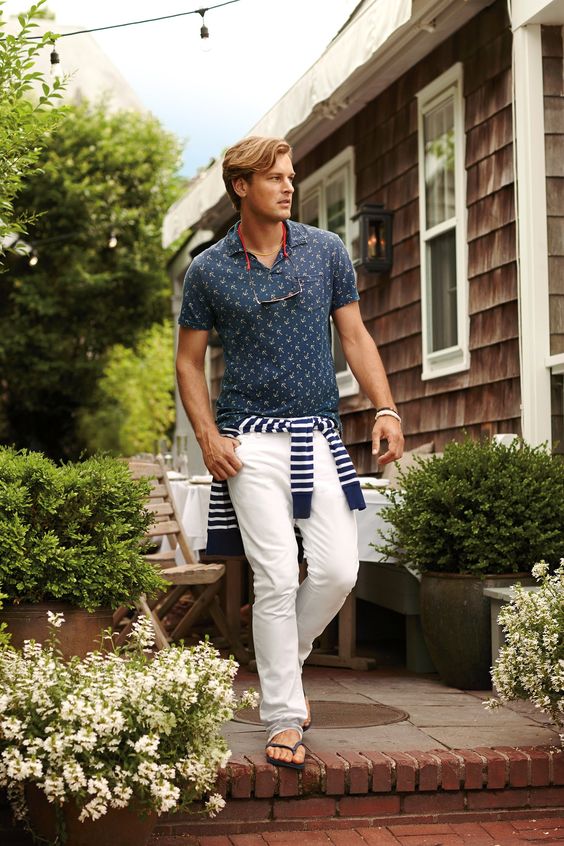 Can't you still get enough with a striped tee for cheering summer vibe? Men, actually we have abundant outfits selection to be paired with for a warm season. Another essential we bring this time is a navy tee with anchor prints. If you already got a bold color on top, then we suggest you pick a neutral color for the downside outfit. White chinos or jeans are honestly looking damn good. Men, you can enhance your laidback nautical outfit with a striped cotton sweatshirt. This fashion look is worth trying on this summer!
Conclusion
Now we are in the late spring season and soon celebrate the summer season! Celebrate the warm sunny days with a fresh look. In this writing, we already compiled some bold nautical looks for those who want to look classy. In addition, we already share with you some casual outfits idea that worth trying this summer.
Basic tips on styling nautical outfit ideas:
Who wants to wear a thick coat on a hot summer day? None of us want it anyway. So, the first basic to look awesome on the beach vacation is to choose a lightweight outfit. In addition, a less busy feature is important to make you look fresh!
A neutral color outfit is a timeless outfit. The advantage of wearing a neutral color outfit in hot summer days will refreshen up your look. Then, we can combine it with a nautical accent outfit. For instance, striped shirts and anchor prints.
We hope you enjoy our tips on how to style the nautical outfit trends. We already display 6 men's nautical fashion looks worth trying this summer. Which one is your favorite pair?