Drufashion.com – Fashion is something in and out trends. It recycles the old trend with something new to create a fashion cultural reset, that's what always happens. But, how much you spend your money buying all of those seasonal trend outfits? Probably some of you already regret too much spend your account on those outfits. And finally, you've come into the situation "Oh I have nothing to wear now!" That sounds bad actually!
Alright, here we will guide you to have a basic wardrobe checklist that you will thankful for. We guarantee this will help you to build a strong foundation of versatility and timeless wardrobe essentials!
If you aren't yet investing your wardrobe essentials in basic outfits, you have to do it right now! At least, having a basic wardrobe basic checklist will save you on any occasion! And get rid of the muttering " I have nothing to wear" anymore. Without a doubt, here we share with you The Essential of Men's Basic Wardrobe Checklist. So, don't miss any of them!
Black short sleeve basic tee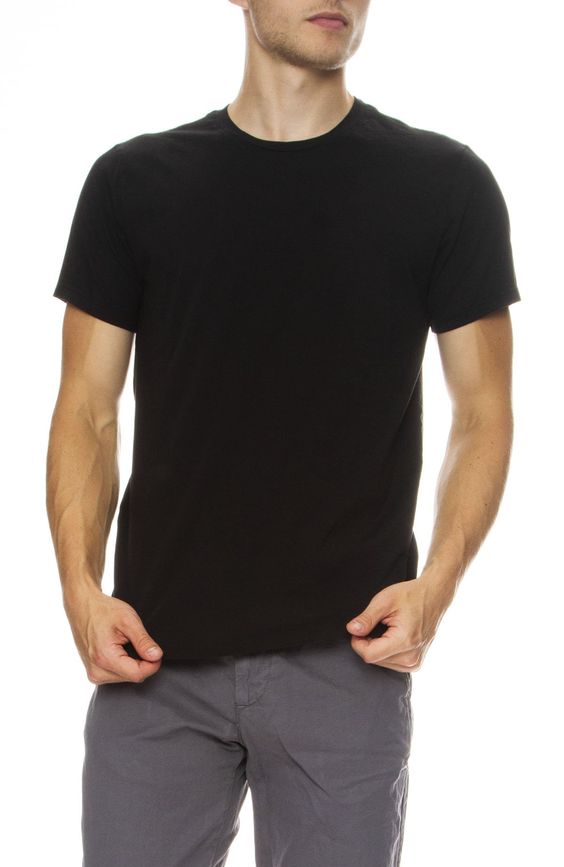 The first men's basic outfit we want to share with you is a black short sleeve tee. The timeless men's outfit you need to have in your wardrobe! The basic and neutral color tone tee will save your bank account! Simply, the black basic tee is really good for men and can be paired easily with any other outfit!
White short sleeve basic tee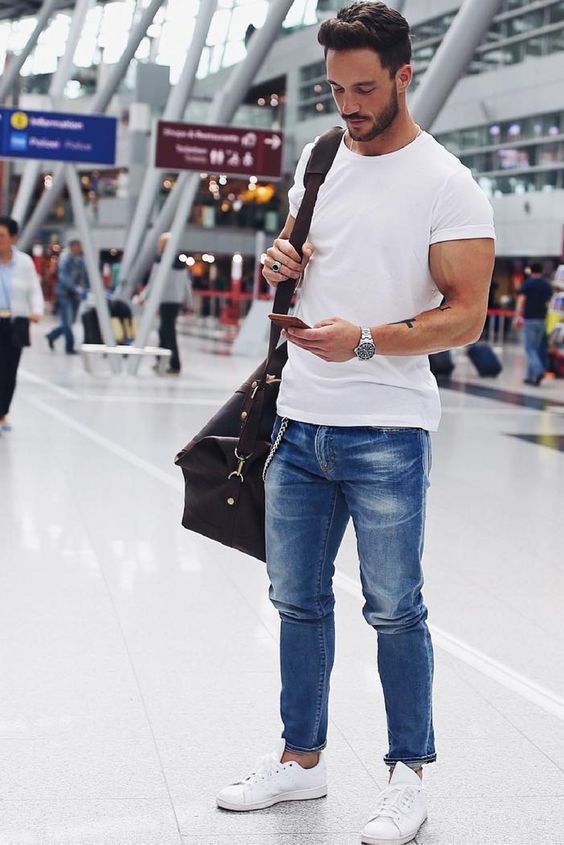 Just like a black tee, the basic white tee is another timeless piece of outfit you can wear now and will stand for the future. The neutral color and plain tee are just perfect to be combined with any other outfit. Such as a denim jacket, or leather jacket. In addition, you can wear a pair of white sneakers to style your casual style. That is quite simple but this style never gets old!
Long sleeve white shirt

Our next basic wardrobe checklist comes to the long white sleeve shirt. Differ from a white tee that suits casual style, this shirt is preferred to give you the best look on a formal occasion. Styling up this shirt with earthy color pants or trousers will save your interview session! Completing your formal look by wearing a pair of leather shoes. This quite simple, but these matching outfits will not break any office dress code. So, let's grad long sleeve white shirt into your essential wardrobe!
Black shirt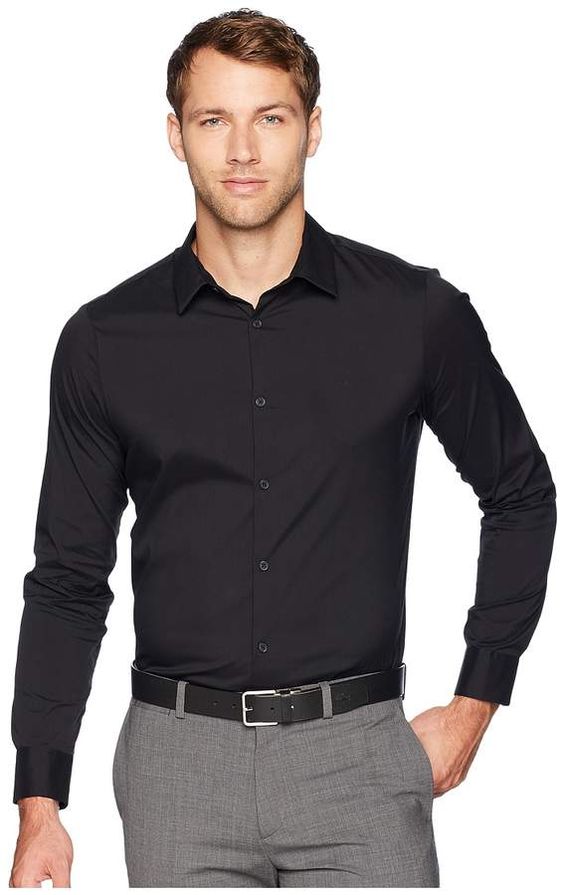 Another basic shirt you need to own is a black long sleeve shirt. Again, the neutral and minimalist color tone outfits such as black and white are so good to wear now and in years to come! Styling this black shirt with a trouser and belt will elevate your professional look. Finally, you can wear a simple accessory such as a classy golden watch and leather shoes to define your masculine style!
Plaid shirt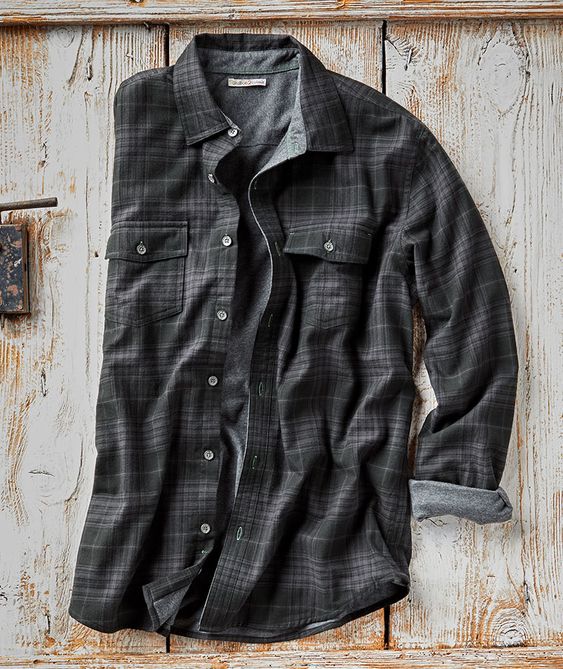 We're moving on from a formal outfit, here we have an earthy color tone plaid shirt to rock your street fashion look! This shirt made from jersey linen that will comfort you while wearing this outfit. Matching up this cool plaid shirt with ripped denim jeans and a pair of white sneakers. You will definitely kill the street style! Rolling up the sleeved shirt will make you look cool!
Striped tee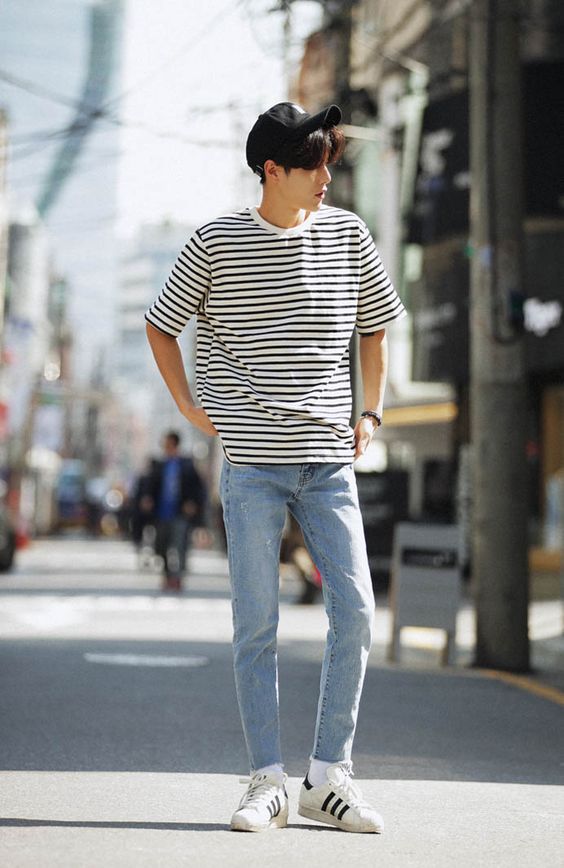 One more basic t-shirt that should be on your wardrobe is a striped tee! There are many colors available to style the striped tee. Just choose the one you really love to wear. It gives you a casual and chic style. Complete your laidback style by wearing a pair of comfortable sneakers.
Leather jacket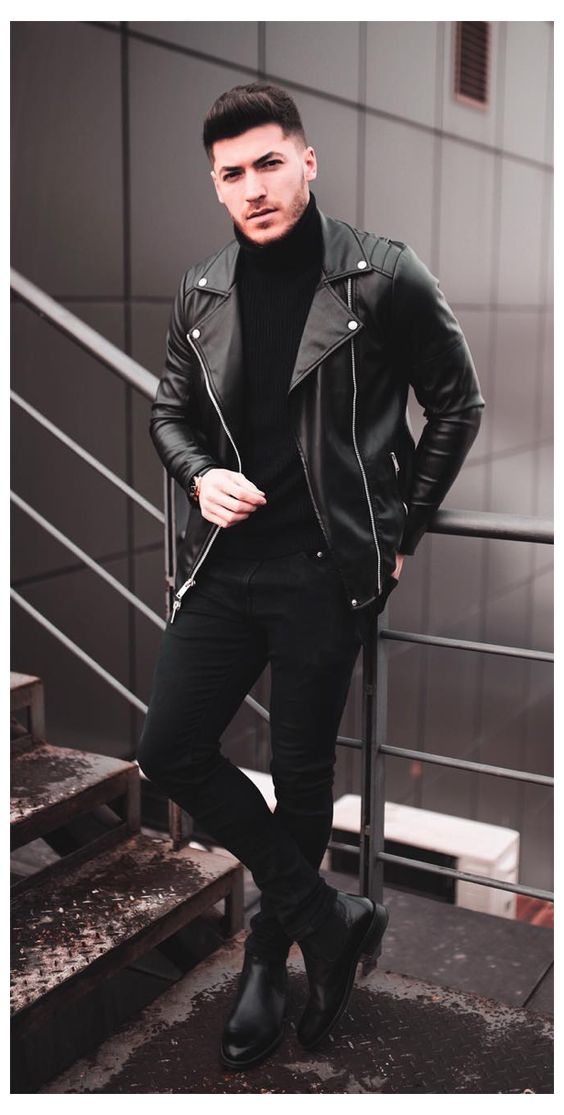 The leather jacket has sleek features that could define the bold masculine style. This jacket will keep you warm inside and also could lift up your sleek masculine style. Men, you can style black outfit ideas. Starting off wearing a black turtle neck sweater and then layer up with a black leather jacket. Define your sleek style with black jeans and leather shoes. Elevate your masculine style with a statement accessory such as a classy watch.
Black suit

Dressing up like a true man by wearing a black suit! It definitely the essential outfit you have to own in your closet. The basic men's attire can be worn on any formal occasion. Normally the suit is combined with a basic shirt inside. In addition, matching up the suit, trousers, and black leather shoes will elevate your formal style! From a common guy to a pop star even the president will definitely wear this outfit combination to attend the formal occasion. So, guys, you need to have at least one suit to save you on any formal occasion!
Bomber jacket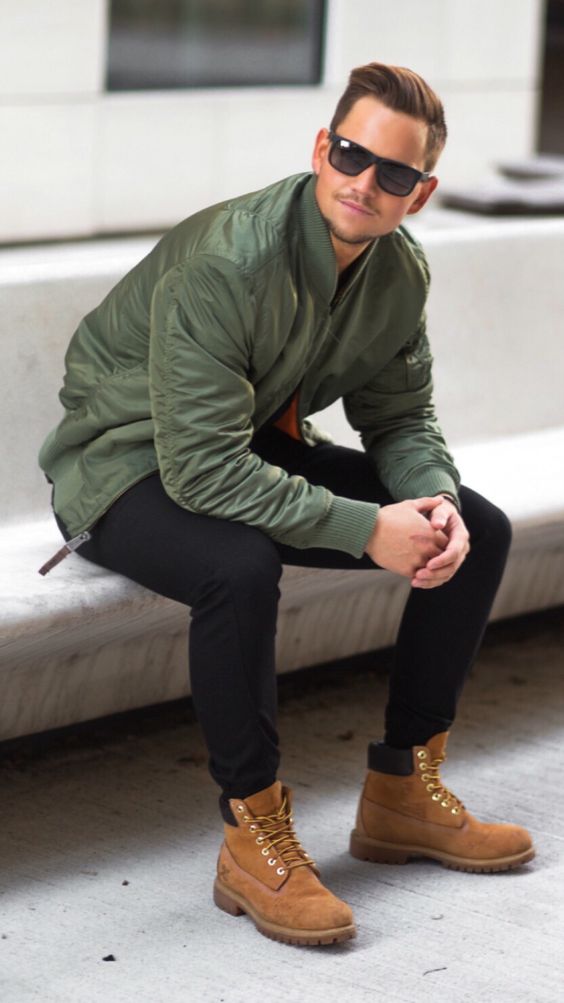 If you want to make your casual style looking damn cool. Wearing a bomber jacket could be your option dude! Pairing the bomber jacket and earthy color trousers will make you look stylish! Completed your classy look by wearing a pair of leather combat boots, you look awesome!
Denim jacket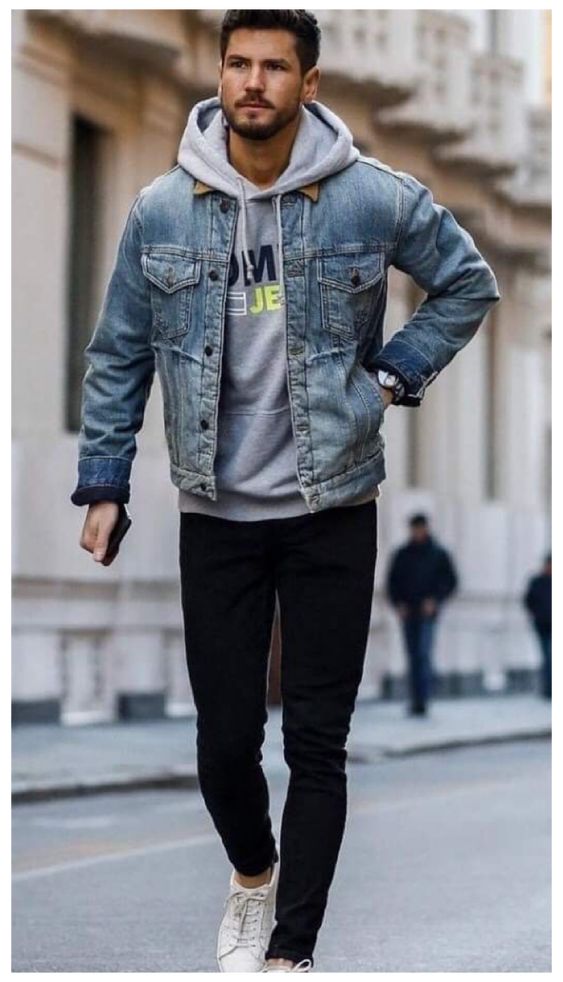 There is no doubt to grab a denim jacket in your wardrobe! It's a timeless urban outfit that you can fit with your basic tee! Pairing it up with your favorite jeans and comfortable sneakers and you are ready to have some fun! And ready to hang out in a coffee shop to drink a cup of espresso, it such the fuel of life!
Crew neck sweater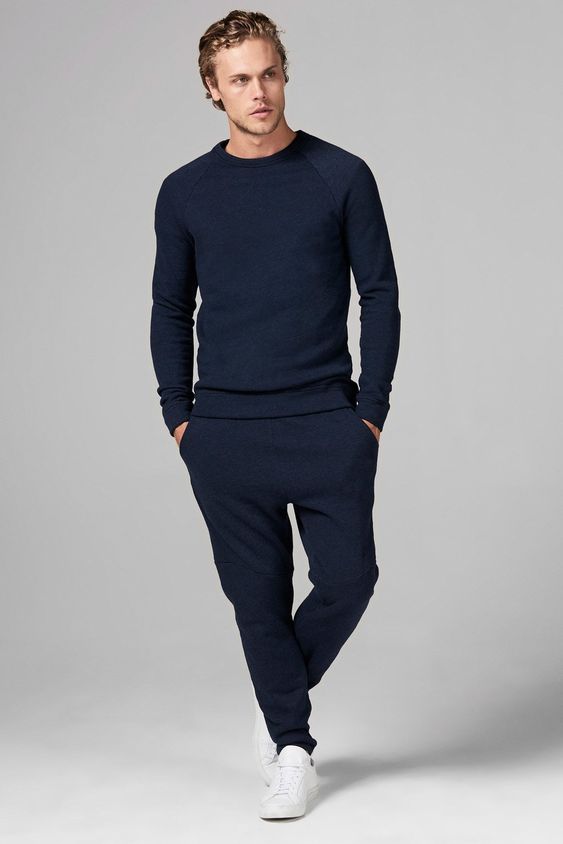 When the air is colder outside, you need something to wear that could warm you up inside! Then, a crew neck sweatshirt could warm you up. Choose a dark color tone sweatshirt such as navy blue, black, etc. The dark color tone outfit makes a big statement to the man. So, don't hesitate to grab a navy crew neck sweatshirt to warm you up and make you look cool!
Styling this warm cloth with comfortable jogger pants and sneakers. Dude, these outfit styles will make you look effortlessly cool. when you are going outside and still feel the cold air, you can layer up this sweatshirt with a leather jacket!
Trousers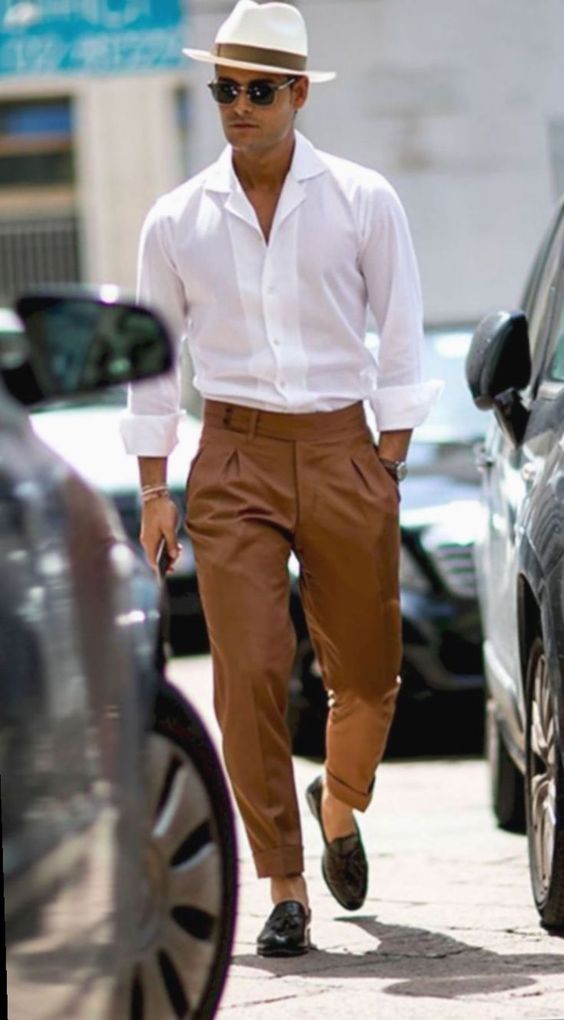 Moving from the basic tops outfit now we are offering you the basic pant you need to own. A neutral or earthy color tone trousers are timeless and wearable pants all year round! This pant will save you to attend both formal or informal occasions. Styling trousers with a basic shirt will make you hold the formal dress code. Or you can be a trendsetter outfit, pairing up the shirt and trousers to be a great laidback style idea. Starting off rolling up the long sleeve on your shirt and then wear a few accessories such as a Panama hat and sunglasses to cheer the summer vibe!
Denim jeans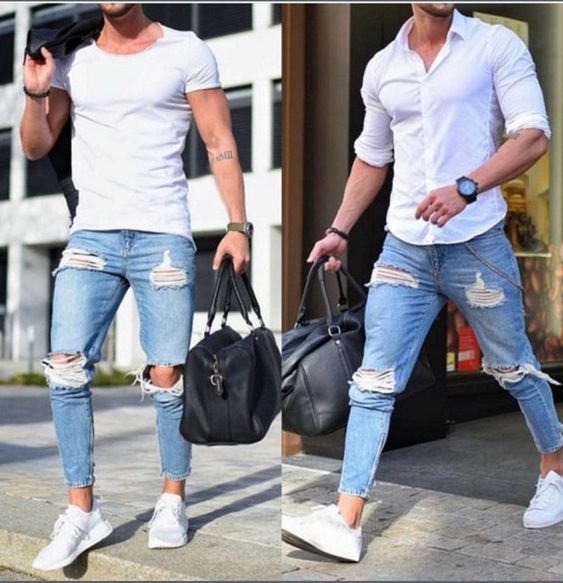 Denim jeans are another timeless basic outfit that can elevate your street look. The modern and timeless denim jeans feature is fit for your casual style. It can be paired with a tee to define your relaxed style. Combine your laidback fashion style with a pair of comfortable shoes, sneakers! White and blue color tone outfits made from denim jeans and white tee will make you look simple but cool! Keep your cool style alive with simple outfits!
Jogger pants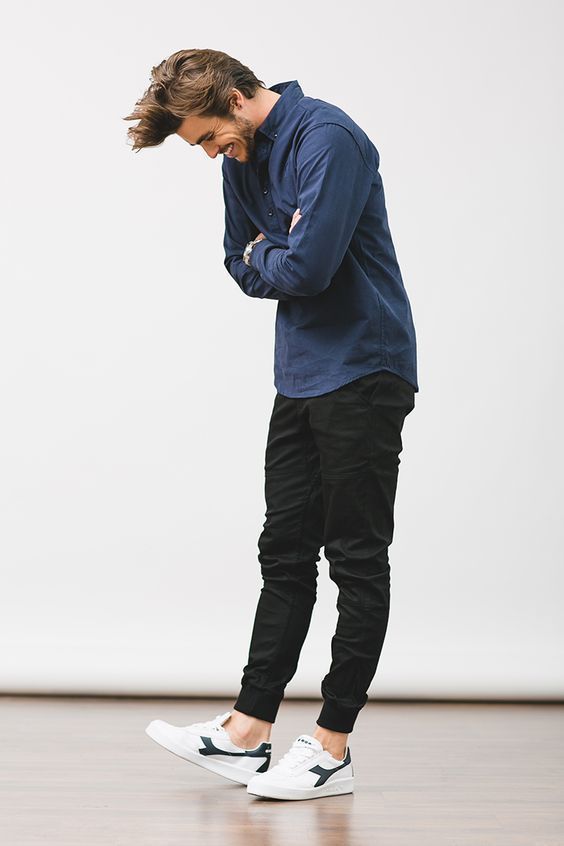 Another essential men's pants you have to own is jogger pants! You can match the jogger pants with a tee for creating an essential comfortable outfit. Or we can style it with a basic shirt to rock a sporty and trendy look!
Guys, when you need to have a jog in the park or going to the gym to get some exercise, these jogger pants is all you need to wear! The sporty look is really close to men's fashion style, that is why you need at least a piece of sports outfit in your wardrobe!
Short pants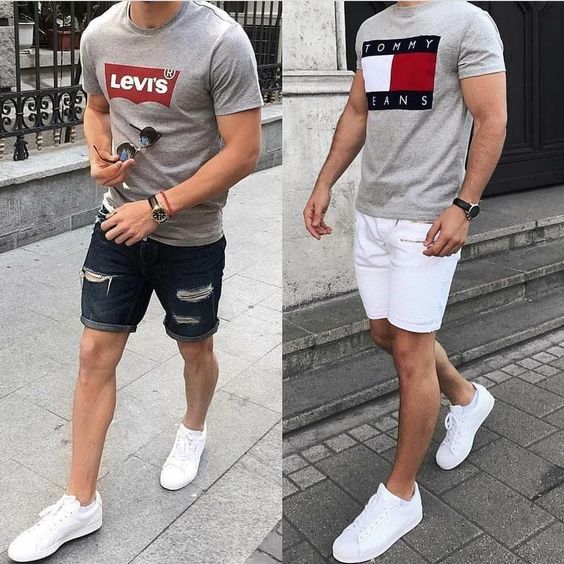 The last basic pant you need to own in your wardrobe is short pants! Everyone needs short pants on hot days, so we do! Guys, you can style short denim pants for your relaxed street style. And when you are going to the beach, linen shorts could be your option to accompany your laidback style! Styling short pants are so easy to be paired with.
Shoes
Shoes are so essential footwear men. Wearing shoes will elevate your sporty and classy look. At least you need to have a few shoes to accompany your style!
Sneakers
The first footwear that every man needs is sneakers. They are comfortable, modern, trendy, and look sporty of course! The versatility of this footwear makes this item worth completing your wardrobe-essentials. A pair of black, white, or gray sneakers are enough to join your laidback and sporty style! The neutral color tone shoes make it sustainable and wearable to be paired with any other outfits!
Leather shoes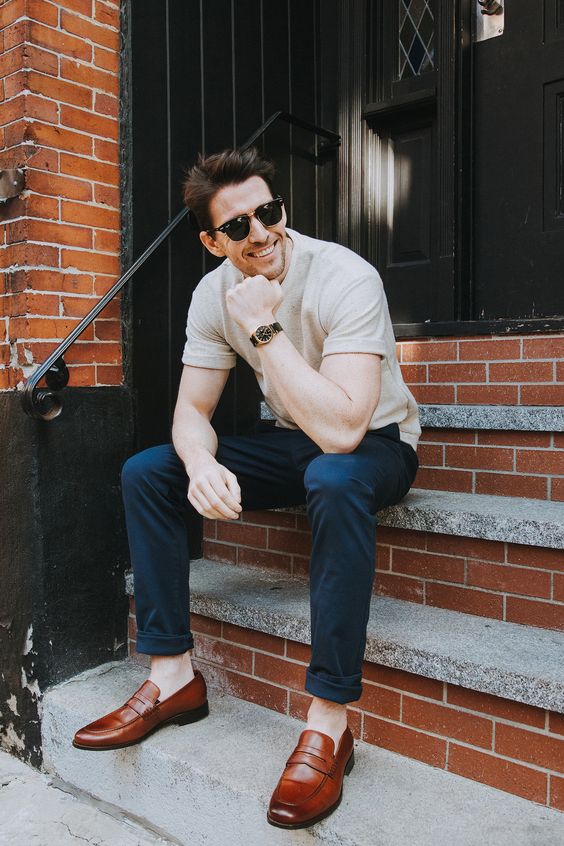 If there are sneakers to rock a casual style, then there are leather shoes to save your look to attend a formal occasion. The brown leather shoes will elevate your look and bring out your masculine style!
Sandals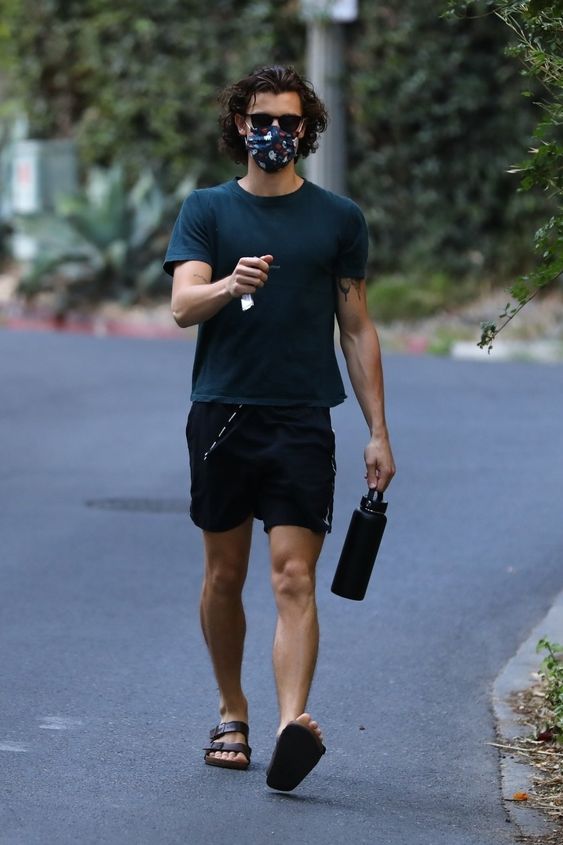 There is nothing better than chilling or just walking around our homes with comfortable sandals! If you already have sneakers and leather shoes for your essential wardrobe, then you have to own at least a pair of sandals to accompany your laidback style! They can be worn on the beach vacation too, with the breathable design that allows the wind to touch your skin!
Those are some essentials men's basic wardrobe checklist you can implement into your basic wardrobe. Dress in a simple way makes you look incredibly good dude! Basically, you don't need to spend your money a lot to follow the fashion trends. Simply basic outfits are all you need and they could be worn all year round!  We hope this article could help you all out creating essential men's basic wardrobe checklist you need to have!