Drufashion.com – With the summer upon us, we need some lightweight and cooling outfits. It's a perfect time to rotate our shorts on the top rack in our wardrobe. Are you looking for cool shorts to wear in the summertime? We've got some cool and comfortable shorts for everyone! We'll share with you some shorts with various materials and styles. Starting off with comfortable linen shorts for a relaxed summer outfit to the cool denim shorts!
Here, we'll share some shorts outfits combine with mix and match tips you will fall in love with! So, don't miss any of them to get a laidback style in summer shorts fashion ideas!
Linen shorts and black tube top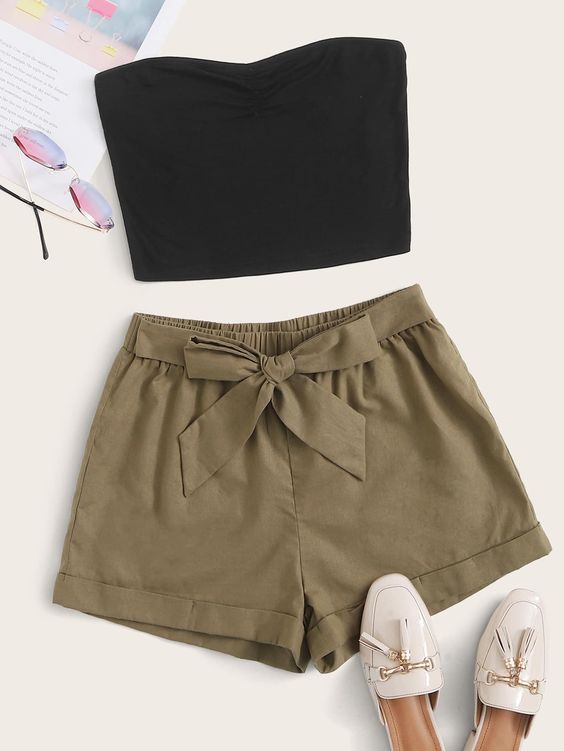 Linen shorts can be worn as a casual and comfortable summer outfit. Girls, we can mix and match these shorts with a black tube top. When the summer temperature rises, do not worry about an extremely hot summer day by wearing these outfits we'll be saved. Comfy your relaxed outfit with casual and comfortable summer sandals!
Casual high-waisted plaid shorts and white ruffle tank top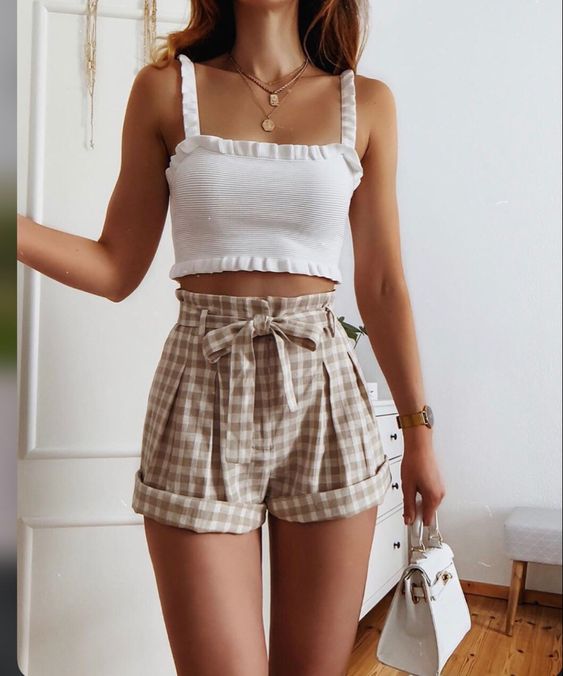 Looking for casual and chic summer outfits? A high-waisted plaid short is looking cute and matched with a white tank top. You can wear these outfits for a beach summer vacation, completing your chic casual style with a mini bag! Heeled sandals or sneakers are good to accompany your cute summer outfit!
Chill out in summer with corduroy shorts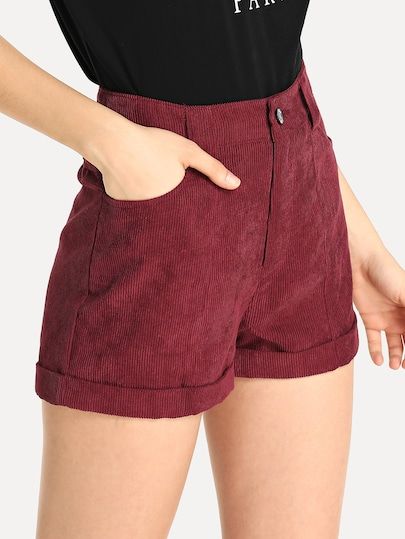 Girls, are you looking for stylish shorts to accompany your casual summer street style? Let's give a chance for the corduroy shorts to shine! Matching up these pants with a tee. Combining maroon corduroy shorts with a black casual tee is worth to be your summer street style! Finally, wrap up this chic street-style look by wearing a pair of white sneakers. It's definitely comfortable and chic outfits for the warm season!
Ripped fringed jeans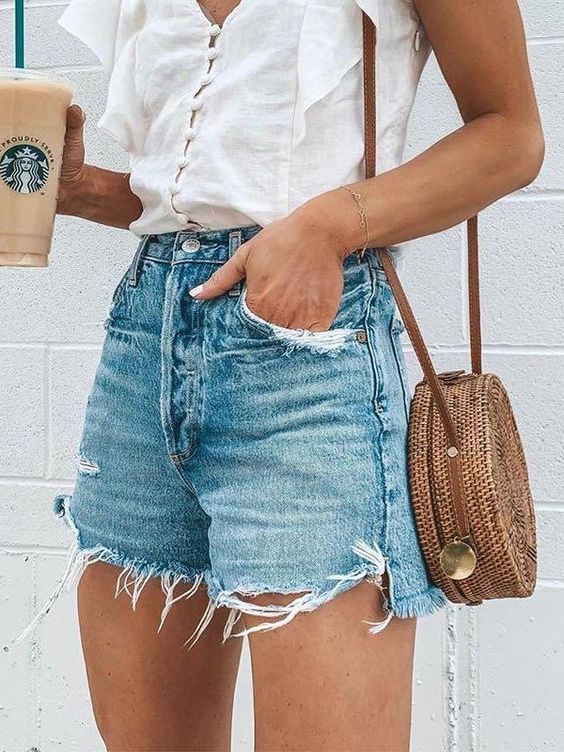 Another cool collection of a summer capsule wardrobe is fall to the hot ripped fringed jeans. It is a must-have casual summer outfit you need to store in your wardrobe! We can match this hot shorts jeans with a short sleeve shirt or a tee. To enhance the casual summer look we can wear some accessories such as a woven bag and sunglasses. Ladies, you can complete your chic casual summer outfit with sneakers or a pair of comfortable sandals!
Elegant summer outfit: Beige buckle down Khaki shorts with white tops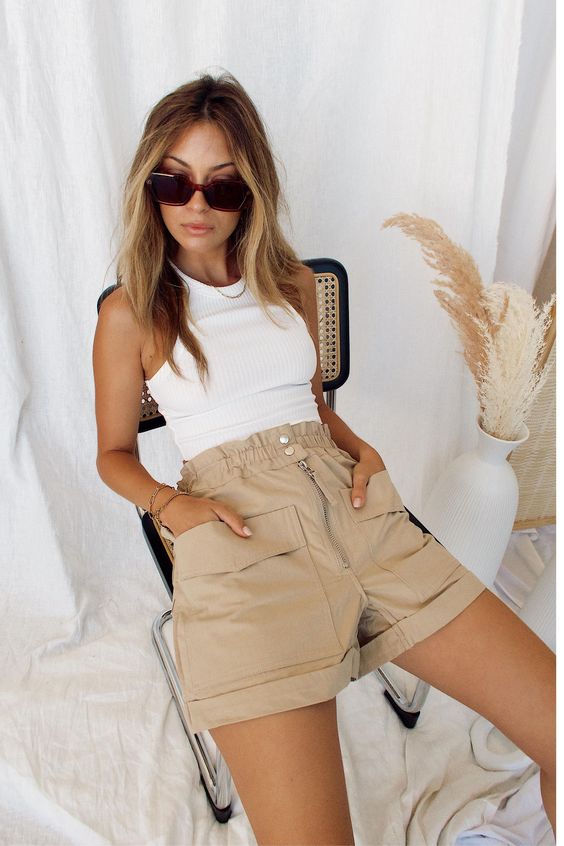 Are you searching for an elegant summer outfit? Khaki shorts could be the answer for an elegant outfit on blazing hot summer days! The high-quality fabric of the Khaki shorts brings out the elegant look. A white tank top gives a classy touch to this summer outfit. Styling your stylish summer outfits by wearing sunglasses. Adding some golden accent accessories to bold your simple elegant look.
High-waisted denim jeans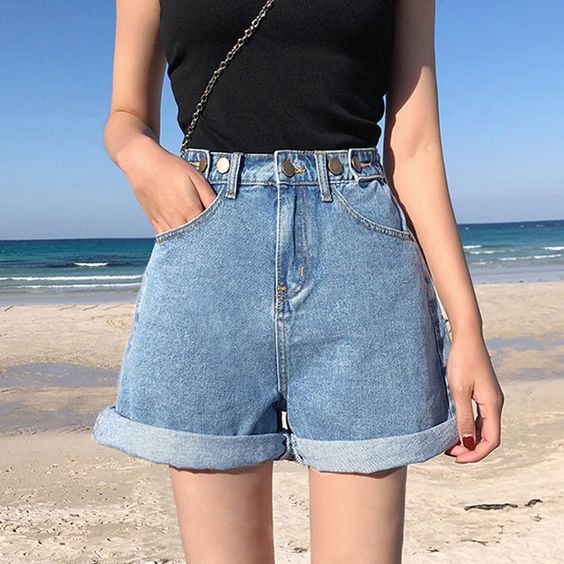 Another cute short for summer is high-waisted denim jeans. A timeless denim jeans are suited for any informal situation. Mix and match these denim jeans with a neutral color such as black or white. A pair of casual summer sandals are perfect to accompany your laid-back style on the beach!
Printed floral shorts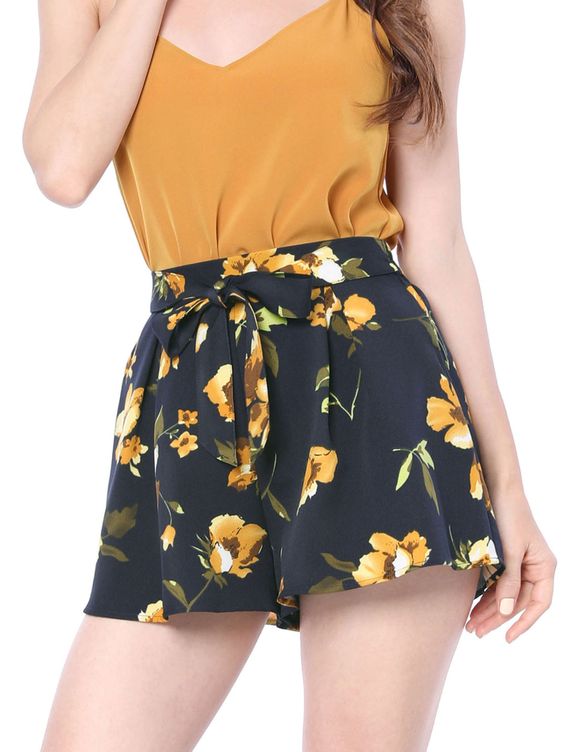 Are you looking for casual and comfortable pants for a beach vacation? Let's take a look into our wardrobe and find floral shorts! The floral accent gives us a fresh look to the outfit we wear for a sunny day of summer. Wearing bright tops to complete a cheerful summer outfit! Choosing floral shorts and brights tops not only gives us a cozy outfit but also can improve a chic summer look. So, without a doubt, grab your floral shorts and matching it with your favorite top, you will look stunning in summer days!
Stretchy shorts give you an athleisure body look in summer!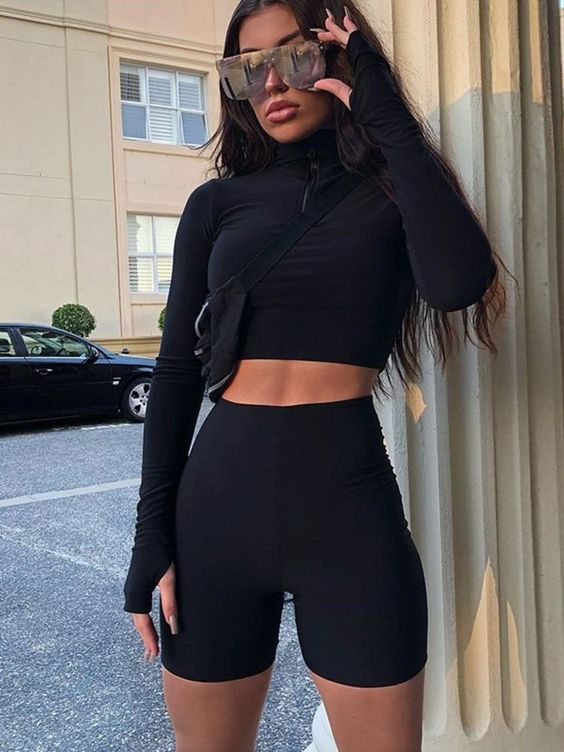 Girls, when you are gifted with a nice body shape. It's a perfect time to be confident to show your athleisure body this summer! A black legging short could be your preference in choosing stretchy pants. Then you can fit it with a zipper front crop top. These two make you look awesome in a sporty style! A sporty and sexy look you got by wearing these two outfits. To bold your sporty look, we suggest you wear sneakers, this footwear provides you comfort in the next level! Now, rocking a street style with an awesome sporty look, be confident of yourself!
Stylish black leather shorts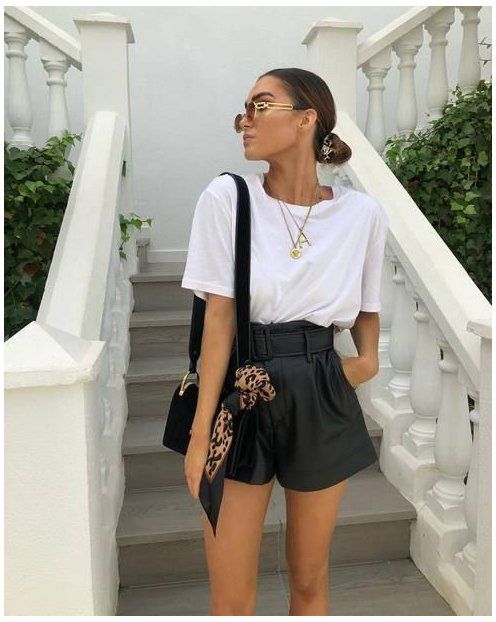 Black leather shorts give you a cool summer look! The glossy garment and adhere very well with any type of skin tone are brought by leather just perfect to style a summer outfit ideas! Combining black leather shorts with a white tee to rock a casual and minimalist summer look. We can improve this minimalist style by adding some golden accent accessories such as a golden necklace. Are you ready to have a cool minimalist outfit style for this summer?
A striped short for a beach vacation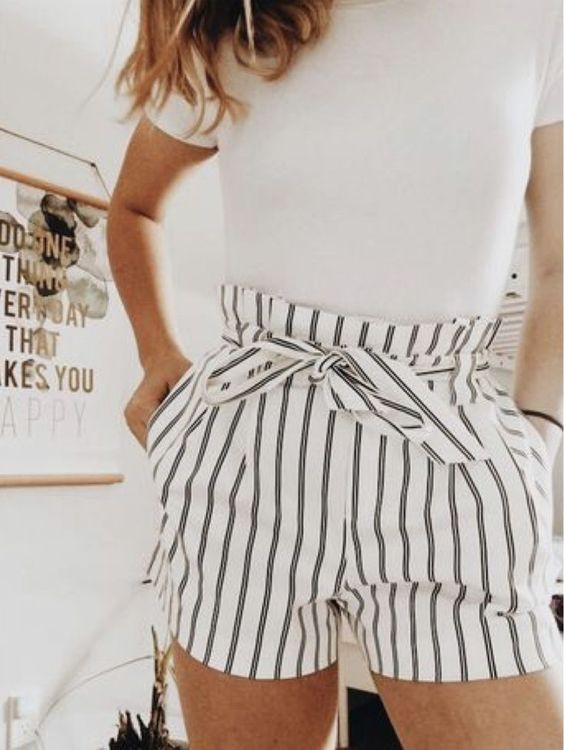 A striped short could be defined as a simple nautical outfit idea! The striped line on the white fabric has represented the waves of the ocean. So, without a doubt that striped shorts is worth wearing for a beach vacation! Matching up the striped shorts with a white tee for a laidback outfit!
Casual shorts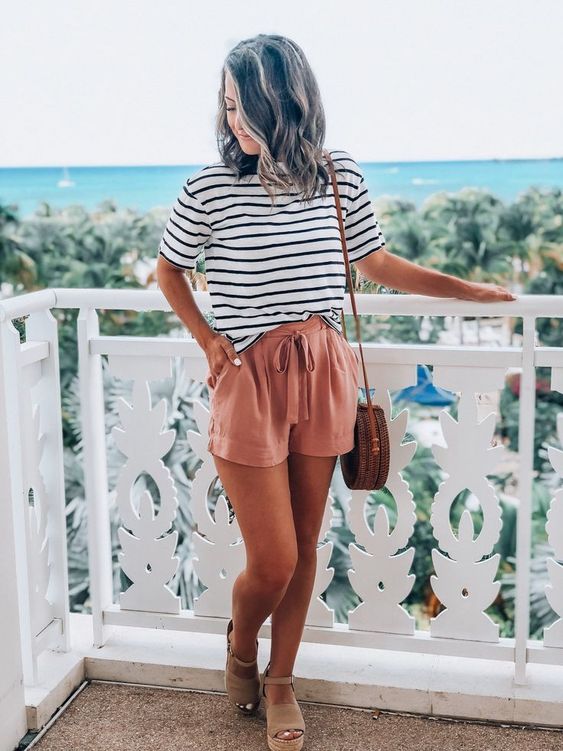 The soft garment feature in the casual shorts makes it perfect to wear on summer days. Cotton short is chosen for its breathable, lightweight, and soft feature garment. There are many casual shorts available in any color, just choose what you are into it. Styling this comfortable short with a tee or tank top will give you maximum comfort on a hot blazing day!
Those are 11 types of shorts you can wear in summer! You can choose leather shorts for an elegant summer look, styling corduroy shorts for a chic summer street style, and some casual shorts to comfort you while having a beach vacation. It all depends on you to choose the right shorts for any occasion you'll be into it. We hope you enjoy our tips on choosing the best shorts for summer. Get a laidback style in summer shorts fashion ideas!