Drufashion.com – When the biting cold air has faded away and the blooming season comes with warm weather and hypnotizes us with its charm, the love is totally in the air! With the positive vibes brought by the spring season, let's cheer it with some remarkable lightweight outfits!
The lightweight outfits are just perfect to wear in warm weather like spring. They make us feel comfortable while being inside and outside of the door. We can find them in many outfits, such as t-shirts, blouses, dresses, trousers, and many more. Here down below, we have 10 collections of lightweight women's outfits you can try this spring! Find your own remarkable spring cozy outfits!
Super Cozy and Lightweight Tunic Sweater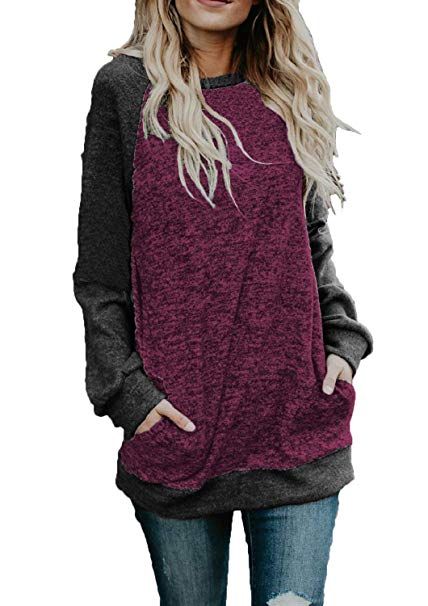 The transition from winter to spring makes us feel a little bit cold in the air. It usually happens in early spring. So, we can initiate to wear something warm but bring a lightweight feature.
Our outfit choice for the early spring comes into the tunic sweater. The lightweight feature sweater makes it perfect to accompany us walking outside in the breezy spring air! The cotton fleece is chosen for the most comfortable tunic sweater material. The cotton material has a natural hollow fiber which allows our skin to breathe well. So, there is no doubt to choose a tunic sweater for this early spring!
Maxi cardigan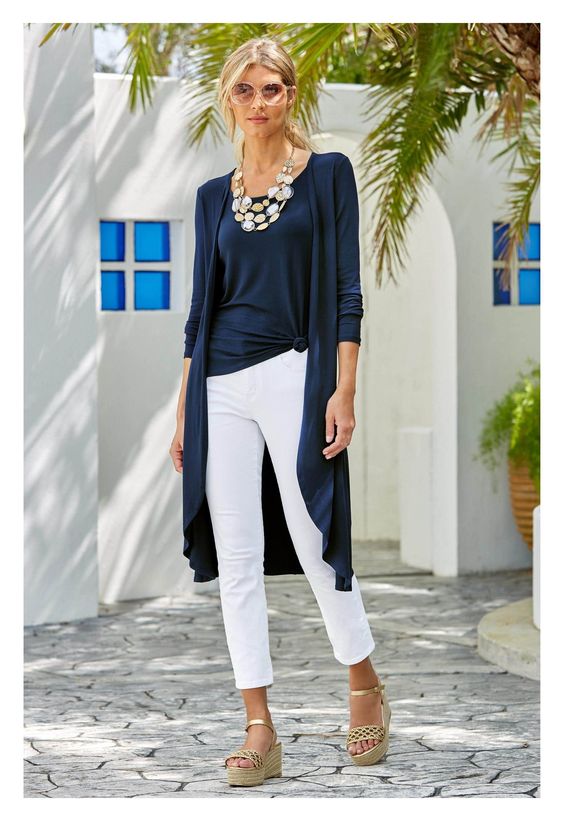 Another lightweight outfit for this spring falls into a maxi cardigan. Let us choose a cardigan with a soft and cool material such as cotton. Layering tops shirt with a maxi cardigan is a good option to style a remarkable spring look!
Ladies, you can match this layering concept for the upper outfits with a simple lower outfit. A bold navy cardigan has blended very well with neutral white tight trousers!
Complementing your chic spring street style with comfortable footwear such as a pair of wedges sandals. Finally, add some golden accent accessories to bring out an elegant look!
Floral Midi Dress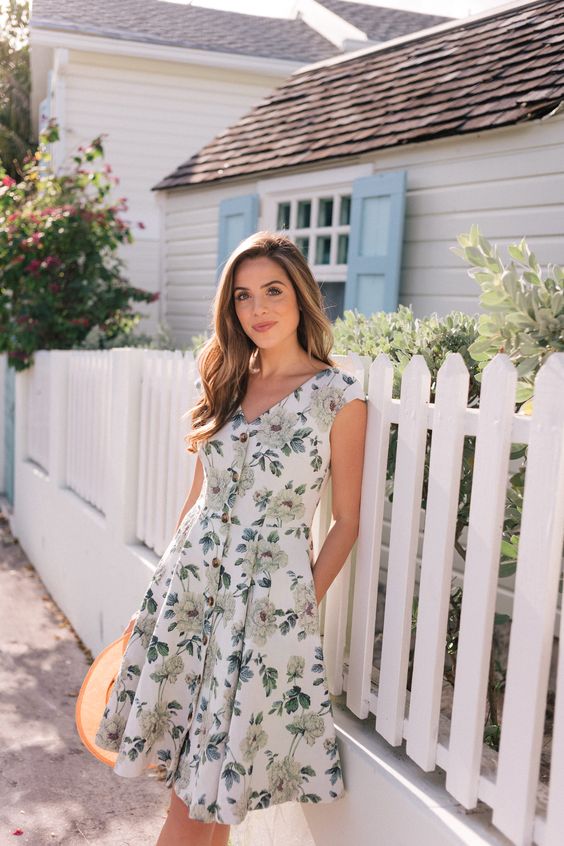 We will never go wrong to have a floral dress for spring! Embracing the blooming season with a printed floral midi dress won't break any spring dress code. The floral accent on your dress will successfully make you look cute. For the footwear item, we can wear heel sandals to bold a girly spring look or you can wear interchangeable heel sandals. You can remove the heels that will turn into comfortable flats, changing up your look has never been easier with interchangeable heels sandals!
Lightweight Knit Sweater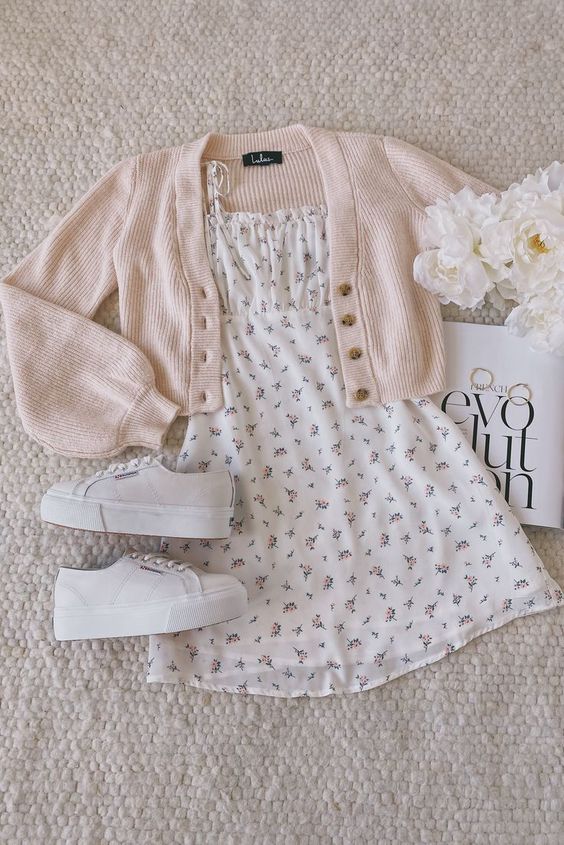 Let us give a chance to the lightweight sweater to shine in spring! Mix and match a soft pink knit sweater with a lovely mini dress. Layering a knitted sweater for the outer gives us warmth while wearing a mini dress. Finally, completing your cute spring look with comfortable footwear such as sneakers. The pair of white sneakers are perfect to suit your neutral dress!
V-neck Cami Top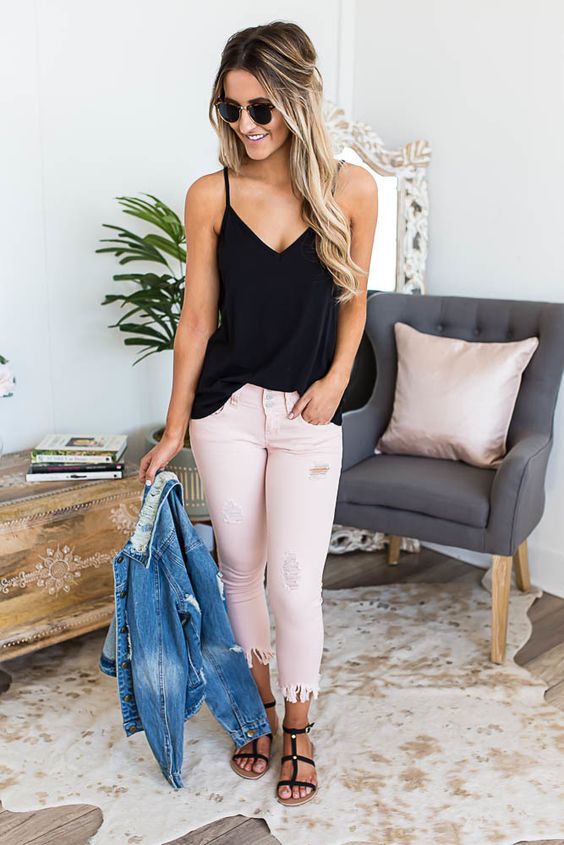 When the spring weather completely warm that is the right time to wear a top outfit. We offer you a black cami top to style a casual spring look. Then you can wear neutral skinny jeans for the lower outfit. The neutral jeans will give a huge chance for a black cami to shine more! Comfy your casual style with comfortable flat strap sandals. Girls, you can layer a cami top with a timeless casual outfit such as a denim jacket. Do you love this casual spring look in a lightweight cami top?
Lightweight Jacket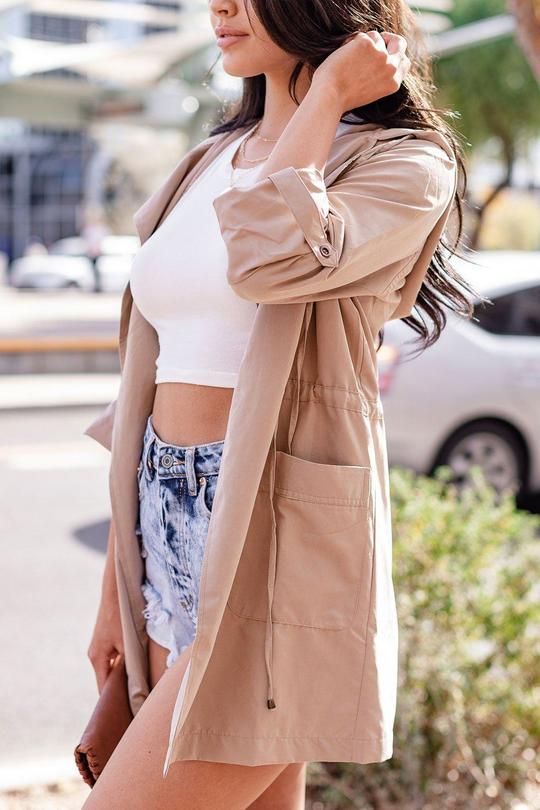 Styling a tube top with hot pants denim jeans is not only good for summer. When it comes to the end of the spring and soon welcoming summer, the weather outside gets warmer. It is a perfect time to wear a tube top outfit. We won't leave the spring too fast, so we can wear a lightweight jacket in a neutral color such as beige to show a cute spring dress code!
Floral Tee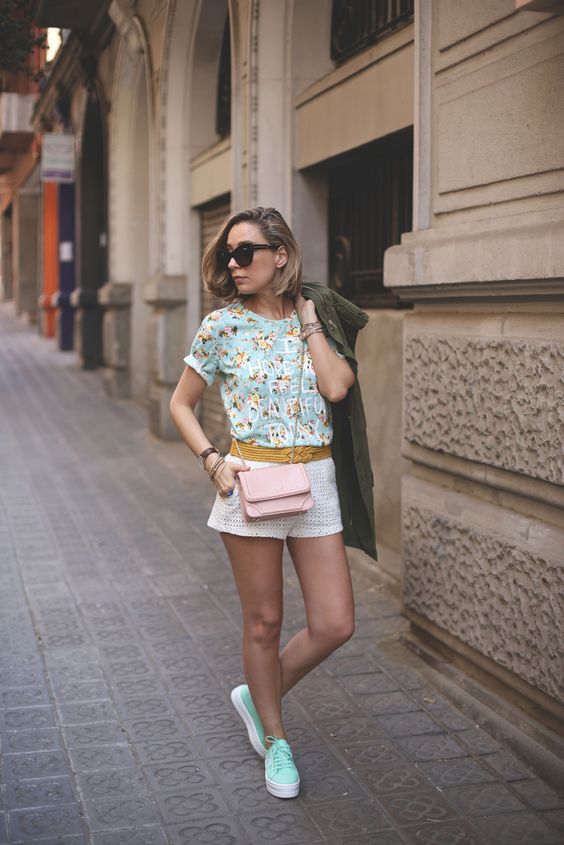 A T-shirt is one of the most comfortable casual outfits to wear in warmer weather. The lightweight feature that has been attached to the t-shirt makes it a popular comfortable outfit among all of us. Ladies, we can choose a floral printed tee to embrace the cheerful spring vibes! We can style this floral tee with short pants or a neutral midi skirt. Finally, wear your favorite sneakers to comfy your casual spring look!
Floral Midi Skirt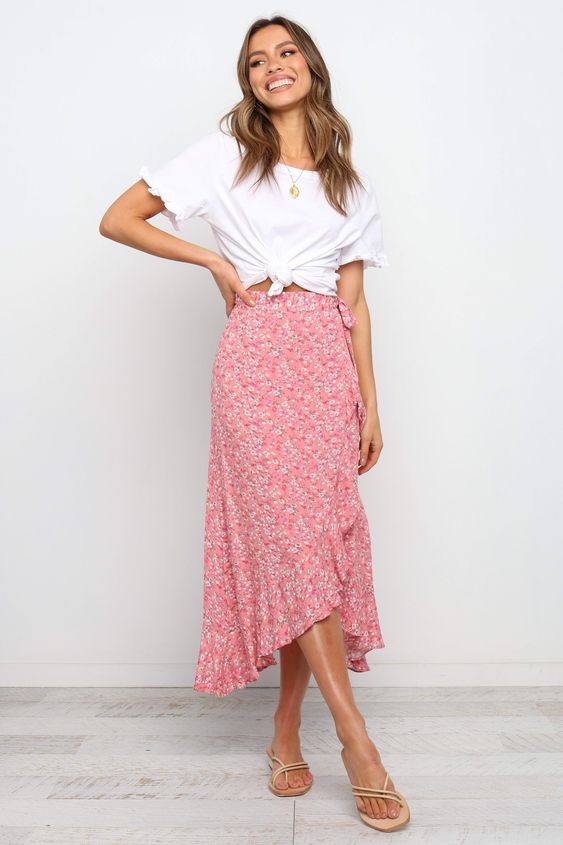 There is a must-have casual women's outfit for spring is a floral midi skirt! Featuring floral accent in our outfit to achieve a standard cute spring outfit. Now, we can style a pink floral midi dress with a white top tea. Then, we can wear flat sandals to comfy our spring vacation! The simple way you dress that shows in a selection of outfits you choose makes you look so down to earth in the cherry blossom! Without a doubt, let's grab a floral midi dress into our spring lookbook!
Casual Pants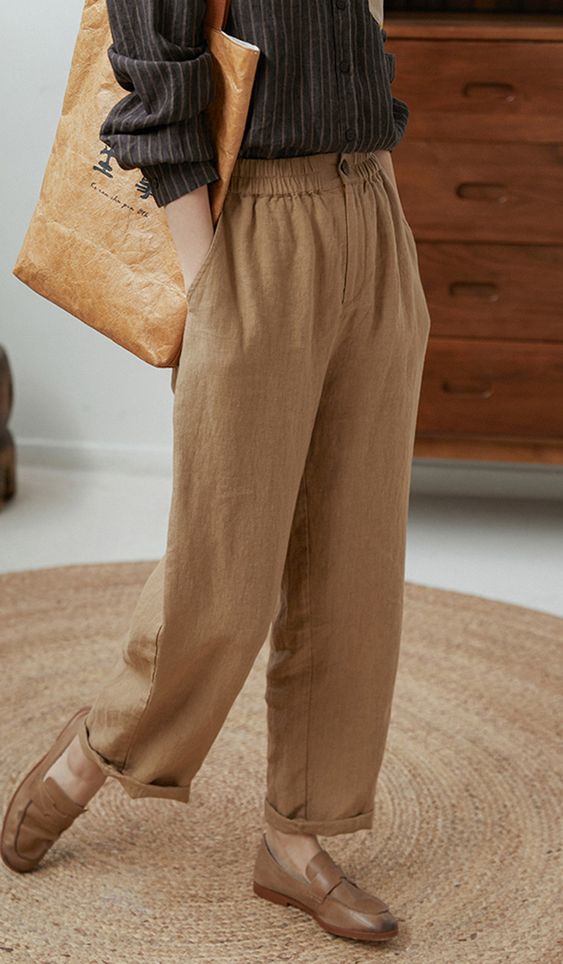 Ladies, you can style a spring chic outfit like an Italian girl. Our decision fall into an Italian casual pant that's provided by elastic waist Khaki pocket. To make you look chic in the spring casual look, we can combine these casual beige pants with a striped shirt and a pair of leather shoes. These lightweight pants will make you feel comfortable during the warm and friendly spring season! When you have a plan to have a trip to Europe this spring, we recommend you to have these Italian casual trousers in your travel bag.
Beige Pencil Pants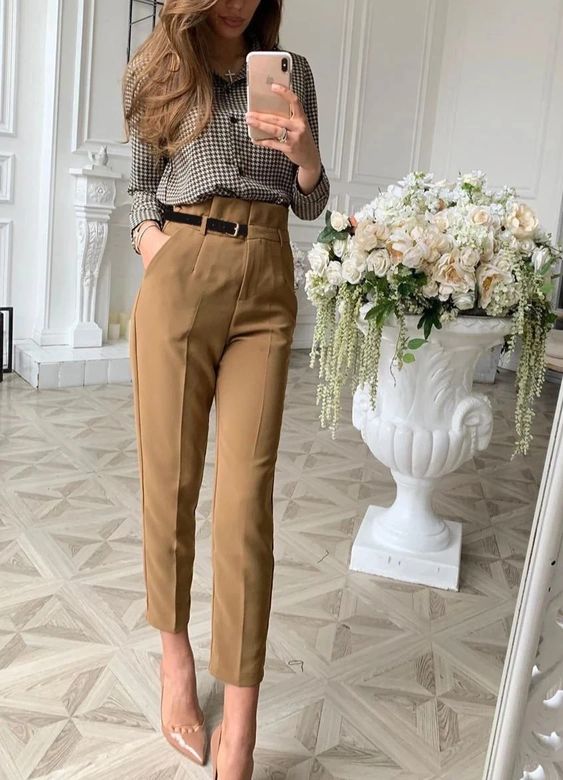 Are you looking for a casual office outfit for this spring? Well, we already searching for the best outfit for a woman officer for a brand new spring look! A pencil pant in an earthy color suit to accompany your busy day in an office. Mix and match these pencil pants with a plaid skirt will successfully make you look relaxed. Do not worry about the work dress code, wearing nude pumps can help you to look formal.
In this way, you won't break any work dress code, we just give a spring relaxed touch into our outfit! Do you fall in love with this outfit to go to the office for this spring?
There are some considerations in choosing a spring outfit. They are must feature a lightweight and breathable design that comforts us in warm weather. Adding some floral accent into our clothes to embrace the blooming season!
Those are 10 lightweight women's outfits to wear in spring that has been collected for you. We hope you like our recommendation and consideration in choosing a comfortable but chic outfit for this spring!