Drufashion.com – Girls! Summer will come soon, get ready to have sunny days and some extra heat! That is a signal where you need to update your wardrobe that full-on light dresses. Considerably summer women's outfits are so various in styles. Starting off a swimsuit, hot pants to the tube top that we will discuss now.
In summer, we sweat a lot and that means we need a light dress, so our skin can breathe well and survive on hot days. Do not let the blazing hot days ruin your joyful sunny days.
Girls wearing a tube top in summer would be pleasing and comfortable. It helps us to feel relaxed on the blazing hot summer days. Do you figure out how to mix-matching tube tops for your summer outfit? Here we have some amazing mix and match tube top summer outfits ideas to help you to find your own style!
Scrunch Front Tube Top and plaid hot pants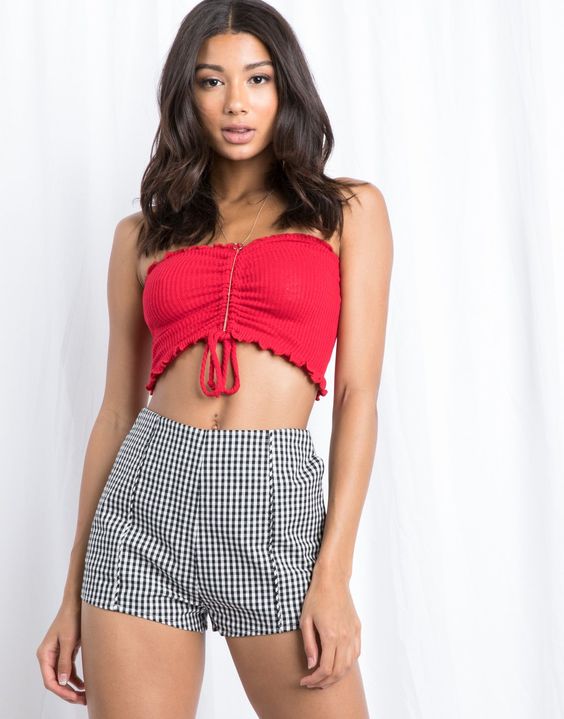 Do not worry about styling summer outfits for a beach vacation. Ladies, we offer you to wear a scrunch tube top with plaid pants. This looks cute and so casual which is perfect to accompany the summer holiday that needs a simple and relaxed outfit. In this way, you already achieve the cute summer outfit. How about this mix-matching tube top style, do you like that?
Mix-matching sexy tube top with skirt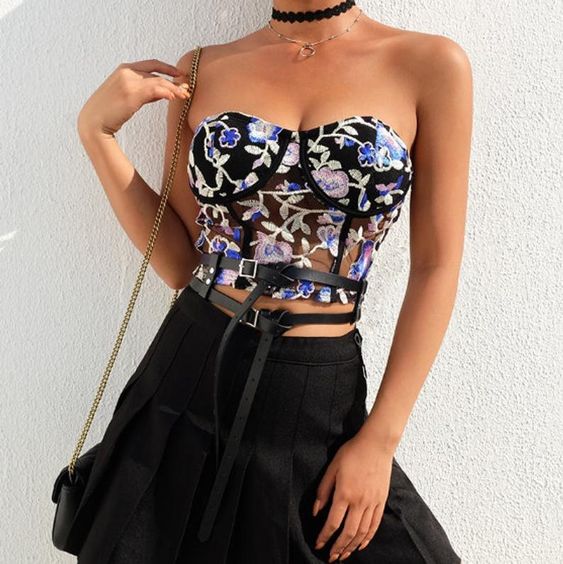 Girls, do you want to look girly and sexy at the same time? Then we have a nice tip on mix-matching the tube top with a black skirt. The transparent fabric of this floral tube top makes you look even sexier and then combine it with a ripple black skirt gives you a double look both sexy and feminine. Girls, you can give an extra cute look by wearing a sling bag. We guarantee, people will stare at your gorgeous look. Go shining in the summer girls!
Smoked Tube Top and Floral Beach Pants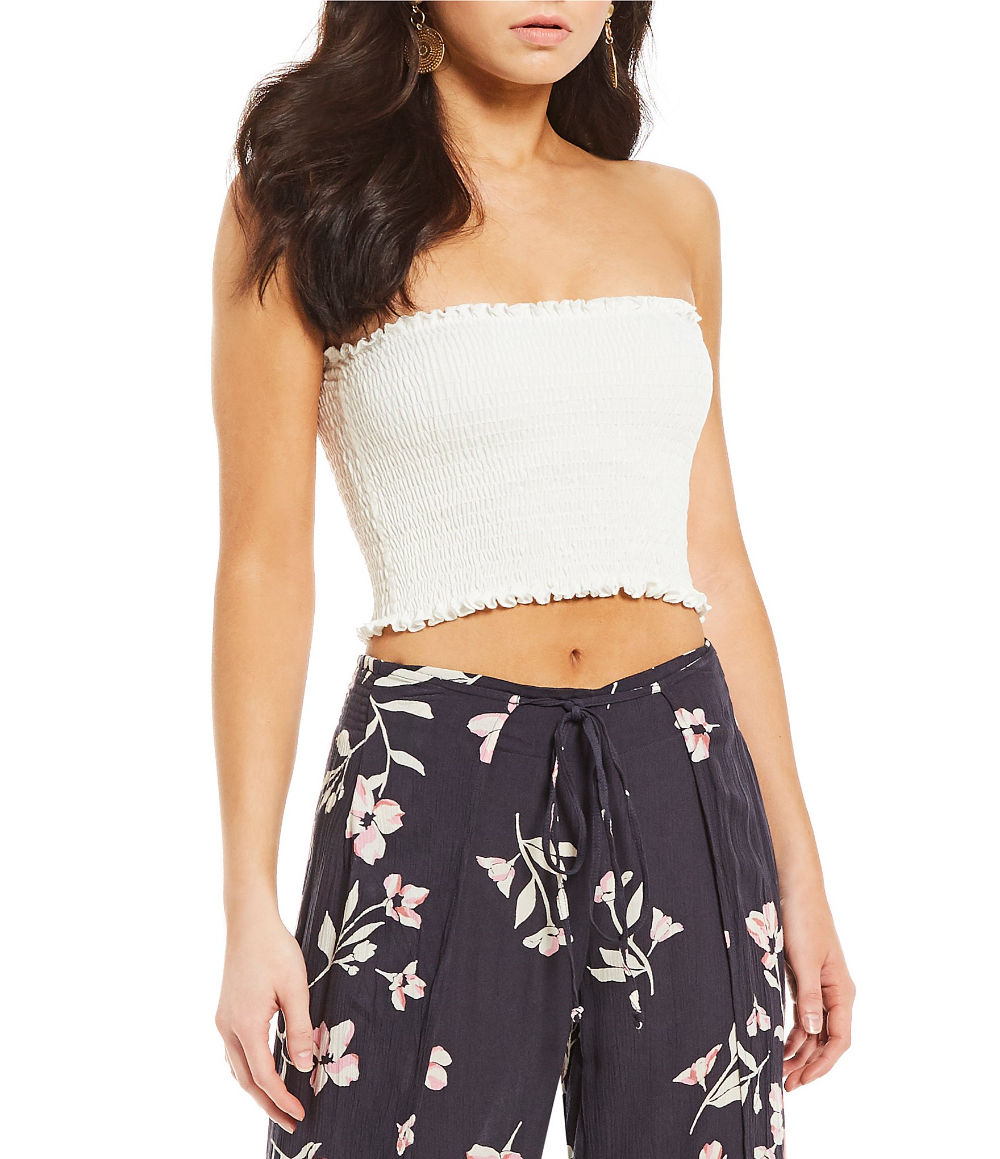 Looking for a beach outfit for this summer? And you are not confident enough in wearing a bikini, well we have a solution for you. Matching white smoked tube top with floral beach pants. Now, you are ready to have a summer holiday on the beach!
Cute Matching up Ruched Plaid Puff Sleeved Tube Tops and skirt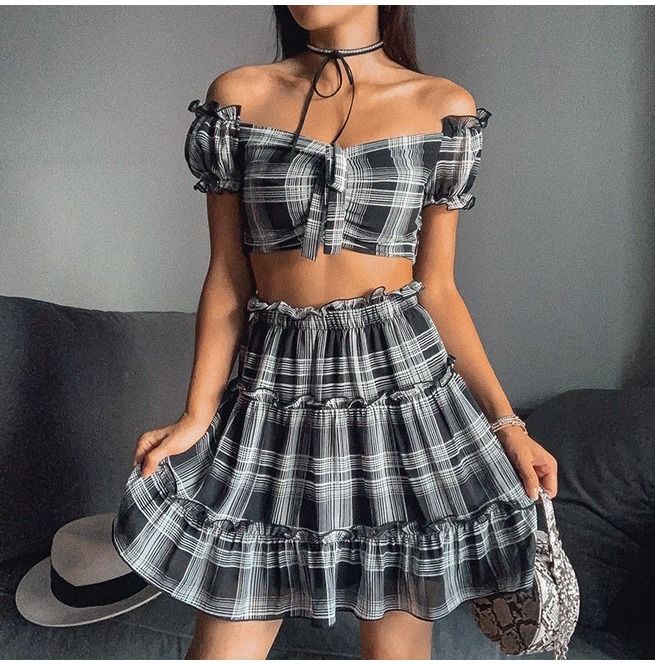 Do you want to look cute this summer? Alright, we have a tip for you by matching a plaid tube top and ruffle skirt. Ladies, you can wear a plaid skirt for the lower outfits and a ruched plaid puff-sleeved tube top for the upper outfits. Girls, you can combine your cute outfits with a pair of sneakers and complementing them with a beach hat, that is so lovely!
Looking Fresh Styling Summer Outfits With Lemon Tube Top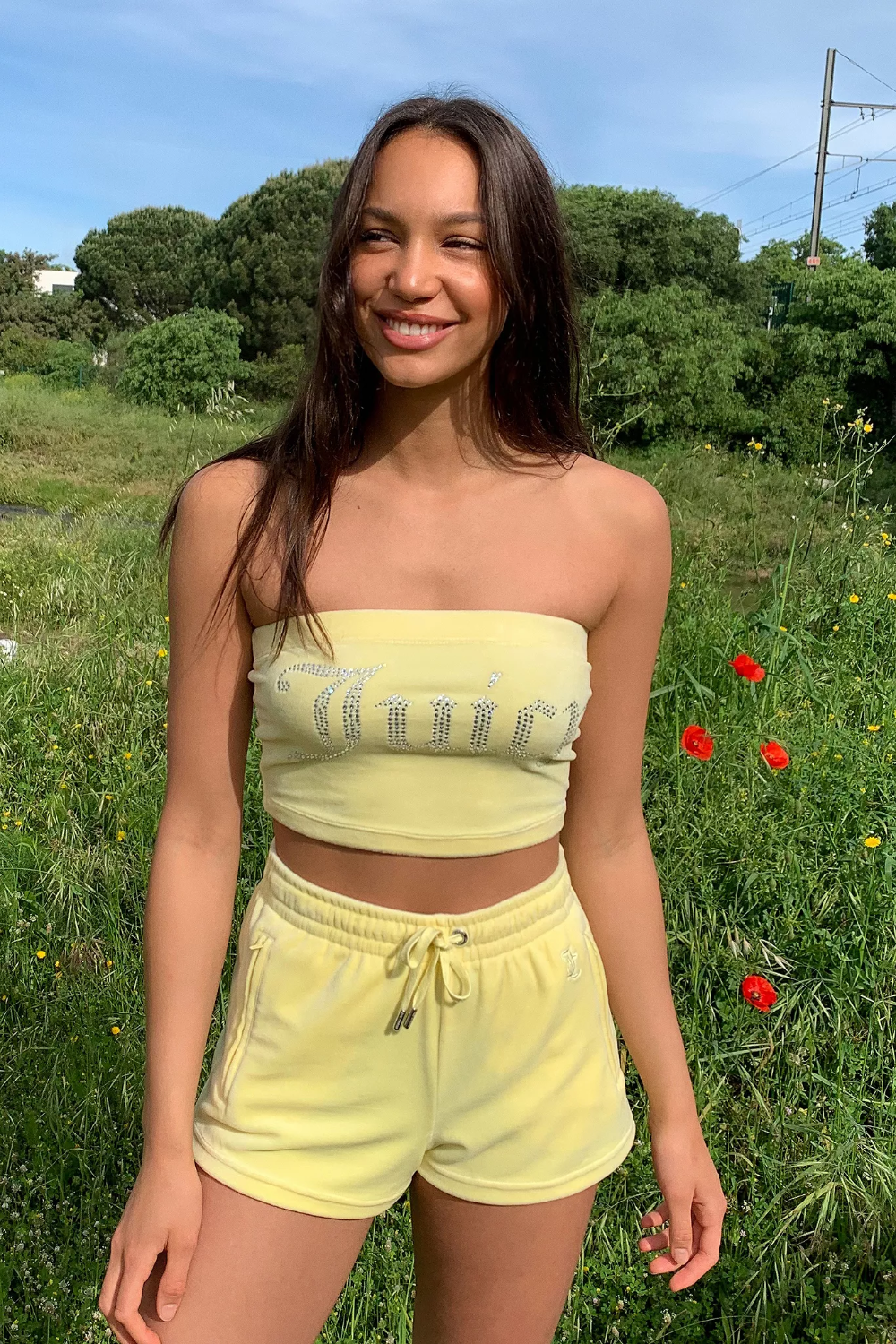 When it comes to the summer season there is a lot of suns, which means it is perfect for you to look shining girls! Figuring out what types of clothes suit for summer days, well summer is all about the simple and light dress. To make you glow on the amazing summer day, we offer you to wear a lemon tube top and matching it with a mini trouser.
Now, you dress in a simple way but you shine through the sunny days. How to choose suit footwear for these glowing summer outfits? Make that easy ladies, you can wear a lovely pair of yellow interchangeable heels sandals. By wearing this sandal you can change the height of your heels anytime you need, convert the heels to be flat, changing up your look has never been easier!
Matching Tube Top With Denim Jeans To Look Casual For Summer!
Girls, are you looking for a casual summer outfit? If so, we have a great mix-matching tube top for your chic casual summer outfit. Embracing summer vibe by wearing a stretch ribbed cropped tube top in hot pink and denim hot pants. Then, you can also wear a timeless casual denim jacket to make your look even chicer.
Styling Tube Top For a Classy Look Summer Outfit!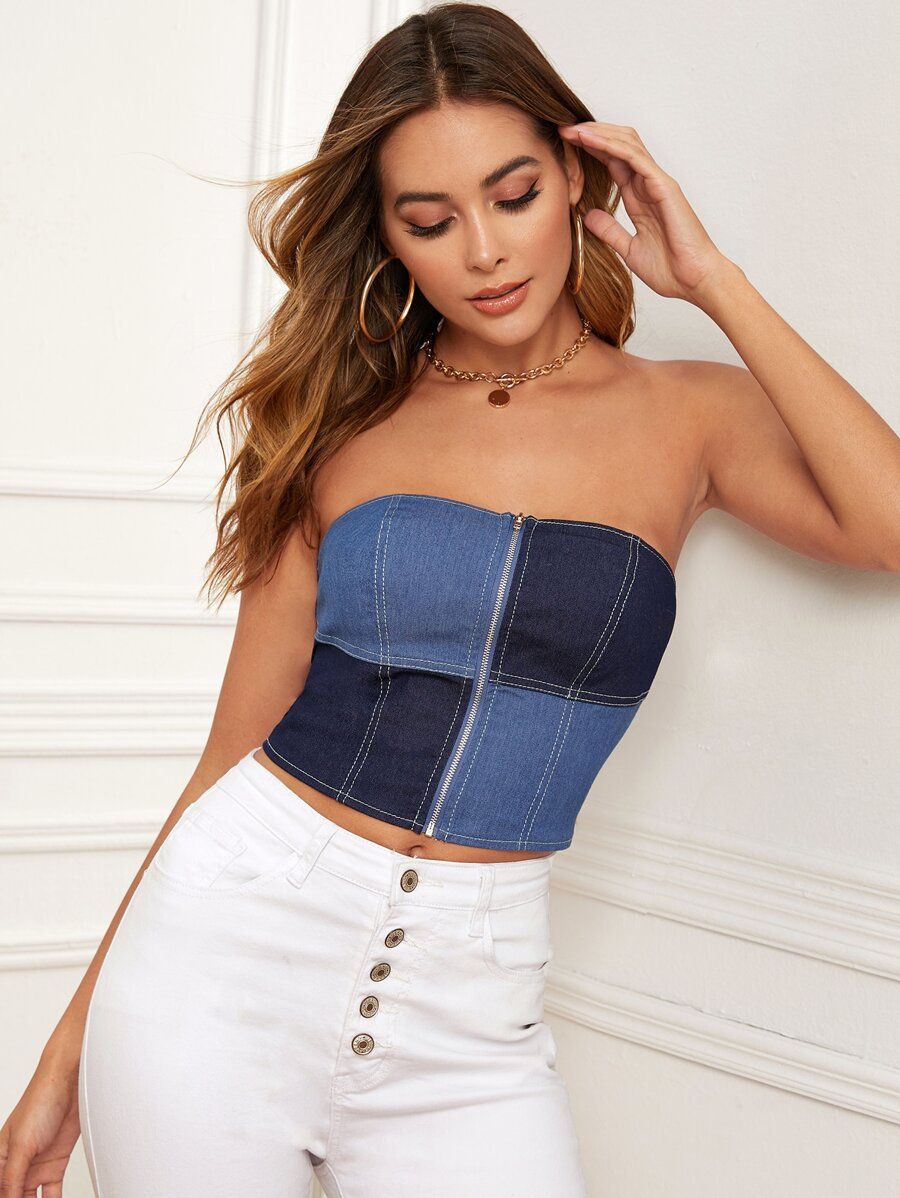 Ladies, are you looking for an elegant look for this summer? Well, have a great solution for all of you. Styling a tube top for summer is a great way to embrace the summer vibe! We can work on matching white denim jeans to brings a classy look and then fit it with a front zip denim tube top. You can wear some golden accessories to bring out an elegant look. Now, you look so stylish in your mix-matching tube top!
Stripped Tube Top and Beige Trouser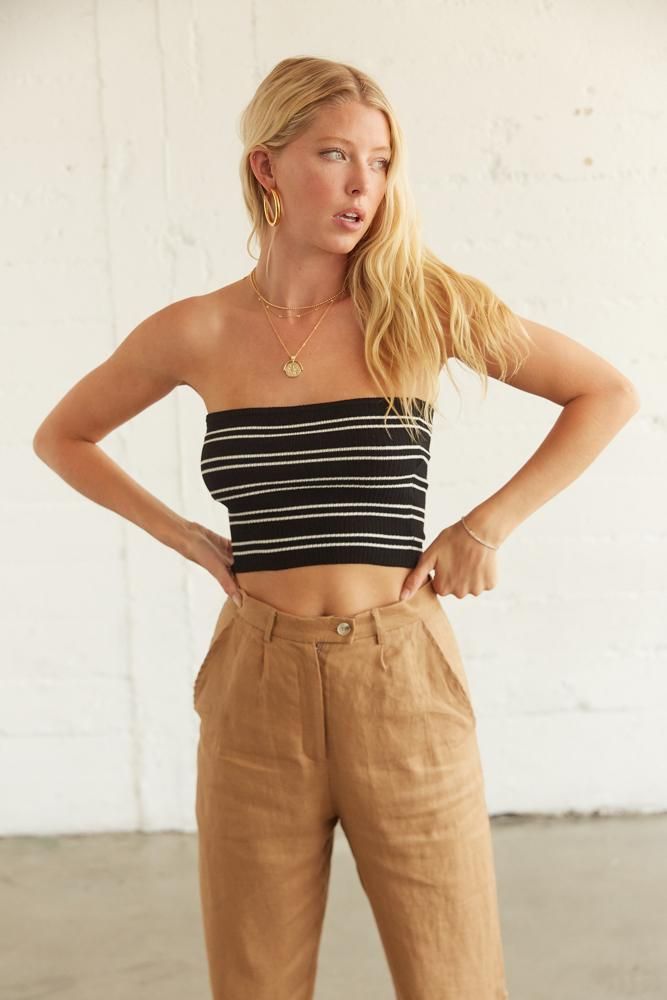 When it comes to the summer season and you try to find out the best outfit to accompany your day on sunny days. Looking simple and get relaxed is what we need on a sunny day. A tube top can be your best outfit option to style a summer outfit.
We have a chic mix and match a plaid tube top and a beige trouser. This look is so casual and perfect to accompany your chill style. Improving your casual look with a little bit of touch of a gold accent. Girls, you look so down to earth with these matching outfits and looking so flawless with a touch of gold accent. Would you like to try this to style your chill summer outfit?
3 Colors Mix and Match Summer Outfit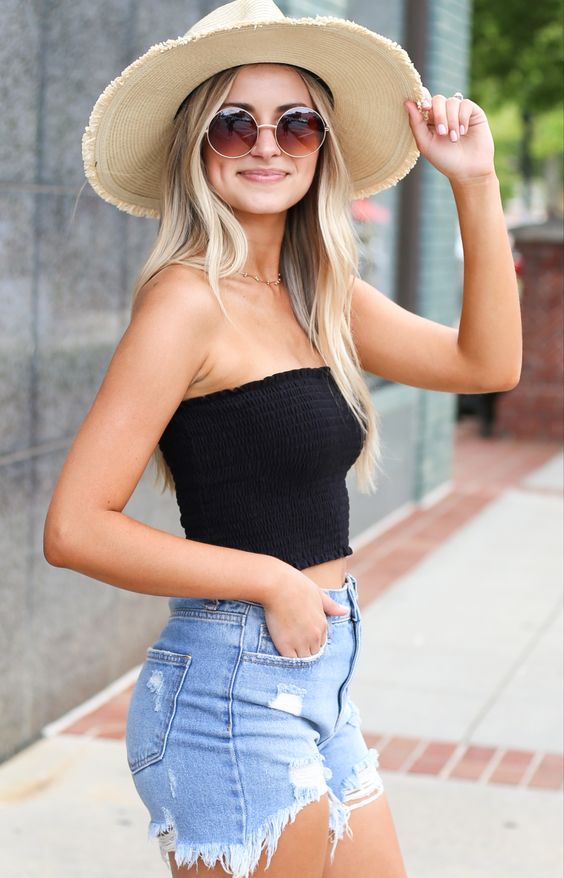 Here is a three colors combination to brighten your summer look. There are beige, black, and blue that will make you look stand out. We can apply these three color selections on a beige woven summer hat, a black stretch ribbed tube top, and timeless high-rise denim jeans. complementing this lovely summer look outfit with casual footwear such as sneaker or it will work well together with flat sandals too.
Ditsy Floral Stretch Ribbed Cropped Tube Top and Jeans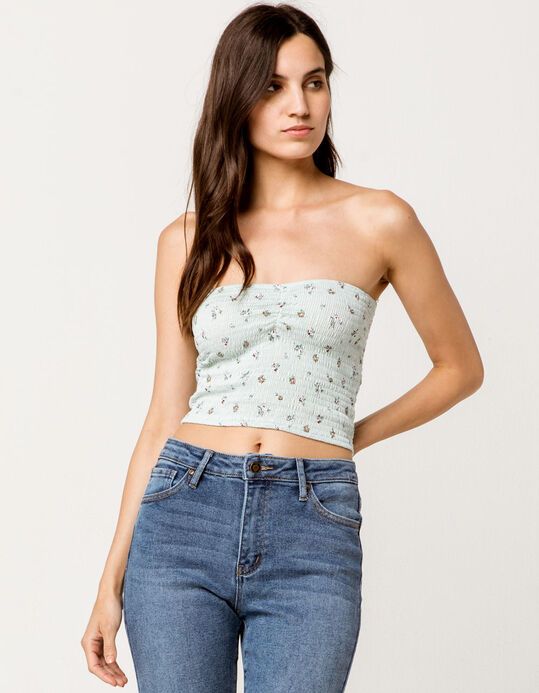 Another mix-matching tube top summer outfit idea goes along with a lovely ditsy floral stretched ribbed tube top and a high-waisted mother jean. Girls, we can copy this style to embrace summer, it is so easy to apply and so comfortable to wear. This stretch ribbed tube top is so comfortable and looks so lovely, these outfits also suit to accompany you for a spring break. The ditsy floral tube top can be your outfit option for both the spring and summer seasons.
Styling Tube Top For Summer
Girl, are you the one who loves sporty looks the most? Well, we try to find your best style for this summer look. Featuring a sporty look, this one eleven sporty tube top could be your best option. Alright, start to mix and match the spot tube top with high-waisted jeans. Wearing a cap and sneakers can bold your sporty look, we hope this could be your inspo if you love to wear sporty outfits.
Summer is the warmest season of the year, which means it is time to wear light dresses in this season. For girls, there are many outfit styles available to embrace sunny days of summer. One of them is a tube top, it is so comfortable to accompany your beach summer holiday.
There are many ways to style tube tops, we already collecting mix and match tube top summer outfits that could be your preference. We hope you enjoy these amazing mix-match tube tops, which one is your favorite style?