Drufashion.com – When the early spring still leaves us a chilly ambiance in the air. So, what kind of outfit we really need in early spring? It definitely is lightweight and warm outfits. In the previous article, we have already featured women's lightweight outfits for spring. We're not getting enough with it! So right now, we want to share with you a few lightweight outfits that fit to wear for both cold and warm weather!
Here, we will share with you, 10 casual lightweight fleece jacket. They are very soft, lightweight, and look stand out in their way! Never get too boring to mix and match the outfit of the day with a fleece jacket. Can't wait to see them? Alright, let's have a look down below!
Oversized fleece jacket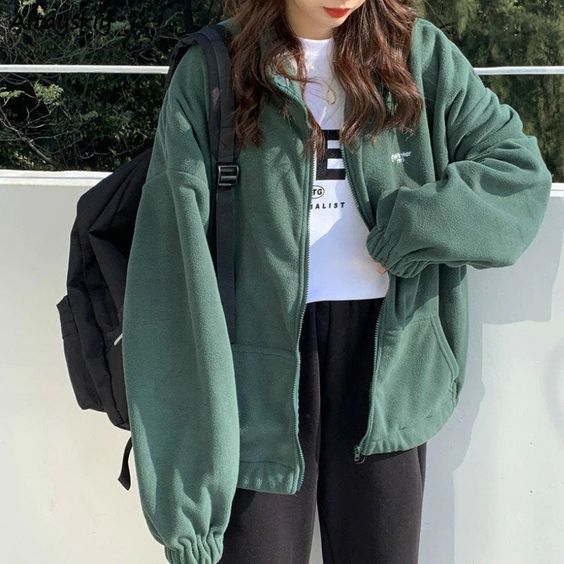 In a trend fashion now, we love to wear something oversized. The big size actually makes a girl look cute! When you come to choose an oversized fleece jacket to accompany your early spring that is a good option. A lightweight feature jacket is what we need the most in the warm season.
Girls, we can match this oversized fleece jacket with a white tee inside and matching them with black fleece track pants. Then, you can be worn a pair of sneakers to define a sporty look!
Stylish pink fleece jacket!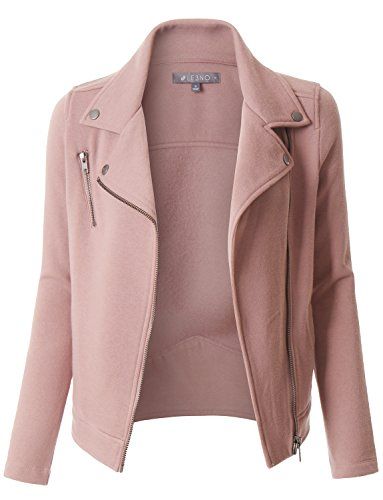 When you've come to the decision in choosing a spring outfit, you want something warm but can keep you look cool. A fleece jacket could be our option! This pink fleece jacket has really smooth textures and a stylish design. It does not only make you look stylish but also gives you warm inside and ready to face the cool air outside. Styling this fleece jacket a lightweight and simple outfit inside, such as a white tee or crop top. Combining a stylish outfit with skinny jeans and sneakers. Now, you ready to rock a spring season outfit!
Sporty fleece jacket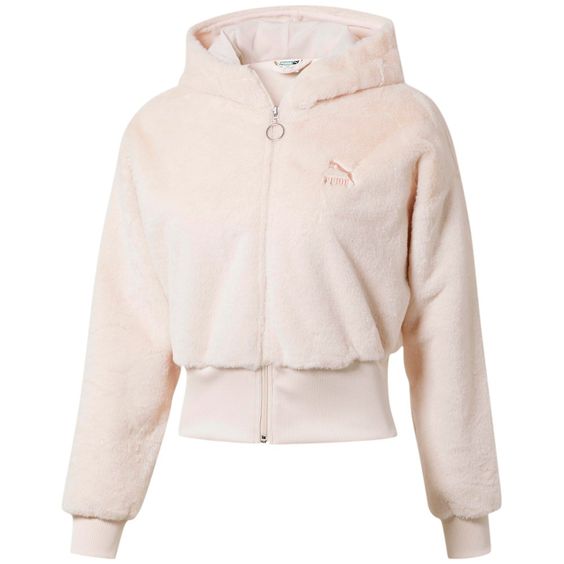 To keep you warm inside and to make you look sporty outside, this blush pink fleece jacket from Puma could be your option! It is completed with a full-zip hoodie to keep you warm around your neck. And A fitted ribbed waistband makes this fleece exceptionally can not be left by. Matching up this sporty fleece jacket with track pants and a pair of sneakers. Do you love this fleece jacket to keep you warm and make you look sporty?
Plaid Fleece Jacket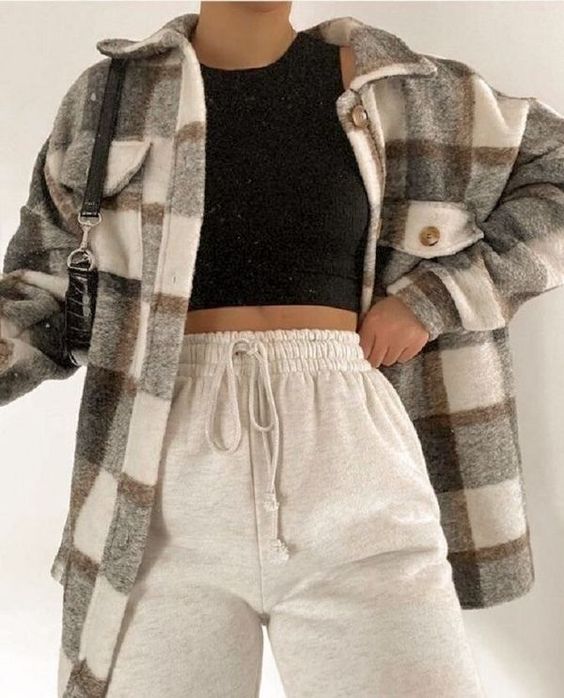 Are you looking for a casual fleece jacket to style your look in a colder month? Here we have a plaid fleece jacket to keep you warm and look chic in a casual outfit! A crop top can be worn inside and layer up with this plaid fleece jacket. For the lower outfit, you can style it with casual trousers or denim jeans, both look good to accompany your casual style. Get a laidback outfit style with this plaid fleece jacket!
Fleece Jacket for Summer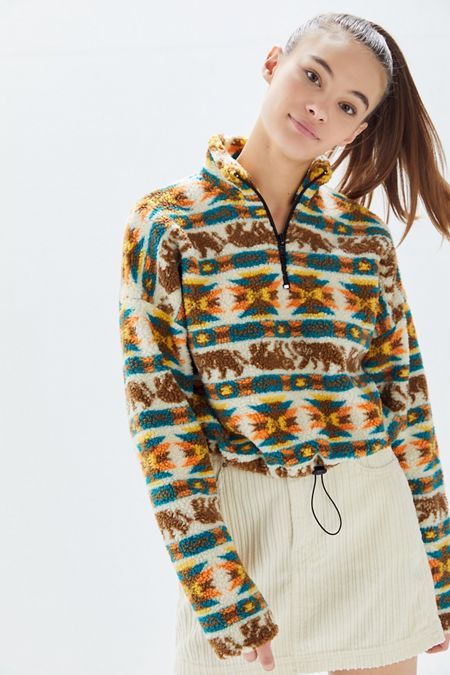 Who says fleece jackets only could be worn out in colder weather like autumn and winter? This colorful fleece jacket is perfect to wear on the cold summer night! It has a lightweight and colorful design which is perfect to embrace the summer. Even though summer gives us the warm sun in the daytime, we agree at night it could be so cold. That is why we choose this colorful fleece to accompany our summer night. Hanging out with family and friends while having a barbeque outside of our home, it will be a delightful moment to spend a summer night!
Hit the slopes fleece jacket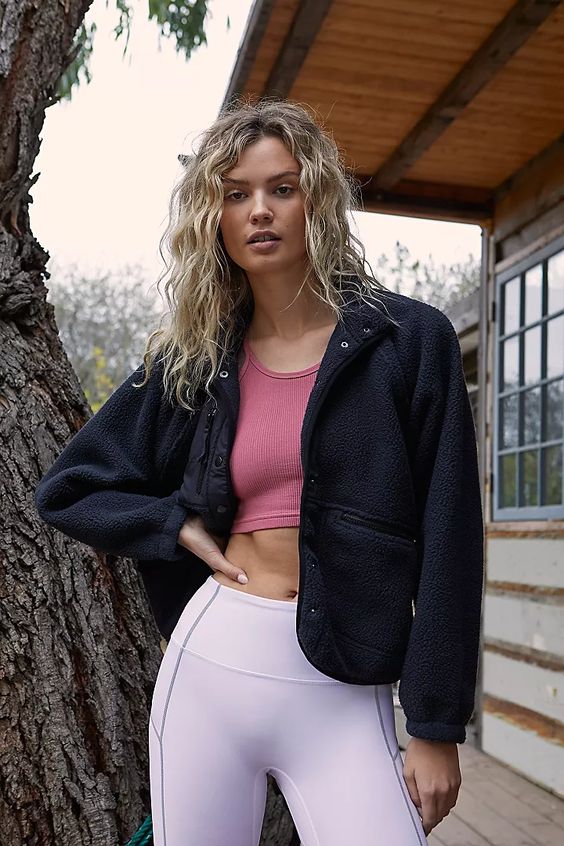 Looking for the right jacket to accompany you to go to the gym? Well, here we have hit the slopes fleece jacket style that will make you look stylish in gym wear! Inside this fleece jacket, you can be worn a knitted top and for the lower outfit, you can be worn a high-waisted legging. Don't forget to wear sneakers! Do you love these gym outfits idea?
Cropped fleece jacket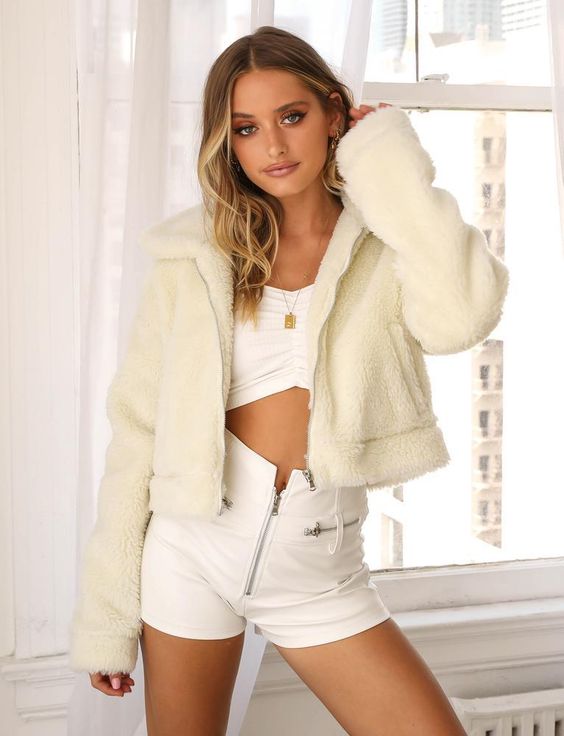 Are you looking for elegant summer look? Where you are in shorts outfits still. Choosing all a white outfit. Starting off to choose white leather shorts, then wearing a white top. Finally, wrap your simple look with a high-quality cropped fleece jacket. The soft fur texture in white brings out a classy look when it attaches to your body. Completing your classy look by wearing heels sandals and golden accent accessories.
Open Collar Fleece Jacket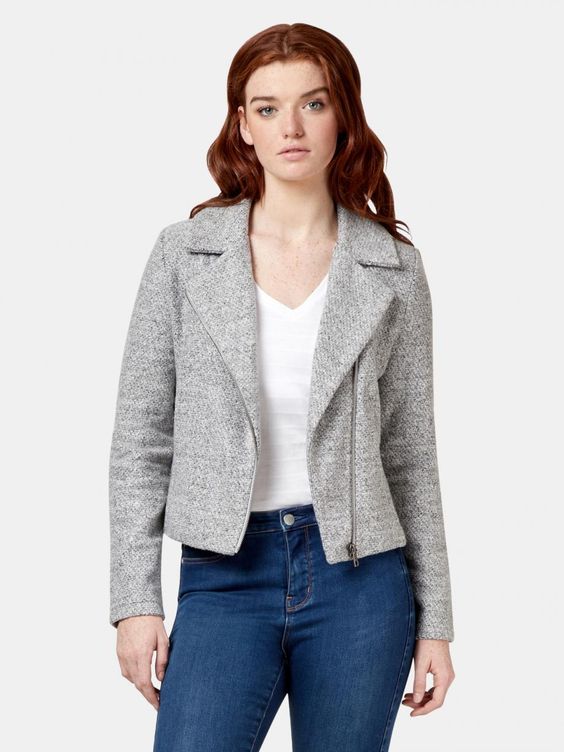 Do you want to look different in styling a street style? Besides a denim jacket, we can choose a fleece jacket to rock a street style! An open collar fleece jacket is perfect to fit your casual outfit style. Choosing a neutral open collar fleece jacket, and matching up with a neutral tee inside. Then, you can wear mom jeans to give you more of a casual look? For the footwear, you can fit it with a pair of comfortable flat sandals!
Trendy baseball fleece jacket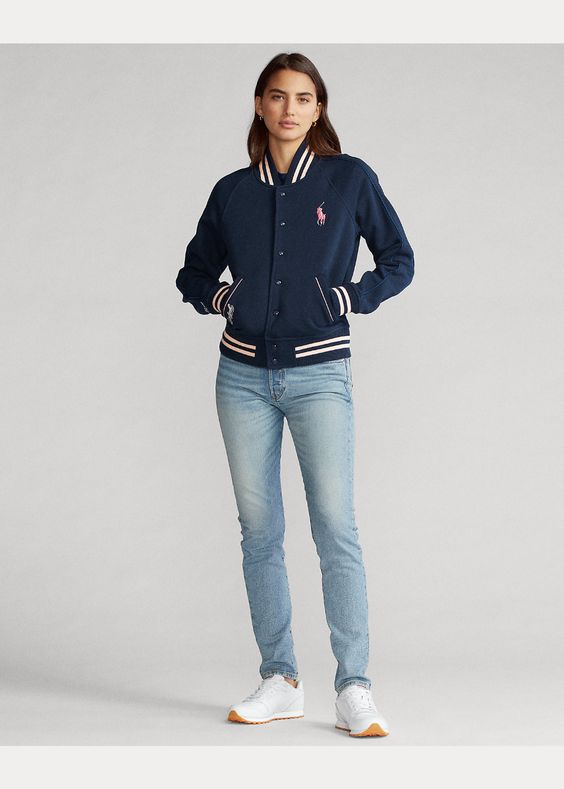 Let's grab a baseball fleece jacket to look trendy! What makes this fleece jacket look trendy? None other than the presence of strips on the collar, wrist, and waist are ribbed with strips. The button-up design makes this jacket look distinctive and stylish. Providing cotton fleece for the whole inside is what made this jacket feel so comfortable to wear.
Pairing this baseball fleece jacket with washed denim jeans. Completing your stylish look with a pair of casual footwear, sneakers. It does not only give you a trendy look but also gives you a totally comfortable outfit!
Printed fleece hoodie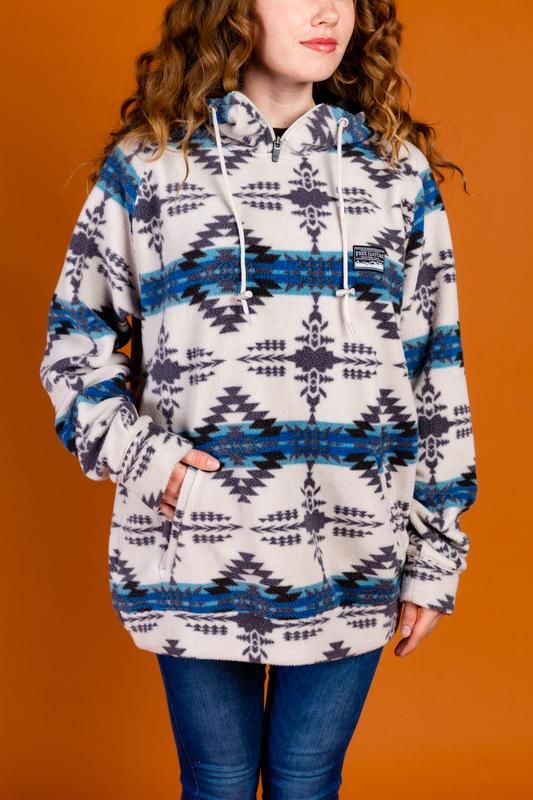 Our last lightweight fleece jacket falls to the printed fleece hoodie! It has a printed geometrical design in blue and black are given to eliminate not so boring image to this fleece jacket. This lightweight hoodie made is made of cotton fleece that has soft and smooth textures. The front pocket feature can warm up your hand while you feel the colder air outside. Matching up this printed fleece hoodie with your favorite jeans and sneakers. Those are some comfortable casual outfits!
Those are 10 casual fleece jackets for ladies we were already shared with you. Don't be afraid to style a fleece jacket for both warm and cold weather. A lightweight and stylish design make a fleece jacket feel right to be worn anytime we want! We hope you like our recommendation to choose a casual and stylish fleece jacket to improve your outfit of the day! Never stop to explore your outfit's style, have a nice day girls!