Drufashion.com – Styling overalls are always on-trend from time to time. Some people are looking good basically know how to pair overalls. But the other half found it hard to be paired with. In fact, when we style the overall inappropriate way, we will look 9-year-old girl and back to the little girl version of us. Anyway, it's a little bit tricky to match the overalls.
Overalls get its fame on 90's outfit trends. Where all of us love to style it for any casual occasion outfit idea. There are many various styles of overalls that offer comfortable features. Mix and match overalls are becoming so popular among young people. This item is successfully created our look distinctive in a good way!
If you are trying to find out what type of overalls suit you. Moreover, you are thinking about how to style overalls properly, so you won't style it wrong. Anyway styling a basic overall with a tee is enough and will save your appearance. But, somehow, styling overalls in various ways is so intriguing. Once you've achieved nice look overalls, there you will never get enough to discover a new style!
When you feel bored styling overalls on the basic pair such as denim with a casual tee. Let's get rid of all of that burden in your mind. Then, let's start to pair overalls with another outfit. We hope you find a perfect pair on how to style overalls for women down below!
Lightweight crew neck sweater and overalls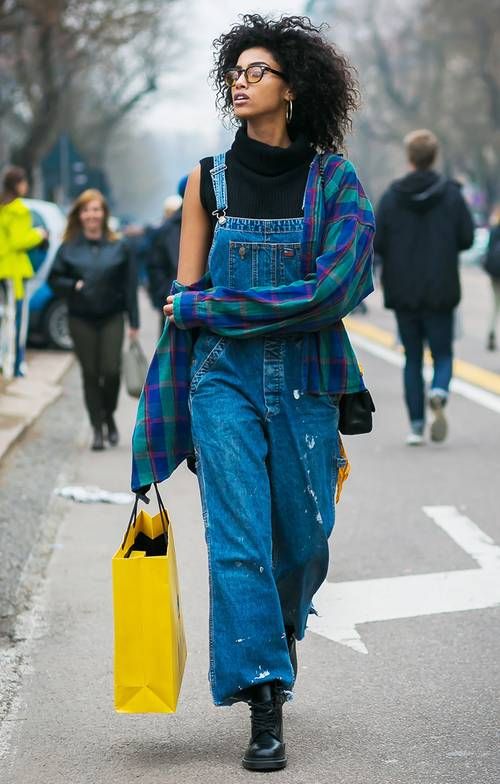 Be brave to show your own style and create a distinctively unique style. Pairing up the denim overalls with a black short sleeve sweater. Then define your cool style by wearing a pair of black leather shoes. And then you can layer up your denim overalls with a plaid shirt. Discover this look for the fall season. You look awesome!
Style overall with a lightweight crew neck sweater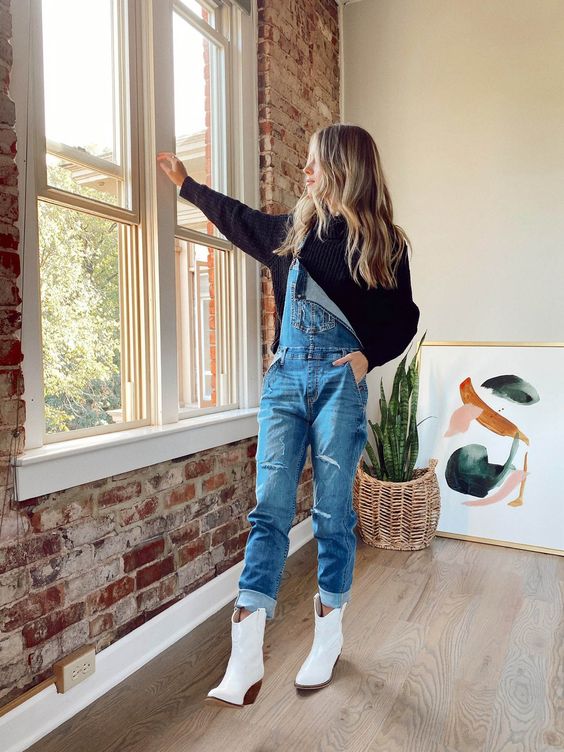 Are you looking for a proper trendy look for the fall season? With the breezy air outside and sometimes the weather bites our skin with cold. We are exactly need something that can warm us outside. Well, can find a timeless outfit that looks good for any season of the year!
Well, we can style blue denim overalls with warm outfit features. Yeah, that is a crew neck knit sweater! Styling overall with a lightweight sweater is a cool casual look. Upgrade your casual look by wearing a pair of leather boots. This style is definitely good to be combined for the fall season.
Cozy block cotton jumpsuit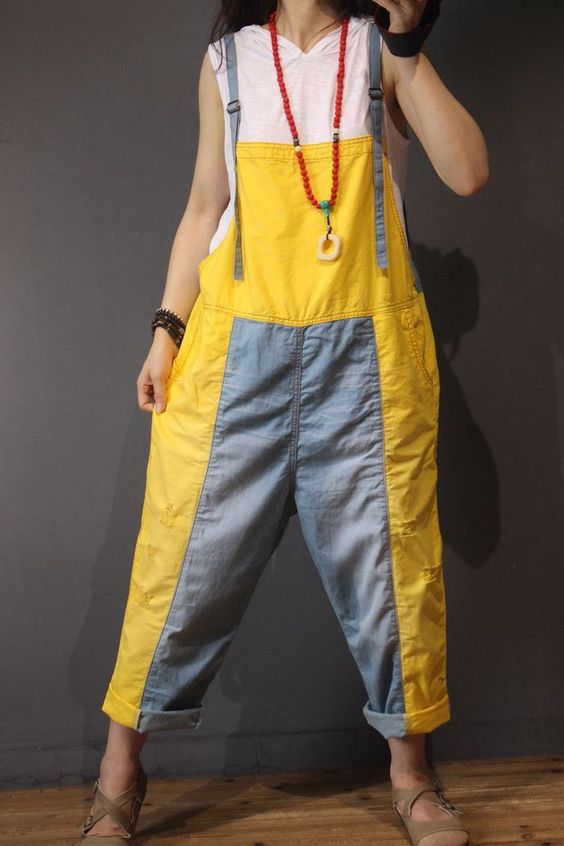 Creating an eye-catching casual fashion look, we can choose a vibrant color block jumpsuit. Featuring a yellow color accent will make you look fresh and energetic. To comfy your laidback style, you can choose the wide leg size and make it from cotton.
Cotton well known for its absorbable garment that is just perfect to wear on sunny days. When our skin is sweating on the sunny day outside. This overall will make us super comfortable cause it has a breathable and loose design. To elevate the edgy look, you can wear quirky boho accessories. For instance the boho necklace and bracelet. Comforting this casual look with a pair of leather sandals!
Black denim overall and fitted neutral tee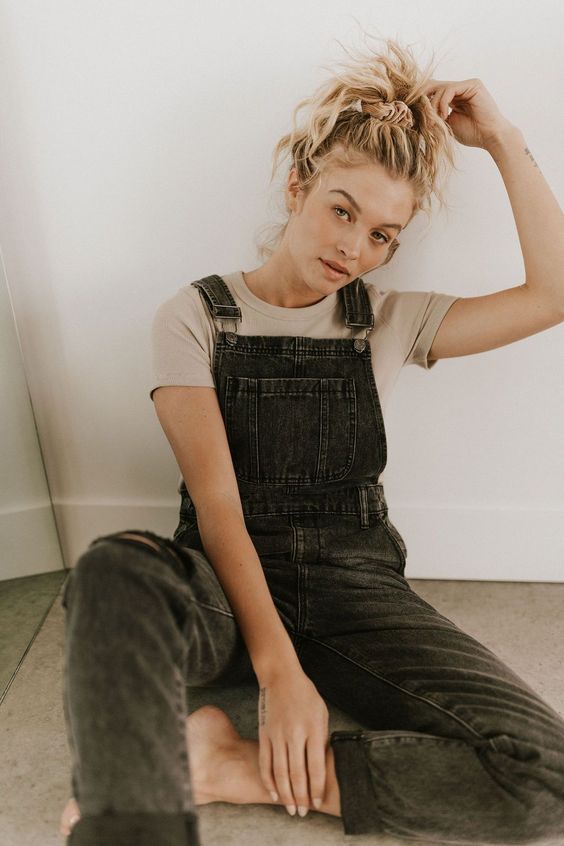 If you want to look different and looking cool within neutral color overall. You can pair washed black denim overall with a fitted neutral tee! This cool overall is completed with two useful side pockets. We guarantee these two combinations will make you look amazing! Furthermore, we do not need to worry about wearing these overalls combination. It won't make you look like a kid, it seriously looking cool! This cool combination outfit can be paired with leather boots or canvas sneakers!
Distressed overall and white tank top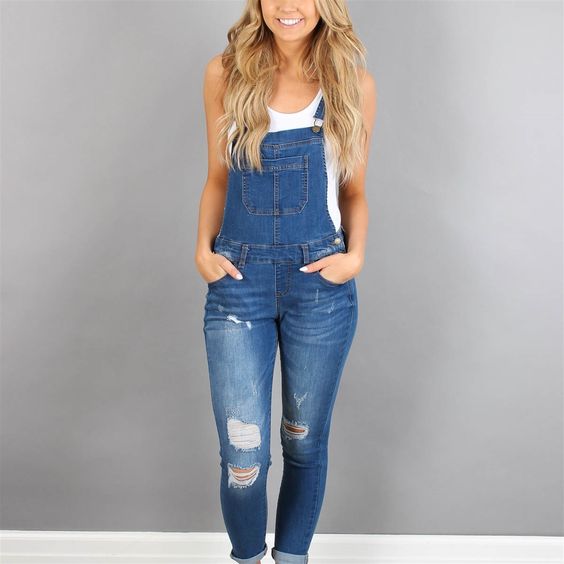 There are many overalls type and size available. In this chance let us give a distressed overall to shine! When you consider having a nice body goal or you are in great confidence. You can definitely choose distressed overall. This outfit will bring out the attractiveness of your look! Styling distressed denim overall is quite simple. We only need to pair this outfit with a neutral white tank top and that is it! Completing your athleisure look with a pair of white sneakers. Or if you want to bold a feminine and sexy look, a pair of heel sandals can be your option!
Chic overall dress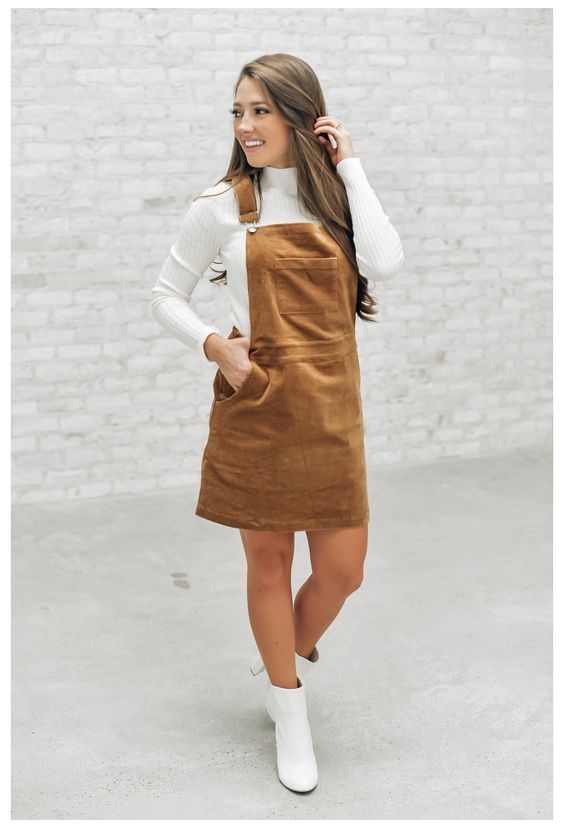 Our next recommendation on how to style overalls is fall to beige leather overall dress! Featuring a sleek impression, the leather overall is a good option to show your chic look! Pairing up the leather dress overall with a soft color tone outfit. A white turtle knit sweater can be paired with a trendy leather overall dress. Creating a statement to your chic look by wearing a pair of heeled leather shoes! This look is just perfect to style early spring and fall season. You look so incredibly good!
Cool vintage plaid overall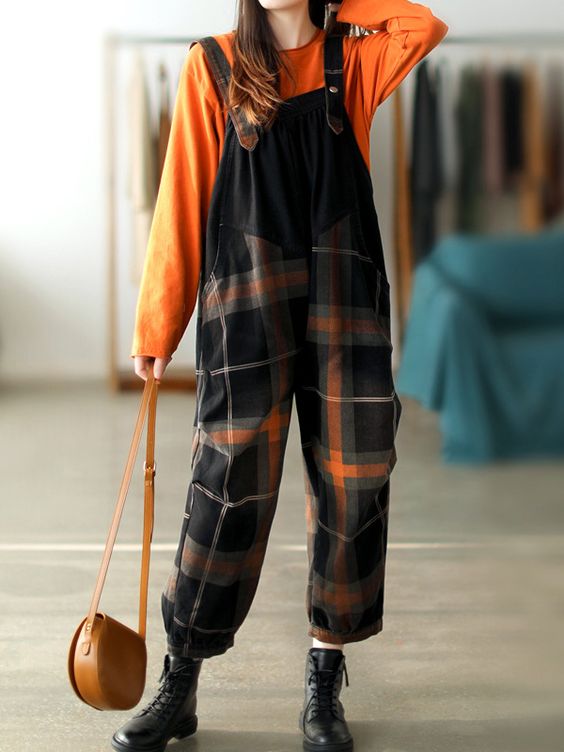 Young girls, are you looking for a distinctive way of styling overall? Well, we've got the idea! The plaid vintage overall could be your option. Featuring a wide-leg feature and made from linen fabric make this overall feel so comfortable to wear. Then you can pair up this black and orange color tone plaid overall with a bright accent color tone. An oversized orange sweatshirt will go properly with a loose vintage overall. In addition, you can wear a leather sling bag that has a bright undertone. These bright color outfits will attach youth outfit look essentials! Giving a statement to your chic look by wearing a pair of black combat boots. In this way, you've achieved cute youth outfit essentials but also you are looking gorgeous with black combat boots!
Cool patchwork overall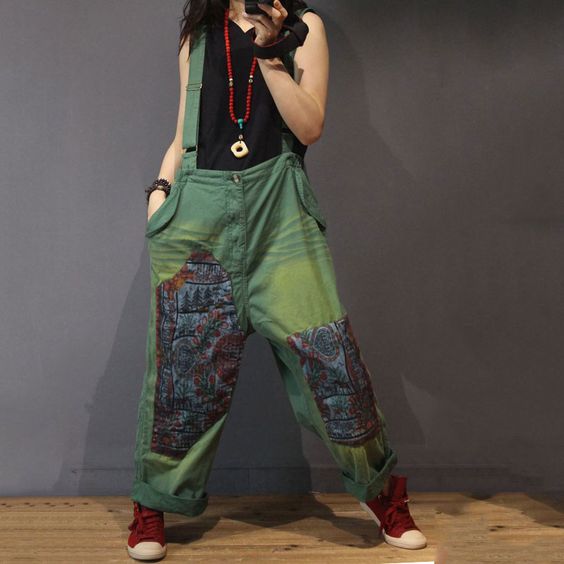 Are looking for a perfect outfit to accompany your patchwork overall style? It's easy to pair cool patchwork overall, we can pair it up with a black cami top. Elevate your chill look by wearing vintage accessories such as a quirky boho necklace and bracelet. In addition, complete your chic style with a pair of canvas sneakers.
Striped tee and overall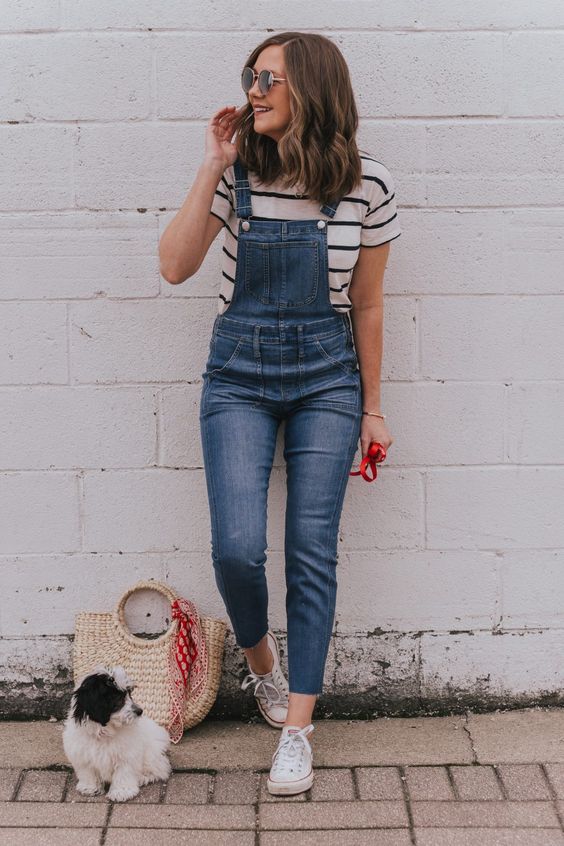 If you are bored pairing up the overall with a casual tee, then you can try to match it with a striped tee. Styling overalls denim jeans with a striped tee will make you look relaxed. Girls, you can combine this look with a pair of canvas shoes. If you are looking for a summer outfit, then it's worth trying!
Cozy linen overall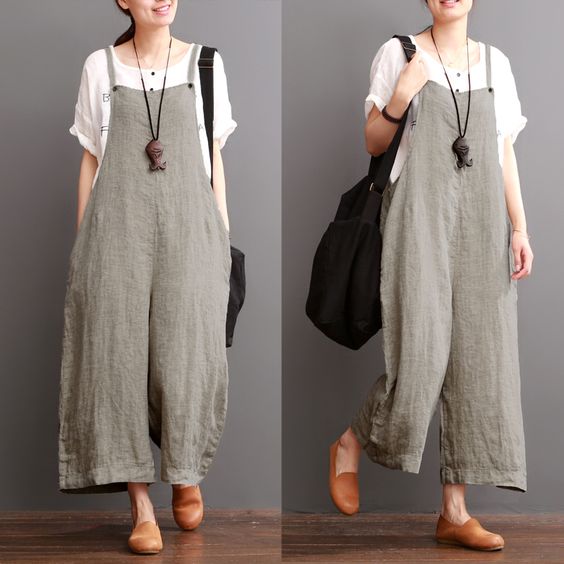 Another mix and match overall is fall to linen overall and casual tee. The wide-leg feature seriously makes us comfortable plus linen fabric has cooling down natural fiber. We can choose a neutral color overall and tee to rockfall style. Complete your cozy look with comfortable footwear. A pair of beige flat leather shoes can be worn to accompany your laidback style!
Corduroy overall with casual long sleeve tee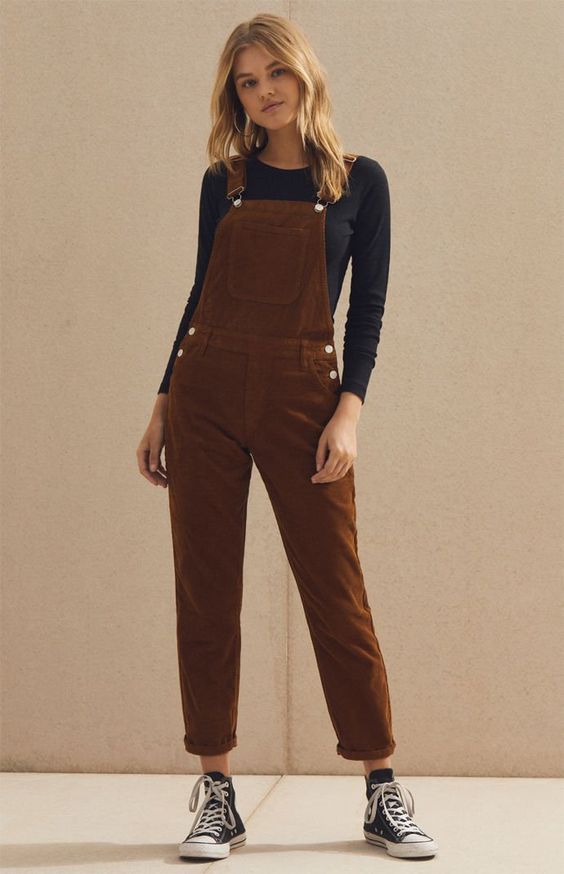 Young girls, if you are looking for a trendy outfit to style spring, autumn, and even summer. The timeless overall can be worn in all those seasons. Corduroy usually made from cotton that has been woven, so it has a textural surface. This texture makes corduroy is distinctive from another. If you already have a corduroy overall in your wardrobe, then you can simply pair it up with a casual black tee. Urban outfitters, we can combine this look with a pair of sneakers.
Conclusion
A very long time ago around the 1700s, denim overalls have been brought up in this world. It was used to be worn by enslaved people. Time has to pass by, overalls are not only be worn by enslaved people. It hits the first legit in the '90s, where people especially young people introduce overalls as a trendy outfit. As a result, overalls have been through lots of development. Currently, we can find abundant styles and make from various materials are available.
In this writing, we have already shown you 11 ways to style overalls. In addition, we have compiled various overall styles that could be your inspo. We hope you enjoy this writing and let's find a perfect pair on how to style overalls for women!